Herb Crusted Pork Rib Roast is a show stopping holiday main course or a wonderful weeknight meal with mustard and herb buttery breadcrumb crust.
A beautiful herb crusted roast of meat like Prime Rib makes a perfect Main Course for special occasions. From Christmas to Easter, simple Pork Rib Roast (or if you want boneless, try our Ultimate Pork Loin Roast) makes a delicious holiday dinner.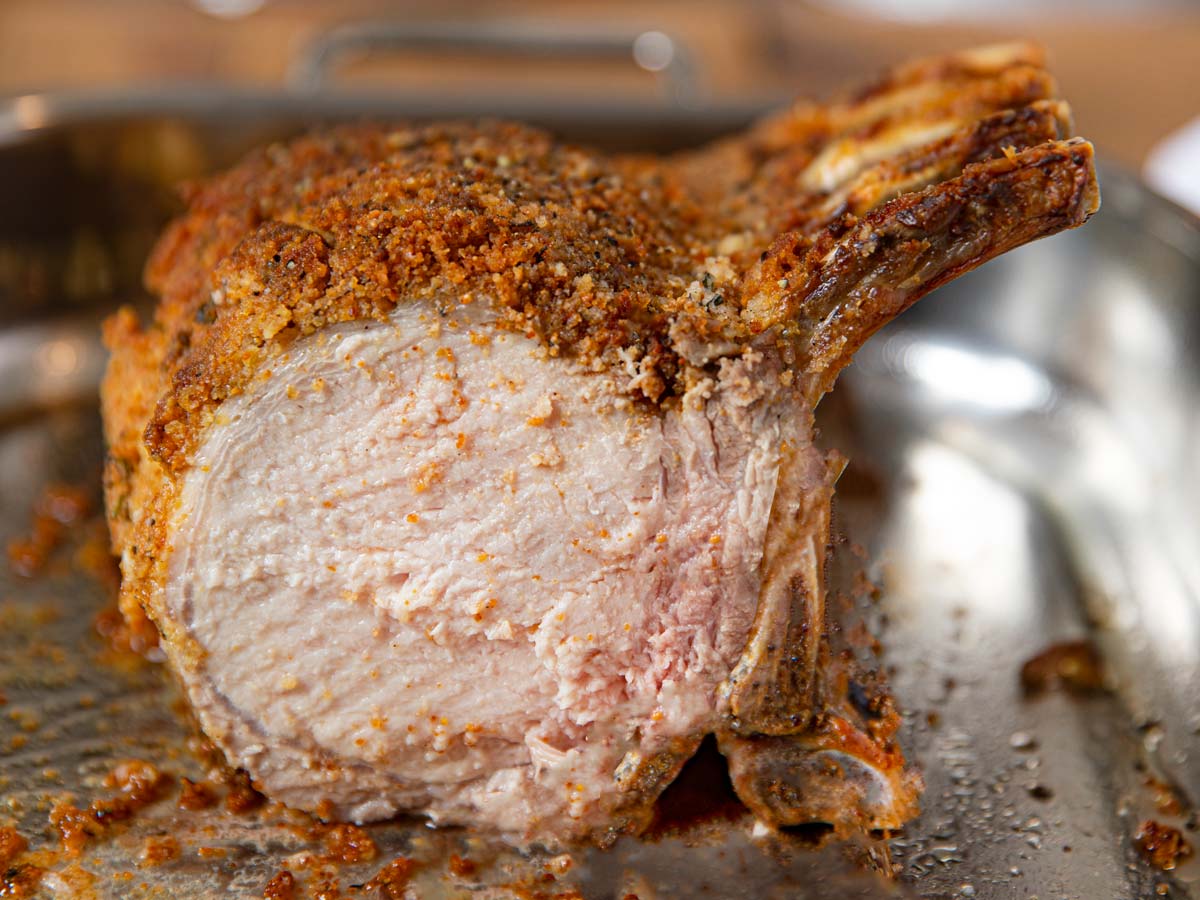 HERB CRUSTED PORK RIB ROAST
The prime rib of pork, this Herb Crusted Pork Rib Roast is the most delicious pork recipe for a holiday dinner. It's an easy oven roasted rack of pork rubbed with a homemade marinade of olive oil, garlic cloves, breadcrumbs and herbs. The simple marinade ingredients subtly enhance the juicy, tender, browned pork.
If this is your first time making a Pork Rib Roast, no need to be intimidated! This rack of pork chops looks fancy but it's actually very easy! Your Herb Crusted Pork Rib Roast will be ready for the oven in minutes and roasts low and slow for most of the time.
To make a perfect Pork Rib Roast, you want to roast it at high heat for the first 15 minutes and then lower the heat for the rest of cook time. Cook your Herb Crusted Pork Rib Roast uncovered so it the crust gets browned and slightly crispy. Finally, you want to cook the rack of pork fat side up so the juices run down and form a natural marinade.
Preparing a Rib Roast:
Pork Rib Roast is a specialty center-cut of pork that you will need to call your butcher ahead of time to set aside for you. Ask the butcher to french the Pork Rib Roast and remove the chine bone. My chine bone (the small bone that is horizontal in the photo) is pictured, but only because I remove it myself and rest the roast on top of it for stability and pretty photos. You can do this or you can rest the roast on foil or on it's side.
Frenching the roast means to cut off the extra meat on the rib bone for a nicer presentation.
This beautiful and delicious Herb Crusted Pork Rib Roast goes great with all your favorite holiday side dishes. Serve Pork Rib Roast with Mashed Potatoes, Green Beans, or Baked Mac and Cheese for Easter, Christmas, or a special weeknight dinner. This Pork Rib Roast is naturally juicy and flavorful so it doesn't need a sauce or gravy!
EASY HOLIDAY SIDE DISH RECIPES:


Create a free account to

Save Recipes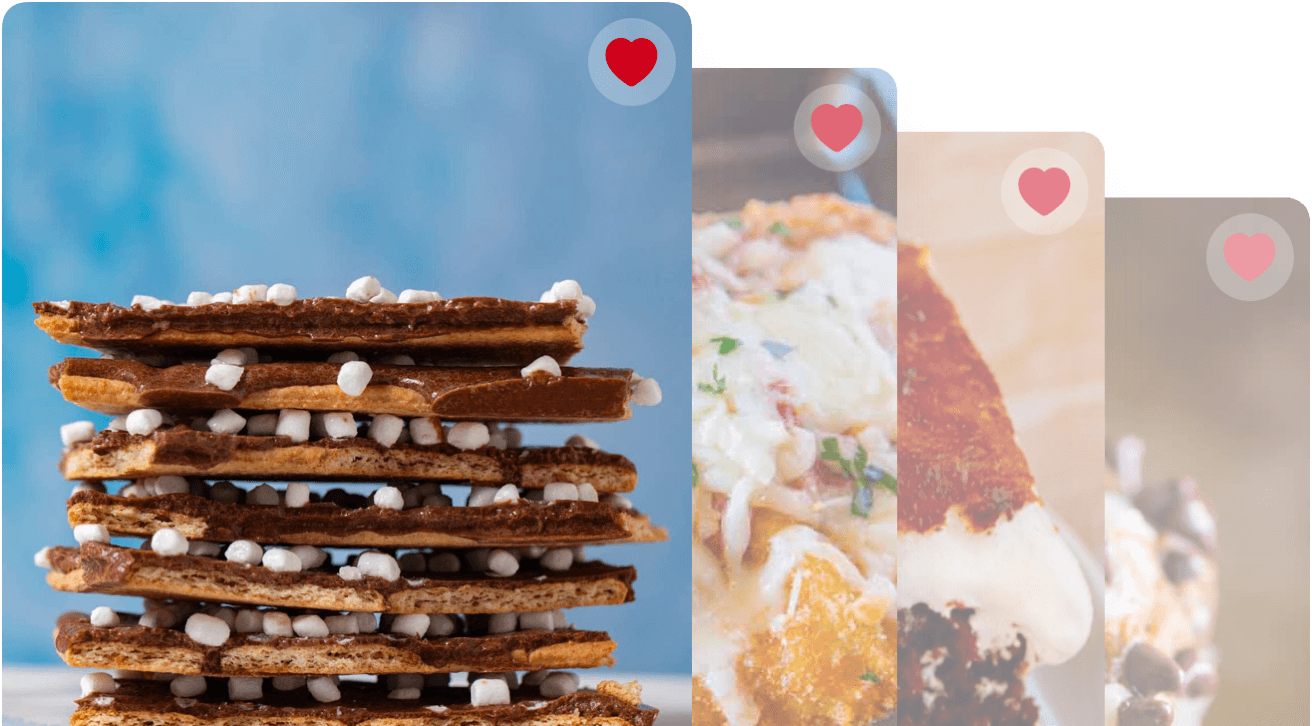 VARIATIONS ON HERB CRUSTED PORK RIB ROAST
Herbs: Instead of fresh herbs, you can use dried herb blends. Fresh herbs to dried herbs is about a 3:1 ratio, so use a ⅓ of the amount called for in this pork recipe.
Brown Sugar Marinade: Make a spicy sweet marinade with brown sugar, cayenne pepper, minced garlic cloves, melted butter. Mix to combine and rub all over the top of the pork roast.
Maple BBQ Sauce: You can glaze the pork roast with your favorite BBQ sauce mixed with maple syrup or honey. Baste the roast every 30 minutes once you reduce the heat.
Mustard: Coat the top of the rack of pork with about ¼ cup of dijon mustard, spicy brown mustard, or stone ground mustard.
Veggies: Give the pork roast a subtle flavor by placing diced carrots, onion, and celery below the rack in your roasting pan.
Beef Rib Roast: Simply replace the Pork Rib Roast with a Beef Rib Roast in this recipe. Cook until it reaches 145 degrees internal temperature, about 2-3 hours.
Spices: Add dried spices like paprika, cumin, or coriander to the herb and garlic rub. You can use spice blends like steak seasoning or other pork rubs.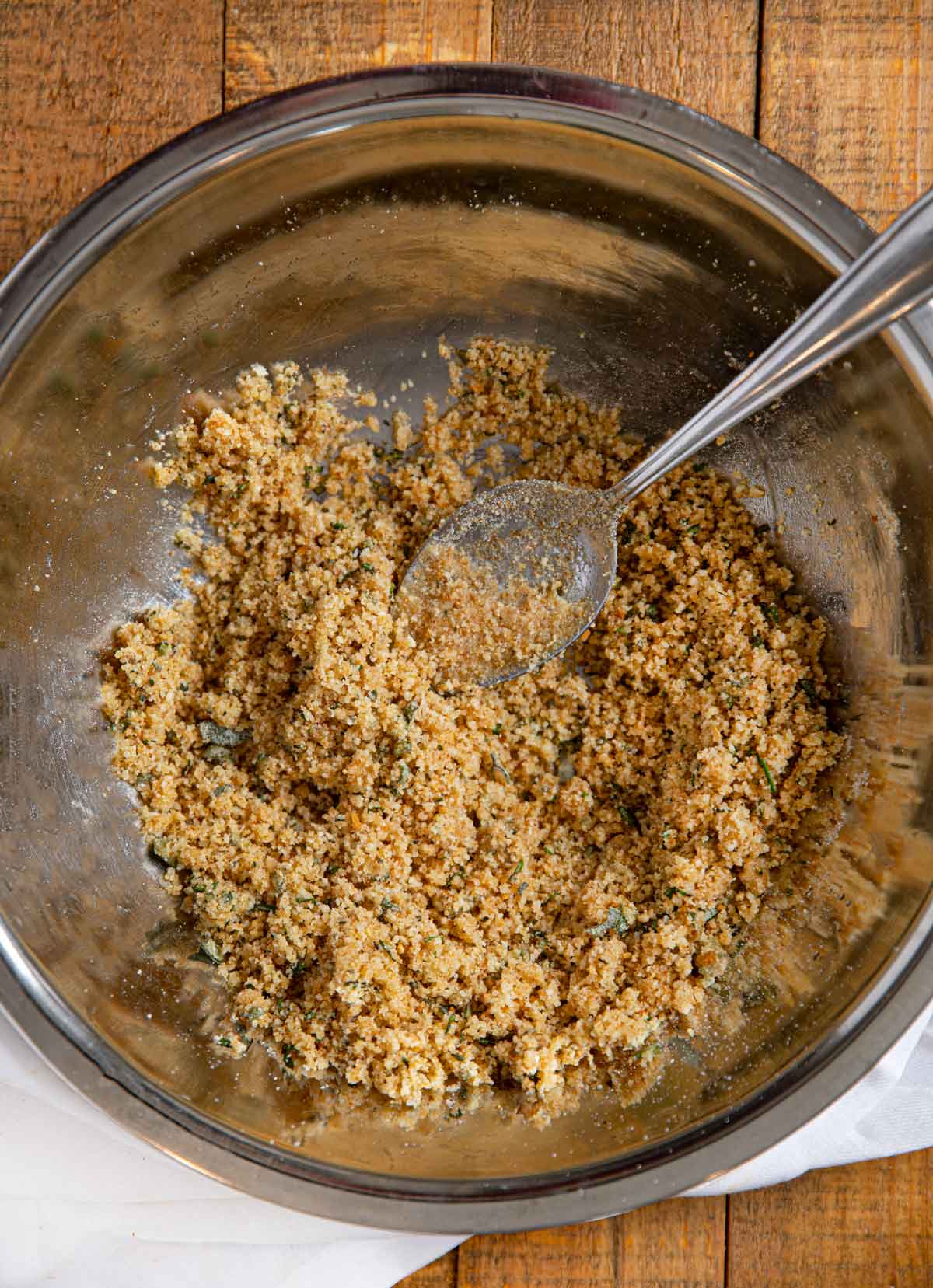 MORE HOLIDAY MAIN DISH RECIPES
HOW TO STORE HERB CRUSTED PORK RIB ROAST
Serve: Herb Crusted Pork Rib Roast can be at room temperature for up to 2 hours before it needs to be stored.
Store: For easier leftovers, slice your Pork Rib Roast into pork chops before refrigerating in an airtight container up to 3 days.
Freeze: Freeze a completely cooled Pork Rib Roast in a sealed container for up to 3 months.
HOW TO KNOW WHEN PORK RIB ROAST IS COOKED?
According to Foodsaftey.gov, a Pork Rib Roast is fully cooked when the internal temperature reaches 145 degrees F. Stick a meat thermometer into the thickest part of the roast to read the internal temperature accurately.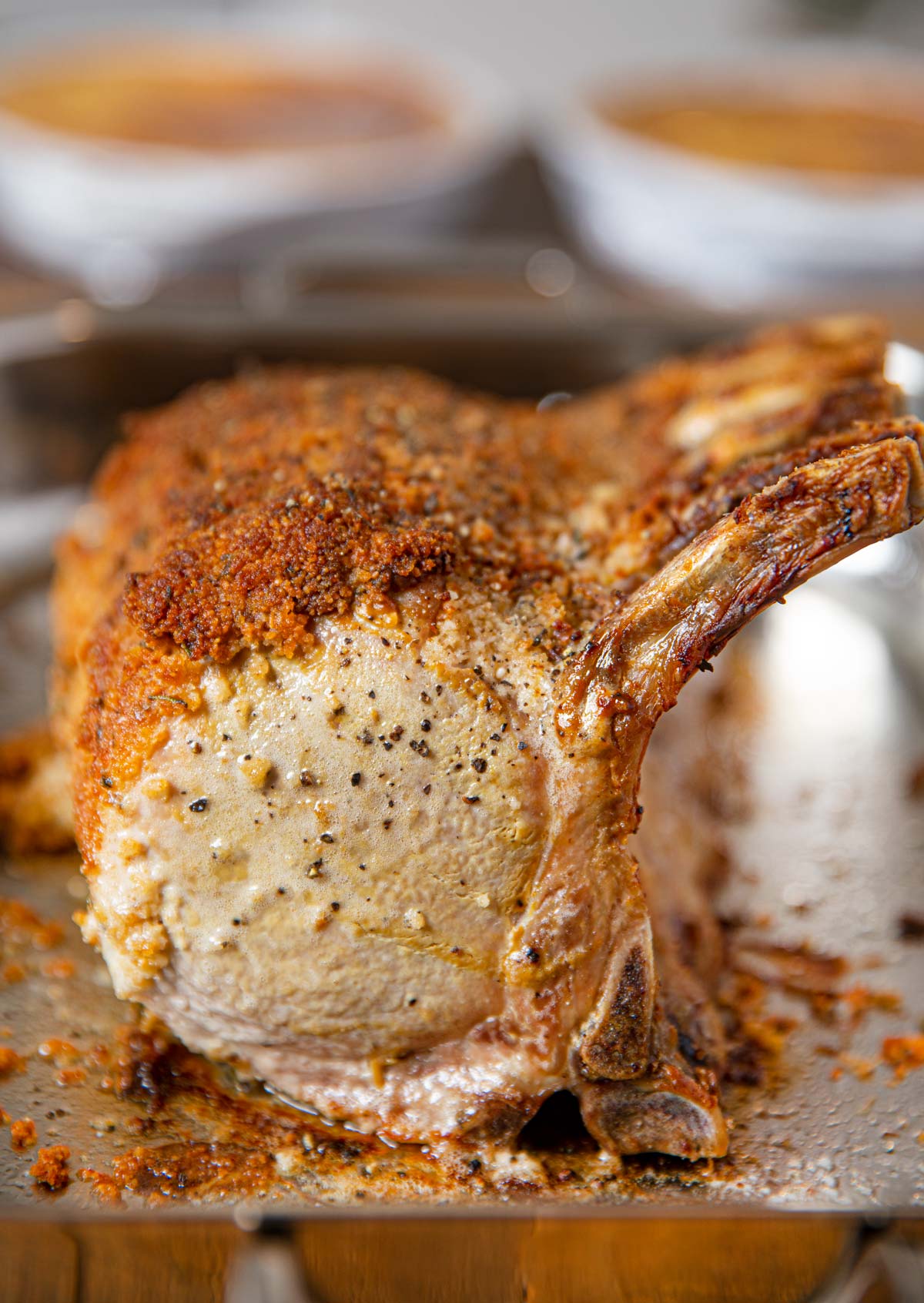 Ingredients
4

pounds

pork rib roast

, chine bone removed

1

teaspoon

kosher salt

1/2

teaspoon

coarse ground black pepper

2

tablespoons

dijon mustard

2

tablespoons

extra-virgin olive oil

3

cloves

garlic

, minced

1

tablespoon

fresh thyme

, chopped

1

tablespoon

fresh rosemary

, chopped

1

cup

breadcrumbs
Instructions
Preheat the oven to 500 degrees and place the pork roast in a large roasting pan.

Rub the pork roast with the salt, pepper and rub the top with dijon mustard.

In a medium bowl mix the oil, garlic, thyme, rosemary and breadcrumbs and pat it onto the top of the pork roast.

Roast the pork for

15 minutes

.

Lower the temperature to 350 degrees and cook for an additional

45 minutes

or until a meat thermometer in the thickest part of the roast reads 145 degrees.

Remove from the oven and let rest (loosely covered) the pork to a cutting board and let stand for

15 minutes

.
Nutrition
Calories:
437
kcal
|
Carbohydrates:
1
g
|
Protein:
41
g
|
Fat:
29
g
|
Saturated Fat:
6
g
|
Cholesterol:
116
mg
|
Sodium:
112
mg
|
Potassium:
686
mg
|
Fiber:
1
g
|
Sugar:
1
g
|
Vitamin A:
81
IU
|
Vitamin C:
2
mg
|
Calcium:
57
mg
|
Iron:
1
mg