Roasted Rack of Pork is a show-stopping, holiday main dish crusted with garlic, fresh thyme and rosemary or use boneless pork loin for easy weeknight meals.
Ultimate Garlic Pork Loin is one of our most well loved Main Courses! Just like Pork Loin, this holiday meal-worthy pork roast is easy to make, goes with any side dish, and perfect for special occasions or a quick, tasty dinner.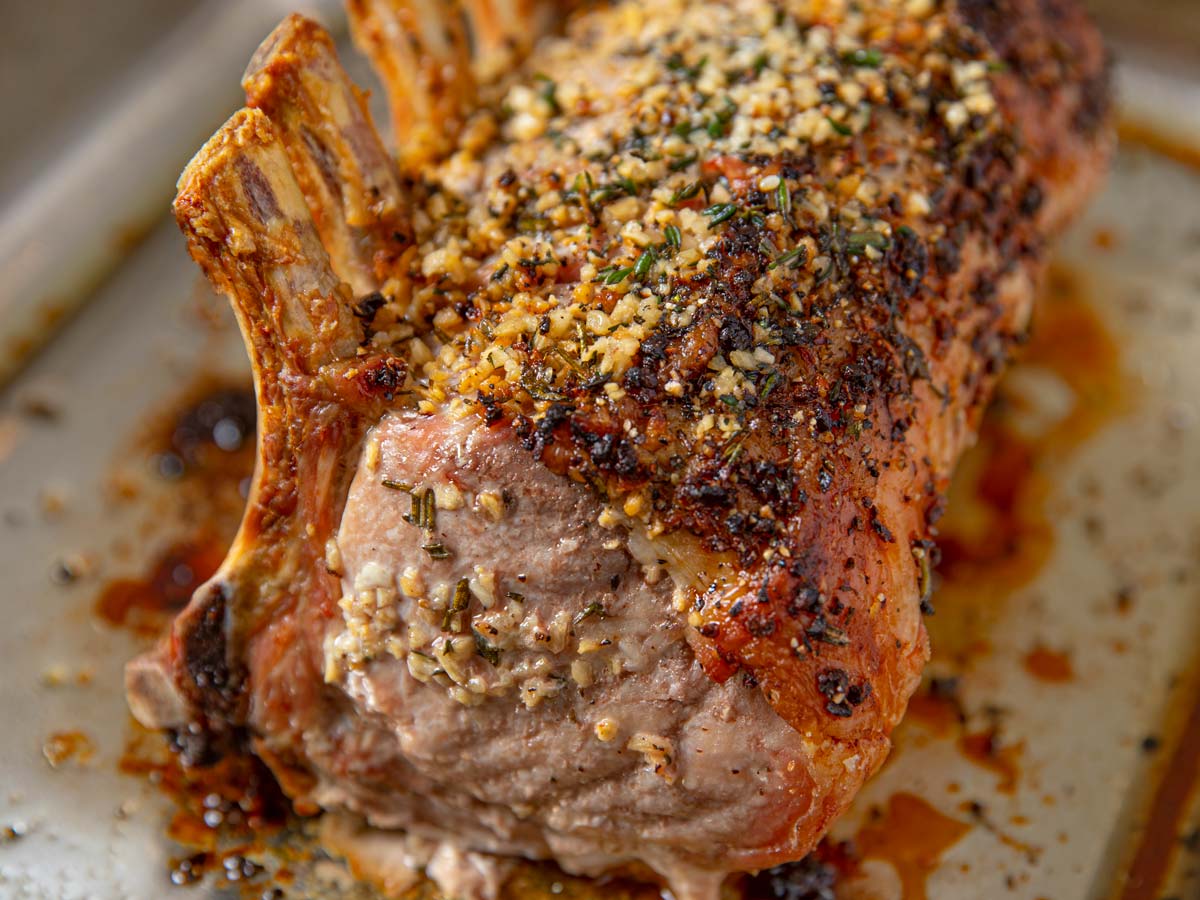 ROASTED GARLIC AND HERB RACK OF PORK
Roasted Rack of Pork is a delicious main dish worthy of any fancy dinner party but it doesn't have to feel fancy. The decorative frenching of the bones makes it a showstopper (and your guests don't need to know the butcher can do it for you!) They'll never know that it took you less than 10 minutes to go from butcher paper to oven. When you are at the store you may find that this cut of pork is actually less expensive than many cuts of beef.
Why buy bone in?
Buying pork loin bone-in helps to keep the pork moist. This is true with bone-in chicken and beef as well. So while it may look like a dinner party meal, this recipe is also great for any meal you're preparing at home for your family too. It also helps with re-heating as bone-in proteins tend to re-heat more forgivingly than boneless.
Roasted Rack of Pork tastes even better than it looks! Roasted with just a small amount of seasonings, the fat from this rib roast gives all the flavor you need. Gone are the days of dry overcooked pork, every bite of Roasted Pork is tender, juicy and delicious.
Frenching the Rack of Pork
For this Roasted Rack of Pork, you want a bone-in pork rib roast or center-cut loin. You don't have to french the bones but they do make this pork roast look absolutely stunning. If you have the butcher french the bones for you, they can also remove the chine bone. If you french the bones yourself, remove the chine bone and use it to prop up your roast as it cooks.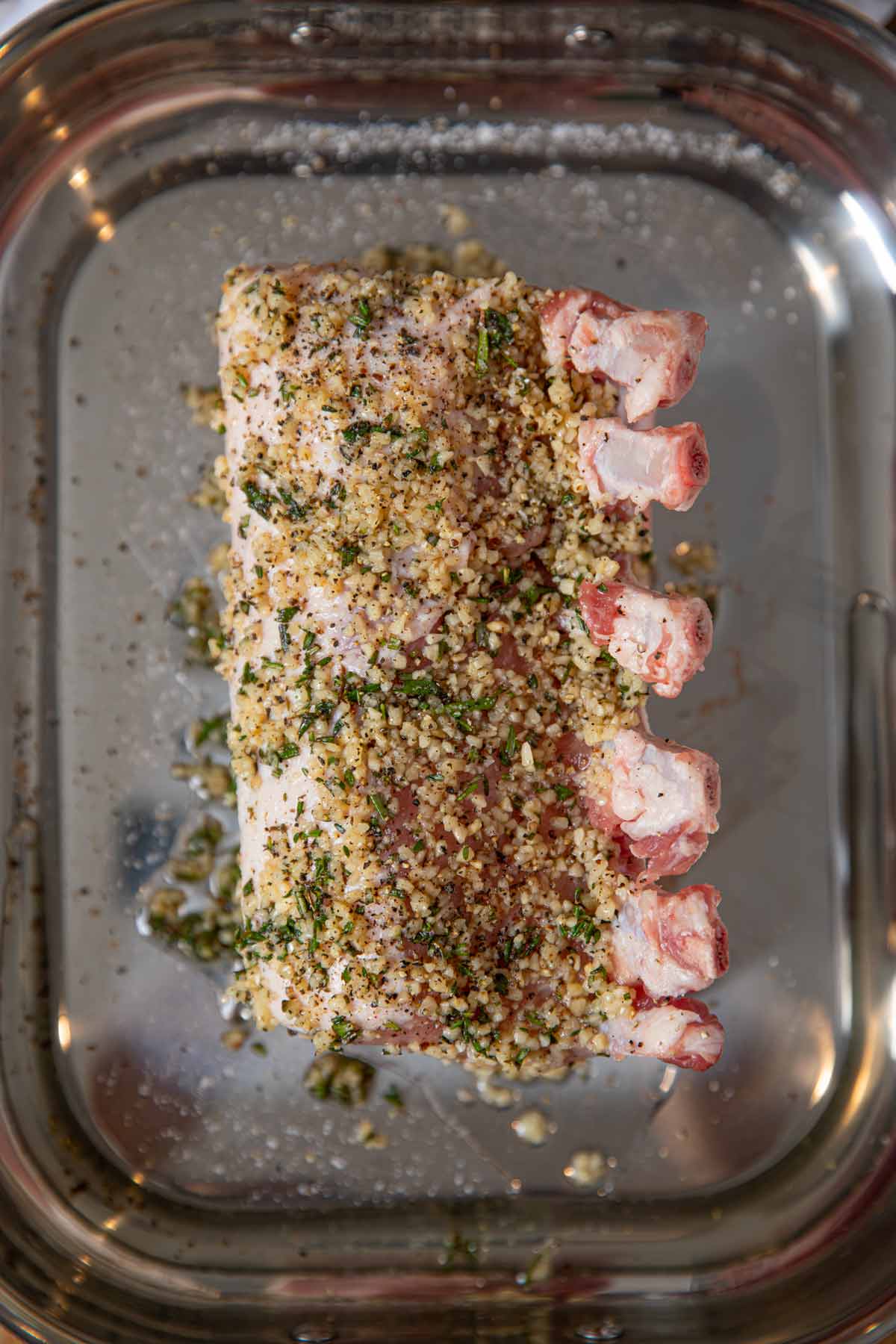 Frenching a rib roast is a moderately tedious task but as long as you feel comfortable with a paring knife it isn't very hard to do. Don't feel like it is necessary to cut every bit of meat off the bone, as you can see in the photo above the frenching done was not excessive and in the cooked photos it still looks beautiful. This level of prep only took about 3-5 minutes. You can also ask your butcher to do it for you, many will do it for free.
If you are feeding a crowd, you can double this recipe by using two racks of pork. Place the racks of pork parallel to each other, with the bones facing in and the fat cap up and out. Use kitchen twine to tie the racks together, just enough that they don't tip over but not so close they don't cook evenly. Cook for about 18-20 minutes per pound of pork.
This beautiful Roasted Rack of Pork is perfect for an Easter Dinner or Christmas Feast! You can serve your tender, juicy pork with fresh, simple veggies like Green Beans and a starchy side like Mashed Potatoes, but the perfect pairing is Honey Roasted Apples and Potatoes as pictured below. Roasted Rack of Pork goes with with all your favorite sides dishes, making it a great main dish all year long!
DELICIOUS SIDE DISH RECIPES


Create a free account to Save Recipes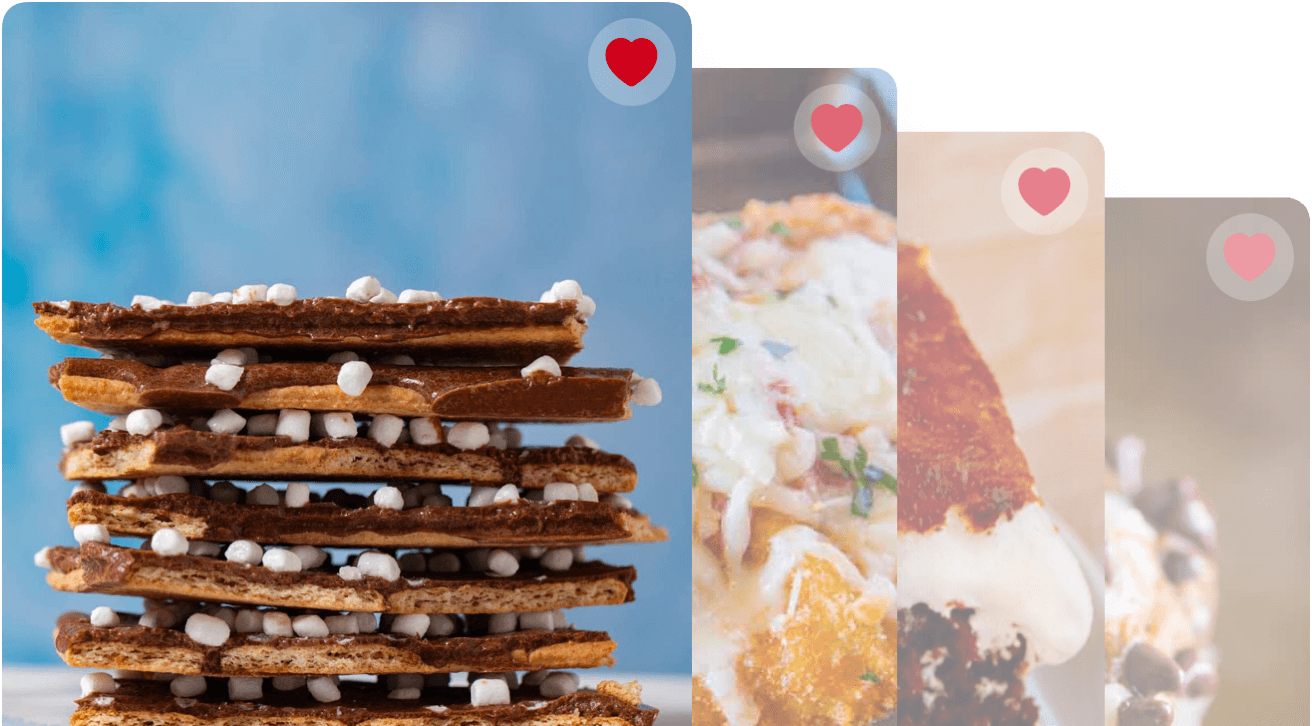 VARIATIONS ON ROASTED RACK OF PORK
Dry Pork Rub: Mix together 1 tablespoon salt, ¼ cup brown sugar, 2 teaspoons smoked paprika, 2 teaspoons chili powder, 1 teaspoon black pepper.
Herbs: Like our Herb Crusted Pork Roast, fresh herbs are great for this Roasted Rack of Pork. Try fresh rosemary, thyme, sage, or basil.
Mustard: Pork and mustard go great together! Use dijon mustard rubbed into the pork or you can add a tablespoon of dry mustard to the seasonings.
Potatoes: Make this a one pan meal by adding potatoes and carrots to the bottom of your roasting pan and then place the pork roast on top.
Cranberries: For a Christmas dinner, make a Cranberry Relish and leave out the sugar (or replace with brown sugar). Rub the fresh relish into the pork before roasting.
MORE TASTY PORK RECIPES
HOW TO STORE ROASTED RACK OF PORK
Serve: Roasted Rack of Pork can be out at room temperature for up to 2 hours. Cut into pork chops for easier storing.
Store: Put your cooled pork into an airtight container and store in the refrigerator for up to 4 days.
Freeze: Cool the pork roast completely before storing in a sealed container. Freeze up to 3 months.
HOW TO KNOW ROASTED RACK OF PORK IS COOKED
Thankfully the USDA no longer recommends that you cook pork way past dry! According to Foodsafety.gov, pork is safe to eat when the internal temperature reaches 145 degrees F.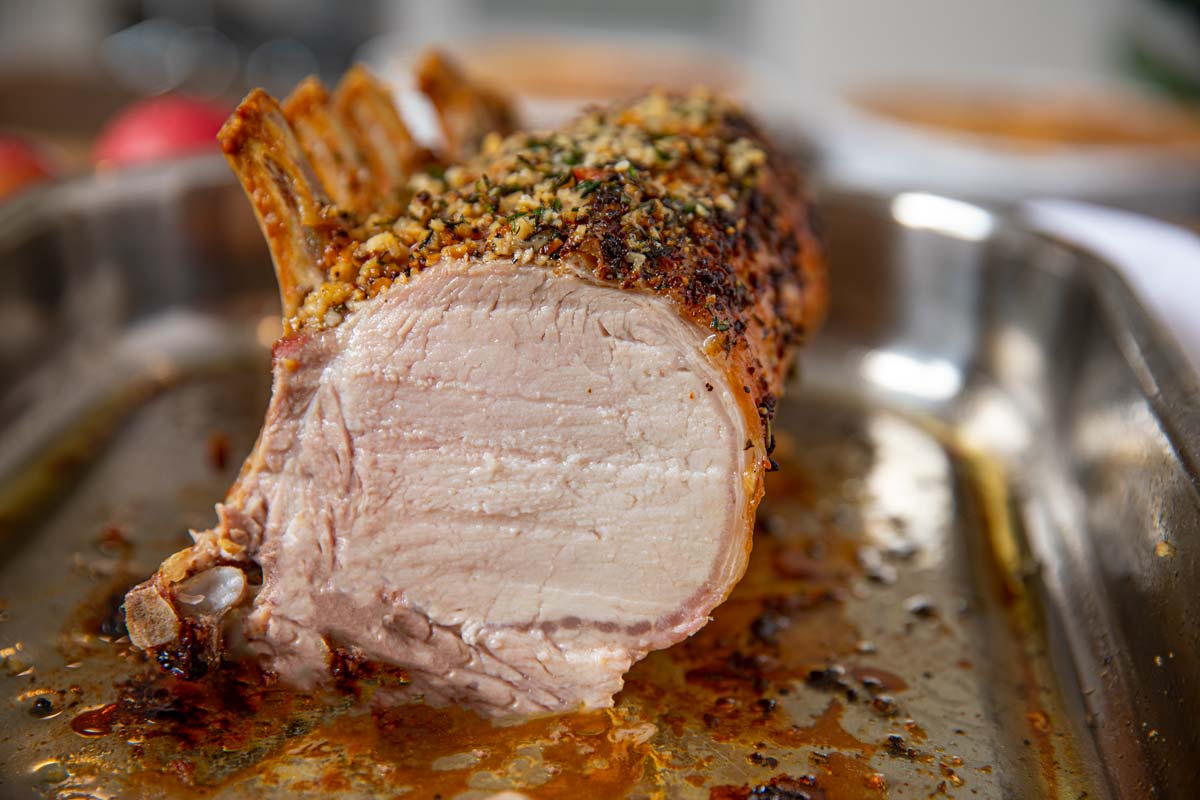 Ingredients
4

pounds

bone-in pork rib roast

, frenched

2

teaspoon

salt

1/2

teaspoon

coarse ground black pepper

1

tablespoon

fresh thyme

, minced

2

teaspoons

fresh rosemary

, minced

4

cloves

garlic

, minced

2

tablespoons

olive oil
Instructions
Heat oven to 325 degrees.

Season pork with salt, pepper, thyme and rosemary, garlic and olive oil.

Place rack in a roasting pan fat side up (resting on the chin bone). Cook for

90 minutes

or to an internal temperature of 145 degrees.

Remove from oven and let rest

15 minutes

, covered loosely with foil before serving.
Nutrition
Calories:
322
kcal
|
Carbohydrates:
1
g
|
Protein:
30
g
|
Fat:
21
g
|
Saturated Fat:
4
g
|
Cholesterol:
87
mg
|
Sodium:
278
mg
|
Potassium:
504
mg
|
Fiber:
1
g
|
Sugar:
1
g
|
Vitamin A:
12
IU
|
Vitamin C:
1
mg
|
Calcium:
39
mg
|
Iron:
1
mg