Shake and Bake Pork Chops with homemade shake and bake mix baked on a sheet pan. A perfect homemade natural copycat with dinner done in just 30 minutes.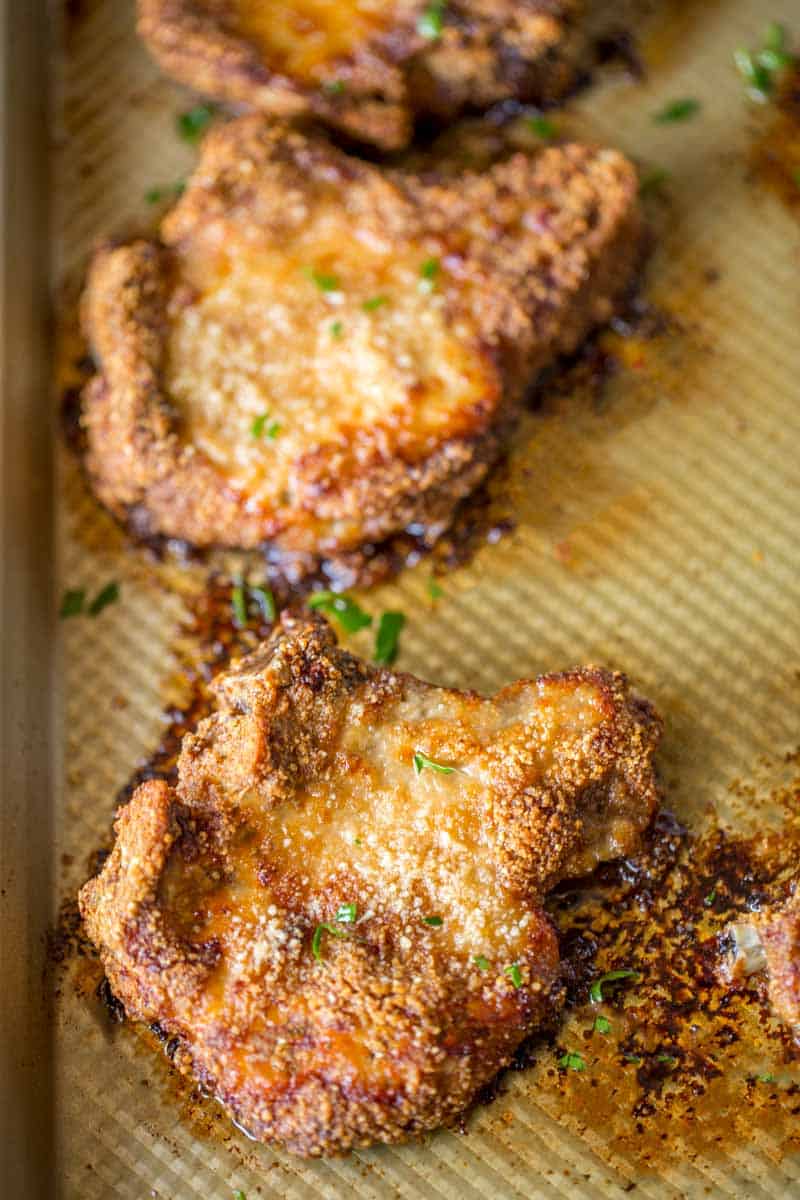 Shake and Bake Pork Chops or as they're more classically known, Shake 'n Bake Pork Chops are an EASY and fun copycat of the boxed variety a lot of us grew up with.
As a kid I have two very strong pre-made ingredient memories, Shake 'n bake pork chops and Chicken Tonight. Someone PLEASE back me up in the comments, do you guys remember Chicken Tonight? "I feel like Chicken tonight! Like Chicken Tonight!" PS, it still EXISTS, I don't know if you still have to do the chicken dance though.
So anyway, there is literally no good reason at all for you to be paying crazy high prices for the boxed variety when the homemade one is SUPER easy and much less expensive to make. Plus, no extra ingredients you don't need thrown in with it.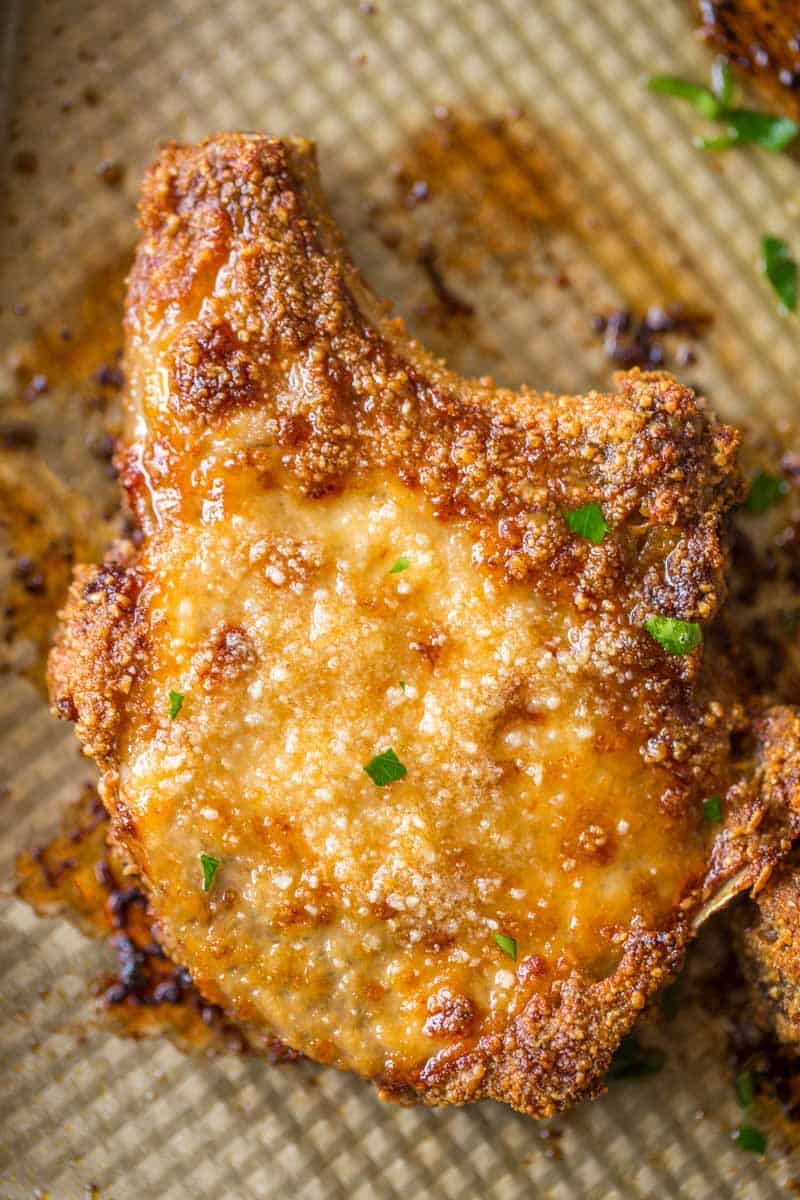 How long do you shake and bake pork chops?
It takes just ten or so seconds to shake the chops in the bag, but if you find the coating not sticking well, you can add the pork chop to the sheet pan and add additional breading and lightly press it onto the pork chop.
How long does it take to cook pork chops in the oven at 400?
If you are opposed to cooking them at 425 degrees for 25 minutes, you can alternately cook them at 400 degrees for 30 minutes (the crust will not be as caramelized. You can also cook them at 350 degrees for 40-45 minutes but the crust will stay softer and the pork will be drier.
How do you make crispy pork chops?
The trick to getting crispy pork chops from the oven is cooking them at a high temperature. Cooking at 425 allows the pork to cook and the oil in the breadcrumb mixture allows the crust to brown and become crispy.
How to cook 1″ thick Shake and Bake Pork Chops:
YES, I love a good thick chop, if you have a thicker chop, cook it at 400 degrees for 30-35 minutes or until you reach 145-155 degrees.
Shake and Bake Pork Chops with mayo:
Some people LOVE coating the chops in mayo before adhering the coating. I totally get it, there is a parmesan breadcrumb chicken that uses mayo too that is very popular. While this recipe does not call for or need mayo, if you do use it you will get a nice THICK coating. Cook it at 400 degrees for 30-35 minutes or until you reach 145-155 degrees.
Looking for more pork recipes?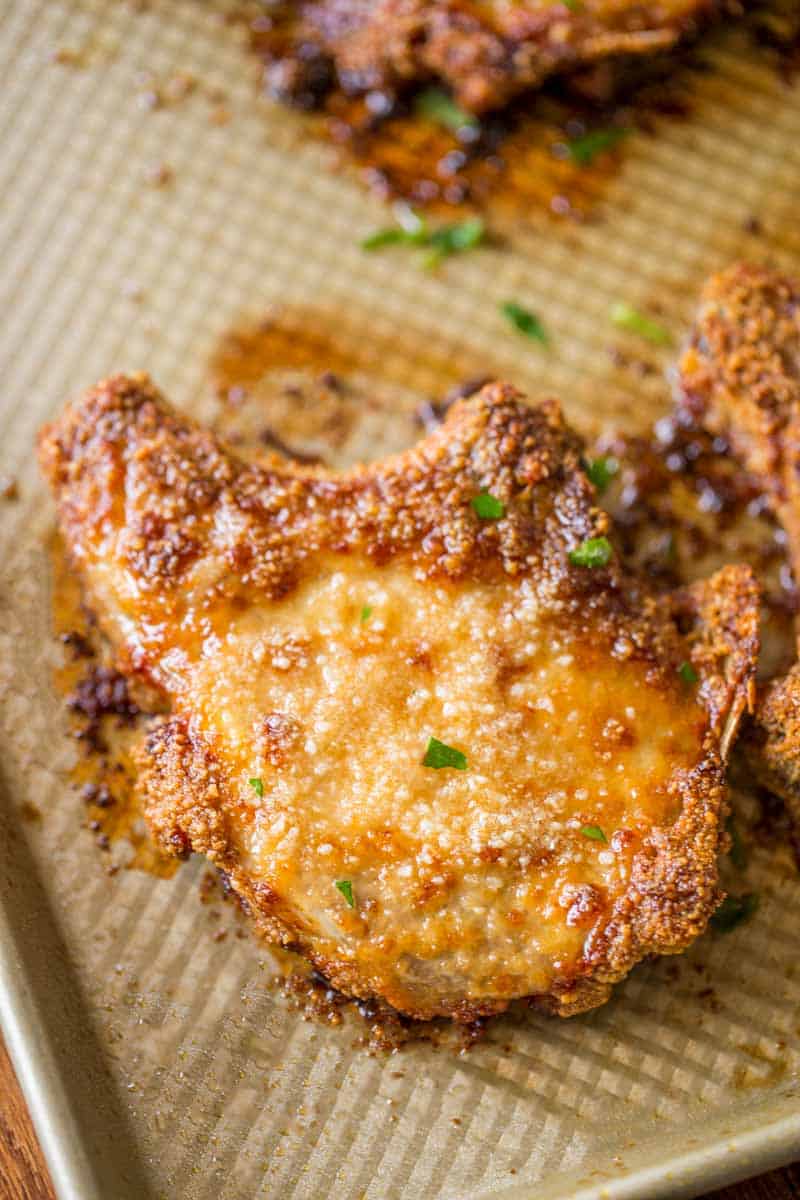 Tools Used in the making of these Shake and Bake Pork Chops:
Sheet Pan: A classic, inexpensive sheet pan that is high quality and can hold up to high temperatures in the oven. If you'd prefer you could also use…
Baking Pan: Easy to use, doesn't warp, freezes well and has high enough sides for all your favorite other casserole dishes.
Bread Crumbs: Standard breadcrumbs, not panko variety, I love this brand but if you want you can use any other brand or even Italian flavored.


Ingredients
3

cups

bread crumbs

(not panko)

2

teaspoons

table salt

(not kosher)

2

teaspoons

paprika

1

teaspoon

celery salt

3/4

teaspoon

black pepper

1/4

teaspoon

garlic salt

1/2

teaspoon

garlic powder

1/4

teaspoon

onion powder

1/4

cup

vegetable oil

6

bone in 1/2" thick pork chops
Instructions
Preheat the oven to 425 degrees.

In a large ziploc bag add the breadcrumbs, salt, paprika, celery salt, black pepper, garlic salt, garlic powder and onion powder.

Close the bag and rub all the ingredients together until fully mixed.

Coat the pork chops with the oil, then add one pork chop to the bag at a time and close with some air trapped inside.

Shake gently until covered, then remove the pork to a prepared sheet pan.

Repeat with each piece of pork.

Place on a sheet pan and bake in the oven for

15 minutes

then turn the pork chops over, and bake

10 more minutes

.
Nutrition
Calories:
295
kcal
|
Carbohydrates:
39
g
|
Protein:
7
g
|
Fat:
12
g
|
Saturated Fat:
8
g
|
Sodium:
1655
mg
|
Potassium:
121
mg
|
Fiber:
2
g
|
Sugar:
3
g
|
Vitamin A:
330
IU
|
Calcium:
99
mg
|
Iron:
2.8
mg