Instant Pot Pork Chops are flavorful, tender, and juicy with a rich gravy to pour on top. All ready in under 30 minutes, made in one pot.
Delicious, Creamy Pork Chops make a great Dinner Recipe that's always hit with the whole family. This pressure cooker version is an easy and fast way to make them and turns out just as delicious!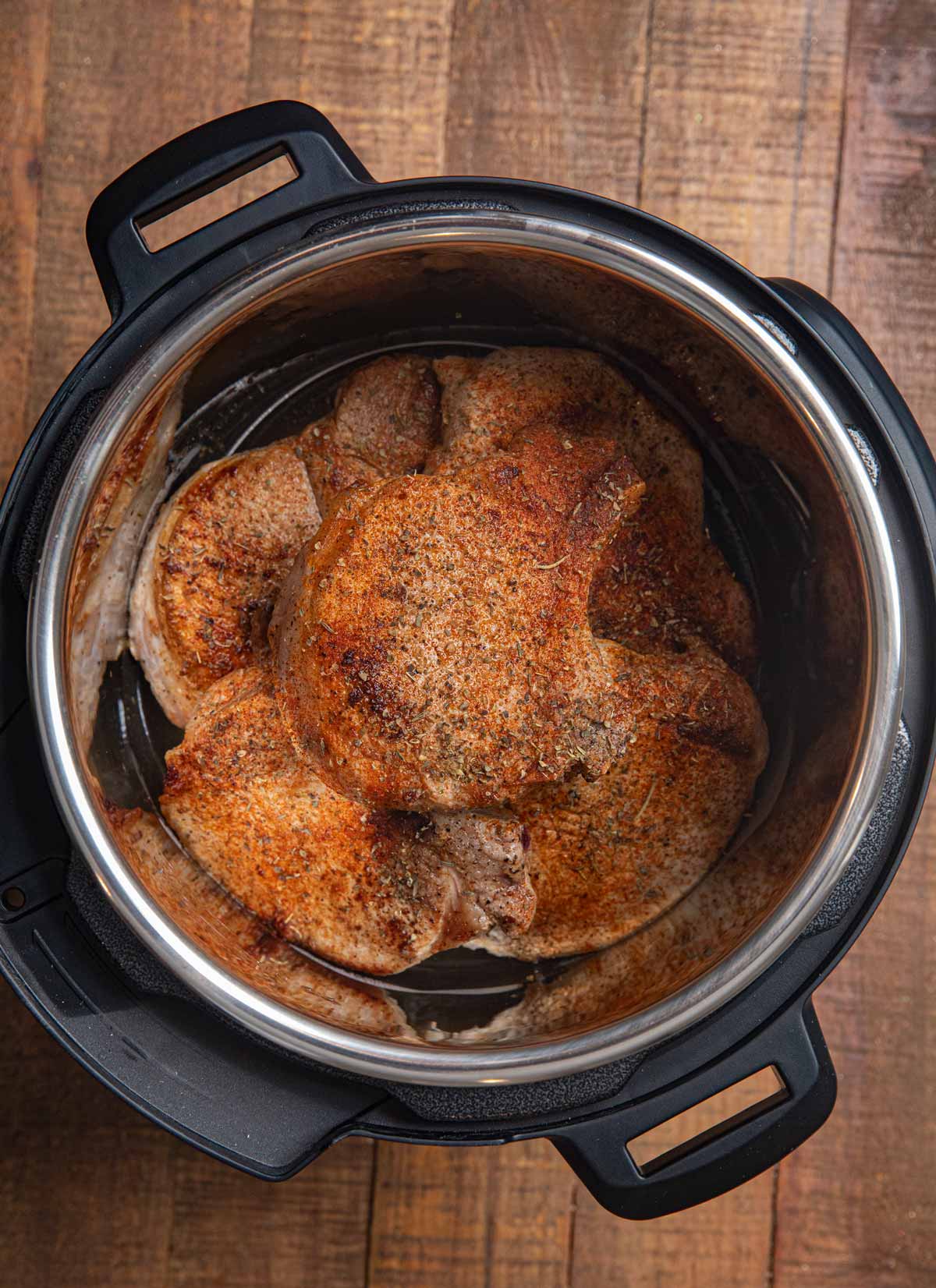 Instant Pot Pork Chops make unbelievable tender pork chops in a rich sauce. The Pressure Cooker Pork Chops are flavored with easy ingredients like pepper, Italian seasoning, and paprika. Then it's all cooked in chicken broth under high pressure to get delicious results.
Instant pot recipes really speed up the cooking process. The bone-in pork chops come out buttery and flavorful with just 15 minutes cook time in the high-temperature electric pressure cooker. Instead of making the gravy in a separate saucepan, the Pork Chop recipe is an easy one-pot meal. By pressure cooking, you're able to get the same delicious texture and flavor you'd get from a Baked Pork Chops recipe or skillet pork chops. The difference is a shorter cooking time and less hands-on work in the recipe.
The quick cooking of Instant Pot Pork Chops gives you extra time to make delicious side dish recipes. Serve up your Pressure Cooker Chops with Roasted Vegetables, Baked Potatoes, or Mashed Potatoes to complete the hearty dinner. This recipe is especially great with mashed potatoes because they'll soak up the gravy for an amazing, creamy combination.
How to Make Instant Pot Pork Chops
Prep time: Start off the Pork Chops recipe by adding vegetable oil or olive oil to the base of the pressure cooker. Set the 6-quart instant pot to its sauté mode. Let the oil heat up slightly before you start cooking.
Saute: Season each of the chops with salt and pepper. Saute the pork in batches and flip them to brown pork on both sides. Once they're browned remove the chops from the instant pot.
Cook time: Add the steam rack to the pressure cooker with the handles facing up. Pour in the chicken broth for the liquid. Then place the chops over the steam rack and season with paprika and oregano. Close the lid and seal the valve. Flip from sauté mode off and cook on high pressure. Cook the pork chops for 15 minutes.
Pressure release: Flip the valve for a quick steam release. Then open the instant pot to release the remaining pressure. The temperature inside the instant pot will be very high, so be careful not to burn yourself. The pork chops should be tender and cooked through. To double-check they're done, you can use an internal temperature read thermometer. The pork needs an internal temperature of 145 degrees to be done.
Gravy: Move the pork chops to a plate while you make the gravy. Whisk together the cornstarch slurry and pour it into the liquid. Whisk the mixture together until thickened and creamy. Then pour it over the chops to serve.
More Pork Recipes
Frequently Asked Questions
Why use Bone-in Pork Chops instead of boneless?
For this pressure cooker pork chop recipe, using bone-in pork chops will give you the maximum flavor without the pork chops drying out. Because they will steam in the quick cooking method, they will cook through quickly without having time to get dry. The attached bone helps to keep the meat juicy and adds a richness to the gravy you will make with the drippings.
How do I know when Bone-In Pork Chops are done?
Use a meat thermometer to monitor the internal temperature. Pork Chops are safe to eat at 145 degrees, which is considered medium rare. It is safe to eat medium rare Pork Chops, and you will find that they taste tender, juicy and less dry than when they are cooked to a higher temperature.
Can I make gravy without using cornstarch?
If you prefer a more traditional roux to using cornstarch as a thickener, here is an easy way to do it! Melt 2 tablespoons unsalted butter in a small saucepan and add 2 tablespoons all purpose flour. Whisk together over medium heat for 2-3 minutes until the flour just begins to turn golden, then slowly whisk in the liquids from the instant pot. Continue cooking an additional 5-7 minutes until thickened.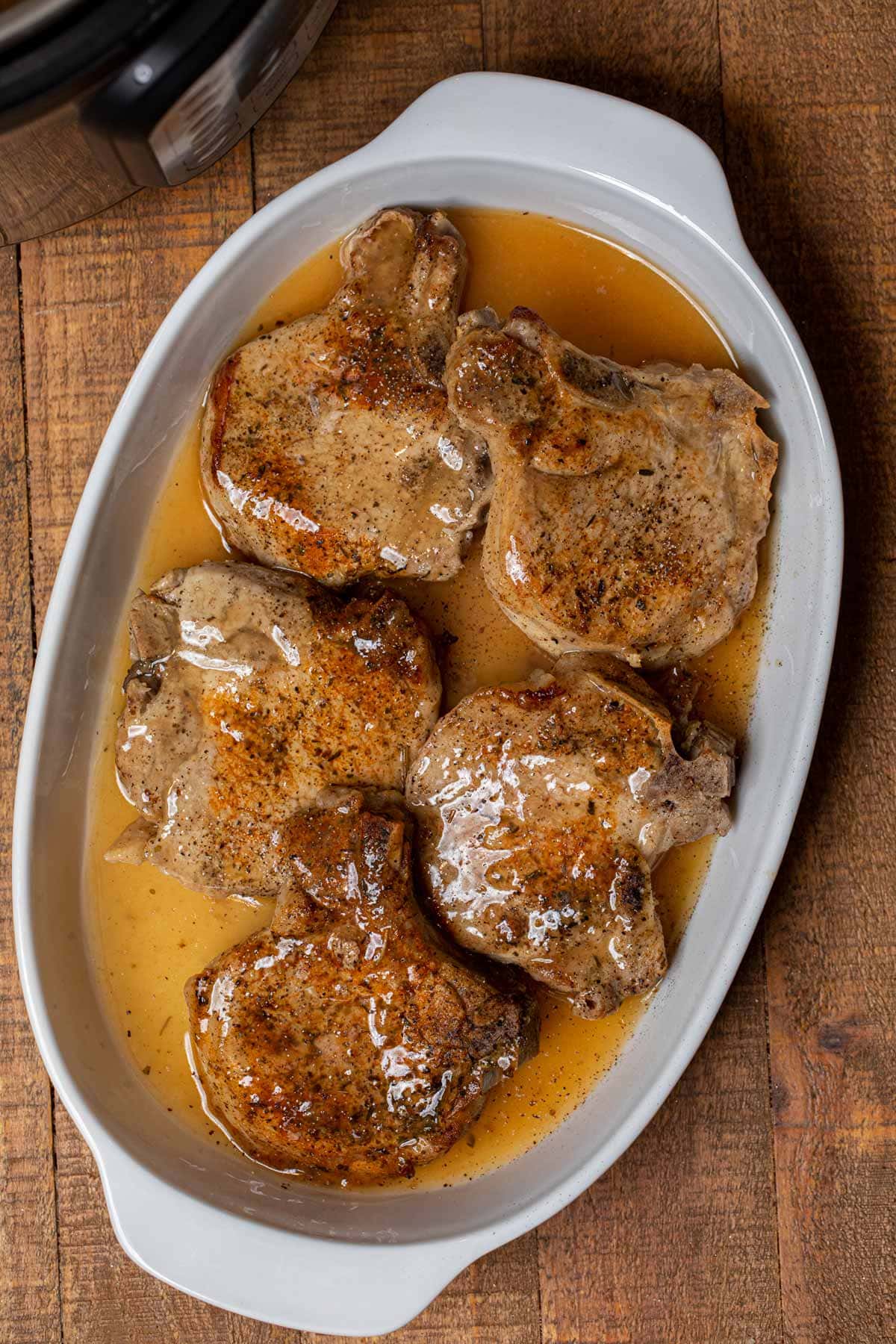 Create a free account to

Save Recipes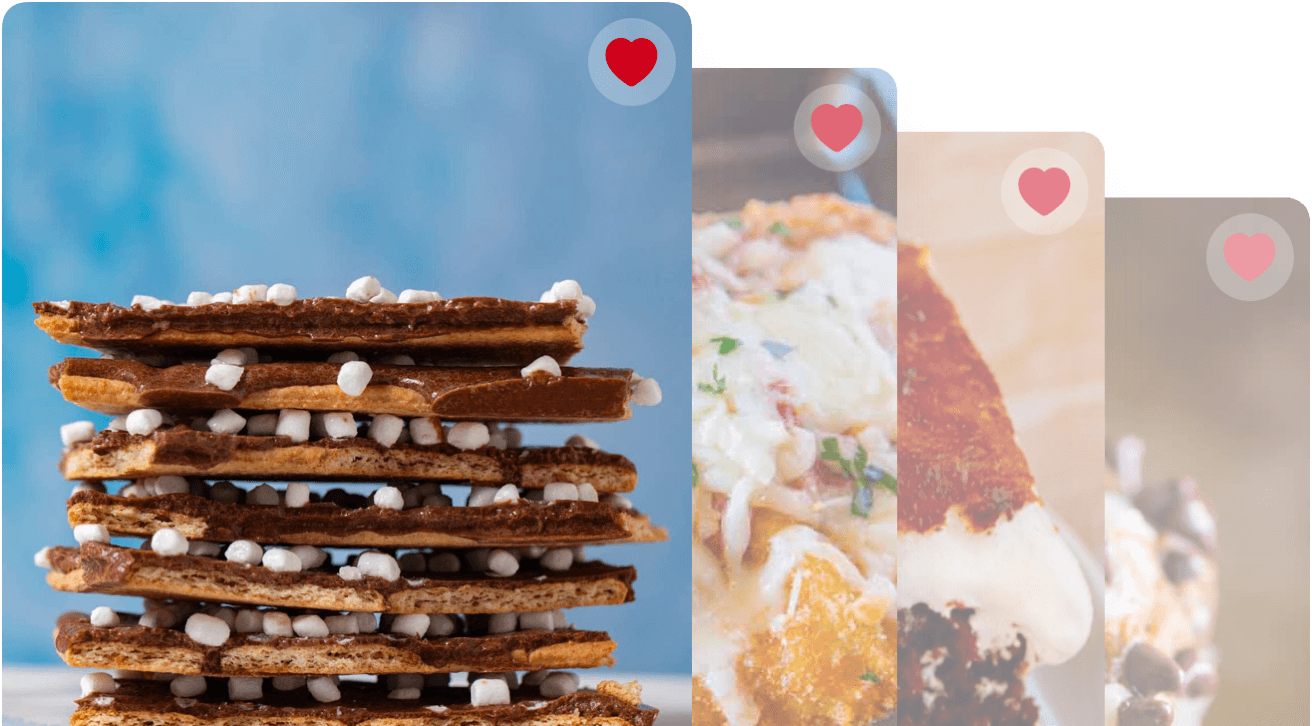 Key Ingredients in Instant Pot Pork Chops
Bone-In Pork Chops: Choose a thicker cut pork chop to avoid dryness. Look for a nice fat cap and some marbling which will ensure a juicy pork chop.
Seasonings: In addition to salt and pepper, you'll use paprika and dried oregano to infuse a delicious smokey flavor into your pork chops. If you don't have dried oregano on hand, you can use dried thyme, basil, or rosemary instead.
Gravy: A quick and easy cornstarch slurry is used to thicken the delicious cooking liquid. Chicken stock keeps the pork chops moist and helps to steam them while they cook in the pressure cooker, and then is infused with flavor from the pork chops. Serve the savory gravy over the pork chops to add even more amazing flavor.
Slow Cooker Pork Chops
You can achieve the same juicy, tender pork chops and gravy by cooking them low and slow if you'd prefer to use your trusty crock pot. You will need an extra pan, but taking the time to sear the chops before cooking will add a ton of flavor and help lock in moisture.
Season the bone-in pork chops with salt and pepper, and sear in batches 2-3 minutes per side until browned.
Pour 1 cup of chicken broth into the crock pot and add the seared pork chops. Season with paprika and oregano.
Cook on low for 6-7 hours or on high for 3-4 hours. Add the cornstarch slurry into the slow cooker juices in the last hour of cooking to thicken the sauce.
Variations on Instant Pot Pork Chops
Seasoning: You can add different flavors to the recipe using seasonings. For a garlicky flavor add minced garlic cloves, garlic salt, or garlic powder. You can also try out other seasonings like thyme, rosemary, parsley, basil, or red pepper flakes.
Mushrooms: For delicious mushrooms in your Instant Pot Pork Chops toss in some sliced mushrooms to cook along with the gravy at the end.
Sauce: You can experiment with the flavor of the pork chops with gravy by adding different sauce ingredients to the gravy mixture. Mix in the ingredients when you're adding the cornstarch to thicken the sauce. There are plenty of delicious flavors to try like Worcestershire sauce, mustard, or apple cider vinegar.
Honey Pork Chops: Try making Honey Pork Chops for a sweeter recipe. Add 2-3 tablespoons of honey to the sauce recipe before drizzling it over the pork chops. Another option instead of honey is mixing in some brown sugar.
Creamy Pork Chops: To make more creamy pork chops, add thick creamy ingredients to the sauce like sour cream or heavy cream. The sour cream will add a bit of tang that the heavy cream won't, so it depends on the flavor you want in your sauce.
Broth: You can exchange the chicken broth for beef broth, vegetable broth, or use low sodium chicken broth.
What to Serve with Instant Pot Pork Chops
How to Store Instant Pot Pork Chops
Serve: After cooking, Instant Pot Pork Chops shouldn't be left at room temperature for more than 2 hours.
Store: If you have any leftover pork chops, let them cool down. Once they aren't hot you can seal the recipe in an airtight container and keep Pressure Cooker Pork Chops in the fridge for 3-5 days.
Freeze: You can also freeze pork chops for up to 6 months. Let frozen pork chops thaw in the fridge before reheating them.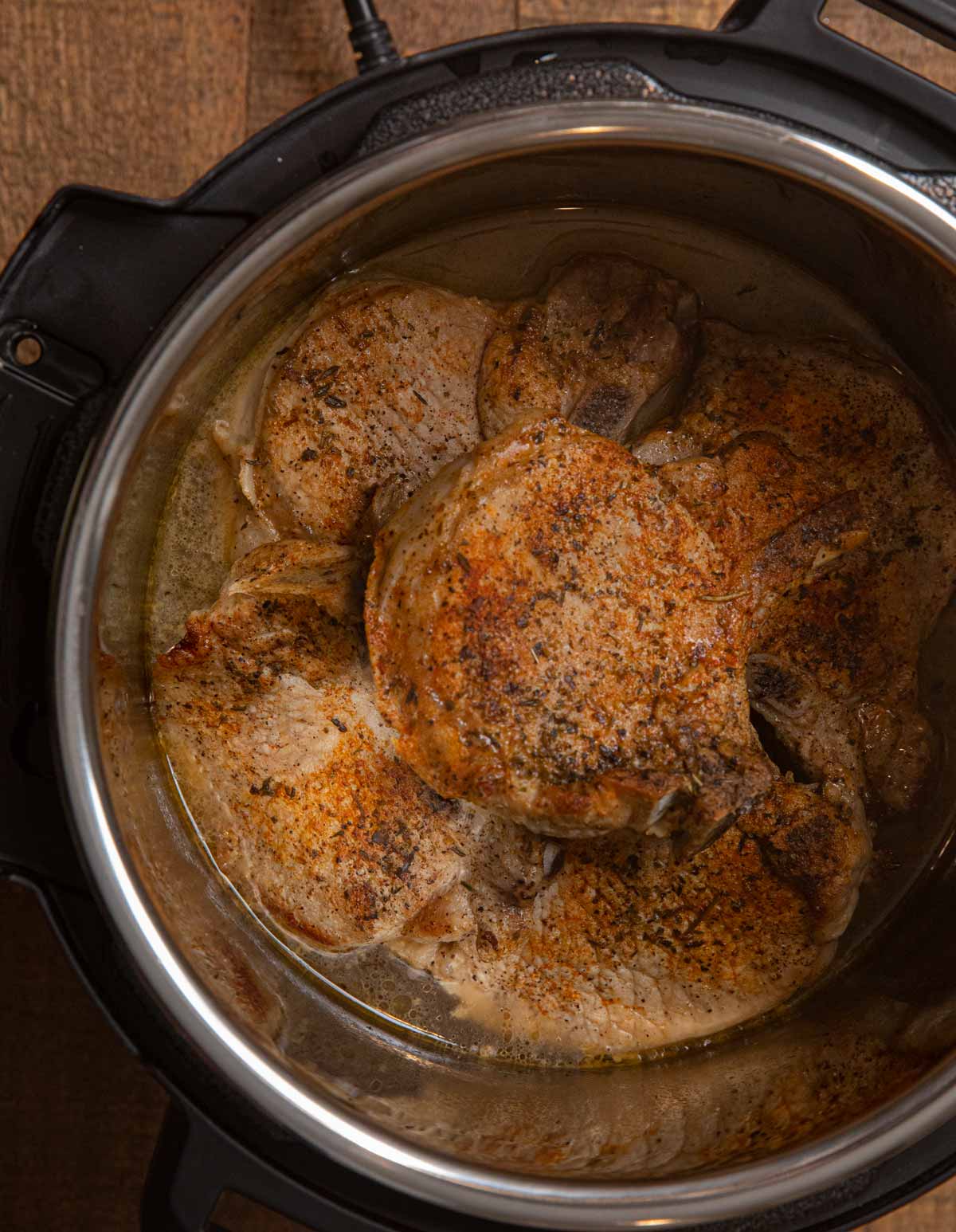 Ingredients
3

tablespoons

vegetable oil

5

bone-in pork chops

, 8 ounces each

1

teaspoon

kosher salt

1/2

teaspoon

coarse ground black pepper

1

teaspoon

dried oregano

1/2

teaspoon

paprika

2

cups

chicken broth

1/4

cup

water

1

tablespoon

cornstarch
Instructions
Add vegetable oil to instant pot bowl and set to sauté.

Season pork chops with salt and pepper and cook for

3-4 minutes

on each side until well browned.

Add the steam rack to your instant pot with the handles facing up.

Pour chicken broth into the pot then add pork chops and season with dried oregano and paprika.

Cook on high for

15 minutes

, then quick release the pressure.

Remove the pork chops carefully and remove the metal cooking rack.

Set instant pot to sauté.

Whisk together cornstarch and water then add to chicken broth mixture in the instant pot.

Let cook for

5-6 minutes

until thickened.

Place pork chops on serving plate and cover with gravy.
Nutrition
Calories:
373
kcal
|
Carbohydrates:
2
g
|
Protein:
36
g
|
Fat:
24
g
|
Saturated Fat:
12
g
|
Cholesterol:
117
mg
|
Sodium:
903
mg
|
Potassium:
657
mg
|
Fiber:
1
g
|
Sugar:
1
g
|
Vitamin A:
109
IU
|
Vitamin C:
7
mg
|
Calcium:
44
mg
|
Iron:
1
mg