Get Perfect Baked Potatoes every time without a microwave! The best guide for crispy outside tender inside baked potatoes, ready for your favorite toppings.
Whether it's Mashed Potatoes or Potato Skins, is there a more classic, easy-to-cook-with potato for Side Dishes than a russet potato?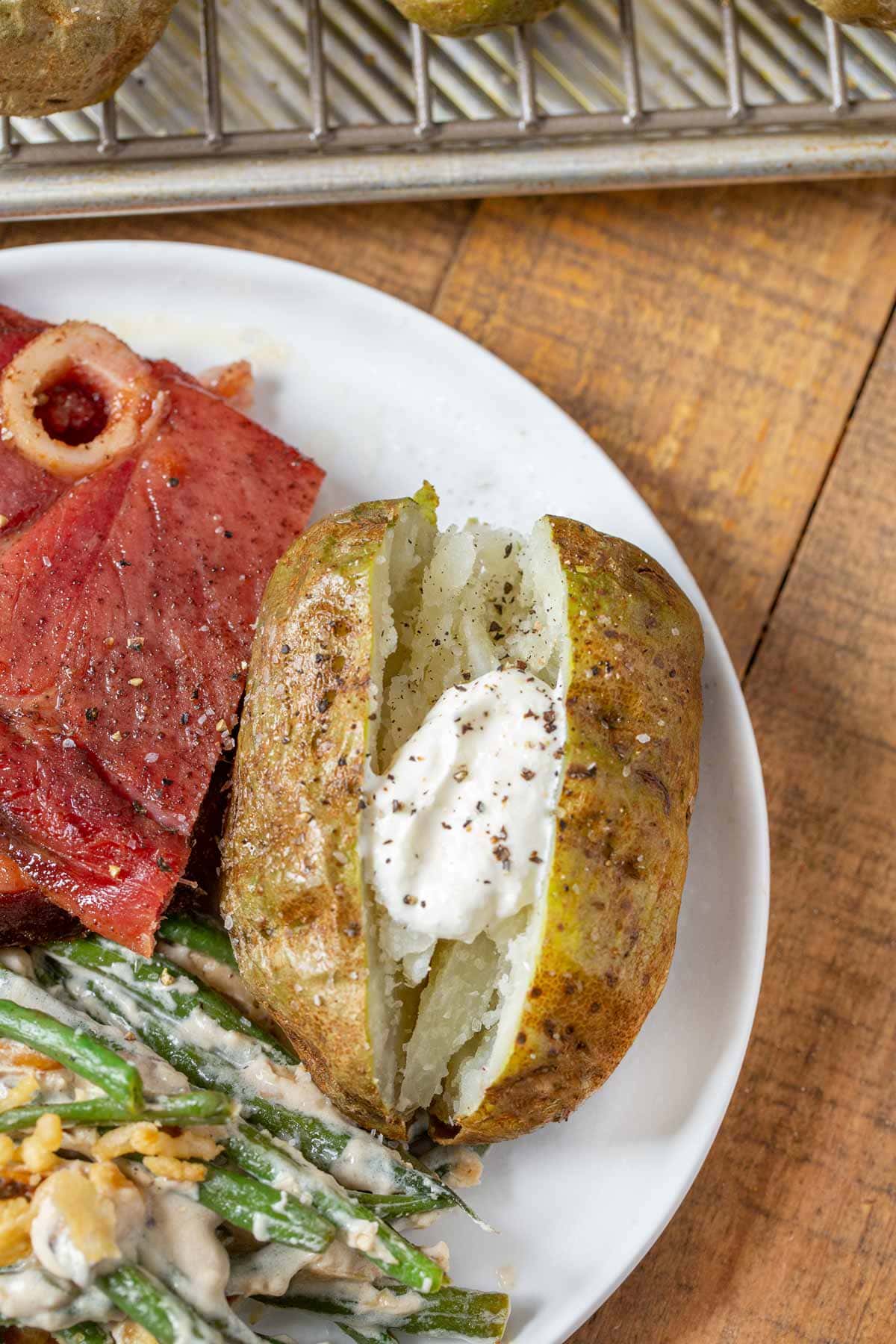 BAKED POTATOES
Twice Baked Potatoes and Baked Sweet Potatoes are delicious variations on the original spud, but sometimes you just can't beat an old fashioned, perfectly cooked Baked Potato. This oven Baked Potato recipe doesn't require a microwave or aluminum foil, just a little time, a fork, and light seasoning. Potato recipes just don't get more simple or classic than an oven baked russet!
A good Baked Potato should have slightly crispy skin that doesn't pull away or have air pockets. A fork-tender fluffy interior is just what you want for absorbing melted butter and sour cream. Our go-to recipe for Baked Potatoes is simple and delicious with just a little oil and sea salt to crisp up the skin and give you the best side for any Main Dish.
There are many ways to make a Baked Potato but the oven-method is the best way for the crispy skin and fluffy interior you want. For hands off potatoes ready when you get home, you can slow cook them. For extra crispy skin, use an air fryer. Par-cooking your potatoes in the microwave speeds up baking time, but you won't get a perfect Baked Potato with crispy skin.
WHAT TO SERVE WITH BAKED POTATOES
Why do you prick a baked potato?
As a Baked Potato cooks, the center of the potato gets really hot, radiating out and creating steam that cooks the interior. Pricking your potato allows the steam to release slowly. Too much steam building under the skin pushes it away from the "meat" of the potato. But over pricking releases too much steam and your potato will have a longer baking time and dry out.
Skip the Microwave Method
If the internal temperature rises too fast, like when you use a microwave, the steam rushes to the surface and causes the skin to balloon. When the microwave stops, the heat stops, so the steam rapid releases and the skin deflates. The soggy, wrinkly skin left behind also has air pockets that trap hot air and make hard spots.
The same principle applies to baking the potatoes with aluminum foil, it traps heat to "cook the potato faster". (It's not that much faster.) But at the same time, you are steaming the potatoes so leaving the skin wrinkly and soft. Hands down, oven-baking on a wire rack is the best method. It's worth the extra baking time to get a perfect bite from the outside of the potato all the way through to the fluffy interior.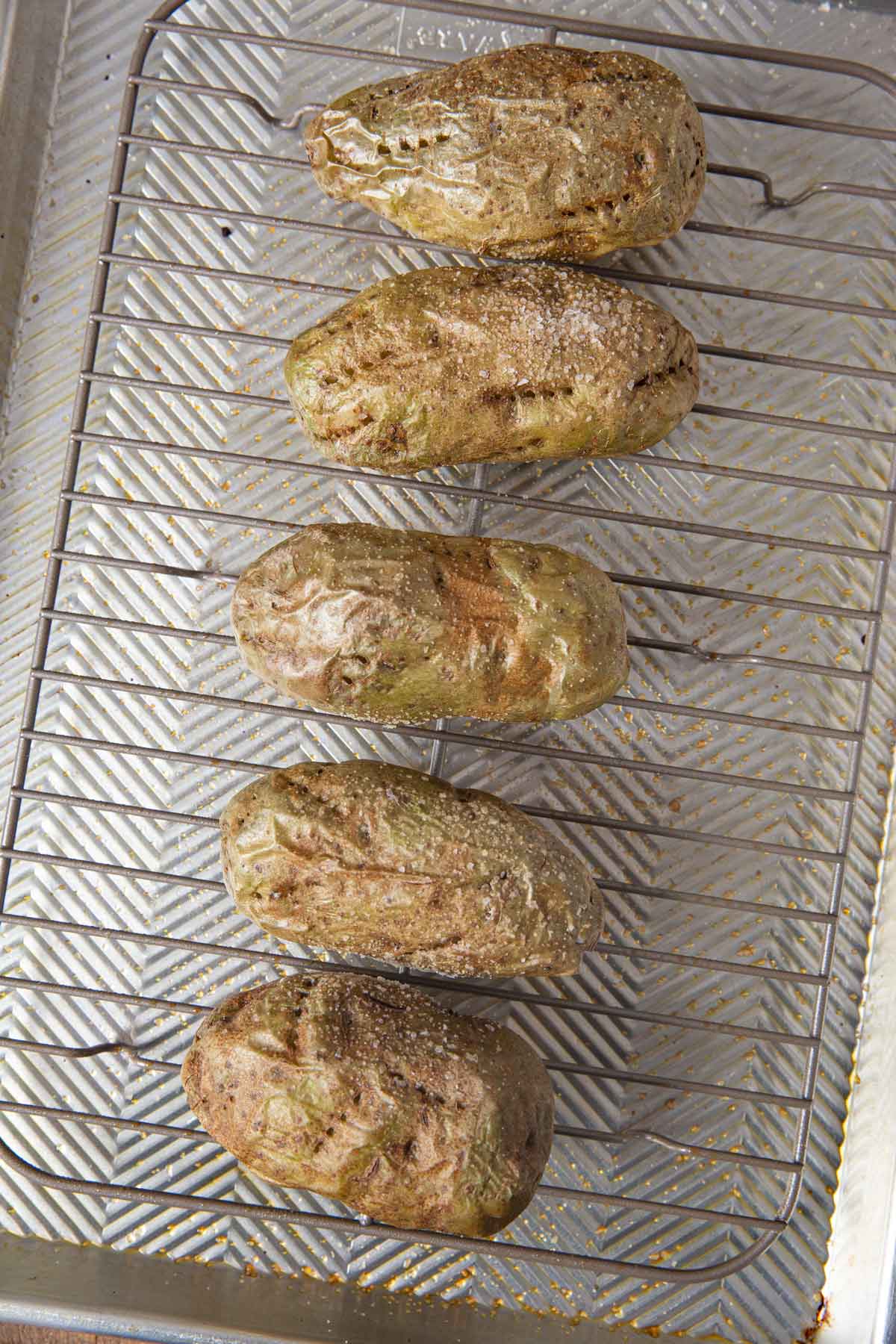 Create a free account to Save Recipes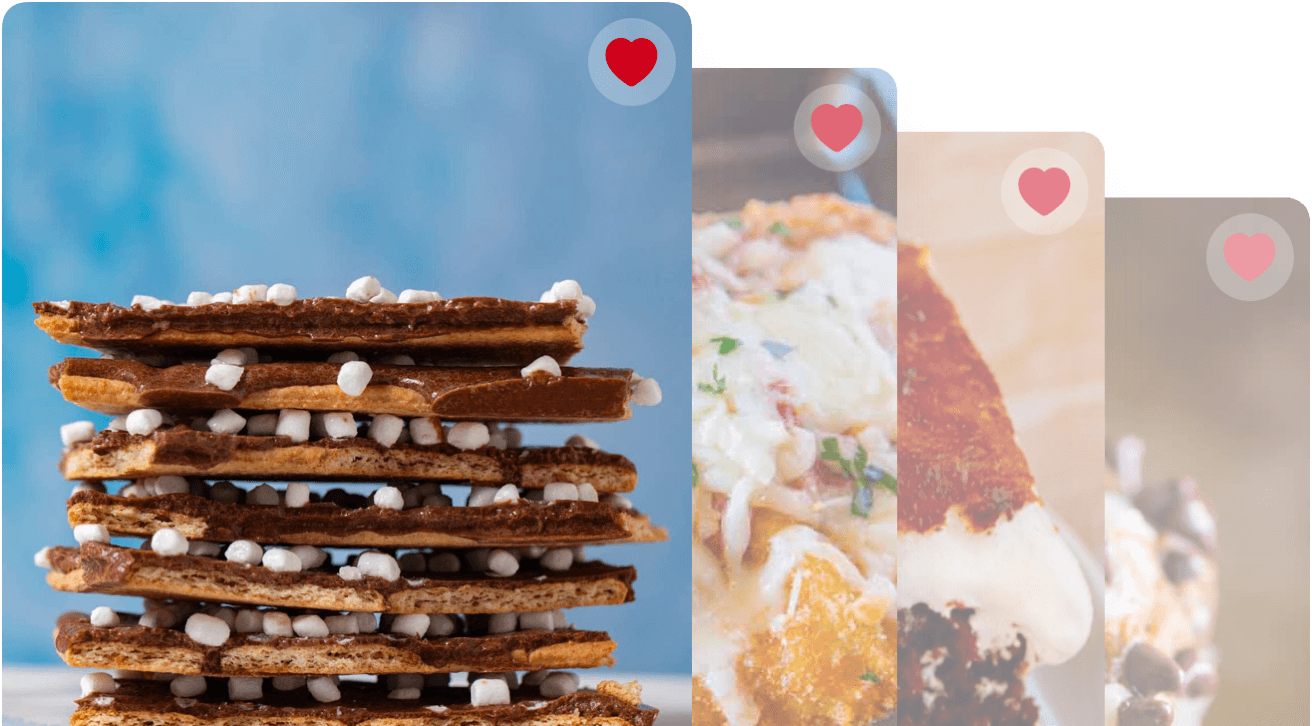 TOPPING IDEAS FOR BAKED POTATOES
How to Prepare: Cool potatoes 3-5 minutes so you can handle them. Cut a slice long ways down the center, about halfway deep. Grasp each long end with forefinger and thumb and push hands gently towards each other to open up. Use a fork to lightly mash interior until fluffy. Load with toppings!
Classic: The classic baked potato toppings are butter, sour cream, black pepper, and chives. Simple, timeless, and delicious!
Broccoli Cheddar: Top your Baked Potato with Roasted Broccoli and Nacho Cheese Sauce for an easy, classic vegetarian side dish.
Bacon Ranch: Brush cooked inside of potato with olive oil and sprinkle with Ranch Dressing Mix. Add crumbled cooked bacon and shredded cheddar cheese on top and broil until the cheese is melted.
Italian: Brush with olive oil when baking instead of vegetable oil and drizzle a little olive oil on fluffy cooked insides. Add a tablespoon of Marinara Sauce and top with shredded mozzarella cheese. You can add pizza toppings on top of the sauce too!
Taco Potatoes: Toss cooked leftover shredded or Grilled Chicken in Taco Seasoning and microwave until warm. Push fluffy insides down a bit to nestle chicken inside. Cover with cheese and broil until melted. Serve with your favorite toppings for tacos.
Slow Cooker Baked Potatoes
Prick the potatoes all over with a fork.
Brush with oil and season with salt.
Wrap seasoned potatoes in aluminum foil and place in bottom of slow cooker.
Cover with lid and cook on low for 7-8 hours, or on high 4-5 hours, until potatoes are tender.
Air Fryer Baked Potatoes
Preheat Air Fryer to 400 degrees F.
Scrub and dry potatoes really well.
Poke each potato with a fork a few times over every side.
Place 2-3 potatoes in air fryer basket.
Cook potatoes for 30-40 minutes, until tender and internal temperature is 205 degrees F.
MORE DELICIOUS POTATO RECIPES:
HOW TO STORE BAKED POTATOES
Serve: Baked Potatoes can be at room temperature for up to 2 hours before they should be refrigerated.
Store: Cool Baked Potatoes before storing and line container with paper towels to absorb moisture. Refrigerate in an airtight container for up to 1 week. Reheat on a microwave-safe dish, covered with a moist paper towel on 50% power until hot.
Freeze: Once potatoes are cooled, wrap in aluminum foil and store in a freezer safe plastic bag. Reheat Baked Potatoes from frozen wrapped in foil, on the oven rack, at 300 degrees F until hot.
WHEN ARE BAKED POTATOES DONE COOKING?
You can check the doneness of your baked potato like meat, measuring the internal temperature with an instant read thermometer. A Baked Potato (russet) is done when the internal temperature reaches 205 degrees F.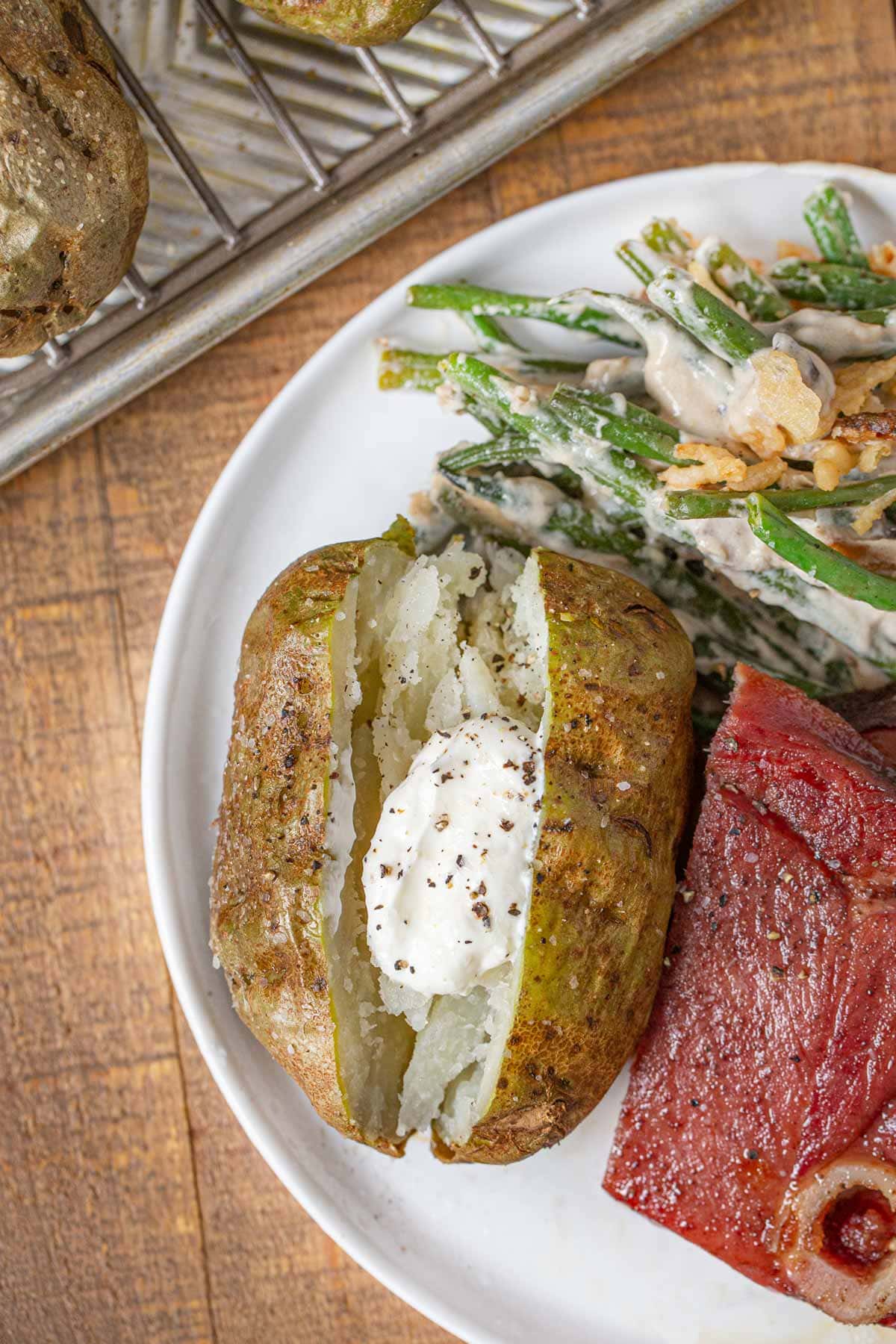 Ingredients
6

russet potatoes

, scrubbed clean

2

tablespoons

vegetable oil

1

tablespoon

kosher salt
Instructions
Preheat oven to 450 degrees.

Line baking sheet with metal cooling/baking rack.

Pierce potatoes with fork 8-10 times each.

Place on metal rack and bake for

20 minutes

.

Brush potatoes with oil all over and sprinkle with kosher salt.

Flip them over and bake additional

20 minutes

.
Nutrition
Calories:
208
kcal
|
Carbohydrates:
38
g
|
Protein:
5
g
|
Fat:
5
g
|
Saturated Fat:
4
g
|
Sodium:
1173
mg
|
Potassium:
888
mg
|
Fiber:
3
g
|
Sugar:
1
g
|
Vitamin C:
12
mg
|
Calcium:
28
mg
|
Iron:
2
mg