Easy Grilled Chicken Breasts are a go to recipe when the weather warms up with an easy lemon marinade and a quick grill you'll use this recipe all summer long for lunches, dinner, salads, soups and more!
Grilled Chicken is the perfect back pocket recipe to have when you need to add chicken to other recipes like Classic Chicken Salad, Easy Pasta Salad or one of my favorite recipes ever, Easy Greek Pasta Salad.
 Easy Grilled Chicken
One of the most popular recipes on the site for chicken is my Easy Grilled Jerk Chicken (and it's Slow Cooker version) and this recipe has been one I've fielded requests for since posting that recipe. Having a quick and easy recipe for grilled chicken is essential and this recipe will be your recipe you keep forever (I bet you will even just remember it once you make it a couple times).
We make this grilled chicken recipe all year long even when the weather outside isn't grill friendly. As pictured you can see the grill pan that would be perfect for your indoor use. Place that grill pan over two burners and let it preheat to a medium high temperature until you can feel the heat coming off it from inches away. Wipe it down with a paper towel you've wet with olive oil before adding the marinated chicken.
What to serve with grilled chicken? We love serving grilled chicken with classic summer side dishes like Coleslaw, Easy Macaroni Salad and Potato Salad or use it as a filling in recipes that called for cooked chicken like my favorite dip ever, Buffalo Chicken Dip.
Perfect Chicken Marinade
There's only a few ingredients you need for the perfect chicken marinade. We keep it simple in this recipe with no additional spices or herbs.
Olive Oil – every marinade will need oil, I use olive oil for the best flavor but you can also use vegetable oil for a similarly high smoke point. Do not use oils with a low smoke point as they will burn on the grill and turn bitter. Find a list of oil smoke points for reference here.
Lemon Juice – Acid is necessary in a marinade to tenderize the chicken, in this marinade we use lemon juice, in others vinegar is commonly used. You can also use lime juice or even a tangerine if that is what you have on hand.
Salt and Pepper – Seasoning food is mandatory for flavor, salt and pepper must be used in this grilled chicken recipe not to make it taste like salt or pepper but to enhance the natural flavor of the chicken.
SaFE Temperature for Cooking Chicken:
When cooking (or grilling) chicken you must cook your chicken to a safe minimum cooking temperature of 165 degrees °F (per foodsafety.gov) to avoid any issues with possible contamination. While the chicken rests it actually holds this temperature which allows it to kill any germs that may be remaining, so remember to rest the chicken for 5 minutes before serving.
More Marinade Ideas:
Sugar: You can add brown sugar, honey or granulated sugar to a marinade if you'd like to have a sweet flavor to your grilled chicken, remember this may cause a slight flare up in the grill.
Soy Sauce: Many popular chicken marinades include soy sauce. This is an easy swap for salt in the recipe but not necessary. You can use it for Asian flavored marinades.
Fresh Herbs: Any fresh herbs you'd like to use would work great in the marinade as they'll flavor the oil and the oil itself will flavor the chicken.
Dried Herbs: Dried herbs will hold up better to grilling than fresh herbs and also work well to add flavor. We like adding mixes like Cajun seasoning or Jerk Seasoning.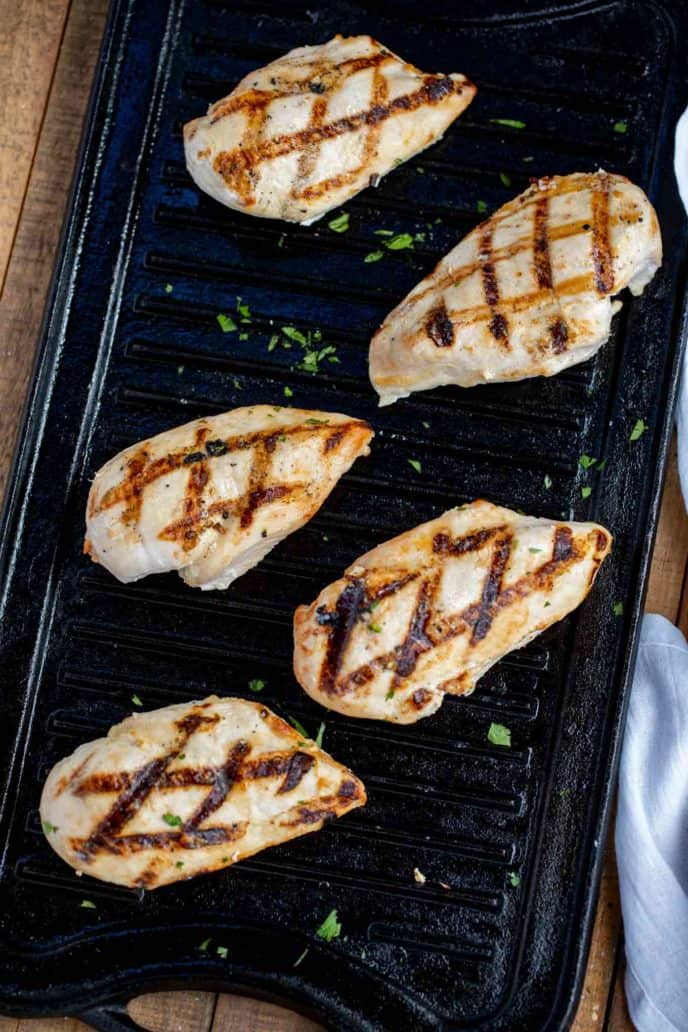 How to Grill Chicken Breasts
Make sure your chicken is mostly even in thickness.
Marinade for at least 30-60 minutes (discard your marinade).
Cook chicken on medium high to high heat for 4-5 minutes on each side.
Let the chicken breasts rest for 5 minutes before serving.
How to Grill Chicken Thighs
Make sure your chicken is mostly even in thickness.
Marinade for at least 30-60 minutes (discard your marinade).
Cook chicken on high heat for 7-8 minutes on each side.
Let the chicken breasts rest for 5 minutes before serving.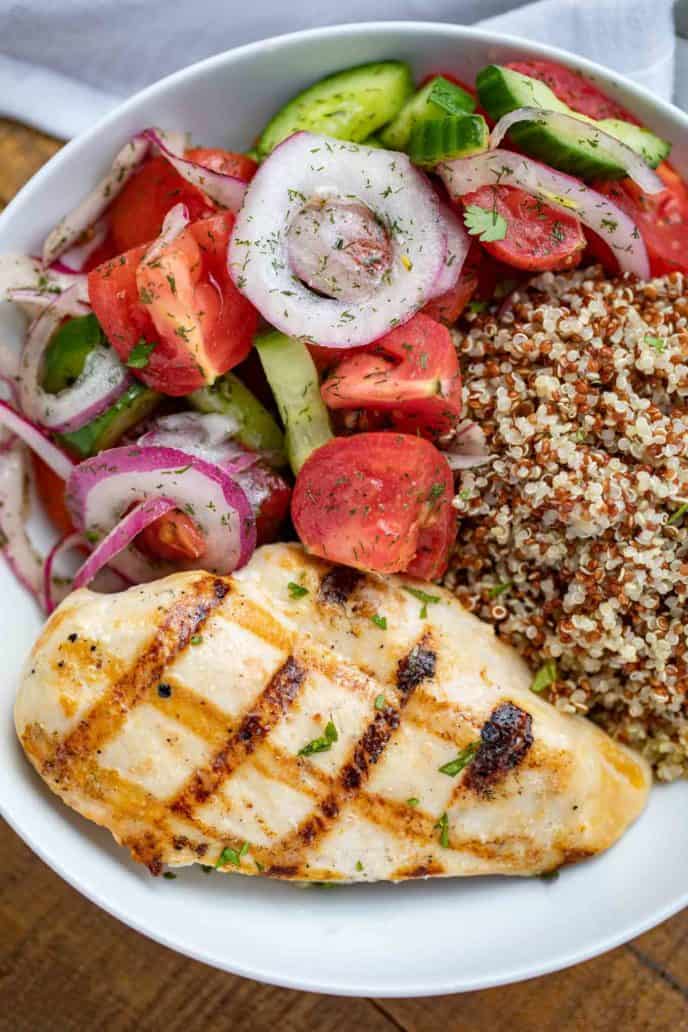 Recipe
Save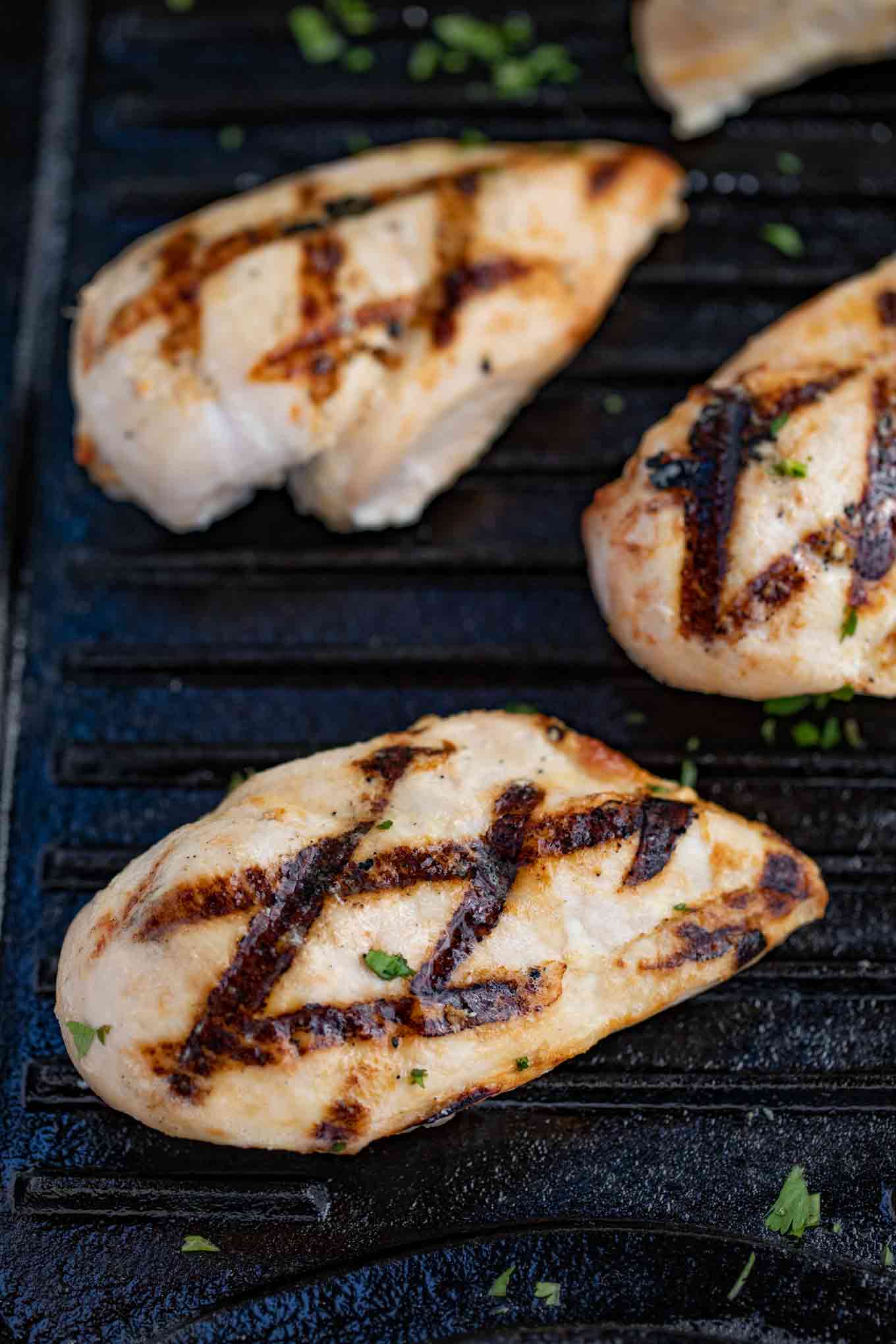 Easy Grilled Chicken Breasts
Yield:

5

servings

Prep Time:

10

minutes

Cook Time:

10

minutes

Total Time:

20

minutes

Course: Main Course
Cuisine: American
Author: Sabrina Snyder
Easy Grilled Chicken Breasts is a recipe you'll use all summer, with a lemon marinade perfect for lunches, dinner, salads, soups and more!
Ingredients
2

pounds

boneless skinless chicken breasts

, about 5 pieces

1/4

cup

olive oil

3

tablespoons

lemon juice

1/2

teaspoon

kosher salt

1/4

teaspoon

coarse ground black pepper
Instructions
Note: click on times in the instructions to start a kitchen timer while cooking.
Place the chicken between two sheets of plastic wrap and pound the thicker parts with a rolling pin or meat tenderizer until the thickness is about even, then place all the ingredients into a bowl or large ziplock bag together and let marinate for 60 minutes.

Heat your grill to medium high (you can use a grill pan inside if you prefer) and oil the grate with a paper towel.

Grill the chicken for 4-5 minutes on each side then let rest for 5 minutes before serving.
Recipe Video
Nutrition Information
Yield: 5 servings, Amount per serving: 304 calories, Calories: 304g, Protein: 38g, Fat: 15g, Saturated Fat: 2g, Cholesterol: 116mg, Sodium: 443mg, Potassium: 680mg, Vitamin A: 55g, Vitamin C: 5.7g, Calcium: 9g, Iron: 0.7g
All images and text © for Dinner, then Dessert.
Save