Easy Shredded Chicken makes the most simple tender chicken in just 20 minutes. Perfect to use in tacos, soup, salads, and pasta dishes.
This simple recipe is the ultimate dinner time saver. After just a 15 minute cook time you'll have tender, shreddable chicken that you can use as the meat in any number of Dinner Recipes. Serve it in Chicken Noodle Soup, a Creamy Chicken Casserole, or your favorite Chicken Salad.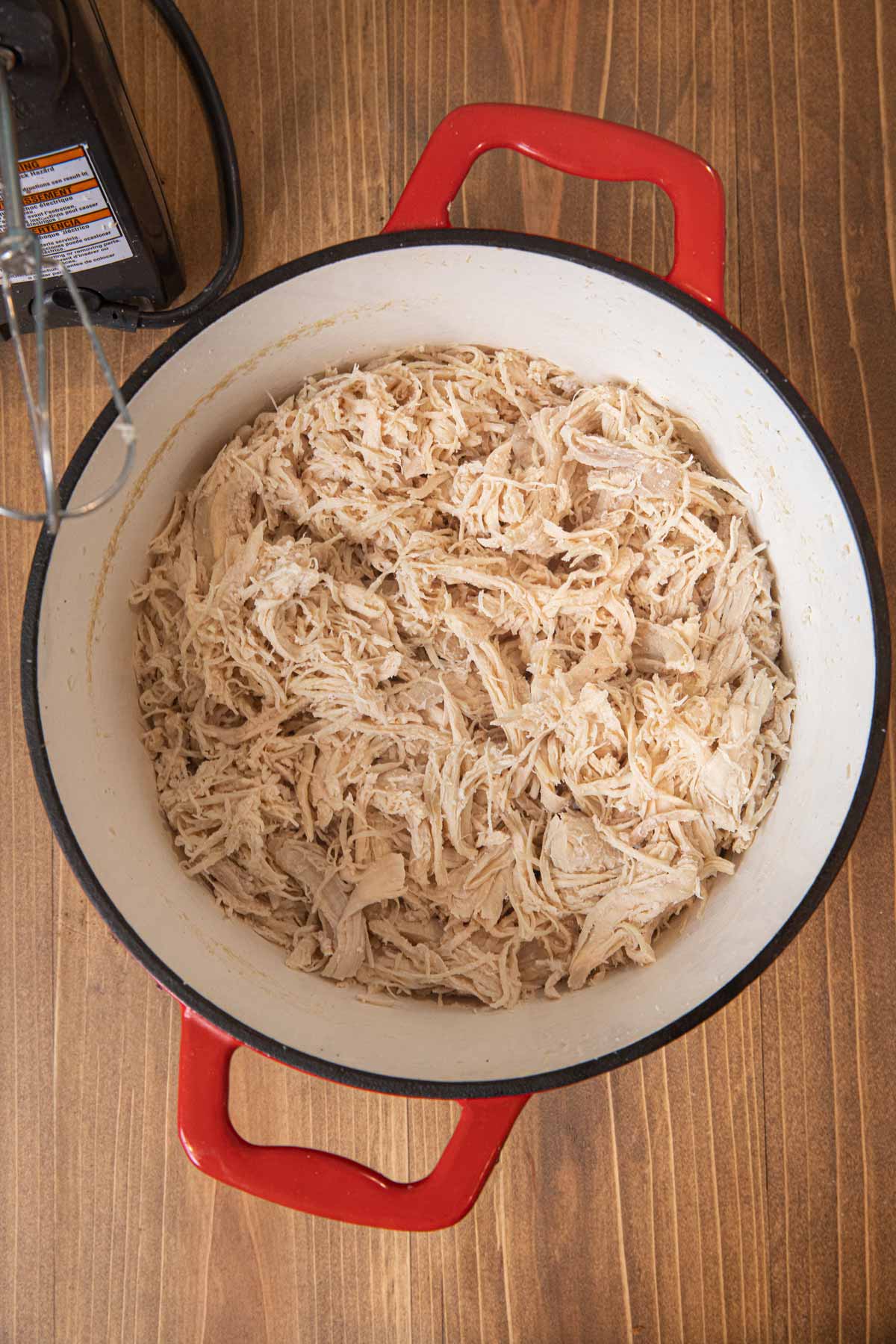 EASY SHREDDED CHICKEN
This is the easiest way to make the perfect chicken for shredding. All you have to do is add the boneless chicken breasts to a pot with water. Season the chicken with salt and pepper, then bring the recipe ingredients to a boil, and continue cooking until done. In just those few steps, you'll have the most versatile chicken recipe ready to go in practically no time at all.
Boiling the chicken is a great time saver, and you don't have to worry about preheating the oven or roasting the meat. Once it's done the cooked chicken is the perfect juicy texture to shred into chunks of chicken. The shredded texture is great for adding to salads, soups, and Mexican dishes. Plus, you can easily add any seasonings you like to the simple flavors in the recipe.
Even if you're serving a small group, you can still make a bunch of chicken with this recipe. Then just use some of it that night to go in your tacos, Chicken and Rice Soup, or whatever dish you're serving. Store any chicken you don't use for dinner that night in the fridge to toss in a Cobb Salad, or simple sandwich for lunch the next day. This simple recipe can be used in so many ways that you'll never get bored of it.
SIMPLE CHICKEN RECIPES
COOKING TIPS
Heat: This recipe is ready in just three unbelievably easy steps! To start, add the chicken breast halves, water, salt, and pepper to a dutch oven or large pot. Put the stovetop to medium-high heat, and bring the pot of chicken to a boil.
Cook time: Reduce to medium heat and continue cooking the boneless skinless chicken breasts for 15-18 minutes. To check if the cooking time is done, use an internal thermometer at the thickest part to check the internal temperature of the chicken. It's done when the internal temperature has reached 165 degrees F.
Finish: Strain the water out of the pot. Then use a handheld mixer at medium speed to shred the meat into small pieces of chicken. If you don't have a handheld mixer, you can also transfer the chicken to a stand mixer or use two forks.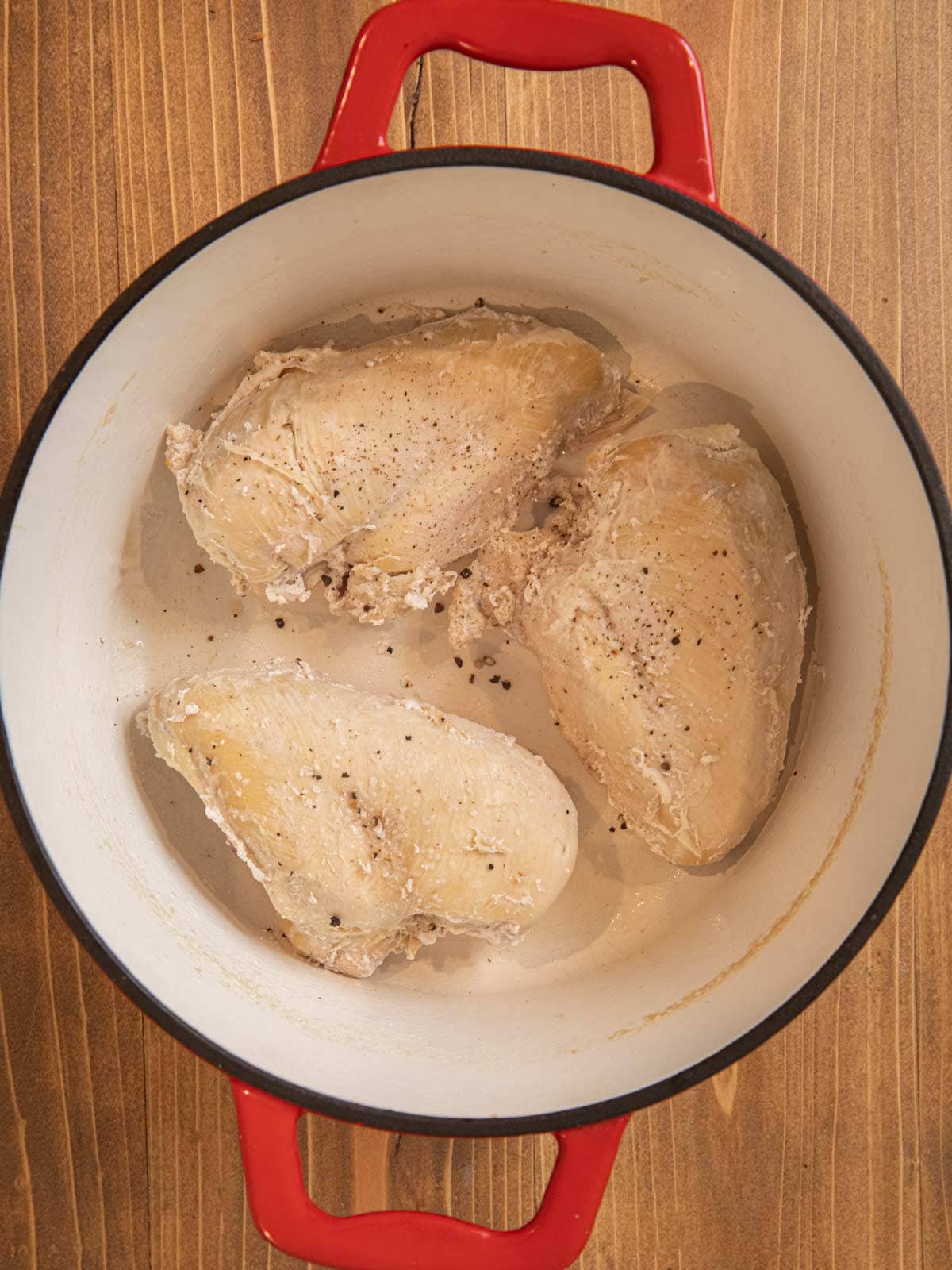 Create a free account to Save Recipes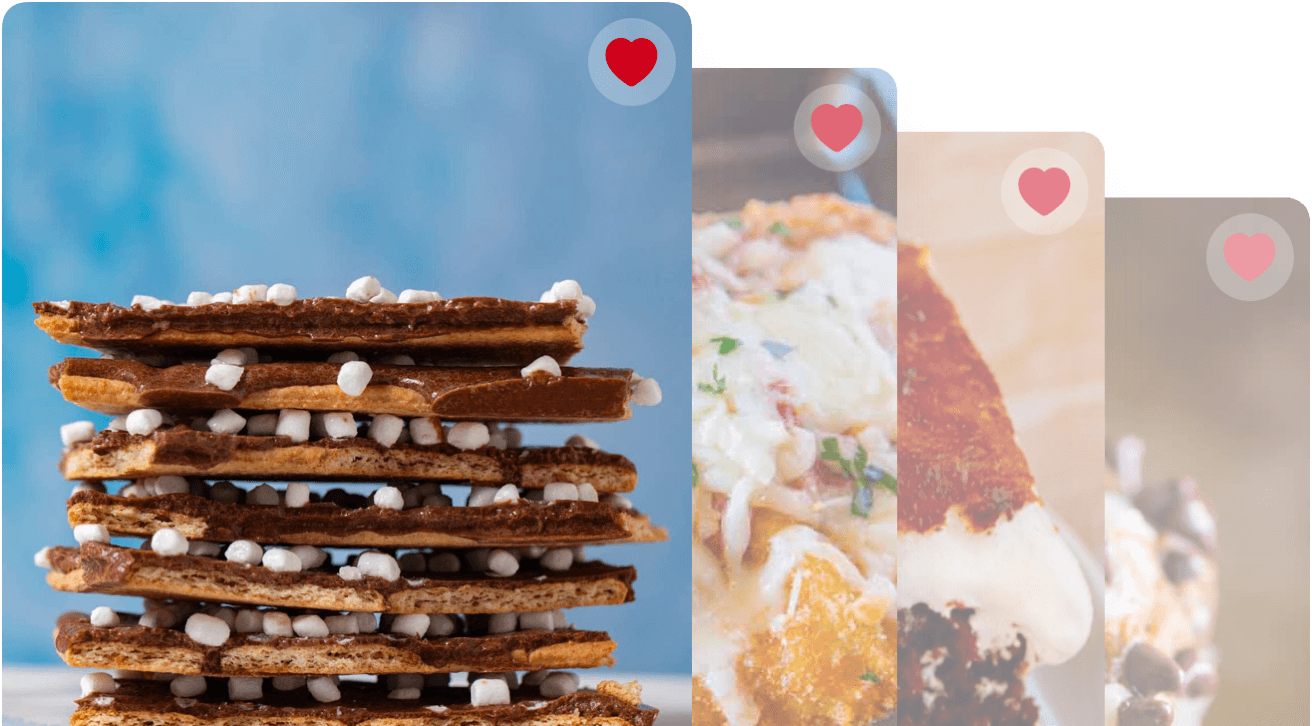 VARIATIONS
Broth: For some extra flavor in the juicy chicken breasts, you can replace the plain water with chicken broth. Put the chicken breasts in 3 cups of chicken broth and bring it to a boil as usual. It will soak up some of the salty flavors as it cooks.
Garlic: For some bold garlicky taste added to the chicken flavor, you can mix some minced cloves of garlic with the cooking liquid.
Seasonings: There are plenty of other ingredients you can season chicken breasts with. Try adding paprika, onion powder, fresh thyme, rosemary, cumin, or bay leaf.
INSTANT POT SHREDDED CHICKEN
Ingredients: Add the chicken breasts, salt, pepper, water, and any additional seasonings you want to the pressure cooker.
Pressure cook time: Seal the pressure cooker and set the manual cook time to 20 minutes.
Release: Instead of a natural release, do a quick release by turning the vent knob to the vent position, then uncover the chicken. To make sure the chicken is done, you can use an internal thermometer to check the breasts have reached 165 degrees.
Shred: Use forks or a hand mixer to shred the chicken.
CLASSIC SIDE DISHES
HOW TO STORE
Serve: After the cook time, don't leave the chicken pieces at room temperature for more than 2 hours.
Store: Let the warm chicken cool down before you put it in a ziplock bag or an airtight container to store in the fridge for 3-5 days.
Freeze: You could also put it in freezer-safe containers to keep the chicken in freezer for up to 6 months. Let the frozen chicken thaw in the fridge before reheating and serving.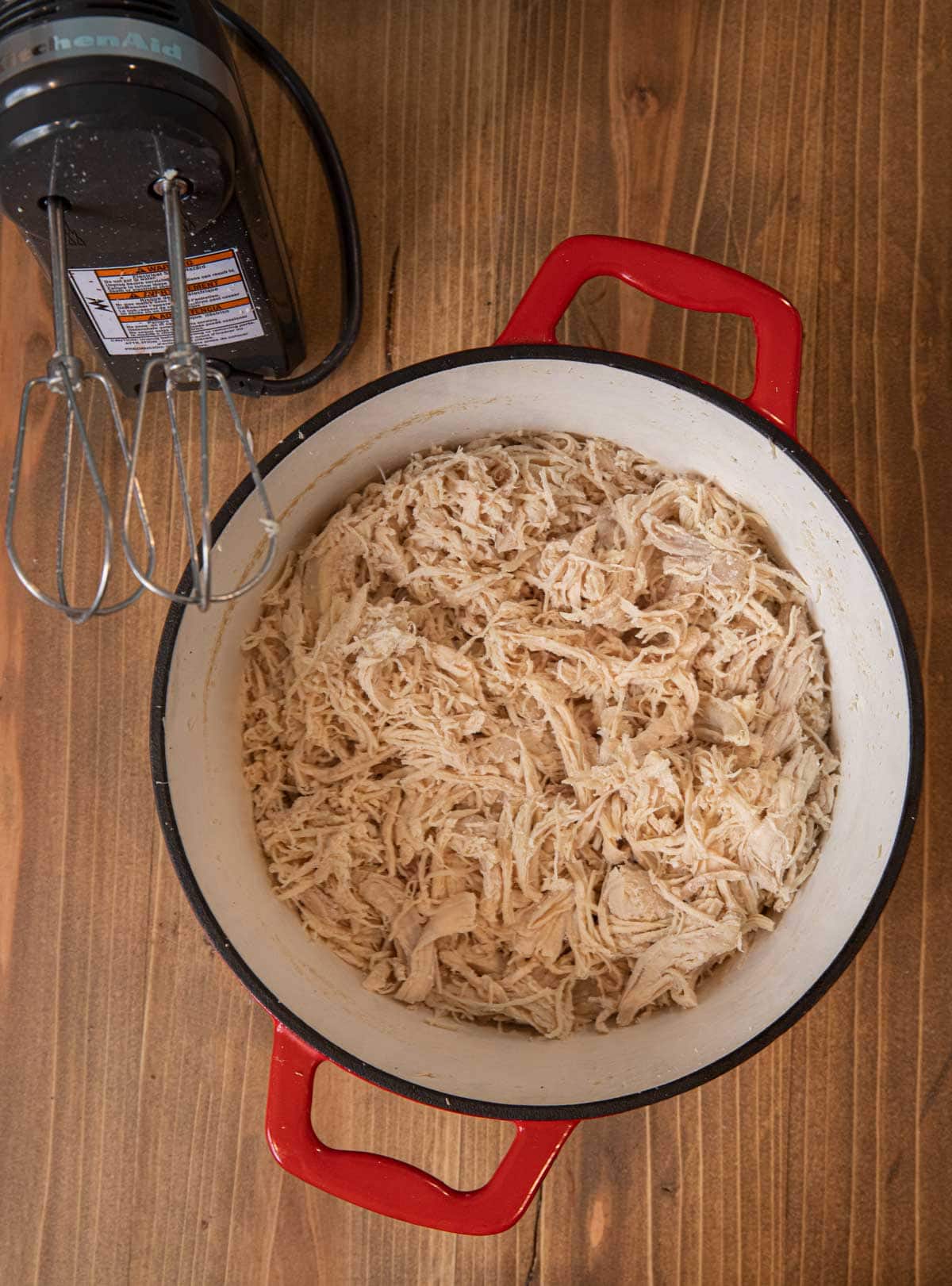 Ingredients
3

chicken breasts

, boneless & skinless

1

teaspoon

kosher salt

1/4

teaspoon

coarse ground black pepper

3

cups

water
Instructions
Add ingredients to a pot and bring to a boil on medium-high heat.

Drain water (or keep to use in soup), and use a hand mixer to shred the chicken on medium speed (you can also add to stand mixer on speed level 3).
Nutrition
Calories:
129
kcal
|
Carbohydrates:
1
g
|
Protein:
24
g
|
Fat:
3
g
|
Saturated Fat:
1
g
|
Trans Fat:
1
g
|
Cholesterol:
72
mg
|
Sodium:
525
mg
|
Potassium:
419
mg
|
Fiber:
1
g
|
Vitamin A:
34
IU
|
Vitamin C:
1
mg
|
Calcium:
10
mg
|
Iron:
1
mg