Instant Pot Frozen Chicken Breast is the best way to make juicy, tender chicken for dinner in 20 minutes without having to defrost the meat!
There are so many delicious Dinner Recipes that call for chicken breasts. This instant pot recipe is perfect for when you forget to defrost the chicken. You can cook frozen chicken breast completely in just 20 minutes. After the cooking time, you can use the chicken breasts in Rotisserie Chicken Breasts, Braised Chicken Breast, and Chicken Francese.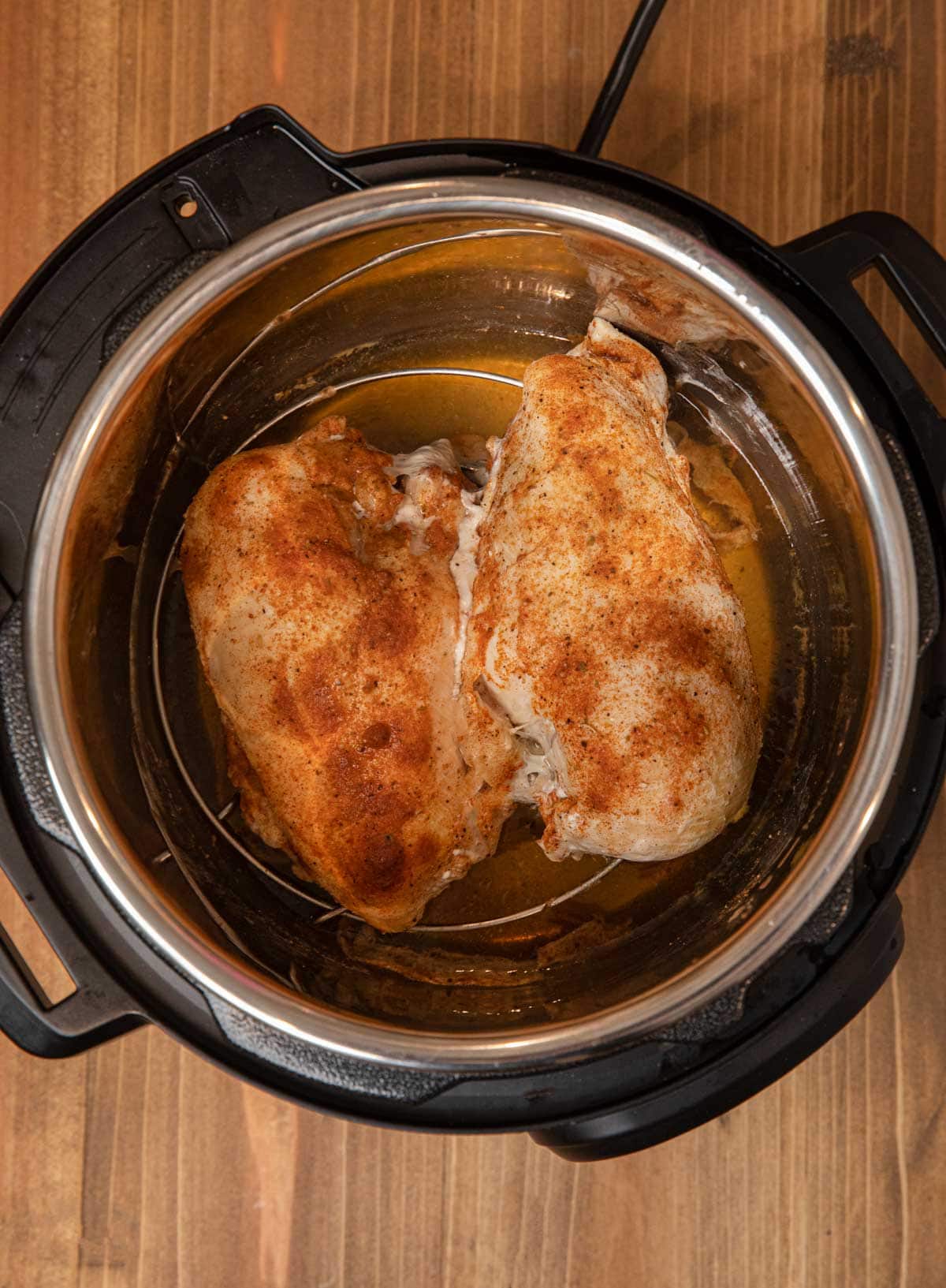 The next time you want to make one of your favorite chicken recipes but forgot to thaw out your frozen chicken, don't worry. All you need is a pressure cooker and your frozen chicken breast will be ready to go in just 20 minutes. That's right, with an instant pot you can easily cook frozen chicken breast to tender, juicy perfection and have them ready by dinner time.
Making this Instant Pot Chicken is a simple matter of putting some water and seasoned chicken in your pressure cooker. The water creates steam which gets trapped in the pressure cooker. During the cooking time, the steam helps to defrost and cook the frozen, raw chicken. After cooking in the instant pot, you'll have juicy chicken breast seasoned to perfection with Rotisserie Chicken Seasoning.
Pressure Cooker Chicken is perfect to use for any of your favorite weeknight dinners. You can shred the Instant Pot Chicken and put it in White Chicken Chili, Chicken Tacos, or Chicken Pot Pie. Prepping chicken in the pressure cooker is the perfect meal prep to get you ahead on dozens of delicious dinners. 
To add more to the Juicy Chicken Breast serve them up with your favorite side dishes. It will taste delicious with Baked Potatoes, Green Beans, Sweet Potatoes, or Roasted Root Vegetables.
How to Make Instant Pot Frozen Chicken Breasts
Enjoy perfectly cooked chicken breasts in a fraction of the time with this Instant Pot recipe. It's simple, convenient, and perfect for busy weeknights. Check it out!
Prepare Instant Pot: Add the steam basket to your pressure cooker. Make sure the handles are facing up in the instant pot. Then, add water.
Arrange Chicken Breasts: Before you start the pressure cooker recipe make sure that the chicken breasts are not stuck together. If the chicken is frozen together break them apart to get them ready for instant pot cooking. Place chicken breasts onto the rack, ensuring they are not touching.
Season Chicken: Before pressure cooking, generously season the chicken breasts with Rotisserie Chicken Seasoning. Do your best to spread the seasoning evenly.
Cook: Close, lock the lid, and seal the vent. Cook on high pressure for 18 minutes, then quick release the pressure.
Check Doneness: If the chicken is not fully cooked, cook for an additional 2 minutes.
More Easy Chicken Dinners
Frequently Asked Questions
Can I use fresh chicken breasts instead of frozen ones?
Yes, you can use fresh chicken breasts. Adjust the cooking time to 12 minutes on high pressure followed by a quick release.
Can I use a different seasoning blend?
Absolutely! Feel free to experiment with your favorite seasoning blends, such as Cajun, lemon pepper, or Italian seasoning.
Can I cook multiple types of chicken pieces together?
Yes, but ensure that all pieces are of a similar thickness to ensure even cooking. And make sure they are not stuck together. 
Can I stack the chicken breasts in the Instant Pot?
It's best to avoid stacking them directly on top of each other. Use a trivet or rack to layer them, ensuring proper circulation of steam. 
How can I make the chicken more flavorful?
For more flavor, marinate the chicken in your preferred seasoning blend for at least 30 minutes before cooking.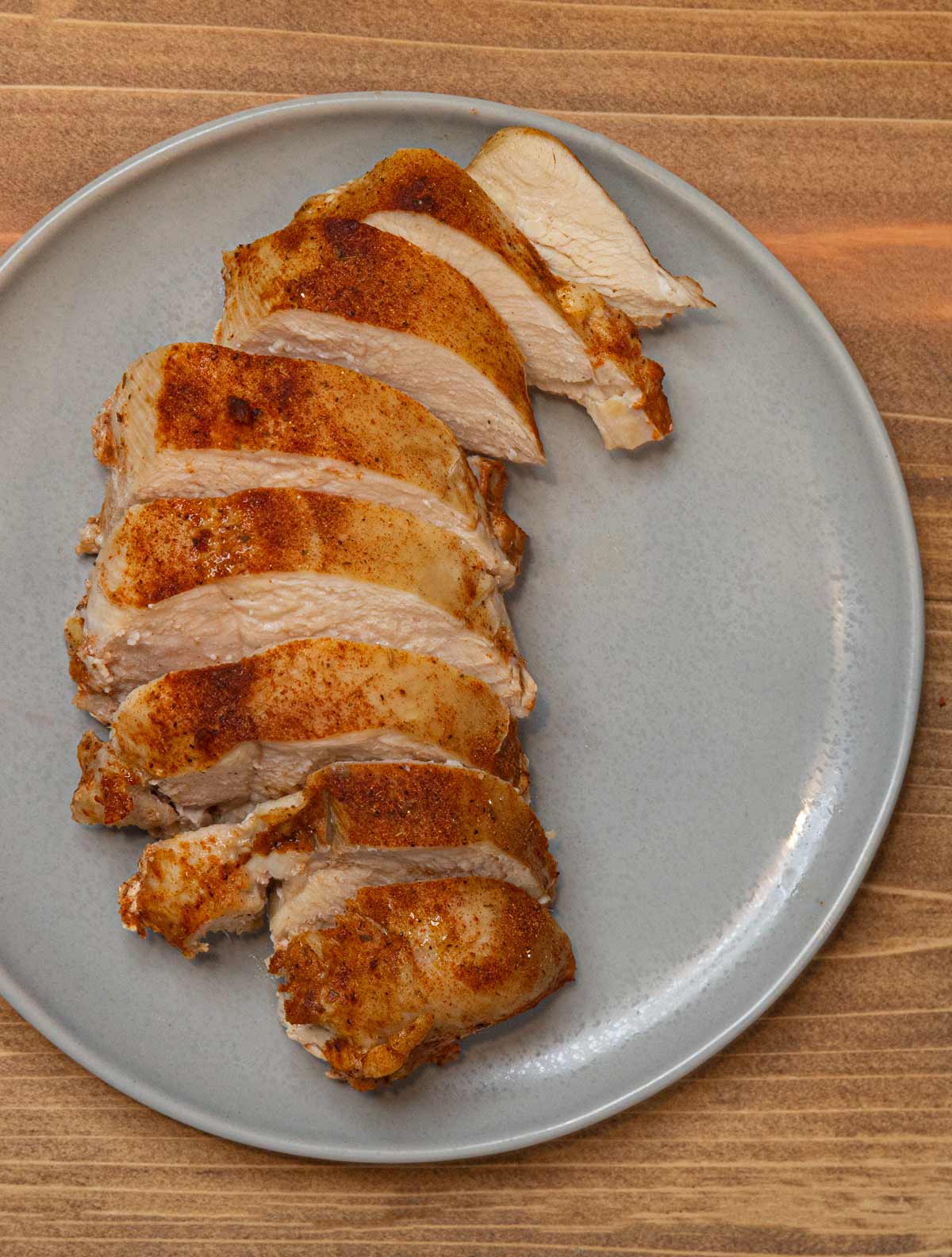 Create a free account to Save Recipes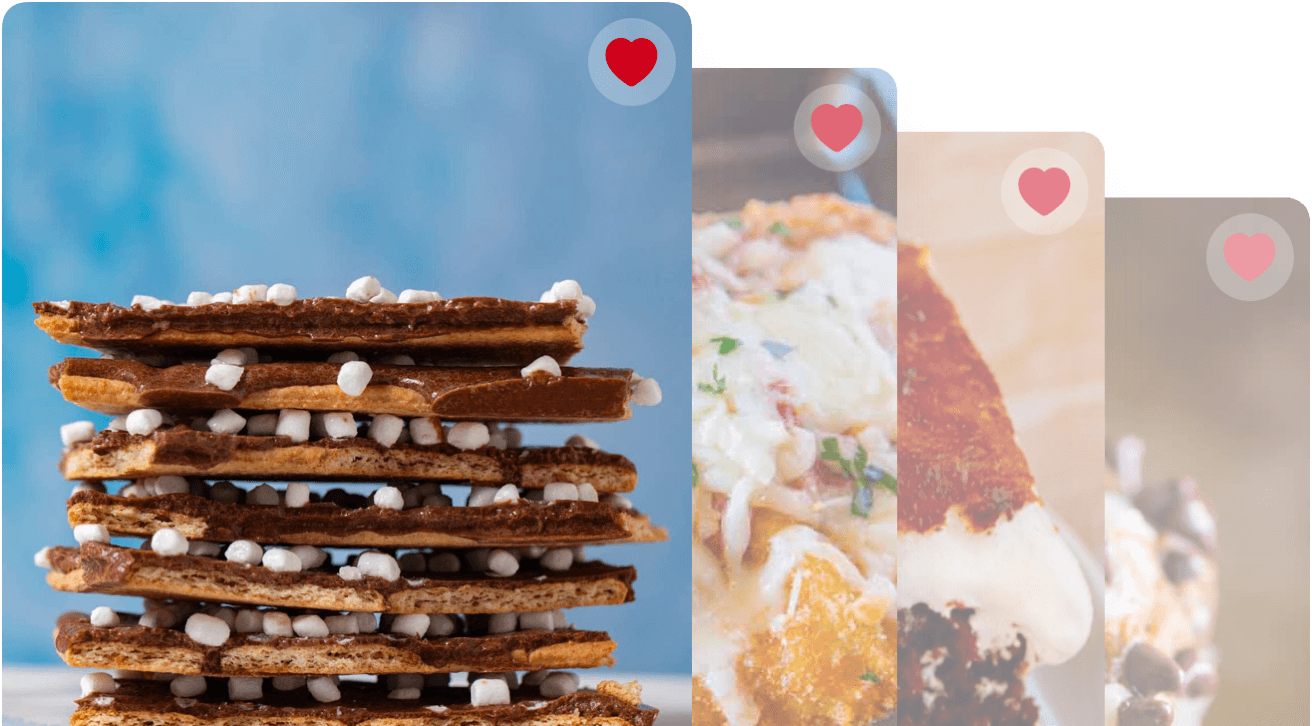 Key Ingredients in Instant Pot Frozen Chicken Breasts
This method is super easy and only uses a few ingredients. Everything can be obtained from your local grocery store. Check it out!
Chicken: Using frozen chicken breasts saves time and effort; there's no need to defrost beforehand. Just put them in and cook!
Water: Helps generate steam to cook the chicken quickly and efficiently. You can use chicken broth if you want to use the water to make soup. 
Rotisserie Chicken Seasoning: Adds a delicious, savory flavor to the chicken, reminiscent of rotisserie-cooked chicken.
Can Instant Pot Frozen Chicken Breasts be made ahead of time?
Yes, you can make the chicken ahead of time. After cooking, let it cool, and store it in an airtight container in the refrigerator for up to 3 days. Reheat in the microwave or oven before serving.
Variations on Instant Pot Frozen Chicken Breast
Season: It's fun to use different ingredients to experiment with the flavor of the Pressure Cooker Chicken. You can flavor Pressure Cooker Chicken with different kinds of fresh herbs and seasoning ingredients other than rotisserie seasonings. Try adding garlic powder, minced garlic, chili powder, pepper, thyme, oregano, basil, or rosemary. Season the Instant Pot Chicken before cooking it in the pressure cooker.
Broth: Try replacing the water in the instant pot recipe with chicken broth. The cooked chicken will absorb the flavor from the chicken broth as it cooks.
Sauce: There are lots of different sauces you can coat the cooked chicken with. Once it's done in the pressure cooker try serving the chicken with delicious BBQ Sauce, Buffalo Sauce, or Alabama White Sauce.
Pineapple sauce: Make a tangy pineapple sauce with 2 cups pineapple, 1 teaspoon minced garlic, ½ cup pineapple juice, ¼ cup vinegar, ¼ cup lemon juice, 1 teaspoon lemon zest, 1 cup brown sugar, 2 teaspoons red chili flakes, ¼ cup water, and 3 tablespoons cornflour. Coat the chicken in the sauce once it's done in the electric pressure cooker. 
How to Serve Instant Pot Frozen Chicken Breasts
Instant Pot Frozen Chicken Breasts are versatile and can be paired with various side dishes, appetizers, and desserts for a complete meal experience. Check out these ideas!
How to Store Instant Pot Frozen Chicken Breast 
Serve: After cooking, don't leave your Pressure Cooker Chicken at room temperature for more than 2 hours.
Store: After the Instant Pot Chicken has cooled, seal the chicken in an airtight container to store in the fridge. The chicken will stay good for 3-4 days. 
Freeze: Another option is freezing the chicken after cooking it in the instant pot. Put them in resealable freezer bags to keep the moisture out. They'll stay good for 4 months.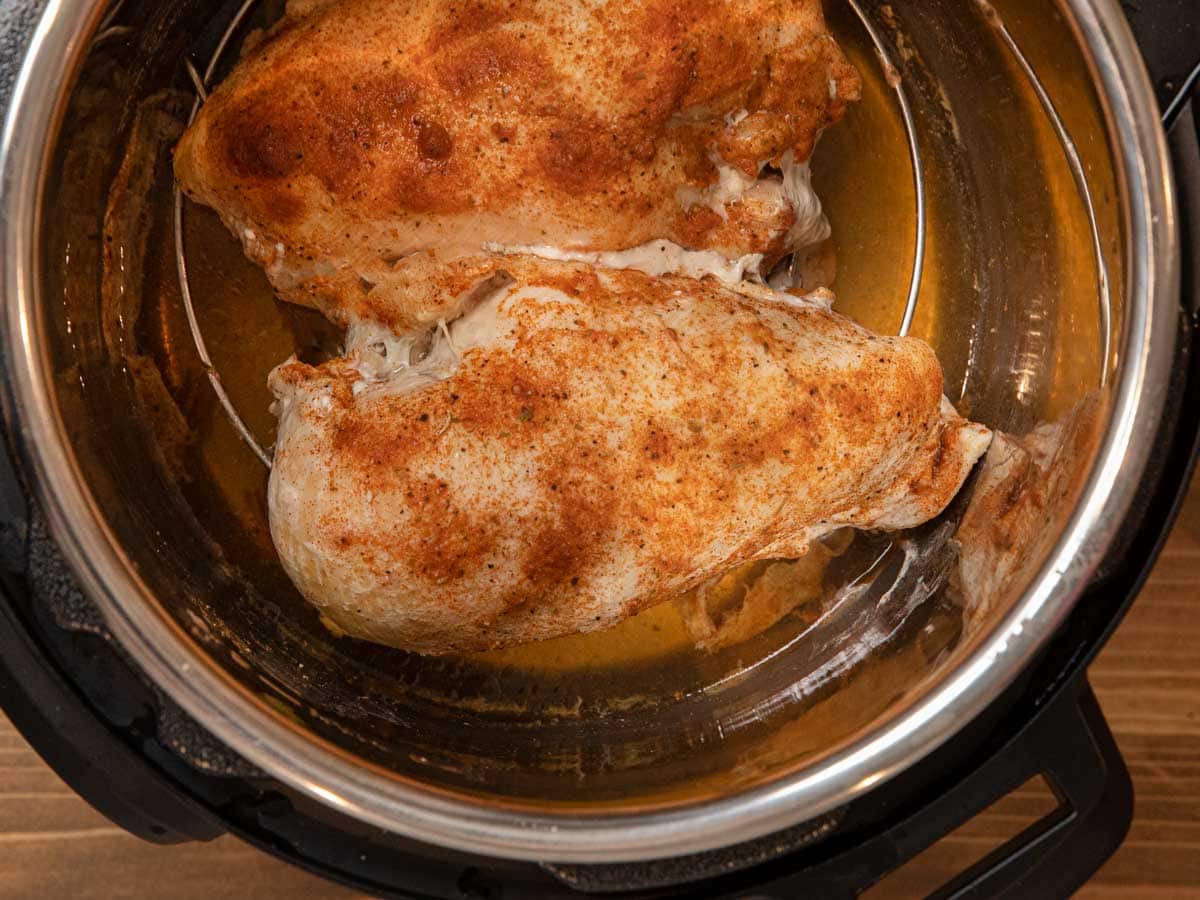 Instructions
Add water and the steam rack to your instant pot insert with the handles facing up.

Place chicken breasts onto the rack (do not have them touching).

Close, lock lid, and seal the vent.

Cook on high for

18 minutes

, then quick release the pressure.

If chicken is not done, cook for

2 additional minutes

.
Notes
Note: Make sure your chicken breasts are not frozen together, they must be separate.
Nutrition
Calories:
261
kcal
|
Carbohydrates:
1
g
|
Protein:
48
g
|
Fat:
6
g
|
Saturated Fat:
1
g
|
Cholesterol:
145
mg
|
Sodium:
265
mg
|
Potassium:
839
mg
|
Fiber:
1
g
|
Sugar:
1
g
|
Vitamin A:
86
IU
|
Vitamin C:
3
mg
|
Calcium:
18
mg
|
Iron:
1
mg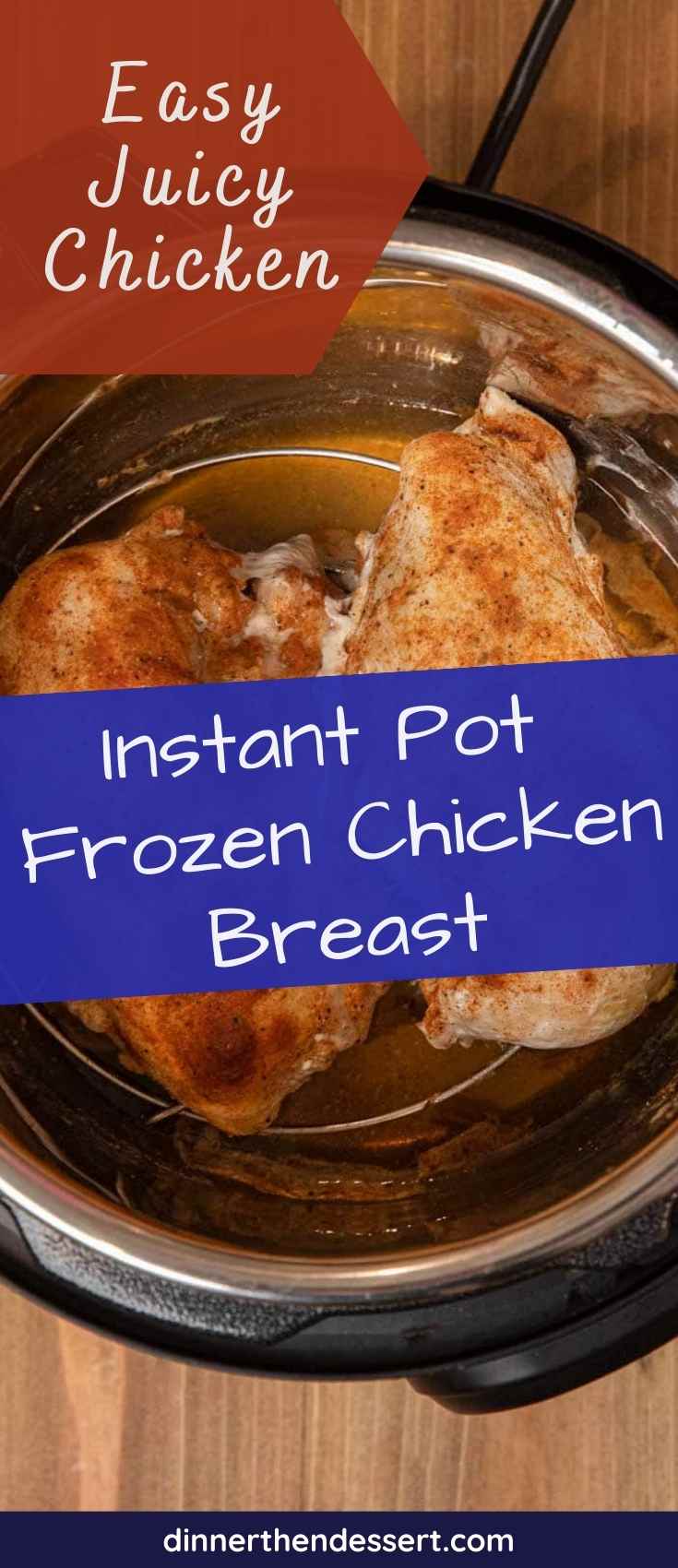 Photos used in a previous version of this post.