Braised Chicken Breast with Mushrooms is an easy stovetop dinner. Moist and flavorful chicken quick braised in white wine and mushrooms. Ready in one hour!
Baked Chicken Breasts are a quick main dish that goes with almost any side. This boneless Chicken Recipe is just as easy to make and looks so elegant, perfect for dinner parties or busy weeknights.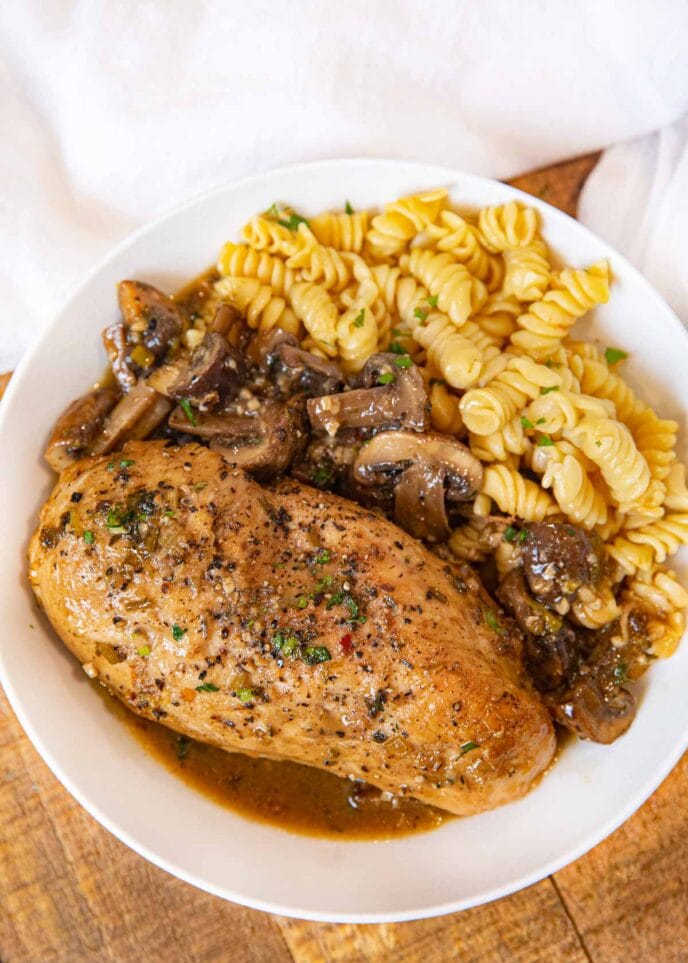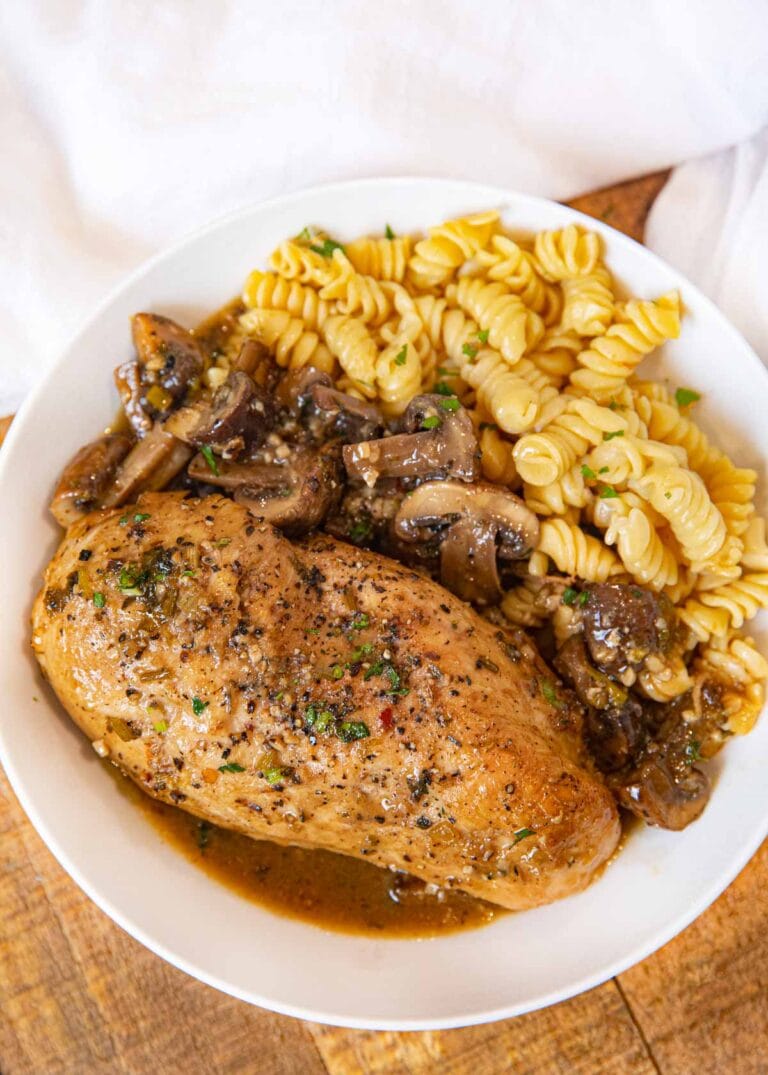 BRAISED CHICKEN BREAST WITH MUSHROOMS
When cooking with whole boneless, skinless chicken breasts it can be pretty tricky to keep moist and tender. The upside is chicken takes on the flavors it's cooked with really well, making it great in stir-fry and creamy dishes. This easy one-pan dinner gives you moist, flavorful chicken without drowning in sauce or calories.
Braised Chicken Breast with Mushrooms is a quick braise of chicken in a simple mushroom and wine sauce. Braising is a French technique of browning at high heat in oil and then finishing in a broth or thin sauce until it is tender. Normally when you braise meat, you cook it low and slow. The quick braising method in this recipe is perfect for lean meats that dry out with longer cooking times.
This simple Braised Chicken Breast with Mushrooms recipe is so flavorful with just a handful of ingredients. The main ingredients are mushrooms, chicken breast, and wine along with standard seasonings you normally cook with. Preparation for this dish is quick and if you start your side at the same time, dinner will be ready in just an hour.
Braised Chicken Breast and Mushrooms is a great dish to make ahead! The flavors blend more together as it rests overnight in the refrigerator. Reheat on low heat on the stove top or in the oven at 300 degrees, until warm, so that the chicken doesn't dry out. You can also make this Braised Chicken Breast and Mushrooms in the slow cooker to make weeknight mealtime even more easy!
The mild seasonings in Chicken Breast with Mushrooms make it a dish the whole family will love! Plus you can serve it along with almost any side dish. Serve with Mashed Potatoes and Dinner Rolls to soak up the delicious, rustic sauce. Bake Creamy Polenta in the oven while you cook the chicken for a fancy dinner that's easier than it looks. For more veggies, serve with a side of Roasted Broccoli!
What kind of wine is best for cooking?
Braised Chicken Breasts with Mushrooms is made with a dry white wine. You want to use a good wine that you would enjoy drinking, but no need to bust out the fancy wine. A moderately priced Chardonnay, Pinot Grigio, or Sauvignon Blanc is perfect to cook with. Just make sure you don't use cooking wine, it isn't flavorful and very salty!
PERFECT DINNER SIDE DISHES: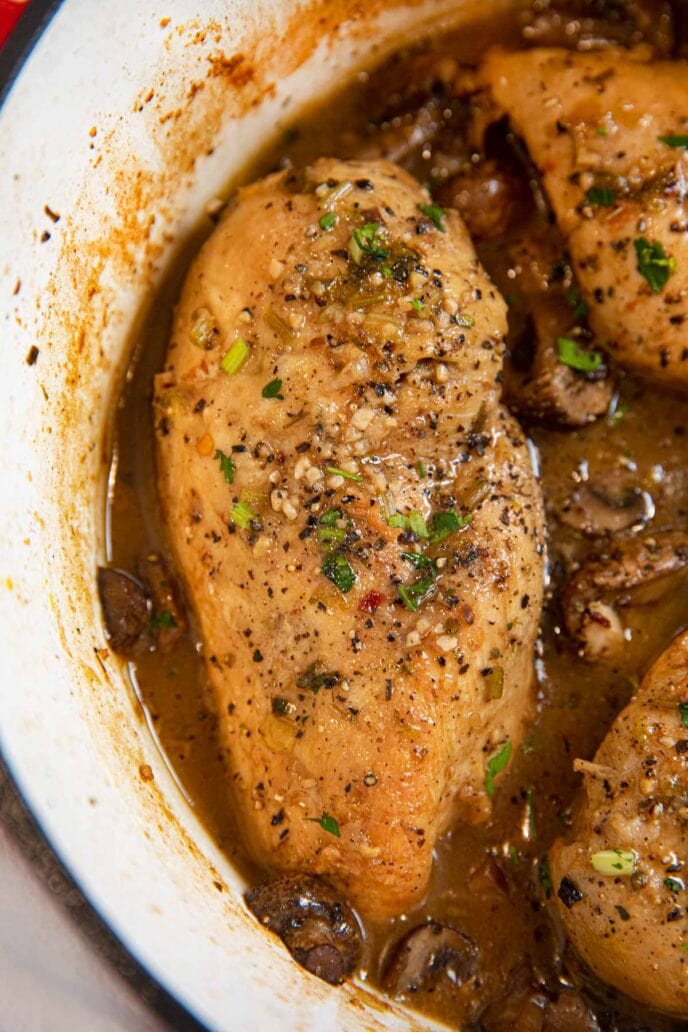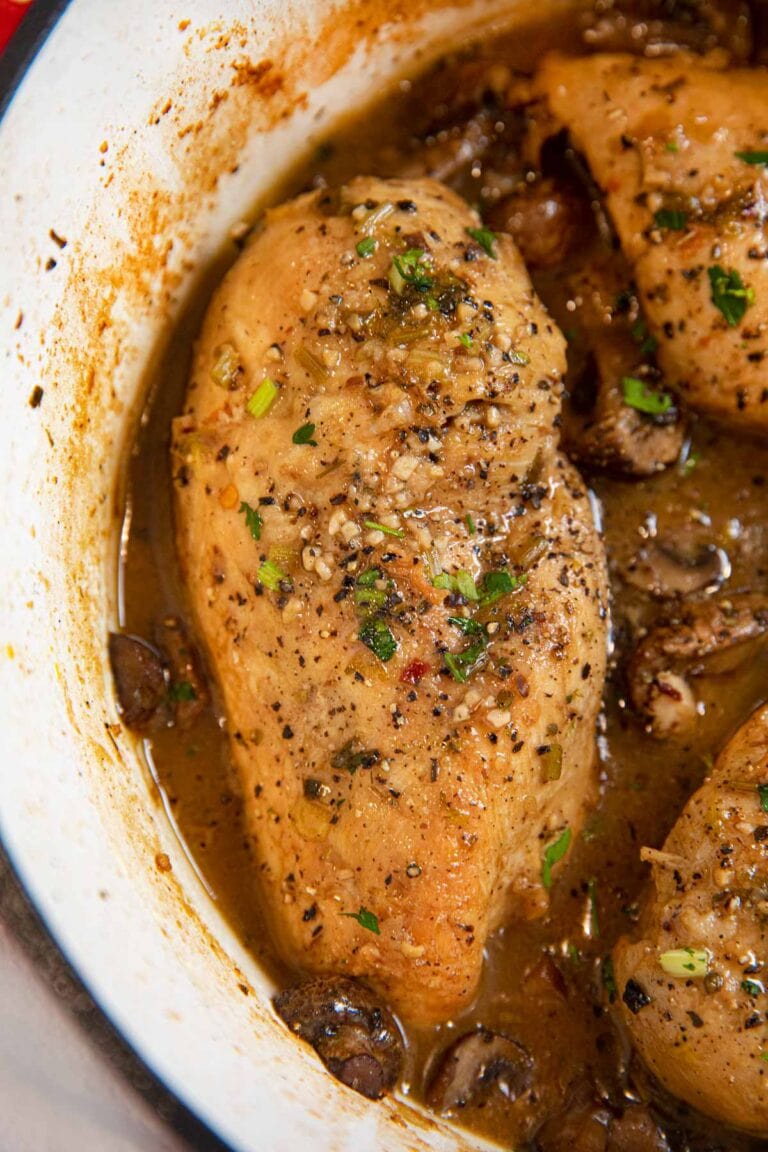 Create a free account to

Save Recipes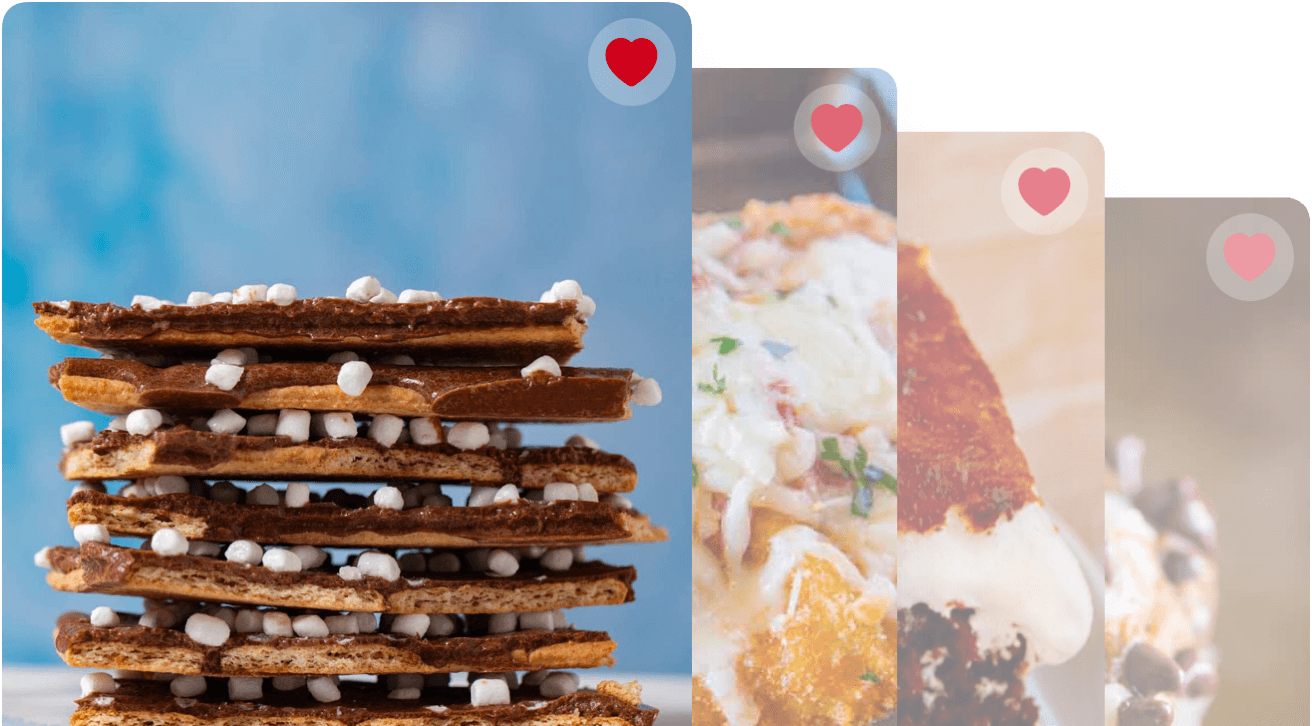 VARIATIONS ON BRAISED CHICKEN BREAST WITH MUSHROOMS
Meat: Pork cutlets are another lean meat that would work well in this quick braise. You can also use other chicken pieces like bone-in chicken thighs or chicken tenderloins.
Mushrooms: Use a meatier mushroom that will hold up during the braising. Good substitutes for cremini mushrooms are shitake mushrooms, baby bellas, chopped portobello mushrooms, or wild mushrooms.
Herbs: Season Braised Chicken Breast and Mushrooms with fresh herbs like tarragon, thyme, marjoram, or basil. You can use dried spices or French seasoning blends too.
Veggies: Braise the chicken with vegetables like artichoke hearts, carrots, green beans, pearl onions, sundried tomatoes, leeks, or shallots. Use only about a 2 cups total volume, otherwise you'll need to increase the sauce amount.
Slow Cooked Braised Chicken Breast with Mushrooms
Slow cooking works best with bone-in chicken, but you can also use boneless chicken in this recipe.
Sear seasoned chicken breasts in 2 tablespoons oil in a large skillet, 4 minutes on each side.
Place chicken breasts in the slow cooker.
Add remaining oil, mushrooms, and onions. Cook 3 minutes, stir then cook another 3 minutes.
Stir in garlic, cooking until fragrant, about 30 seconds.
Transfer mushroom-onion mixture to the crock pot.
Add remaining ingredients, stir and cover with lid.
Cook on low for 5-6 hours, or on high 2-3 hours, until chicken is cooked through and tender.
MORE EASY, MAIN DISH RECIPES
HOW TO STORE BRAISED CHICKEN BREAST WITH MUSHROOMS
Serve: Braised Chicken Breast with Mushrooms can be at room temperature for up to 2 hours before it needs to be chilled.
Store: Cool Chicken Breast and sauce before storing in an airtight container in the refrigerator for up to 3 days. Reheat in a skillet over low-medium heat until hot.
Freeze: Place cooled Braised Chicken Breast and Mushrooms in a sealed container and freeze for up to 3 months. Thaw overnight in the refrigerator before reheating.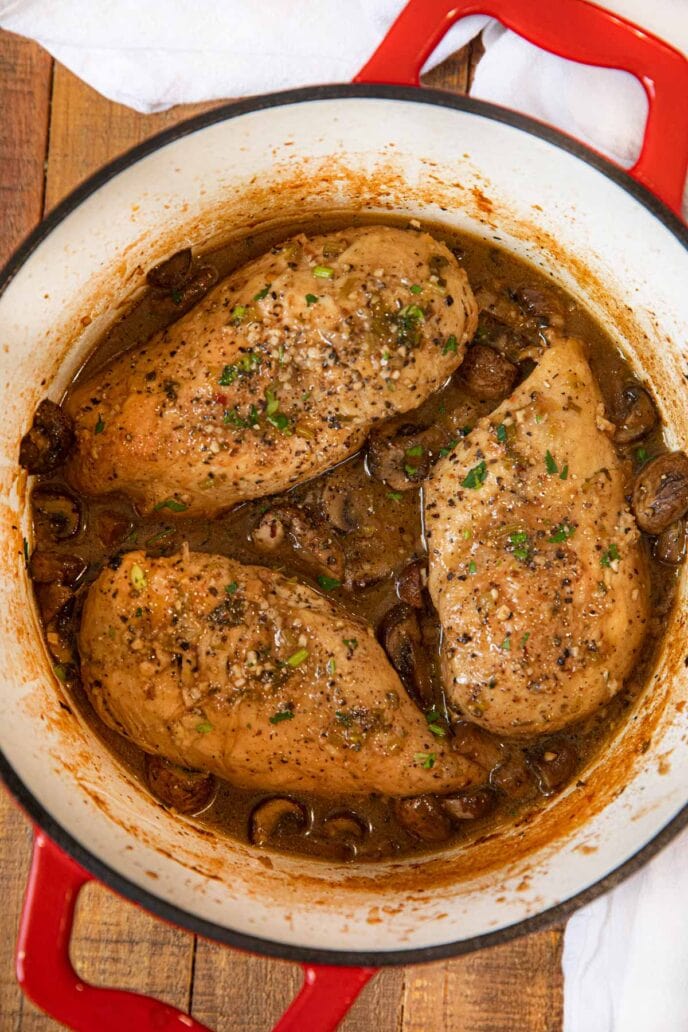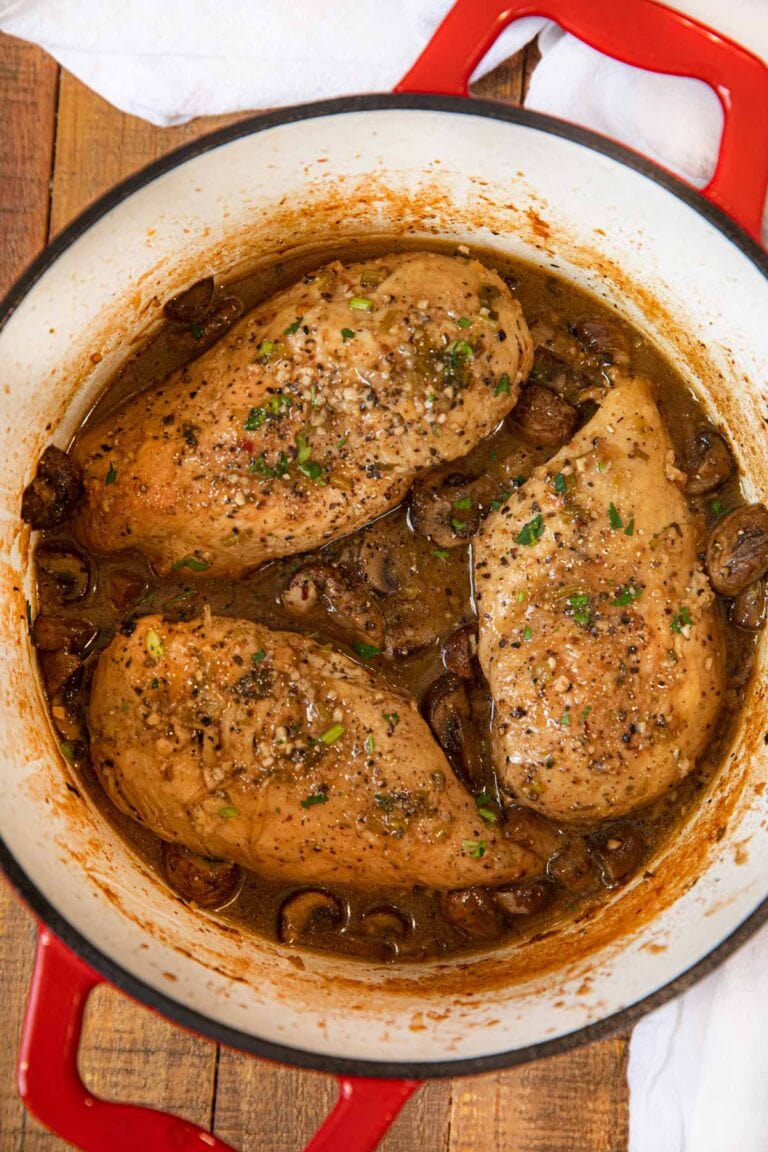 Ingredients
4

tablespoons

olive oil

, divided

3

chicken breasts

, boneless skinless

1

teaspoon

Kosher salt

, divided

1/2

teaspoon

coarse ground black pepper

, divided

8

ounces

crimini mushrooms

, sliced

1/2

yellow onion

, diced

2

cloves

garlic

, minced

1

cup

white wine

2

cups

chicken broth
Instructions
Add 2 tablespoons olive oil to a dutch oven on medium heat.

Season the chicken with half the salt and pepper and sear on both sides,

4-5 minutes

on each side.

Remove chicken from the pan, then add in the remaining 2 tablespoons of olive oil.

Add in the mushrooms and onions and sear well until browned, about

6-8 minutes

.

Season with remaining salt and pepper, add in garlic and stir.

Add in the white wine, stir and cook until reduced by half, about

10 minutes

.

Add in the chicken broth, nestle the chicken back into the pot and cook for

15-20 minutes

until sauce is reduced by 75%.
Nutrition
Calories:
393
kcal
|
Carbohydrates:
6
g
|
Protein:
38
g
|
Fat:
19
g
|
Saturated Fat:
3
g
|
Cholesterol:
108
mg
|
Sodium:
1216
mg
|
Potassium:
1038
mg
|
Fiber:
1
g
|
Sugar:
2
g
|
Vitamin A:
51
IU
|
Vitamin C:
12
mg
|
Calcium:
37
mg
|
Iron:
1
mg