Oven Baked BBQ Chicken is the easiest indoor bbq chicken you'll ever eat with the best homemade sticky, sweet barbecue sauce. No grill needed!
When you are craving a delicious summertime Chicken Recipe with crispy skin there's no need to fire up the grill. Oven Baked Chicken Thighs get an easy makeover for tasty BBQ chicken all year round.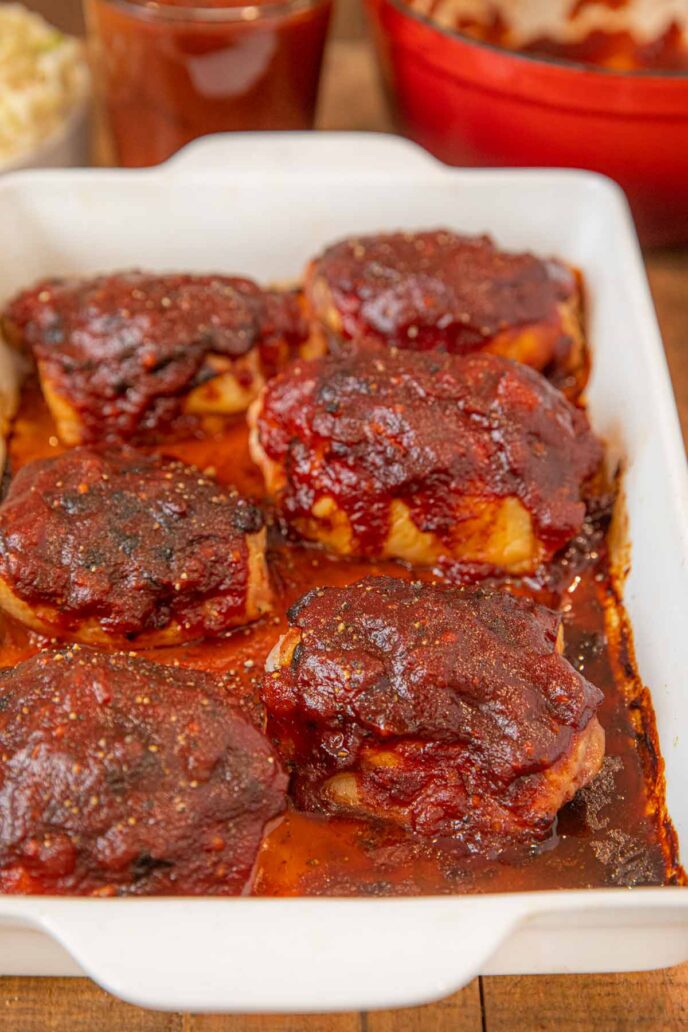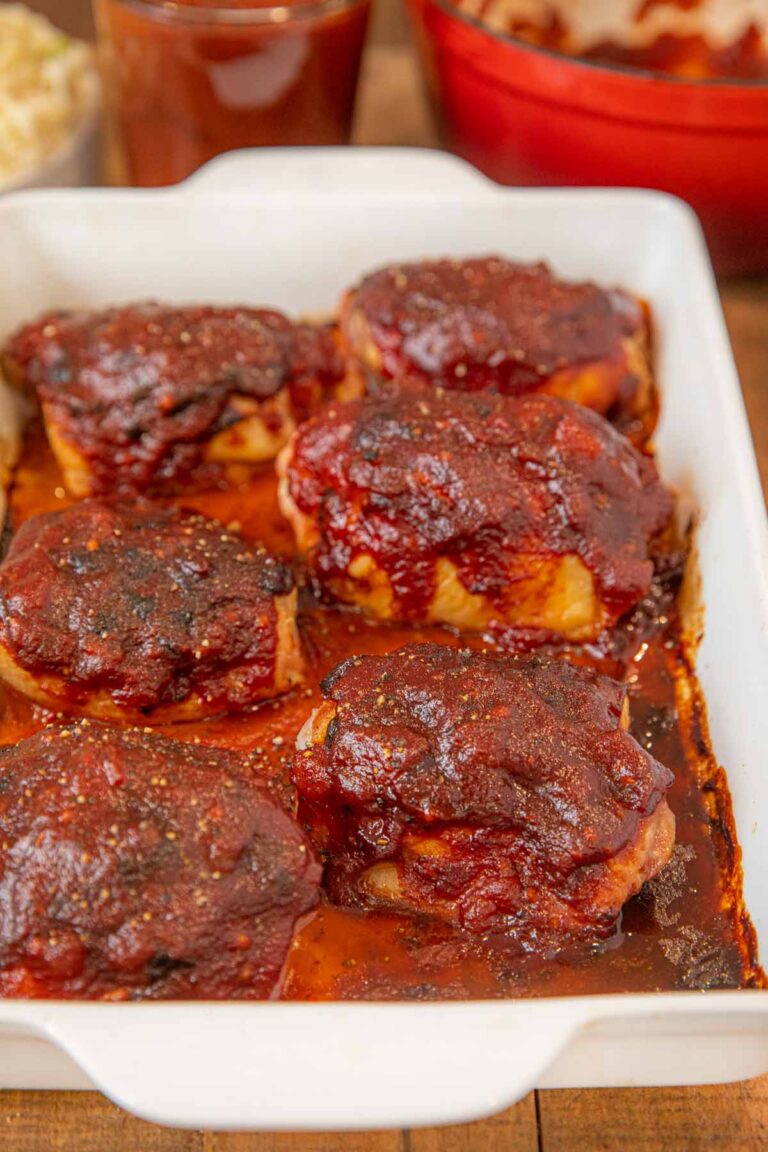 OVEN BAKED BBQ CHICKEN
There's no doubt that one of the best summer dinners is crispy, slightly charred, BBQ Chicken fresh off the grill. But unless you live in year round perfect weather (please share where that Utopia exists!), it's not always possible to fire up the barbecue. This is a great recipe for those of us who don't want to grill on a super hot summer day or in the snow, and those who don't have a grill.
This easy Baked BBQ Chicken recipe is so easy to put together even with the homemade BBQ sauce. The BBQ sauce is made from everyday pantry items and is ready in about 10-15 minutes. All together, this Oven Barbecue Chicken is ready to eat in just over an hour.
The barbecue sauce on this Baked BBQ Chicken recipe is a standard homemade Kansas City style sauce. Check out the variations section for different flavoring ideas. You can use bottle of your favorite sauce to save time too. If you use a store bought BBQ Sauce, we recommend Sweet Baby Rays!
Baked BBQ Chicken is a great weeknight dinner especially with all your favorite easy BBQ side dishes like Potato Salad and Easy Coleslaw. This crispy barbecue chicken makes the ultimate comfort food feast with Mashed Potatoes and Sautéed Green Beans. Whether cookout theme or comfort food theme, make sure to serve with a side of Dinner Rolls!
Tips for Baked BBQ Chicken
Don't flip the chicken. Leave the chicken skin side up the entire time so it gets nice and crispy.
If you want it less saucy on the bottom, bake on a baking rack so the heat can circulate.
Use bone-in, skin-on chicken pieces for the juiciest barbecue chicken. Boneless, skinless chicken can dry out quickly so watch the cooking time if you use it.
Make sure to line your pan with aluminum foil or parchment paper. The barbecue sauce caramelizes and can be a real pain to get off your baking sheet!
SIDE DISH RECIPES FOR BAKED BBQ CHICKEN
VARIATIONS ON BBQ CHICKEN
Sweet: Instead of brown sugar, you can use honey or maple syrup to sweeten this barbecue sauce. For an even sweeter, thicker sauce add 2 tablespoons molasses.
Spicy: Add a ½ cup of a hot sauce to make a spicy BBQ sauce, or use this homemade Buffalo Wing Sauce instead for spicy game day Oven-Baked Buffalo chicken.
Onions: Chop 2 onions into larger chunks and scatter around the chicken pieces in the baking dish. This is an easy way to add flavor and moisture – a great idea if using boneless skinless chicken!
Seasonings: Use a store bought BBQ chicken rub to season the chicken. For the sauce, add seasonings like dry mustard, yellow mustard, smoked paprika, liquid smoke, or cayenne pepper.
Chicken: Substitute other chicken pieces like chicken legs and chicken breasts with this recipe. Chicken breast and boneless, skinless chicken cooks faster so check temp after 30 minutes cook time.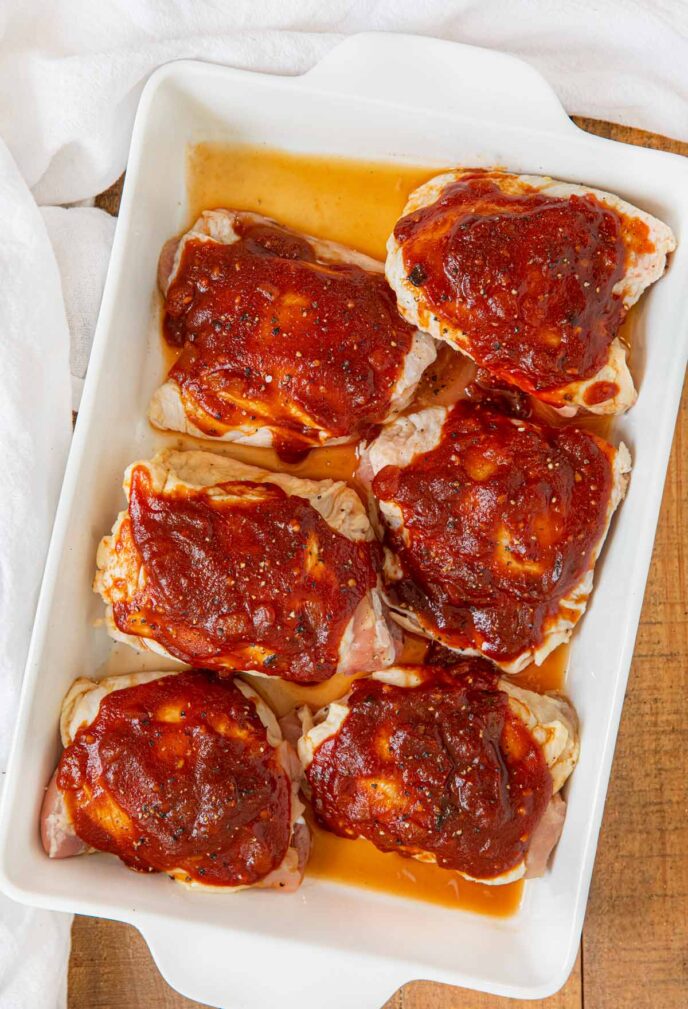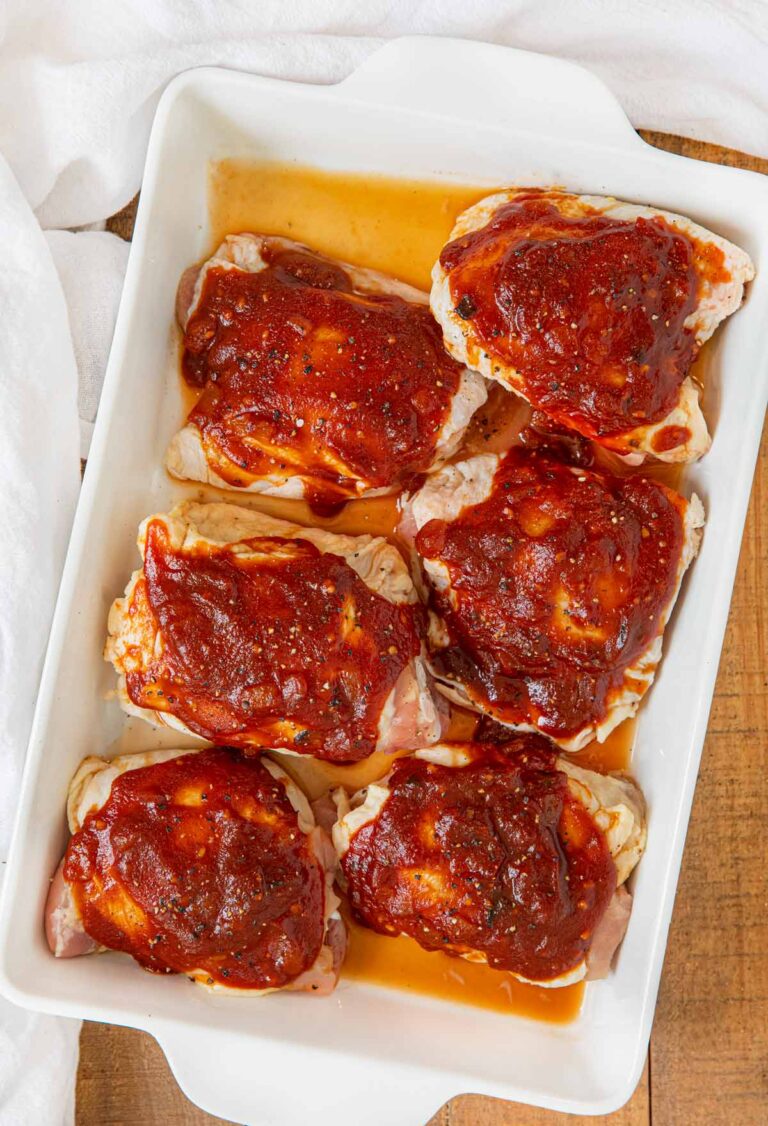 Create a free account to Save Recipes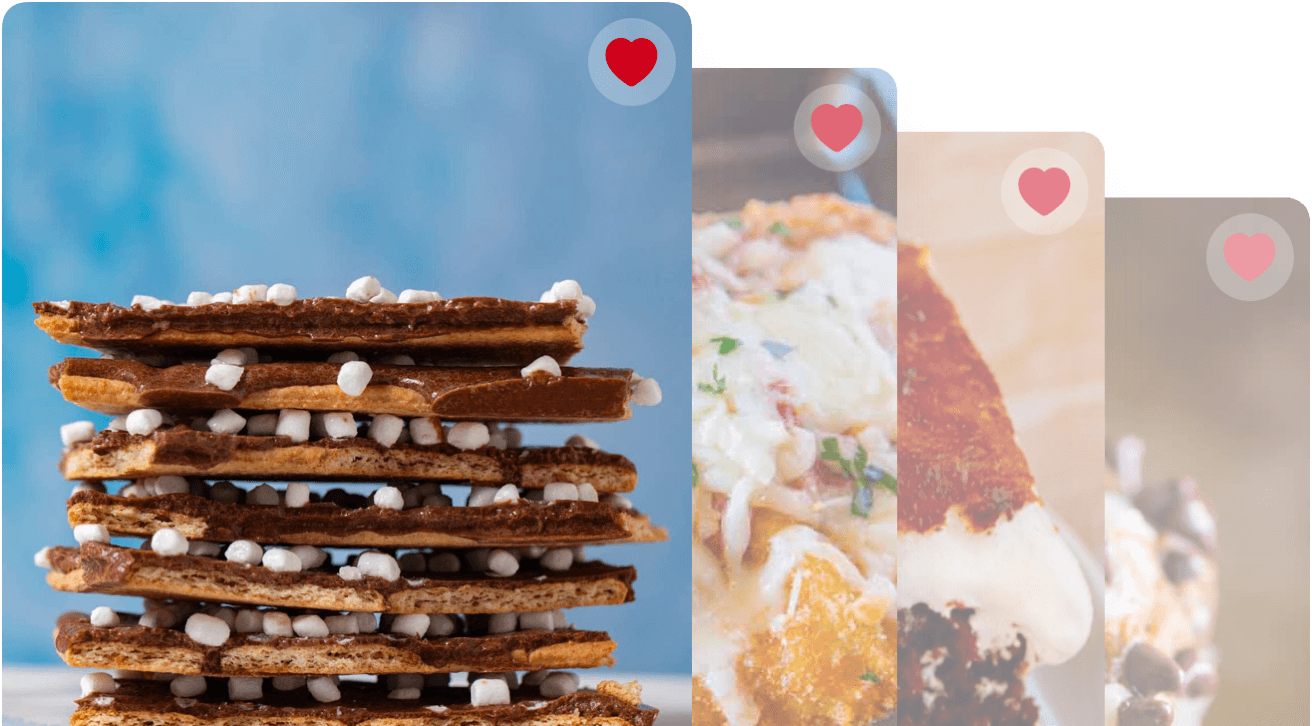 Slow Cooker BBQ Chicken Thighs
Season bone-in chicken pieces and place in slow cooker.
Prepare BBQ Sauce according to recipe instructions.
Pour half of the barbecue sauce over chicken.
Cover slow cooker and cook on low for 6-8 hours, or high for 3-4 hours, until internal temperature is 165 degrees F.
MORE CRISPY BAKED CHICKEN RECIPES
HOW TO STORE BAKED BBQ CHICKEN
Serve: Make sure to store Baked BBQ Chicken after no more than 2 hours at room temperature.
Store: Refrigerate leftover Oven Baked BBQ Chicken in an airtight container for up to 3 days.
Freeze: Cool BBQ Chicken completely and place in a sealed container. Freeze for up to 3 months. Thaw overnight in refrigerator before reheating.
HOW TO KNOW WHEN BAKED BBQ CHICKEN IS DONE
Baked BBQ Chicken needs to reach an internal temperature of 165 degrees F, according to the FDA Food Handling Guidelines. Measure internal temperature by piercing middle of the chicken thigh with an instant-read meat thermometer.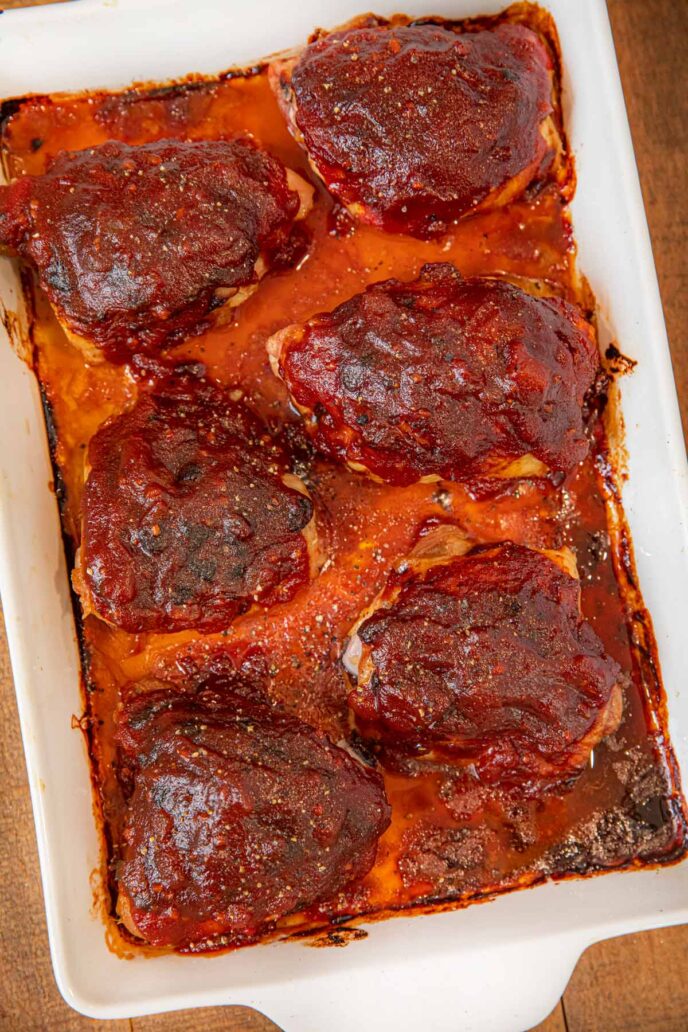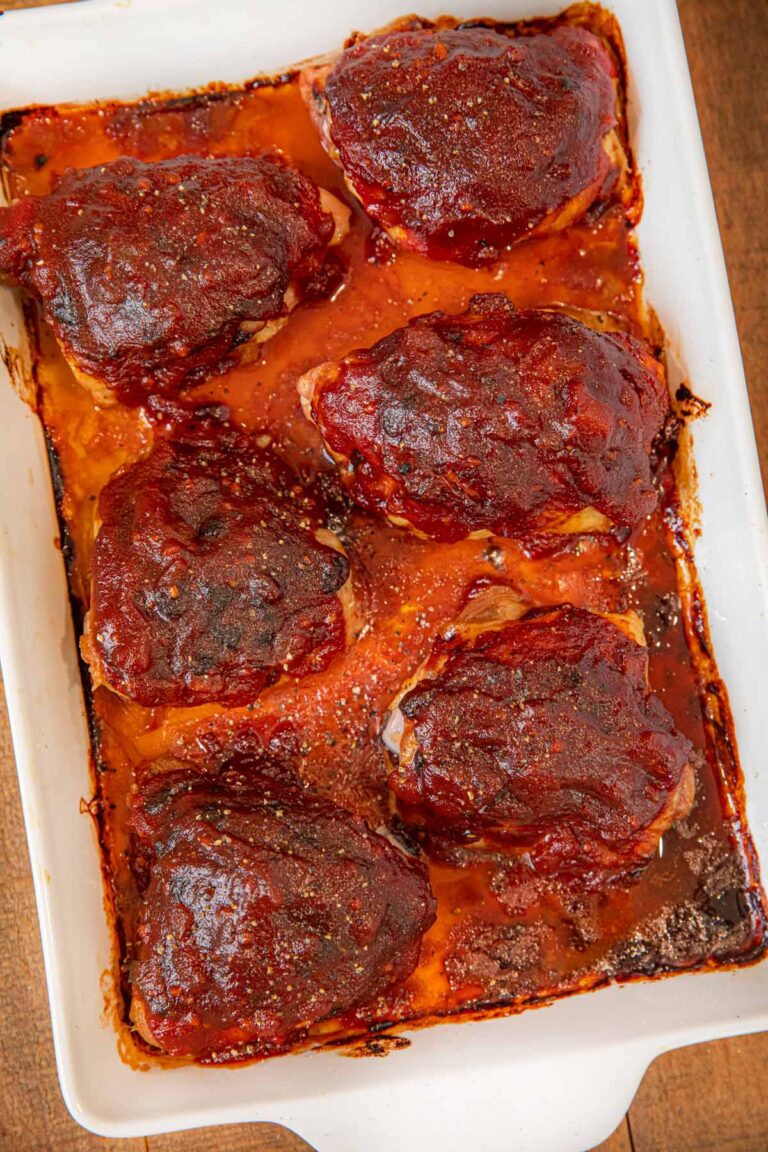 Instructions
Preheat oven to 400 degrees.

Make sure chicken is dry (pat with a paper towel).

Season chicken with garlic salt and black pepper.

Place skin side up in baking dish and coat chicken with ½ cup sauce (do not contaminate the rest of the sauce, remove the ½ cup first, then brush it on)

Bake chicken for

20 minutes

.

Brush on another ½ cup of sauce (again, remove the ½ cup from the remaining sauce and brush it on).

Brush on ½ cup bbq sauce (the chicken is cooked now, so you don't have to worry about contamination) and broil the chicken on a hi-broil setting for

1 minute

.
Nutrition
Calories:
440
kcal
|
Carbohydrates:
30
g
|
Protein:
24
g
|
Fat:
24
g
|
Saturated Fat:
7
g
|
Cholesterol:
142
mg
|
Sodium:
1233
mg
|
Potassium:
462
mg
|
Fiber:
1
g
|
Sugar:
24
g
|
Vitamin A:
273
IU
|
Vitamin C:
1
mg
|
Calcium:
35
mg
|
Iron:
1
mg