Easy Oven Fried Chicken with just five ingredients tastes like fried chicken without the deep frying with bisquick mix, butter and a few spices.
Easy chicken recipes are some of the most popular recipes on the blog including Crispy Chicken Casserole, Chicken Salad and Slow Cooker Brown Sugar Chicken (If you haven't tried this one you should add it to your calendar immediately!).
 Oven Fried Chicken Recipe
This recipe has become a go-to for us in place of Fried Chicken when we want a healthier option that is still kid-friendly. Don't get me wrong, I love a good fried recipe, but this baked chicken still has the crispiness we crave when we want fried chicken and we're still saving lots of calories.
Magically almost, the butter oven fries the baked chicken making it the most delicious and crispy chicken your kids will love. And when the leftover fat is measured against what amount was added to the pan all 6 pieces only used 3 tablespoons of butter to cook.
In addition to it being much more low-fat and easier to clean-up than deep-frying, you can also make the recipe with whole-wheat flour if you'd like to make your own baking mix using the recipe below, making it even more kid-friendly.
All that flavor in half a tablespoon of butter. That is less than you'd smear on this great recipe for homemade dinner rolls (which you should definitely make to serve with this recipe).
If you want another option you can also look at my Shake and Bake Pork Chops, that classic recipe can also be used on baked chicken thighs with delicious crispy results.
To me that just means I get to enjoy this recipe with a giant square of cornbread, hot sauce and some crunchy KFC Cole Slaw.
How to make Oven Fried Chicken
Crispy Oven Fried Chicken is a crispy, flavorful oven baked chicken with chicken thighs and drumsticks that are coated in a combination of Bisquick and paprika, garlic salt, pepper and baked in a baking dish coated in a small amount melted butter.
How long do you Bake Oven Fried Chicken?
We bake Oven Fried Chicken skin side down for 30 minutes first, then flip it over and bake an additional 15 minutes.
Crispy Oven Fried Chicken
This recipe doesn't require that you use chicken thighs or chicken drumsticks but the skin and bone do aid in keeping the chicken moist.
You can also use chicken tenders (sometimes called chicken tenderloin) which are thinner pieces from the bottom of the chicken breast. These pieces are small enough that you can coat them in the breading and they'll hold onto the coating well. Just be very careful about turning the chicken to prevent the topping from falling off.
If you'd like to use skinless chicken breasts you absolutely can get them crispy with just a small adjustment. Score some lines into the chicken about ½ inch deep into the chicken to give the coating something to adhere to or the crispy coating will fall off. This will give it a chance to bake into the chicken breasts when it would normally not adhere well to it.
Cooking Time Adjustments:
If you're using many different cuts of chicken you'll have to adjust your cooking times.
Skinless Chicken Breasts: Cook for 20 minutes, turn very carefully then cook and additional 20 minutes.
Bone In Skin On Chicken Breasts: Cook for 30 minutes, turn then cook for an additional 20 minutes.
Chicken Wings: Cook 15 minutes, turn then cook 15 more minutes.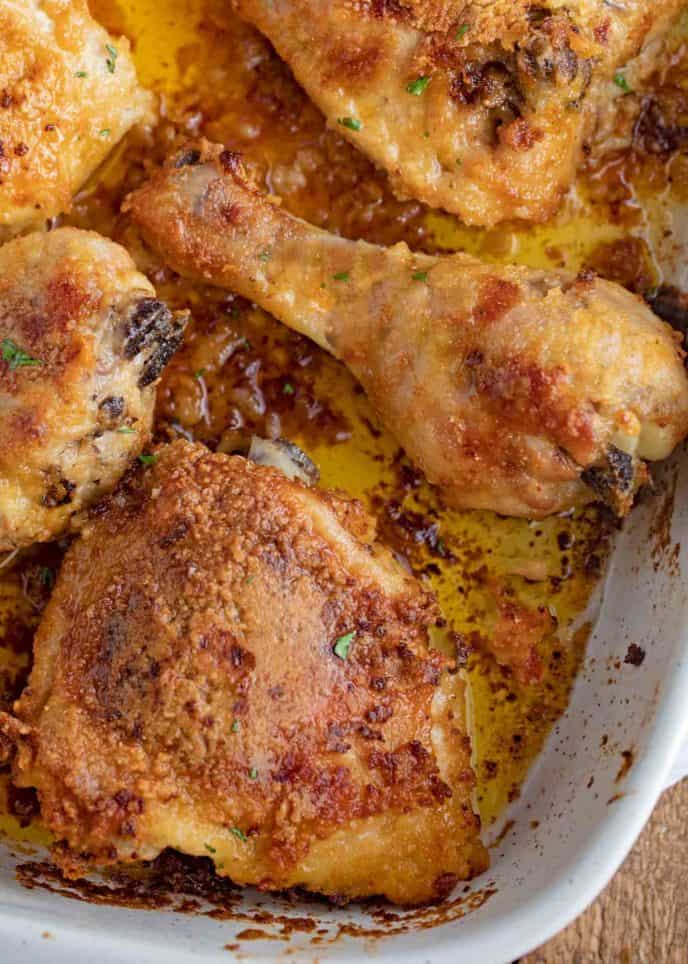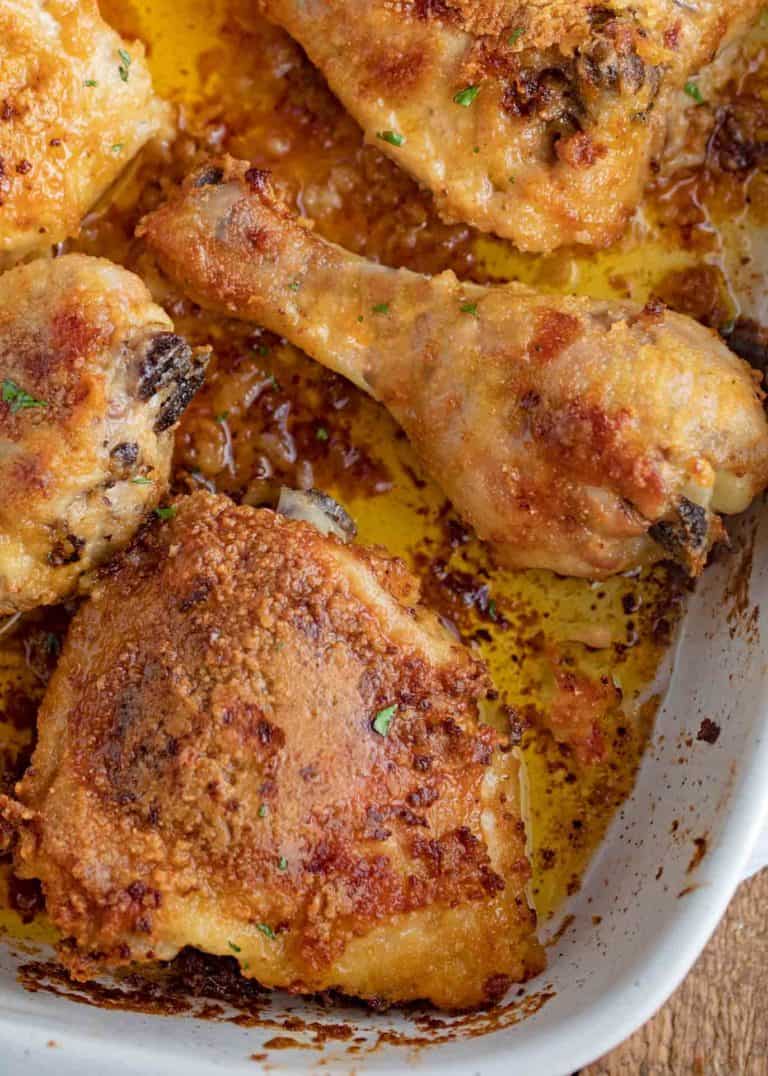 Create a free account to

Save Recipes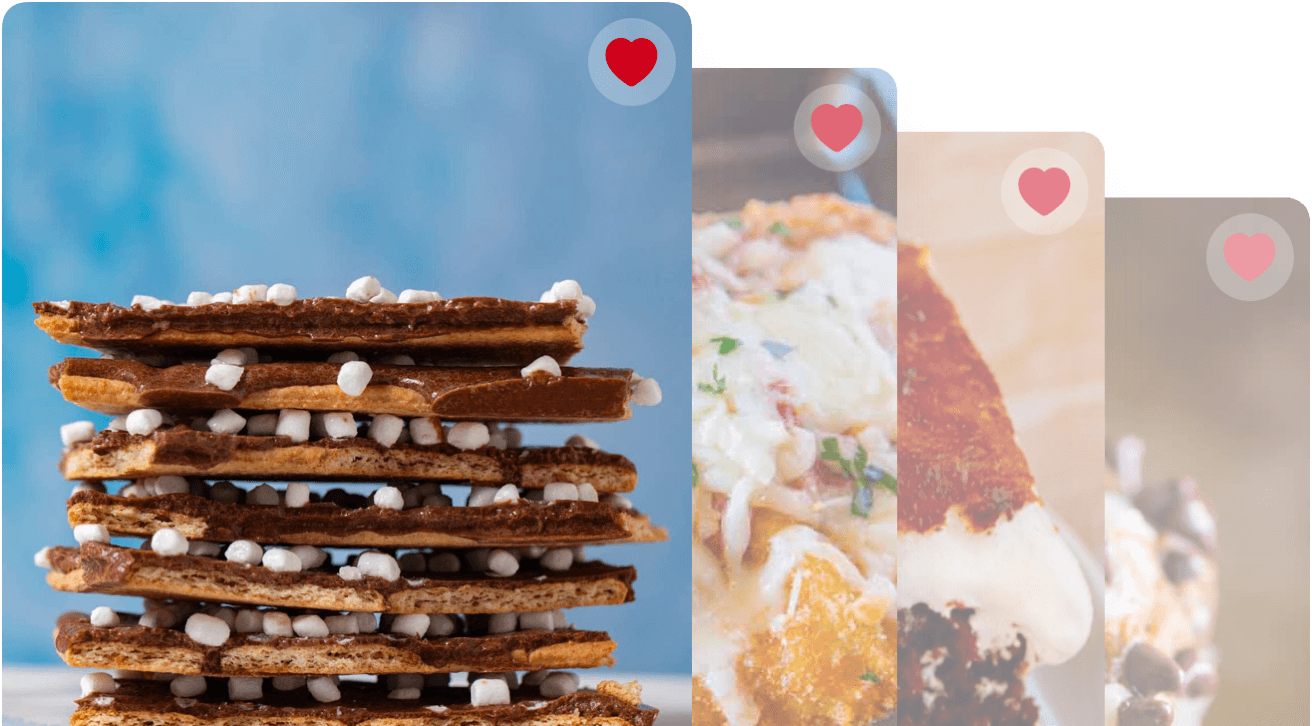 Can I swap out the butter?
I tested this recipe with both olive oil and vegetable oil and the flavors were simply not good. I just don't recommend oven baking it with them. If you'd like to coat the chicken and pan fry the chicken in vegetable oil you can but I would avoid using olive oil in this recipe at all.
What to serve with Oven Fried Chicken?
Substitute for Bisquick baking mix?
Many people prefer not to use pre-made or processed ingredients, we actually use a homemade combination for recipes that call for Bisquick which is just 4 easy ingredients which is shelf stable. You can find the recipe below.
I would not recommend swapping out the Bisquick recipe for something like cornflakes, cornmeal, breadcrumbs or panko and baking it in the butter with the same method. The recipe composition of the Bisquick is important to the recipe.
Bisquick Baking Mix
6 cups flour
3 tablespoons baking powder
1 tablespoon salt
1 cup vegetable shortening
Sift the flour, baking powder and salt into a large bowl then cut the shortening in with a pastry blender until the mixture is fully combined and the flour resembles small crumbs.
Store for up to 3 months in an airtight container.
How to add more flavors to this Oven Baked Fried Chicken:
Classic Flavor: In this recipe we use paprika, garlic salt and pepper
Spicy Crispy Baked Chicken: Chili powder, paprika, garlic salt and pepper
Smoky Crispy Baked Chicken: Smoked paprika instead of paprika, garlic salt and pepper.
Lemon Garlic Baked Chicken: Lemon Pepper, Garlic Powder, paprika and garlic salt.
KFC Flavored: Use the seasoning mix from my famous KFC Potato Wedges (you will make this over and over again I promise).
Southern Oven Fried Chicken: Cayenne pepper, buttermilk powder, paprika, kosher salt and pepper.
BBQ Fried Chicken: BBQ rub, kosher salt and pepper.
Tips for making Super Crispy Oven Fried Chicken:
Do not skimp on the butter. I promise it is important to this recipe.
Don't use flour or panko in place of the bisquick (I have my homemade bisquick recipe listed above).
Start the baking process with the skin side down, this gives it the longest time to render the fat out in direct contact with the hot pan ensuring that you end up with crispy skin.
Use a baking pan for this dish not a baking sheet, there will be butter in the pan and chicken fat that renders out during cooking.
There is no need to marinate your chicken before baking here.
Melt your butter in the oven in your baking pan instead of in your microwave so the butter can be hot when the chicken goes in. This will help prevent sogginess.
You can coat the chicken and let it sit on a baking sheet while you're waiting for the oven to preheat. I normally coat the pieces then put them back in, skin side down in the flour mixture waiting for the pan to come out of the oven.
You can make this fried chicken dairy free by using margarine in the oven frying. When tested it had a different flavor but was still delicious (and kosher!).
Once you remove the baking dish from the oven remove the baked chicken from the baking pan to your plates or a baking sheet to keep it from sitting in the cooling butter as it will start to become soggy.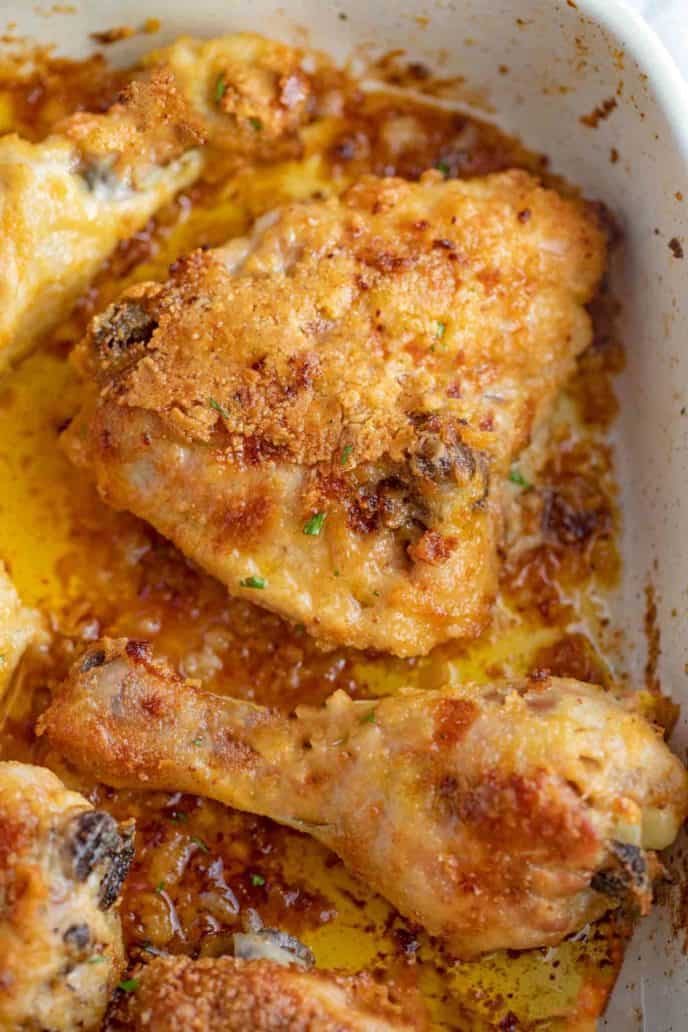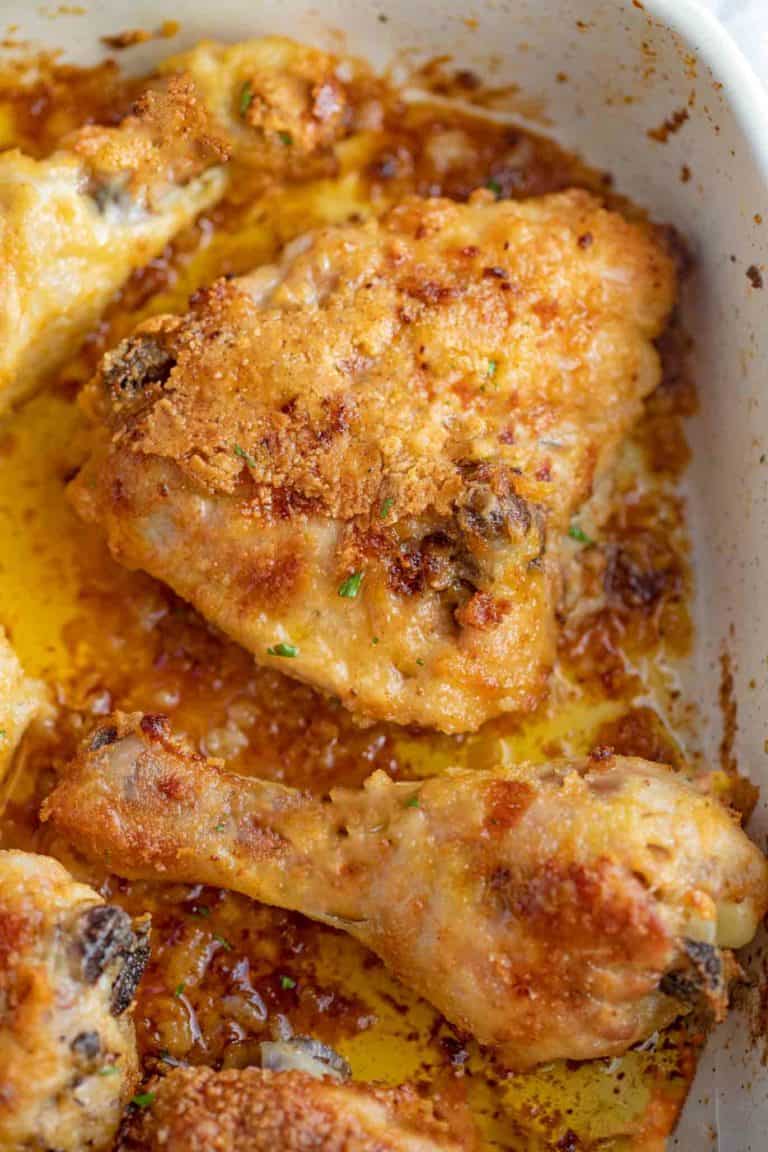 Ingredients
3

chicken legs

3

chicken thighs

bone in and skin on

6

tablespoons

unsalted butter

1

cup

Bisquick mix

(recipe above)

1

teaspoon

paprika

2

teaspoons

garlic salt

1/2

teaspoon

coarse ground black pepper
Instructions
Preheat the oven to 400 degrees with an 8x8 baking pan with 6 tablespoons of butter in it and mix the Bisquick in a bowl with the paprika, garlic salt and pepper.

Coat the chicken pieces well in the Bisquick mix then place skin side down in the butter and bake for

30 minutes

.

Turn carefully taking care to not tear the skin and bake and additional

10 minutes

.
Nutrition
Calories:
448
kcal
|
Carbohydrates:
13
g
|
Protein:
21
g
|
Fat:
34
g
|
Saturated Fat:
13
g
|
Cholesterol:
145
mg
|
Sodium:
1129
mg
|
Potassium:
286
mg
|
Sugar:
2
g
|
Vitamin A:
615
IU
|
Calcium:
49
mg
|
Iron:
1.4
mg