Super Crispy Fried Chicken made with buttermilk, chicken, hot sauce, and seasoned flour is crispy on the outside and tender on the inside!
Everyone loves homemade Comfort Food, and sometimes a fried dish just hits the spot like these Fried Cheese Curds, Crispy Fried Calamari, and Beer Battered Fish.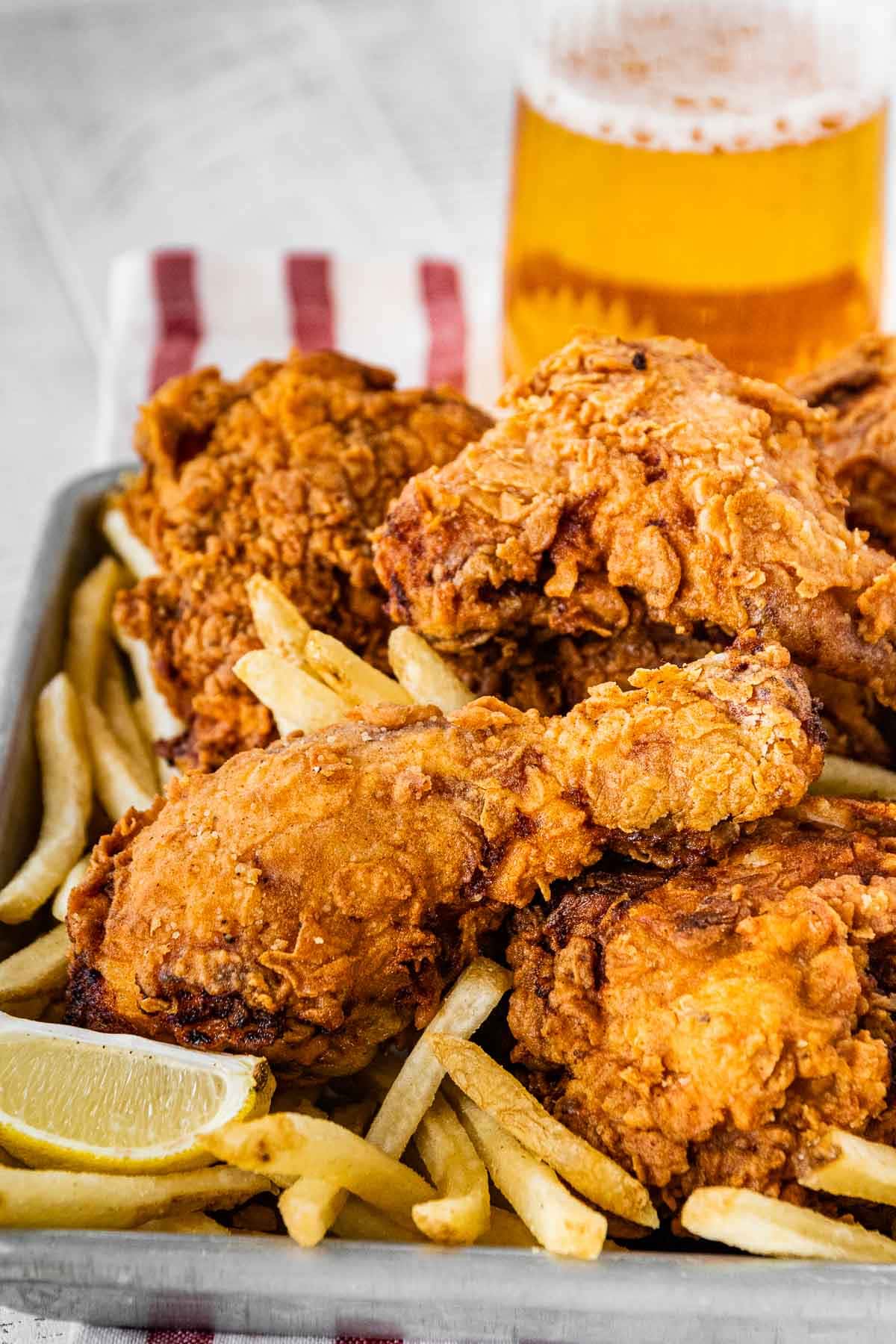 Super Crispy Fried Chicken is a popular all-time favorite go-to chicken recipe, made with juicy pieces of chicken coated in buttermilk and all purpose flour, then fried to perfect golden brown. This crispy chicken will make any backyard barbecue a blast. It is a perfect for any time of the year and is always a hit with the family and friends. Add some yummy dipping sauces and you'll have a real party going!
You can make this chicken more or less spicy using cayenne pepper or red pepper flakes in the flour. You can just use the buttermilk and flour with some salt and pepper for a mild flavor. Either way, this is restaurant quality, and you'll want to make fried chicken at home from now on! Dark meats and white meats will cook very nicely in this recipe. 
Mix the seasoned flour mixture ahead of time and store it in an airtight container for anytime you want to make this recipe! With this being an amazing meal, you'll want some good sides to serve with it. You can serve Ultimate Cornbread, Belgian Waffles, or Perfectly Easy Dinner Rolls if you're looking for flavorful and delicious sides.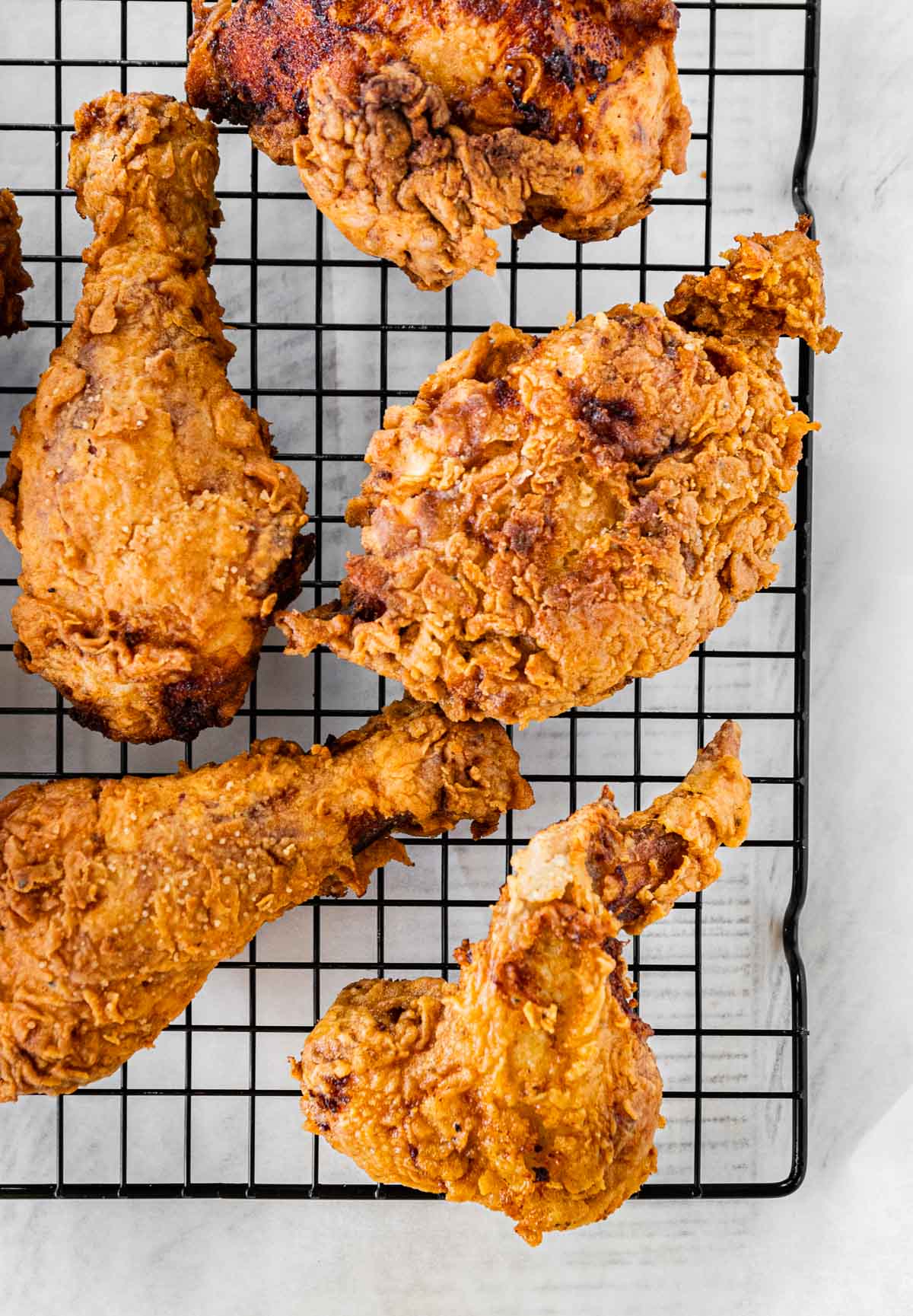 How to Make Crispy Fried Chicken 
Making this Crispy Fried Chicken is so easy. Yes, it does take a bit of time to let the ingredients set, but you'll be making other delicious dishes that it won't even be noticeable. 
Step One: Marinade the juicy chicken pieces in the seasoned buttermilk for at least four hours. This helps to set the flavors really well. 
Step Two: After making the batter, coat the chicken and let it sit for about a half hour to let the batter soak up the buttermilk. This is important to get the best crispy texture. 
Step Three: Deep fry the chicken in your pot, we're using our trusty and durable Dutch oven for this, but you can use another deep dish for frying, or even a dedicated deep fryer if you have one. It's recommended to use a thermometer to ensure your oil temperature reaches 365º which will take a lot of the guess work out of the process!
More Crispy Chicken Dinners
Frequently Asked Questions
What is the best oil for frying chicken?
Canola oil works well for frying chicken, because it has a higher smoke point, meaning it can take more heat before it starts burning. You can also use peanut oil, coconut oil, or lard to make this fried chicken recipe.
How do you make Crispy Fried Chicken even CRISPIER?
Try using a real cast iron skillet or dutch oven for any frying recipe. The heat conducts better, keeping a steadier oil temperature. Add a tablespoon of corn starch to the flour to make the chicken extra crispy! 

Don't forget to place your chicken on a cooling rack over a baking sheet. You can line the baking sheet with paper towels to catch the oil. This lets the chicken cool crispy while the oil drips off.
Why use buttermilk, and not regular milk in Crispy Fried Chicken?
Buttermilk is slightly acidic which makes it a great tenderizer for the chicken. To make your own buttermilk, add a tablespoon of white vinegar or fresh lemon juice to each 1 cup of regular milk (whole or 2%, not skim). 
How long should I marinade the chicken for? 
You should marinade your chicken in this recipe for a minimum of four hours. For even better results marinade covered in the refrigerator overnight!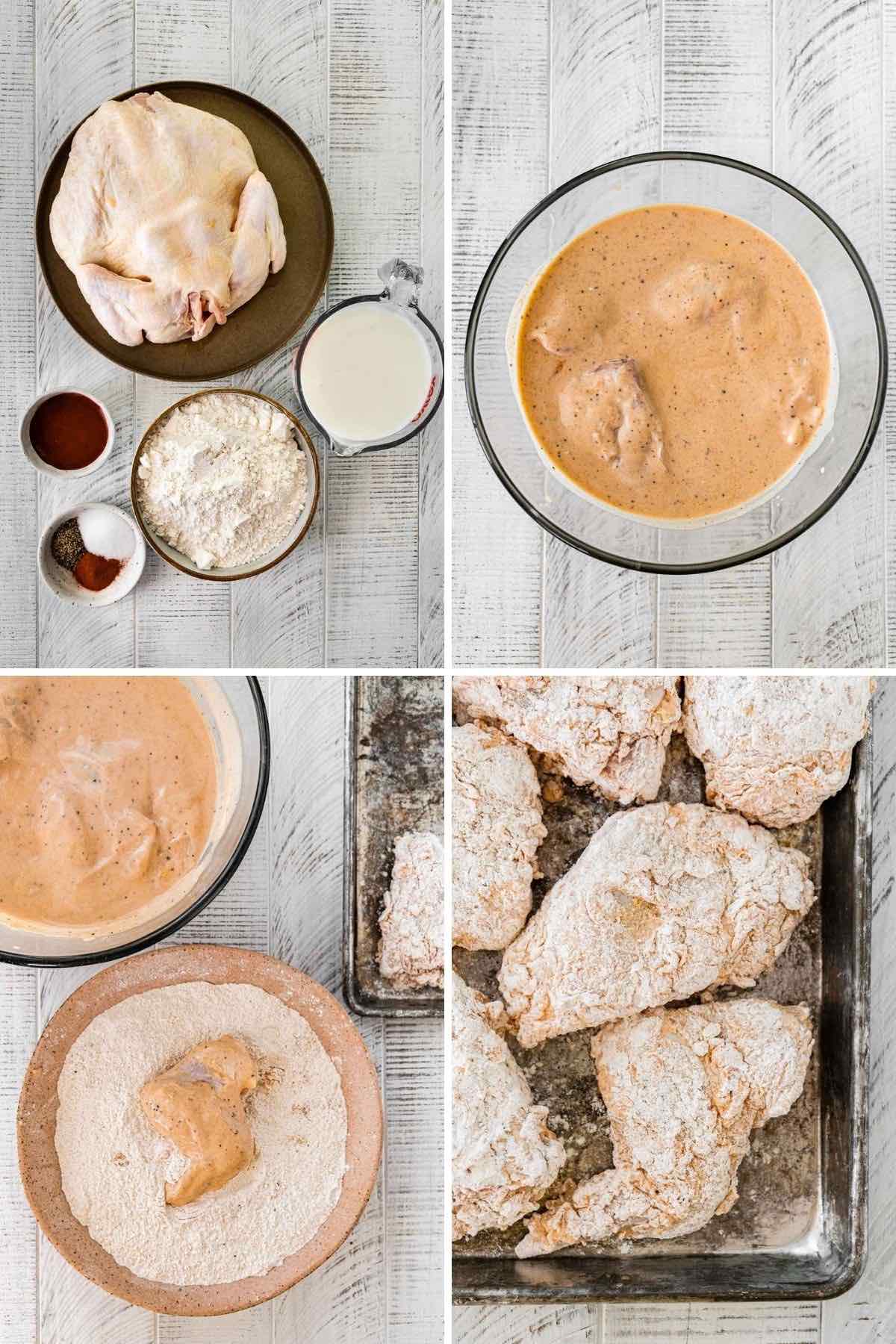 Create a free account to Save Recipes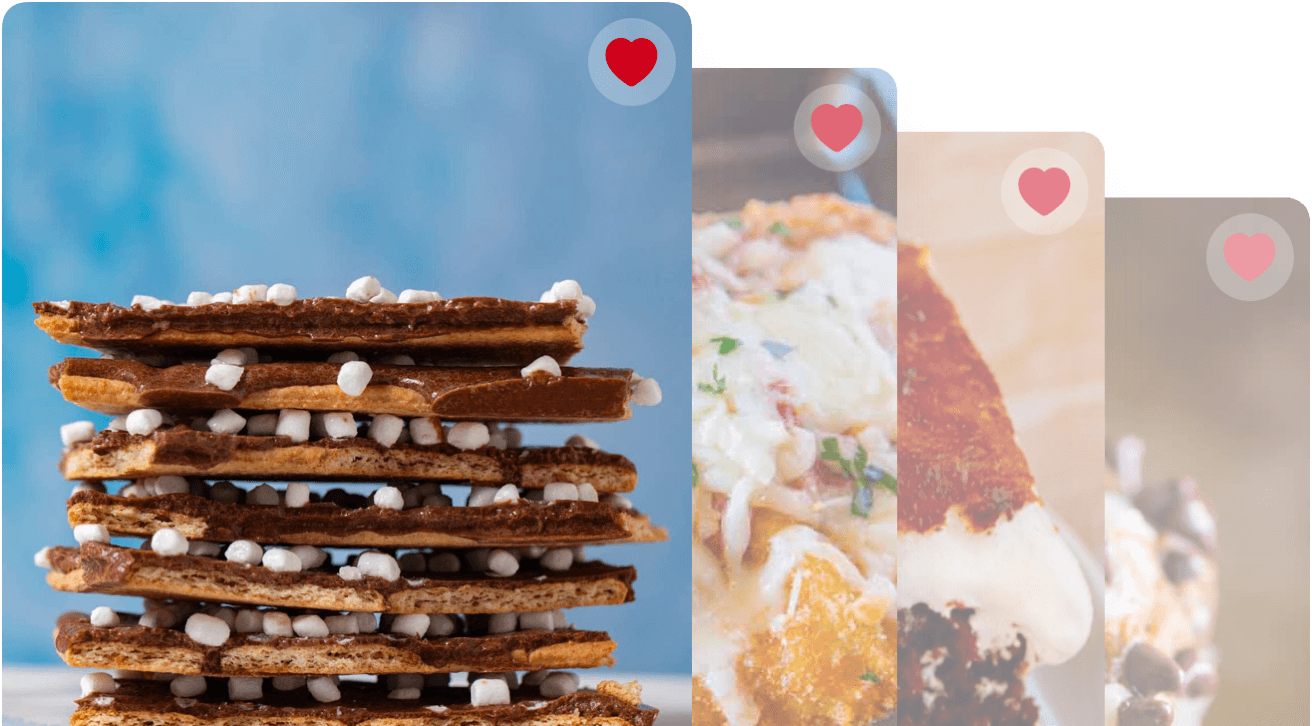 Key Ingredients in Crispy Fried Chicken 
These simple ingredients are easy to find at any grocery store and are all budget friendly! 
Chicken: You can buy a whole chicken and take apart the pieces, or you can just make drumsticks and thighs, depending on your preference. Make sure they are fully thawed before coating. This recipe is delicious with the skin on, but you can make it with boneless skinless chicken, too.
Flour: Any wheat-based flour will work with this recipe. 
Buttermilk: Buttermilk is soaked into the chicken giving it an important base flavor you'll love and it tenderizes the meat to a juicy perfection. 
Alternatives for Super Crispy Fried Chicken
Air-Fryer Chicken: For Crispy air-fried chicken, you're going to air fry at 360ºF for 15-20 minutes. Once it's done, open the basket, spray the chicken cooking spray, then flip each piece. Continue air frying for an additional 7 minutes. Use a thermometer to ensure the internal temperature reaches 165ºF. 
Oven Fried Chicken: You can make this fried chicken recipe in the oven if you want to cut down on the oil and calories. Just coat the chicken as usual, then place on a parchment lined baking sheet, leaving room between each piece.
Coat with cooking spray on each side, then bake at 425 degrees for 25 minutes, turn over and bake another 25 minutes or until crispy. If you want extra crispy, turn the broiler on for a minute, watching carefully so it doesn't burn.
Spicy Fried Chicken: Add three or four tablespoons of your spiciest hot sauce to the marinade, and serve with a side of hot sauce. 
Extra Seasoning: You can add a teaspoon garlic powder and a tablespoon of onion powder to the batter mix for some extra flavor. 
How to Serve Super Crispy Fried Chicken
First things first, you need to menu plan. These homemade side dishes are a great place to start!
More Delicious Comfort Foods
How to Store Super Crispy Fried Chicken
Serve: Do not leave cooked chicken at room temperature longer than 2 hours.
Store: Fried Chicken will keep in the refrigerator for 3-4 days in an airtight container, but it may not be as crispy when reheated.
Freeze: You can also freeze Fried Chicken, then reheat in the oven at 350 degrees F for 10-15 minutes, or until warmed through.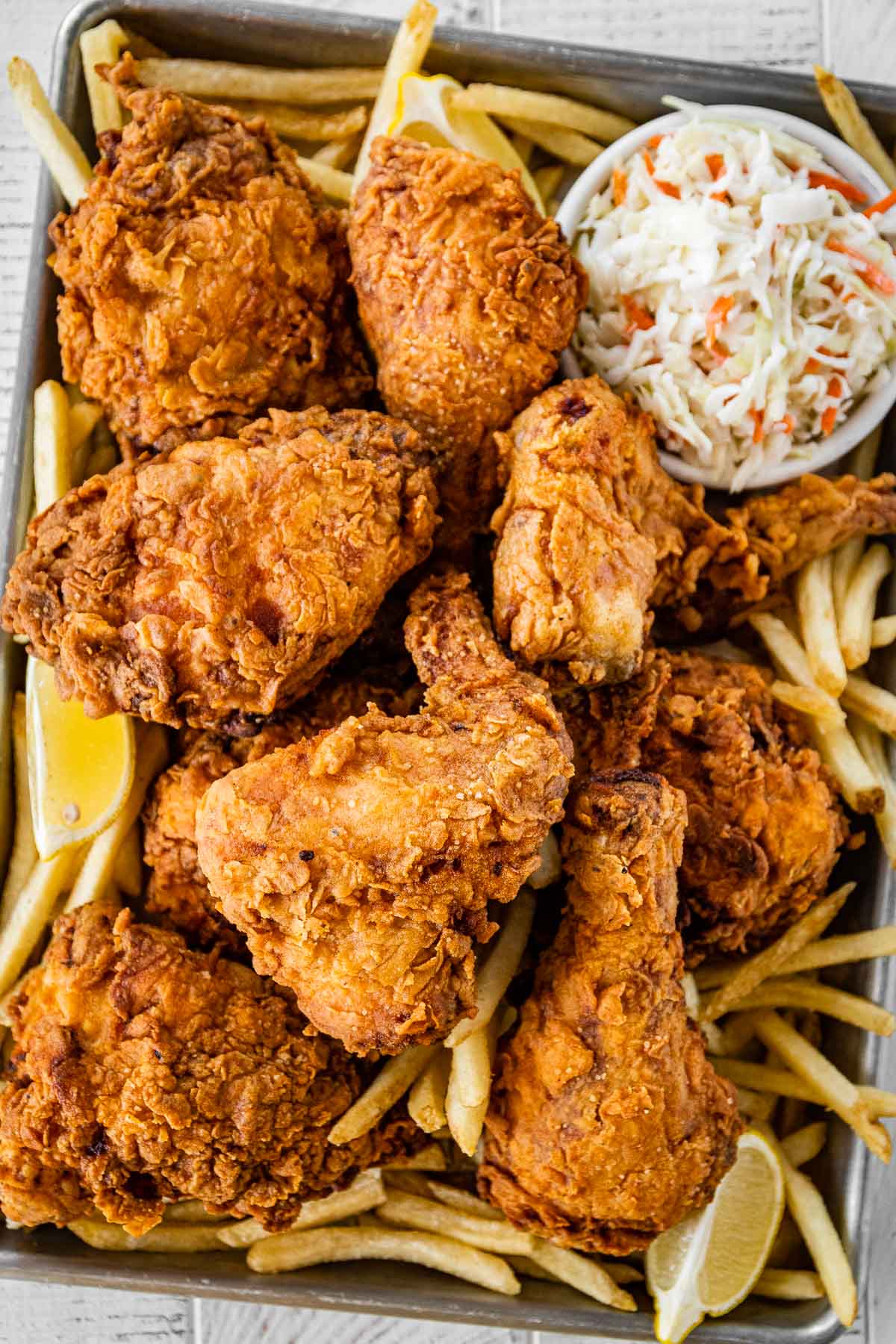 Ingredients
4

pound

chicken

, (cut into 8 pieces with the backbone discarded)

2

cups

buttermilk

1

tablespoon

kosher salt

2

teaspoons

coarse ground black pepper

2

tablespoons

hot sauce

, optional

2

cups

flour

1

teaspoon

paprika

canola oil

, for frying
Instructions
Mix the chicken pieces, buttermilk, salt, pepper and hot sauce in a large bowl and refrigerate for at least

four hours

.

Mix the paprika with the flour in a medium bowl with a baking sheet set up next to it.

Remove the chicken from the buttermilk, then add each chicken piece to the flour, coating well, then place onto the baking sheet and let sit for at least

30 minutes

(the flour will become paste-like).

Add a large dutch oven ½ full with canola oil heated to 365 degrees and fry in batches of 4 pieces (do not crowd the pan), cooking for

10-12

minutes (check for 165 degrees and that the chicken is cooked through).
Notes
Note: click on times in the instructions to start a kitchen timer while cooking.
Nutrition
Calories:
387
kcal
|
Carbohydrates:
27
g
|
Protein:
25
g
|
Fat:
18
g
|
Saturated Fat:
5
g
|
Cholesterol:
88
mg
|
Sodium:
1098
mg
|
Potassium:
337
mg
|
Fiber:
1
g
|
Sugar:
3
g
|
Vitamin A:
375
IU
|
Vitamin C:
4.2
mg
|
Calcium:
88
mg
|
Iron:
2.5
mg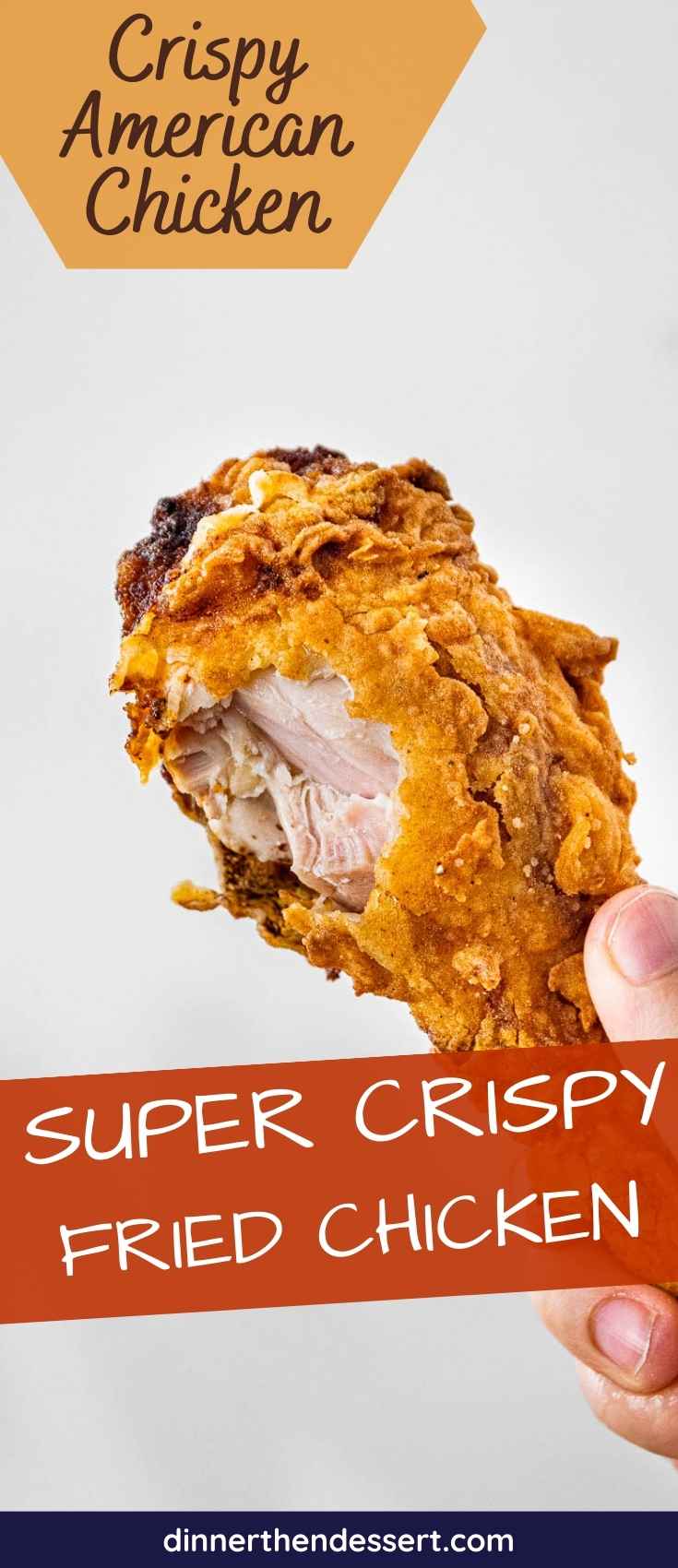 Photos used in a previous version of this post.