Crispy Sweet Potato Fries that are perfectly crispy and still fluffy in the middle with both fried and oven baked directions with a single magic ingredient to keep them crispy!
If you love Sweet Potato Fries you'll have to check out these Fried Cheese Curds, Beer Battered Onion Rings and Loaded Garlic French Fries too for all the best fried comfort foods for your summer bbq and grilling recipes!
 Perfectly Crispy Sweet Potato Fries
Crispy Sweet Potato Fries! Yes, we are in full swing of fun summer recipes and today is no exception. These homemade sweet potato fries were one of the biggest hits at a recent Memorial Day BBQ party for 40 people (yes, Crispy Sweet Potato Fries for 40!) and it is all thanks to one secret ingredient that makes these crispy fries!
I'm not sure if you're like me, but I love sweet potato fries. I was introduced to them sort of late, being a purist and all. I couldn't understand why anyone would mess with the perfect food, French Fries, long enough to make them out of a different potato. Then, one day I was at a burger place back in LA that offered ½ fries, ½ sweet potato fries. YES! All the adventure, 50% the commitment.
Sweet potato fries are a vegetarian, gluten free, super food option that is dairy-free, high in vitamins and good enough for you that you can overlook the calorie count in this recipe. Well, I can. 😉
THE SECRET TO CRISPY SWEET POTATO FRIES
If you've ever wondered how to make sweet potato fries crisp up and not look like noodles 2 minutes after they come out of the fryer? Look no further. Crispy Sweet Potato Fries are COMPLETELY doable, and they're easy in fact! Yes, they still need a second fry, but they don't need a long soak! And I don't even boil them ahead like I do with normal fries. Here's the secret…. cornstarch!
If you don't want to fry these sweet potatoes you can absolutely make crispy baked sweet potato fries too!
Oven baked Sweet Potato Fries are SO EASY and also use the same cornstarch trick the fried version use (just use much less cornstarch). You can also use parchment paper if you're baking these fries because the sweet potatoes can stick if you use the cornstarch, or if you use less oil than you should. Also be sure you give them enough time to really crisp up, if you turn them too early they may still stick to the pan.
Baked Sweet Potato Fries Recipe:
Heat the oven to 400.
Cut the 1 pound sweet potatoes into matchsticks about 1/4″ thick and toss with vegetable oil or olive oil, 2 tablespoons cornstarch, 1 teaspoon kosher salt and ½ teaspoon black pepper.
Spread in a single layer on a baking sheet and bake for 15 minutes, flip over and cook for 15 additional minutes.
If you want to add more seasonings to your fries you can certainly add more spices.
The first time you make the recipe you should try them the classic way, but the next time you can also try them with some different spices. Other spices that can be added (I'd add ½ teaspoon or less of any of these spices):
garlic powder
chili powder
cumin
paprika (use ¼ teaspoon)
cayenne (use ¼ teaspoon)


Create a free account to

Save Recipes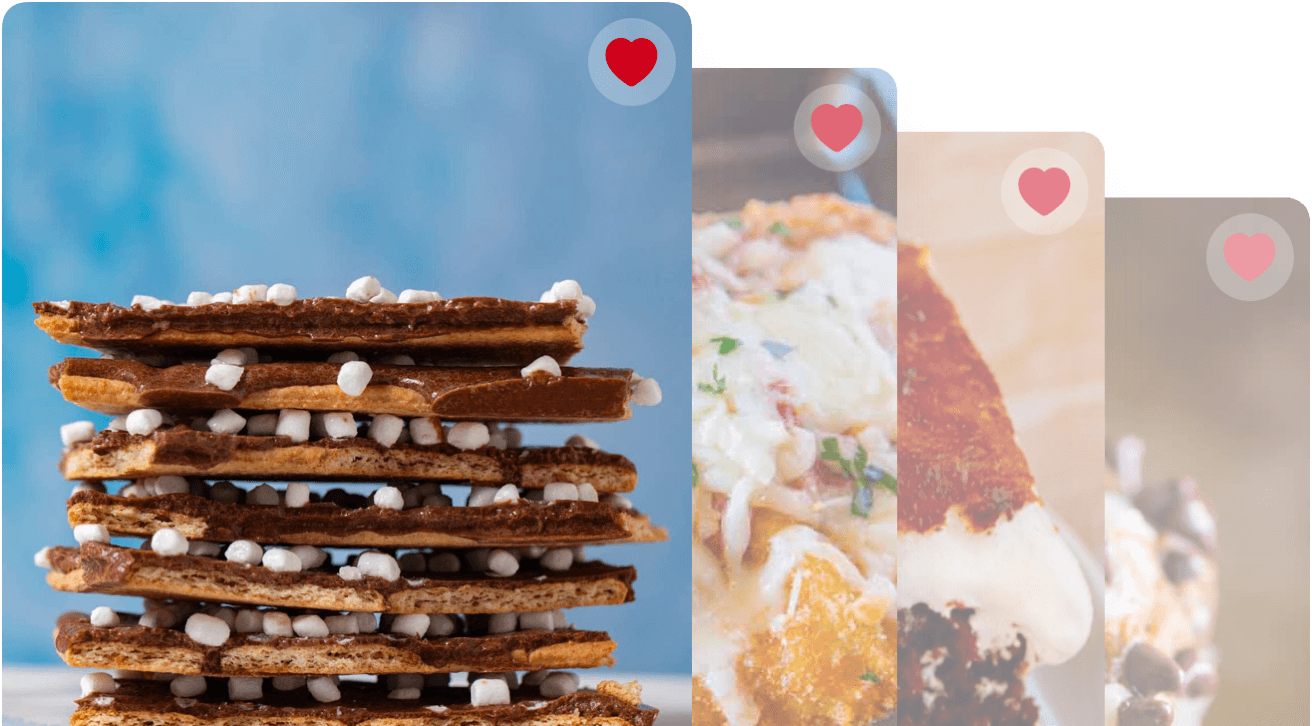 What to serve with Sweet Potato Fries:
Sweet Potato Fries scream summer favorites including Fried Chicken, Pulled Pork, BBQ Pulled Chicken, Slow Cooker Ribs and all the best summer side dishes including Macaroni Salad, Coleslaw and Pasta Salad. Sweet Potato fries are the perfect fried comfort food.
Fry Sauce Recipe:
1 cup mayonnaise
¾ cup ketchup
1 tablespoon pickle juice
½ teaspoon paprika
⅛ teaspoon kosher salt
⅛ teaspoon coarse ground black pepper
Mix all the ingredients together and refrigerate for at least an hour.
Easy Dipping Sauces: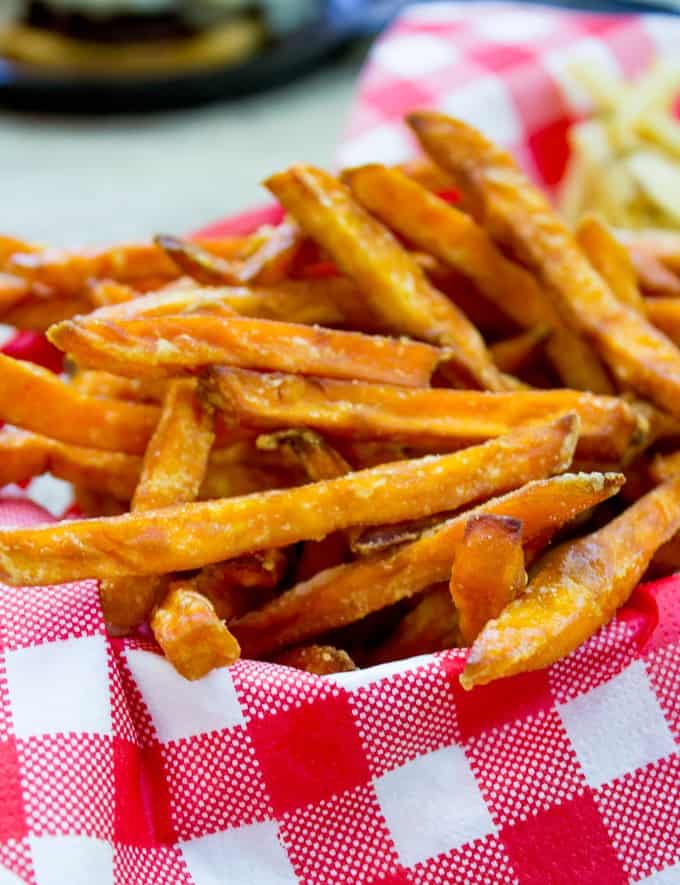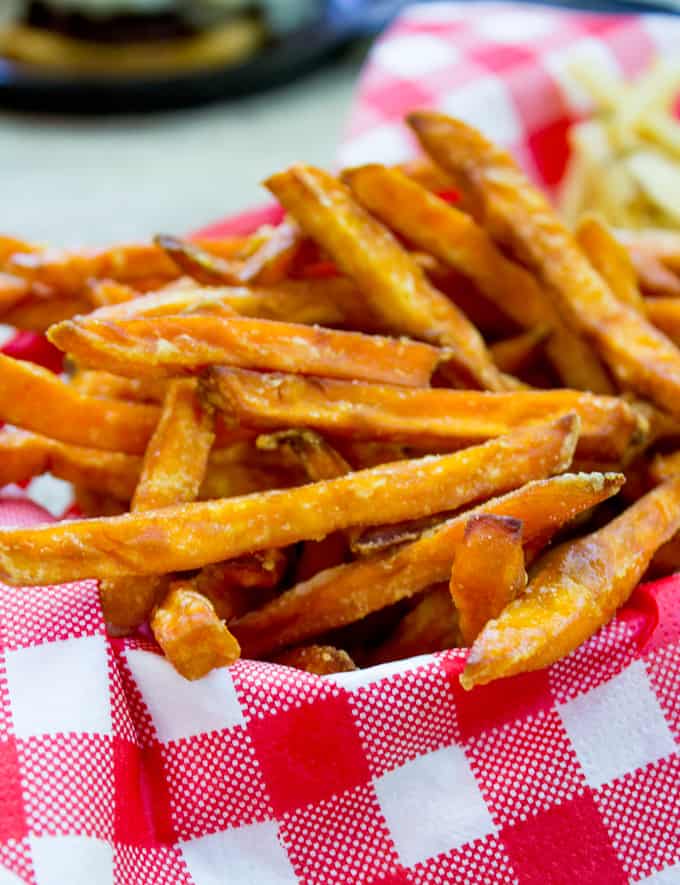 Tools used to make Sweet potato fries:


Ingredients
2

large sweet potatoes

(about a pound)

1/2

cup

cornstarch

6

tablespoons

club soda

(or ice water)

2

teaspoons

kosher salt

canola or vegetable oil for frying
Instructions
Wash and peel your sweet potatoes. Cut into ¼ inch thick fries and rinse the potatoes for about

10-15 seconds

under cold water then dry with paper towels or a clean dish cloth you don't mind turning slightly orange.

Mix the cornstarch with the water to make a slurry in a large bowl or large ziploc bag, add sweet potatoes and toss to coat.

Heat your oil in your pot to 350 degrees and add the fries 1 at a time so they don't stick together, but make sure you don't overcrowd your pan.

Each time you do another round of potatoes toss the potatoes in the slurry again to prevent the cornstarch from settling. This should only take a few seconds and is even easier if you have a ziploc bag you can just flip upside down a few times and shake.

Fry for

1-2 minutes

(no browning yet) and drain on a brown paper bag.

Once all the fries are done with their first dip in the oil, start the second round of frying, then fry them the second time for an additional

2 minutes

, until they're browned and crispy.
Notes
To reheat:?If you're making ahead for a crowd, you can heat them in the oven at 325 degrees for 5-7 minutes to crisp them back up.
Nutrition
Calories:
77
kcal
|
Carbohydrates:
18
g
|
Sodium:
803
mg
|
Potassium:
146
mg
|
Fiber:
1
g
|
Sugar:
1
g
|
Vitamin A:
6150
IU
|
Vitamin C:
1.1
mg
|
Calcium:
13
mg
|
Iron:
0.3
mg