Crispy Sweet Potato Fries
Crispy Sweet Potato Fries with a single magic ingredient to keep them crispy! No more soggy fries, these stay crispy even if you have to reheat in the oven.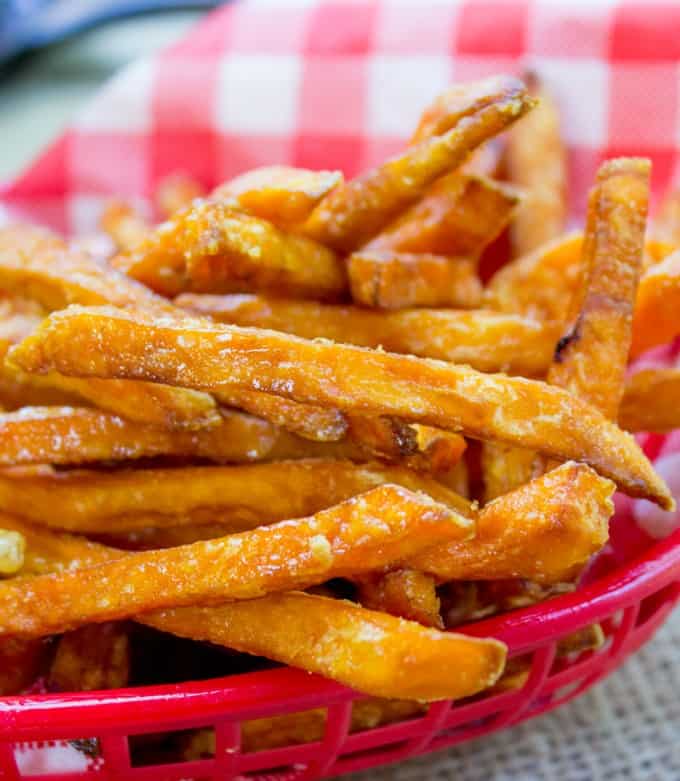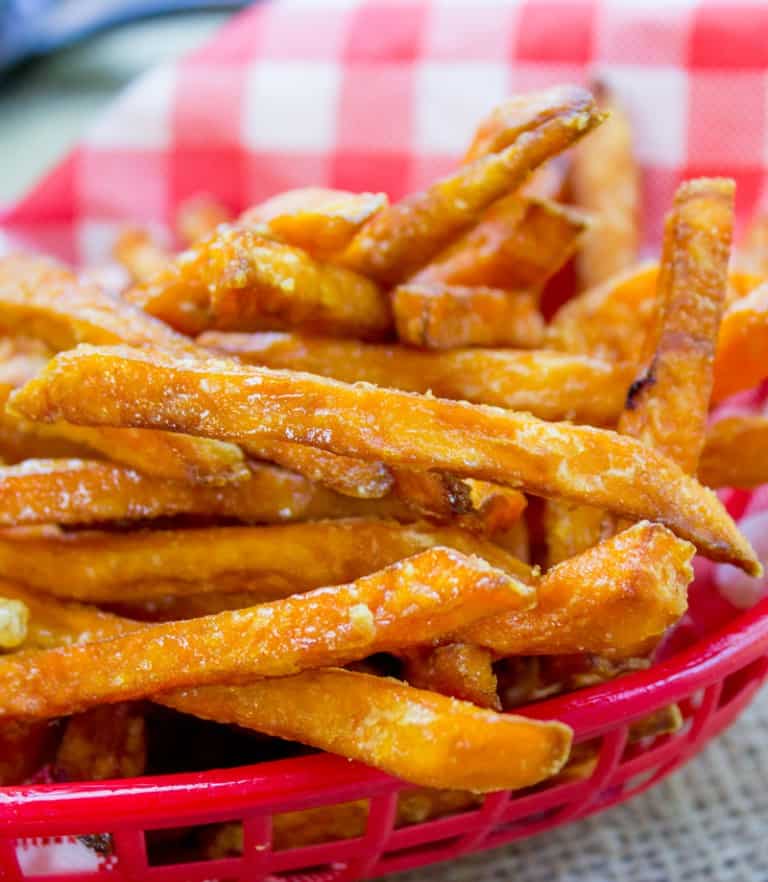 Crispy Sweet Potato Fries! Yes we are in full swing of fun summer recipes and today's is no exception. These fries were one of the biggest hits at the recent Memorial Day BBQ party for 40 people (yes, Crispy Sweet Potato Fries for 40!) and it is all thanks to one secret ingredient!
I'm not sure if you're like me, but I love sweet potato fries. I was introduced to them sort of late, being a purist and all I couldn't understand why anyone would mess with the perfect food, French Fries, long enough to make them out of a different potato. Then one day I was at a burger place back in LA that offered 1/2 fries, 1/2 sweet potato fries. YES! All the adventure, 50% the commitment.
The flip side to the delicious sweet potato fry movement is places like Lucille's BBQ (which I love for almost their whole menu) who serve you a mountain of what you hope will be delicious sweet potato fries and instead you find…. soggy sweet potato fries. Imagine if you will the annoyed pregnant Sabrina craving these fries one day and finding them soggy. Poor waitress, it wasn't even her fault and my reaction was… well, emotional. Haha, got to love pregnancy mood swings.
MY OTHER RECIPES
Anyway, back to the task at hand! Crispy Sweet Potato Fries are COMPLETELY doable, and they're easy in fact! Yes, they still need a second fry, but they don't need a long soak! And I don't even boil them ahead like I do with normal fries. Plus the secret…. cornstarch!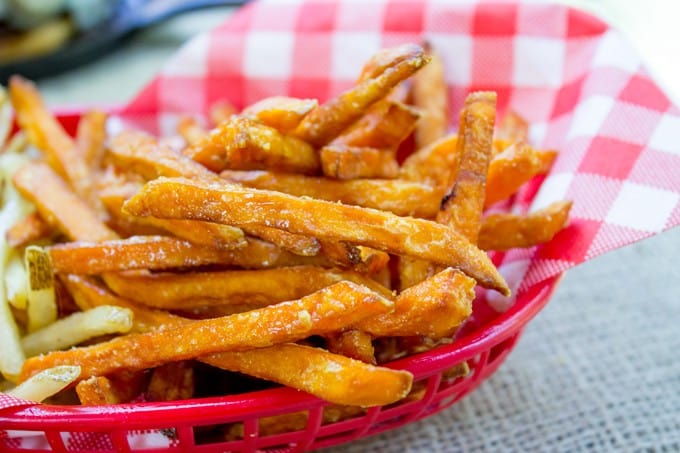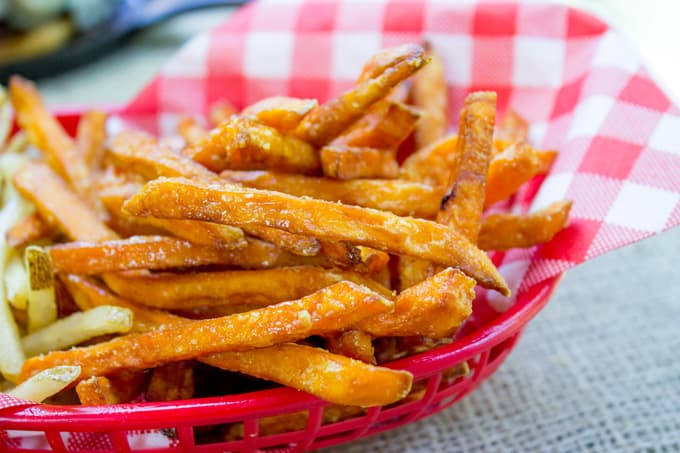 Tools I used in this recipe:
Cast Iron Dutch Oven – For Frying, keeps even heat well and not expensive!
Oil Thermometer – NEVER guess your temps, you'll end up with greasy or burned fries.
Spider Strainer – My go to for frying, removes/drains almost whole batch at once.
French Fry Basket – Because they are adorable for serving!
Checkered Liners – Catches grease, disposable and cheap.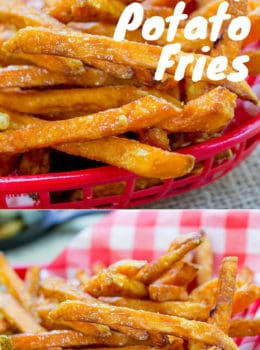 Crispy Sweet Potato Fries
Crispy Sweet Potato Fries with a single magic ingredient to keep them crispy! No more soggy fries, these stay crispy even if you have to reheat in the oven.
Prep Time 20 minutes
Cook Time 20 minutes
Total Time 40 minutes
Ingredients
2 sweet potatoes (about a pound)
1/2 cup cornstarch
6 tablespoons club soda (or cold water)
canola or vegetable oil for frying
Kosher salt to taste
Instructions
Wash and peel your sweet potatoes. Cut into 1/4 - 1/2 inch thick fries, I usually stick closer to the 1/4 inch side.

In a large colander, rinse the potatoes for about 10-15 seconds under cold water.

Dry with paper towels or a clean dish cloth you don't mind turning slightly orange.

Mix the cornstarch with the water to make a slurry in a large bowl or large ziploc bag.

Add sweet potatoes and toss to coat.

Heat your oil in your pot to 330-350 degrees. The hotter you make it the quicker they will cook, so if you went with the thicker cut, keep the heat a little lower.

Add the fries 1 at a time so they don't stick together, but make sure you don't overcrowd your pan.

Each time you do another round of potatoes toss the potatoes in the slurry again to prevent the cornstarch from settling. This should only take a few seconds and is even easier if you have a ziploc bag you can just flip upside down a few times and shake.

Fry for 1-2 minutes (no browning yet) and drain on a brown paper bag.

Once all the fries are done with their first dip in the oil, start the second round of frying.

Fry them the second time for an additional 1-2 minutes, until they're browned and crispy.

Season while hot with kosher salt and any other flavorings you want. Old bay seasoning is popular or even a cajun blend.

If you're making ahead for a crowd, you can heat them in the oven at 325 degrees for 5-7 minutes to crisp them back up.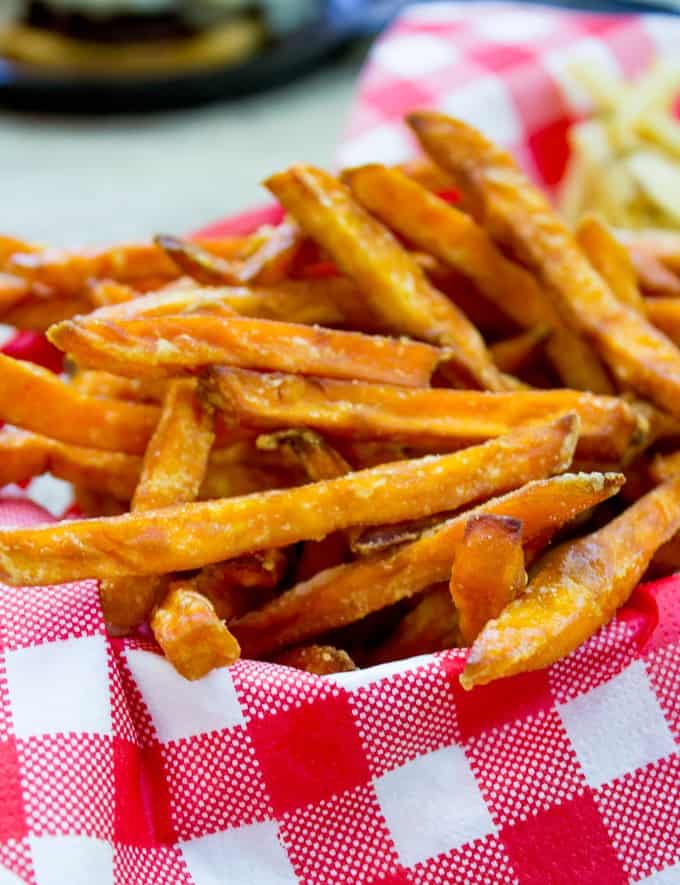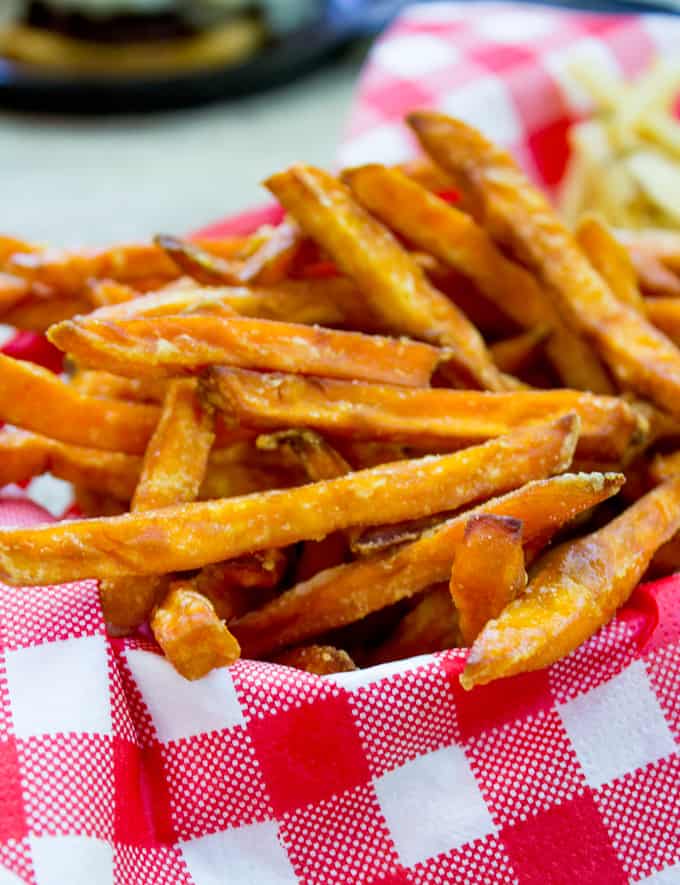 Dinner, then Dessert, Inc. owns the copyright on all images and text and does not allow for its original recipes and pictures to be reproduced anywhere other than at this site unless authorization is given. If you enjoyed the recipe and would like to publish it on your own site, please re-write it in your own words, and link back to my site and recipe page. Read my disclosure and copyright policy. This post may contain affiliate links.