Fried Cheese Curds taste just like the ones at your local state fair without the lines, dirt, or crazy expensive prices! SO GOOD!
Appetizers, especially fried ones, are always the hit of the party, or state fair. These Fried Cheese Curds are no exception! Serve them along side yummy Buffalo Chicken Tenders, classic Fried Pickles, or sweet Fried Ice Cream for an unforgettable summer snack time!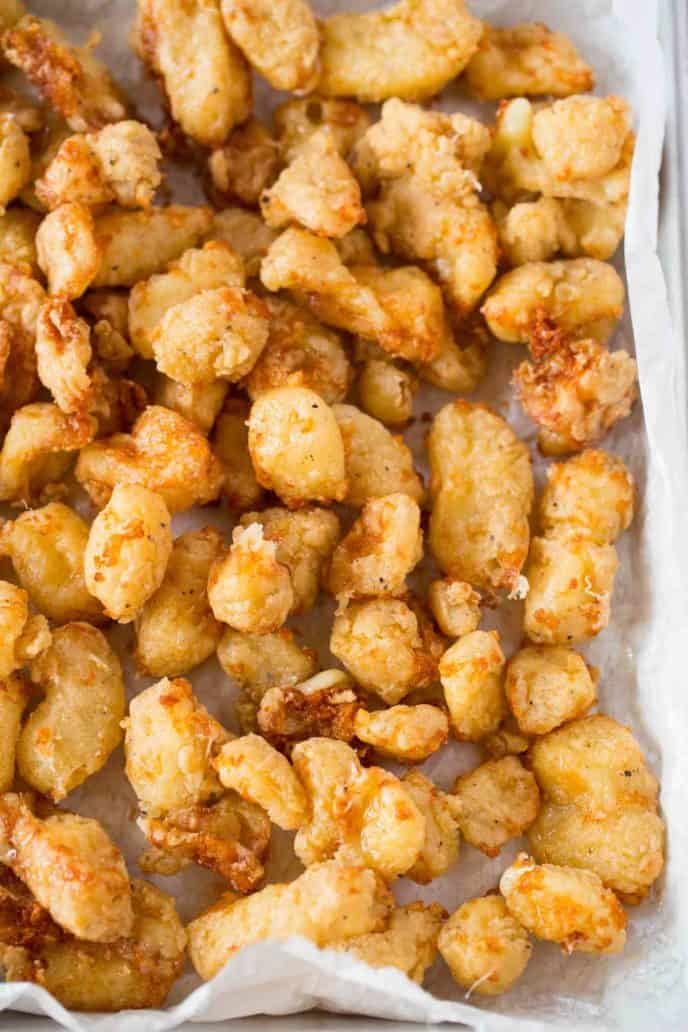 Fried Cheese Curds aren't just for the state fair anymore. Most people don't buy cheese curds at the grocery store as they are not easily found. But if you've ever enjoyed fried cheese curds then you know how much better than mozzarella sticks they are!
One of the world's most famous places to get Fried Cheese Curds is in Wisconsin, also known as America's Dairyland. They are renowned for their own Wisconsin cheese curds and a special kind called squeaky cheese curds due to the little squeak noise the special cheese makes when you bit into it! The fresher your cheese, the louder the squeak! Super fun! 
You don't have to have the special squeak to enjoy cheese curds. Now you can make them yourself at home! While the Fried Cheese Curds can cost a small fortune at state fairs around the USA, there is a reason they are so popular. Since they have a really short shelf life (less than 24 hours), they have to be made and eaten right away. They can often be found in some restaurants as well.
If you don't have access to farm fresh cheese curds, don't be alarmed. Cheese curds are still yummy cheese and will still taste absolutely delicious, especially when compared to mozzarella sticks. You can eat them by themselves or served with fresh Homemade Ranch Dressing or Easy Marinara Sauce. Enjoy!
How to Make Fried Cheese Curds
Making this amazing snack at home is not hard, but there is a specific process to ensure the perfect cheesy curd. We think this is the best Fried Cheese Curd recipe ever. Check it out!
Step One: Let the curds sit at room temperature for around an hour (depending on the time of year) until they start to sweat a little before coating them in flour. Then, freeze them immediately for one hour to make them firm up to keep their shape during cooking. 
Step Two: Make a tempura like batter using flour, baking powder, a half teaspoon salt, and bubbly club soda. 
Step Three: Cook them in your deep fryer if you have one, or in oil on the stove top until golden brown. Drain on a wire rack. Don't drain on paper towels or they will become soggy. Don't pile them on top of each other or they'll deflate and ooze cheese out.
Frequently Asked Questions
What is the difference between regular cheese and cheese curds?
When cheese is made it starts as pasteurized milk before rennet is added to firm the cheese before cooking. Once cooked pressure is added to create a firm cheese and expel any remaining whey. Cheese curds (if fresh they squeak!) are similar to cheese but they don't go through the final pressing process.
What type of cheese should I use for cheese curds?
Most fried cheese curds are made using mozzarella cheese curds, but cheddar cheese is equally delicious. It is actually the default cheese used in the classic Wisconsin cheese curds. 
Should I refrigerate fresh cheese curds?
No, definitely not! Buy cheese curds as fresh as you can and leave them out for up to 24 hours. Do not refrigerate them as they will lose their squeak which is generally a sign of freshness in cheese curds. Just be sure you're buying them with plans to use them soon.
Why do we freeze cheese curds then? 
Real cheese easily melts when exposed to heat. We firm up the cheese curds just before frying so that they don't ooze into nothingness when fried. The extreme temperatures from room to frozen lets us get the perfect texture. 
Why are there two coats of flour and batter? 
The first coat of flour on the sweating room temperature curds will be the base that the actual batter is able to stick to. 
What can I use if I can't find actual cheese curds? 
As a last ditch effort, you can fresh mozzarella, or other cheese sticks, like string cheese. Simply break or cut them up into small even-sized chunks and prepare according to the recipe. They'll be just as good!

Create a free account to

Save Recipes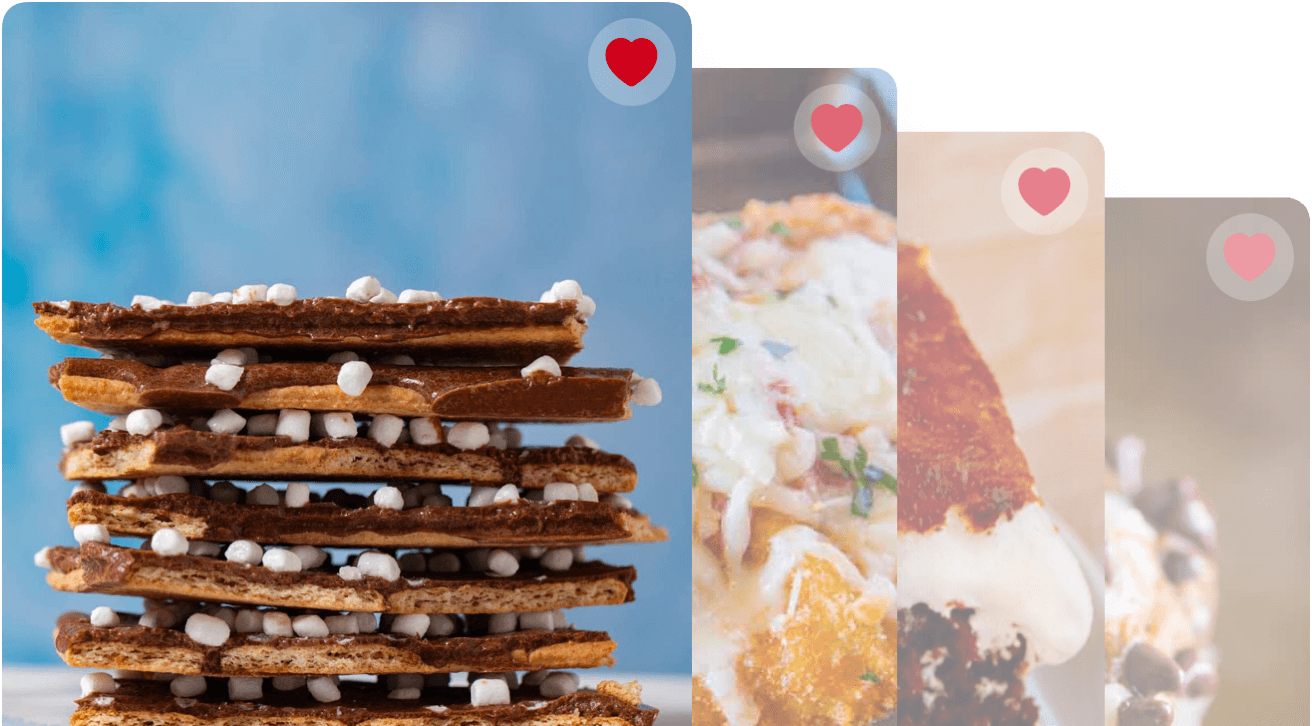 Key Ingredients in Fried Cheese Curds
This recipe is easy to do. While finding fresh cheese curds might be challenging, many specialty food shops close to dairy farms and associated small cheese stores might carry fresh curds in stock. Many large grocery stores will have cheese curds in bags in the refrigerated section. You can use these without issue.
Cheese: Cheese curds can be found in the dairy section. We're using yellow cheddar cheese curds. But you can use white cheese curds too. 
Batter: Our smooth batter is made with a special mixture including club soda which contains a special mineralized composition that helps give it the perfect consistency needed. 
Air Fryer Fried Cheese Curds
You can make your curds in the air fryer, no problem. To avoid the cheese melting out, be sure to completely cover them with batter. If you're still having issues with the cheese melting out, double bread the curds by coating them again in flour, then the batter. Check it out!
Prepare the curds according to the recipe. 
Line the air fryer basked with parchment paper or wax paper. 
In a single layer, place the breaded curds onto the parchment paper. 
Spray a light layer of cooking oil over the top of them. 
Air fry for 4 minutes at 350 degrees. 
Flip over, spray with cooking oil, and fry for another 3 minutes. 
Serve and enjoy! 
How to Store Fried Cheese Curds
Serve: Serve the curds when they are fresh. Allow them to cool a bit so the oil doesn't burn. 
Store: It will be very unlikely that you have leftover cheese curds because they are that good! But if you do, you can keep them in an air tight container in the fridge for up to a week. Reheat them in the toaster oven or air fryer to help them regain their crunchiness. 
Freeze: Freeze cheese curds in an air tight container for up to 6 months. They can be refried from frozen, or heated up in the air fryer or toaster oven no problem.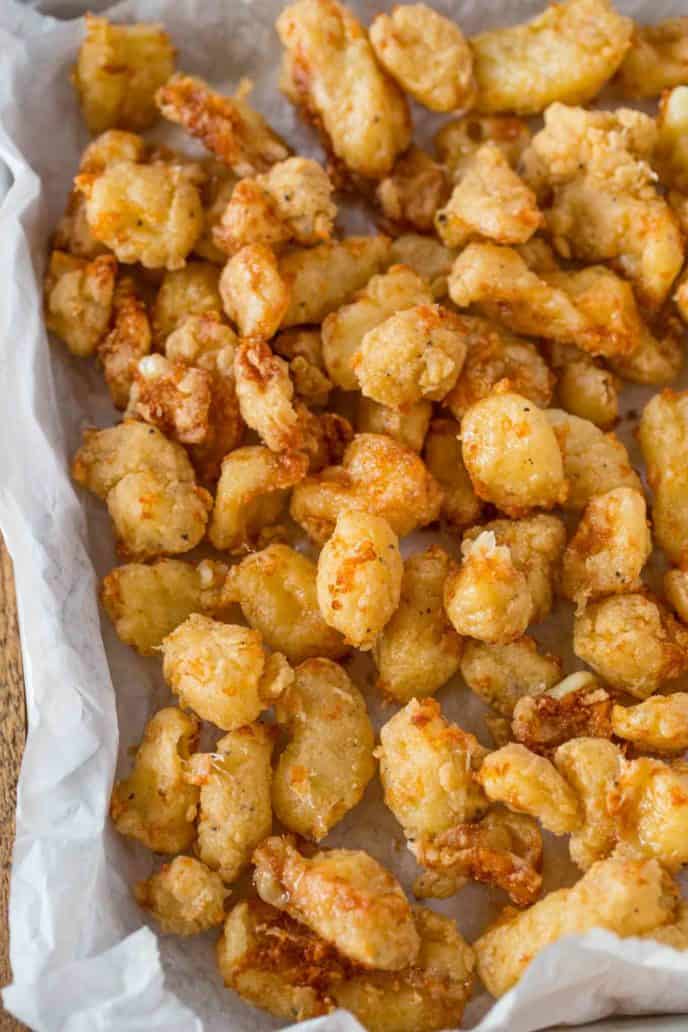 Ingredients
1

pound

cheese curds

, room temperature

1

cup

flour

1 1/2

teaspoons

baking powder

1/2

teaspoon

kosher salt

1

cup

club soda

vegetable oil

, for frying
Instructions
Let the curds sit at room temperature until they start to sweat a little before coating them in flour then freeze them for

60 minutes

.

Use the remaining flour and add it to a bowl with the baking powder, salt and club soda, whisking until smooth.

Heat a pot of oil 3 inches deep to 360 degrees.

Add the cheese curds to the batter using a skimmer to let the excess batter drain before adding them to the hot oil and cooking them for

one minute

until golden brown, stirring them after about

30 seconds

.
Nutrition
Calories:
186
kcal
|
Carbohydrates:
8
g
|
Protein:
10
g
|
Fat:
12
g
|
Saturated Fat:
6
g
|
Cholesterol:
40
mg
|
Sodium:
348
mg
|
Potassium:
61
mg
|
Calcium:
295
mg
|
Iron:
0.5
mg