Cheesy Pesto Pinwheels are the perfect party snack. Crescent rolls, pesto sauce, red peppers, and cheese come together in 30 minutes for a tasty appetizer.
From Sausage Crescent Squares to Pepperoni Cheesy Bread, when it comes to parties we love an easy, cheesy Appetizer Recipe that can be made in less than an hour.
From New Year's to Super Bowl, these Cheesy Pesto Pinwheels are crowd pleasing appetizers you can serve for any occasion. They are fancy enough to be hors d'oeuvres for a cocktail party and easy enough to whip up a batch or two on the fly for ravenous sports fans. They are yummy all by themselves or dunked in your favorite Marinara Sauce.
Cheesy Pesto Pinwheels are one of the easiest appetizers with almost no prep work. They start with our Homemade Basil Pesto Sauce and jarred roasted red peppers. The pesto and peppers get spread on a rectangle sheet of crescent dough, topped with some Parmesan cheese, and rolled up into a log that's cut into perfect pinwheels. Pop them in the oven and in 10 minutes you have a simple appetizer for parties, potlucks, or whenever you want a tasty snack!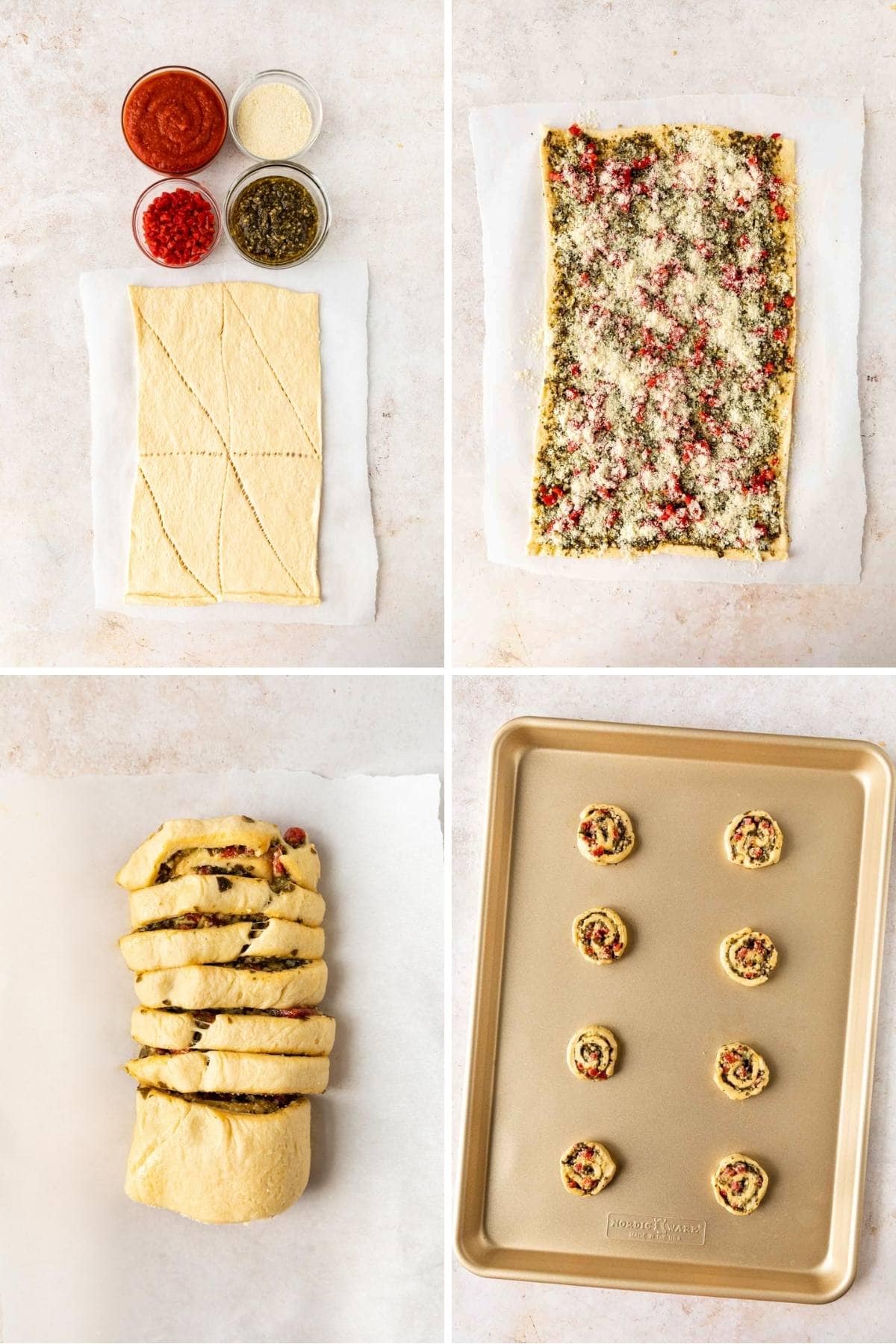 This is a great recipe if you have kids that like to help out in the kitchen. All the ingredients are pre-made so really this recipe is all about assembly. Aspiring little chefs can learn how to make their presentation neat with this fail-proof recipe that will taste delicious even when the rolls aren't perfect!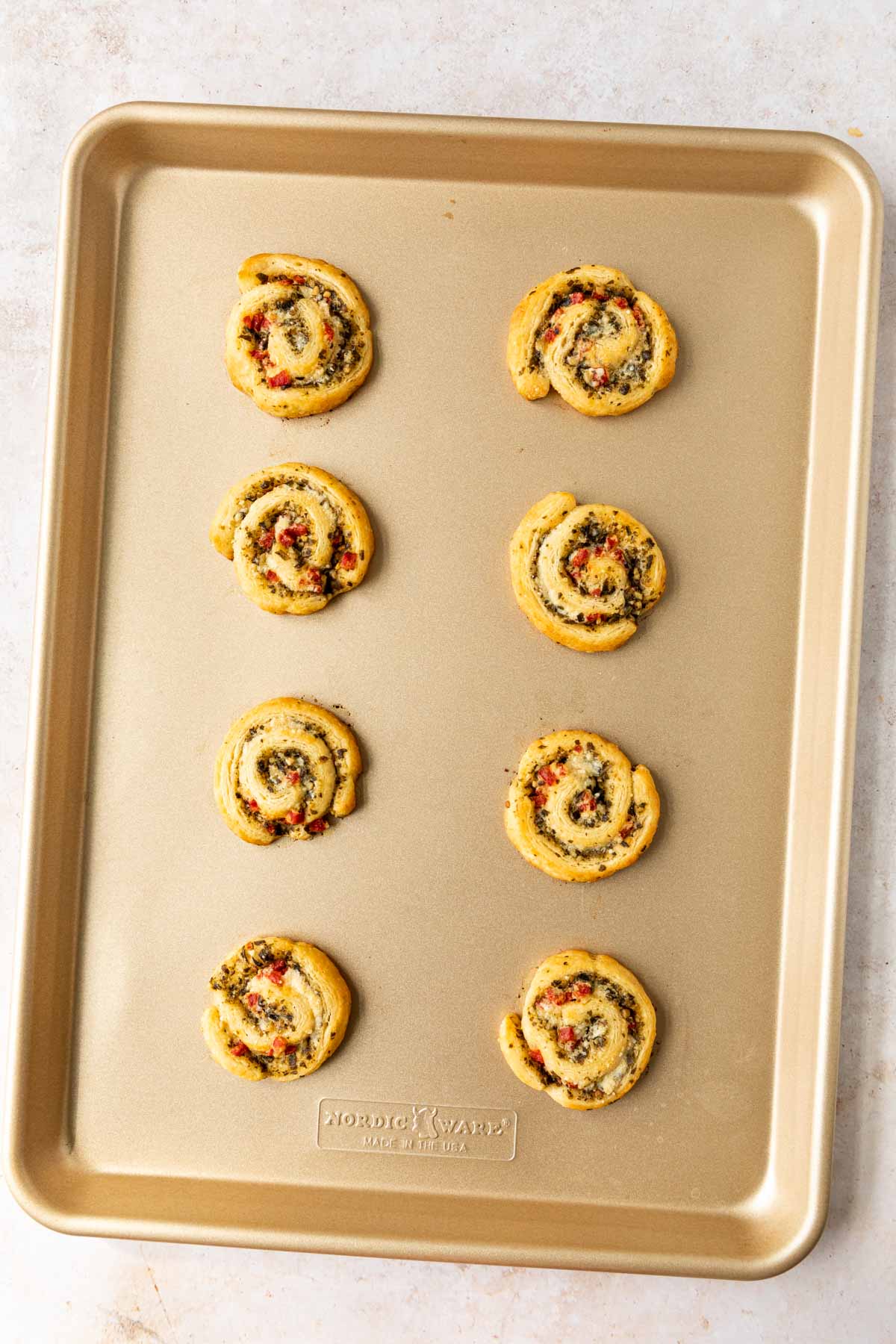 How to Make Cheesy Pesto Pinwheels
Prep: Preheat the oven. Unroll the dough on a flat surface. Parchment paper can make it easier to roll and keep the dough from sticking.
Fill: Spread the pesto over the dough. Cover with the chopped red peppers and sprinkle cheese over everything.
Roll: Starting at one long side of the dough, roll around the filling tightly and press the edge into the dough to seal.
Cut: Score the top of the dough into 20 even sections, then slice into individual rolls with a sharp knife.
Bake: Place rolls on baking sheets and bake until golden brown. Serve with marinara.
FAQs for
Cheesy Pesto Pinwheels
Does it matter what kind of pesto you use?
This recipe uses our easy homemade pesto recipe, but you could use any store-bought brand you like just as easily. Other pesto flavors like sundried tomato pesto would taste just as delicious with the peppers and cheese too.
How do you roll puff pastry into pinwheels?
You want to make sure your filling is even and flat. It's easier to leave a small border on one long side of the dough. Start at the long side with filling close to the edge and fold a small lip around about a ½ inch of filling. Continue rolling, gently smoothing parts that are uneven and pinch the edge to seal. Use a sharp, serrated knife to make clean cuts.
How do you keep pinwheels from being soggy?
Line the container you are storing your pinwheels in with paper towels to keep the pastry from getting soggy. You can also pop them in the oven or air fryer  for 5 minutes to crisp them back up if they are soggy.
How do you get pinwheels to stick?
If your dough is too warm, it will have a hard time staying together around the filling as you cut it. If it's coming apart as you cut it, throw it in the refrigerator until it's cold and then try cutting again. You also want to make sure you roll the dough tightly around the filling.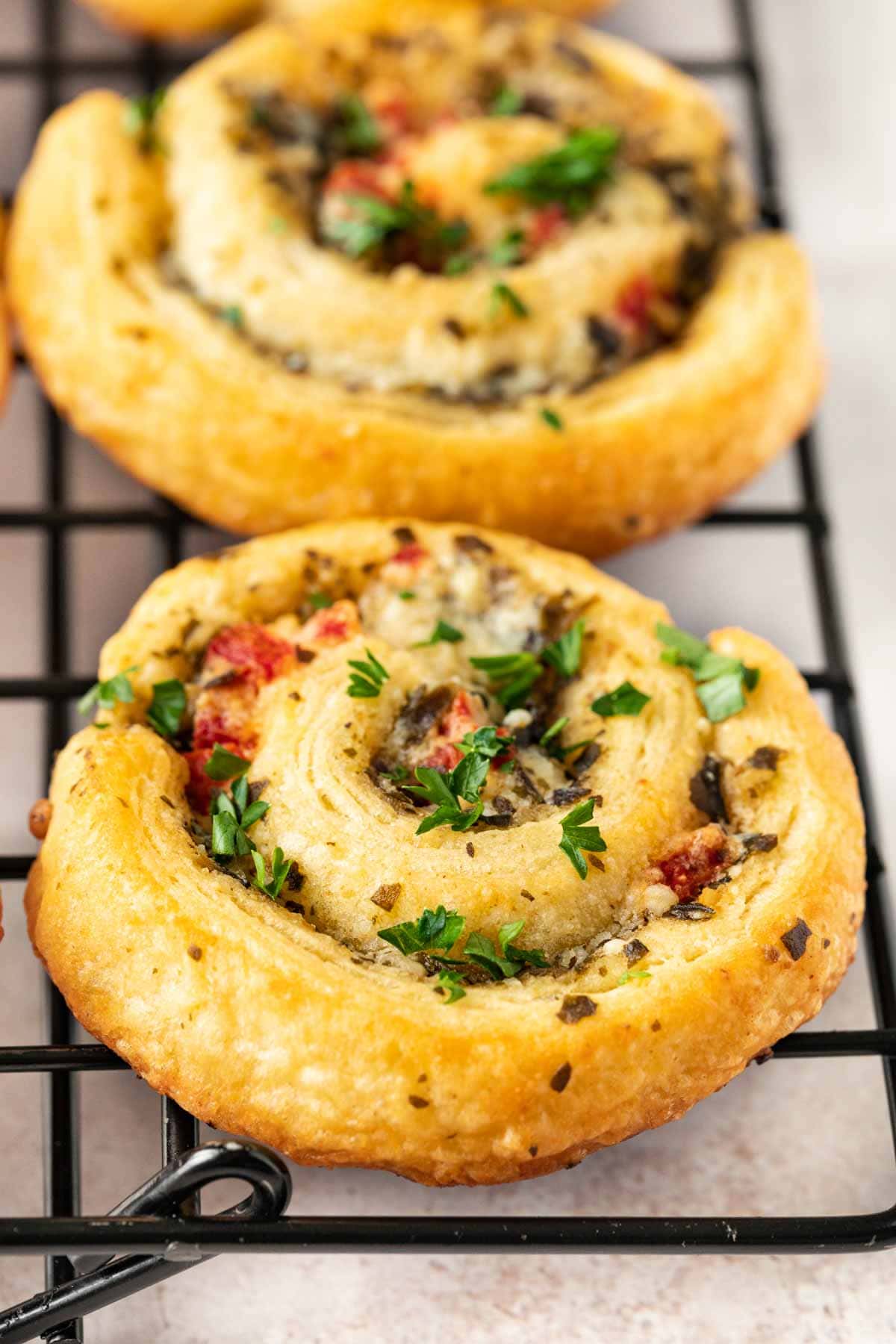 Create a free account to

Save Recipes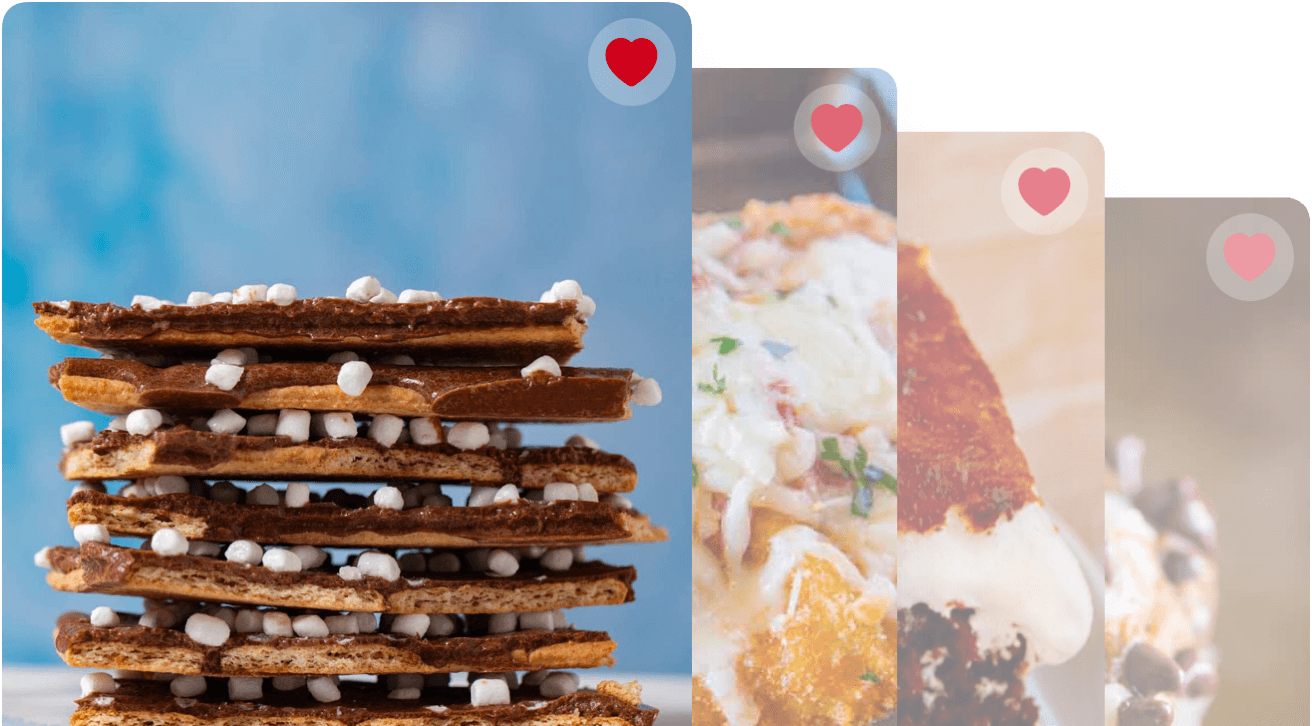 Key Ingredients
Crescent Roll Dough: We love how crescent roll dough bakes up golden brown with flaky, buttery layers. You want to use the cans of crescent roll dough that are in a single piece, otherwise you'll have to press all the seams together to make a full sheet. Thawed out puff pastry dough works just as well in this recipe.
Pesto Sauce: This Cheesy Pesto Pinwheels recipe uses a super flavorful homemade pesto made with fresh basil leaves, Parmesan cheese, garlic, olive oil, and pine nuts.
Roasted Red Peppers: Roasted peppers are red bell peppers that have been charred to bring out their natural sweetness and it cuts any bitterness. For tangy flavor, use roasted peppers in vinegar or use red peppers in oil for more umami flavor.
Parmesan Cheese: Aged Parmesan cheese adds flavor and salt that tastes amazing with the buttery dough. Freshly grated cheese has more flavor and it melts better than the cheese that is already grated. Instead of grated crumbles, you can also use fine shreds of cheese too.
Marinara Sauce: The Italian flavors in these cheesy rolls go perfectly with a tomato dip like marinara sauce. Use your favorite store bought sauce or use a cup of homemade sauce if you have it on hand.
Can these Pinwheels be made ahead of time?
The best thing about these appetizers, besides how ridiculously easy they are to make, is that they can be served warm or cold. Make them ahead of time and chill them in the fridge for a few hours or up to 2 days. You can also freeze them for up to 3 months and reheat them in the oven from frozen. Bake them at 350 degrees or heat them in an air-fryer to make the outside crispy again.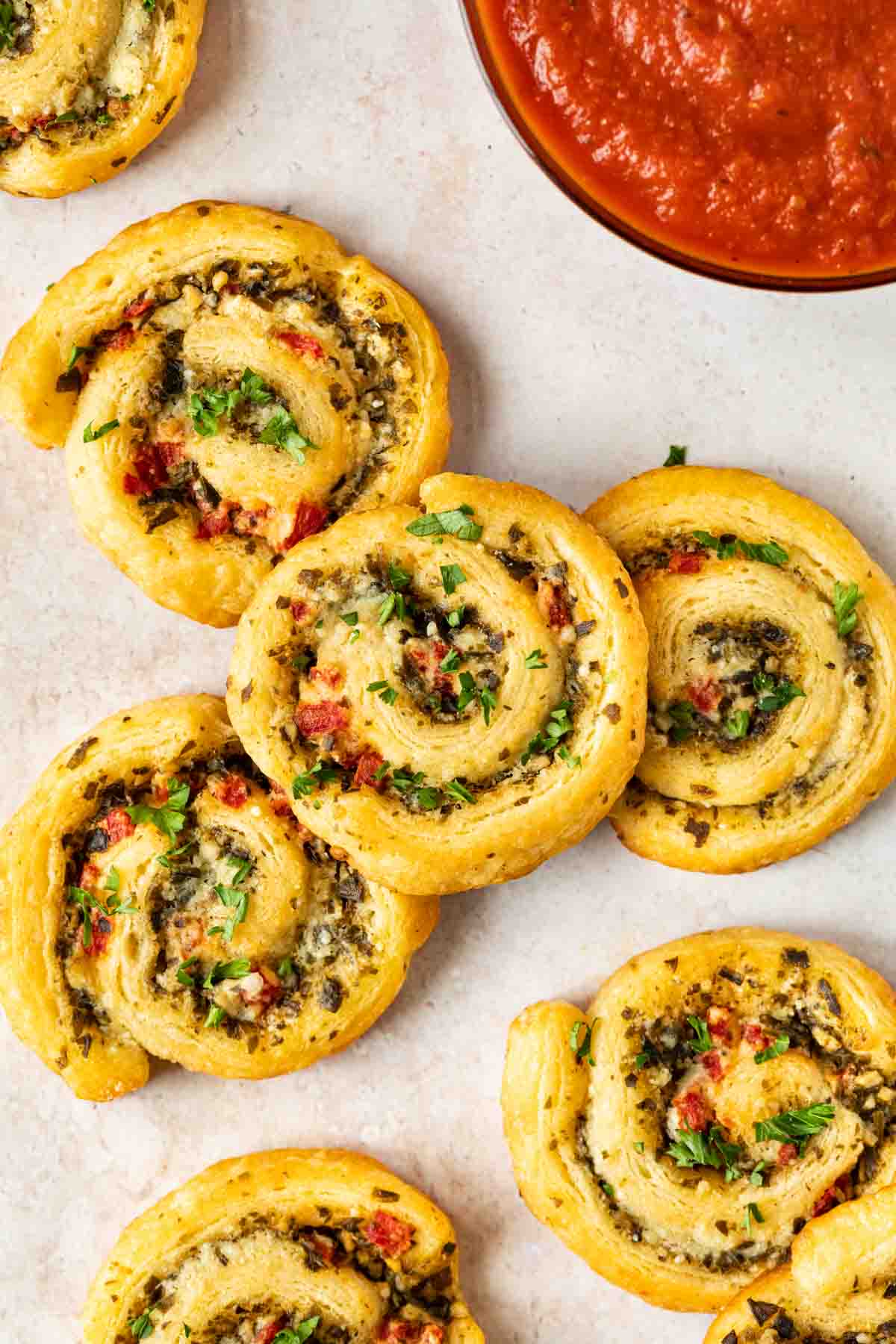 Variations
Cheese: Add a layer of softened cream cheese before rolling for a creamy, delicious filling. Add Mozzarella cheese, cheddar cheese, or Monterey Jack cheese to make these extra cheesy.
Pepperoni: Make these more like pizza pinwheels by adding some mini pepperoni slices to your filling. You can also use cooked Italian sausage crumbles or crispy prosciutto for these Italian appetizers.
Dough: Instead of crescent sheet dough, you use homemade Pizza Dough or puff pastry dough sheets (thaw if frozen). If you use individual crescent roll triangles, seal the edges of the pieces together to form 2 long rectangles of dough.
Veggies: You can add some extra veggies like sauteed onions, roasted garlic cloves, or eggplant for more flavor. You want the veggies cut into small pieces so that they don't over-stuff the rolls and separate the layers too much.
Wreath: Instead of pinwheels, make this a pull-apart wreath. Once you've rolled the dough, cut slices almost all the way down but leave about ¼ inch connected. Carefully alternate lay slices left and right, cut side up, curving as you go to make a circle. Use a small bowl as a guide if needed. Bake as usual and serve with dipping sauce in the middle.
How to Make Roasted Red Peppers
Preheat your oven to 500 degrees.
Cut red peppers into quarters.
Remove seeds and the membranes (the white stuff).
Place cut side down on the baking sheet and put in the oven.
Roast peppers until the skin blisters and turns black.
Remove the peppers from oven. Transfer to plate and cover with a large plastic bowl, or place in a paper bag, until cool.
Once they are cool, skins should easily peel away off of the peppers. You can also submerge them in a bowl of ice water out of the oven to loosen the skin.
More Finger Food Appetizers
How to Store
Serve: These are best served warm from the oven and they should be stored after 2 hours at room temperature.
Store: Keep leftovers in the fridge for up to 3 days in an airtight container with a paper towel in the bottom to absorb moisture. You can reheat them in the oven or air fryer to make them crispy again.
Freeze: Flash freeze the baked rolls in a single

layer

on a baking sheet for an hour. Transfer the frozen rolls to a sealed container or freezer bag and freeze for up to 3 months. Reheat from frozen in the oven until warmed through.


Ingredients
1

package

refrigerated crescent dough sheet

, 8 ounces

1/3

cup

Pesto Sauce

1/4

cup

roasted red peppers

, drained and chopped

1/4

cup

grated Parmesan cheese

1

cup

Easy Marinara sauce

, warmed
Instructions
Pre-heat oven to 400 degrees F.

Unroll crescent dough sheet into rectangle.

Spread top of dough with pesto.

Sprinkle with red peppers and cheese.

Roll jelly-roll style, starting with a long side.

With a sharp knife, cut roll into 20 slices.

Place cut side down 2 in. apart on ungreased baking sheets.

Bake until golden brown,

8-10 minutes

.

Serve warm with Marinara sauce.
Nutrition
Calories:
64
kcal
|
Carbohydrates:
6
g
|
Protein:
1
g
|
Fat:
4
g
|
Saturated Fat:
1
g
|
Polyunsaturated Fat:
1
g
|
Monounsaturated Fat:
1
g
|
Cholesterol:
1
mg
|
Sodium:
231
mg
|
Potassium:
41
mg
|
Fiber:
1
g
|
Sugar:
2
g
|
Vitamin A:
156
IU
|
Vitamin C:
2
mg
|
Calcium:
20
mg
|
Iron:
1
mg