Sausage Balls made from pork sausage, cheese, and biscuit mix are savory, cheesy, and ready in under 30 minutes! The perfect party appetizer!
Appetizers are almost as important to the holidays as the main dish. You'll love serving this recipe to your party guests along with Ultimate Spinach Artichoke Dip, Buffalo Chicken Dip, and Bacon Brown Sugar Smokies!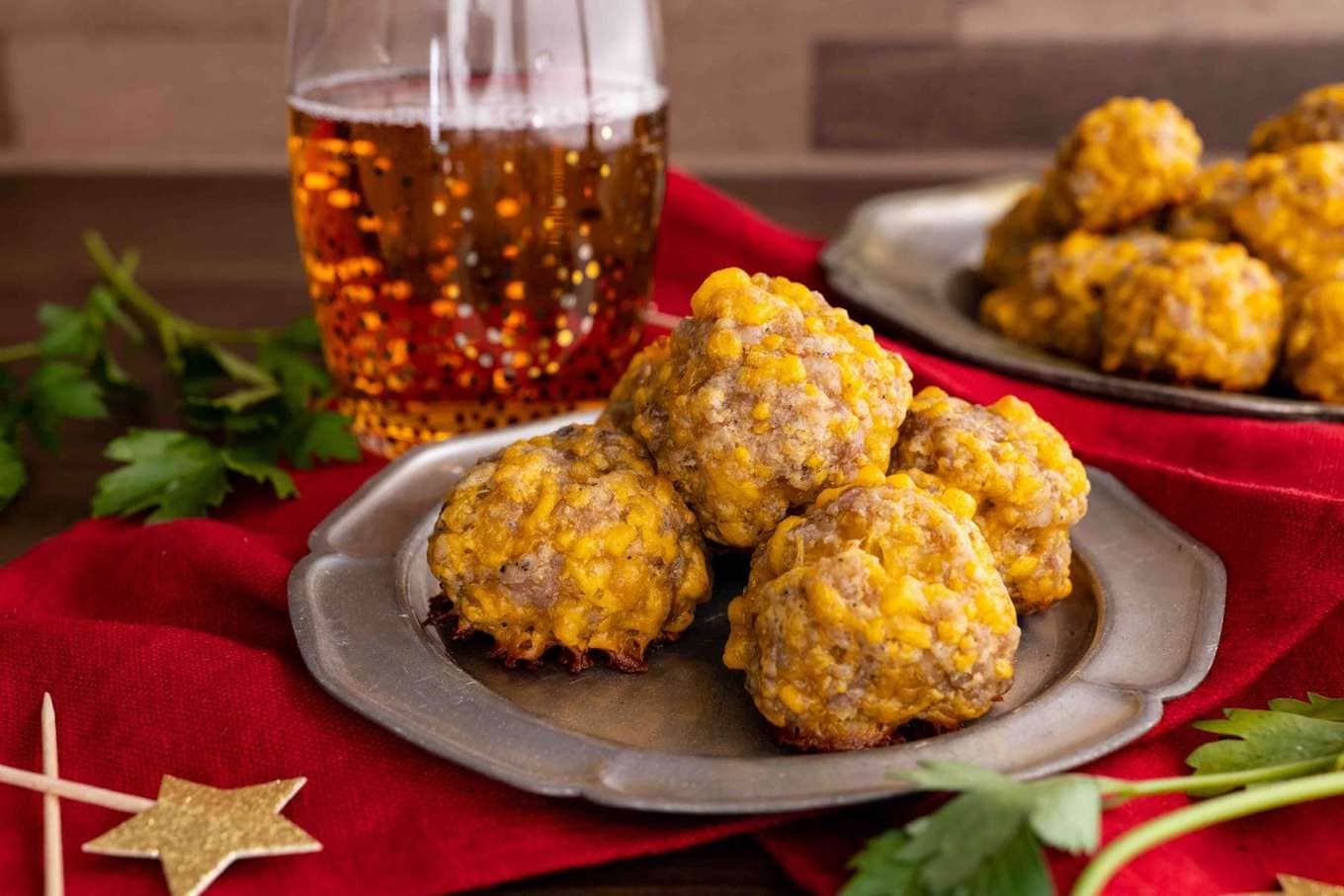 Sausage balls are the PERFECT appetizer to serve at a party because they're quick and easy to put together, and bake for a total time of 20 minutes. They're a lot like meatballs by comparison. You can use sweet sausage or hot sausage for this, depending on what you like. You might find the classic breakfast pork sausage and maple pork sausage to be more kid-friendly, because kids are not fans of spicy food.
This recipe is great if you use homemade biscuit mix from Buttermilk Biscuits, but in a pinch you can use Bisquick. Sticking with pork sausage is recommended, because turkey and beef come out more like meatballs than sausage balls. The pork sausage also adds more of a traditional sausage flavor than other meat.
These Sausage Balls are a versatile treat that can be served as a party appetizer, at a brunch buffet, or a pot luck. If you have leftover sausage, you can use it to make Biscuits and Gravy the next morning! Or try Sausage and Peppers Sloppy Joes. Any way you serve these, they are sure to be a hit.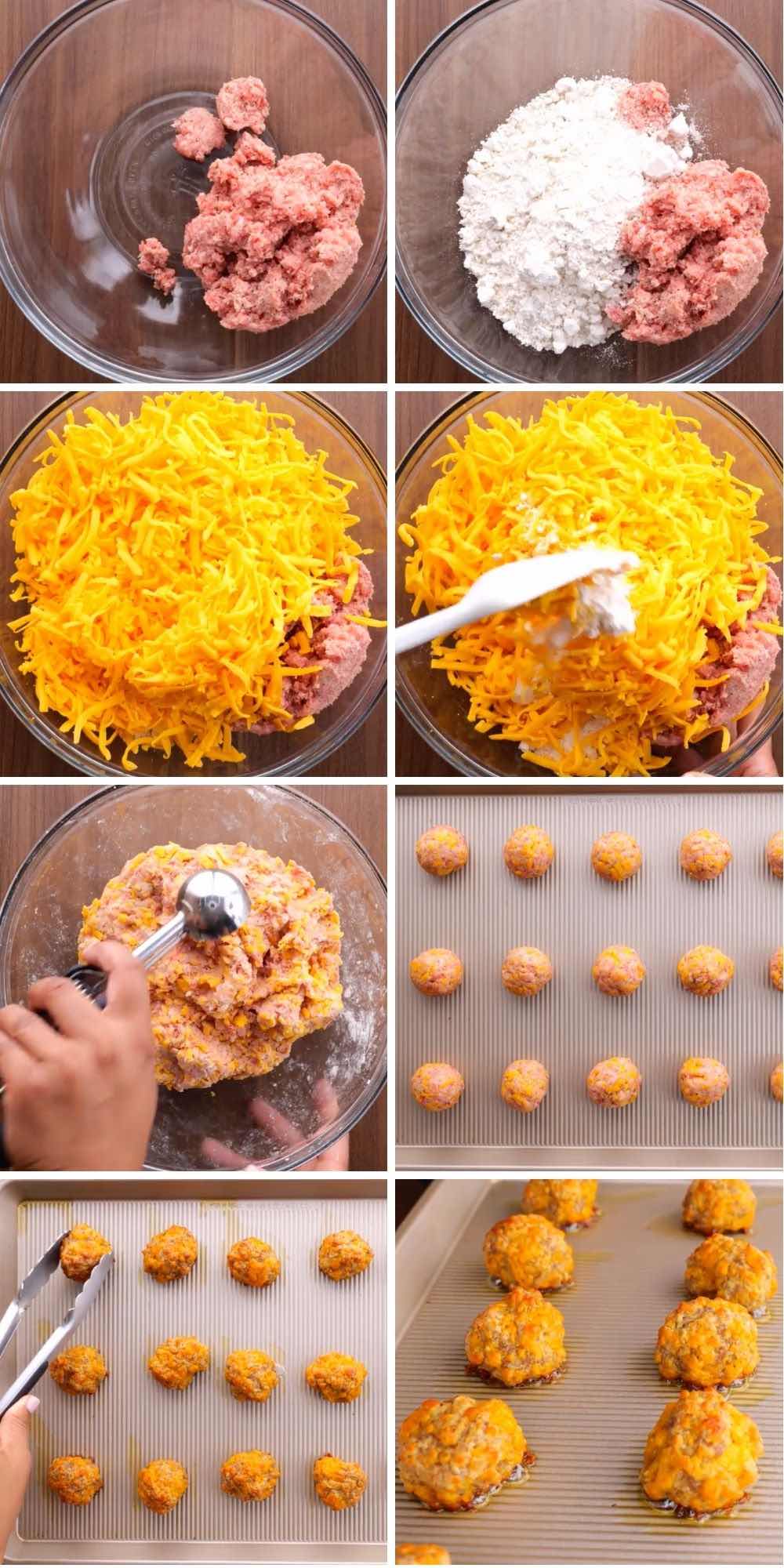 How to Make Sausage Balls
Preheat oven to 350 degrees and line a baking sheet with parchment paper.
In a large bowl mix the sausage with the baking mix well then add in the cheddar and mix well. You can also mix your ingredients together using a stand mixer to save time.
Roll into 2 tablespoon sized balls (hint: use an ice cream scoop to help make all of the balls the same size, about 1-2 inch balls, so they cook more evenly in the oven).
Place on baking sheet and cook for 20-22 minutes. If you'd like, line your baking sheet with parchment paper to make cleanup easier!
More Party Appetizers
Frequently Asked Questions
What do you dip Sausage Balls in?
Sausage balls are savory and a little bit sweet or spicy (depending on your sausage), so they pair well with creamy dipping sauces like ranch dressing, queso, or honey mustard. You can also pair them with sweet dips like maple syrup or honey, or savory sauce like marinara. Basically, use anything that goes well with regular Italian sausage.
Can Sausage Balls be reheated?
Sausage balls are the perfect appetizers to freeze and reheat when ready. Just put some parchment paper down on a baking sheet, then bake the balls at 350 degrees F for about 20-30 minutes, or until warmed through.
How many Sausage Balls should you make per person?
Plan on making 2-3 sausage balls per person. This is a bite-sized appetizer, so you don't need to have enough servings for a whole meal. That being said, these are definitely a popular item, so you can always make some extra.
Can I make Sausage Balls gluten free?
Absolutely! If you would like to serve these meaty appetizers to guests who are on a low carb, keto diet or are gluten intolerant, simply swap out the Bisquick mix for a different alternative. You can use almond flour or flaxseed meal to keep this recipe low carb. For a gluten free option, substitute a gluten free baking mix or make your own using oat flour or rice flour.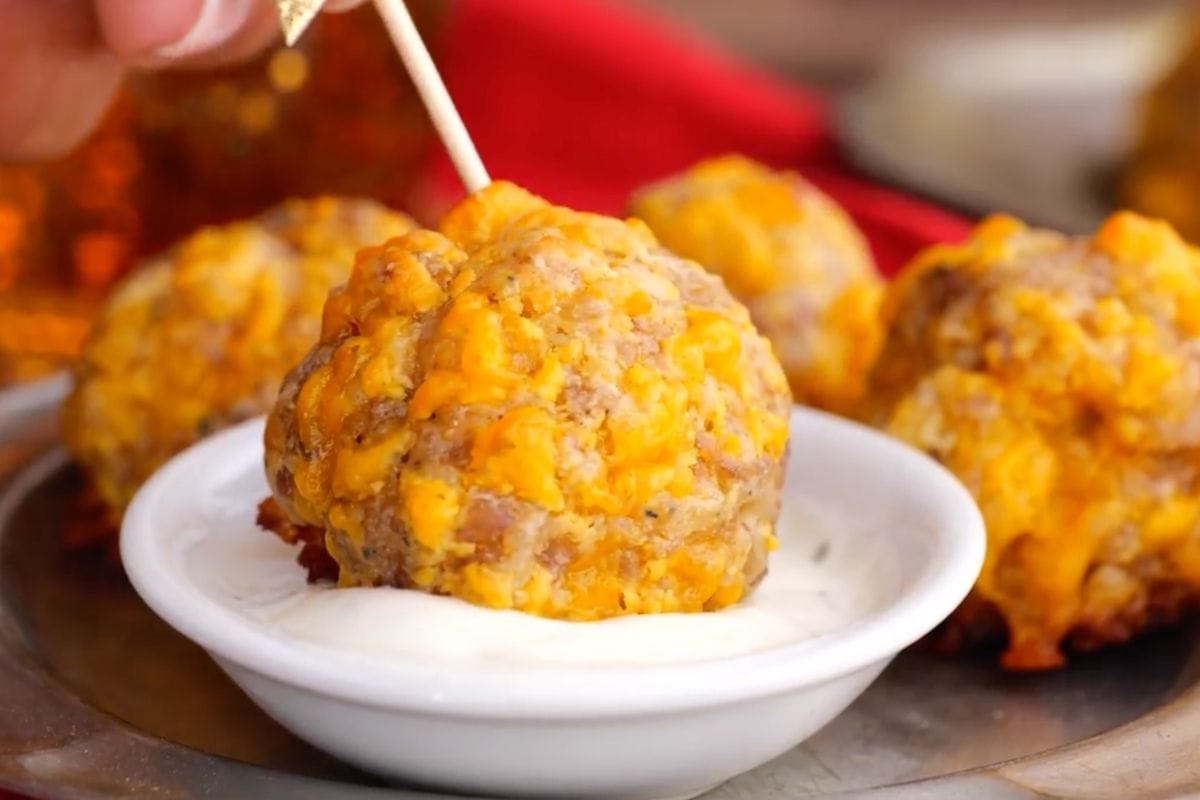 Create a free account to Save Recipes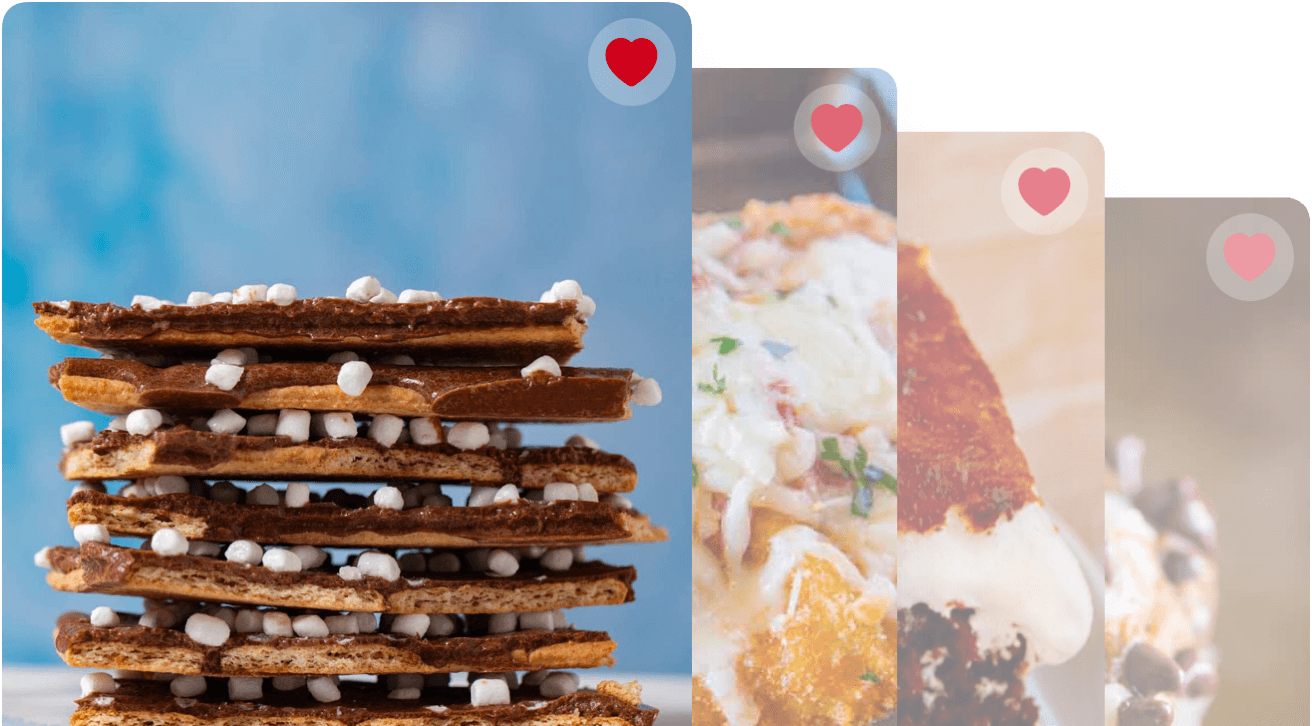 Key Ingredients in Suasage Balls
Sausage: We use ground pork sausage for these appetizer meatballs. You can purchase ground sausage at the butchers counter or use breakfast sausage links and remove the insides from the casing.
Biscuit Mix: An all purpose biscuit mix is the perfect binder for these delicious Sausage Balls. Bisquick is the most common brand, but you can use your favorite mix or make your own using the instructions below.
Cheese: Sharp cheddar will have a bold enough flavor to taste great with the sausage in this recipe. Using a block of cheese and grating it yourself will ensure the best texture and flavor, as pre-shredded cheese often has additives to prevent it from clumping that can make your recipe taste gritty.
How to Make Bisquick at Home
Bisquick is a blend of all purpose flour, salt, baking powder, and shortening. Whisk together 2 cups flour, 1 tablespoon baking powder, ⅓ cup shortening, and 1 teaspoon of salt. You can do this in the food processor to break the shortening up into the flour easier. Use Bisquick cup-for-cup for the biscuit mix in this recipe. You can also use this method to prepare pancakes, waffles, biscuits, or many other baked goods recipes!
Can Sausage Balls be Made Ahead?
Sausage Balls are easy to prep in advance and bake fresh before serving! Make the sausage balls and chill, covered in plastic wrap, up to 24 hours in advance. Then you can pop them in your preheated oven 20 minutes before company arrives and, voila! Your guests will think you were working in the kitchen all day even though you've had plenty of time to tend to other tasks before entertaining. Bake within one day for food safety. You can also bake the balls and freeze them in ziplock bags, then just pull them out when you need to serve a quick appetizer. Be careful not to leave them at room temperature for too long.
Variations on Sausage Balls
Spicy: Use hot Italian ground sausage to give this party appetizer a kick. Or add crushed red pepper, cayenne pepper, or your favorite hot sauce to the meat mixture to add as much or little heat as you'd prefer.
Meat: Use ground chicken sausage instead of pork for a lighter version of Sausage Balls. You can also use a mixture of pork and chicken, or pork and beef, to change the flavor of the Sausage Balls.
Cheese: You can use a mix of cream cheese and cheddar cheese if that's what you have available, or add some grated parmesan cheese for flavor. Cream cheese will add a nice soft texture to the sausage, while cheddar adds that bite of flavor. You can also replace some of the cheddar with any of your favorite cheeses like gruyere, Pepper Jack, gouda, havarti, or Blue cheese crumbles.
Dipping Sauce: Serve your Sausage Balls with homemade Marinara, Ranch Dressing, or Honey Mustard sauce for dipping.
Leftovers: Use any leftover sausage cheese balls to make a sausage and pasta dish for dinner the next day! You can also serve these over rice or mashed potatoes, or in a hero sandwich roll with tomato sauce.
More Sausage Recipes
How to Store Sausage Balls
Serve: Do not leave cooked meat at room temperature longer than 2 hours before refrigerating.
Store: Cooked Sausage Balls will keep 3-4 days in the refrigerator, about the same as cooked sausage itself. Any more than that, and you'll want to freeze them.
Freeze: Cooked Sausage Balls will keep in the freezer for up to three months. Freeze in a single layer on a baking sheet for one hour, then seal in a Ziploc freezer bag, making sure to squeeze all the air out.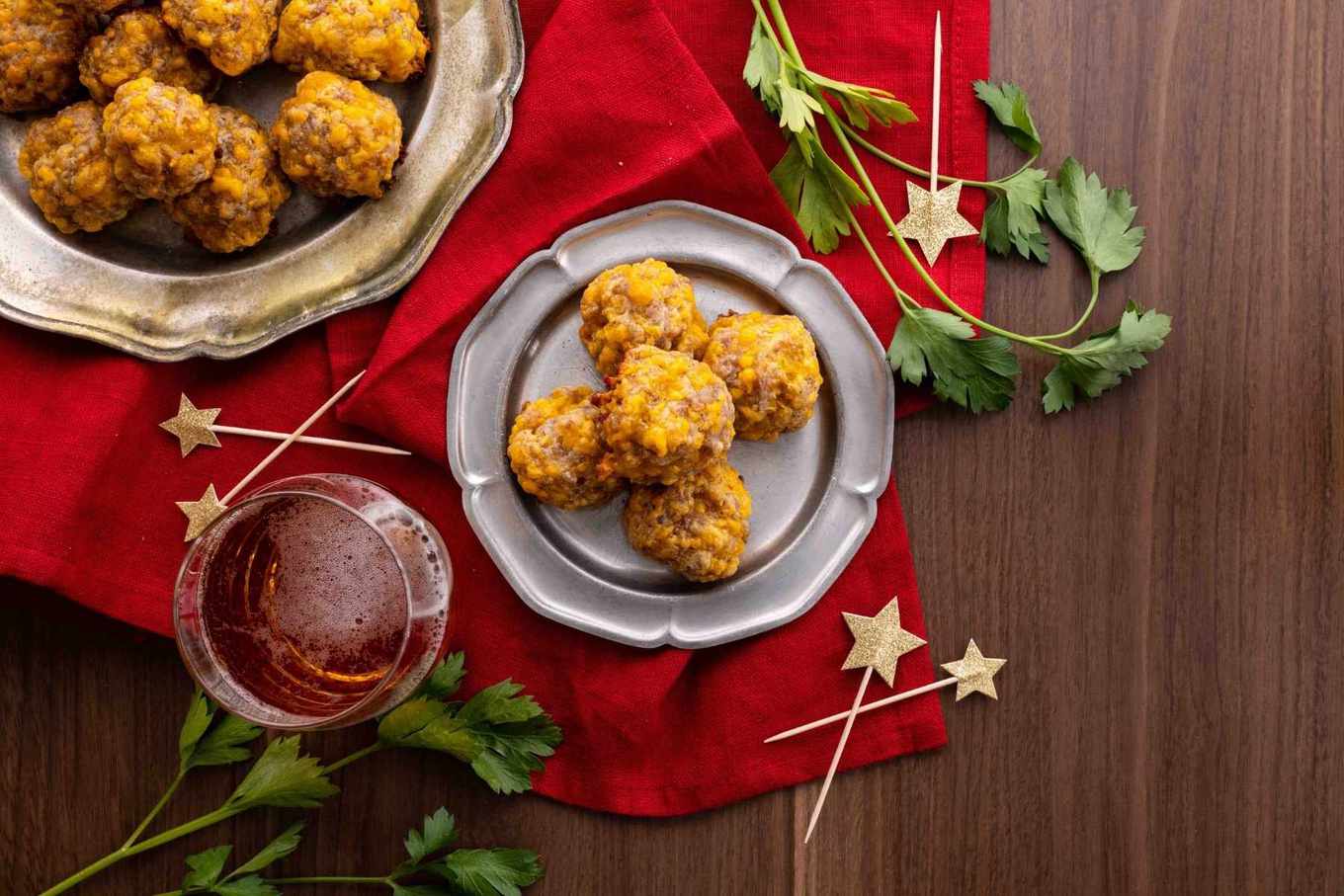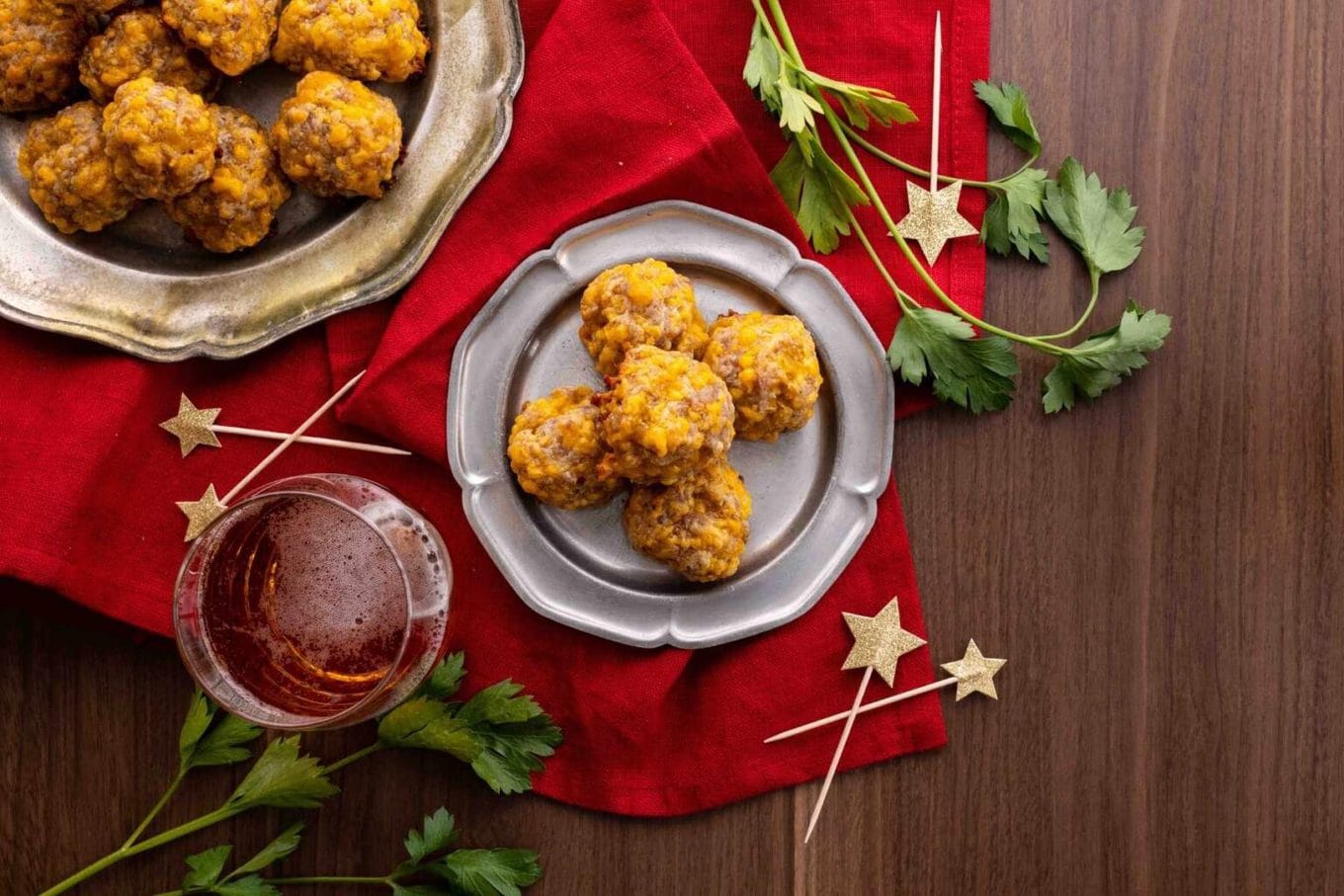 Ingredients
1

pound

ground pork sausage

2

cups

biscuit baking mix

1

pound

sharp cheddar cheese

, shredded
Instructions
Preheat oven to 350 degrees and line a baking sheet with parchment paper.

In a large bowl mix the sausage with the baking mix well then add in the cheddar and mix well.

Roll into 2 tablespoon sized balls and place on baking sheet and cook for

20-22 minutes

.
Notes
Note: click on times in the instructions to start a kitchen timer while cooking.
Nutrition
Calories:
423
kcal
|
Carbohydrates:
15
g
|
Protein:
20
g
|
Fat:
30
g
|
Saturated Fat:
14
g
|
Cholesterol:
80
mg
|
Sodium:
876
mg
|
Potassium:
196
mg
|
Sugar:
3
g
|
Vitamin A:
490
IU
|
Vitamin C:
0.3
mg
|
Calcium:
374
mg
|
Iron:
1.5
mg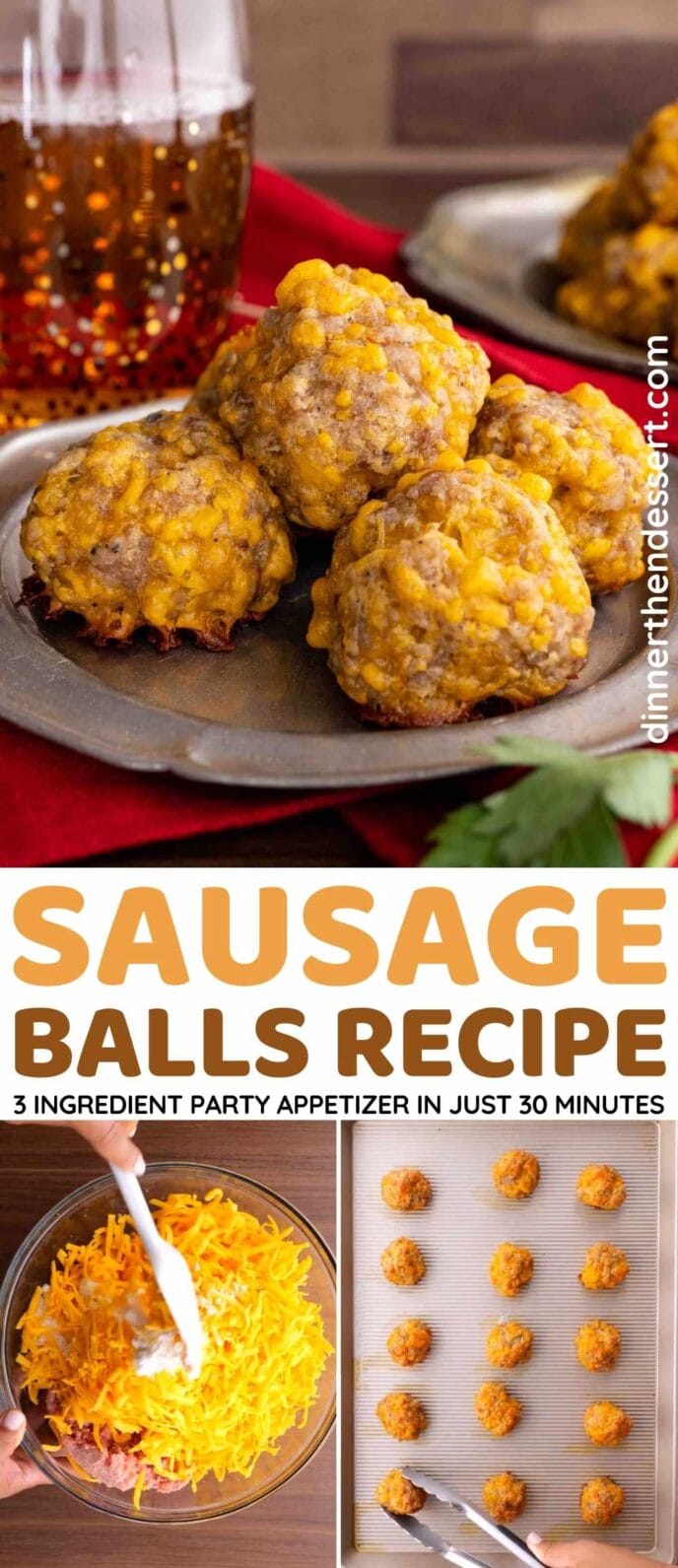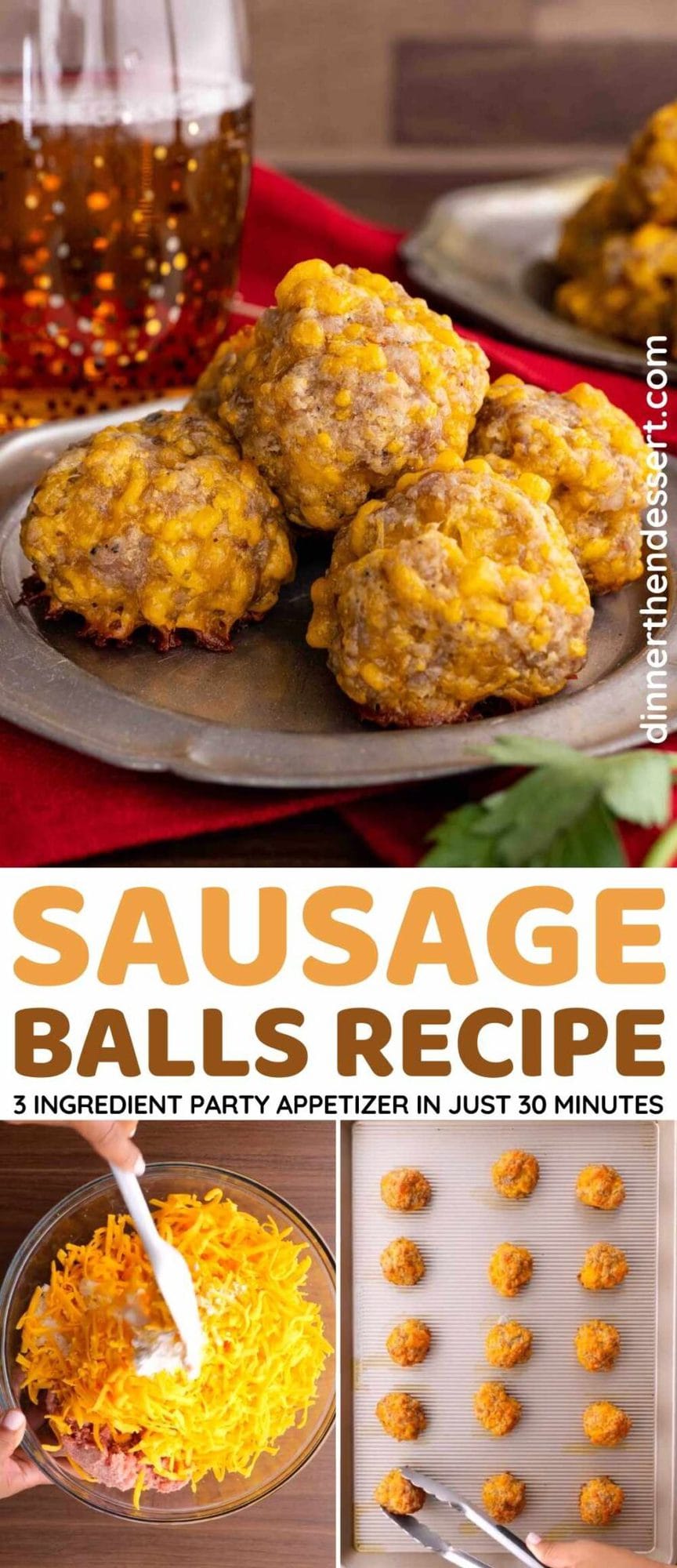 Photos used in a previous version of this post.