Bacon Wrapped Water Chestnuts are crunchy, savory, candied-bacon perfection. Perfect bite-sized appetizers for your next holiday party!
From chicken to pork to pineapple, if you can wrap it in bacon and dust it with brown sugar, we are going to do it! Find other favorites like the sweet Bacon Wrapped Pineapple Bites, the delicious Bacon Brown Sugar Lil Smokies, and the festive Bacon Cheese Wreath in our Appetizer Recipe collection.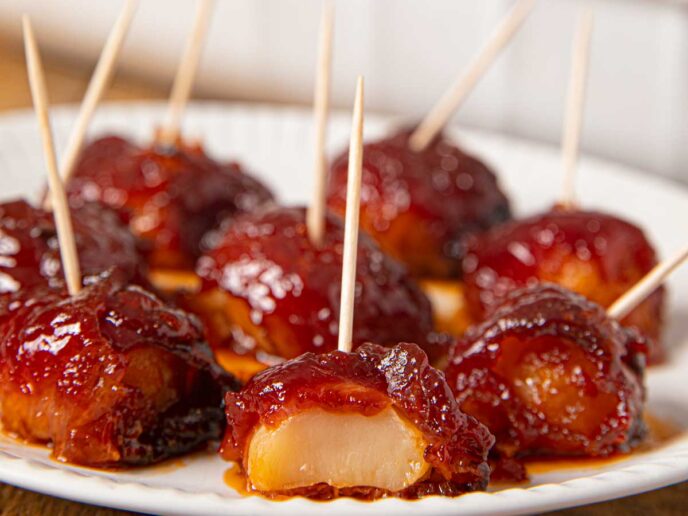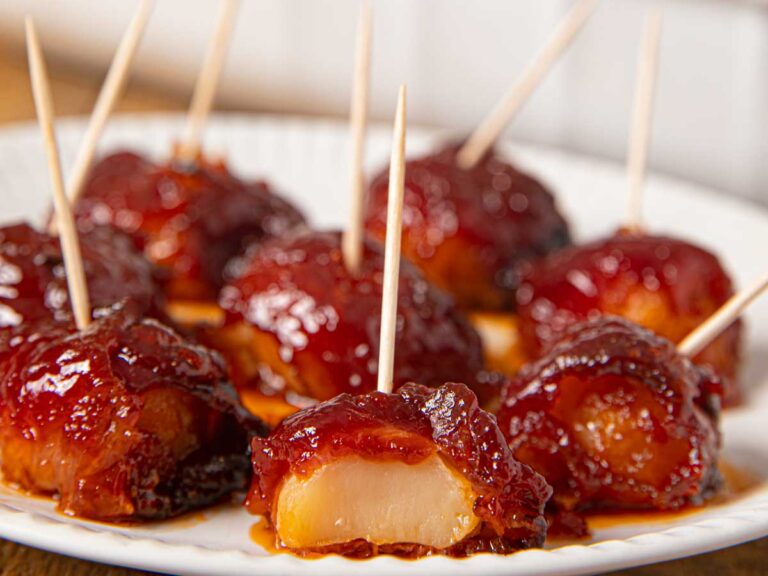 These Bacon Wrapped Water Chestnuts are just as amazing, plus they have an added crunch and savoriness to them and they just sound like a fancy and exotic appetizer.
Most people might think of water chestnuts as those crunchy disks in an Asian stir-fry or lettuce wraps. They keep their crunch when cooked at high temperature and they are great at taking on whatever flavors of the dish they are in.
While they are certainly great for adding to popular Asian dishes, they are even better as a stand-alone appetizer. The sugary, tangy sauce covering these baked bacon chestnuts makes a delicious balance of salty and sweet.
Bite-sized and easy to grab with a toothpick, these are a perfect appetizer for your New Year's Eve party. The firmness of the chestnut will keep it from sliding off into a champagne glass or, worse, onto your sparkly new outfit.
You don't have to reserve them for special occasions though. Serve them up at your next sports event, like the Super Bowl. With so many easy recipes on this site, you could even have a bacon-wrapped-themed potluck. Put some recipe names into a hat, choose who will make what, and let the Bacon Brown Sugar Bowl begin!
How to Make Bacon Wrapped Water Chestnuts
Bacon-Wrapped Water Chestnuts are a delicious and popular appetizer that's easy to make at home with just a few ingredients. Check it out!
Step One: Preheat oven to 375°F. Then prepare the sauce by whisking brown sugar, ketchup, and Worcestershire sauce together. 
Step Two: Wrap each water chestnut with a bacon strip and secure it with a toothpick.
Step Three: Bake the bacon-wrapped water chestnuts for 15 minutes on a rimmed baking sheet, drain grease, then add sauce.
Step Four: Bake for an additional 30-40 minutes until browned and crispy. You can cool them on a sheet with parchment paper or a wire rack for people to pull from. Enjoy!
Frequently Asked Questions
Are chestnuts and water chestnuts the same thing?
Chestnuts roasting over an open fire are not the same as water chestnuts. Christmas chestnuts are from a tree and are truly a nut. Water chestnuts are actually a type of tuber (like a potato) that grow in marshes.
Where do I get water chestnuts?
You can get canned water chestnuts in the Asian section of most major grocery stores. Make sure you get the whole water chestnuts for this recipe.
What do water chestnuts taste like?
Canned water chestnuts don't have much flavor on their own, but fresh ones taste like a cross between a coconut and an apple with the texture of a pear. It could be compared to jicama but less sweet.
Can you make this dish in a slow cooker?
Yes! To make sure your bacon gets crispy, bake your bacon-wrapped chestnuts for 10-15 minutes before adding to your crockpot. Cook on low for 2 hours in the sauce.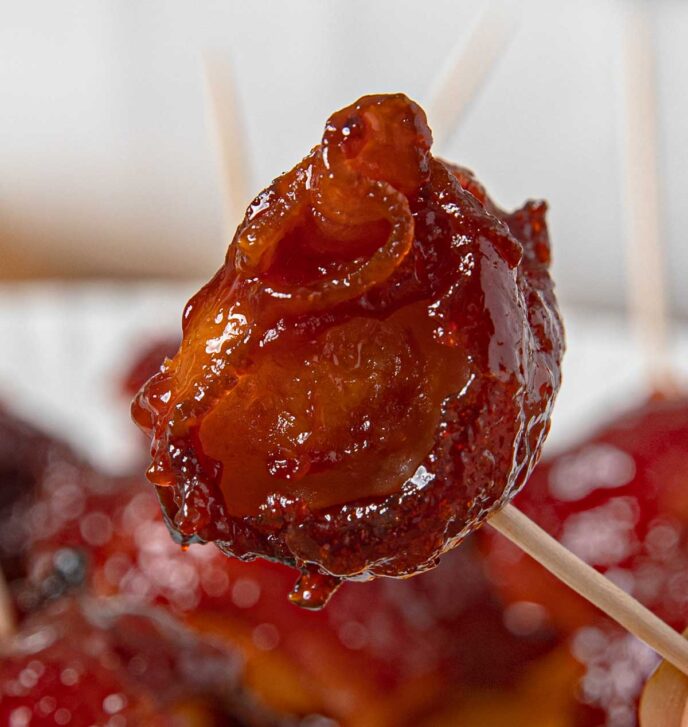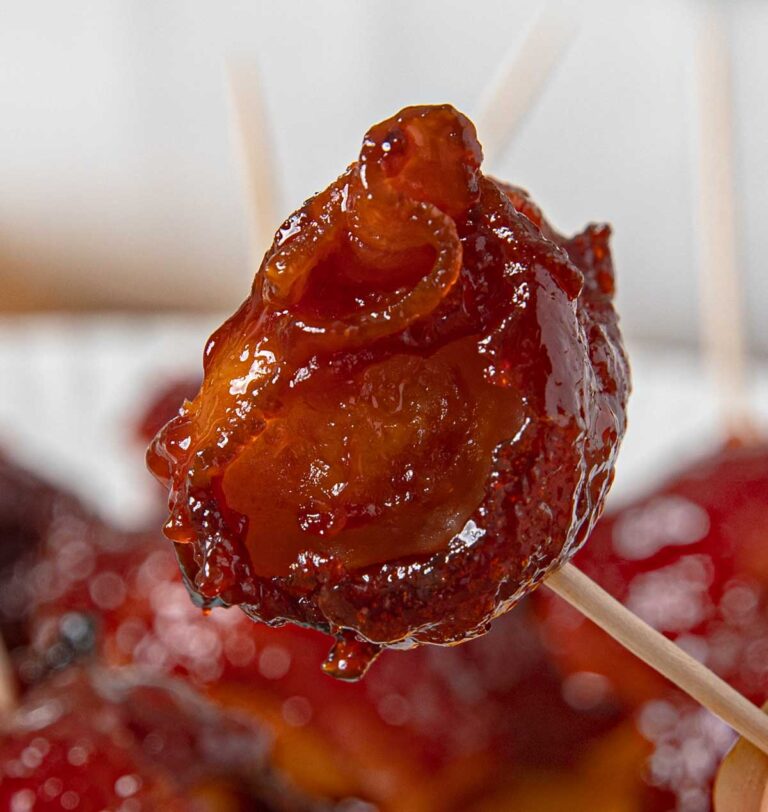 Create a free account to

Save Recipes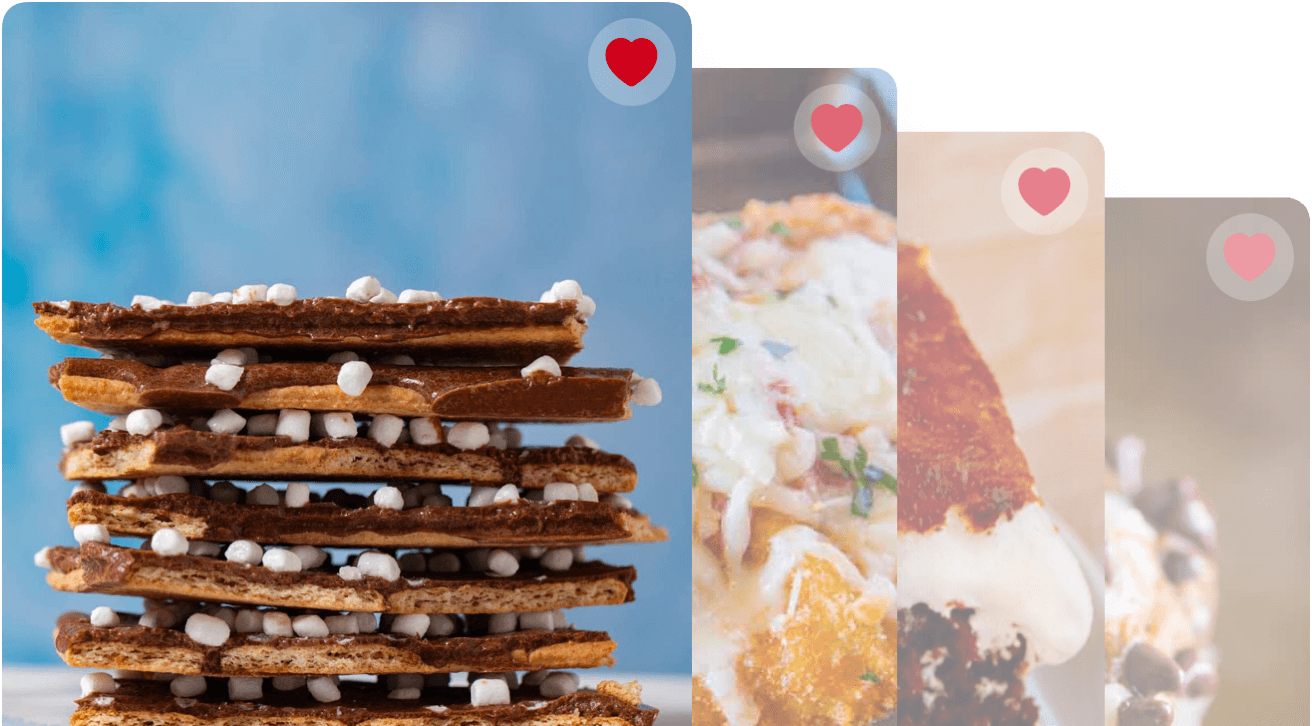 Key Ingredients in Bacon-Wrapped Water Chestnuts
This tasty appetizer is simple to make with readily available ingredients from your local grocery store, offering a delightful combination of flavors and textures. Check it out!
Brown Sugar: Adds a hint of sweetness to balance the savory elements.
Ketchup: Provides a tangy, tomato-based flavor to the sauce. You can use your favorite kind of ketchup.
Worcestershire Sauce: Enhances the sauce with its rich, umami taste. There isn't a good substitution for this sauce. It's worth it to go out of your way to keep a bottle on hand.
Bacon: Each slice of bacon gives a crispy, smoky wrap for the water chestnuts. It's okay, you can sneak an extra piece of bacon while cooking! A chef does have to sample the food.
Water Chestnuts: The crunchy water chestnut adds a unique crunchy texture that contrasts with the soft bacon.
Can I Make Bacon Wrapped Water Chestnuts Ahead of Time?
Absolutely! To save time, prepare the Bacon-Wrapped Water Chestnuts up to a day in advance. Assemble the water chestnuts with bacon and store them in an airtight container in the refrigerator. When you're ready to serve, proceed with the baking steps, and add the sauce just before the final bake. This ensures that the appetizers come out fresh, crispy, and delicious for your guests.
Need more time to prep? Bacon Wrapped Water Chestnuts can be assembled and frozen until you are ready to party.
Wrap in bacon like normal and secure with a toothpick.

Freeze in a single layer on a baking sheet.
Transfer to a container and store.

When ready to serve, bake first without the sauce to crisp up the bacon, then finish the recipe like normal.
Variations on Bacon Wrapped Water Chestnuts
Spicy: Turn up the heat, and add some Asian flair, by adding a teaspoon of chili garlic sauce. From the makers of Sriracha, just a little bit of this kitchen must-have will bring fiery, garlicky, flavor.
BBQ Sauce: Use your favorite barbecue sauce instead of ketchup for a smokey, traditional bacon-wrapped

combination.

Cheese: Make these more like a Bacon Wrapped Date inspired dish by adding Manchego, gorgonzola, or Goat Cheese before wrapping them in bacon.
Marinate – Before making this Bacon Wrapped Water Chestnuts recipe, soak your chestnuts in a marinade of soy sauce or tamari for at least 30 minutes.
Rumaki – Put this dish into a time machine back set to the popular tiki culture of the '50s and '60s by first wrapping your water chestnut in chicken or duck liver. Wrap it all in the bacon. For a more authentic sauce, add a bit of fresh ginger and minced garlic.
How to Store Bacon Wrapped Water Chestnuts
Serve: These will last for up to 2 hours at room temperature. Keep warm in a slow cooker for up to 4 hours.
Store: Bacon Wrapped Chestnuts will last for up to a week, covered, in the fridge for a week.

Freeze: Freeze in a single layer on a baking sheet and remove toothpicks before transferring to a container. Keep for up to 3 months.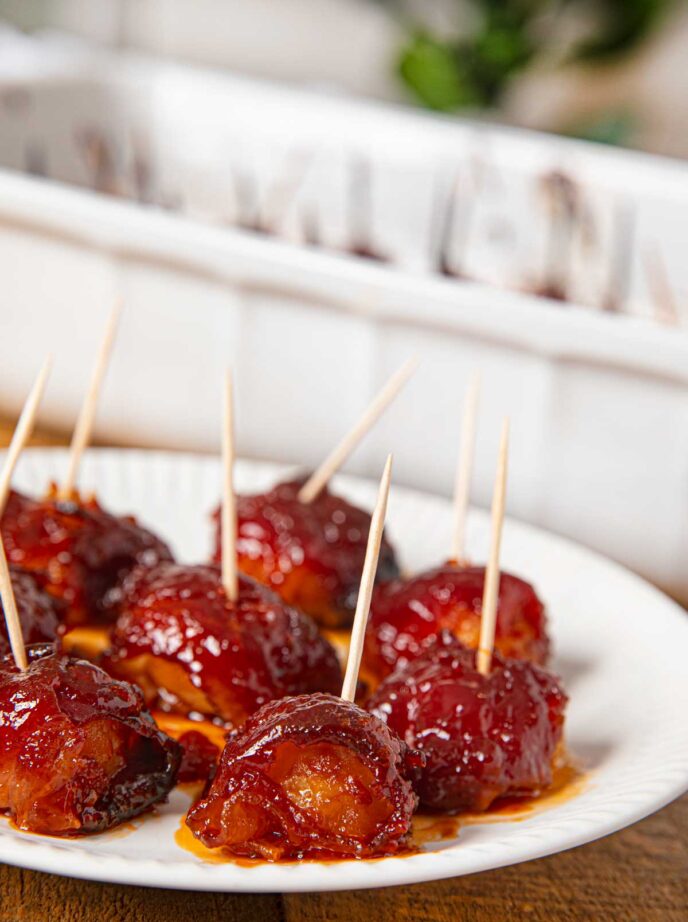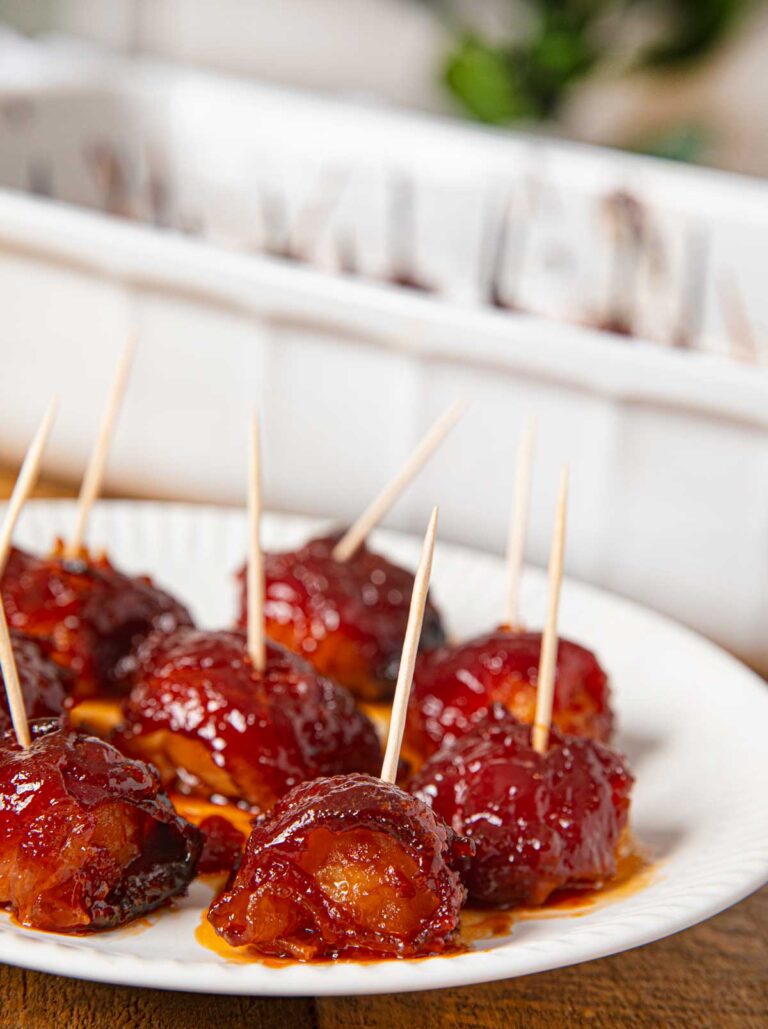 Ingredients
1

cup

brown sugar

1 1/2

cups

ketchup

3

tablespoons

Worcestershire sauce

1

pound

bacon

, cut in half

2

cans

whole water chestnuts

, 8 ounces each
Instructions
Preheat oven to 375 degrees.

Whisk together the brown sugar, ketchup and Worcestershire sauce.

Wrap the water chestnut with bacon and spear with a toothpick then place in baking dish.

Bake the water chestnut wraps for

15 minutes

.

Drain the bacon grease from the pan then top the bites with the sauce.

Bake for

30 to 40 minutes

or until browned and crispy.
Nutrition
Calories:
195
kcal
|
Carbohydrates:
23
g
|
Protein:
4
g
|
Fat:
10
g
|
Saturated Fat:
3
g
|
Cholesterol:
17
mg
|
Sodium:
433
mg
|
Potassium:
195
mg
|
Fiber:
1
g
|
Sugar:
18
g
|
Vitamin A:
146
IU
|
Vitamin C:
2
mg
|
Calcium:
19
mg
|
Iron:
1
mg