Easy Bacon Cheese Wreath is a fun flavorful holiday appetizer. Tasty bacon, green onion, parmesan cheese, and cream cheese ball shaped like a festive wreath.
A Cheese Ball is an easy classic Appetizer that no party would be complete without. This festive cheese wreath is perfect for Christmas Eve!
This festive cheesy appetizer is sure to wow your guests this year. And no one will know it took you less than 15 minutes to put it together! With just six ingredients, this cheese and bacon dip is packed full of flavor. Serve it with crackers or any of the tasty suggestions in this post.
Like a regular cheeseball, you don't need any special ingredients to make a Bacon and Cheese Wreath. The special part is molding the cheese mixture into a wreath shape and decorating it with fresh parsley and cranberries like a Christmas Wreath. You could also try other shapes like a Christmas Tree or an ornament with a pretzel "hook".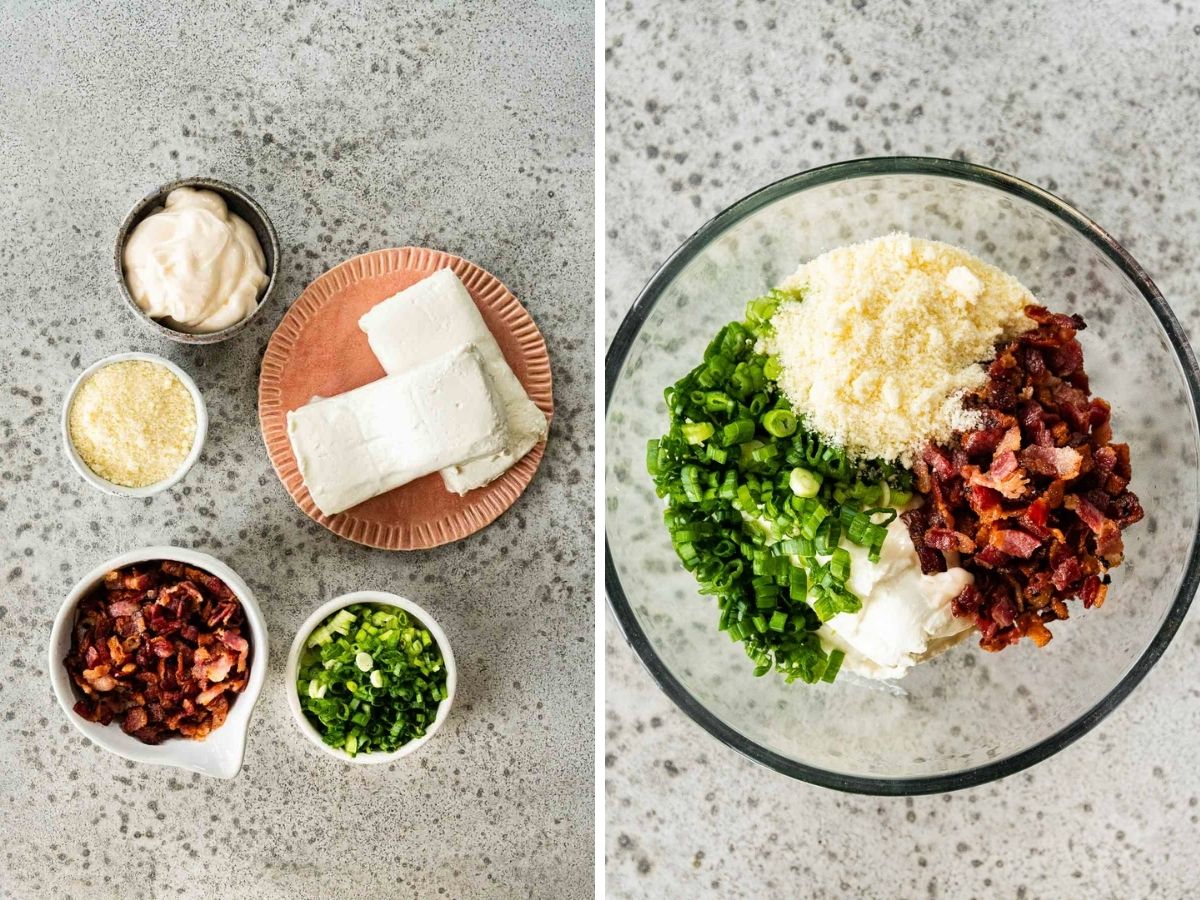 Bacon and Cheese are a no-brainer favorite flavor combination, but you can always switch up the flavors. Try smoked bacon or sausage, different shredded cheeses, or any of the variations you'll see below. This Bacon Cheese Wreath makes a great potluck appetizer or last-minute holiday snack.
You can make this Bacon Cheese Wreath ahead of time, up to about 3 days. The longer the cheese mixture chills, the stronger the bacon and onion flavor will be. When you serve your Bacon Cheese Wreath, keep it cold and don't leave it at room temperature for more than 2 hours.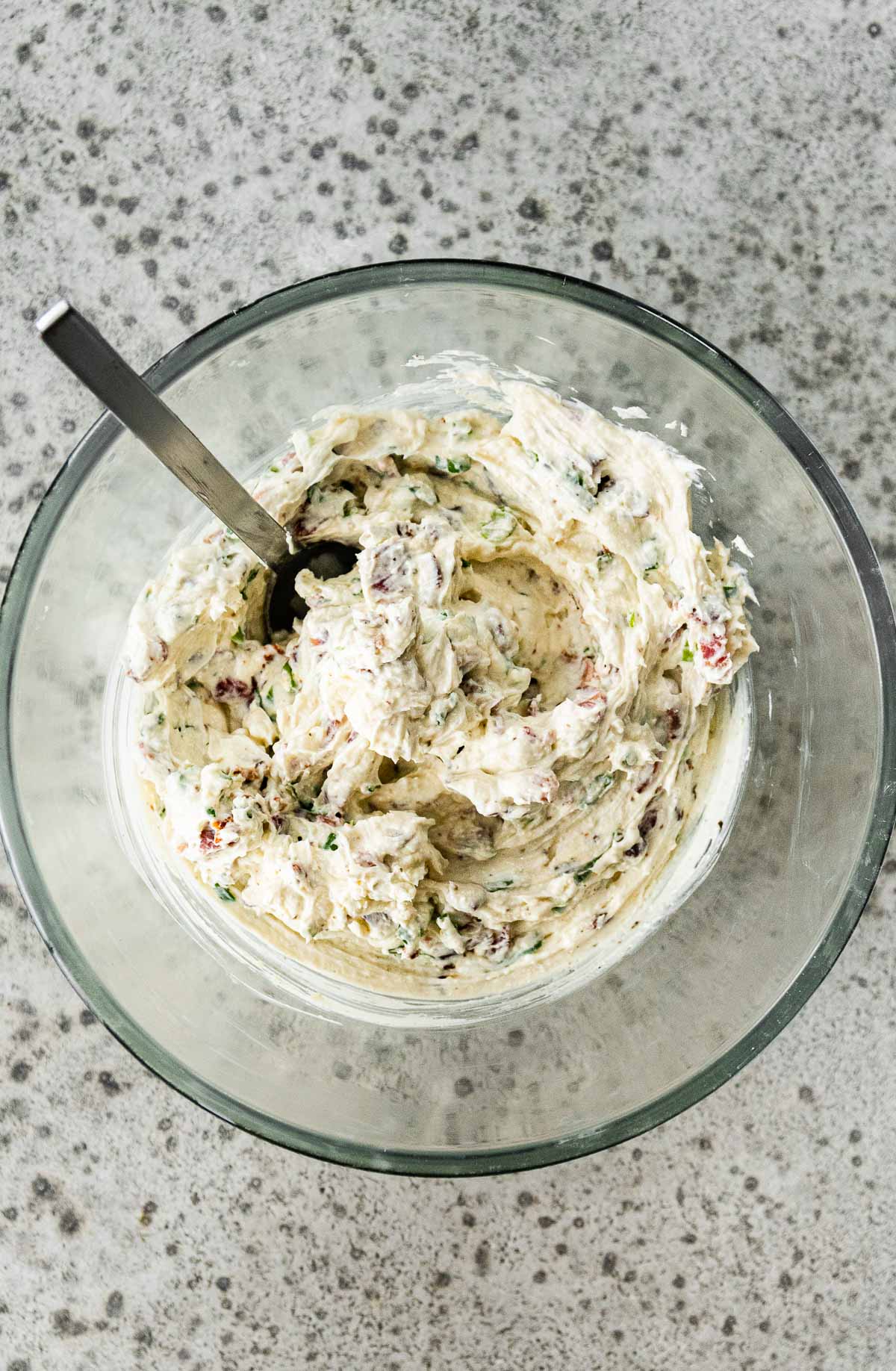 More Cheese Appetizers for the Holidays
Frequently Asked Questions About Bacon Cheese Wreath
What kind of cream cheese should I use for my Bacon Cheese Wreath
Although many flavors are added to the Wreath, cream cheese makes up the base of the dip so you should use a cream cheese that you enjoy eating.
What kind of Parmesan cheese should I use for my Bacon Cheese Wreath?
You will find lots of choices for Parmesan cheese at the grocery store. There's the stuff in the sealed, packaged shakers. There are containers of freshly grated Parmesan. There is also a wide selection of fresh chunks of Parmesan that you can grate yourself. Grating the cheese yourself will give you the best results. However the containers of freshly grated Parmesan cheese are a close second.
Why does the Bacon Cheese mixture need to be refrigerated?
Before you can shape your cream cheese mixture into a wreath, it will need to firm up a little bit. Placing your mixture into the refrigerator for at least 2 hours will allow for the proper firmness.
How to Make Bacon Cheese Wreath
Mix: Whisk two 8-ounce blocks of cream cheese with ½ cup mayonnaise, ½ cup sliced green onions, ⅓ cup grated Parmesan cheese, and 8 slices of cooked crumbled bacon in a large bowl.
Refrigerate: Place the mixture in the refrigerator to firm up for 2 hours.
Shape: Get your serving platter and place a small cereal bowl upside down in the middle of the platter. Then spread the mixture around the bowl into the shape of a wreath. Remove the bowl and use a spatula to smooth out the wreath.
Decorate: Add parsley sprigs and cranberries to decorate the wreath and serve with crackers or the item of your choice.
What to Serve with Bacon Cheese Wreath
Crusty French Bread or Baguette Slices.
Celery, Carrots, and Bell Peppers.
Hard Pretzel Twists, Pretzel Sticks, or Thick Tortilla Chips.
Assorted Crackers like Wheat Thins, Soda Crackers, or Ritz Crackers.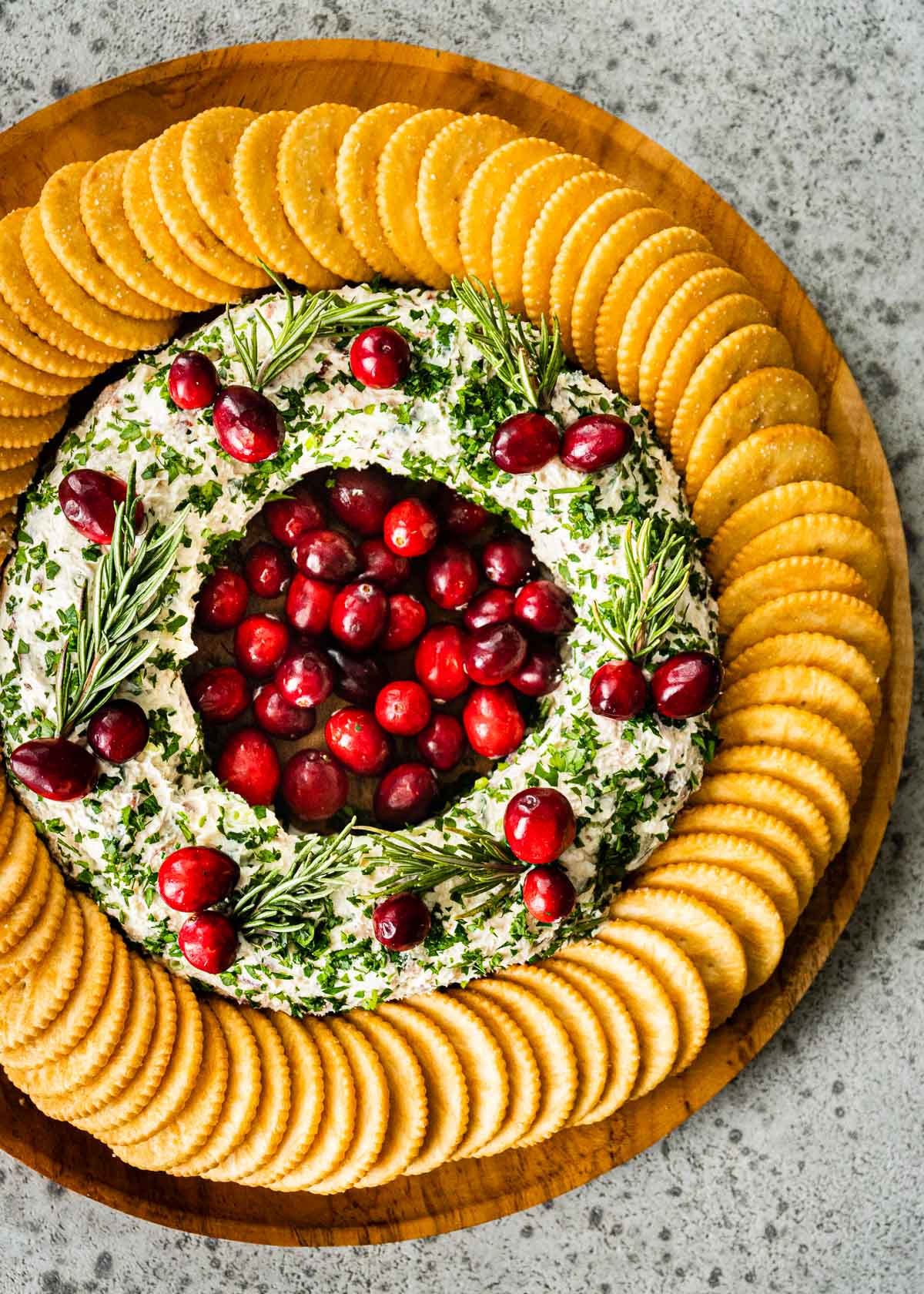 Create a free account to

Save Recipes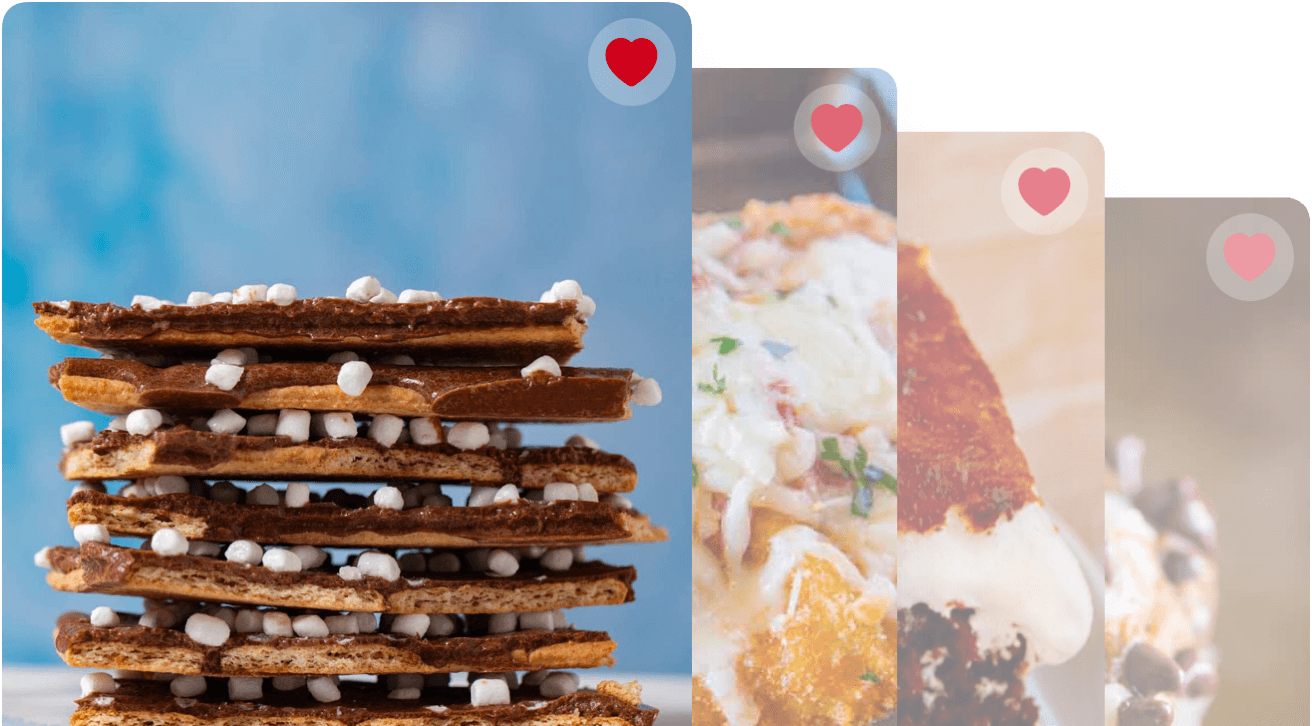 Variations on Bacon Cheese Wreath
Meat: Instead of bacon, try pancetta, cooked sausage crumbles, diced ham, or Canadian bacon.
Vegetarian: To make a Veggie Cheese Wreath, use baked seasoned tofu or veggie meat crumbles in place of the meat.
Nuts: Make a crust of chopped almonds, pecans, or walnuts over the top of the wreath. Pulse ½ cup of toasted nuts with the parsley before pressing into the cheese.
Spices: If you'd like to add a little kick to your Wreath, sprinkle in some extra seasonings like garlic, cayenne pepper, red pepper flakes, or add some hot sauce to the mixture.
Veggies: Add diced veggies like carrots, broccoli, red and green bell peppers, piquanté peppers, or red onions. Garnish with whole cherry tomatoes or grape tomatoes.
Olives: You can top the cheese wreath with assorted whole pitted green, Kalamata, and black olives instead of cranberries.
Cheese: Fold in up to ½ cup shredded cheese like cheddar cheese, mozzarella cheese, pepper jack cheese, or Monterey jack cheese. You could also use pimento cheese for half the cream cheese.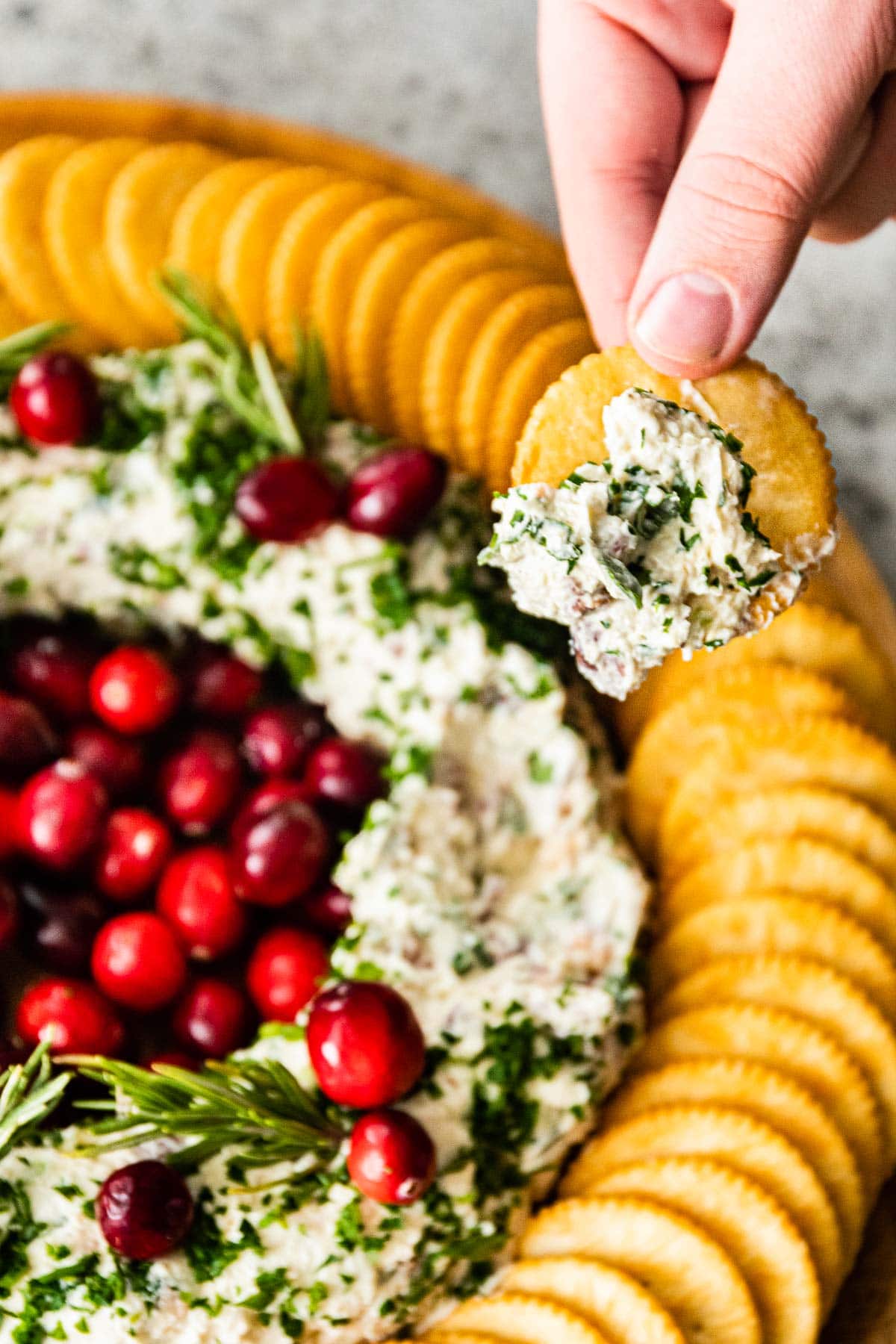 Shape Cheese Wreath With Decorative Bundt Pan
Use a decorative Bundt pan to give your Bacon Cheese Wreath a fancy design. Line a Bundt pan with plastic wrap and sprinkle finely chopped fresh parsley in the bottom. Firmly press the cheese mixture into the bottom of the pan and the decoration. Chill wreath for 1-2 hours, then carefully remove cheese wreath from Bundt pan. The fresh parsley will help the design stand out more.
More Perfect Appetizer Dips
How to Store Bacon Cheese Wreath
Serve: This Bacon Cheese Wreath can be at room temperature for up to 2 hours before it needs to be refrigerated. It is best served slightly chilled.
Store: Wrap Bacon Cheese Wreath with plastic wrap or transfer to an airtight container and refrigerate for up to 1 week. If you leave out the bacon, you can keep it for up to 2 weeks.
Freeze: You don't want to freeze this Bacon Cheese Wreath, the cream cheese and mayonnaise will not have a good texture when it thaws.


Ingredients
16

ounces

cream cheese

, softened

1/2

cup

mayonnaise

1/2

cup

green onions

, thinly sliced

1/3

cup

grated Parmesan cheese

8

slices

bacon

, cooked and crumbled

Parsley and cranberries

, for garnish
Instructions
In a large bowl, whisk together cream cheese, mayonnaise, green onions, Parmesan cheese, and bacon.

Add a small cereal bowl upside down in the middle of a serving platter and spread mixture around bowl.

Carefully lift bowl out of the platter, then using the back of a spoon or an offset spatula smooth out the wreath.

Use parsley sprigs and cranberries to decorate the wreath.

Serve with crackers.
Nutrition
Calories:
110
kcal
|
Carbohydrates:
4
g
|
Protein:
5
g
|
Fat:
8
g
|
Saturated Fat:
4
g
|
Polyunsaturated Fat:
2
g
|
Monounsaturated Fat:
2
g
|
Trans Fat:
1
g
|
Cholesterol:
25
mg
|
Sodium:
357
mg
|
Potassium:
112
mg
|
Fiber:
1
g
|
Sugar:
2
g
|
Vitamin A:
211
IU
|
Vitamin C:
1
mg
|
Calcium:
64
mg
|
Iron:
1
mg