Homemade Pita Chips are perfect for snacking and with your favorite dips! Pita triangles brushed with olive oil, lightly seasoned, and baked until crunchy.
Homemade Pita Chips and Easy Hummus Dip are the best pair of Appetizer Recipes for any party! Snacking is super easy with this made-in-20-minutes baked Pita Chip recipe!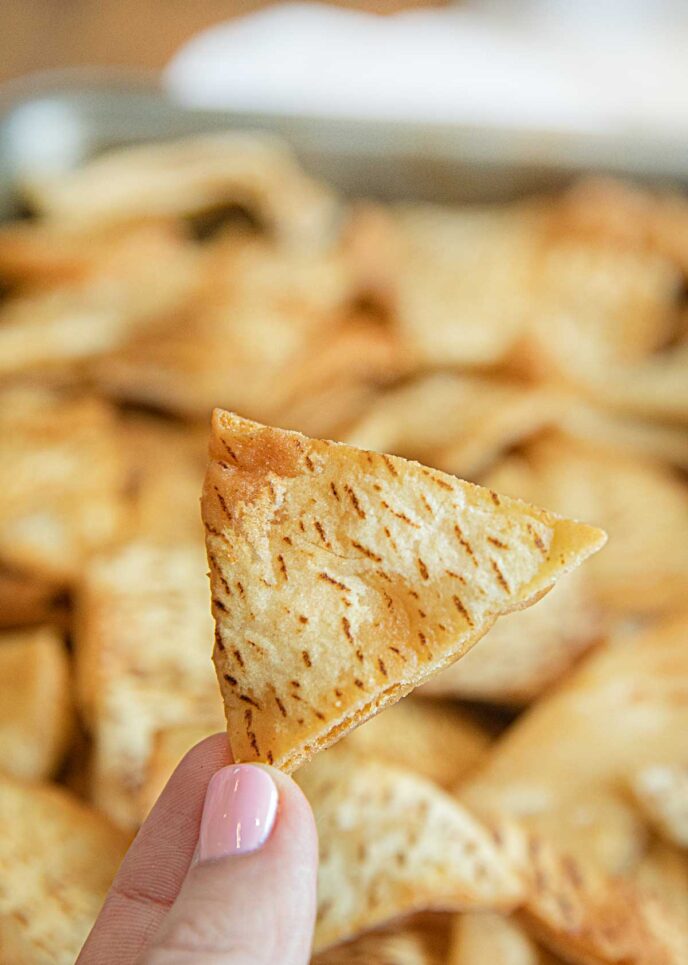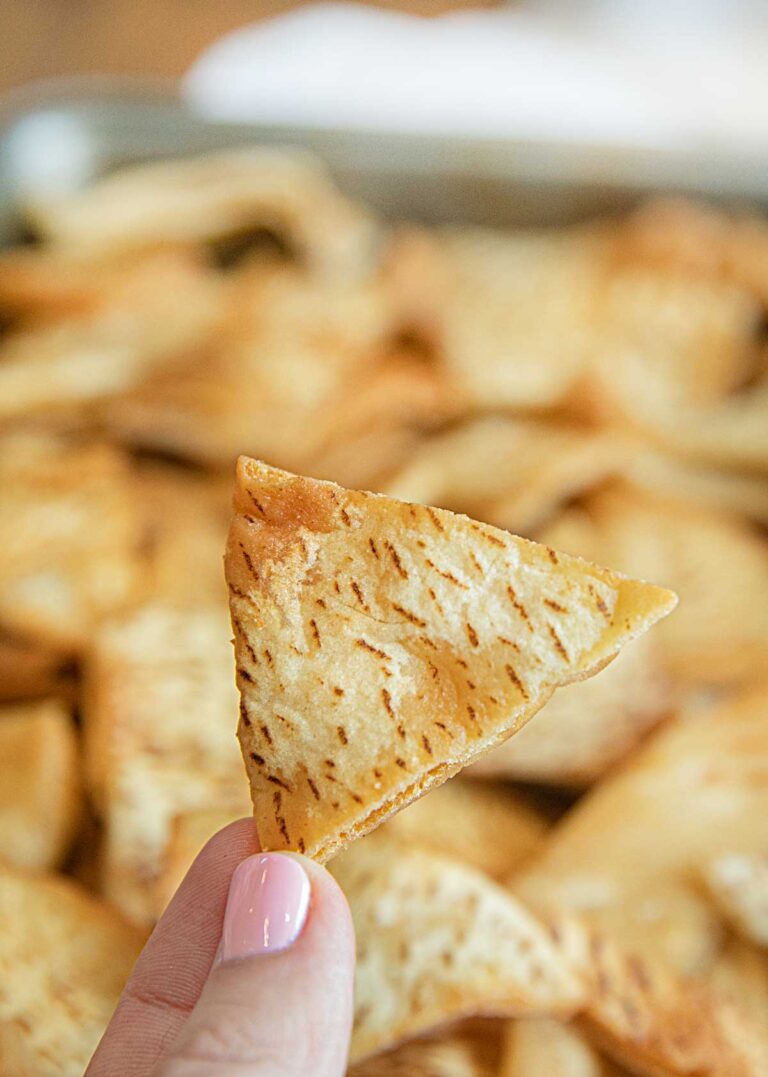 PITA CHIPS
Chips and dips are party staples, but that doesn't mean you have to stick with store bought tortilla chips for your favorite dips. These crunchy Mediterranean chips aren't just for hummus. They go just as good with Guacamole as they do super bowl favorites like Cheesy Beef Dip!
Making your own Pita Chips is super easy and quick! Just grab a package of pita bread, cut in to wedges, drizzle with olive oil, and bake until crispy and golden brown. You can add all kinds of seasonings, like garlic powder or parmesan cheese, for savory dips. Or make them sweet like Cinnamon Tortilla Chips for Fruit Salsa!
The best part of making Homemade Pita Chips is that you can make a little or lot at a time. It's just as easy to make a big batch of Pita Chips for the Super Bowl and holiday parties as a quick snack for one. Store them in small baggies for snacking on the go for up to a week.
If you want super crispy Pita Chips, separate pita bread with pockets into two separate layers before spreading on the baking sheets. You can also cut the pita rounds into long strips, about an inch or two wide, instead of pita triangles. These smaller, crispy Pita Chips will cook faster so check them after 8 or 10 minutes.
Pita Chips from the grocery store are usually so pricey! You can buy multiple bags of pita bread for the same price as one small bag of Pita Chips. Homemade Pita Chips aren't just a cheap way to get this crunchy snack, it means you get to control the ingredients too!
Baked Pita Chips is the best way to make these chips. Not only is it healthier, but the thicker pita bread traps oil so fried Pita Chips are pretty greasy. You can make them in the air fryer though with our instructions later in the post! The air fryer makes them super crispy and is great in the summer when you don't want to turn on the oven.
These crunchy Pita Chips are great as a side dish to your favorite Mediterranean, Middle Eastern, or Indian dishes. You can also dice them into really small strips before baking (or crush after baking) for a crispy topping for Lamb Curry or a Greek Salad.
AWESOME DIPS TO SERVE WITH PITA CHIPS
AIR FRYER PITA CHIPS
Preheat your air fryer to 350 degrees. Cut pita triangles as usual, separating layers if pita bread has a pocket. Arrange pita triangles in a single layer in air fryer basket. Spray lightly with olive oil and season. Cook for about 4 minutes, flip and cook an additional 3-4 minutes or until golden brown and crispy. Repeat with remaining pita triangles.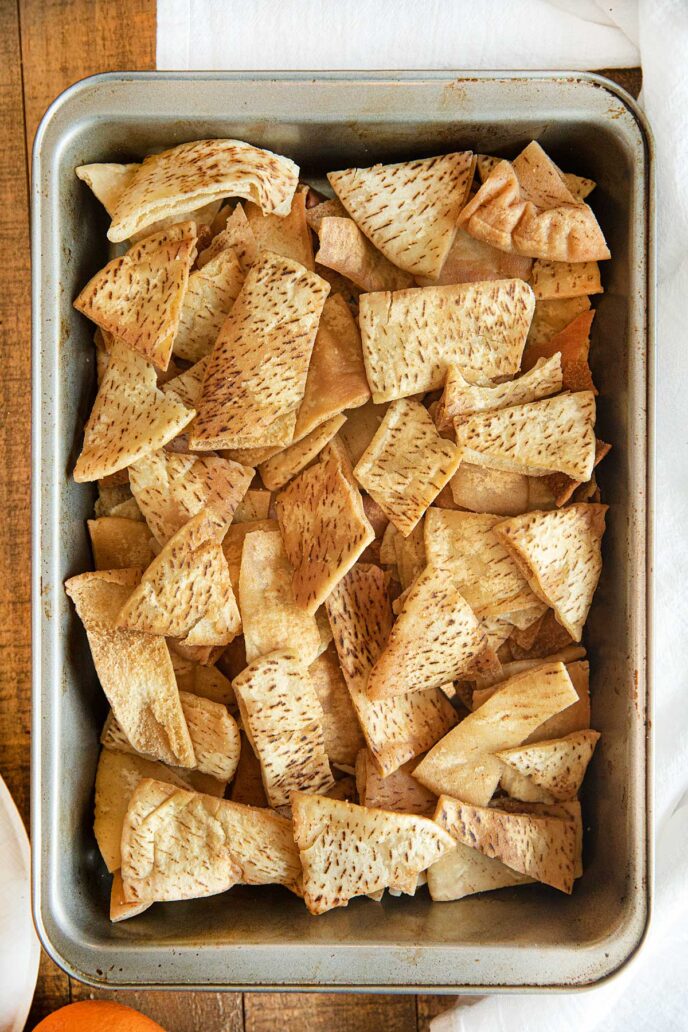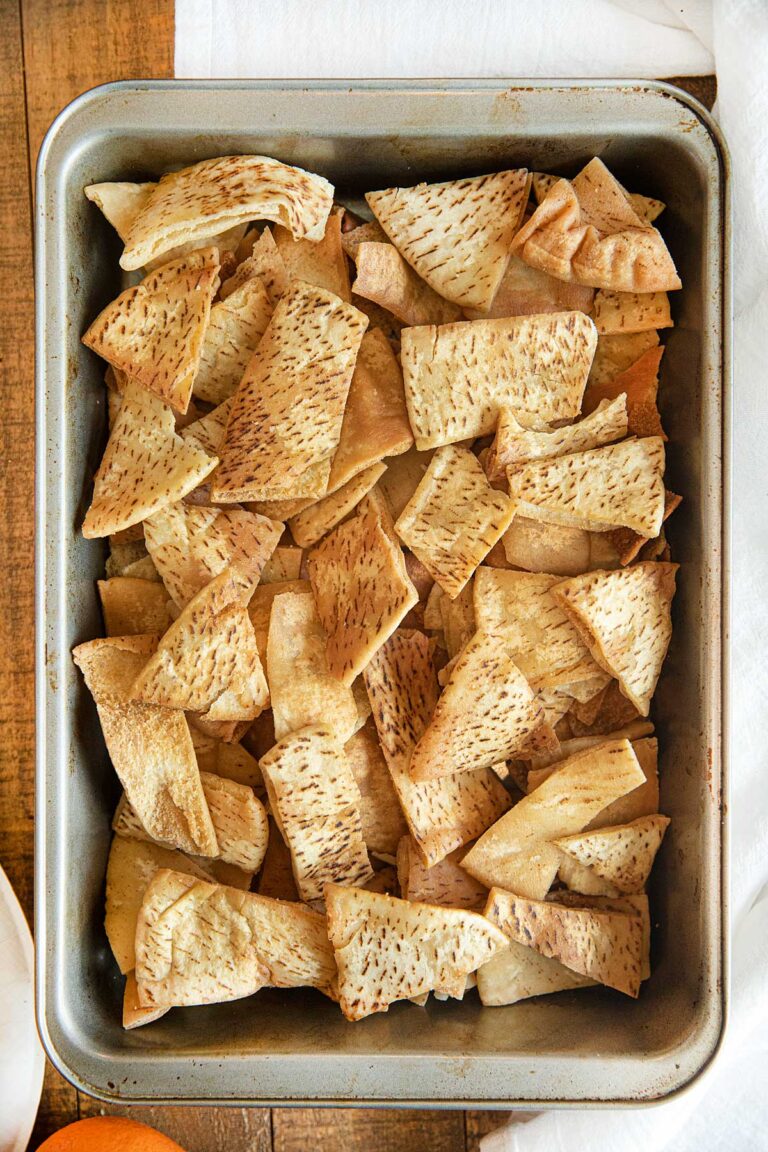 Create a free account to

Save Recipes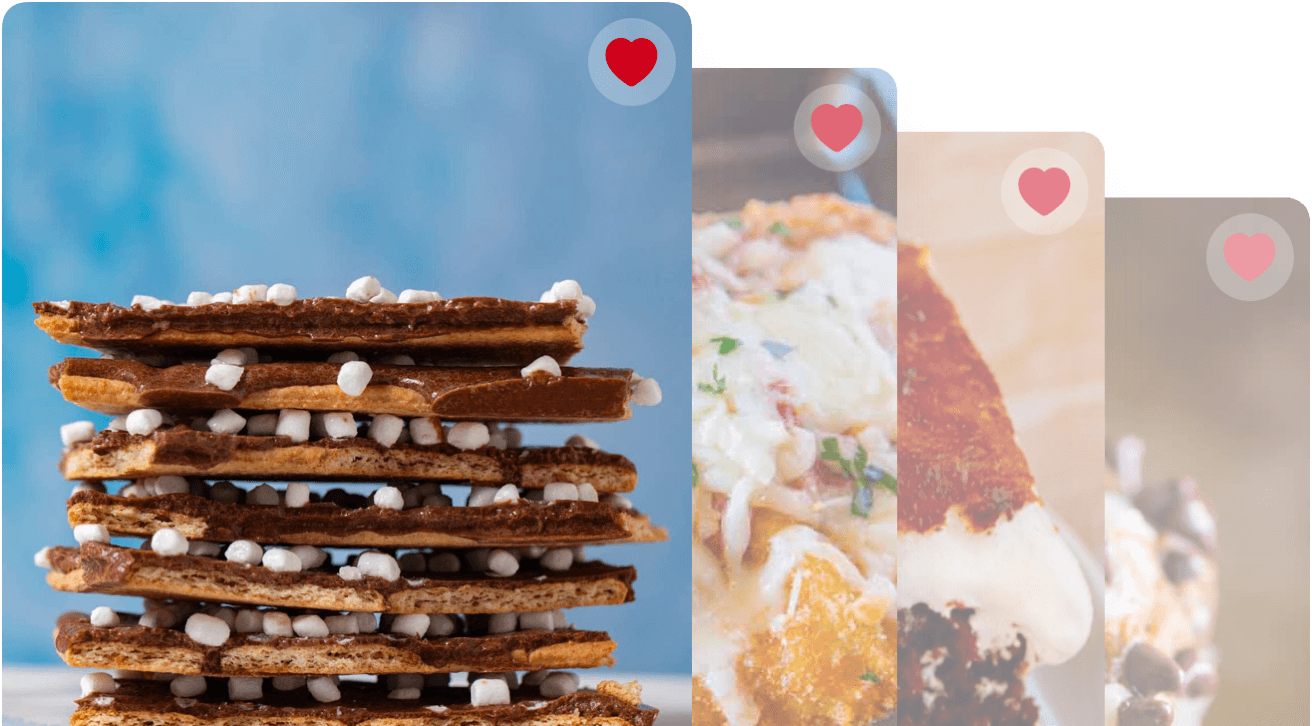 VARIATIONS ON PITA CHIPS
Italian Pita Chips: Top your Pita Chips with grated parmesan cheese, Italian seasoning blend, and garlic powder for Italian Pita Chips.
Middle Eastern Pita Chips: Make a za'atar spice blend of fresh thyme, sesame seeds, ground sumac, and salt for tasty Middle Eastern Pita Chips.
Savory Seasonings: Other savory seasonings that taste great on pita chips are paprika, cumin, oregano, chili powder, or cayenne pepper.
Pita Bread: Instead of white pita bread, try whole wheat pita bread, naan bread or any flavored flatbread for this Pita Chips recipe.
Sweet Pita Chips: Instead of olive oil, use a pastry brush to cover the pita triangles with melted butter. Sprinkle a ½ cup of cinnamon sugar mixture evenly over chips and bake as usual.
EVEN MORE APPETIZER DIPS FOR PITA CHIPS
HOW TO STORE PITA CHIPS
Serve: Store Pita Chips in an airtight container at room temperature for up to 1 week. Line the container with a paper towel to absorb moisture.
Store: You can keep Pita Chips in the refrigerator but they will get soft. Reheat in the oven make them crispy again.
Freeze: Freeze Baked Pita Chips for up to 3 months in an airtight container. Cool completely so no moisture collects and thaw before reheating in the oven.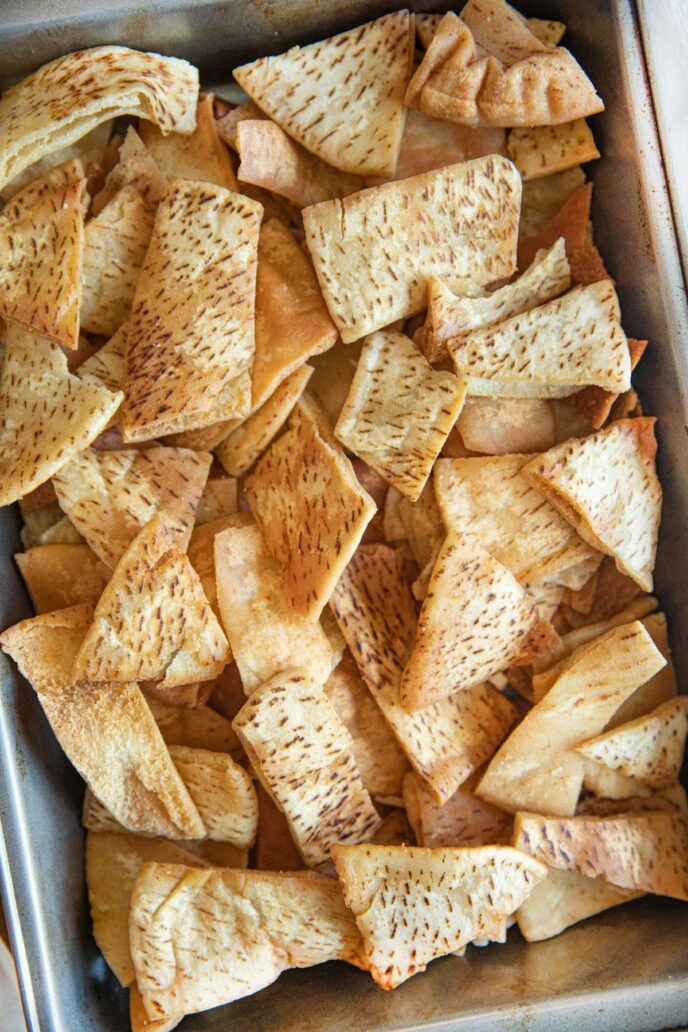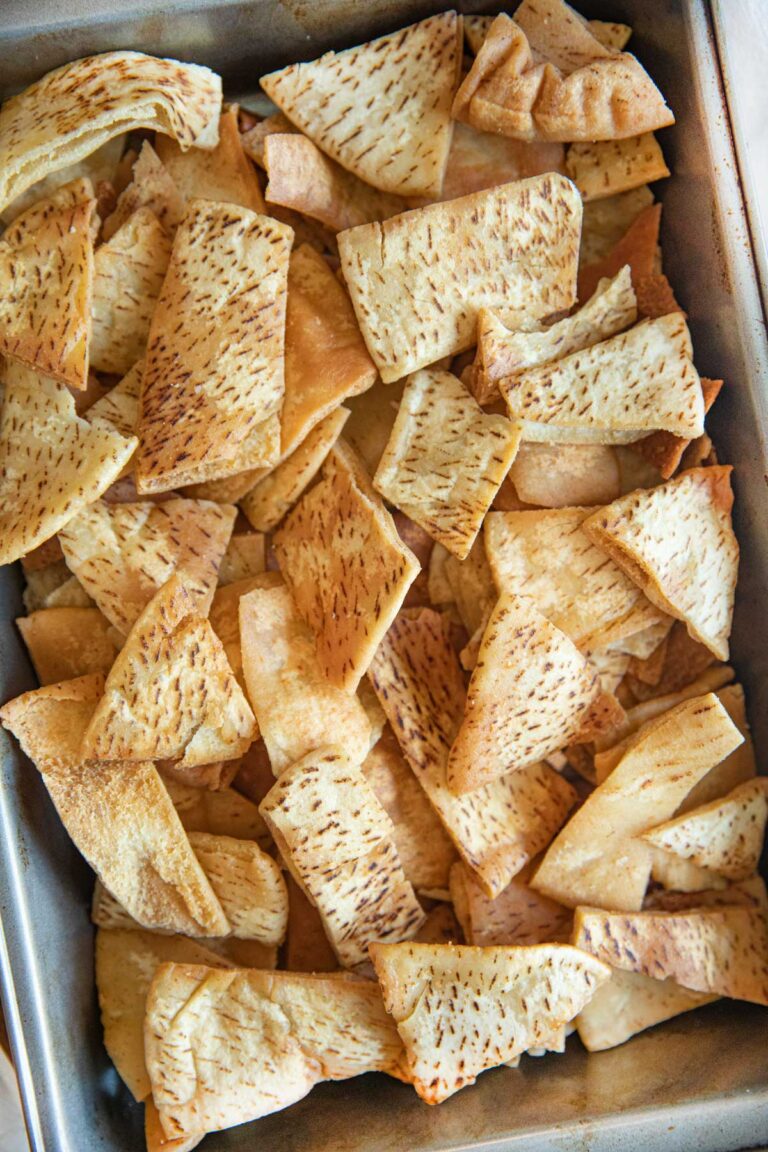 Ingredients
6

pita rounds

, cut up into 2-3" pieces

1/4

cup

olive oil

1

clove

garlic

, crushed

1

teaspoon

kosher salt
Instructions
Preheat oven to 375 degrees.

Spread pita pieces in a single layer a baking sheet.

Mix olive oil, garlic and salt.

Brush the surfaces of the pita bread pieces with the olive oil mixture.

Bake for

12 to 15 minutes

then flip and bake for

3 minutes

.
Nutrition
Calories:
178
kcal
|
Carbohydrates:
24
g
|
Protein:
4
g
|
Fat:
8
g
|
Saturated Fat:
1
g
|
Sodium:
225
mg
|
Potassium:
50
mg
|
Fiber:
1
g
|
Sugar:
1
g
|
Vitamin C:
1
mg
|
Calcium:
36
mg
|
Iron:
1
mg