Chipotle Guacamole (Copycat) made with Chipotle's recipe with lime juice, cilantro, red onions, and jalapeños at home in 15 minutes!
If you're thinking of serving up this dip during a party and you're looking for more party food, you definitely need to try some of these super popular Dips, like the classic Buffalo Chicken Dip, the cheesy Queso Dip, the crazy popular Ultimate Bean Dip!

We've all been there—can you picture yourself in line at Chipotle wondering if you should add the side of guacamole to your order? The cost always seems just a bit high but you know that Guacamole pairs perfectly with everything on the Chipotle menu. Save yourself the indecision and make this Chipotle guac recipe at home. In a few simple steps, you can have guacamole, chips, and that authentic Chipotle experience in the comfort of your own kitchen. You won't want to eat store-bought chips and dip again!
Chipotle Guacamole (Copycat) is a delicious and easy-to-make recipe that brings the authentic taste of Chipotle's famous guacamole right into your kitchen. The smooth, creamy texture of ripe avocados combined with fresh lime juice, cilantro, red onion, jalapeño, and kosher salt creates a mouth-watering dip perfect for any occasion. Ideal for parties, game nights, or just a casual family dinner, this guacamole is sure to impress. For another crowd-pleaser, try the Chipotle Chicken (Copycat) recipe as well.
This is the authentic guacamole recipe from Chipotle Mexican Grill. The popular fast and casual restaurant released its own recipe to the public. Chipotle's guacamole ingredients are listed on their website as well. We can tell you with absolute certainty they did not hold anything back. This easy guacamole recipe lets you skip the cost of the takeout guacamole and make this avocado dip at home instead! Make it with fresh Lime Tortilla Chips for the perfect appetizer!
How to Make Chipotle Guacamole (Copycat)
This guacamole recipe is simple, quick, and can be made with readily available ingredients. Check it out!
Step One: Cut the avocados in half, scoop out the pits, and put the avocado flesh into a bowl.
Step Two: Add lime juice, cilantro, red onion, jalapeños, and salt to the bowl.
Step Three: Mash the ingredients well together.
Step Four: Serve with Fresh Tortilla Chips.
More Chipotle Copycat Recipes
Frequently Asked Questions
What can I serve with Chipotle Guacamole?
There are numerous options for pairing, such as homemade tortilla chips, tacos, burritos, fajitas, enchiladas, taquitos, burrito bowls, and Spanish rice.
How can I prevent my guacamole from turning brown?
Guacamole is best served fresh but if you need to store guacamole in the refrigerator there are a few steps you can take to keep it from turning brown or oxidizing. Who has leftovers anyway? Just eat all of the avocado goodness and don't worry about keeping it fresh for another day! To store guacamole, sprinkle lime juice on top, place the avocado pit in the guacamole, and press plastic wrap onto the surface before refrigerating.
Is this Chipotle Guacamole recipe healthy?
Yes, this guacamole recipe contains healthy fats from avocados and is made with fresh, natural ingredients.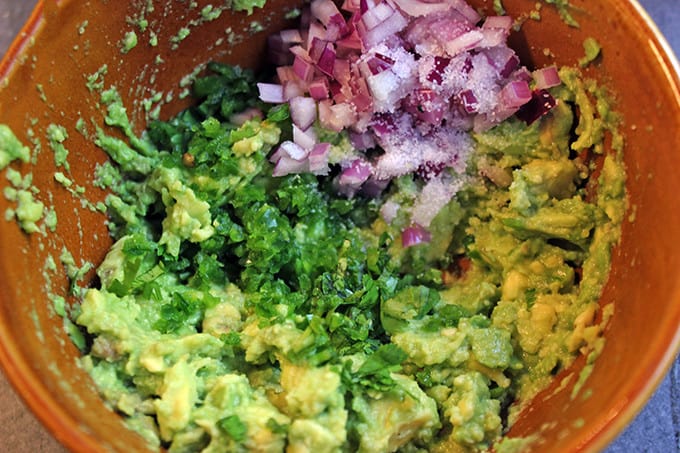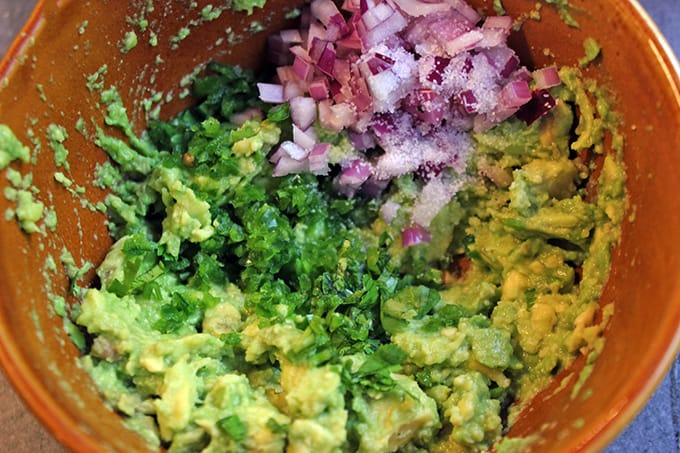 Create a free account to Save Recipes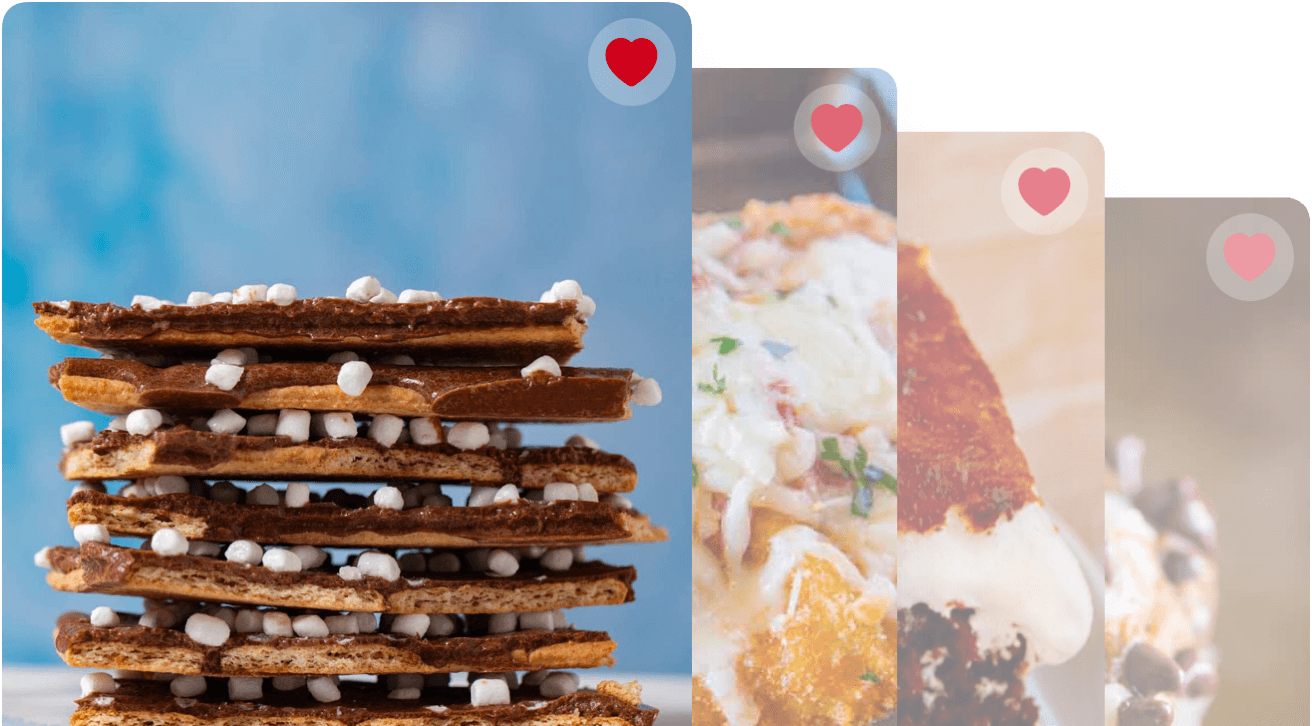 Key Ingredients in Chipotle Guacamole (Copycat)
The ingredients in this guacamole recipe are simple, fresh, and easy to find at your local grocery store.
Hass Avocados: Ripe Hass avocados provide the creamy base for guacamole. Be sure they are soft. Take care when halving them with a knife. 
Lime Juice: Lime juice adds a tangy citrus flavor and helps prevent the avocados from browning. Use fresh lime juice if possible for the best taste, not the bottled kind. 
Cilantro: Chopped cilantro brings a fresh, herbal touch to the guacamole. It is also known as "fresh coriander"! 
Red Onion: Finely chopped red onion adds a mild, sweet flavor and a bit of crunch. You can use white, but red onions bring the best taste. 
Jalapeño: Deveined, deseeded, and finely chopped jalapeño adds a distinct flavor and subtle heat to the guacamole. Use gloves when prepping these and don't touch your eyes!
Kosher Salt: A pinch of kosher salt enhances the natural flavors of the ingredients and brings it all together for the perfect creamy dip! 
Can Chipotle Guacamole (Copycat) be made ahead of time?
Yes, this guacamole can be made ahead of time and will last up to two days before turning too brown. Prepare the recipe as instructed, squeeze extra lime juice on top, and place the avocado pit in the dip before pressing plastic wrap onto the surface of the guacamole and refrigerating. This will help prevent browning and oxidation. When you're ready to serve, give the guacamole a quick stir and add any additional ingredients, such as fresh lime juice, just before serving for optimal freshness.
Substitutions in Chipotle Guacamole (Copycat)
Lemon Juice: If you don't have lime juice, you can substitute it with lemon juice for a similar citrus flavor.
Green Onion: If red onion is not available, you can use green onion or shallots for a milder flavor.
Serrano Pepper: For spicier guacamole, swap out the jalapeño with a finely chopped serrano pepper.
Variations on Chipotle Guacamole (Copycat)
Extra Spicy: Add more jalapeño or use a hotter pepper like a serrano for a spicier kick.
Chunky Guacamole: Mash the ingredients less to achieve a chunkier texture.
Grilled Avocado Guacamole: Grill the avocados for a few minutes before making the guacamole for a smoky flavor twist.
How to Serve Chipotle Guacamole (Copycat)
The possibilities for serving this delicious guacamole are endless. Pair it with Homemade Tortilla Chips, tacos, burritos, Fajitas, Chicken Enchiladas, taquitos, Burritos Bowls, and Spanish Rice (Mexican Rice).
How to Make Homemade Lime Tortilla Chips
Chips and guacamole are the traditional combo and making homemade tortilla chips will elevate this snack. Learning how to make Chipotle chips recipe is the key. Their lime tortilla chips have that citrus finish that you can't get out of a bag. Homemade chips are so much better. The lime and salt combination completely comes through and the creamy guacamole is just divine.
Step One: Wet your clean fingers in lime juice and wipe across the tortillas. Let them sit out for five to ten minutes while you make the guacamole.
Step Two: Cut the tortillas into six even triangles.
Step Three: Heat your oil to 375 degrees. If you don't have a thermometer, drop one chip in the oil and if it comes to the surface bubbling the temperature is good. Cook for 20-30 seconds, you aren't looking for them to brown. Remove with a slotted spoon.
Step Four: Sprinkle salt over them immediately.
More Yummy Copycat Recipes
How to Store Chipotle Guacamole (Copycat)
Serve: This guacamole is best enjoyed fresh but can be left out for up to 2 hours before refrigerating.
Store: To store leftover guacamole, squeeze the top with lime juice, place the avocado pit in the guacamole, and press plastic wrap onto the surface before refrigerating. It can be stored in the refrigerator for up to 2 days.
Freeze: Freezing is not recommended for this guacamole recipe, as the texture and flavor may be compromised when thawed. Enjoy it fresh for the best taste and quality.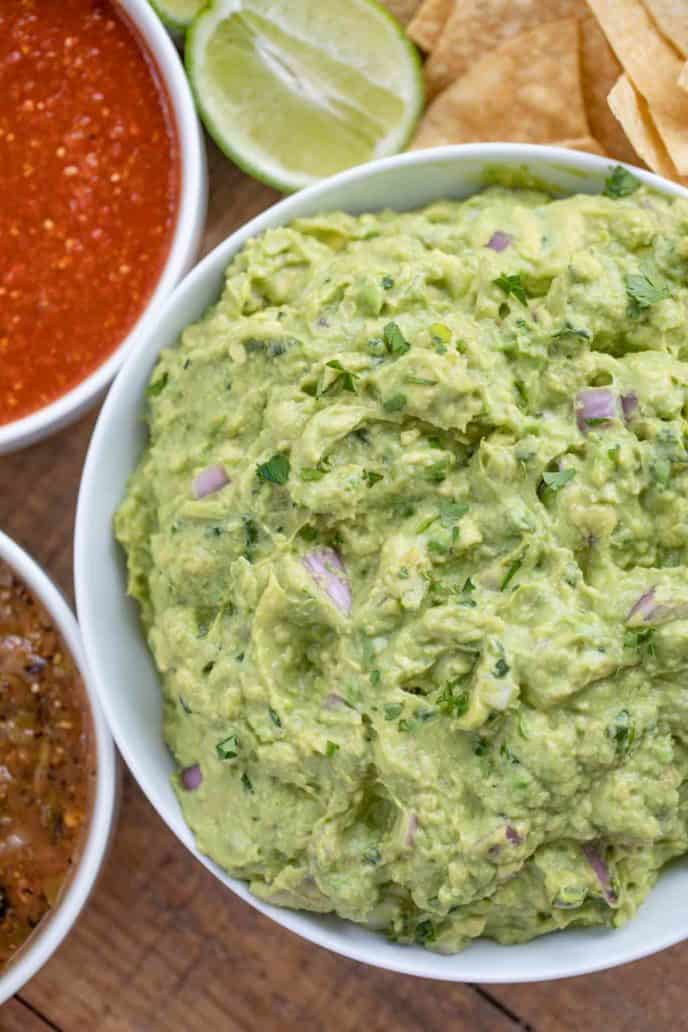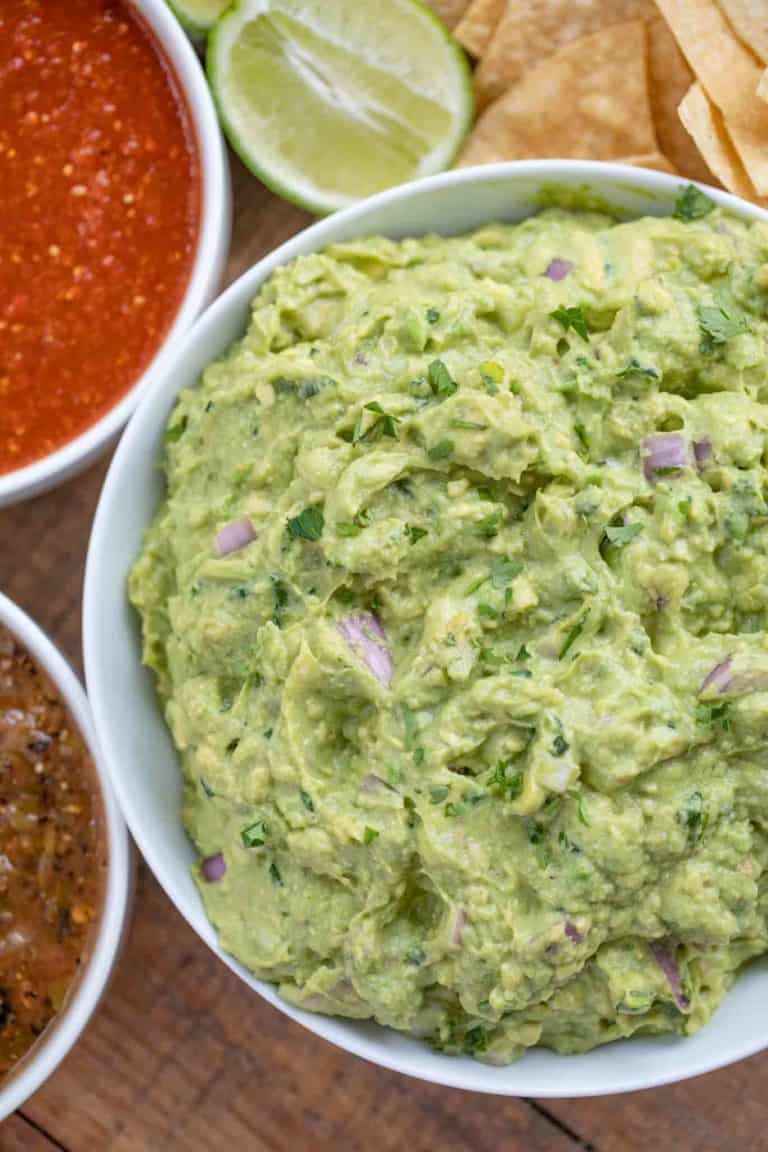 Ingredients
2

large

Hass avocados

2

teaspoons

lime juice

2

tablespoons

cilantro

, chopped

1/4

cup

red onion

, finely chopped

1/2

jalapeño

, deveined and finely chopped

1/4

teaspoons

kosher salt
Instructions
Cut avocados, remove pit and scoop out and into a bowl.

Add lime juice, cilantro, red onion, jalapeno, and salt and mash well together and serve with chips.
Nutrition
Calories:
82
kcal
|
Carbohydrates:
4
g
|
Protein:
1
g
|
Fat:
7
g
|
Saturated Fat:
1
g
|
Sodium:
76
mg
|
Potassium:
251
mg
|
Fiber:
3
g
|
Vitamin A:
90
IU
|
Vitamin C:
6.8
mg
|
Calcium:
6
mg
|
Iron:
0.3
mg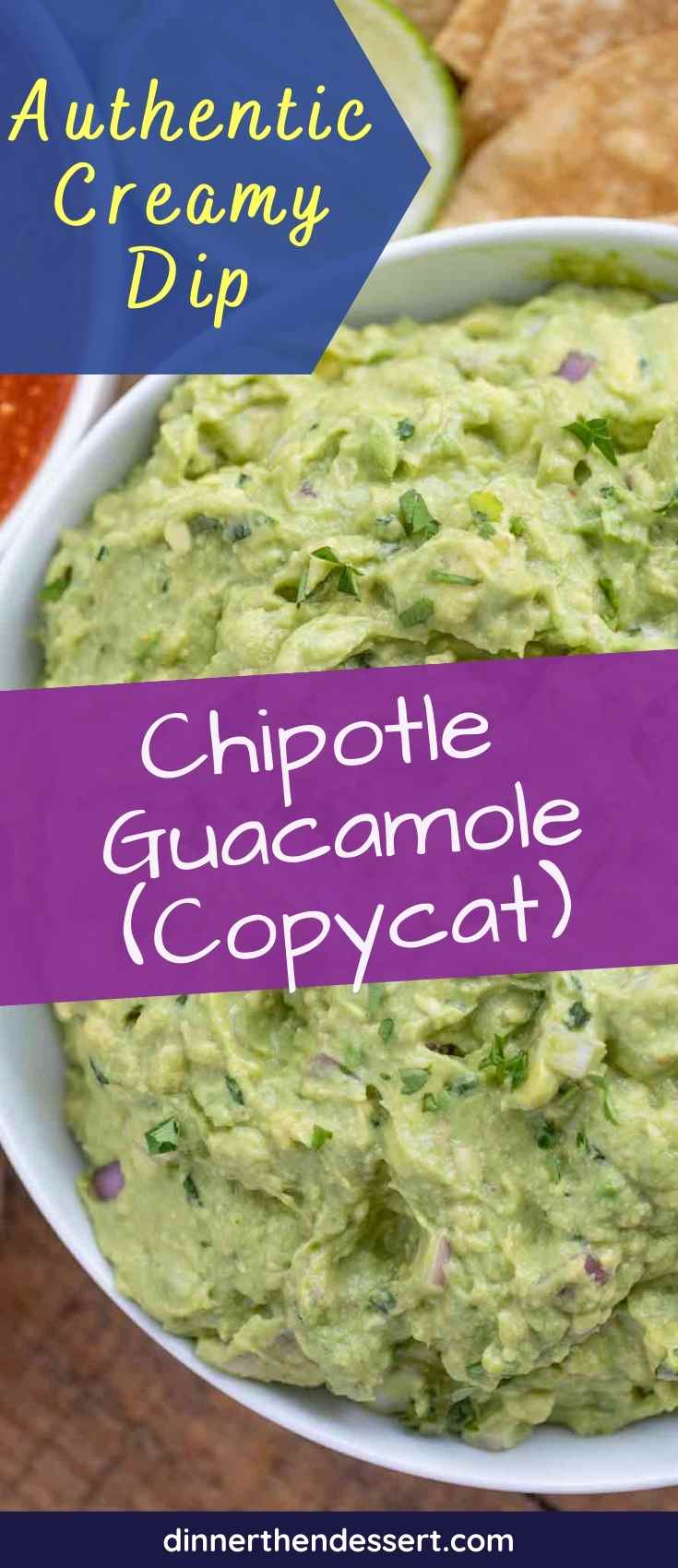 Photos used in a previous version of this post.