Chipotle Guacamole (Copycat) made with the authentic Chipotle recipe including lime juice, cilantro, red onions and jalapeños takes guacamole to a new level at home in 15 minutes!
If you want to recreate your Chipotle meal, you can also make my Chipotle Corn Salsa and Chipotle Beef Barbacoa (Copycat). Bring the taste of authentic Mexican guacamole home to make your Mexican buffet loaded with everyone's favorites!
 Chipotle Guacamole (Copycat)
We've all been there—can you picture yourself in line at Chipotle wondering if you should add the side of guacamole to your order? The cost always seems just a bit high but you know that guacamole pairs perfectly with everything on the Chipotle menu. Save yourself the indecision and make this Chipotle guac recipe at home. In a few simple steps you can have guacamole, chips, and that authentic Chipotle experience in the comfort of your own kitchen. You won't want to eat store bought chips and dip again!
This is the authentic guacamole recipe from Chipotle Mexican Grill. The popular fast casual restaurant released their own recipe to the public. Chipotle guacamole ingredients are listed on their website as well. I can tell you with absolute certainty they did not hold anything back. This easy guacamole recipe lets you skip the cost of the take out guacamole and make this avocado dip at home instead!
How to make Chipotle guacamole?
Cut the avocados in half, scoop out the pits, and put the avocado flesh into a bowl.
Add lime juice, cilantro, red onion, jalapeños, and salt and mash well together
Serve with fresh tortilla chips
How to store guacamole?
Guacamole is best served fresh but if you need to store guacamole in the refrigerator there are a few steps you can take to keep it from turning brown or oxidizing.
Seal guacamole with plastic wrap, pressing the plastic firmly onto the surface of the guacamole so that you limit how much air interacts with the top of the guac
Sprinkle lime juice on top of the guacamole before covering with plastic wrap
Some people swear by putting the avocado pit into the prepared guacamole before covering it with plastic wrap and placing the dip in the refrigerator.
Who has leftovers anyway? Just eat all of the avocado goodness and don't worry about keeping it fresh for another day.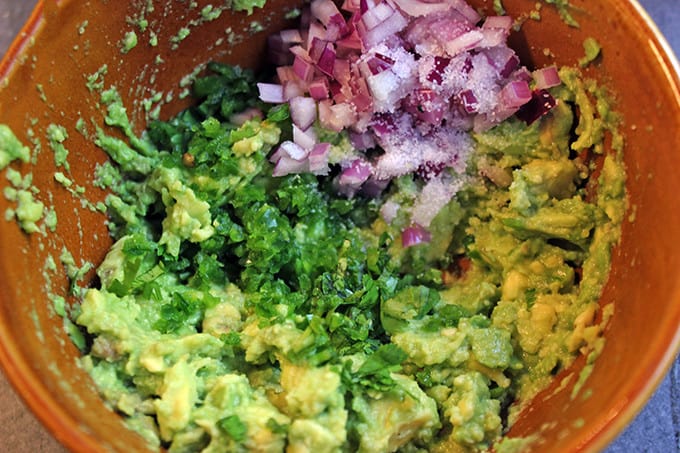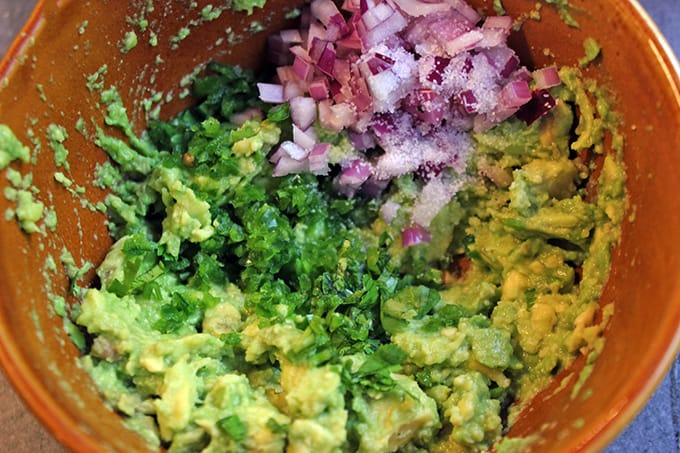 What to eat with this healthy guacamole?
Chips and guacamole are the traditional combo and making homemade tortilla chips will elevate this snack. Learning how to make Chipotle chips recipe is the key. Their lime tortilla chips have that citrus finish that you can't get out of a bag. Homemade chips are so much better. The lime and salt combination completely comes through and the creamy guacamole is just divine.
How to make homemade lime tortilla chips just like Chipotle chips
Wet your clean fingers in lime juice and wipe across the tortillas. Let them sit out for five to ten minutes while you make the guacamole.
Cut the tortillas into six even triangles.
Heat your oil to 375 degrees. If you don't have a thermometer, drop one chip in the oil and if it comes to the surface bubbling the temperature is good. Cook for 20-30 seconds, you aren't looking for them to brown. Remove with slotted spoon.
Sprinkle salt over them immediately.
You can see the step by step photos on the recipe page here.
Love copycat recipes as much as we do? Great! Check out our Copycat Category of recipes where you'll find the best dishes from Chipotle, Chick Fil A, Chili's, Panda Express, Olive Garden, and more!
My most popular Copycat Recipes: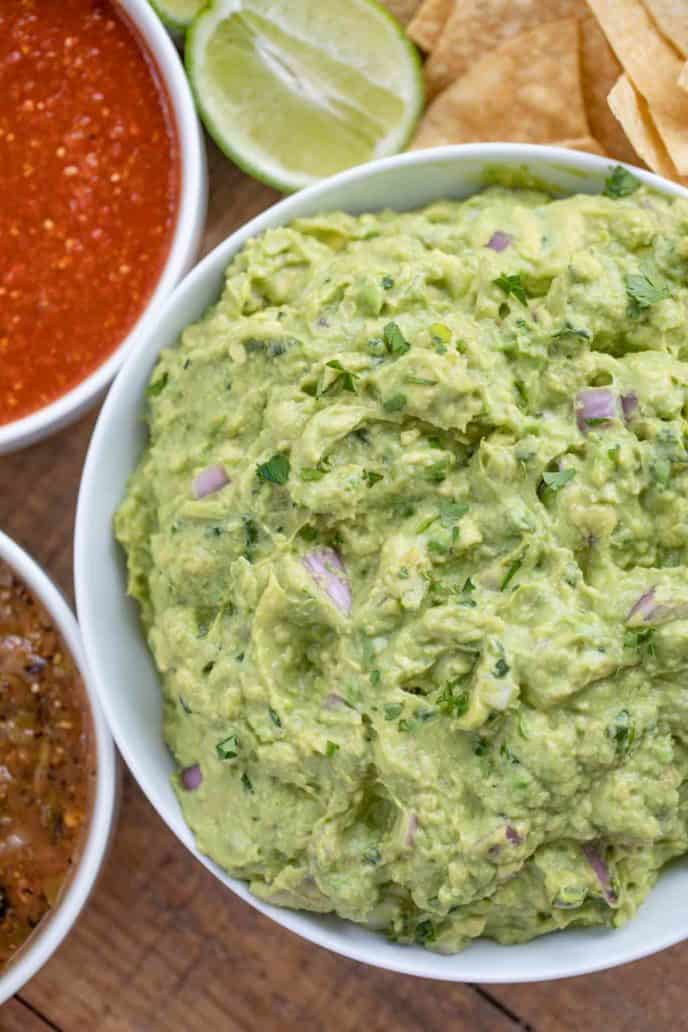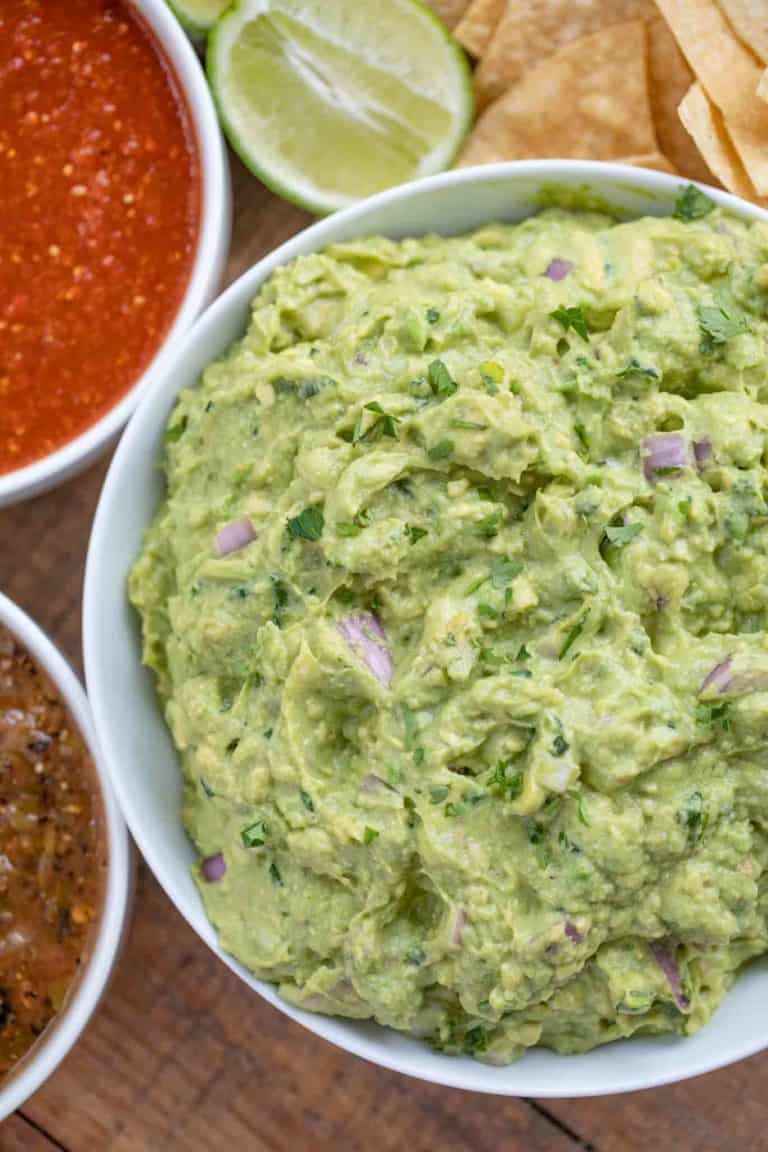 If you're thinking of serving up this dip during a party and you're looking for more party food you definitely need to try some of my super popular dips! Try my Buffalo Chicken Dip, Queso Dip, Ultimate Bean Dip, Seven Layer Bean Dip or my crazy popular Cheesy Beef Rotel Dip.


Ingredients
2

large

Hass avocados

2

teaspoons

lime juice

2

tablespoons

cilantro

, chopped

1/4

cup

red onion

, finely chopped

1/2

jalapeño

, deveined and finely chopped

1/4

teaspoons

kosher salt
Instructions
Cut avocados, remove pit and scoop out and into a bowl.

Add lime juice, cilantro, red onion, jalapeno, and salt and mash well together and serve with chips.
Nutrition
Calories:
82
kcal
|
Carbohydrates:
4
g
|
Protein:
1
g
|
Fat:
7
g
|
Saturated Fat:
1
g
|
Sodium:
76
mg
|
Potassium:
251
mg
|
Fiber:
3
g
|
Vitamin A:
90
IU
|
Vitamin C:
6.8
mg
|
Calcium:
6
mg
|
Iron:
0.3
mg