Cheesy Baked Sausage Grits is an amazing, eggy casserole that makes the perfect savory breakfast with green chiles, cheddar, Jack cheese, and hot sauce.
Cheesy Grits Casserole is amazing comfort food that makes the perfect hearty dish for Breakfast. For more savory breakfast foods try Classic Breakfast Casserole, Oven Baked Omelette, or Crispy Tater Tot Waffles.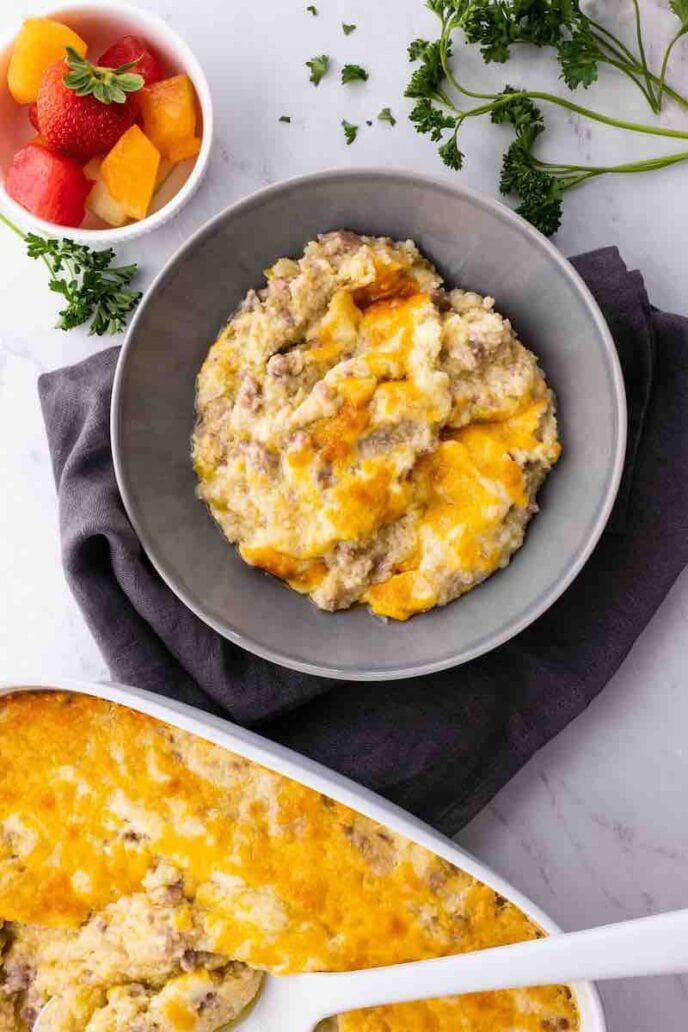 Creamy grits are a classic deep south dish. The simple porridge is a staple breakfast food in many households. This recipe takes standard comforting grits and transforms them into a hearty breakfast casserole dish. The Sausage and Cheese Grits Breakfast is easy, filling, and positively packed with flavor. It's sure to be a favorite recipe whether you're a fan of classic grits or not.
To make grits into a hearty breakfast that's easy to serve a big group, it's combined with a simple baked egg dish. The sausage, melty cheese, eggs, and grits all come together in one easy breakfast bake. Flavored with hot sauce, and onion the savory dish is the perfect meal for a cold morning and makes a great brunch dish to serve at a party.
If you're hosting a family reunion, or some other big get-together and need a large, crowd-pleasing breakfast then this Cheese Grits Casserole is the way to go. It makes an excellent main dish, or a savory side to go with a classic sweet breakfast like Pancakes or Waffles. The recipe makes a large dish, but you'll be amazed at how quickly it gets eaten!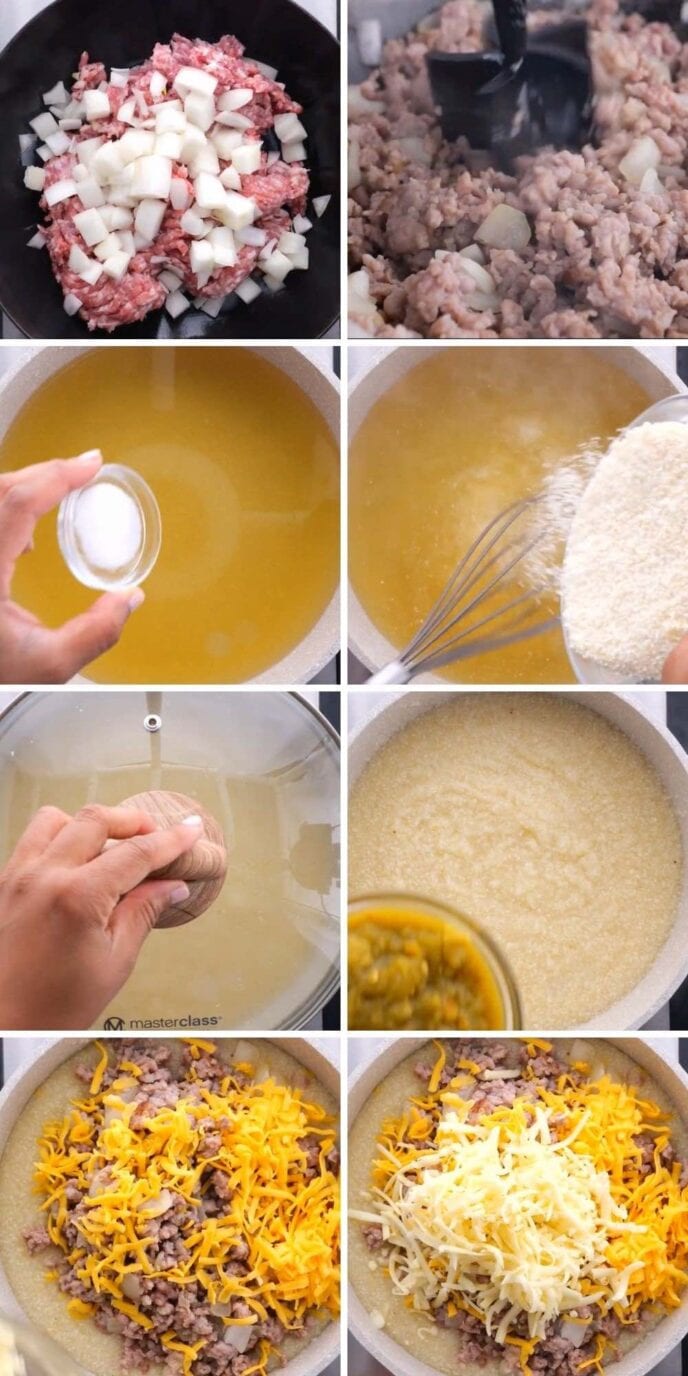 More Breakfast Casseroles
Frequently Asked Questions About Cheesy Baked Sausage Grits
What are grits?
Grits are a porridge made from ground corn. They are very popular in the American South.
What do grits taste like?
Grits should have a smooth texture and light flavor. They tend to take on the flavors they are prepared with, so this recipe will be thoroughly cheesy and savory from the sausage. You can make your grits with variations listed below, and that will change the flavor however you like.
What is the difference between regular grits, quick grits, and instant grits?
Regular grits have a medium grind and they cook in 10 minutes. Quick grits have a fine grind and they cook in about 5 minutes. Instant grits have a fine grind but have been pre-cooked and dehydrated. This recipe calls for quick grits.
Can I prepare Cheesy Baked Sausage Grits ahead of time?
You can prepare the Grits the night before you want to bake them. However, let all the ingredients cool to room temperature before placing in the fridge. Set aside the cheddar cheese topping and sprinkle it on right before you put it in the oven.
How should I reheat Cheesy Baked Sausage Grits?
For the very best result, place your serving of Sausage Grits into a small baking dish or ramekin. Then set an oven to 300 degrees and heat until warmed through. You might need to add a tiny bit of liquid (water, milk, or broth) to get that creamy texture from the original bake.
Cooking Tips 
Prep Time: Start by preheating the oven to 325 degrees, and spray a 3-quart baking dish with nonstick cooking spray.
Sausage Mixture: Add the sausage and sliced onion to a large skillet. Then place the sausage mixture over medium-high heat. Use a wooden spoon to break the meat apart as you brown sausage for 5-7 minutes.
Grits: Add chicken broth and kosher salt to a pot over high heat. Let it reach a boil, then lower to medium heat. Next, pour the instant grits into the pot and slowly whisk. Cover the pot and cook for 5 minutes. Stir every couple of minutes, but be careful of the grits bubbling up.
Casserole Ingredients: Turn off the heat, and add in the green chiles, pork sausage, onions, 1 cup cheddar cheese, jack cheese, butter, and hot sauce. Whisk the ingredients together well. Next add the eggs and stir them quickly into the grits mixture so that they don't have time to cook.
Cooking Time: Pour the mixture into the prepared baking dish, and top it off with the remaining cup of cheddar cheese. Put in the Cheesy Baked Sausage Grits in the oven. After a 45-50 minute baking time, the grits should be browned and nset in the middle. Lastly, take the Grits from the oven, and carefully serve. The inside will be very hot so be careful not to burn yourself.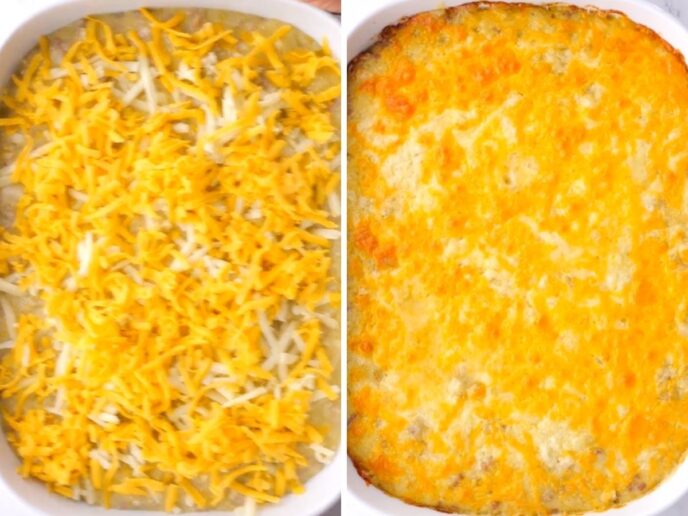 Create a free account to

Save Recipes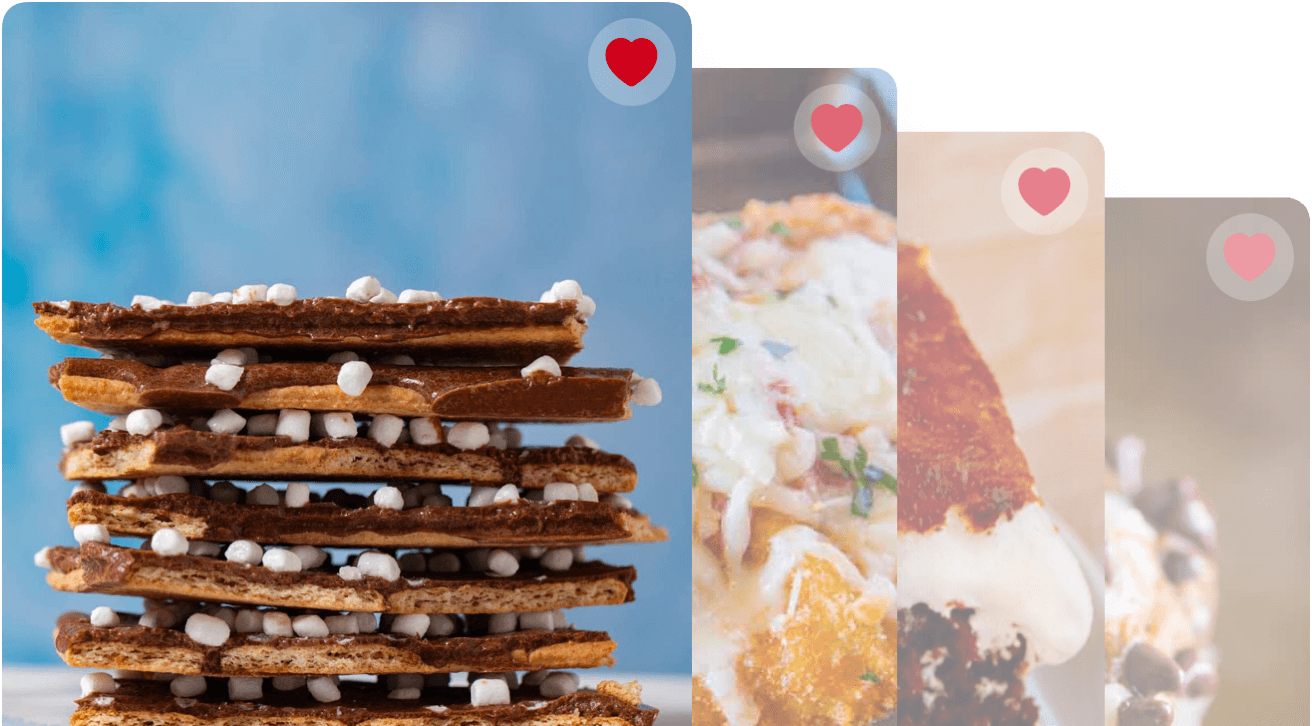 Variations
Seasonings: Experiment with the flavor of your Cheese Grits recipe. Try whisking in some red pepper flakes, garlic powder, onion powder, paprika, or parsley with the casserole ingredients.
Vegetables: You can also add different veggies into the Cheese Grits Breakfast Bake. Bell peppers, spinach, mushrooms, or sliced cherry tomatoes would all add wonderful texture, color, and taste to the dish.
Meat: For the meat in the recipe, you can use different kinds of cooked sausage like Italian sausage, or Summer sausage. You could also try other kinds of meat like ground beef, or ground turkey.
Meatless: You can try one of the many varieties of plant-based substitutes for ground meat in this recipe. Just prepare the substitute according to package directions, then add in place of the sausage.
Cheese: The Breakfast Grit recipe would also be great with a variety of cheese flavors. Add in any kinds of shredded cheese, for example Pepper Jack, Swiss, white cheddar, provolone, muenster, or sharp cheddar cheese.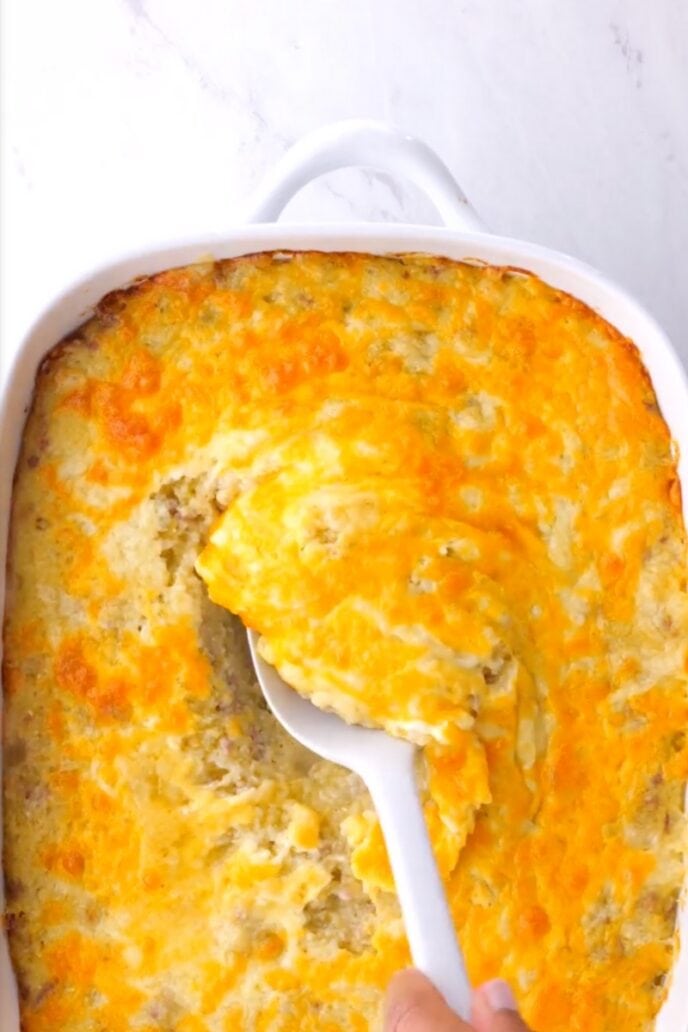 Savory Breakfast Recipes
How to Store
Serve: Don't leave your Cheese Grits Breakfast Bake at room temperature for more than 2 hours.
Store: Let any Leftover Grit Casserole cool to room temperature, then cover it in plastic wrap or aluminum foil. It'll keep well in the fridge for up to 3 days.
Freeze: You can also freeze the recipe for up to 3 months. Wrap it tightly in plastic wrap followed by aluminum foil to make sure it stays fresh.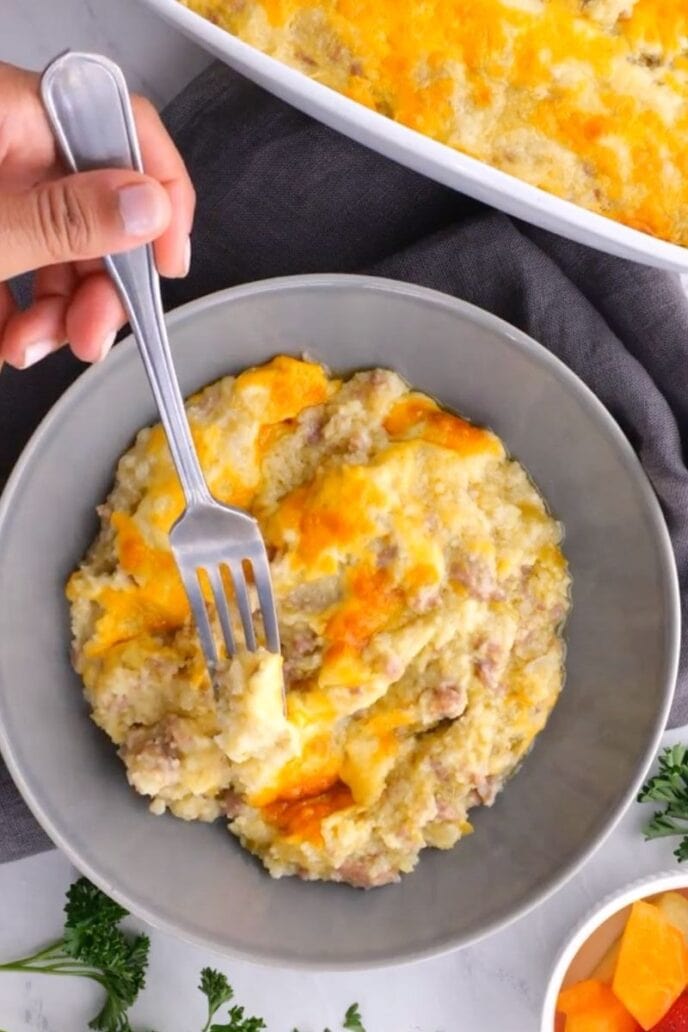 Ingredients
1

pound

mild pork sausage

1

yellow onion

, chopped

4

cups

chicken broth

1/2

teaspoon

kosher salt

1

cup

quick-cooking grits

8

ounces

green chiles

, chopped

2

cups

cheddar cheese

, shredded (divided)

2

cups

jack cheese

, shredded (divided)

2

tablespoons

unsalted butter

1

teaspoon

hot pepper sauce

2

large

eggs
Instructions
Preheat oven to 325 degrees and spray a 9×13 inch baking dish with vegetable oil spray.

Add sausage and onion to a large skillet on medium-high heat, breaking it apart as you cook until it is no longer pink, about

5-7 minutes.

In a pot add the chicken broth and kosher salt on high heat until it reaches a boil, then lower the heat to medium-low.

Pour in the grits slowly while whisking.

Cook, covered, for

5 minutes

, stirring every couple of minutes (be careful the grits may bubble up).

Turn off the heat and add in green chiles, pork sausage with onions, 1 cup cheddar cheese, jack cheese, butter, and hot sauce, and whisk well.

Whisk in the eggs quickly (try to avoid the eggs cooking at all, do not let them sit in the pot without whisking them immediately).

Pour mixture into the baking dish, top with remaining 1 cup cheddar cheese.

Bake for

45-50 minutes

or under grits are browned and set in the middle.

Be careful when serving, they will be very hot.
Nutrition
Calories:
347
kcal
|
Carbohydrates:
13
g
|
Protein:
17
g
|
Fat:
25
g
|
Saturated Fat:
12
g
|
Polyunsaturated Fat:
2
g
|
Monounsaturated Fat:
8
g
|
Trans Fat:
0.2
g
|
Cholesterol:
100
mg
|
Sodium:
949
mg
|
Potassium:
182
mg
|
Fiber:
1
g
|
Sugar:
2
g
|
Vitamin A:
467
IU
|
Vitamin C:
3
mg
|
Calcium:
288
mg
|
Iron:
1
mg