Breakfast Sausage Gravy Sloppy Joes are the ULTIMATE breakfast sandwich with eggs, cheese, hash browns and a sausage gravy sloppy joe mixture on a hamburger bun. No other breakfast sandwich can compare!
We love the Classic Sloppy Joe recipe on our site as much as anyone but making a breakfast version of them is the perfect way to feed a crowd and they will forever remember this recipe! Check out the rest of our Breakfast Recipes too!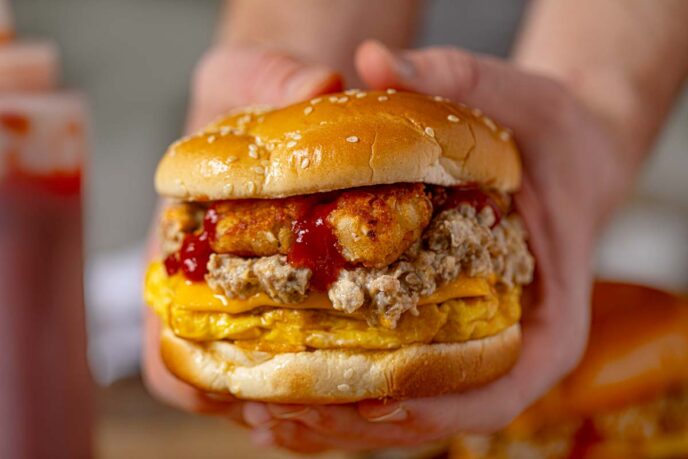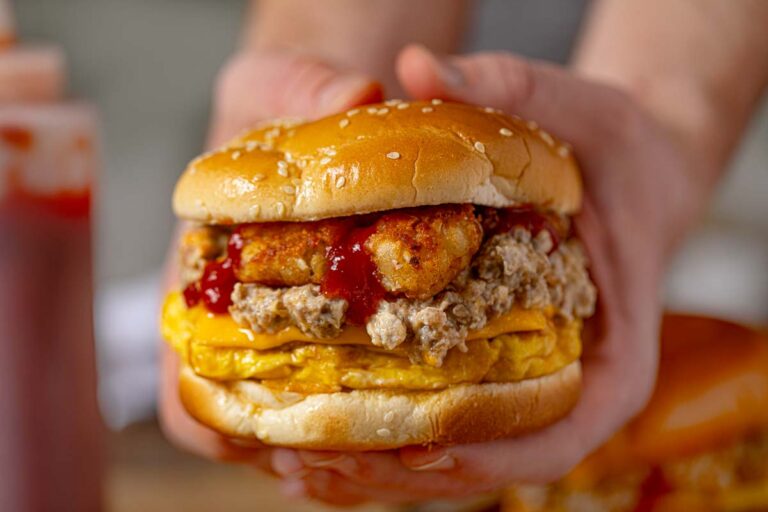 Breakfast Sausage Gravy Sloppy Joes
This recipe may not seem like it *should* work. It does. I can assure you, it is delicious and we had people fighting over who got to take home leftovers.
The inspiration for the recipe comes from my Copycat Recipe for the Ultimate Breakfast Burger from Carl's Jr.. That recipe is a classic beef hamburger with an egg, bacon, hash browns, cheese and ketchup.
I've swapped the beef patty and bacon for a deliciously rich and thick breakfast pork sausage and cream cheese based gravy. We have eggs, cheese and crispy hash browns and of course like any good sandwich it is topped off with a bit of ketchup.
I'm not advocating for this to be your daily breakfast, maybe consider Yogurt Parfaits for a daily theme, but for a brunch, get-together, holiday meal, party, game-day or any other special occasion I think this sandwich is IT.
Delicious Holiday Breakfast Favorites You NEED to Try:
How to Make Breakfast Sloppy Joes:
Make your Tater Tots: This is going to take longer than anything else, so I always pop these into the toaster oven first.
Make the Sausage Gravy: The first thing you want to do is sear your sausage well and keep it in larger chunks. Then combine it with the cream cheese and milk, letting it reduce until it is just thick enough to stay together on your bun.
Picking the Right Bun: A sesame seed bun is a classic fit for this recipe and I lean towards the larger sized buns because there is a lot of food going into this sandwich.
Cooking your Eggs: Make your eggs last! When your sausage mixture is ready and the tater tots are done. This is when you want to make the eggs.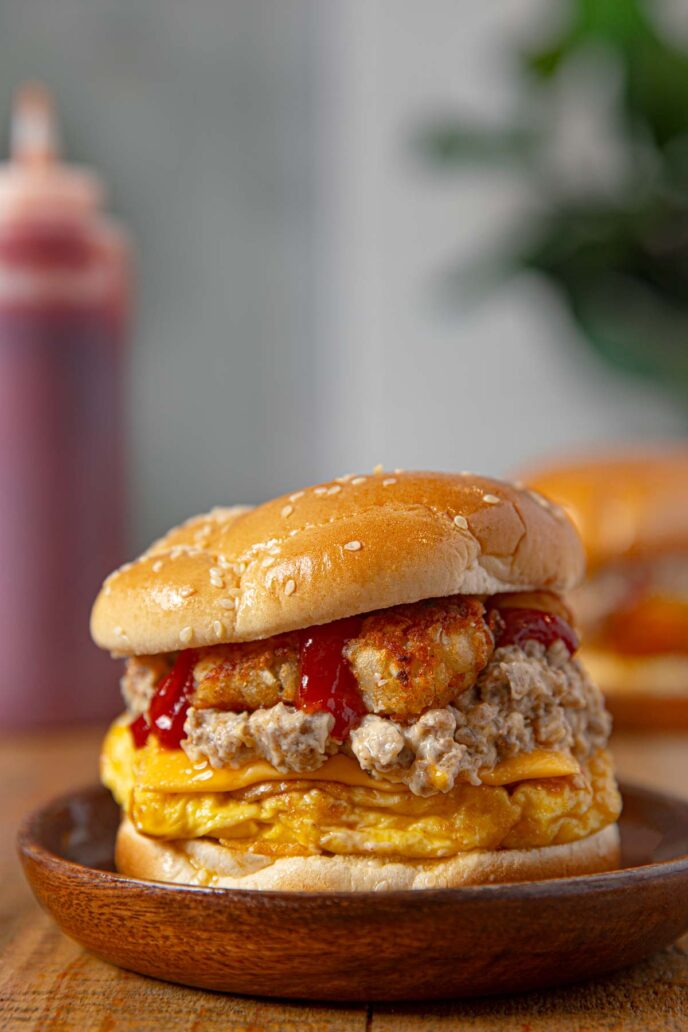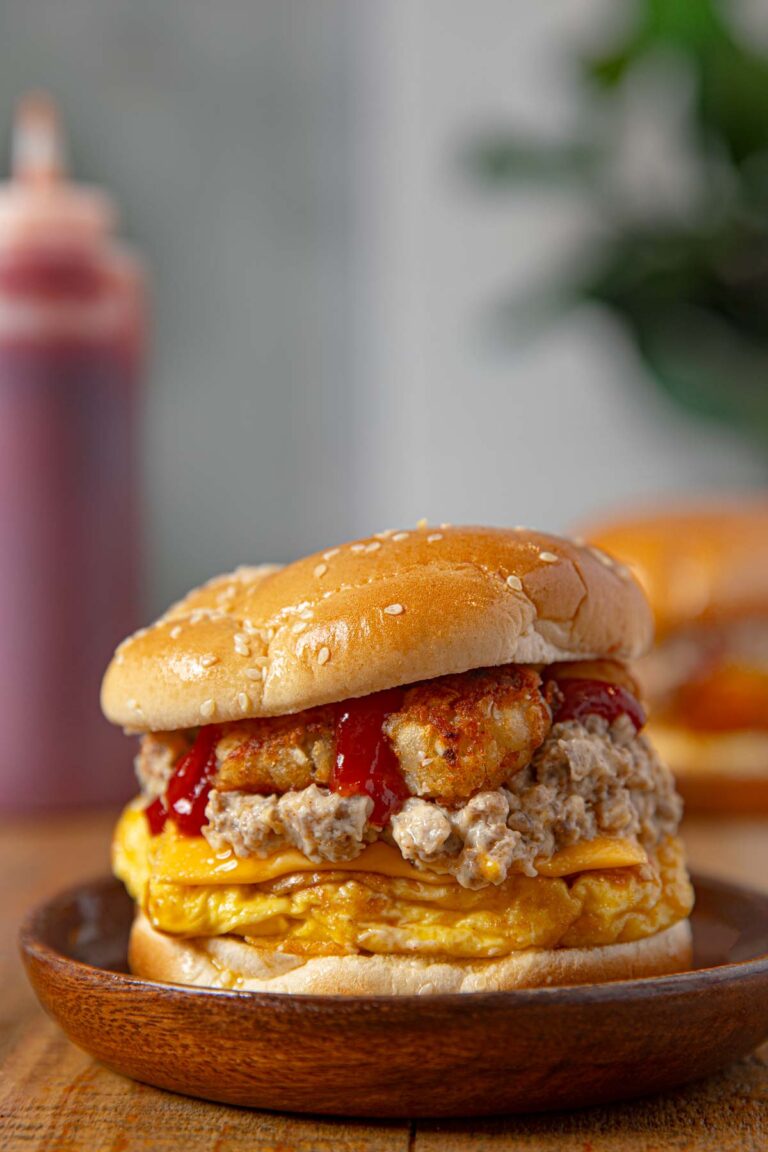 Create a free account to

Save Recipes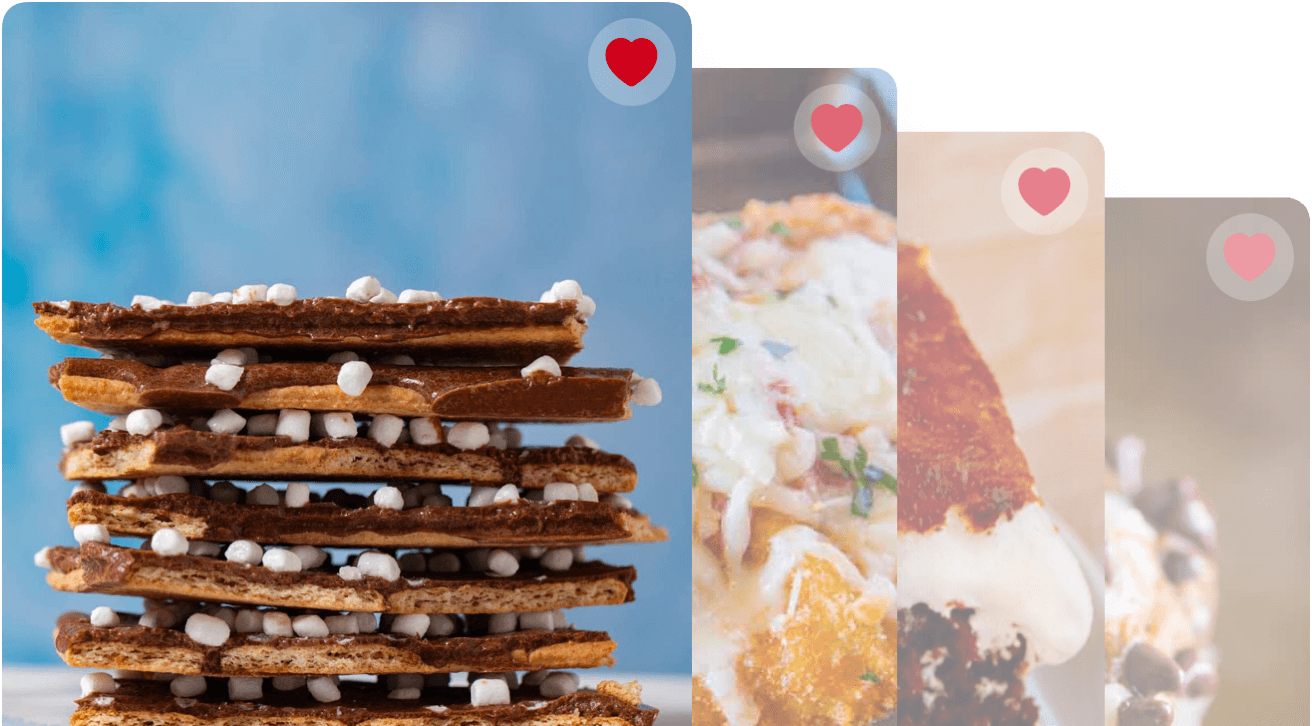 Variations on these Sloppy Joes:
Sausage: I used pork sausage to keep the Classic Sausage Gravy recipe flavors, but you can certainly use turkey sausage or chicken sausage. Just be sure you are using raw sausage meat.
Tater Tots: Classic tater tots add height but potato coins (the flatter tater tots) will also work well – especially in smaller sized sandwiches. You can also use sweet potato tots or even french fries or home fries.
Cheese: American cheese seemed like a creamy, melty no-brainer for this recipe since it is a play on a fast food burger, but you can swap the cheese out for your favorite variety. A sharp cheddar, pepper jack or Monterey jack would all be delicious options.
Buns: Sesame Seed Bun is a classic sandwich option, but you can use a brioche hamburger bun like we do in our other Sloppy Joe Recipes on the site. The buttery rich taste is pretty amazing. One note, this sandwich is already pretty rich which is why I stuck with a sesame seed bun. You can also use large tortillas instead and make this into the best breakfast burrito ever.
Sauce: Ketchup is a pretty obvious choice here but any other sauce you like will work great. Fry Sauce or Ranch would be great options.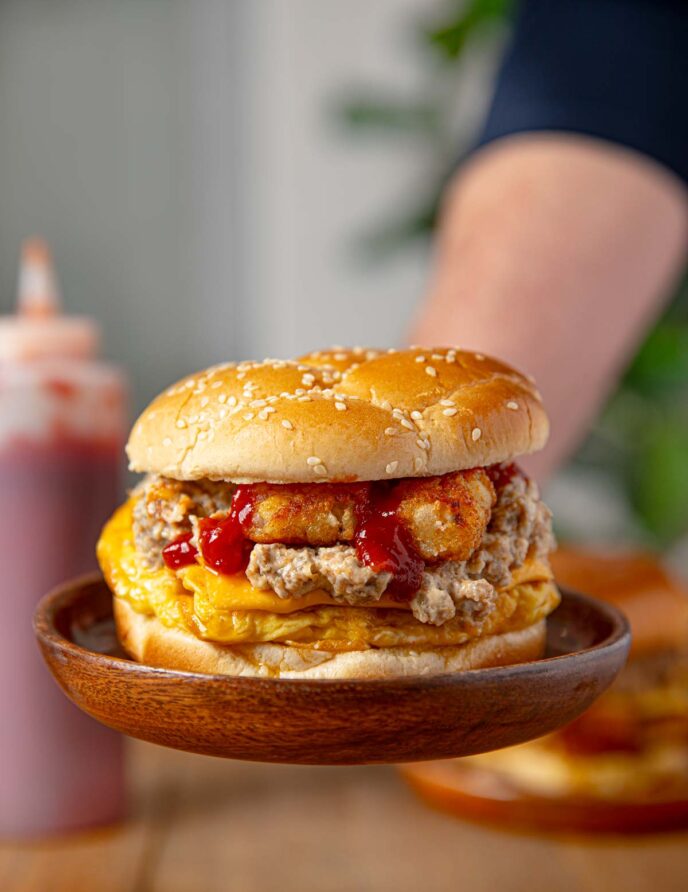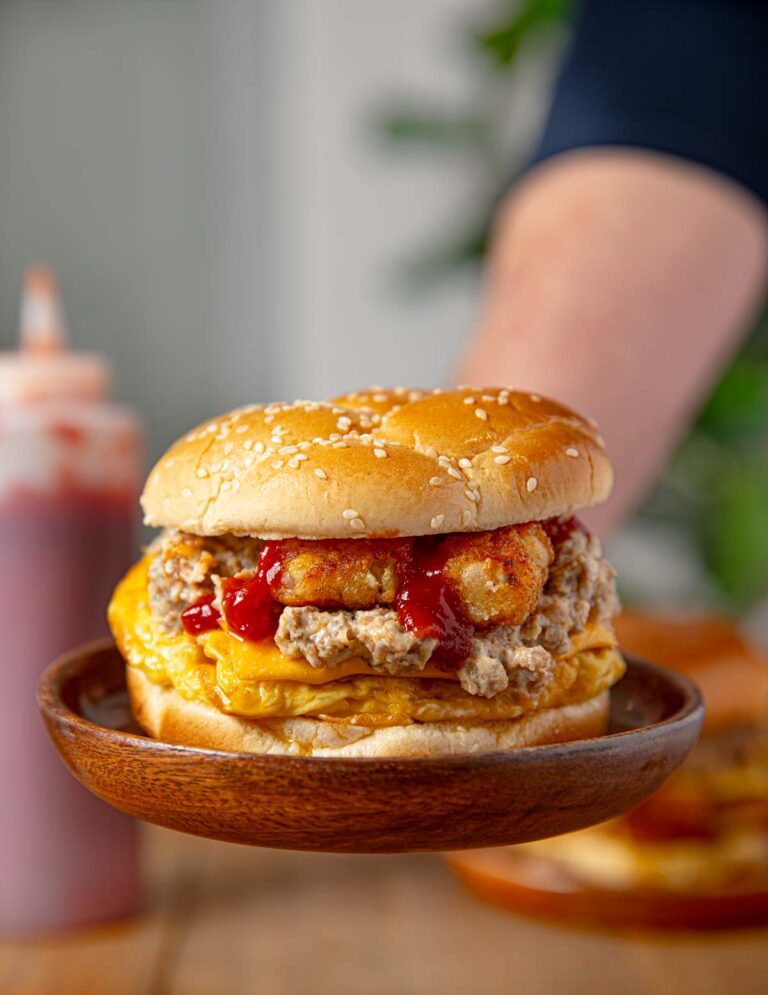 Can you make these ahead?
You can make the sausage mixture ahead and warm it up and thin it back out with some milk. The eggs really should be made the morning of and if you want the crispy tater tots I would suggest baking or frying them fresh.
If you want to meal prep these and are sad you won't have crispy hash browns if you are reheating them from frozen, I would say skip the tater tots and add in some crunch chips. I like thick cut Kettle Brand ridge chips, but any potato chips you'd like will add texture and potato flavor on the go.
MORE DELICIOUS SLOPPY JOES RECIPES
HOW TO SERVE AND STORE:
Serve: You can leave this dish at room temperature for up to 2 hours but it is best served hot. If you can keep the mixture on a hot plate or warm in a slow cooker it can be served at its optimum flavor for longer.
Store: Allow your meat to come to room temperature. Store in a sealed container in the fridge for up to 3 days.
Freeze: You can freeze the sloppy joe mixture for up to 3 months in an air-tight container.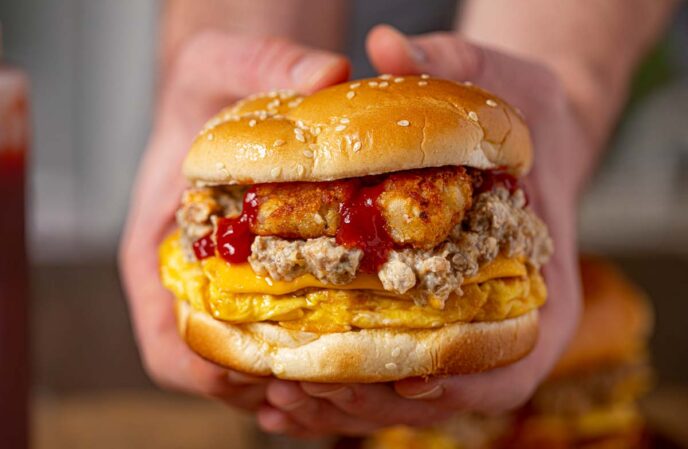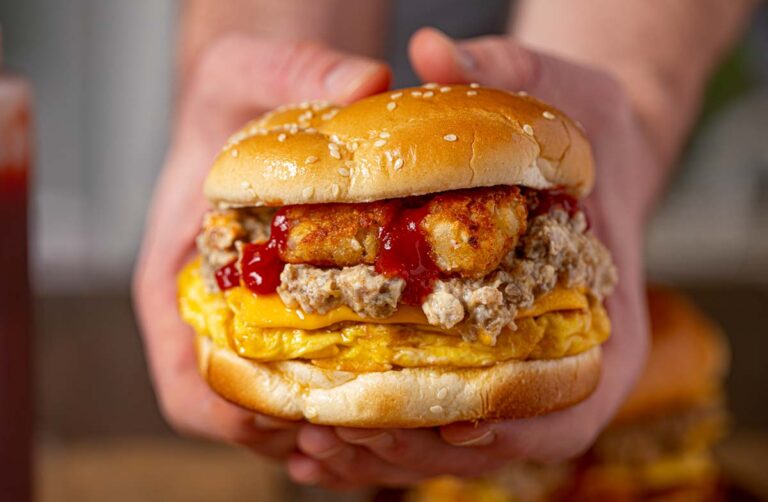 Ingredients
24

tater tots

16

ounces

pork breakfast sausage

1

tablespoon

flour

1

teaspoon

kosher salt

1/2

teaspoon

coarse ground black pepper

3/4

cup

whole milk

4

ounces

cream cheese

4

large

eggs

1

tablespoon

unsalted butter

4

slices

American cheese

4

tablespoons

ketchup

4

large hamburger buns
Instructions
Cook your tater tots according to the package directions (usually 400 degrees for

15 minutes

).

Add the pork sausage to a large skillet and cook on medium high heat, breaking it apart.

Cook for

4-5 minutes

or until fully cooked.

Drain most of the excess fat, add in the flour and whisk well until the flour is combined and cook for 30 seconds.

Add in the salt, pepper, cream cheese and milk and whisk together until the mixture is creamy and let cook for

3-4 minutes

until it has thickened.

Whisk your eggs in a small bowl.

Heat a large skillet on medium high and add butter.

When melted add the eggs and cook for

1-2 minutes

, stirring once until set.

Flip and cook an additional 15 seconds.

To assemble: Bottom bun, eggs, slice of American cheese, scoop of sausage gravy, tater tots, ketchup, top bun.
Nutrition
Calories:
724
kcal
|
Carbohydrates:
44
g
|
Protein:
41
g
|
Fat:
43
g
|
Saturated Fat:
17
g
|
Cholesterol:
360
mg
|
Sodium:
2372
mg
|
Potassium:
767
mg
|
Fiber:
3
g
|
Sugar:
10
g
|
Vitamin A:
1209
IU
|
Vitamin C:
7
mg
|
Calcium:
402
mg
|
Iron:
5
mg