Gooey Monkey Bread is sweet and sticky, made with buttermilk biscuit dough, butter, brown sugar, cinnamon, and ready in under 45 minutes!
We love making both savory AND sweet breakfast dishes for every occasion, especially around the holidays! This week we're cooking up Breakfast Casserole, Easy Cinnamon Rolls (in 1 Hour!) and Easy French Toast Bake!
GOOEY MONKEY BREAD
Gooey Monkey Bread is a family favorite over here on the weekends. It's incredibly EASY to throw together because it uses store-bought buttermilk biscuit dough, and a few extra ingredients you already have in your pantry like cinnamon, brown sugar, and unsalted butter.
What you get is a sweet bread that tastes a mix between a dessert and a coffee cake, with a brown sugar mixture holding it all together.
Plus it's totally kid-friendly, the dough cooks up like dumplings so they have a great time pulling it apart. This monkey bread recipe uses store-bought dough, making this incredibly QUICK and EASY bread to throw together, and this no-fail version bakes up in no time.
Sometimes I'll make the biscuits for dinner the night before, and reserve half of the dough for the next morning in the refrigerator.
If your store doesn't have biscuit dough, you can use another pop-open can of dinner roll dough to make this. My family just prefers the taste and texture of the biscuit dough version. But honestly once you coat it in melted butter and cinnamon sugar, you might not even notice which dough balls you're using.
WHY DO THEY CALL IT MONKEY BREAD?
This is traditionally called monkey bread because the cake is made up of little dough pieces, making it easy to pull apart with your hands, like a monkey would eat it.
It's also called golden dumpling cake, monkey puzzle bread, and pinch-me cake, and is meant to be served while it is still warm so you can easily pluck it apart. A lot of families serve this sweet bread on Christmas morning.
HOW DO YOU MAKE CARAMEL SAUCE MONKEY BREAD?
Instead of melting the butter and brown sugar together, you can use a homemade caramel sauce for this monkey bread recipe instead. Here's my homemade caramel sauce recipe, which would be the perfect sweet and sticky match for this monkey bread recipe!
CAN YOU REFRIGERATE MONKEY BREAD BEFORE BAKING?
Yes you can assemble the monkey bread entirely, then cover it in plastic wrap and refrigerate overnight. Store-bought dough makes this really easy. You don't have to worry about the yeast rising too much and ruining the dough.
HOW DO YOU STORE MONKEY BREAD OVERNIGHT?
Monkey bread can be covered tightly with plastic wrap and stored at room temperature overnight. I don't recommend refrigerating bread after you've cooked the dough because it will go stale faster.
CAN YOU FREEZE MONKEY BREAD?
You can freeze monkey bread wrapped tightly for up to 3-4 weeks. Defrost in the refrigerator overnight. This is best served warm, after it's defrosted I recommend wrapping in tinfoil and warming in the oven for a total time of 6-8 minutes at 325 degrees F, just until the bread is warmed through. This makes the butter and sugar mixture softer so the bread will easily pull apart.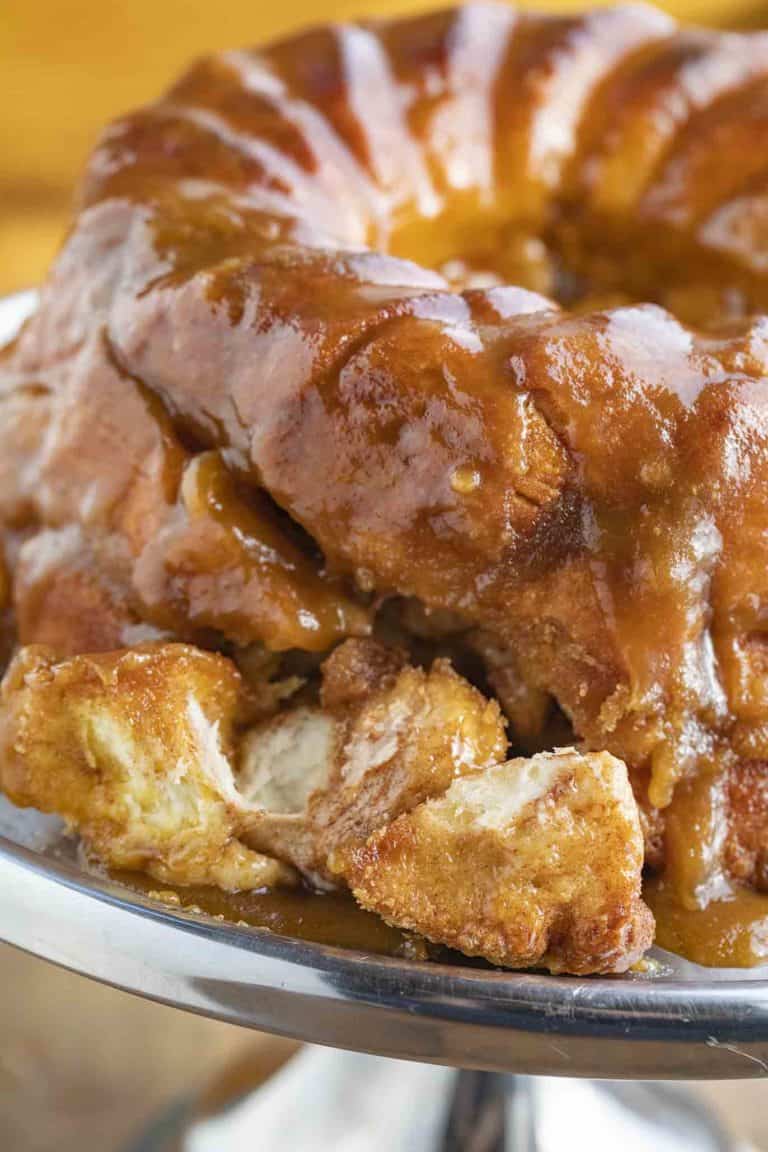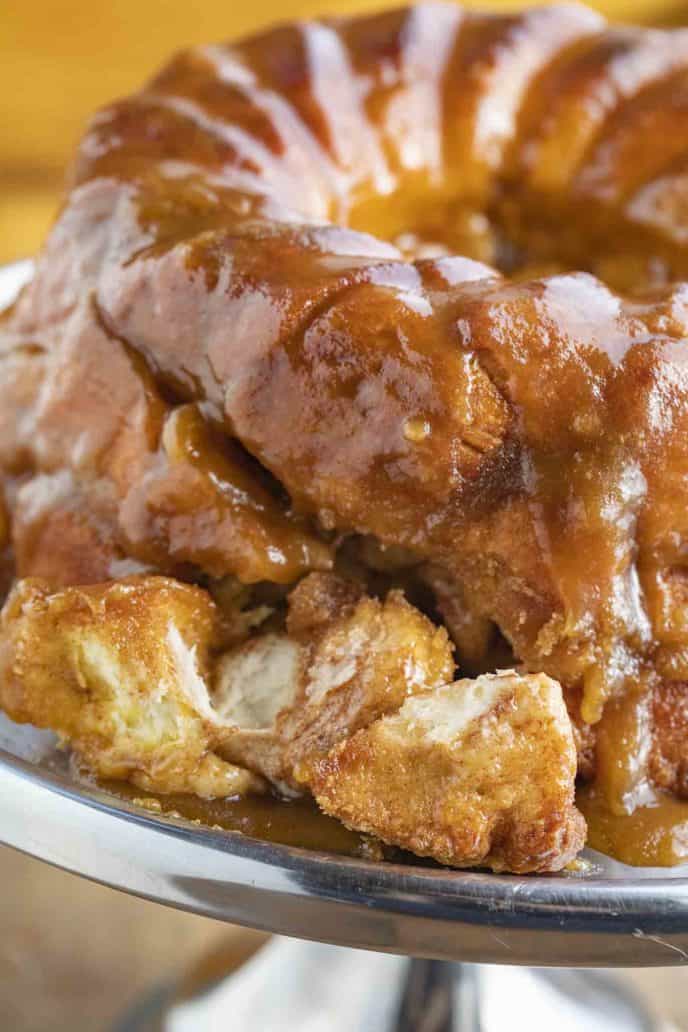 CAN I MAKE MONKEY BREAD FROM SCRATCH?
I use store-bought buttermilk biscuit dough, but you can definitely make this homemade monkey bread from scratch by using the dough from my recipe for Buttermilk Biscuits. Just rip the dough into biscuit-sized balls and follow the rest of the recipe as written. Plus you can save some dough for later and make biscuits for dinner!
MORE CINNAMON SUGAR BREAD RECIPES
TIPS FOR MAKING MONKEY BREAD
Try adding a touch of maple syrup to the brown sugar butter mixture, then topping the finished monkey bread with pieces of cooked bacon.
If you're serving this bread for a holiday, make it more festive by dusting with powdered sugar and cinnamon right before serving. You can also drizzle with some icing and top with chopped pecans.
Use a non-stick bundt pan to make flipping the bread onto a plate easier.
Instead of combining the brown sugar and butter on the stove, you can save time by melting the butter in a small bowl in the microwave for 1 minute at a time, then whisk in the brown sugar until well-combined before pouring over the biscuit dough.
If you don't have a bundt pan, you can make this in a loaf pan by cutting the cooking total time down by about half, then check it every 10 minutes or so until it's done.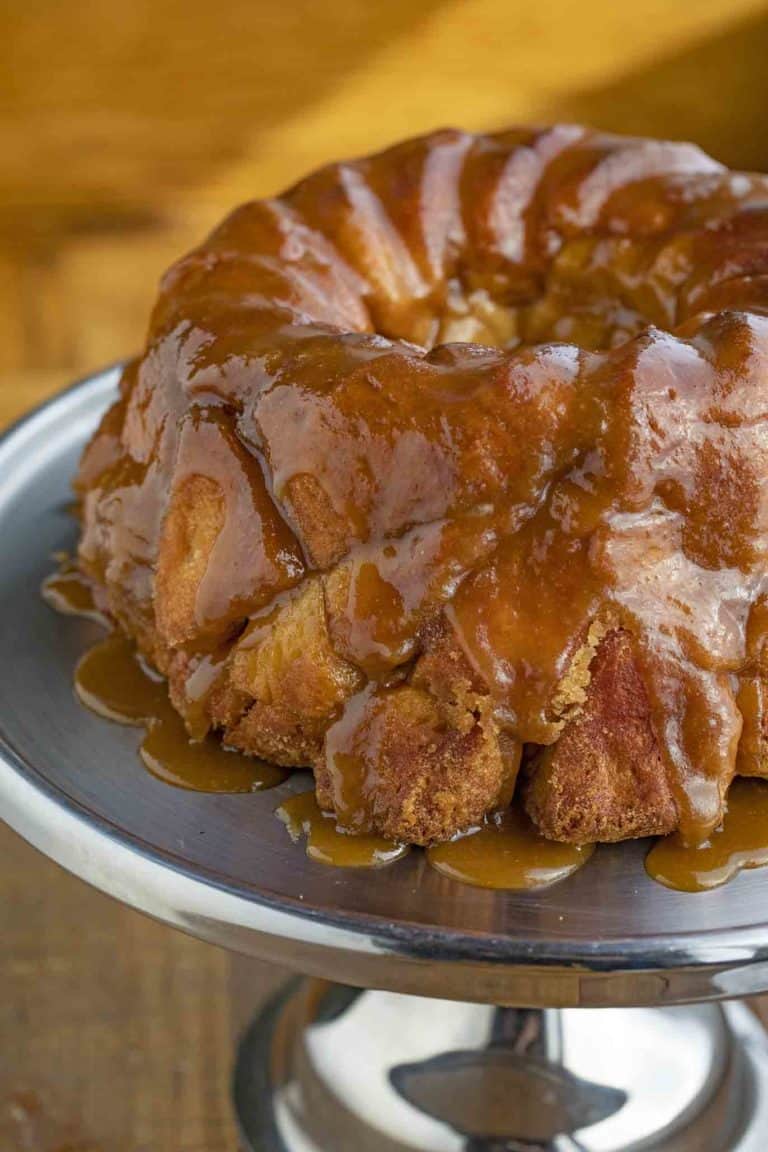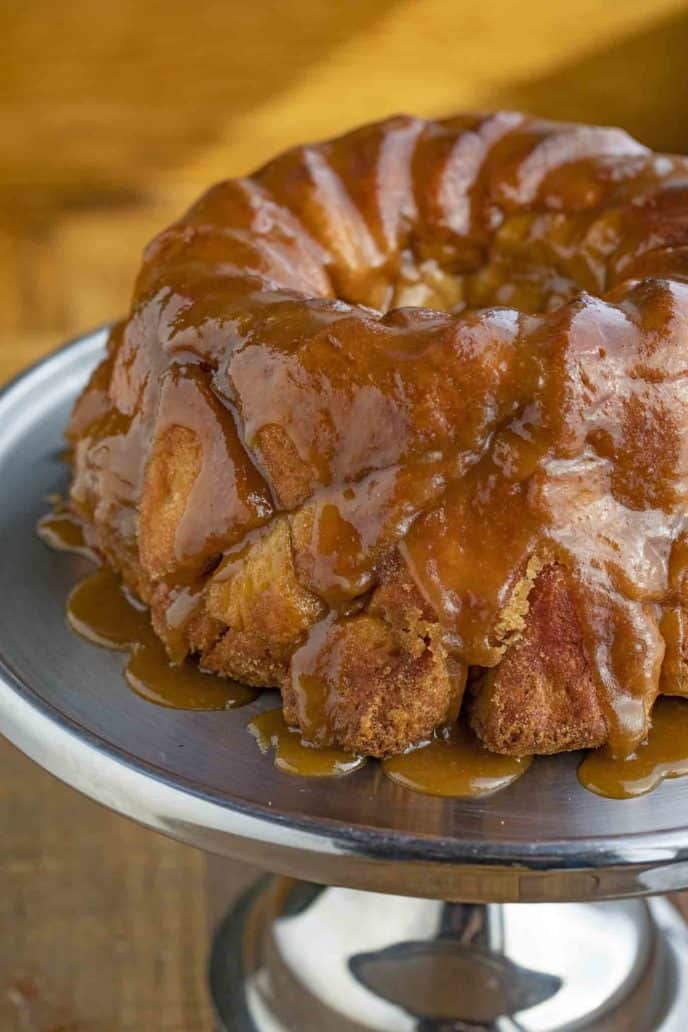 Recipe
Save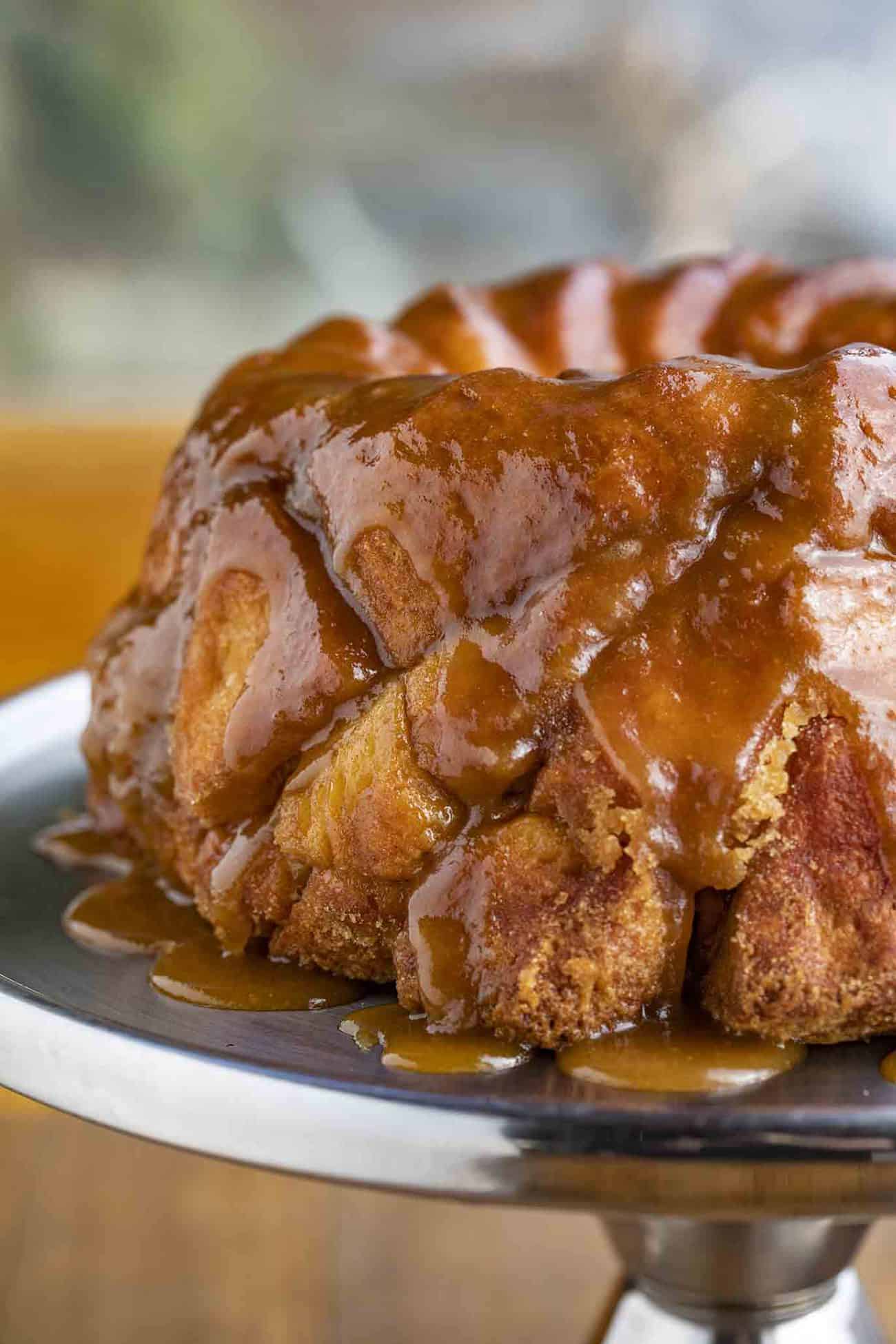 Gooey Monkey Bread
Yield:

12

servings

Prep Time:

20

minutes

Cook Time:

40

minutes

Total Time:

1

hour

Course: Breakfast
Cuisine: American
Author: Sabrina Snyder
Gooey Monkey Bread is sweet and sticky, made with buttermilk biscuit dough, butter, brown sugar, cinnamon, and ready in under 45 minutes!
Ingredients
3

12 ounce packages refrigerated buttermilk biscuit dough, each cut into quarters

1

cup

sugar

2

teaspoons

cinnamon

1/2

cup

butter

1

cup

packed brown sugar
Instructions
Note: click on times in the instructions to start a kitchen timer while cooking.
Preheat oven to 350 degrees and add the sugar, cinnamon and biscuit quarters to a ziplock bag and shake well.

Add the pieces to a bundt pan, then pour the sugar over the top.

Add the butter and brown sugar to a medium saucepan on medium heat and bring to a boil for one minute before pouring onto the bundt pan.

Bake for 35-40 minutes, remove from oven, let cool for 10-15 minutes then place a plate over the bottom of the bundt pan and flip over to remove.
Recipe Notes
Note: click on times in the instructions to start a kitchen timer while cooking.
Nutrition Information
Yield: 12 servings, Amount per serving: 513 calories, Calories: 513g, Carbohydrates: 76g, Protein: 5g, Fat: 21g, Saturated Fat: 6g, Cholesterol: 21mg, Sodium: 874mg, Potassium: 214mg, Fiber: 1g, Sugar: 37g, Vitamin A: 235g, Calcium: 63g, Iron: 3g
All images and text © for Dinner, then Dessert.
Save