Honey Bun Cake tastes like the classic yellow honey bun cake with brown sugar filling, topped with rich icing made famous by Betty Crocker.
This cake is winning the contest for best Easter Cake out there against the other heavy contenders including Ultimate Carrot Cake (with Carrot Cake Jam), the yummy Classic Coconut Cake and the dark horse non-cake but still "cake" Flourless Chocolate Cake.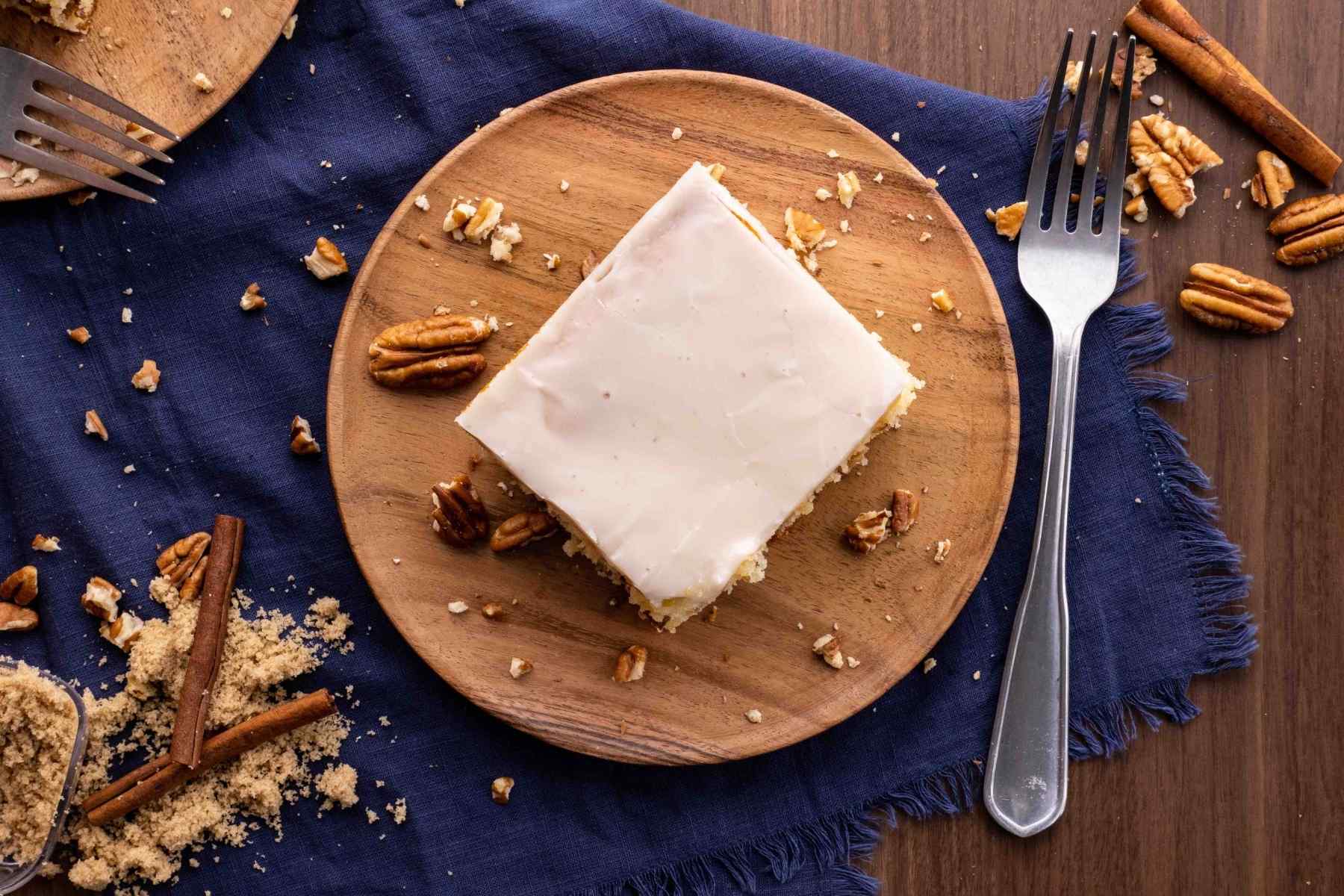 Honey Bun Cake with no cake mix tastes like the classic honey buns you loved as a kid, and like your favorite yellow cake growing up. It is perfect for brunch and holiday parties.
Honey Bun Cake will remind you of the classic American convenience store honey bun pastries that were like Cinnamon Rolls in a pinch. Those little cakes were a staple in the diet of many American teenagers, readily available at the school snack counter. The flavors are so nostalgic they'll make you want to recreate other childhood favorites, like Frito Pie, which is even better than the nostalgia you remember as a kid!
Most Honey Bun Cake pins on Pinterest use a cake mix as the main ingredient. While we love a good Boxed Cake Mix Hack: Tastes like you paid $6 a slice! for this recipe we wanted to use a cake from scratch. With extra egg yolks in the cake to help bring out that classic yellow cake color, this cake has the most amazing flavor. Perfect for breakfast or dessert at any holiday!
The thick glaze recipe you'll top this cake with provides that same texture and consistency found on the classic Honey Bun pastry. The brown sugar filling is another important part of this cake you absolutely cannot skip. Whether or not you make this homemade version below or the classic boxed mix version, you have to make sure there is a delicious molten brown sugar filling through the middle of your buttery cake.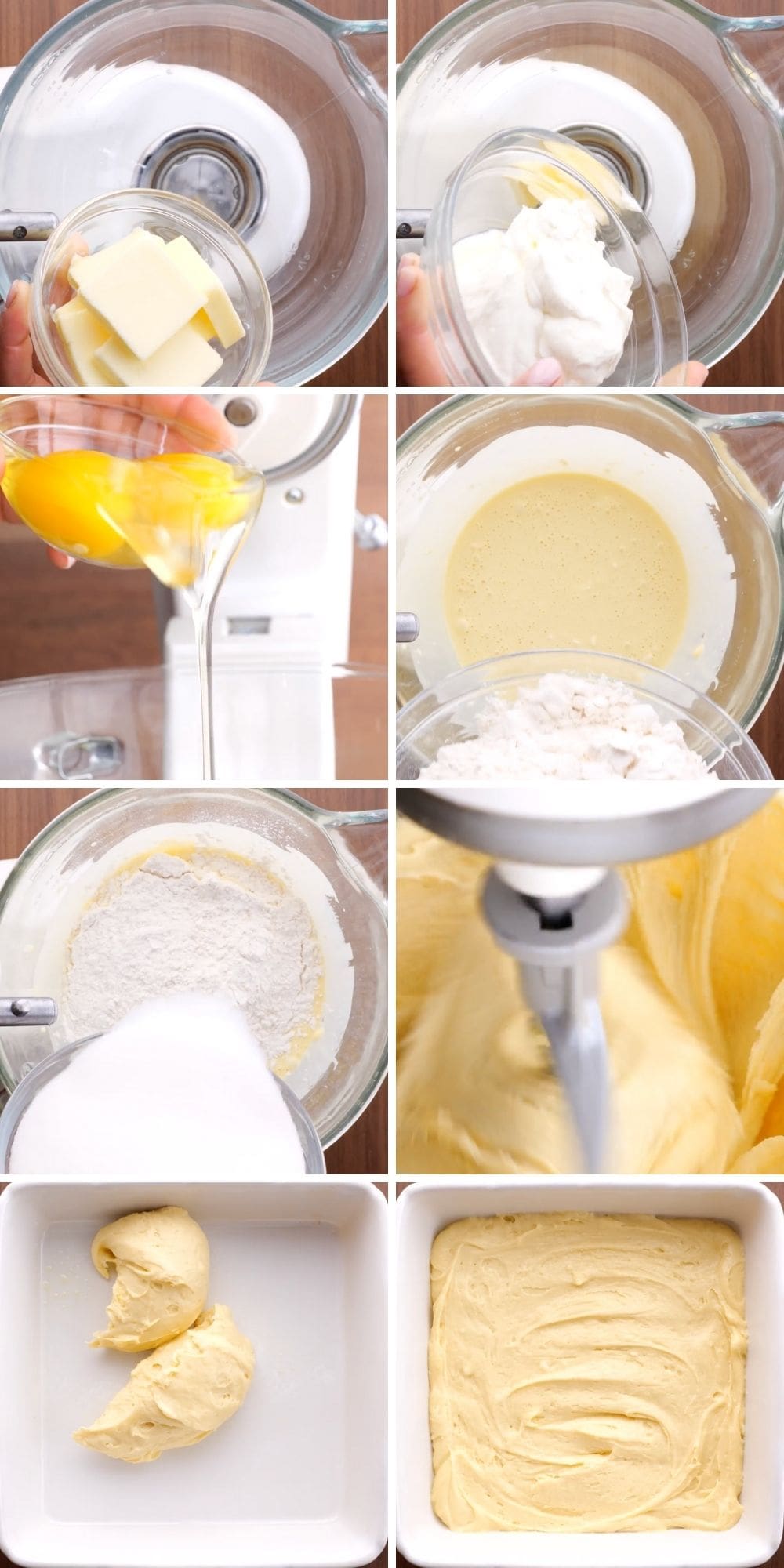 How to Make Honey Bun Cake
The process for putting this tasty cake is easy, and the prep time for this moist cake is pretty painless. Check it out!
Step One: In a medium bowl, mix the brown sugar pecan filling. Set to the side.
Step Two: Mix the yellow cake mix together. Divide in half. Pour half a layer of batter into a 9×9 inch baking dish coated with cooking spray and/or lined with parchment paper. Layer the brown sugar mixture on top of that. Finally, layer the rest of the yellow cake batter on top. Bake until ready.
Step Three: In a separate bowl, while the cake is baking, mix together the vanilla icing.
Step Four: When the cake is done, pour the icing on top and enjoy your yummy and delicious cake!
More Yummy Dessert Recipes
Frequently Asked Questions
What kind of cake mix can I use if I don't make Honey Bun Cake from scratch?
If using a cake mix make sure to use yellow cake, the extra egg adds richness to the cake.
How can I make a healthier Honey Bun Cake?
You can replace half the vegetable oil with applesauce, but try not to replace too much of the vegetable oil with applesauce in this cake or the texture will become too fluffy and unlike the classic Honey Bun texture. You can also use light sour cream as an acceptable swap to reduce fat and calories in the cake.
How do I make the classic cake mix Honey Bun Cake?
Cake Mix Honey Bun Cake Recipe:
1 box Betty Crocker yellow cake mix
2/3 cup vegetable oil
4 large eggs
1 cup sour cream
⅓ cup pecans, chopped
2 teaspoons cinnamon
1 cup brown sugar, packed
1 cup powdered sugar
1 tablespoon whole milk
1 teaspoon vanilla extract

1. Pre-heat the oven to 350 degrees and spray a 9×13 pan with baking spray.
2. Using an electric mixer, mix together the cake mix, oil, eggs and sour cream until well combined, then pour half of it into the pan.
3. Whisk together the pecans, cinnamon and brown sugar and sprinkle the sugar mixture all over the cake batter then gently spoon over the remaining batter evenly and bake for 45 minutes.
4. When the cake comes out prick the top with a fork 15 or so times, then whisk together the powdered sugar, milk and vanilla and pour it over the warm cake.
How do I get just the yellow egg yolk by itself?
Here's an easy hack you can use to harvest the egg yolk. It's super easy and takes no time. To get an egg yolk by itself, you can use an empty water bottle! Crack your eggs into a bowl. Make sure the water bottle is clean first, then lightly squeeze the bottle – just a little bit – and place the opening over the egg yolk. Release the bottle and the egg yolk will get sucked up into the bottle all by itself! 
Does this recipe actually contain real honey? 
Technically, it does not since the honey is a liquid and would change the texture during the baking process. But don't let that stop you from drizzling some real honey across the top when you go to serve it on the plate. The golden drizzle will look great atop the white glaze and will impress your guests!
How do you make powdered sugar?
This is easy. You just need granulated sugar, some cornstarch, and a blender. You'll want to ratio 1 cup granulated sugar to 1 tablespoon cornstarch and blend on high for a couple of minutes. Voilá! Powdered sugar!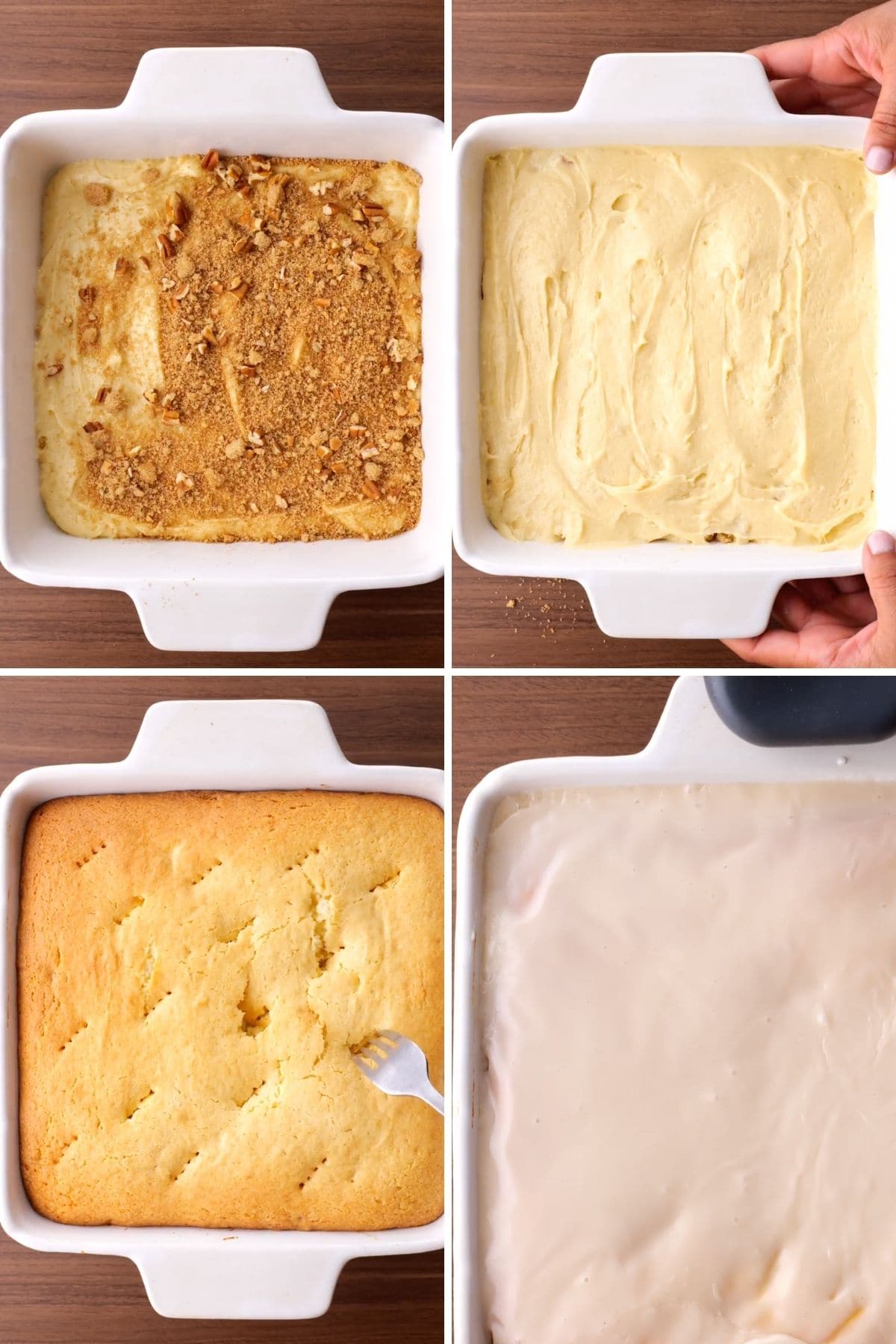 Create a free account to

Save Recipes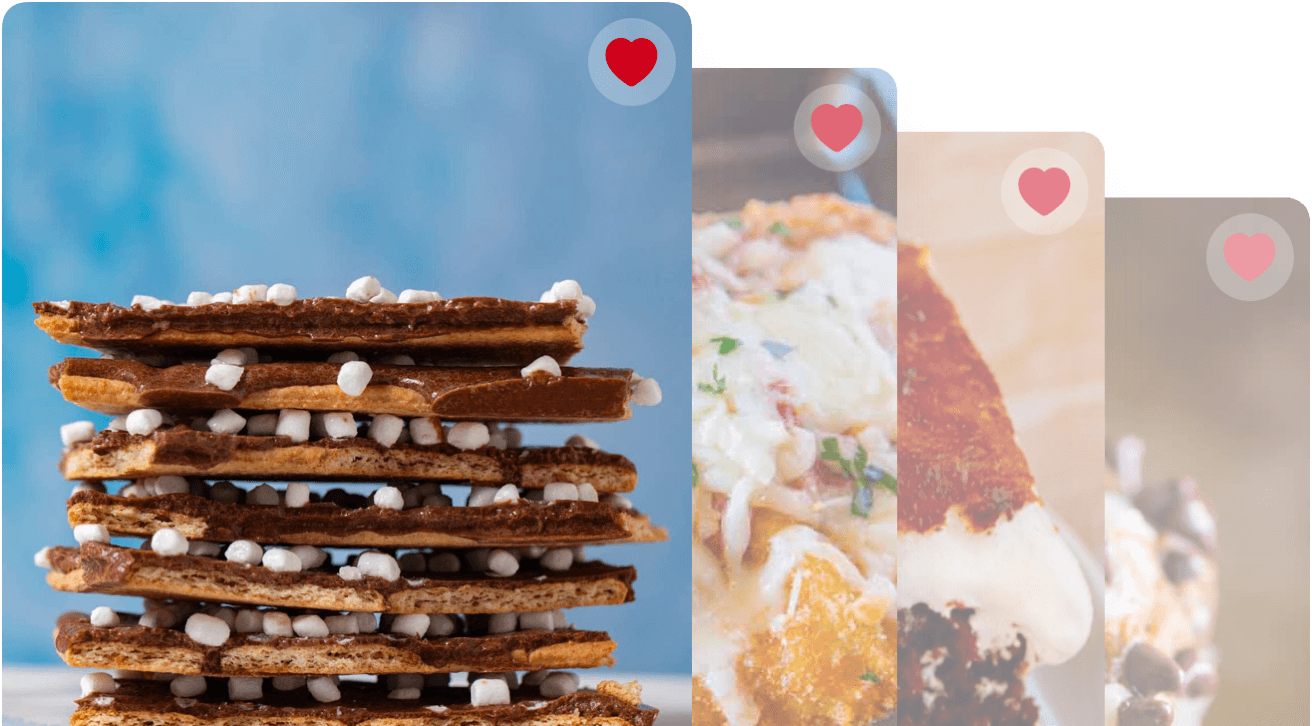 Key Ingredients in Honey Bun Cake
This recipe is a cake, and so it has all the classic cake ingredients – all easily found in the baking section of your favorite supermarket.
Flour: All-purpose flour is what we're using here and is great, as is cake flour, or even the boxed kind in a pinch.
Sugar: Brown sugar is a critical ingredient in this. If you don't have it, you'll have to make your own by adding a tablespoon of dark molasses to white sugar and mixing until coated.
Vanilla: Real vanilla extract takes the cake over artificially flavored vanillin. Your tastebuds will thank you!
Pecans: These are not walnuts. You can find bags of chopped pecans in the baking section of your closest grocery store.
Milk: The three tablespoons milk is important as it helps to dissolve the ingredients together. Whole milk adds the yummy flavor not found in skim or 2%.
Eggs: Large brown eggs taste amazing, but regular white ones are just as good too!
Sour Cream: This adds a creamy goodness that makes the cake worthy.
Vegetable oil: You can use canola oil or another commonly preferred cooking oil.
Pan Size Ratios for Honey Bun Cake
We're using a 9×9 square baking pan. But you can use another style if preferred. Check it out!
9×13 Square: If you'd like to use a 9×13 pan, you'll want to double the recipe and add 5 minutes to the bake time.
10in Round: You can use a 10 inch round pan without adjusting the measurements.
Doubled: Depending on the type of pan you'll be using you'll want to base the bake time on the pan. If you're making two cakes in two separate pans at the same time, you may need at add 5-10 mins more to the cooking time.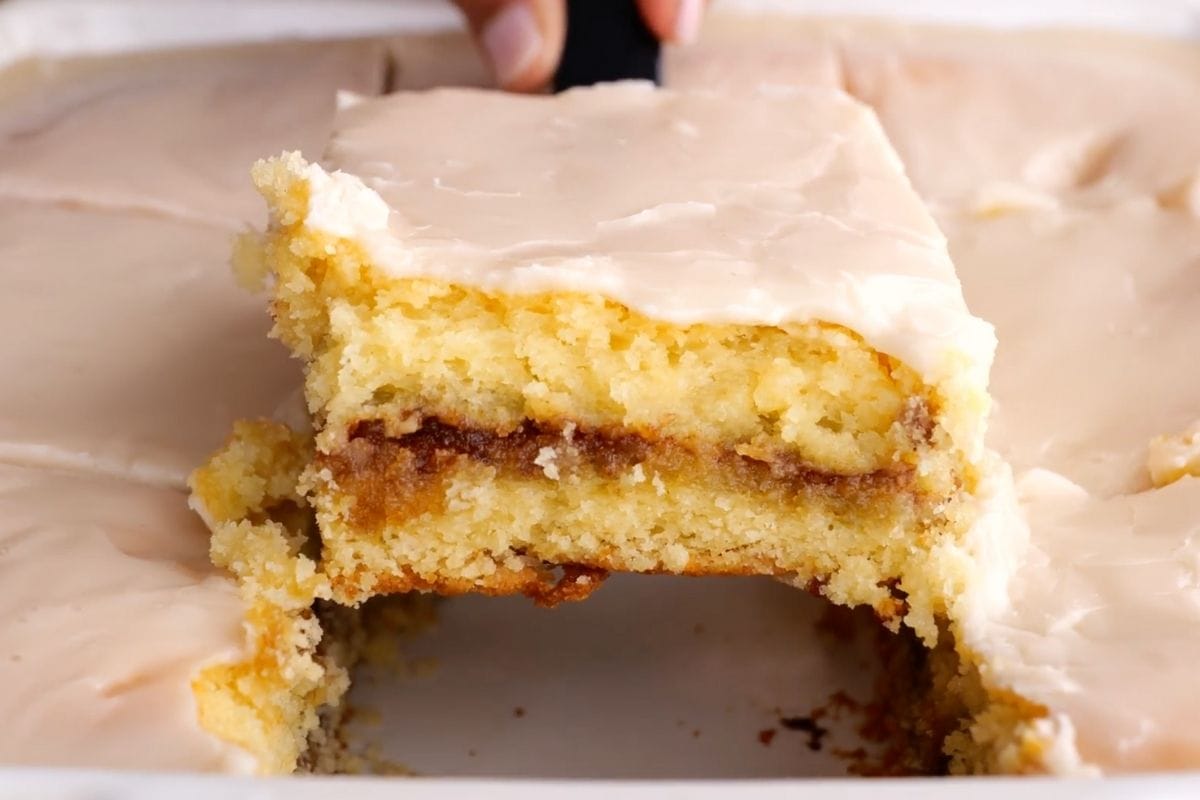 How to Serve Honey Bun Cake
The world is waiting for your Honey Bun Cake. You can serve it anytime, anywhere, for any reason. But, here's some more specific ideas.
More Honey Flavored Dishes
How to Store Honey Bun Cake
Serve: Once completely cooled, slice and serve Honey Bun Cake at room temperature.
Store: Sealed tightly, Honey Bun Cake will keep on the countertop for up to 3 days and in the refrigerator for up to a week.
Freeze: This cake freezes well because the thick glaze and brown sugar filling keep the yellow cake moist. Freeze the whole cake, or individual slices, wrapped well in plastic then foil in the freezer for 2-3 months, and thaw completely at room temperature before serving.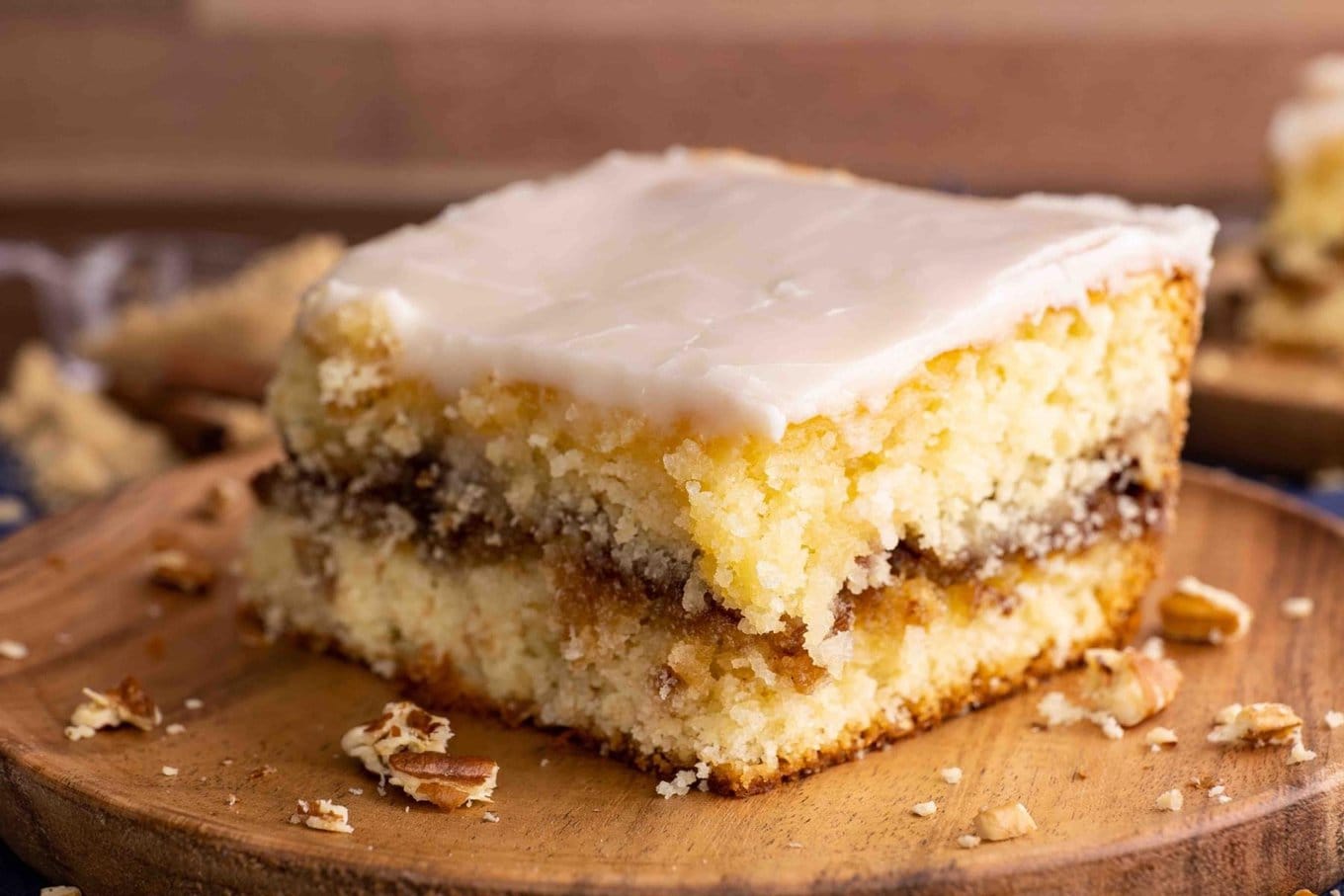 Ingredients
Yellow Cake:
2 1/4

cups

flour

1 1/2

cups

sugar

1

tablespoon

baking powder

1

cup

sour cream

1/4

cup

vegetable oil

1/2

cup

unsalted butter

, softened

1

tablespoon

vanilla extract

2

large

eggs

2

large

egg yolks
Brown Sugar Pecan Filling:
1

cup

brown sugar

, packed

1/3

cup

pecans

, chopped

2

teaspoons

cinnamon
Instructions
Preheat oven to 350 degrees. Spray a 9×9 inch baking pan with baking spray.

In your stand mixer, mix the softened butter, sour cream, vegetable oil, vanilla and eggs and egg yolks until fully combined and lightened then add in the flour, sugar, and baking powder on low speed.

Pour ½ of the batter in the bottom of the baking pan and spread.

In a small bowl mix the brown sugar, cinnamon and pecans and sprinkle over the cake batter in the baking pan.

Add in the remaining half of the batter carefully and bake for

45 minutes

until the top is just golden brown.

Combine the powdered sugar, milk and vanilla, poke the cake with a fork 10-15 times and and pour over the cake then let cool completely.
Nutrition
Calories:
454
kcal
|
Carbohydrates:
83
g
|
Protein:
4
g
|
Fat:
12
g
|
Saturated Fat:
6
g
|
Cholesterol:
70
mg
|
Sodium:
36
mg
|
Potassium:
207
mg
|
Fiber:
1
g
|
Sugar:
63
g
|
Vitamin A:
210
IU
|
Vitamin C:
0.2
mg
|
Calcium:
101
mg
|
Iron:
1.6
mg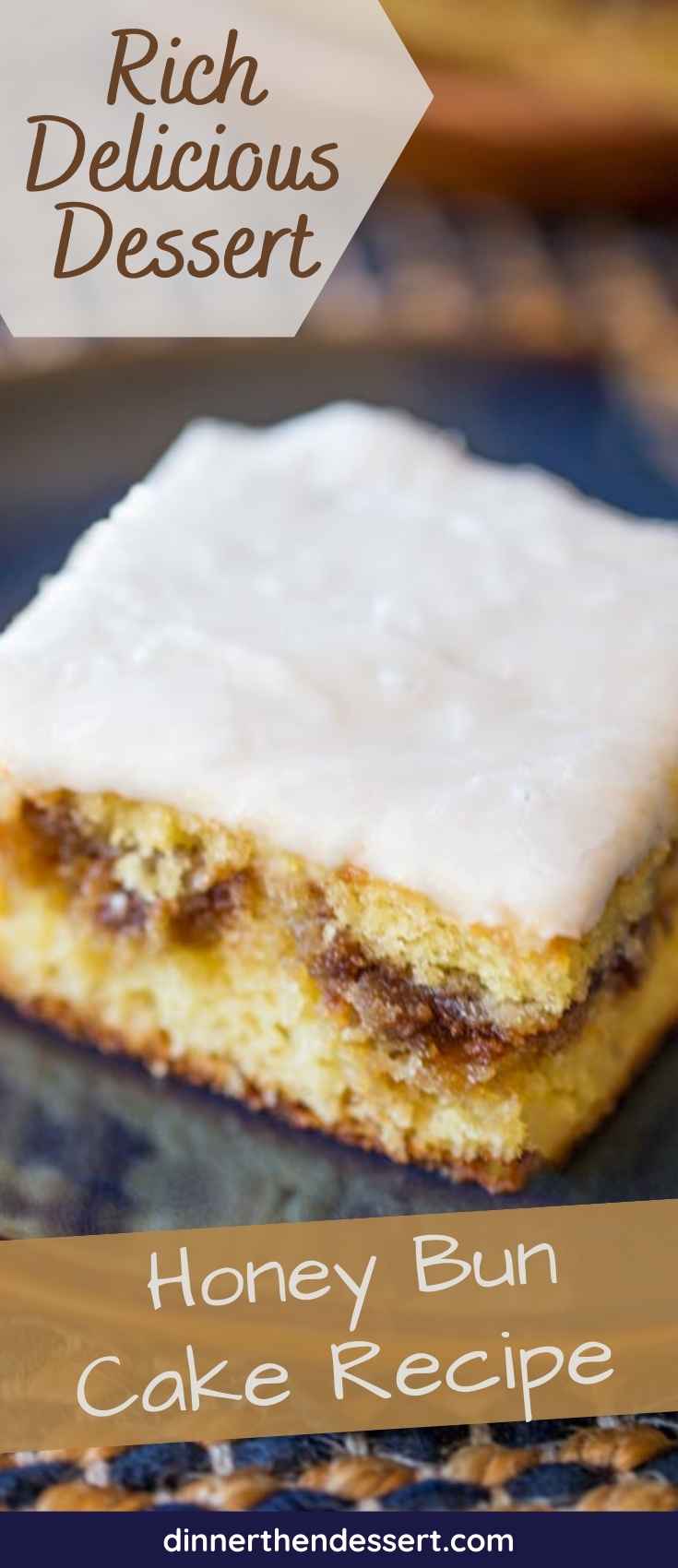 Photos used in a previous version of this post.