Legendary Frito Pie with cheese, ground beef, beans, and enchilada sauce baked with crispy Fritos on top is a childhood favorite!
We love easy Dinner Recipes like Tater Tot Casserole, Ultimate Sloppy Joes, and Cheesy Taco Pasta. These are classic childhood favorites!

Made with crunchy corn chips, Frito Pie is probably not going to win any creativity awards, but it is a quick and easy childhood classic that should be enjoyed once in a while as a treat for dinner and for gameday parties! In fact, it will be one of the first dishes to disappear because of it being a hearty dish.
The origins of this dish is a bit murky, but it likely came from Texas where an old recipe for a Texas Frito Pie was published in the 1940's which included Fritos chips being served with chili. The beans and beef in this recipe make a slight approximation to chili, but without the effort of making a chili-only meal.
Yes, we believe that it is guaranteed to be a family favorite. You can serve this along with homemade Loaded Mashed Potatoes and Easy Grilled Corn. Oh, and don't forget to serve a delicious dessert at the end, like Banana Cream Pie for a feast that will satisfy even the largest of appetites.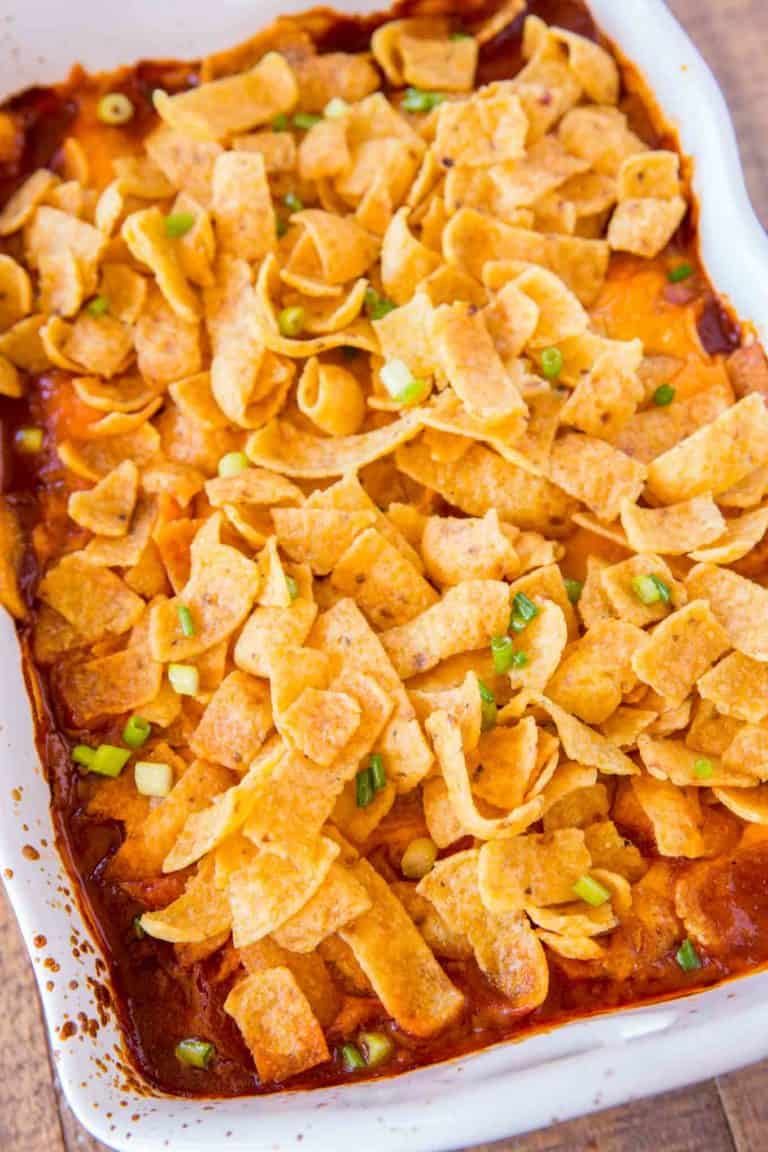 How to Make Frito Pie
This yummy chili-pie is really easy to make with only 6 ingredients and is cooked in just 20 minutes!
Step One: Cook up the beef and onions on medium heat.
Step Two: Layer the meat mixture on the bottom of the baking dish or casserole dish, and then layer the other ingredients on top.
Step Three: It's ready after 20 minutes of baking! Serve with your favorite toppings.
More Easy Southern Dinner Foods
Frequently Asked Questions
What is Frito Pie? 
Frito Pie is like a Southwestern style casserole. Using a chili base of beans, meat, and sauce, a few extra ingredients are added, namely cheese and corn chips, usually Fritos brand. It's a classic comfort dish. 
What are Fritos/Corn Chips?
Fritos is a brand name. Compared to regular tortilla chips, corn chips are a bit thicker, crunchier, and saltier. Corn chips are made from ground cornmeal that's minimally processed versus the tortilla chips which are made from corn that has been soaked, cooked, and treated with lime. 
Can I use tortilla chips instead of corn chips? 
It's not recommended. Corn chips will maintain their crunchiness more than tortilla chips. 
What are "walking tacos"? 
If you're thinking back to your childhood you may remember a version of this recipe called "walking tacos" which is a Frito Pie in a bag made with a small bag of Fritos topped with chili, cheese, and onions.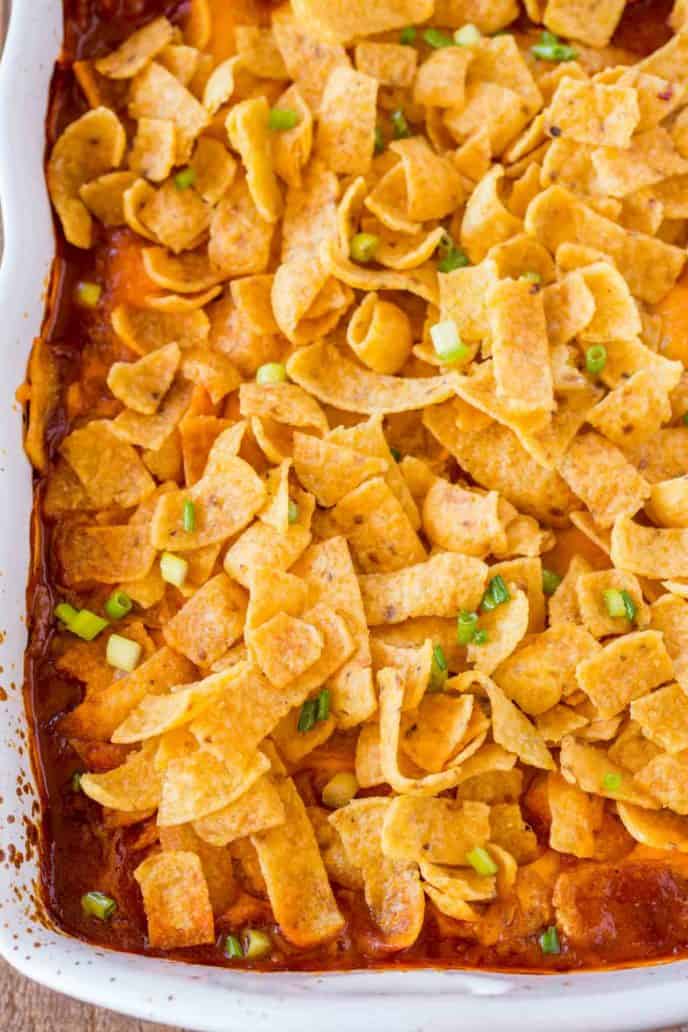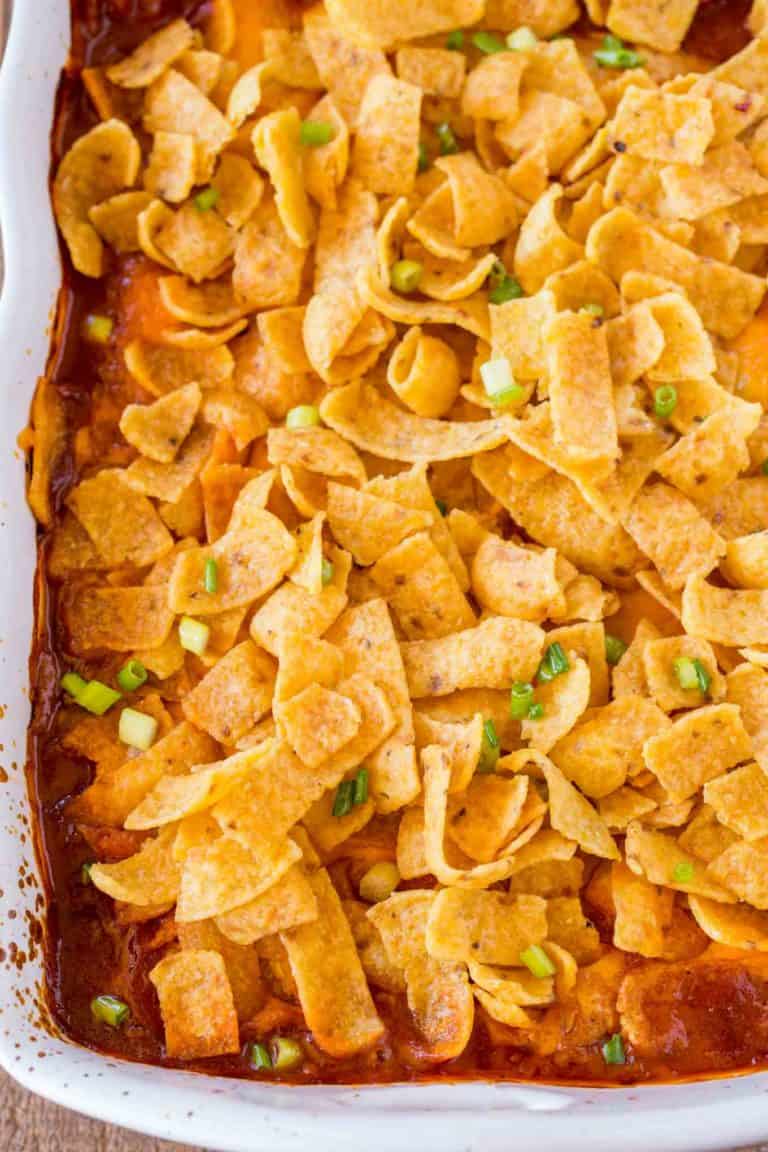 Create a free account to

Save Recipes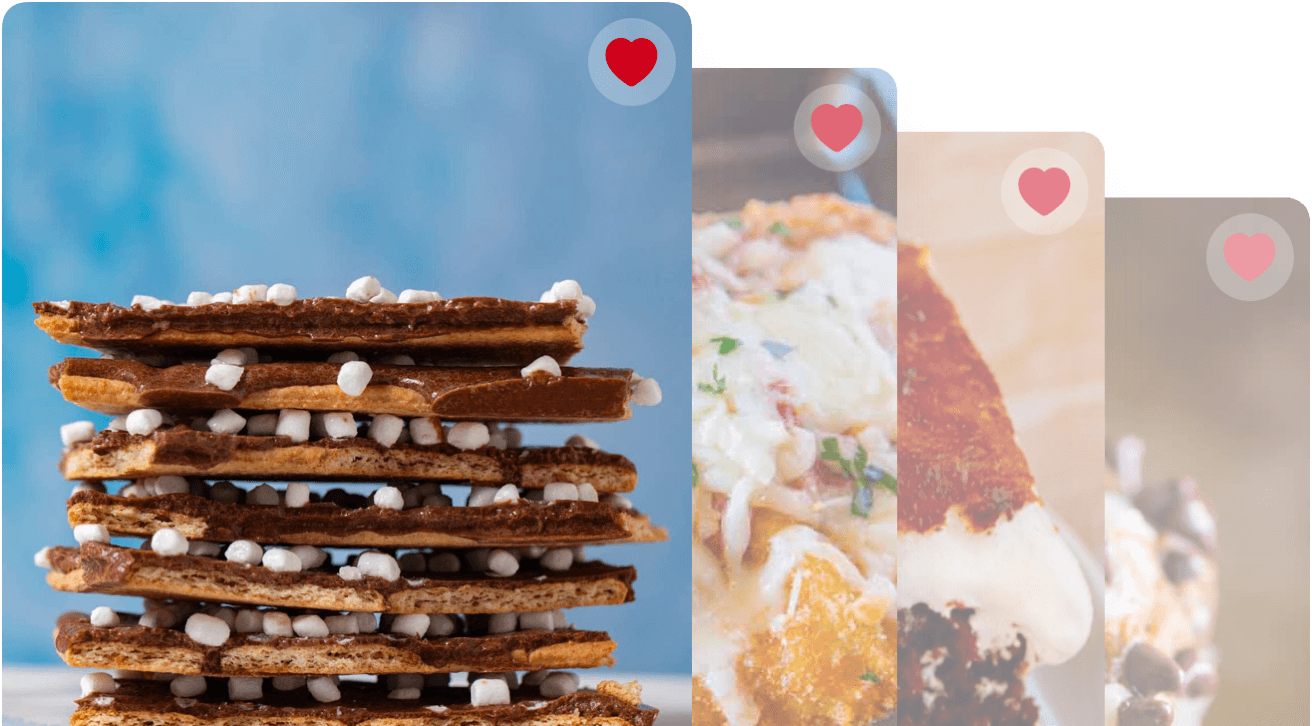 Key Ingredients in Frito Pie
While you could also make this Frito Pie with canned chili, but we prefer to make recipes with mostly homemade ingredients. Making the beef and bean mixture from scratch takes just minutes and all the ingredients can be found at your local grocery store. You can go as fancy as you'd like, but for this recipe we are sticking with the classics.
Meat: Choose lean ground beef to make this recipe. You can also make the recipe with ground chicken and ground turkey as well.
Onion: We have chosen yellow onion for this recipe, but you can use white onion, or even red onion as well if that's what you have at home.
Beans: Ranch style beans are a popular type of bean dish found in the Southwest. They are made with pinto beans in a chili-based sauce that includes the classic "ranch" sauce flavors. You can make your own by mixing two tablespoons of a chili powder blend to cooked pinto beans and a full packet of dry ranch seasoning. Mix well before layering. If you have a can of green chilis, throw that in there too.
Cheese: For best results, make your own shredded cheese. You can also use a Mexican cheese blend too. But feel free to try others.
Corn Chips: Fritos brand will probably be the easiest to find in the supermarket. But if you have access to others, feel free to use those ones.
Enchilada Sauce: Homemade enchilada sauce is packed with a flavor you can use in many dishes. It is super easy to make at home and packs more flavor than the canned kind.
Variations on Frito Pie
The dish doesn't have to be too complicated and you can adjust flavors as you'd like. You can make these flavors more like a traditional taco and use taco seasoning in the mix, top with salsa instead of enchilada sauce, and serve with sour cream, lettuce, and tomatoes.
Slow Cooker Frito Pie: Add all the ingredients except the Fritos to a slow cooker in the same order and cook on high for 2 hours, top with chips and cheese and cook for another 30 minutes on high, uncovered.
Meal Prep Frito Pie: Assemble all the ingredients except for the chips ahead and refrigerate. When ready to bake, top with the chips and cook for an additional five minutes to account for temperature difference.
Individual Frito Pie: Cut open mini bags of Fritos on their side. Bake the Frito Pie without the Fritos, then scoop a portion and spoon on top of the bag of Fritos. Top with sour cream and cheese.
Tex-Mex Frito Pie: While this is already a Texas classic meal and snack, take it a bit further by adding sautéed fajita peppers and roasted corn to the mix. You won't be disappointed.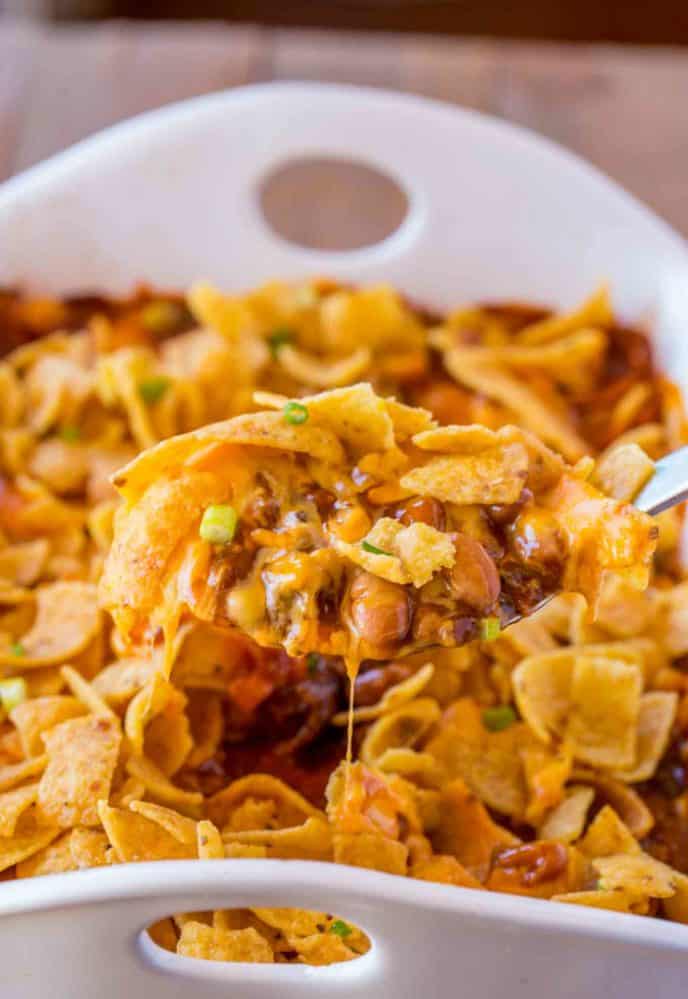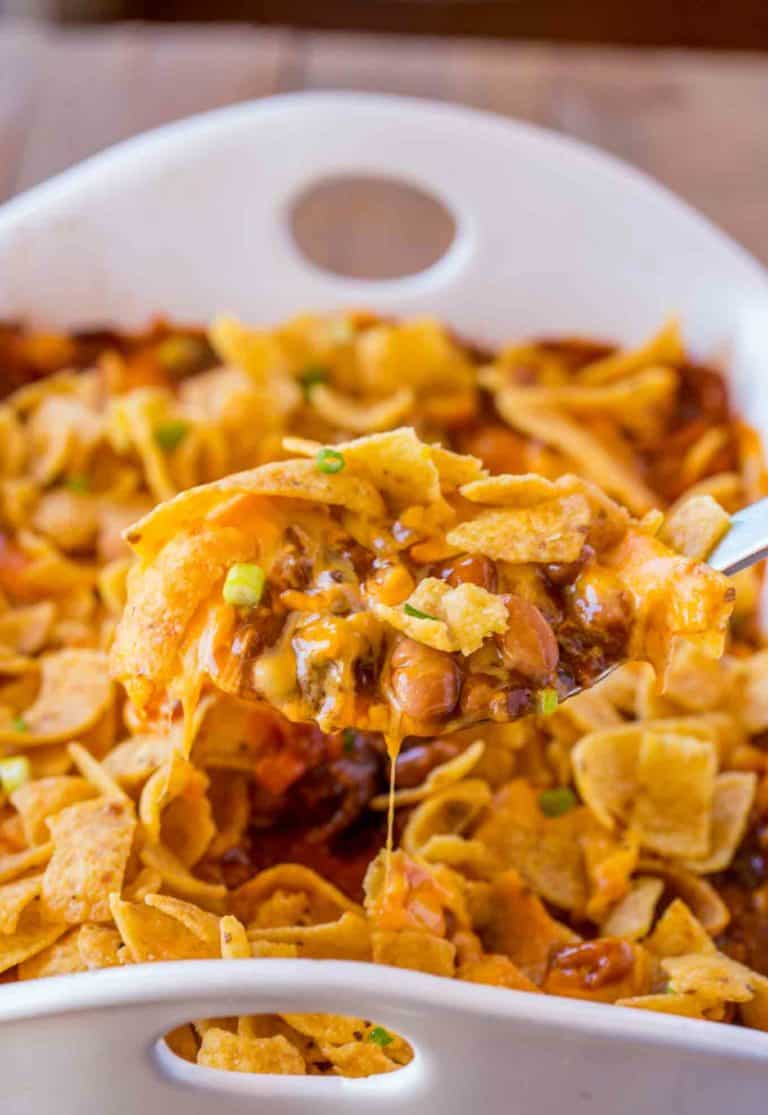 How to Serve Frito Pie
This is a meal fit for kings and queens. There are so many things you can serve with it. Think classic taco toppings for a good idea of how to serve it. Check out more of these optional toppings:
shredded lettuce
salsa
refried beans
diced tomatoes
hot sauce
sour cream
guacamole or diced avocado
How to Store Frito Pie
Serve: Serve this dish hot. Cover when not in use. Refrigerate after an hour.
Store: You can keep this dish, if there's any leftover, in an airtight container the fridge for 3 to 4 days. Reheat to 145º on the stovetop or microwave.
Freeze: This dish will store in your freezer in an airtight container for up to 6 months. Let it thaw overnight in the refrigerator. Then reheat as you normally would.


Ingredients
1

pound

lean ground beef

1

yellow onion

, chopped

20

ounces

Ranch Style beans

, drained

4

cups

Fritos chips

20

ounces

enchilada sauce

2

cups

cheddar cheese

, shredded

green onions

, sliced (optional)
Instructions
Preheat the oven to 350 degrees and put the ground beef and onions in a large skillet on medium high heat.

Cook the beef and onions for

6-8 minutes

or until cooked through then layer the meat in the bottom of a 9×13 inch pan.

Add the beans on top followed by the enchilada sauce, cheese, and chips.

Bake for

20 minutes

uncovered and garnish with green onions if desired.
Nutrition
Calories:
613
kcal
|
Carbohydrates:
52
g
|
Protein:
27
g
|
Fat:
33
g
|
Saturated Fat:
12
g
|
Cholesterol:
69
mg
|
Sodium:
1068
mg
|
Potassium:
511
mg
|
Fiber:
9
g
|
Sugar:
5
g
|
Vitamin A:
755
IU
|
Vitamin C:
2.5
mg
|
Calcium:
308
mg
|
Iron:
3.8
mg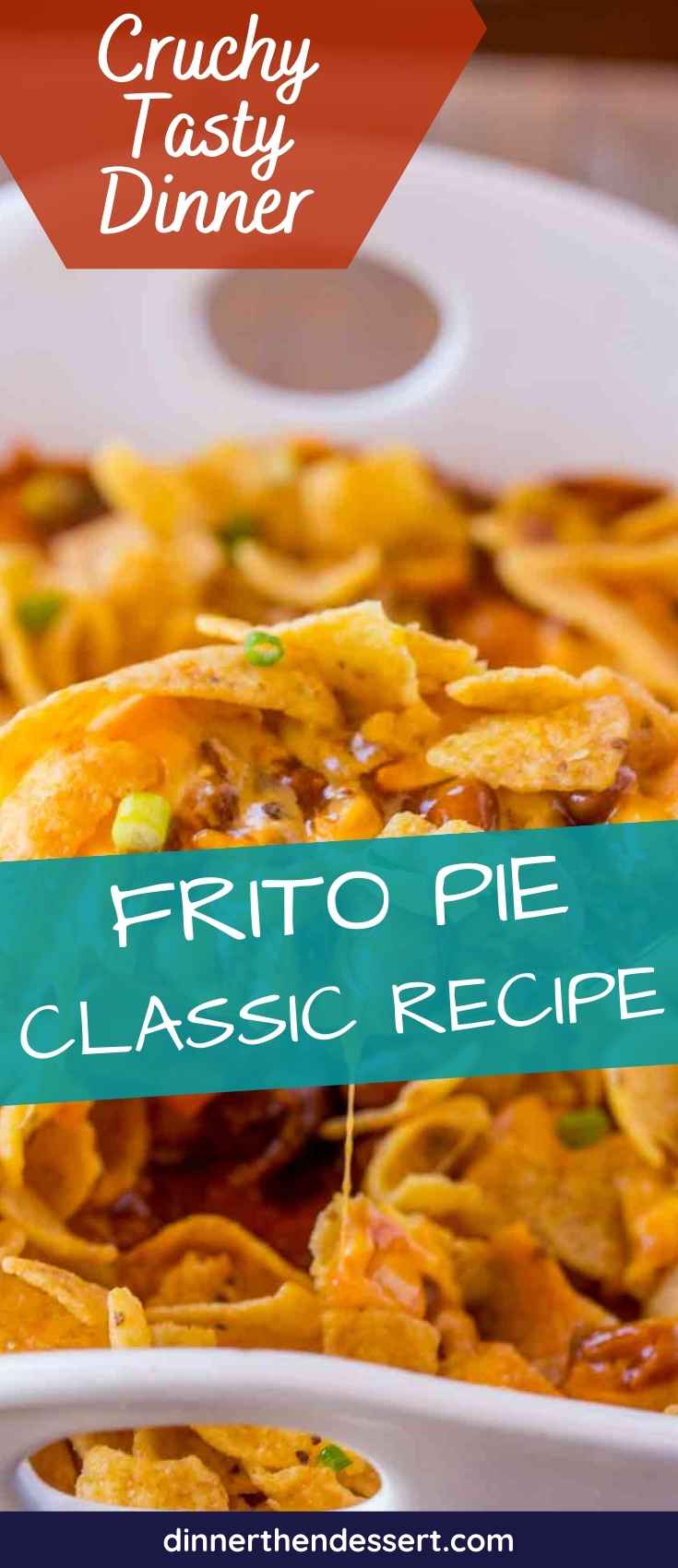 Photos used in a previous version of this post: