Cheesy Taco Pasta
This post may contain affiliate links. Read my disclosure policy here.
Cheesy Taco Pasta is easy to make and tastes like the Hamburger Helper you used to eat as a kid except better. Much better.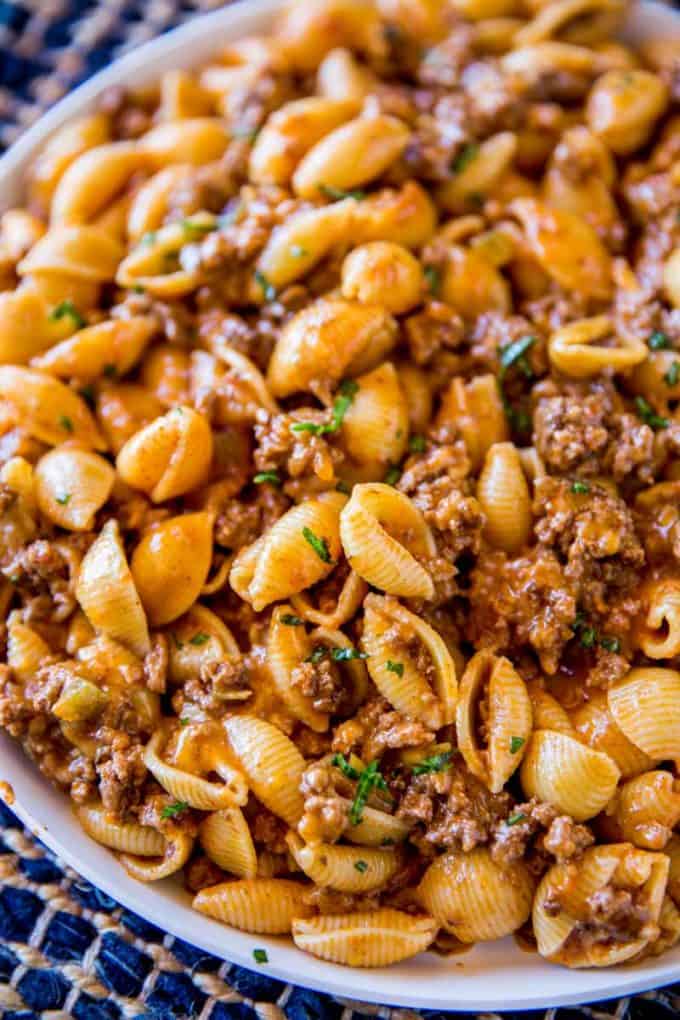 Cheesy Taco Pasta is my nod to the hamburger helper I grew up eating as a kid. While this isn't exactly the "crunchy taco hamburger helper" because I skipped adding the tortilla chips on top, the ooey gooey meat and cheese sauce is still the same and with just a few ingredients!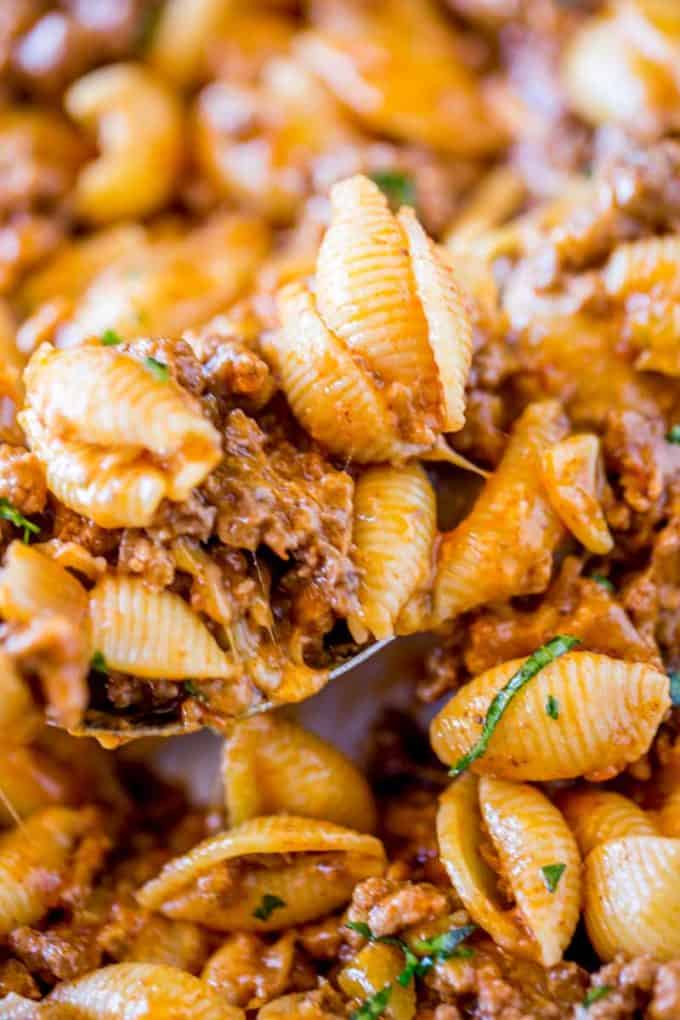 You can certainly add your own fresh vegetables to the mix instead of the salsa, but I used a good jarred salsa and it tasted fantastic. On occasion I've also used fresh salsa (I firmly believe that recipe is one of the best ever), but the higher water content of it makes the pasta more watery.
You can also make this Cheesy Taco Pasta as cheesy as you'd like. I added only a single cup of cheese, while some in my family will add additional piles of cheese to their plate. If you want your pasta to be really cheesy I suggest 2 cups of cheese.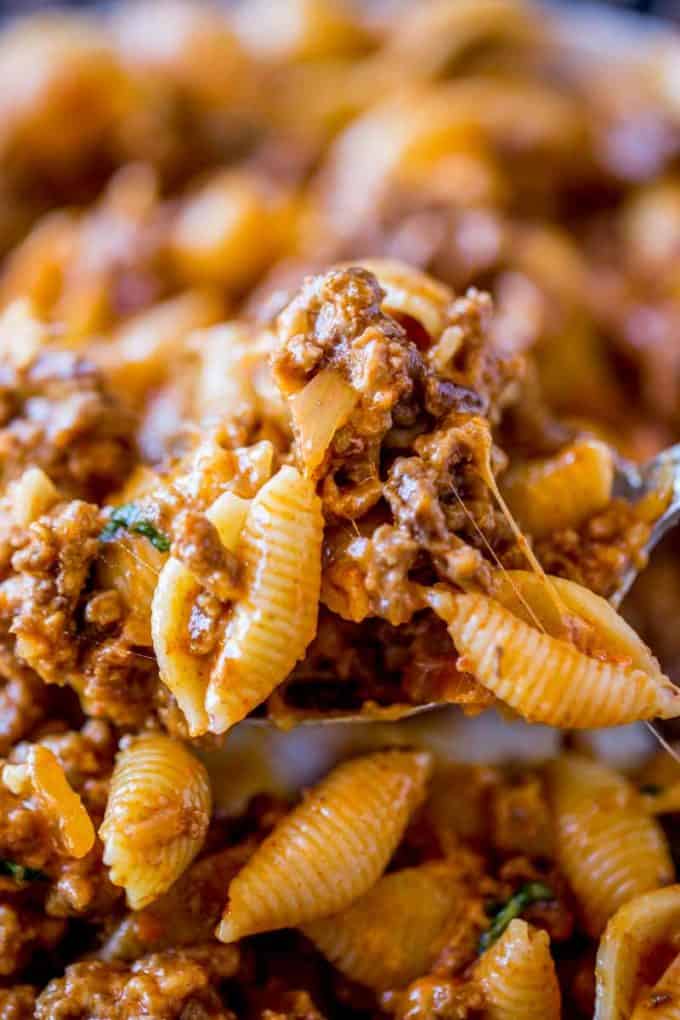 You can also freeze this pasta for a later date. I'd skip adding the cheese and when you defrost it, use a cup of chicken or beef stock. Then once warmed through add the cheese, mix and serve.
Looking for more great cheesy pasta dishes? Look no further: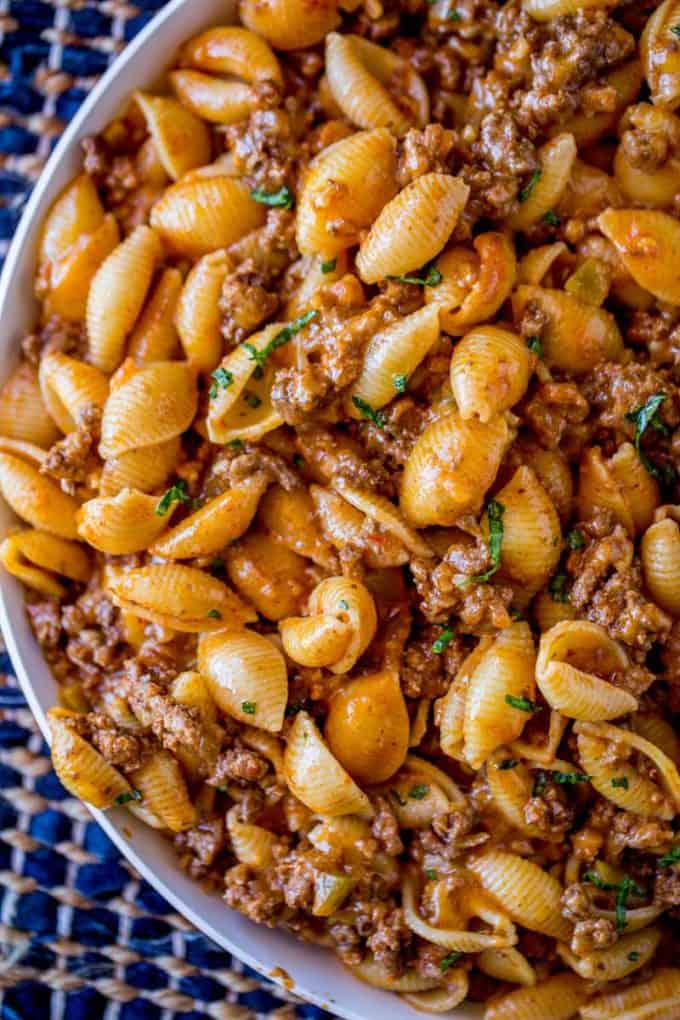 And yes, you can absolutely add crushed chips to the top! Then you'll be re-living some awesome childhood hamburger helper memories. Or if you want something a bit different you can also make my Mexican Stuffed Peppers with all the taco flavors but none of the pasta!
MY OTHER RECIPES
Tools Used in the making of this Cheesy Taco Pasta:
Cast Iron Skillet: This is my most used pan in my kitchen, heavy, keeps heat well and gives the BEST sear ever.
Large Shells Pasta: I am linking to this because when I sent my husband to the store to get large shells he brought home the variety you stuff! So for reference here is the size you need!
Jarred Salsa: Cuts the prep time down to just a couple of minutes and the flavors are still outstanding.
Taco Seasoning: I use this to cut down on prep time but still keep quality high. You can use my Homemade Taco Seasoning recipe if you'd prefer not to use a packet.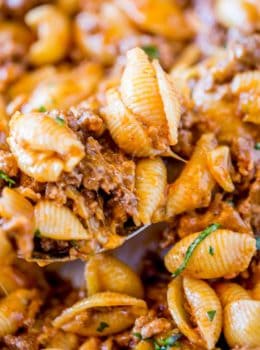 Cheesy Taco Pasta
Cheesy Taco Pasta is easy to make and tastes like the Hamburger Helper you used to eat as a kid except better. Much better.
Ingredients:
Directions:
Cook the shelled pasta according to the directions on the box and drain.
Add the ground beef to the pan and brown well.
Drain the fat.
Add the taco seasoning and 3/4 cup of water, stir and cook until water is gone.
Add the pasta back into the pot with the salsa and cheese.
Stir to combine.
Serve immediately, preferably with crunchy tortilla chips (optional) on top.
Homemade Taco Seasoning:
1/4 cup chili powder
1 teaspoon garlic powder
1 teaspoon onion powder
1/2 teaspoon cayenne powder
1 teaspoon dried oregano
2 teaspoons paprika
3 tablespoons ground cumin
1 tablespoon Kosher salt
2 teaspoons black pepper
Add to a small coffee grinder or food processor and process until all blended and the oregano isn't in small bits anymore.
Use 1-2 Tablespoons to equal 1 seasoning packet
All images and text ©
Made this recipe?
Show me what you made on Instagram or Facebook and tag me at @DinnerthenDessert or hashtag it at #dinnerthendessert.
Dinner, then Dessert, Inc. owns the copyright on all images and text and does not allow for its original recipes and pictures to be reproduced anywhere other than at this site unless authorization is given. If you enjoyed the recipe and would like to publish it on your own site, please re-write it in your own words, and link back to my site and recipe page. Read my disclosure and copyright policy. This post may contain affiliate links.