Chicken Bacon Ranch Pasta Bake is an easy casserole with creamy alfredo sauce with ranch flavors, chicken, bacon and pasta all baked together for a perfect weeknight meal.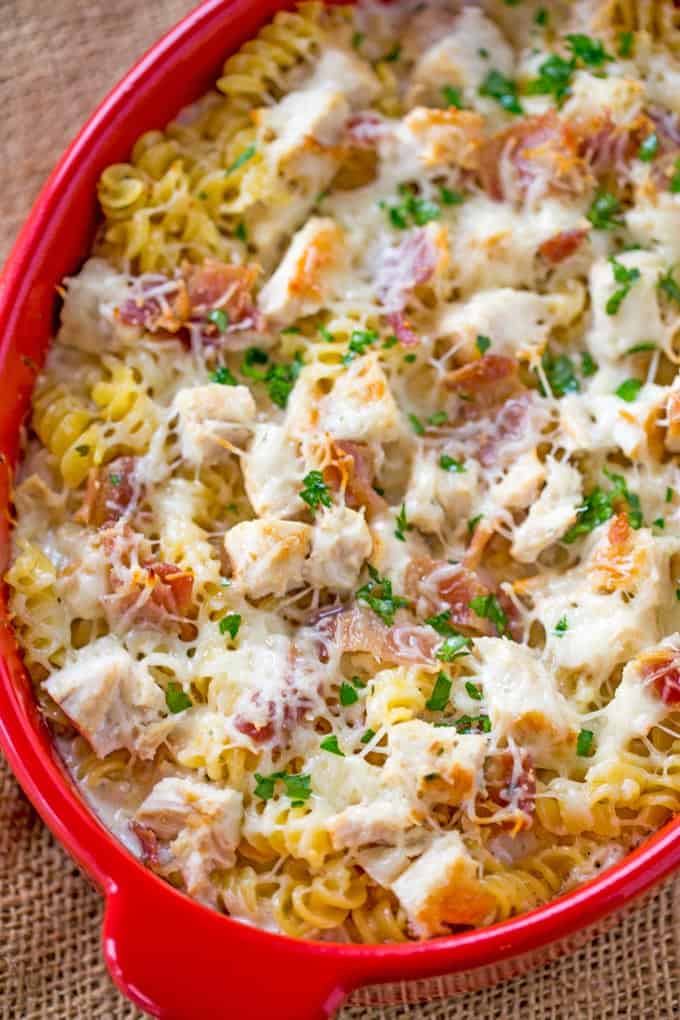 Chicken Bacon Ranch Pasta Bake is actually a meal I can't really take any credit for at all. A friend of mine in college used to use ranch dressing packets in her meals and would sprinkle it on her veggies and chicken to give her the flavors of ranch without all the calories of the dressing.
One day when we were having a decidedly unhealthy cooking spree we decided to add the ranch dressing packet mix to macaroni and cheese. It was amazing. From then on we added it to all our cheesy pasta bakes.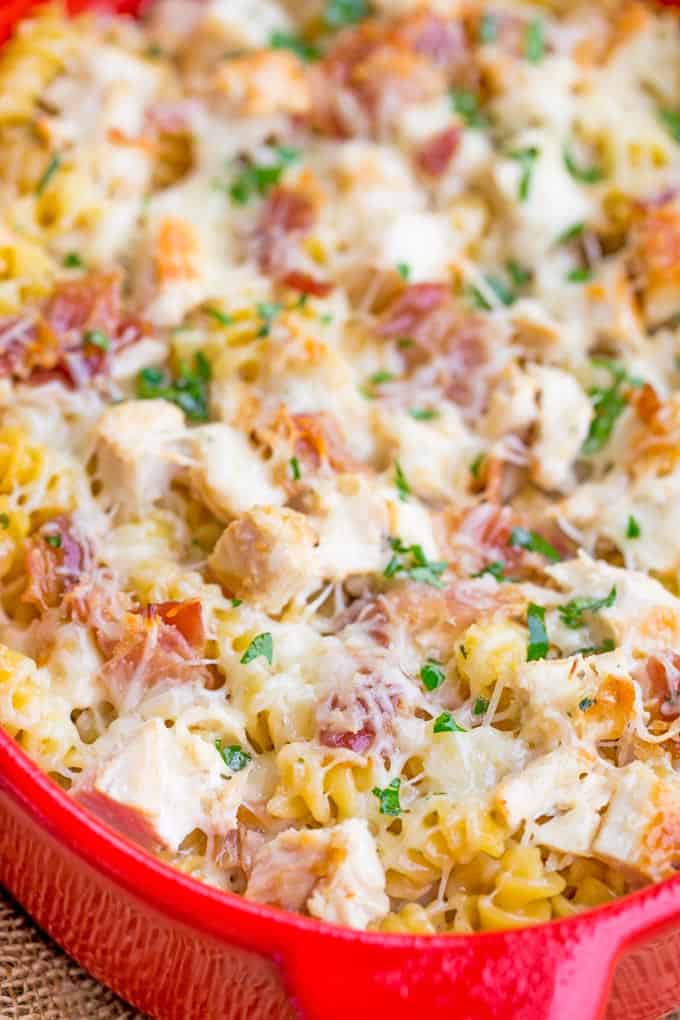 These days I don't really add ranch mix to everything, but when I was on Pinterest and saw "Ranch Chicken" it reminded me of the ranch mac and cheese and I knew this had to happen (PS I also have a Slow Cooker Bacon Ranch Chicken Sandwich I am working on this weekend, just for you all of course!).
The Chicken Bacon Ranch Pasta Bake may look involved but it is really just a creamy cheese sauce with pasta, chicken, and bacon all cooked together. This makes for an easy dinner time meal that only needs something green to make you feel like it's a balanced meal.
Looking for more pasta bakes?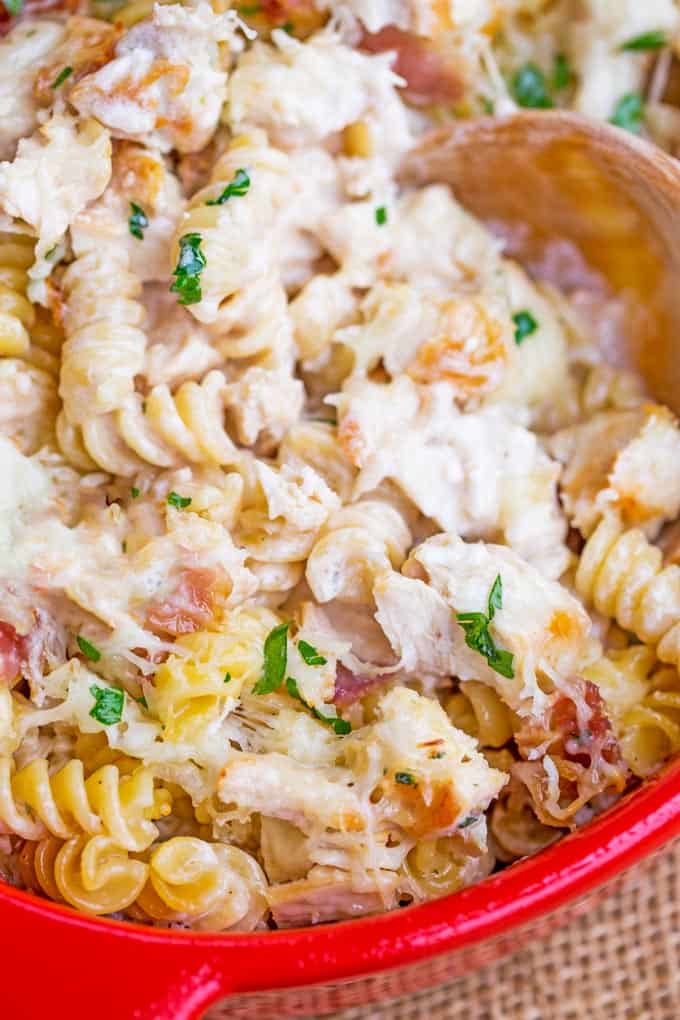 A couple of notes about the Chicken Bacon Ranch Pasta Bake recipe:
I par-cook a lot of the ingredients (bacon, chicken, pasta) because you are going to bake this in your oven for 25 minutes. Bacon can go from chewy to cardboard and chicken breast meat is notorious for getting dry when over cooked.
You don't have to par-cook and if your ingredients are already cooked it is fine, just cook for 5-7 less minutes in the oven.
I score the chicken breasts so the ranch dressing has more surface area to adhere to. If you are trying to picture what that means think of a holiday ham. You know all those squares cut into the ham where the cloves are stuck into it? Aside from looking pretty those squares are there so the sauce poured on top before baking has a place to stay and bake into the ham.
Feel free to change up the cheese if you've got something else in your fridge. Mozzarella is great, Provolone or Parmesan would work well too.
The rotini I bought comes in a 12 ounce box, if you are using a full pound of pasta you may notice your sauce is minimal or your bake is dry if you don't increase the sauce as well. Make 1 ½ times the sauce portion, more sauce is always better than less sauce.
On that more bacon is also always better, so 😉 
Tools used in the making of this Chicken Bacon Ranch Pasta Bake:
Ranch Dressing Mix: This is a good version, in a shaker bottle so it costs much less than the packets and you don't have opened packets in your kitchen when you don't use a whole one. You can make a homemade one too like Ali did or buy organic.
Casserole Dish: I love baking in my rectangular baking pans, but beautiful casserole dishes make dinner time so much nicer too, and if you have company you can use this to keep on the table and look beautiful.
Cast Iron Skillet: I cook the bacon and chicken in this and make the sauce in it. This pan is my most used kitchen item after my chef's knife and lives on my stovetop (it is heavy!!) and gets used daily. 10k+ reviews on Amazon are not wrong, this pan is amazing.


Ingredients
For the filling:
8

slices

of bacon

2

boneless skinless chicken breasts

2

tablespoons

of canola oil

2

tablespoons

ranch dressing mix

12

ounces

rotini pasta

1

cup

shredded cheddar

1

cup

shredded jack cheese
For the sauce:
2

tablespoons

unsalted butter

1

tablespoon

minced garlic

1

teaspoon

ranch dressing mix

1

cup

heavy cream

1/2

cup

milk

or additional heavy cream

1/2

cup

shredded jack cheese

1/2

teaspoon

kosher salt

1/4

teaspoon

black pepper
Instructions
Preheat oven to 375 degrees and set your pasta water to boil (make sure to salt your pasta water).

Cook your bacon in a skillet to an almost done stage, about 20 seconds before it would actually be done, it will also bake in the oven.

Drain most of the fat from the pan and chop the bacon into small pieces and set aside.

Cut ½ inch deep criss cross patterns into the chicken to score it so the flavors can have more ridges to settle into.

Coat the chicken with the canola oil and ranch dressing powder.

In the same pan you made the bacon in, brown the chicken on both sides until it is almost done (again we are going to bake this so it will continue to cook in the oven).

Cut the chicken into one inch cubes. and set aside.

Cook your pasta according to package directions minus one minute. The pasta will finish in the oven too.

To make the cheese sauce, melt the butter in the pan and add in the chopped garlic.

Cook for 30-40 seconds or until you start to smell the garlic becoming very fragrant, but not browning.

Add in the heavy cream and the milk and whisk.

Add in the jack cheese, salt and pepper and whisk again, cooking for

2-3 minutes

or until the mixture has thickened.

Add the pasta to your pan, top with chicken.

Add half the jack and cheddar cheese, then pour on the sauce and top with the remaining cheese and bacon.

Cook uncovered in your oven for

20-25 minutes

.
Nutrition
Calories:
796
kcal
|
Carbohydrates:
49
g
|
Protein:
32
g
|
Fat:
52
g
|
Saturated Fat:
26
g
|
Cholesterol:
154
mg
|
Sodium:
1178
mg
|
Potassium:
424
mg
|
Fiber:
2
g
|
Sugar:
3
g
|
Vitamin A:
1165
IU
|
Vitamin C:
1.1
mg
|
Calcium:
413
mg
|
Iron:
1.3
mg