Creamy Parmesan Lemon Baked Pasta (5 Ingredients!)
Creamy Parmesan Lemon Baked Pasta made with just 5 ingredients!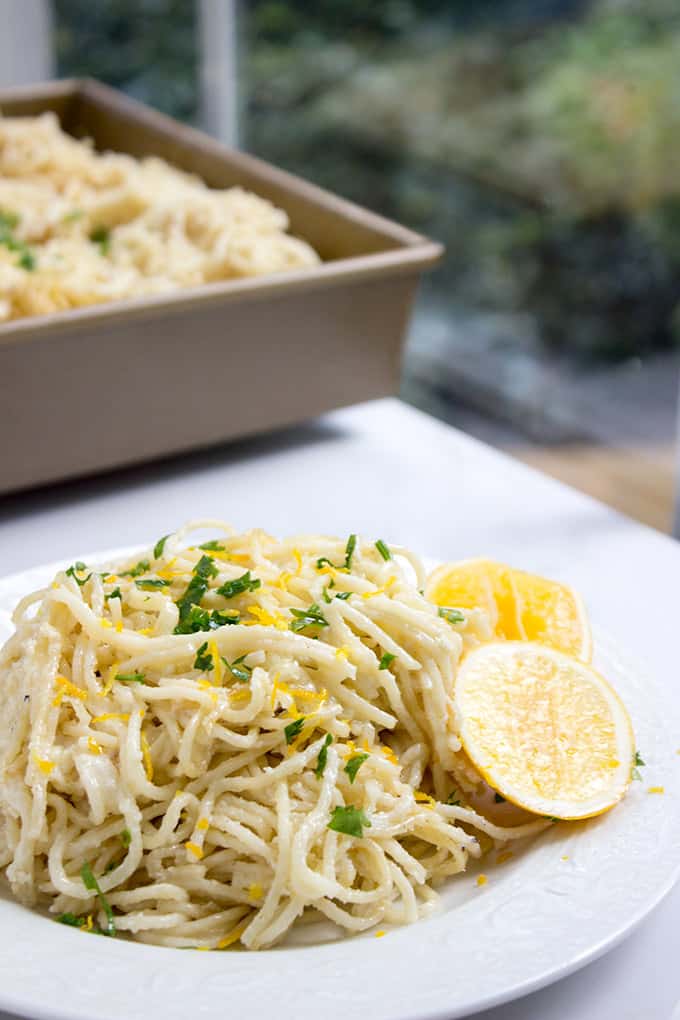 I'm pretty tired of the cold weather and I'm just dying to usher the Spring in (yes I know I am in California and cold is a relative term!). This Creamy Parmesan Lemon Baked Pasta is me ushering in the Spring and the bright flavors and colors in spite of the cold rainy weather we had yesterday. The dish is easy to make, kid friendly and makes for awesome leftovers.
Bonus tip about this recipe? I make it with short pasta too, especially rigatoni….because it is AMAZING served cold! If you are going to serve it cold, I recommend cooking it for only 10-15 minutes and when it comes out of the oven, stir is until the pieces are separated.
MY OTHER RECIPES
Want some awesome variations for the recipe?
Add FROZEN peas to the pasta just before putting it in the oven.
When you put the pasta in the oven also put a tray of asparagus or grape tomatoes topped with some olive oil, salt and pepper to roast.
Add chicken or shrimp!
Instead of pasta water you can add milk for an even creamier pasta.
Top with buttery toasted crackers like I did in the Baked Caesar Pasta I made a few months ago.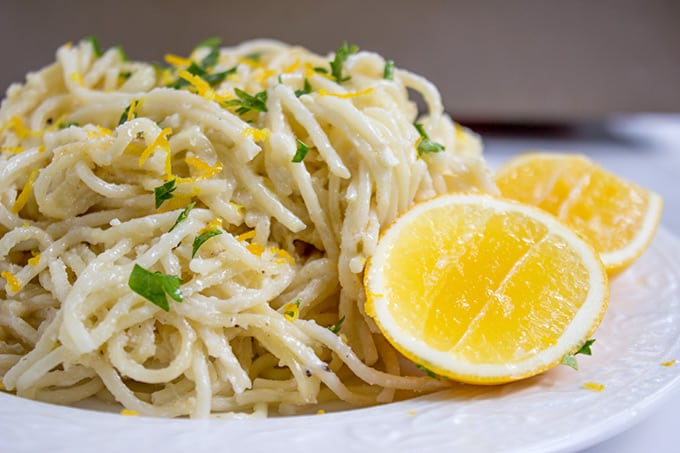 PS, I wanted/needed to give you guys a big THANK YOU! All day yesterday I got the most loving, wonderful feed back about Blogger Legal and so many well wishes that the love and support was almost overwhelming. I appreciate each and every comment and pat on the back. It was a lot of hard work but we already feel a weight lifted off our shoulders now that it is doing so well. Thank you again! I seriously love you guys.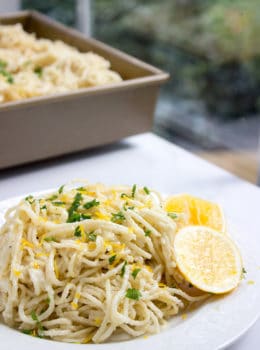 Creamy Parmesan Lemon Baked Pasta
Creamy Parmesan Lemon Baked Pasta made with just 5 ingredients (plus salt, pepper and olive oil)! Crispy on top and creamy inside with fresh lemon juice and lemon zest on top.
Prep Time 20 minutes
Cook Time 20 minutes
Total Time 40 minutes
Ingredients
1 tablespoon olive oil
4 cloves garlic
1 pound spaghetti
1 package cream cheese , softened
2 lemons (zested, one cut into wedges and one juiced)
6 ounces Parmesan cheese
kosher salt and pepper to taste
parsley for garnish (optional)
Instructions
Cook the pasta a minute less than what is labeled on the box in salted water.

Drain but do not rinse and save a 1/3 a cup of the pasta water.

In a hot large pot or pan add the garlic and olive oil.

Cook on medium high until just fragrant, 10-15 seconds.

Add in the cream cheese and Parmesan Cheese.

Stir to combine and add in two tablespoons of lemon juice, 2 teaspoons of lemon zest and 1/3 of a cup of the pasta water.

Add salt and pepper to taste (I add 1/2 teaspoon kosher salt and 1/2 teaspoon fresh cracked black pepper).

Mix well and add the pasta into the pot to combine.

Pour the pasta into a 9x13 pan and bake at 350 degrees for 15-20 minutes.

Serve with lemon wedges and sprinkle lemon zest on top and parsley if you're using it.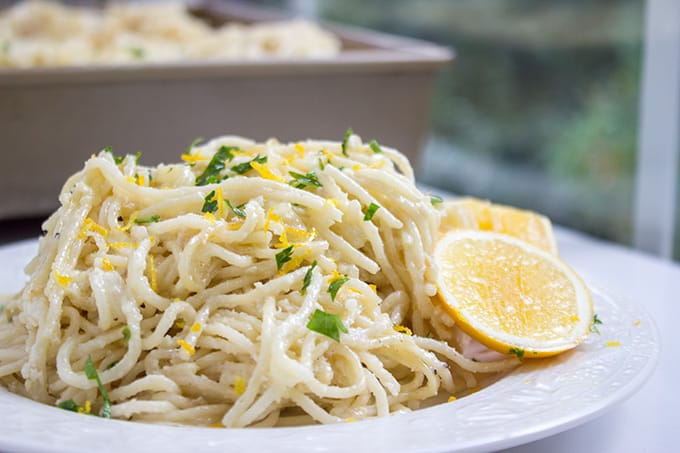 Dinner, then Dessert, Inc. owns the copyright on all images and text and does not allow for its original recipes and pictures to be reproduced anywhere other than at this site unless authorization is given. If you enjoyed the recipe and would like to publish it on your own site, please re-write it in your own words, and link back to my site and recipe page. Read my disclosure and copyright policy. This post may contain affiliate links.