Lemon Ricotta Pasta is an easy weeknight dinner of tender pasta tossed in a creamy lemon ricotta sauce with Parmesan cheese and fresh lemon!
Just as simple and delicious as Creamy Lemon Baked Pasta, this one pot Pasta Recipe is sure to be a family favorite. Easy enough for a quick weeknight dinner and fancy enough to be an Easter side dish!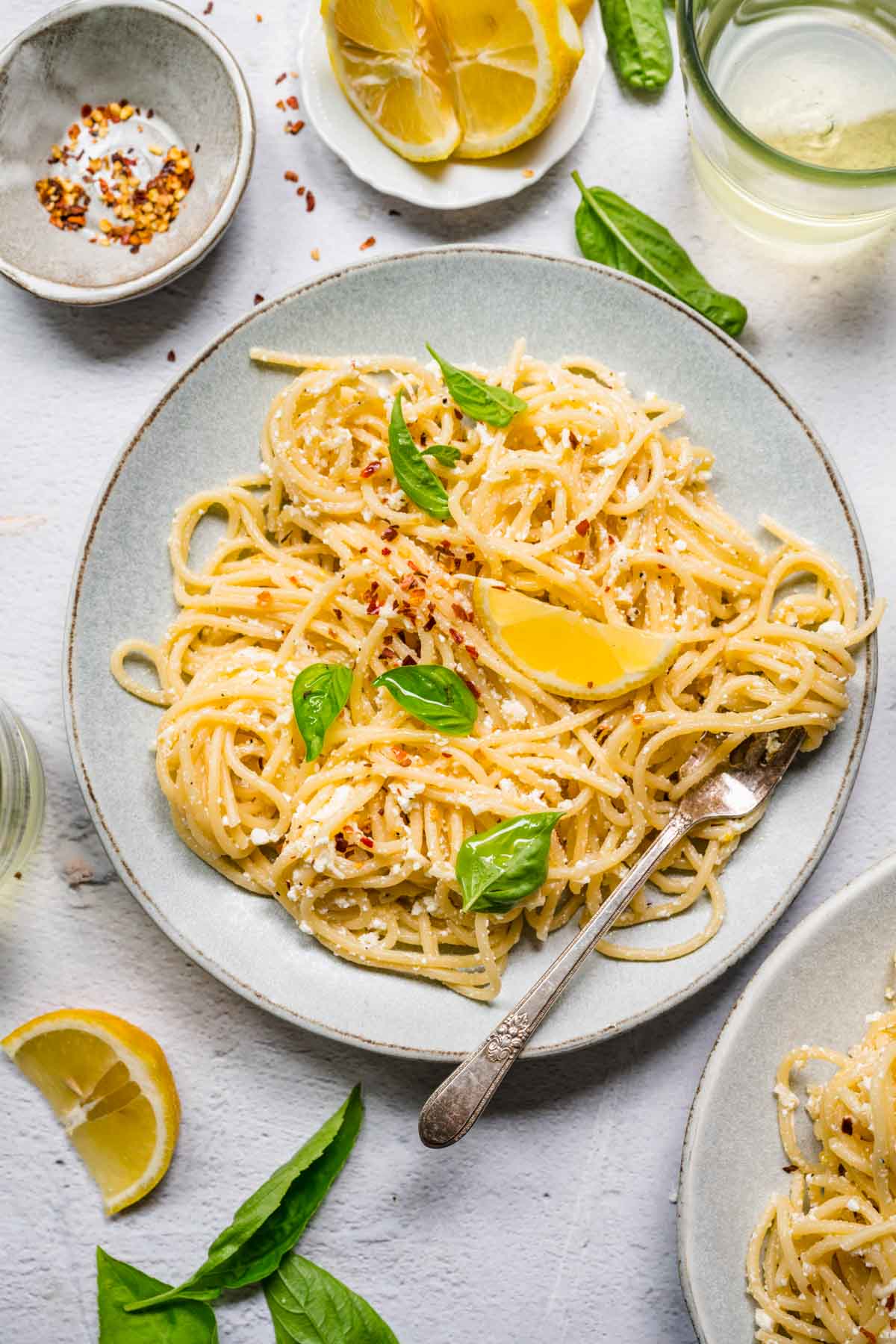 If you are looking for an easy Italian Recipe that will fill you up without weighing you down, this is the pasta recipe for you. This light, lemony pasta dish is the perfect weeknight dinner, especially for busy nights! It's made in less than 30 minutes with a handful of simple ingredients, most of which you probably already have on hand. Plus it's a one pan pasta dish so there is minimal clean up!
Since Lemon Ricotta Pasta only uses a few ingredients, you want to use the good stuff for the best flavor. Use whole milk ricotta cheese, fresh lemon juice and lemon zest, and a good quality olive oil for the lemon ricotta sauce. Grate the Parmesan cheese yourself or grab freshly grated Parmesan from the deli, not the packaged shelf stable kind near the dried pasta. Those Parmesan crumbles won't melt and they just don't have the intense nutty delicious flavor that makes Parmesan cheese unique.
This simple Lemon Ricotta Pasta recipe can be made in one pan to save on clean-up. Keep drained pasta in the colander while you make the ricotta mixture in the pasta pot. Return pasta to the large pot with ricotta sauce. If the pasta gets sticky while you make the ricotta sauce, drizzle with a bit of olive oil or pasta water before adding to the sauce. You can also transfer the cooked spaghetti and creamy ricotta sauce in a baking dish, top with more cheese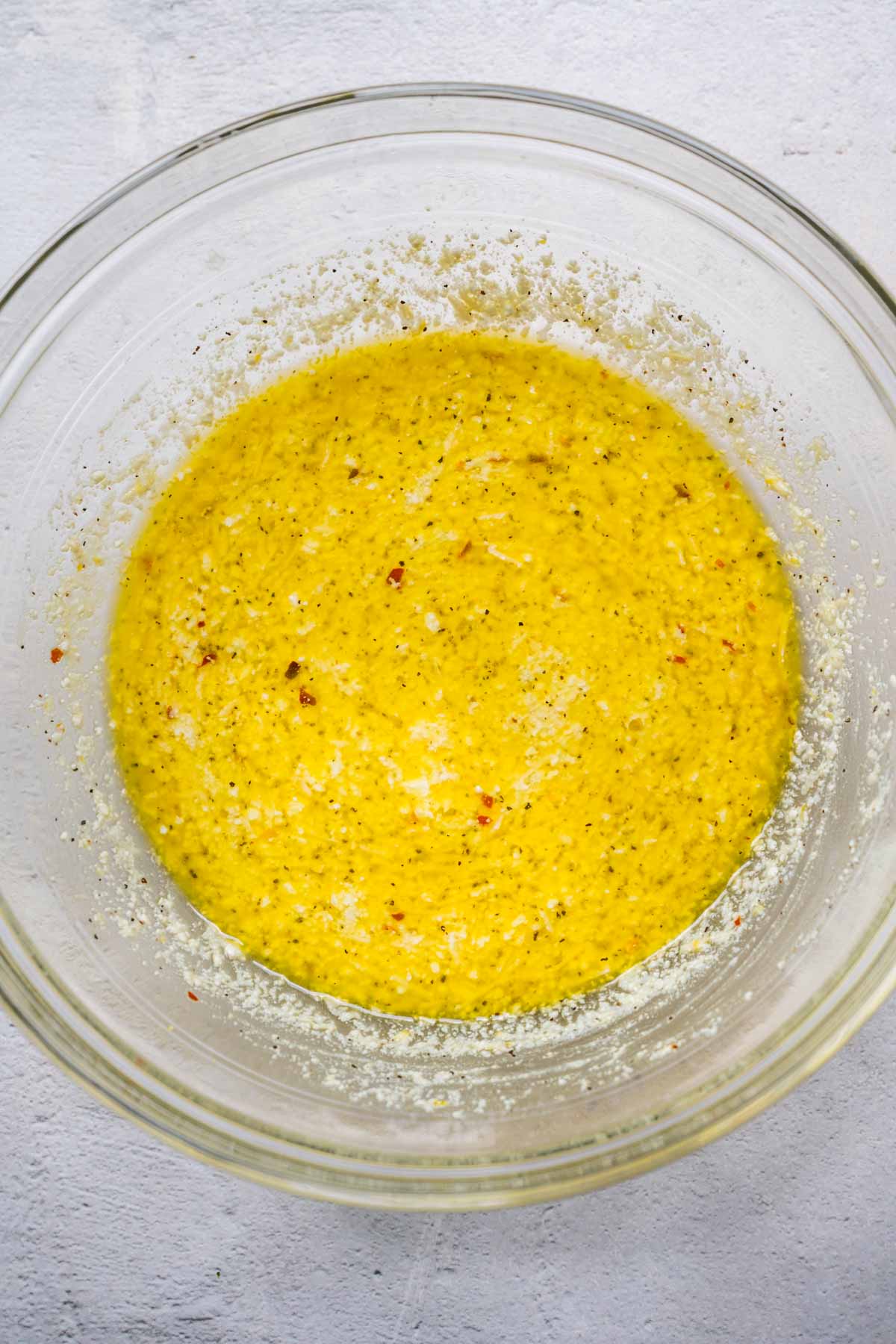 Serve this Creamy Lemon Ricotta Pasta with a side of Roasted Vegetables and arugula salad for a light, healthy dinner. Lemon Ricotta Pasta can be a side dish to an Italian main course like Easy Chicken Parmesan or an elegant holiday main like Garlic Pork Roast. The smooth sauce on Lemon Ricotta Pasta is so delicious, you are going to want to double it and store it for other easy weeknight dinners. You can use this creamy ricotta sauce on chicken, vegetables, rice, or just refresh pasta leftovers to make them extra creamy!
How to Make
Boil Pasta: Cook the pasta according to the package directions for al dente. Reserve a cup of pasta water and drain pasta but do not rinse. Return to the pot.
Ricotta Sauce: Combine the ricotta cheese, olive oil, Parmesan cheese, lemon juice and lemon zest in a medium bowl until creamy and smooth. Mix in the salt, pepper, and red pepper flakes, if using.
Finish: Toss the cooked pasta in the ricotta sauce and a ¼ cup of pasta water. Add a little more pasta water at a time until it reaches the creamy texture you like. Serve with basil, Parmesan cheese, and a drizzle of oil.
Italian Main Dishes to Serve with Pasta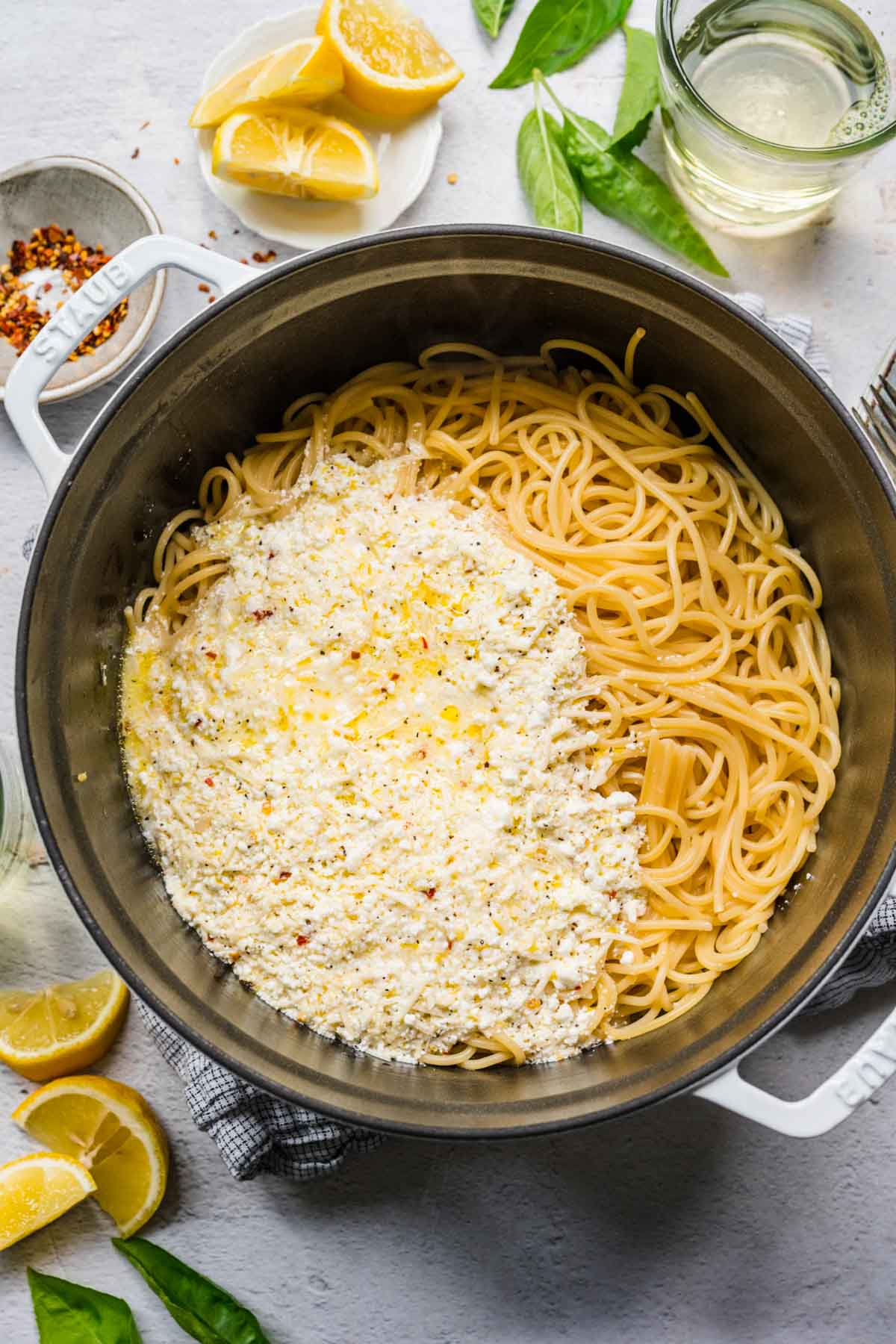 FAQs for Lemon Ricotta Pasta
Why do you use pasta water?
The natural starch on the pasta releases into the water as the pasta cooks and is a chef's secret ingredient to the best pasta sauces! The starchy pasta water makes an extra creamy sauce that perfectly wraps around every tender noodle.
Do I have to use fresh lemon?
Yes you definitely want to use fresh lemon juice and lemon zest in this recipe for the best flavor! This is a no-cook sauce so lemon extract or concentrated lemon juice won't have time to cook down to taste better.
Will ricotta cheese melt in the sauce?
Because of the way ricotta cheese is made, it doesn't really melt no matter how hot it gets. That's why it's perfect for dishes like lasagna or this pasta dish. Its holds it's shape and stays creamy without getting watery when you toss it with the hot pasta.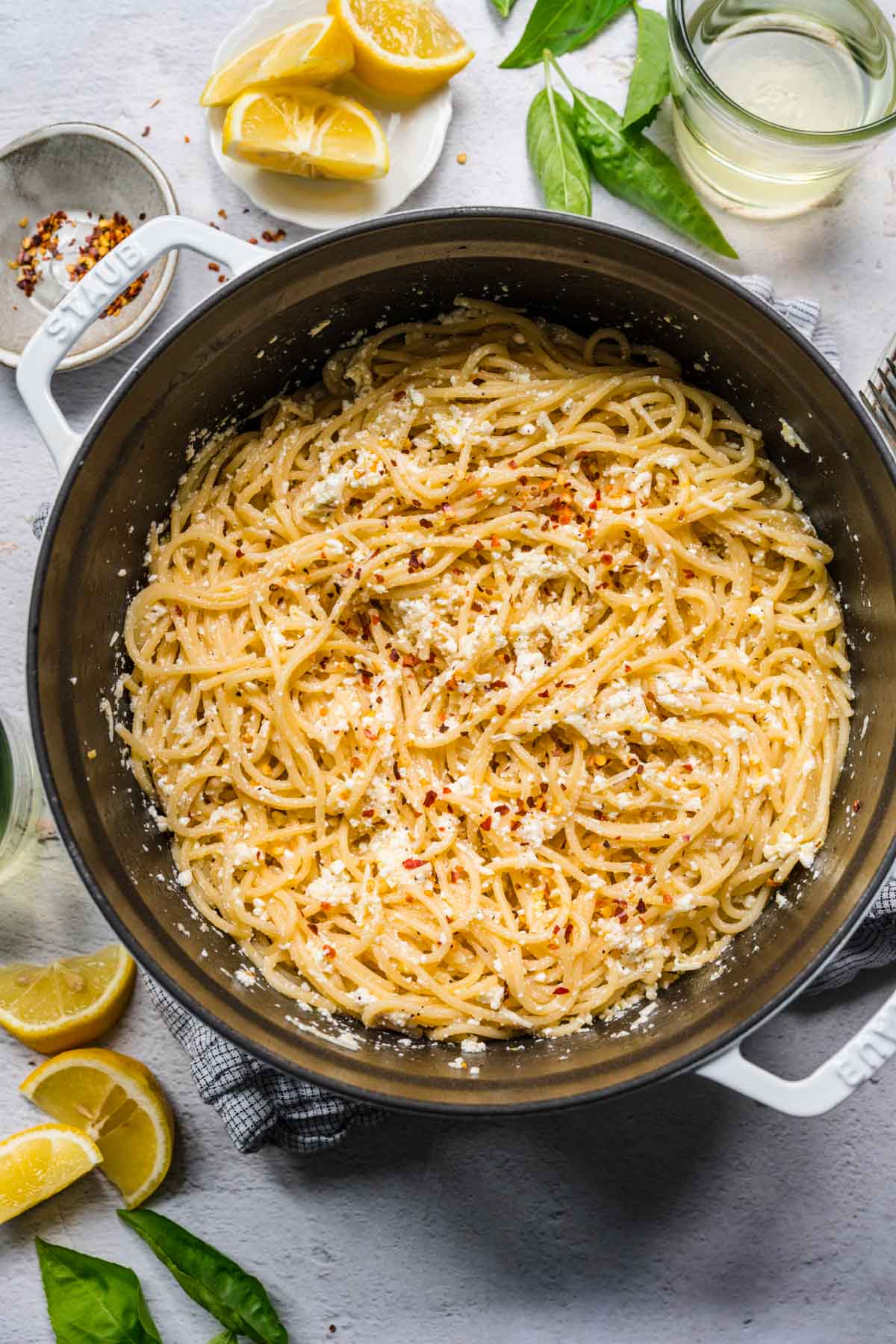 Create a free account to

Save Recipes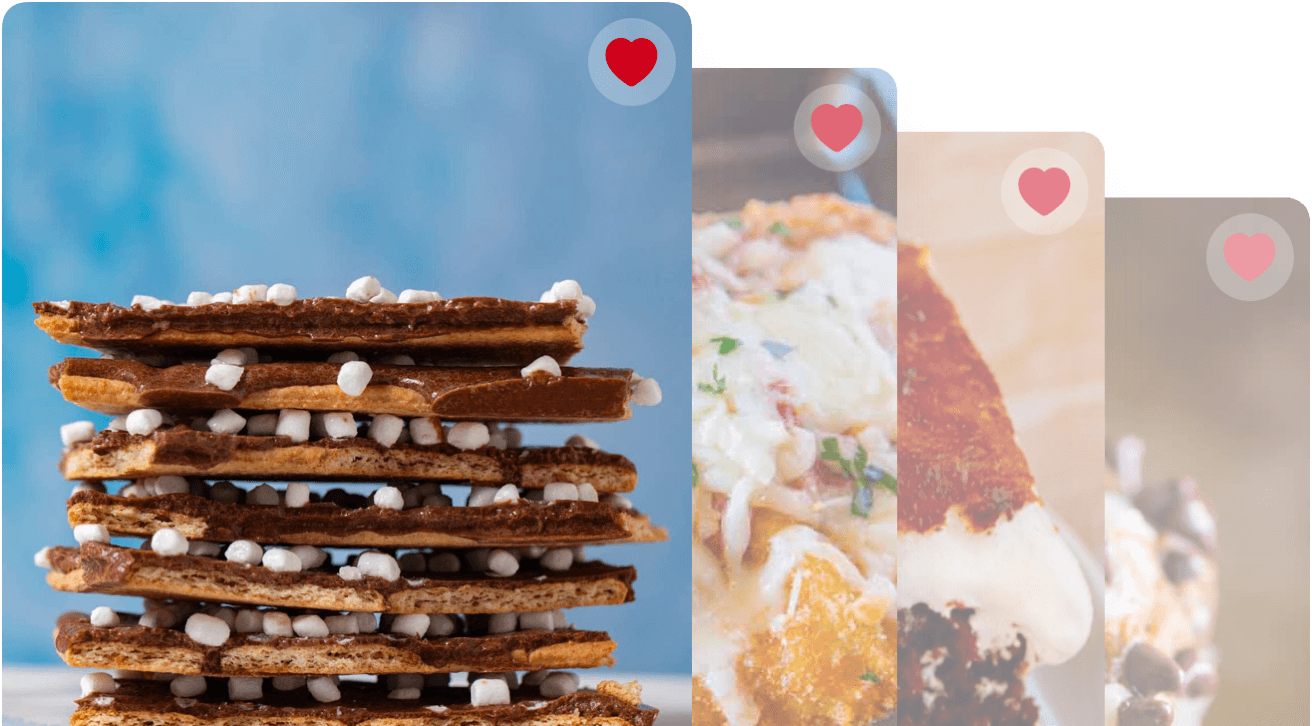 Key Ingredients
Pasta: This recipe uses thin spaghetti because it gives a lot of surface for the sauce to cling to evenly, but really any pasta shape would taste delicious tossed in this rich, lemony creamy sauce. Make sure the pasta is cooked all the way because you won't be cooking it any further in the sauce.
Pasta Water: You almost always want to reserve the bit of the starchy pasta water when making pan sauces. The pasta water not only thins out the sauce but it helps the sauce cling to the tender pasta so you get the perfect saucy bite every time.
Ricotta Cheese: There are only a few ingredients in this pasta dish so using full fat ricotta cheese really makes a difference in taste and consistency. Whole milk ricotta cheese is going to give this creamy sauce the best silky smooth texture.
Olive Oil: Since this is a no-cook sauce, using a good quality extra virgin olive oil is perfect because you don't have to worry about high heat breaking down the flavor. Reserve a tablespoon olive oil to drizzle as a garnish when serving.
Parmesan Cheese: Fresh grated Parmesan cheese is always going to have much more flavor than the packaged shreds or crumbles. Plus it doesn't have any anti-caking agents so it will melt beautifully in the sauce.
Lemon: Fresh lemon juice and fresh lemon zest add so much flavor that you'd never get with bottled lemon juice or lemon extract. A large lemon should add plenty of zesty, bright lemon flavor to the ricotta sauce.
Red Chili Flakes: This is an optional ingredient but a pinch of red chili flakes adds the perfect amount of heat to balance out the rich and creamy lemon ricotta sauce. If you want a similar flavor but no heat, try paprika instead.
Basil: Lemon and fresh basil taste amazing together and the bright herb really brings out the delicious flavors in this dish. Make fresh basil ribbons by rolling the whole basil leaves and then cutting the rolls in very thin slices.
Can Lemon Ricotta Pasta be made ahead of time?
Lemon Ricotta Pasta is a great potluck dish because you can make it ahead of time in a casserole dish and just warm it in the oven to serve. Double the recipe and store one pan of Lemon Ricotta Pasta in the freezer for an easy weeknight dinner meal prep. Thaw in the refrigerator overnight and bake in the oven at 350 degrees for 15-20 minutes, until hot.
Variations
Meat: Sliced Grilled Chicken Breasts, leftover Roast Chicken, or browned Italian sausage are easy, delicious meat to add to this pasta recipe.
Pasta: Instead of thin spaghetti, you can use other pasta you have on hand like penne, linguine, gemelli, or a gluten-free pasta you like. Follow the package directions to cook pasta to al dente.
Veggies: Toss the pasta and ricotta sauce with sautéed mushrooms, cooked spinach, or fresh arugula. For more flavor, add Roasted Garlic Butter Mushrooms to this pasta dish.
Spices: For more flavor, add fresh herbs like thyme or rosemary to the ricotta sauce. For garlic lovers, brown minced garlic in the extra virgin olive oil before adding it to the ricotta mixture.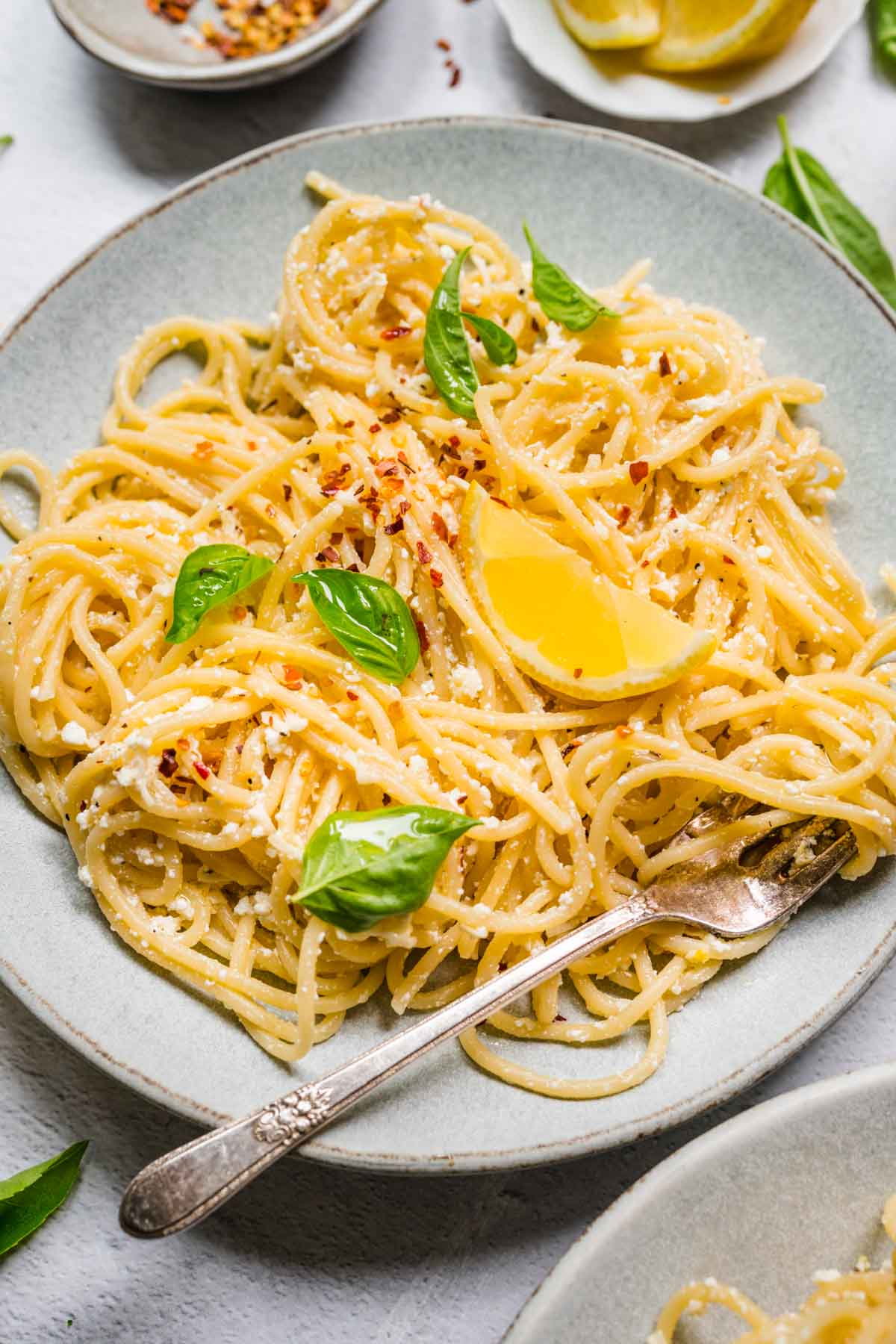 Baked Lemon Ricotta Pasta
Easily make this a baked pasta dish. Preheat the oven to 350 degrees. Cook pasta to just under al dente, drain, and retain pasta water. In a large mixing bowl, prepare ricotta mixture using ? cup pasta water. Toss pasta in sauce and coat completely. Pour pasta into a 9×13 casserole dish and bake for 15-20 minutes.
More Easy Italian Pasta Recipes
How to Store
Serve: This creamy pasta dish can be kept at room temperature for up to 2 hours before you need to store it.
Store: Keep Lemon Ricotta Pasta in the refrigerator in an airtight container for up to 4 days. It's best to reheat in the oven or low heat on the stove, adding splash of cream or tablespoon olive oil if its too dry.
Freeze: To freeze, cool pasta completely and place it in a sealed container. Freeze for up to 2 months. Reheat thawed pasta (overnight in the fridge) on the stovetop over medium-high heat, stirring occasionally, for best consistency.


Ingredients
1

pound

thin spaghetti

1

cup

whole milk ricotta cheese

1/2

cup

extra virgin olive oil

1/2

cup

freshly grated Parmesan

Zest and juice from 1 lemon

Kosher salt

coarse ground black pepper

Pinch

crushed red pepper flakes

Freshly sliced basil

, for serving
Instructions
In a large pot of boiling salted water, cook pasta according to package directions.

Reserve 1 cup pasta water, then drain. Return pasta to pot.

In a medium bowl, combine ricotta, oil, parmesan cheese, lemon juice, and zest.

Season with salt, pepper, and a pinch of red pepper flakes.

Add ricotta mixture and ¼ cup reserved pasta water to pasta and toss. Add more reserved pasta water if sauce is too thick.

Serve with basil, more parmesan cheese, and a drizzle of olive oil.
Nutrition
Calories:
546
kcal
|
Carbohydrates:
59
g
|
Protein:
17
g
|
Fat:
27
g
|
Saturated Fat:
7
g
|
Polyunsaturated Fat:
3
g
|
Monounsaturated Fat:
15
g
|
Cholesterol:
27
mg
|
Sodium:
173
mg
|
Potassium:
230
mg
|
Fiber:
2
g
|
Sugar:
2
g
|
Vitamin A:
248
IU
|
Vitamin C:
4
mg
|
Calcium:
200
mg
|
Iron:
1
mg