Easy Homemade Meatballs made in just 30 minutes that are moist, crispy on the outside and fluffy on the inside. Perfect for all your meatball recipes, and easy to freeze!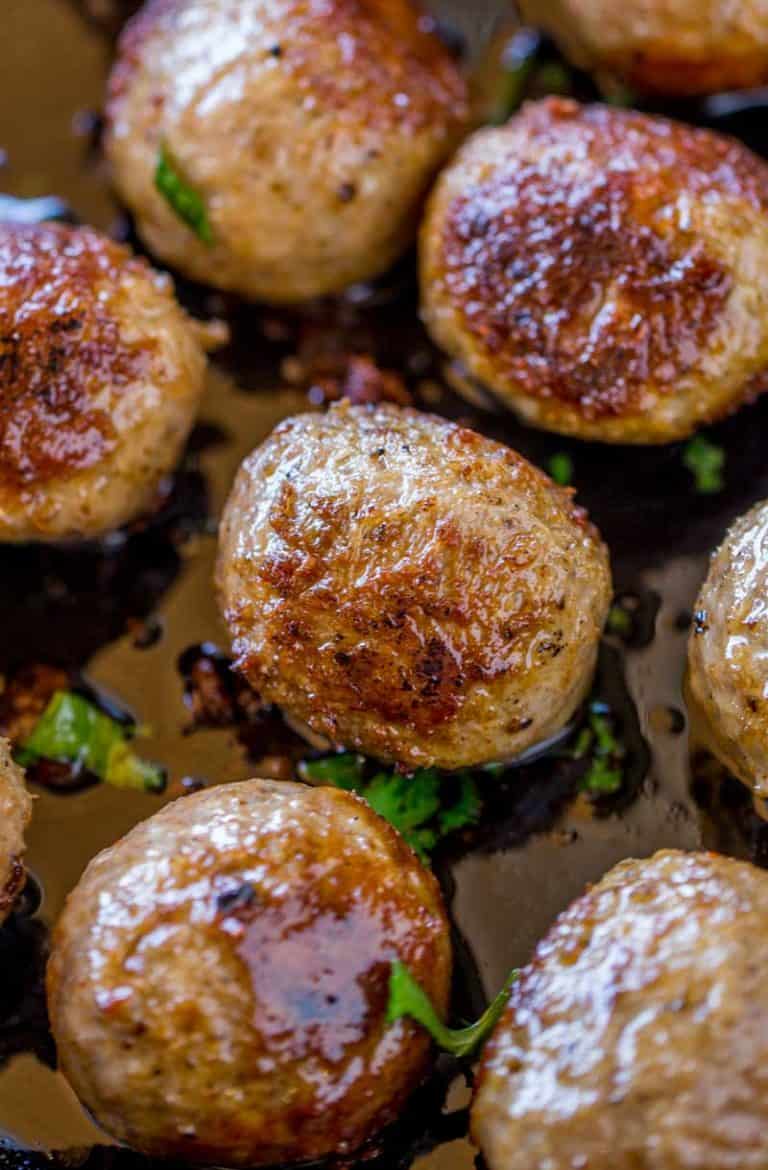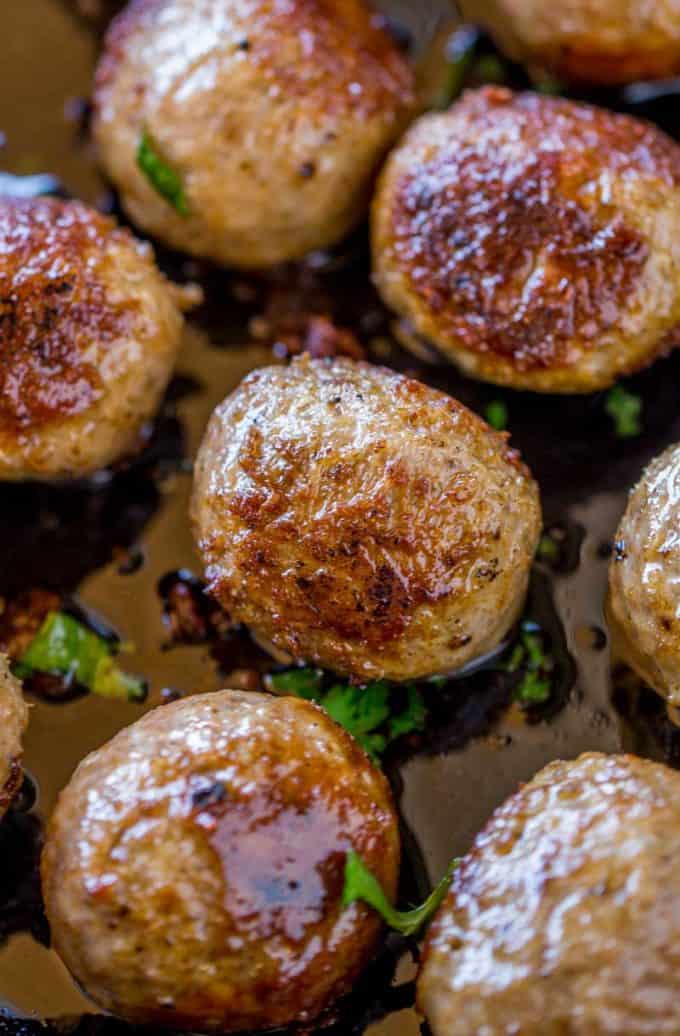 Easy Homemade Meatballs are one of the core recipes you'll LOVE having in your back pocket. For us meatballs are an easy way to quickly make dinner and we've leaned on them for the school year because they also work well with meal prepping.
A month or so ago I posted these Perfect Swedish Meatballs and wrote about my methods for making perfectly round and juicy meatballs. Not only that, but they were easy meatballs to make without breadcrumbs.
People have emailed me asking how to make meatballs without breadcrumbs in the past and recently I'd been referring them to the Swedish Meatballs post, but to give more details about why, the soaked bread (yes, like regular sliced bread) adds a good amount of extra moisture to your meatballs. Instead of hydrating super dry breadcrumbs, the bread itself has moisture too.
Homemade Baked Meatballs:
Once the meatballs have been rolled and placed on a pan (careful you make sure to use a pan with at least 1/2 inch walls), you can bake the meatballs in a preheated oven (400 degrees) for 18-22 minutes.
How long do you cook meatballs in tomato sauce?
If fully uncooked you can add them (in a covered pot) on a low-medium heat for 25-30 minutes.
If already browned you can simmer them for 10 minutes.
If frozen and raw cook them (in a covered pot) on on medium heat for 30-35 minutes.
If frozen, but you've just browned them, cook them (in a covered pot) on medium heat for 15 minutes.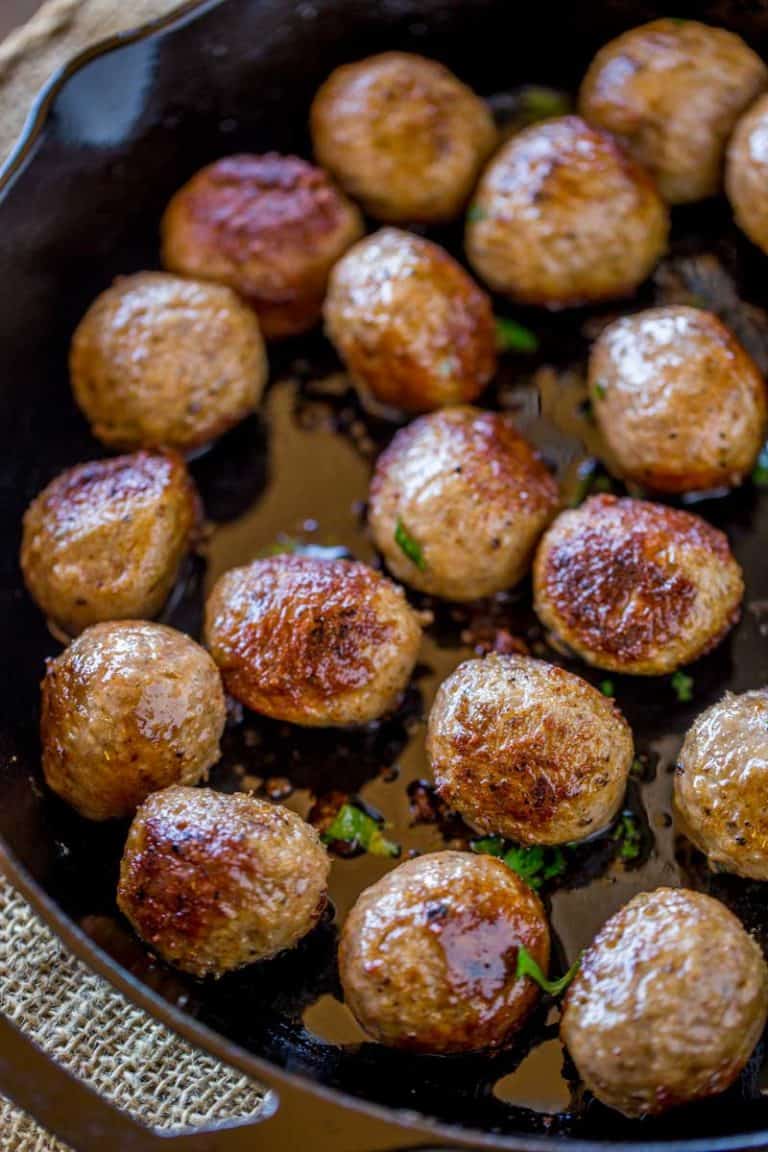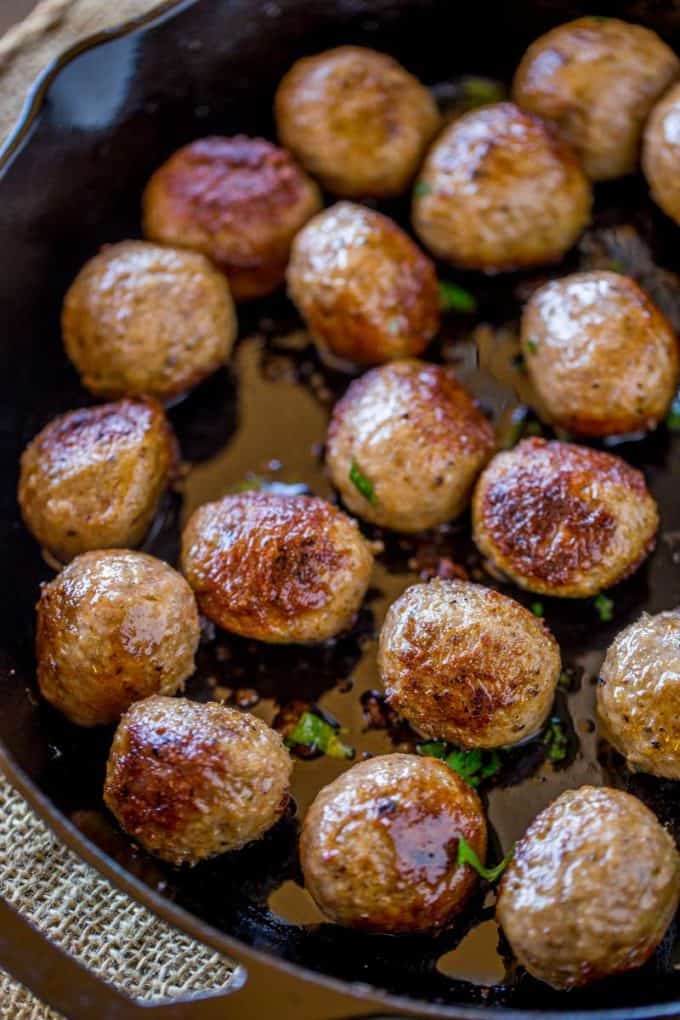 How to make easy homemade meatballs?
Keep the seasonings simple, this gives you the most flexibility when cooking them with different sauces.
Instead of adding breadcrumbs to the mixture, I add milk soaked bread.
Freeze the meatballs before they're browned which keeps the shape of them as you brown them. They finish cooking through in the sauce.
To make large batches I use an ice cream scoop, lightly roll and place onto a cookie sheet.
Line with parchment paper and freeze on a full cookie sheet. You can break them apart and freeze in dinner sized portions.
You can brown them as much as you'd like, then simmer them slowly in your desired sauce to finish.
Cooking the meatballs from frozen does a few amazing things for them:
They brown evenly and maintain their ball shape and don't cook down into sort of lumpy looking rocks.
They keep their interior moistness as they are still only about half cooked in the middle by the time the gravy is added.
They take almost no time at all to cook the day you want to make them because its a matter of cook the meatballs for 5-7 minutes, add gravy and serve with either mashed potatoes or pasta.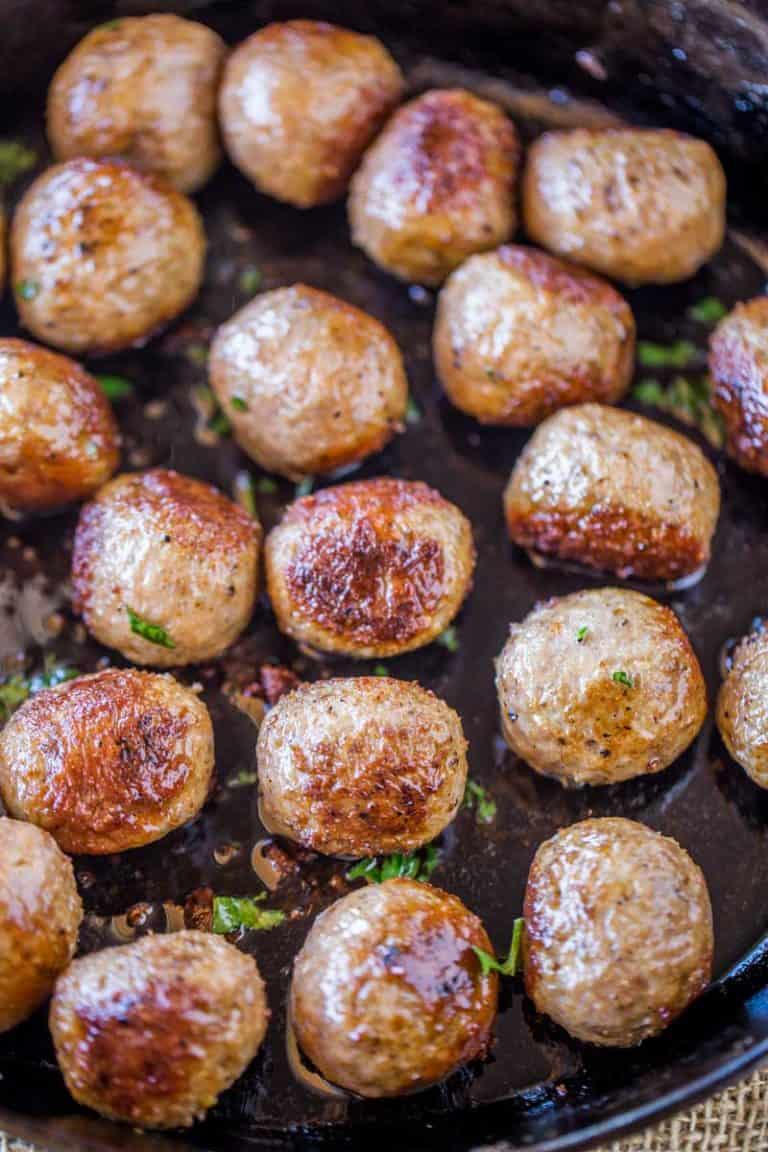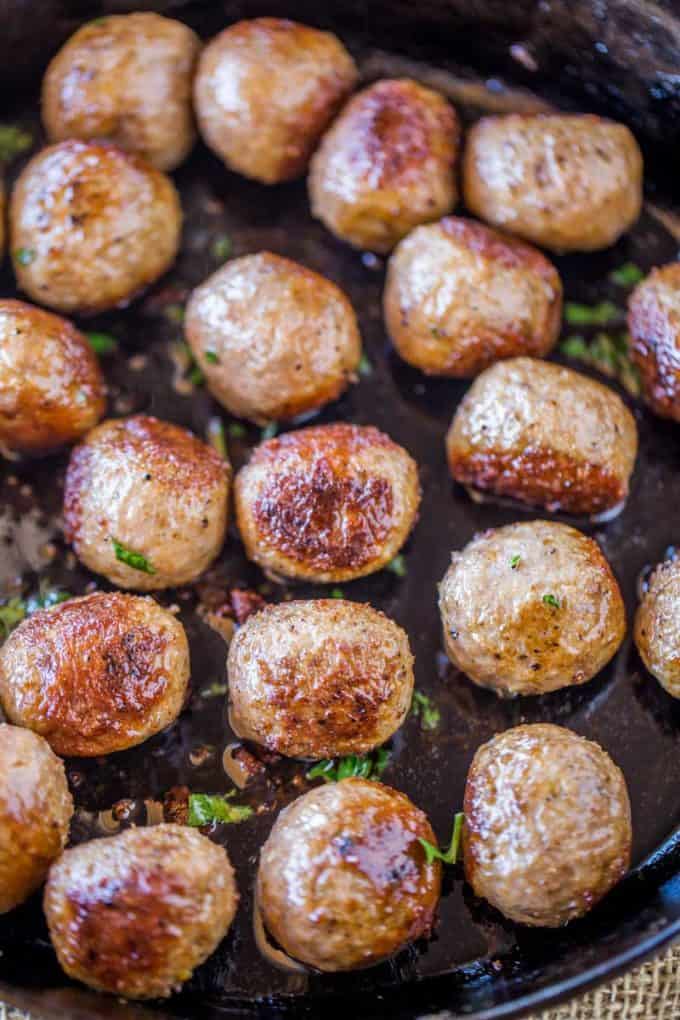 I'm listing below a bunch of different mix-ins, but don't worry this is actually a short list for upcoming meatballs recipes on the blog! And they all start with this same meatball base.
Make these homemade meatballs unique with different flavors:
Homemade Italian Meatballs: To the recipe add 1/4 cup grated Parmesan cheese, 1 teaspoon Italian seasoning and 3 minced cloves of garlic.
Salisbury Steak Meatballs: To the recipe add 1/4 cup brown mustard, 1/4 cup ketchup and 2 teaspoons beef better than bouillon base to the meatballs.
Greek Meatballs: use olive oil instead of butter, add 3 cloves minced garlic, swap half the meat for lamb if you'd like, 1 tablespoon each of oregano, coriander, cumin and 1/2 tablespoon of cinnamon
Korean Beef Meatballs: Add 1 tablespoon minced garlic and 1 tablespoon minced ginger with 2 tablespoons soy sauce and 2 tablespoons brown sugar with only 3 tablespoons milk instead of 1/3 cup.
Tools Used in the making of these Swedish Meatballs:
Meatballer
: The less you handle ground meat the less the heat of your hands will break down the fat in the meat making a tougher meatball/burger/etc.
Ice Cream Scoop
: If working in bulk it can be easier to use an ice cream scoop, scoop a bunch quickly then roll them all at one time.
Cast Iron Skillet
: This is my most used pan in my kitchen, heavy, keeps heat well and gives the BEST sear ever.
Kosher Salt
: Different than regular table salt, I don't bake with this but I almost always season with this while cooking. Lower sodium, but still better flavor.
Recipe
Save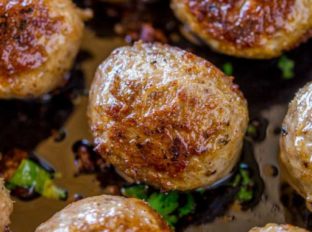 Easy Homemade Meatballs
Yield:

40

Servings

Prep Time:

10

minutes

Cook Time:

15

minutes

Total Time:

25

minutes

Course: Main Course
Cuisine: American
Author: Sabrina Snyder
Easy Homemade Meatballs made in just 20 minutes that are moist, crispy on the outside and fluffy on the inside. Perfect for all your meatball recipes, and easy to freeze!
Ingredients
3

slices

bread

1/3

cup

milk

1/2

cup

yellow onion

minced

2

tablespoons

unsalted butter

4 tablespoons if cooking immediately

2

pounds

ground beef

80/20

2

large eggs

1/2

teaspoon

Kosher salt

1/2

teaspoon

cracked black pepper

1

teaspoon

Worcestershire Sauce
Instructions
Note: click on times in the instructions to start a kitchen timer while cooking.
In the bowl of your stand mixer add the milk to the slices of bread.

Melt the butter in a pan and add the minced yellow onions.

Cook them on medium low until translucent but not browned.

Remove from heat and let cool.

In your bowl with the milk soaked bread add the rest of the meatball ingredients including the cooked onions.

Mix it on low until the bread is broken apart and the meat is combined with the ingredients (using the stand mixer and not your hands helps keep the mixture cold and tender).

Freeze on a cookie sheet if possible.

If cooking immediately, add the rest of your butter to your skillet and cook on medium high on all sides for a total of 4-5 minutes.

Remove the meatballs from the pan and serve with your favorite sauce.
Nutrition Information
Yield: 40 Servings, Amount per serving: 56 calories, Serving Size: 5 , Calories: 56g, Carbohydrates: 1g, Protein: 5g, Fat: 3g, Saturated Fat: 1g, Cholesterol: 25mg, Sodium: 61mg, Potassium: 87mg, Fiber: 1g, Sugar: 1g, Vitamin A: 35g, Vitamin C: 0.2g, Calcium: 10g, Iron: 0.6g
All images and text © for Dinner, then Dessert.
Save