Swedish Meatballs like you'll find in Ikea, but without the trip to the store. Served with the creamy beef gravy, you'll LOVE this easy weeknight meal.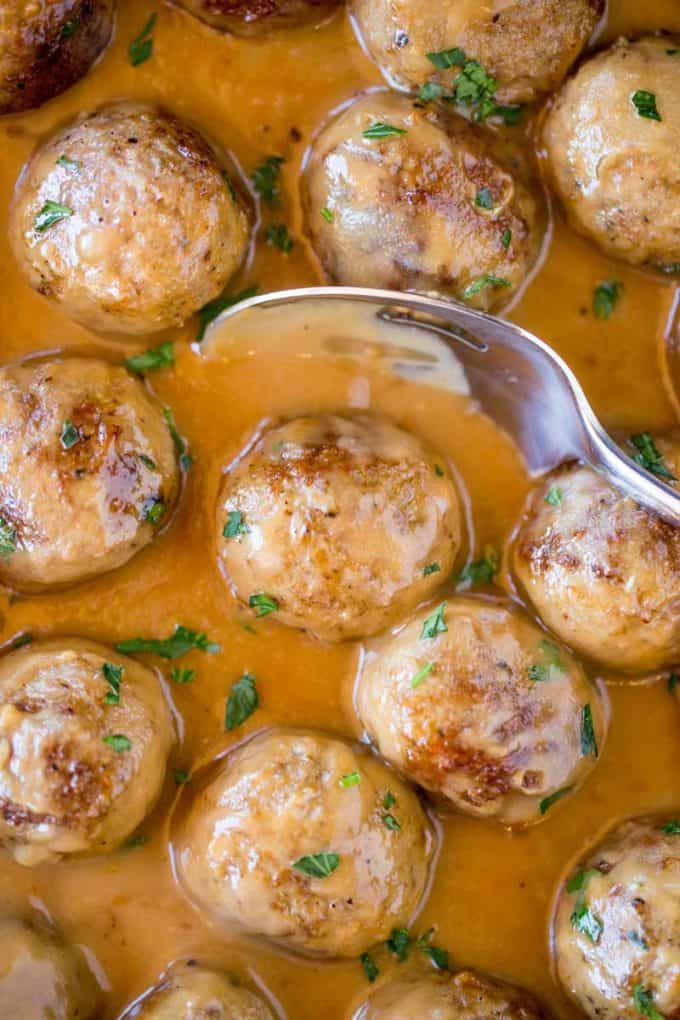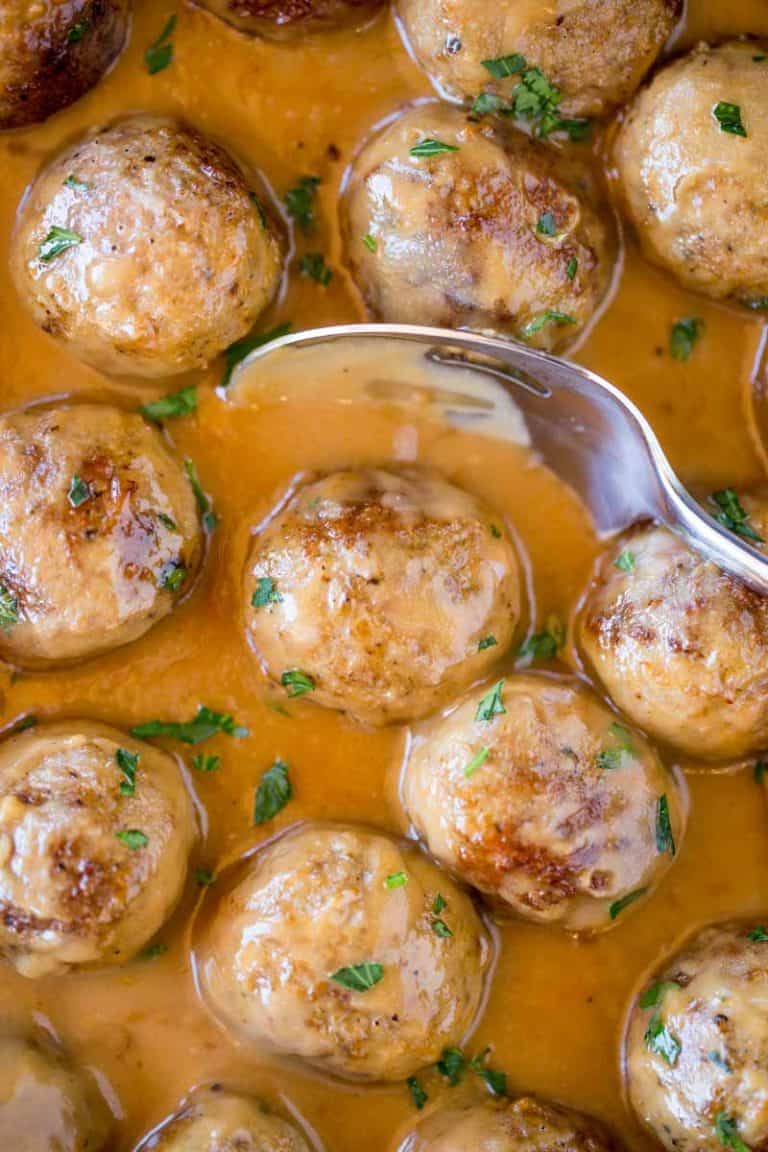 Swedish Meatballs are a dish we collectively go gaga for every time we go to Ikea. The "Ikea Meatballs" my kids refer to become the thing they pine after the entirety of our walk through the top floor of the store. We got to the point where we'd started buying the frozen bags until one afternoon I decided I would make it myself.
Making Swedish Meatballs aren't even that hard and with a really EASY trick, you'll have the perfect meatballs you see at Ikea instead of sort of bumpy meatballs like you're used to when your mom makes them.
My standard meatball recipe uses just ground beef but one of the things I learned about what kind of meat is in Swedish meatballs are made from was that they're pork and beef. I found a recipe card for the meatballs so I knew I was on the right track even though the ingredients list on the bag of Ikea Meatballs just says "meat."
Just a note about the recipe card. To make authentic Swedish meatballs they call for using cooked and cooled potatoes along with rusk flour (which is made from biscuits made from yeasty bread…aka NOT easy to find locally). So as a replacement for this I've used milk and bread.
What is different about Swedish meatballs?
The difference between a standard meatball and a Swedish Meatball like you'd find at Ikea is the blend of beef and pork along with the creamy beef gravy they swim in. They're really easy and quick to make for a weeknight meal.
MY OTHER RECIPES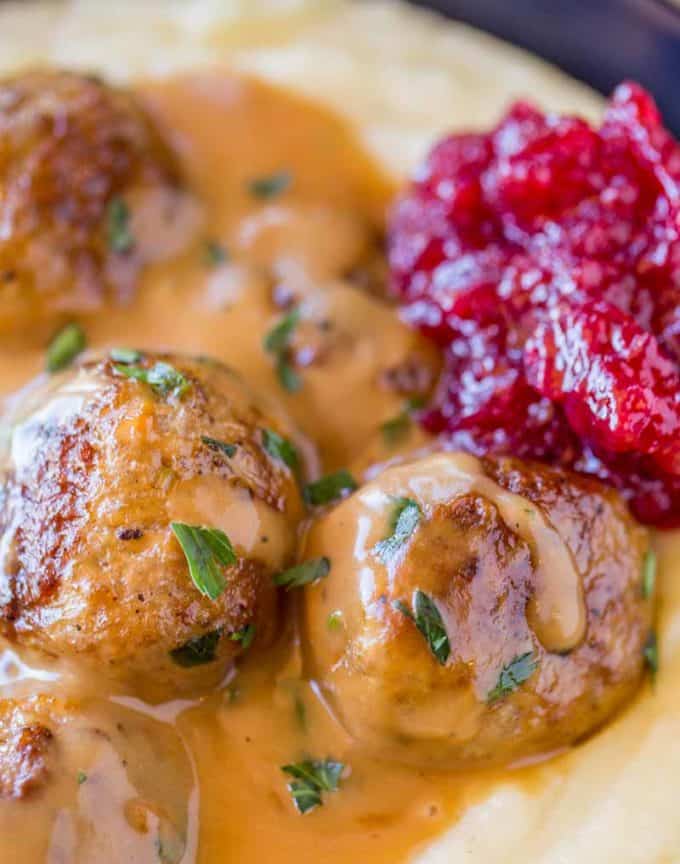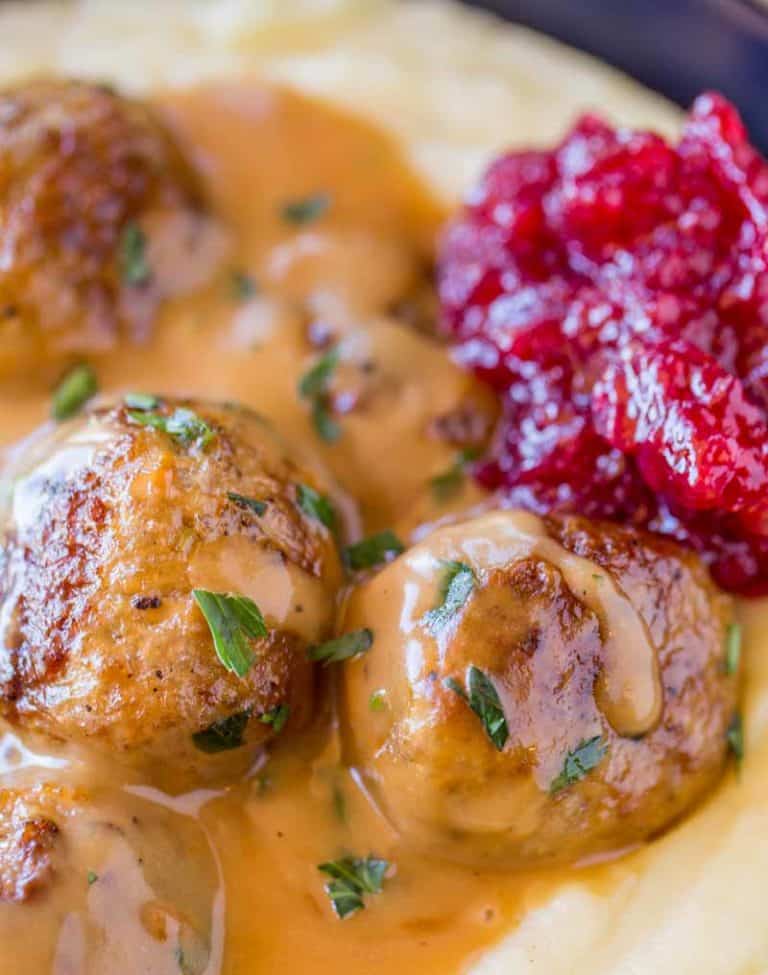 How do you make Swedish meatball sauce?
Swedish meatball sauce is actually a beef and cream gravy with beef stock, heavy cream, a splash of soy sauce, salt and pepper with the meatballs added back into the pan to thicken and coat them.
How do you make Swedish meatballs?
The ingredients are easy and quick with a mix of beef, pork and milk soaked bread. After browning in the pan, they are added to the pan of cream gravy to thicken and coat them. Swedish meatballs (at least at Ikea) are served with mashed potatoes and lingonberry jam.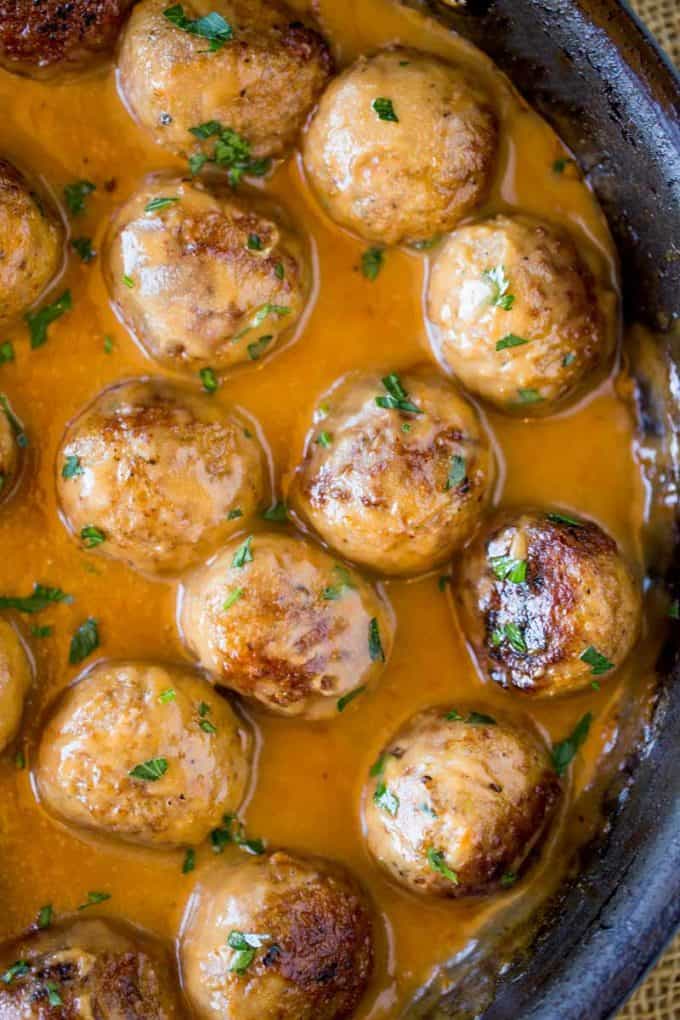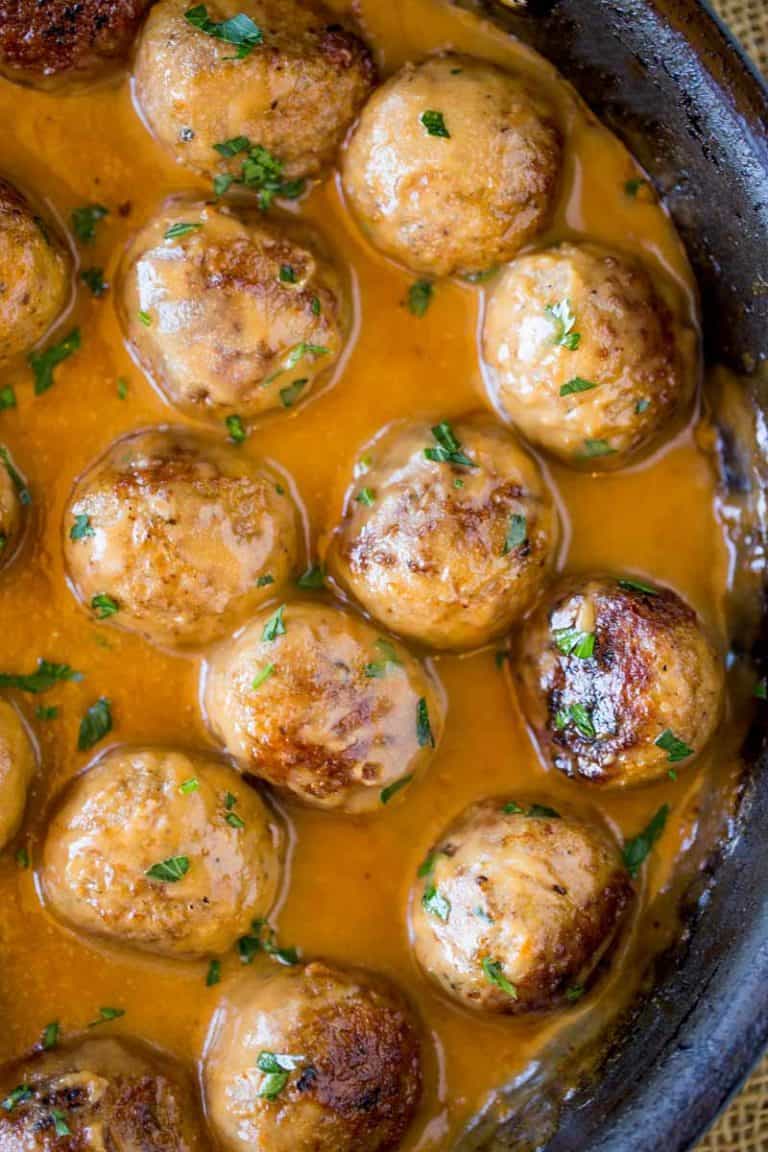 How do you make a meatball?
Most people add breadcrumbs to their meatball mix, but I like to add milk soaked bread which keeps just enough structure to mix with the meat while preserving the moisture in the meatballs while they cook. I also freeze the meatballs before they're browned which keeps the shape of them as you brown them. They finish cooking through in the sauce.
Cooking the meatballs is my favorite part of this recipe and it really makes these meatballs perfect for meal-prepping.  I asked one of the people at Ikea how do you cook Ikea meatballs but they said they were mostly pre-cooked and just warmed through. It made me realize the best way to cook them and preserve the shape was to roll them, freeze them and cook them from frozen.
Cooking the meatballs from frozen does a few amazing things for them:
They brown evenly and maintain their ball shape and don't cook down into sort of lumpy looking rocks.
They keep their interior moistness as they are still only about half cooked in the middle by the time the gravy is added.
They take almost no time at all to cook the day you want to make them because its a matter of cook the meatballs for 5-7 minutes, add gravy and serve with either mashed potatoes or pasta.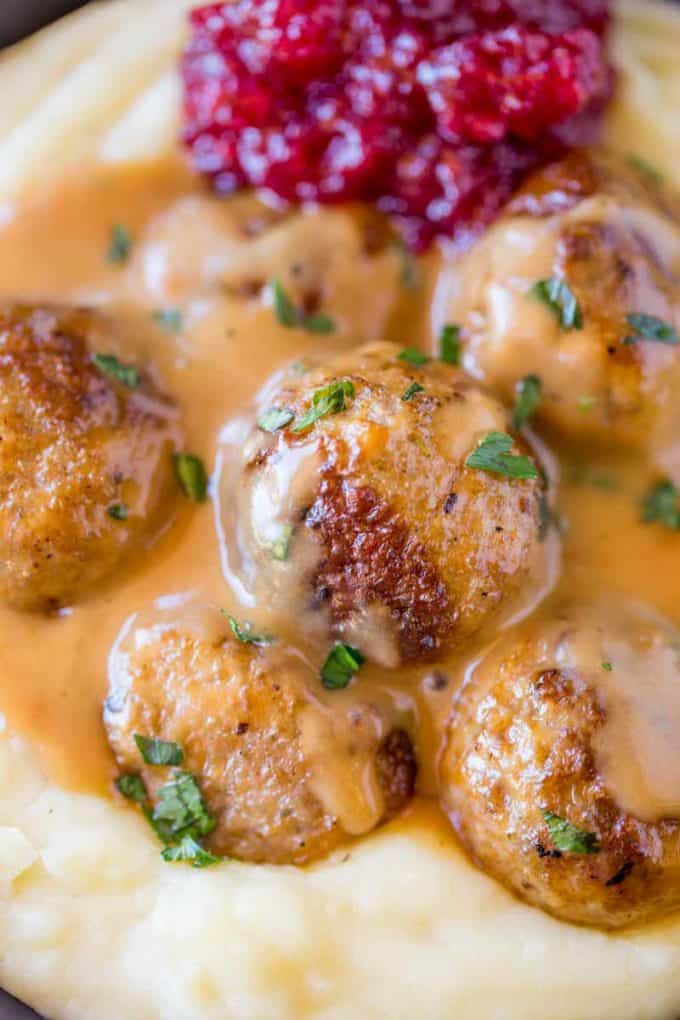 Looking for more copycat recipes?
Tools Used in the making of these Swedish Meatballs:
Meatballer
: The less you handle ground meat the less the heat of your hands will break down the fat in the meat making a tougher meatball/burger/etc.
Beef Better Than Bouillon
: I love this brands products and have the ENTIRE line of them because a quick spoonful and water makes a flavorful stock.
Lingonberry Jam
: I go with the original and buy it from Ikea (but it is shelf stable so you can buy in bulk and make these meatballs at home!) or use cranberry jelly instead.
Recipe
Save

Recipe
Swedish Meatballs (Ikea Meatballs)
Yield:

40

Servings

Prep Time:

10

minutes

Cook Time:

15

minutes

Total Time:

25

minutes

Course: Main Course
Cuisine: Swedish
Swedish Meatballs like you'll find in Ikea, but without the trip to the store. Served with the creamy beef gravy, you'll LOVE this easy weeknight meal.
Ingredients
MEATBALLS
3

slices

bread

1/3

cup

milk

1/2

cup

minced yellow onion

4

tablespoons

unsalted butter

divided

1

pound

ground beef

80/20

1

pound

ground pork

2

eggs

1/2

teaspoon

Kosher salt

1/2

teaspoon

cracked black pepper

1/4

teaspoon

ground allspice

1/4

teaspoon

freshly grated nutmeg
CREAMY BEEF GRAVY
4

tablespoons

butter

1/4

cup

flour

4

cups

beef stock

1/2

cup

heavy cream

1

tablespoon

soy sauce

1/4

teaspoon

Kosher salt

1/4

teaspoon

white pepper

(regular black pepper is fine too, but you'll see the flecks of pepper)
Instructions
Note: click on times in the instructions to start a kitchen timer while cooking.
TO MAKE THE SWEDISH MEATBALLS:
In the bowl of your stand mixer add the milk to the slices of bread.

Melt the butter in a pan and add the minced yellow onions.

Cook them on medium low until translucent but not browned.

Remove from heat and let cool.

In your bowl with the milk soaked bread add the rest of the meatball ingredients including the cooked onions, but only 2 tablespoons of the butter.

Mix it on low until the bread is broken apart and the meat is combined with the ingredients (using the stand mixer and not your hands helps keep the mixture cold and tender).

Using a

meatballer

or your hands scoop them into balls about the size of a ping pong ball.

Freeze on a cookie sheet if possible.

If cooking immediately, add the rest of your butter to your skillet and cook on medium high on all sides for a total of 4-5 minutes.

Remove the meatballs from the pan.
TO MAKE THE GRAVY:
Add the butter to the pan, then add the flour and whisk until combined on medium heat.

Cook the flour 1-2 minutes or until it just starts to brown a bit.

Add in the beef stock and whisk well until combined.

Add in the rest of the ingredients and whisk together.

Add the meatballs back in and coat with the gravy until it is thickened, another 3-5 minutes

Top with parsley (optional)
Nutrition Information
Yield: 40 Servings, Amount per serving: calories
All images and text © for Dinner, then Dessert, Inc.
Save

Recipe