Cranberry Meatballs are a perfect appetizer for parties with homemade meatballs in a rich, sweet cranberry sauce. Ready in just 30 minutes!
If you like BBQ Meatballs, then you have to try this sweeter, fruity meatball recipe. The jellied cranberry sauce makes the ground beef sweet, tangy, tart, and irresistible. They're a huge crowd-pleaser and make an easy Party Appetizer!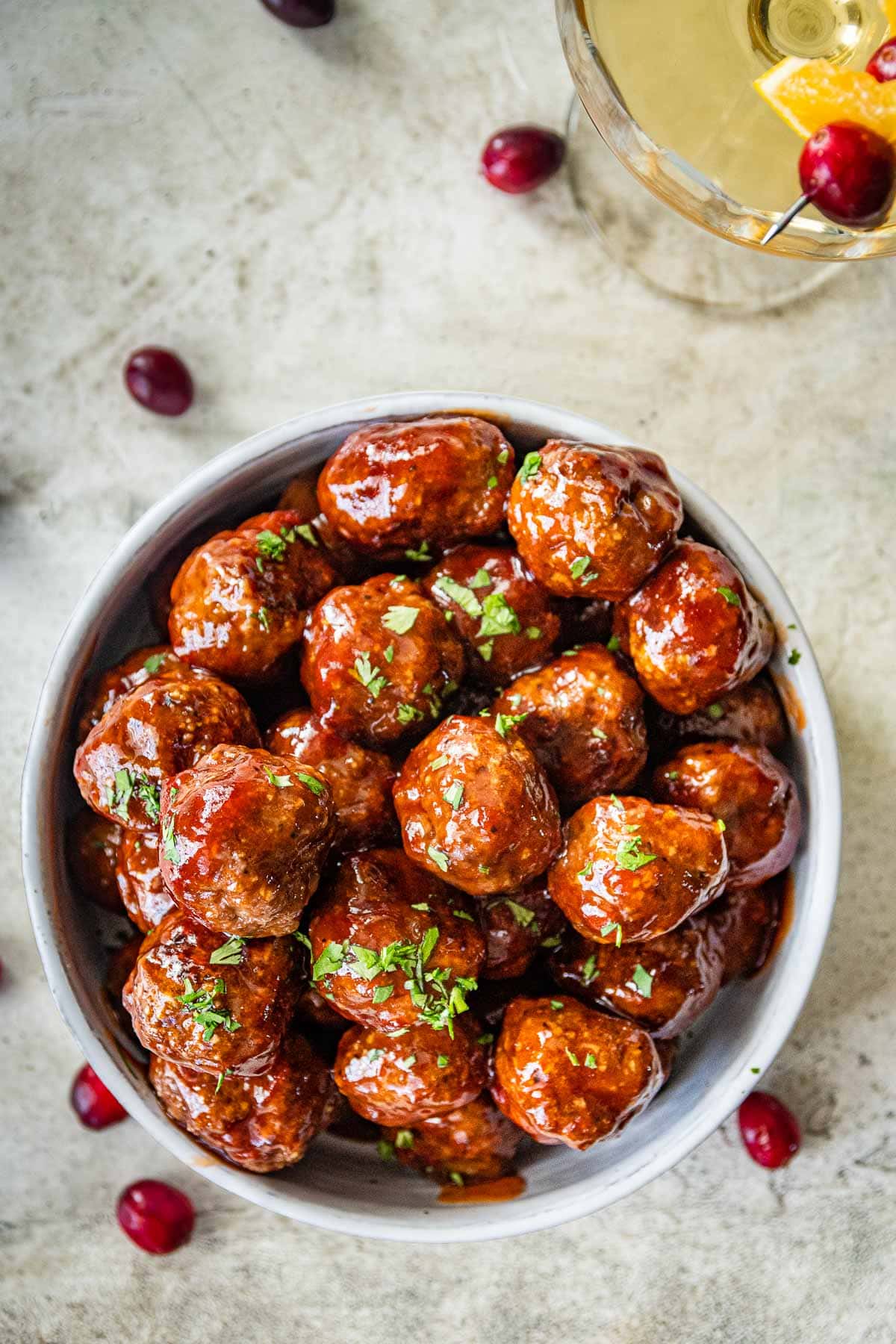 This Cranberry Meatballs recipe is simple, flavorful, and quick! When you think of Cranberry Sauce, your mind probably jumps straight to a Thanksgiving menu. But with this meatballs recipe, you can enjoy the tart-sweet sauce anytime you like. This Cranberry Meatball recipe is great for a holiday party to enjoy the seasonal flavors, but there's nothing wrong with making them year-round either!
Simple ingredients like cranberry jelly, Worcestershire sauce, orange juice, and ketchup can be found anytime at the store. Follow the easy directions to bring the meatballs together and enjoy the rich combination of tart, sweet, and savory flavors. These meatballs and sauce come together in about a half an hour for a quick appetizer that is perfect for potlucks, weeknight dinners, or a winning game day finger food.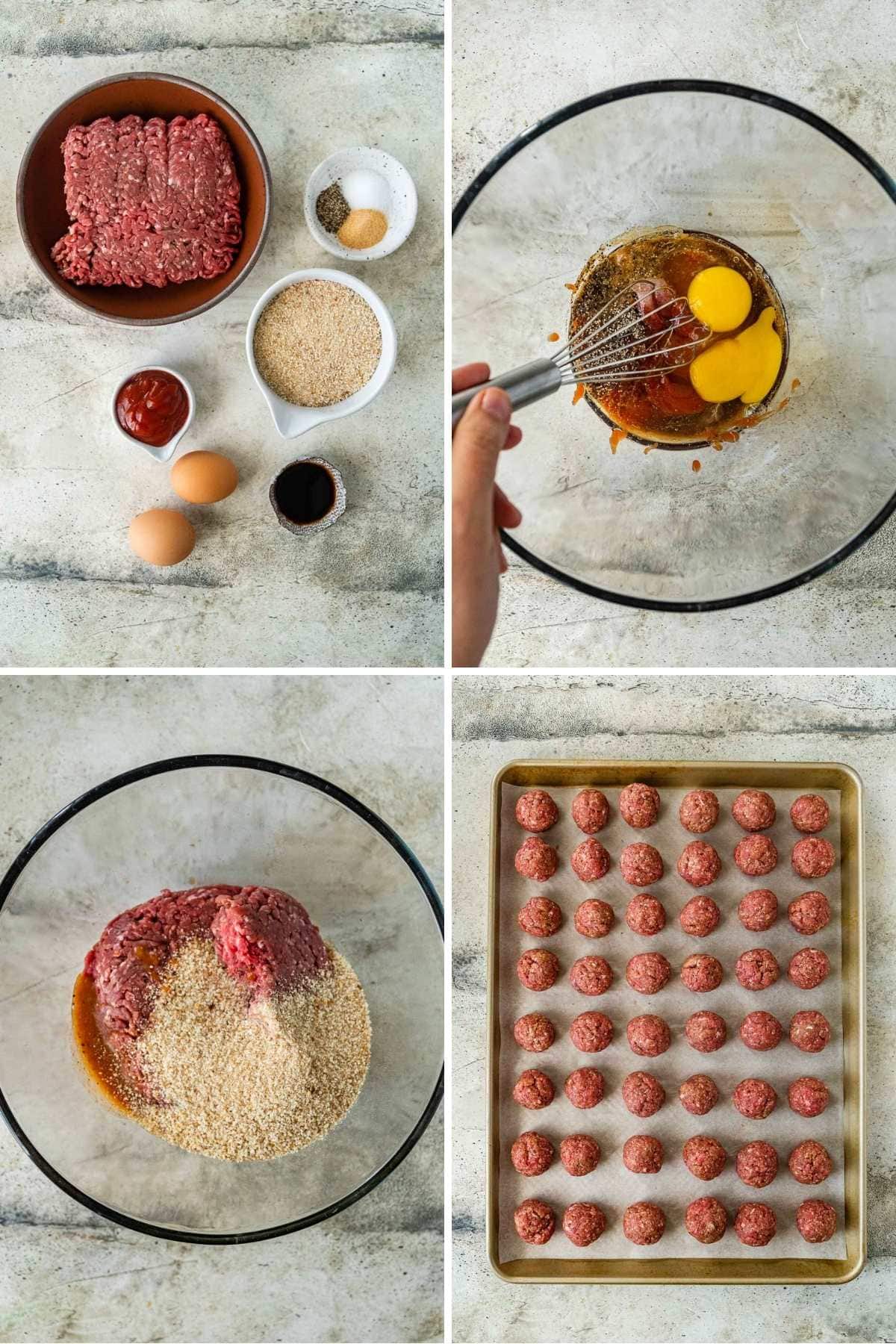 To serve this delightful dish at a party, arrange the cocktail size meatballs on a party tray. Stick toothpicks into the party meatballs to make them easier to pick up as finger food. If you want to enjoy meatballs as a main dish instead of an appetizer, serve the meatballs and thick sauce over Mashed Potatoes or White Rice. The creamy potatoes or starchy rice will soak up the flavor and make for a delicious, comforting, wonderful dinner!
How to Make Cranberry Meatballs
Prep: To start the recipe preheat the oven. You can spray the pan with cooking spray.
Meatballs: In a large bowl combine Worcestershire sauce, ketchup, eggs, salt, garlic powder, and pepper. Continue whisking until the ingredients are well combined and smooth. Then you can add the breadcrumbs and ground beef to the meatball ingredients. Mix all the ingredients together, then form into even sized balls.
Bake: Place the medium size meatballs on the prepared baking sheet and bake until they are browned and cooked through.
Cranberry Sauce: While the meatballs cook combine the homemade cranberry sauce ingredients in a saucepan. Mix the cranberry jelly, chili sauce, brown sugar, and orange juice together well. Continue cooking the recipe for cranberry sauce until it's nicely thickened. Take the Meatballs from the oven and toss them in the sauce before serving.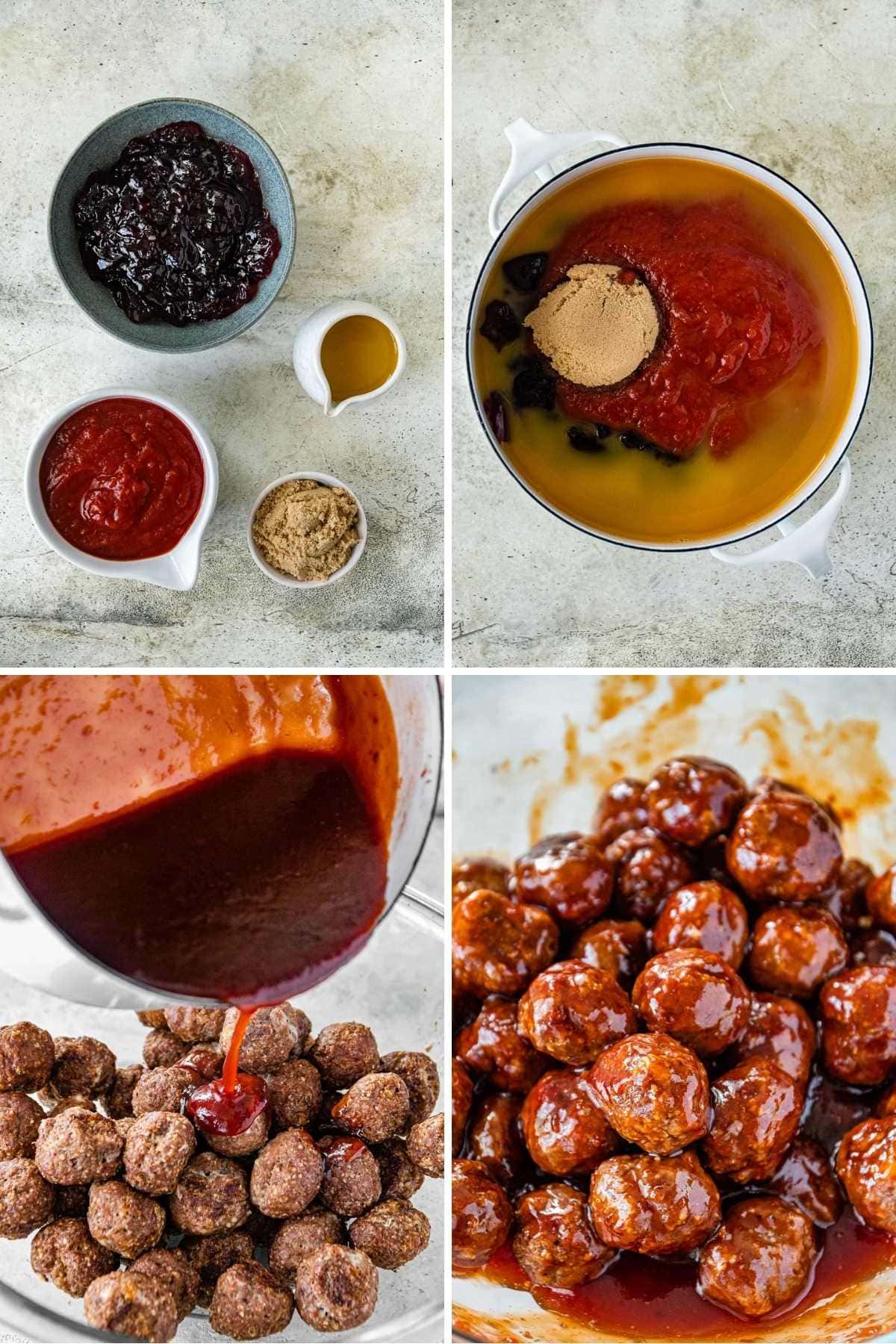 MORE APPETIZER RECIPES
More Cranberry Appetizers for Holidays
FAQs for Cranberry Meatballs
Can You Make Cranberry BBQ Meatballs in the Crockpot?
These meatballs can absolutely be made in the slow cooker instead in the oven and the stove top. There are instructions in this post to make Slow Cooker Cranberry Meatballs.
What is the secret to good meatballs?
The secret to good meatballs is to use ground beef with enough fat so they don't dry out. You also do not want to overmix the meatball mixture when you are seasoning it. You want it to be just combined and don't roll them too much when shaping.
What is the trick to keeping meatballs together?
Depending on the recipe, you can use ingredients like egg, breadcrumbs, or milk to hold the meat mixture together in your meatballs. Another way to keep your meatballs together, especially in sauces like this recipe, is to bake them or brown them first and form a crust around the meat to hold it together.

Create a free account to

Save Recipes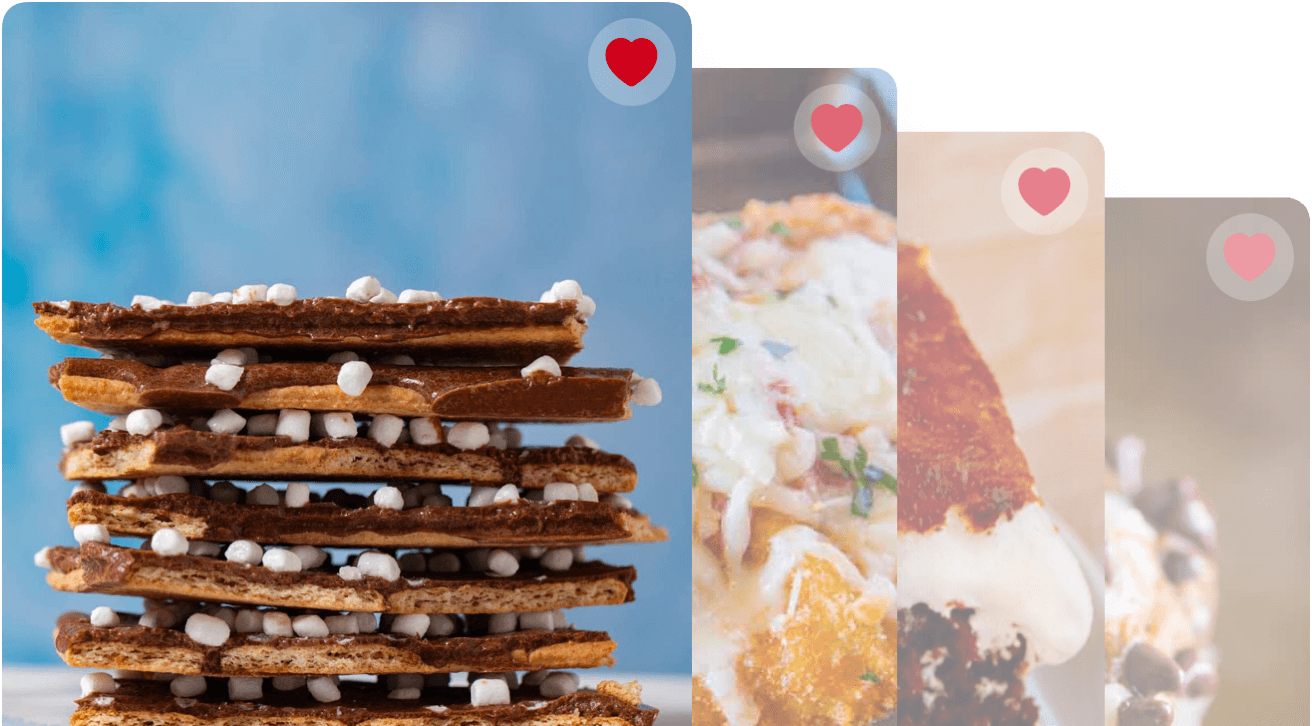 Key Ingredients
Ground Beef: You want to use an 85/15 blend of ground beef for the juiciest meatballs. If you use leaner ground beef, you want to add a tablespoon of oil to give these meatballs enough fat to be flavorful.
Breadcrumbs: The breadcrumbs are what hold the meatball mixture together so they don't fall apart in the sauce. Often breadcrumbs will dry out the meat but because there is so much sauce, you don't have to worry about that with this recipe.
Ketchup: The tangy tomato flavor of ketchup is perfect with the sweet flavors of the cranberry sauce and brings out the flavor of the chili sauce.
Worcestershire Sauce: This savory sauce has a unique taste that is umami, savory, salty, and slightly vinegary. If you don't have Worcestershire sauce, you can use soy sauce as a substitute.
Cranberry Jelly: Cranberry jelly or cranberry sauce is basically boiled cranberries with oranges and some warm spices. You can use a can of cranberry jelly to make this recipe super easy or use your favorite homemade Cranberry Sauce.
Chili Sauce: This condiment is similar to ketchup but it has a lot more spices and seasonings added. Even though it's called chili sauce, it's not spicy. You will find this sauce near ketchup or other condiments and it's different from spicy garlic chili paste.
Brown Sugar: The brown sugar cuts all the tangy and savory flavors to make these meatballs sticky sweet. You can use either dark brown sugar or light brown sugar.
Orange Juice: Fresh orange juice is a classic pairing with cranberries and adds to the delicious flavors of the sauce. It adds a tangy citrus flavor with natural sweetness.
Can these meatballs be made ahead of time?
You can bake the homemade meatballs and store them in the freezer for up to 3 months without the sauce. The sauce can be boiled on the stove top and then stored separately from the meatballs for up to 1 week in the fridge or 4 months in the freezer. Thaw everything overnight in the fridge, then heat together on the stove top or in a crockpot until hot all the way through.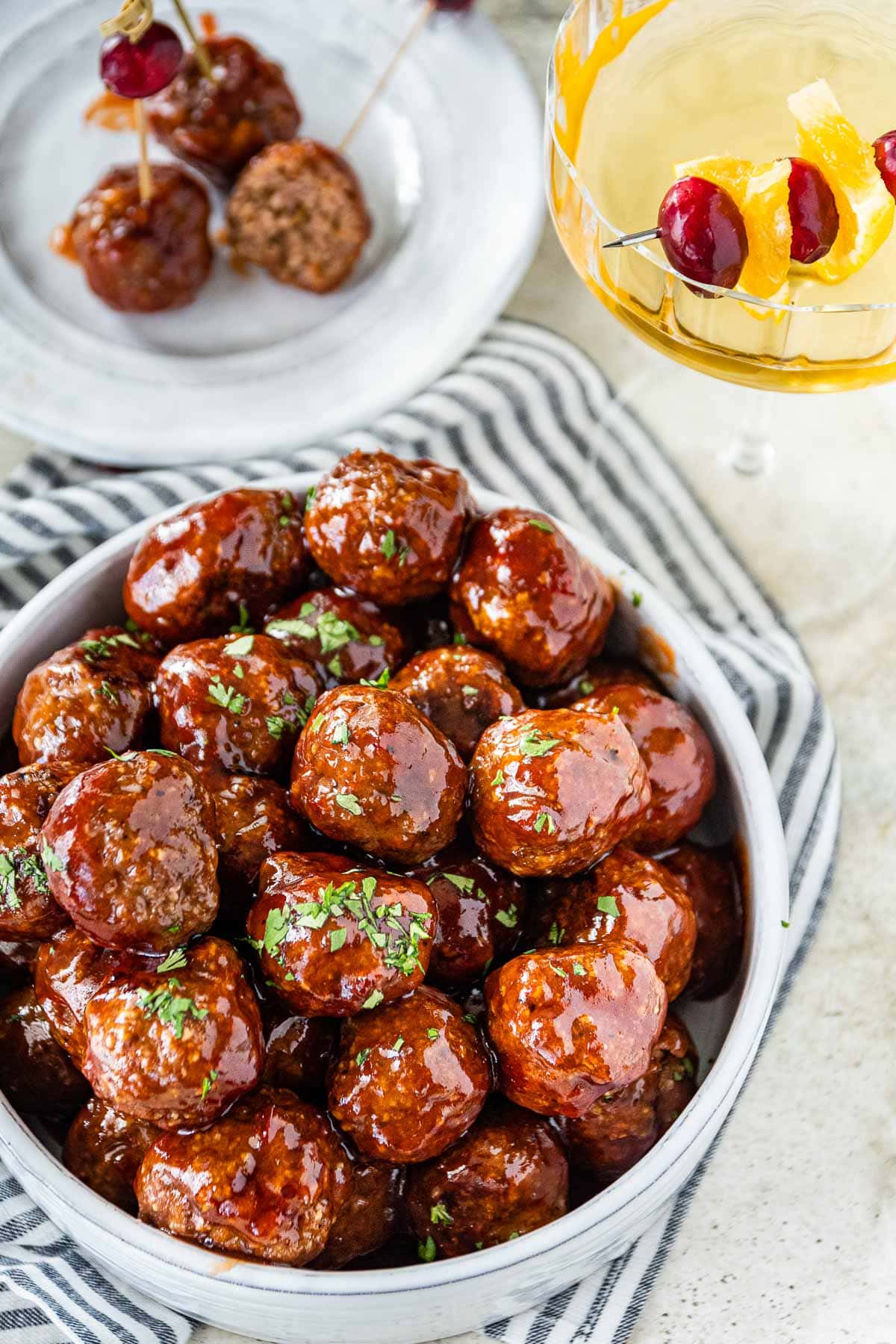 Variations
Cranberry BBQ Meatballs: To make Cranberry BBQ meatballs, mix your favorite BBQ Sauce in with the cranberry sauce. It will give the recipe a more smoky flavor.
Add-ins: For some more flavor in the meatball recipe, try mixing in some soy sauce, cayenne pepper, chili powder, sea salt, or garlic salt. You can also roll the meatballs in bacon bits before baking. For some different flavoring in the meatball sauce try using grape jelly in place of cranberry or adding in some lemon juice for a sour taste.
Bread crumbs: You can make your own bread crumbs using your choice of bread. White bread, wheat bread, sourdough, or brioche could all work nicely. For the best result, give the bread crumbs some time to dry out first.
Turkey: Instead of using ground beef, you can use ground turkey in this recipe. Ground chicken works too, but you will need to add 1 tablespoon olive oil if you use lean meat.
Frozen meatballs: If you need a shorter version of this recipe, use grocery store frozen meatballs. Instead of making the meatballs yourself, just cook up thawed meatballs and make the sauce to flavor them.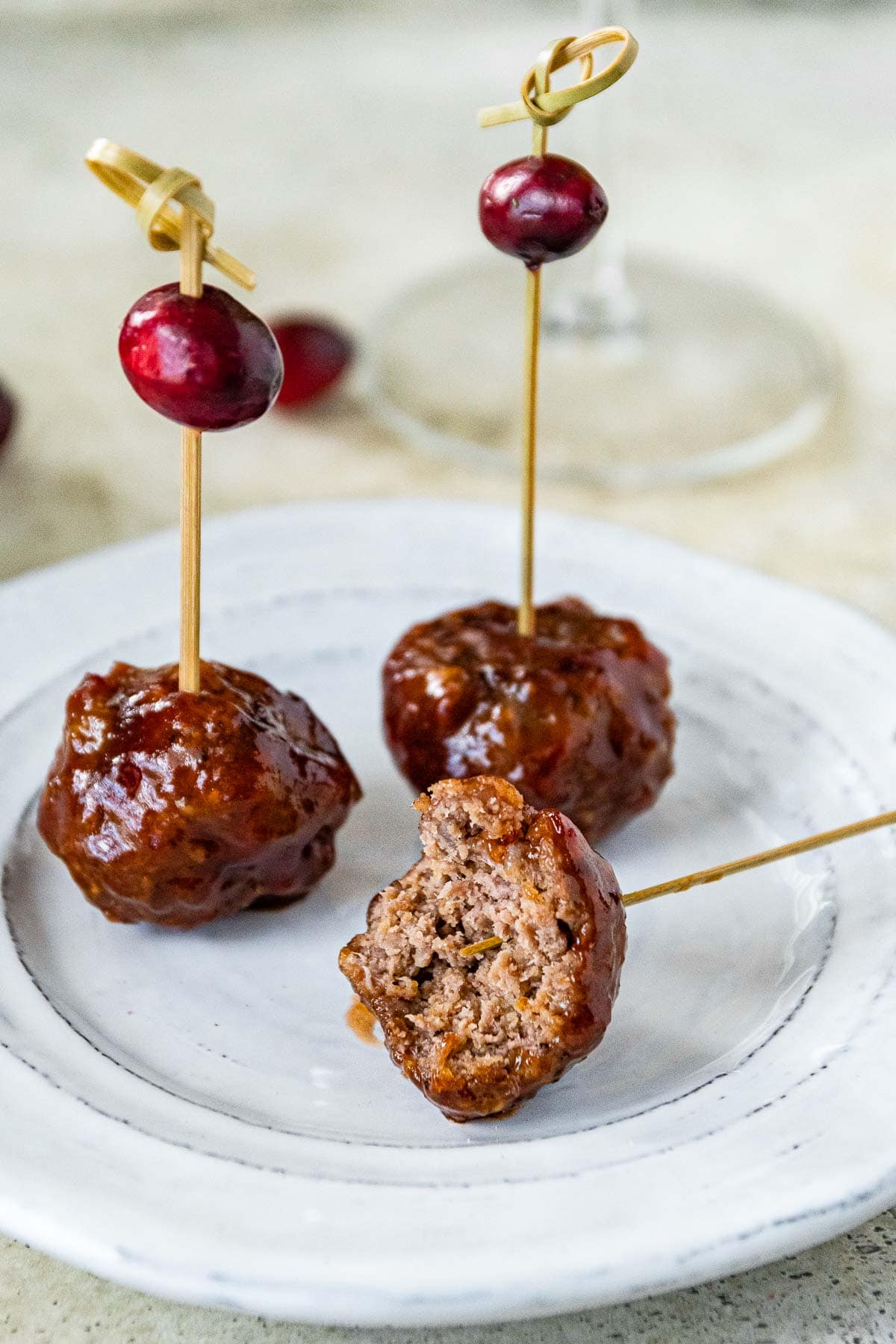 Slow Cooker Cranberry Meatballs
Combine the eggs, ketchup, Worcestershire sauces, and seasonings in a bowl until smooth.
Mix with breadcrumbs and ground meat until just combined.
Roll the meat mixture into balls.
Heat a large skillet over medium high heat. Sear the meatballs for 4-5 minutes until brown on all sides.
Remove the pan from the heat and set aside.
Combine the cranberry sauce ingredients in the slow cooker and whisk until smooth.
Add the browned meatballs to the slow cooker and coat in the sauce.
Cover the slow cooker and cook crockpot meatballs for 4 hours on low until cooked through.
More Delicious Meatball Recipes
How to Store
Serve: These meatballs can be at room temperature for up to 2 hours and are best served. Also you can transfer the meatballs and sauce to a slow cooker and keep warm for up to 4 hours, stirring occasionally.
Store: Let the Cranberry Meatballs cool completely before storing the meatballs in an airtight container. Keep them in the fridge for 3-4 days and reheat over low heat on the stove top until warmed through so they don't dry out.
Freeze: To freeze the meatballs, flash freeze them for an hour while they're still on the baking sheet. Move the meatballs to a freezer-safe airtight container and keep them for up to 4 months. To reheat the meatballs leave them in the fridge overnight. Heat the thawed meatballs in the oven or on the stove in the sauce.


Ingredients
Meatballs:
2

large

eggs

1/3

cup

ketchup

1

tablespoon

Worcestershire sauce

1/2

teaspoon

kosher salt

1/2

teaspoon

garlic powder

1/4

teaspoon

coarse ground black pepper

1

cup

breadcrumbs

2

pounds

ground beef
Cranberry Sauce:
14

ounces

cranberry jelly

1

cup

chili sauce

1/4

cup

brown sugar

1/4

cup

orange juice
Instructions
Preheat oven to 350 degrees.

Whisk together the eggs, ketchup, Worcestershire sauce, salt, garlic powder, and black pepper until smooth in a large bowl.

Add breadcrumbs and ground beef, and mix until just combined.

Roll into 1″ meatballs and place onto the baking sheet.

Bake for

18-20 minutes

or until browned and cooked through.

While the meatballs are cooking, add the cranberry jelly, chili sauce, brown sugar, and orange juice to a saucepan.

Cook on medium heat for

6-8 minutes

until thickened.

Toss meatballs with sauce and serve.
Nutrition
Calories:
211
kcal
|
Carbohydrates:
25
g
|
Protein:
10
g
|
Fat:
8
g
|
Saturated Fat:
3
g
|
Polyunsaturated Fat:
1
g
|
Monounsaturated Fat:
3
g
|
Trans Fat:
1
g
|
Cholesterol:
49
mg
|
Sodium:
372
mg
|
Potassium:
246
mg
|
Fiber:
1
g
|
Sugar:
16
g
|
Vitamin A:
147
IU
|
Vitamin C:
6
mg
|
Calcium:
31
mg
|
Iron:
2
mg