Cranberry Goat Cheese Pastry Bites with just five ingredients are the easiest appetizers you'll ever serve your guests. Perfect for the holidays!
 Cranberry Goat Cheese Pastry Bites
Cranberry Goat Cheese Pastry Bites are such an easy appetizer. So much so we've been making them for two months straight for all our holiday, work, family and friend parties.
Puff pastry is basically the bread of the holidays, and with goat cheese and egg mixed with some thyme, we've got a fantastic bite your guests will love.
This is the last post of the year sponsored by Mountain Rose Herbs and I just wanted to give them a huge shoutout to say thanks! They've been super supportive all year long, they've allowed me to literally play with my food with an actual mountain's worth of spices and they never once steered me in a direction the blog shouldn't go in. They're basically amazing. All the holiday love for them.
Today's recipe is featuring their amazing organic, hand packed Thyme Leaves. The flavors are nothing like the herbs you buy in at your local grocer. They're fresh and fragrant, perfect for these recipes.
Now, these pastry bites!! I have another one coming out tomorrow with blueberry and vanilla (think the goat cheese log from Trader Joe's for a flavor inspiration) but these Cranberry Thyme Goat Cheese Bites are everything amazing about the holidays. We LOVE them.
Plus, they take exactly one minute to put together.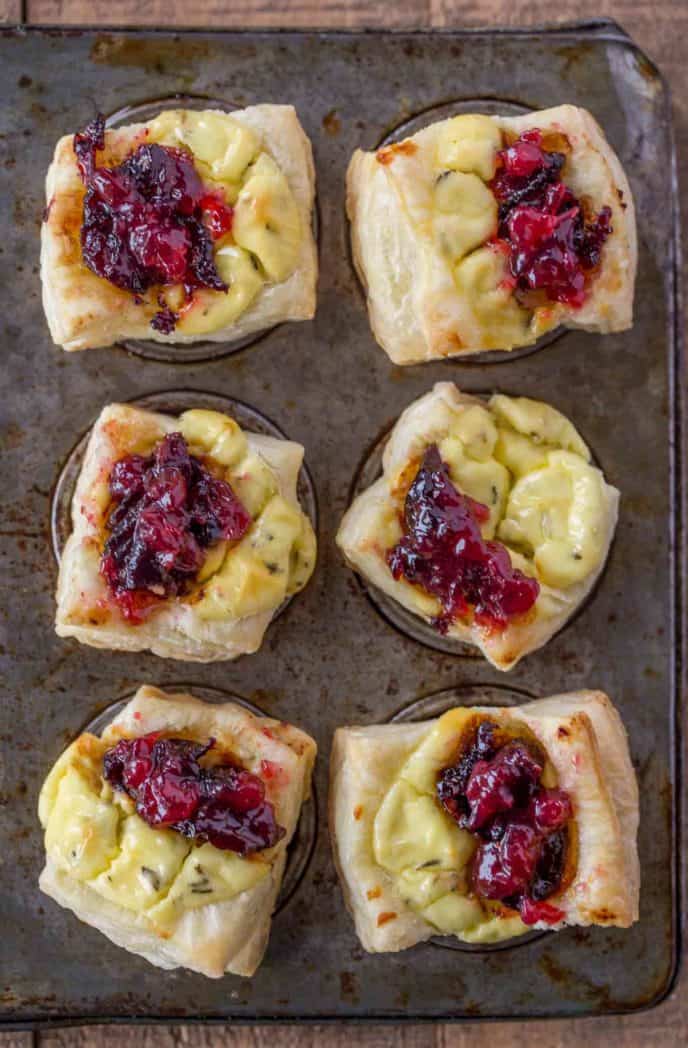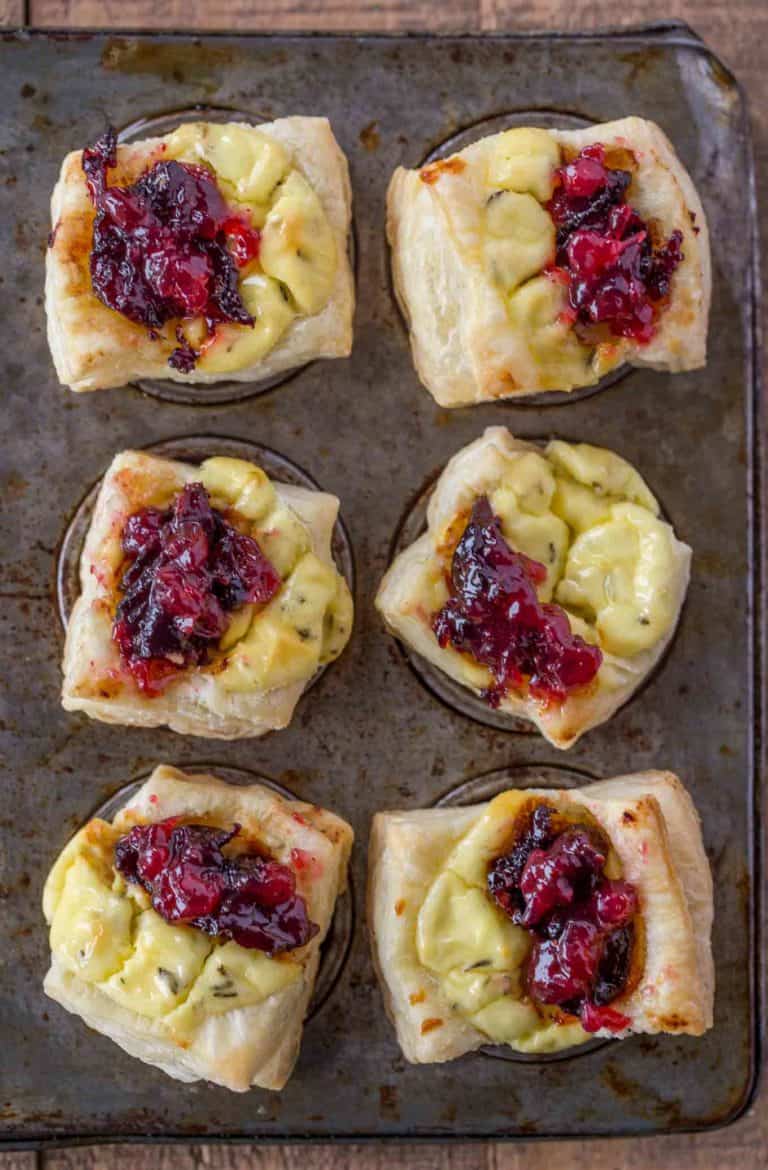 Want more flavors you can enjoy the rest of the year?
Caramelized Onion Feta Pastry Bites (Copycat)
Tomorrow's Blueberry Vanilla
Raspberry instead of Cranberry with a bit of lemon zest
Strawberry with orange zest (orange would also pair great with today's cranberry jelly)
I've even made these in October using chunks of roasted pumpkin on top of the goat cheese mixture with some fresh thyme sprinkled over. A tiny drizzle of maple syrup (not even necessary) or plain, they were AMAZING – and they'll be on the blog before the next time pumpkin season rolls around.
Some easy tips for these pastry bites:
I prefer to let puff pastry thaw in the fridge but if you're in a hurry open it up on the cutting board and put a very lightly damp towel over it so it doesn't dry out.
Spray your mini muffin tins before adding the pastry.
Add more filling than your gut tells you, if it is a bit of an overfill the pastry will bake up around it.
Get the lightest brown you can on the tops because the bottoms will be more browned.
If you didn't add enough jam before baking add some more after they're out of the oven.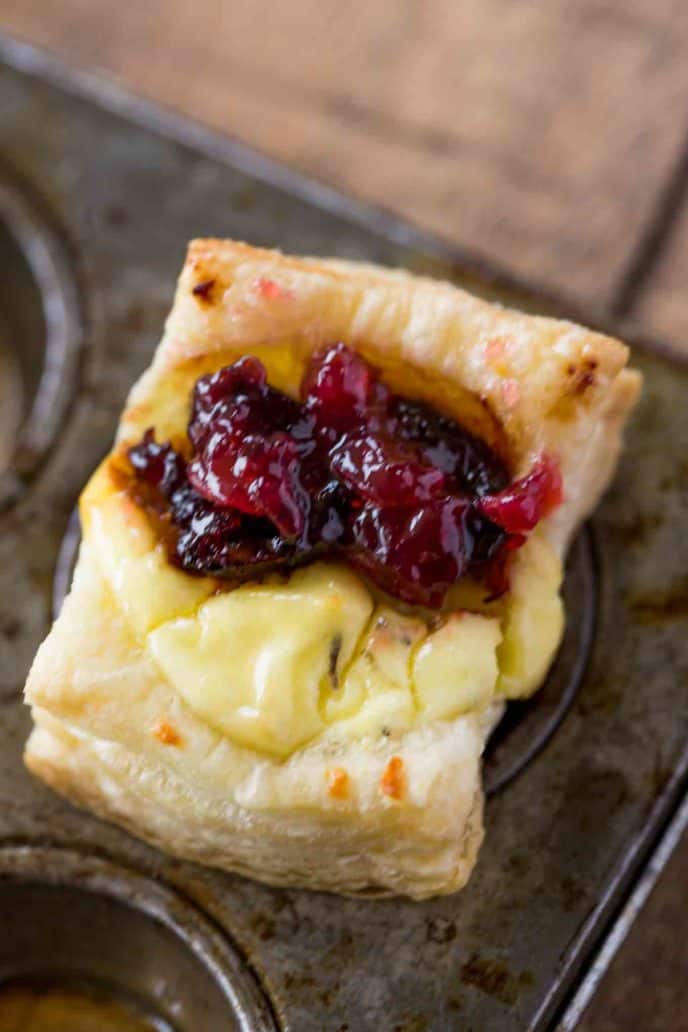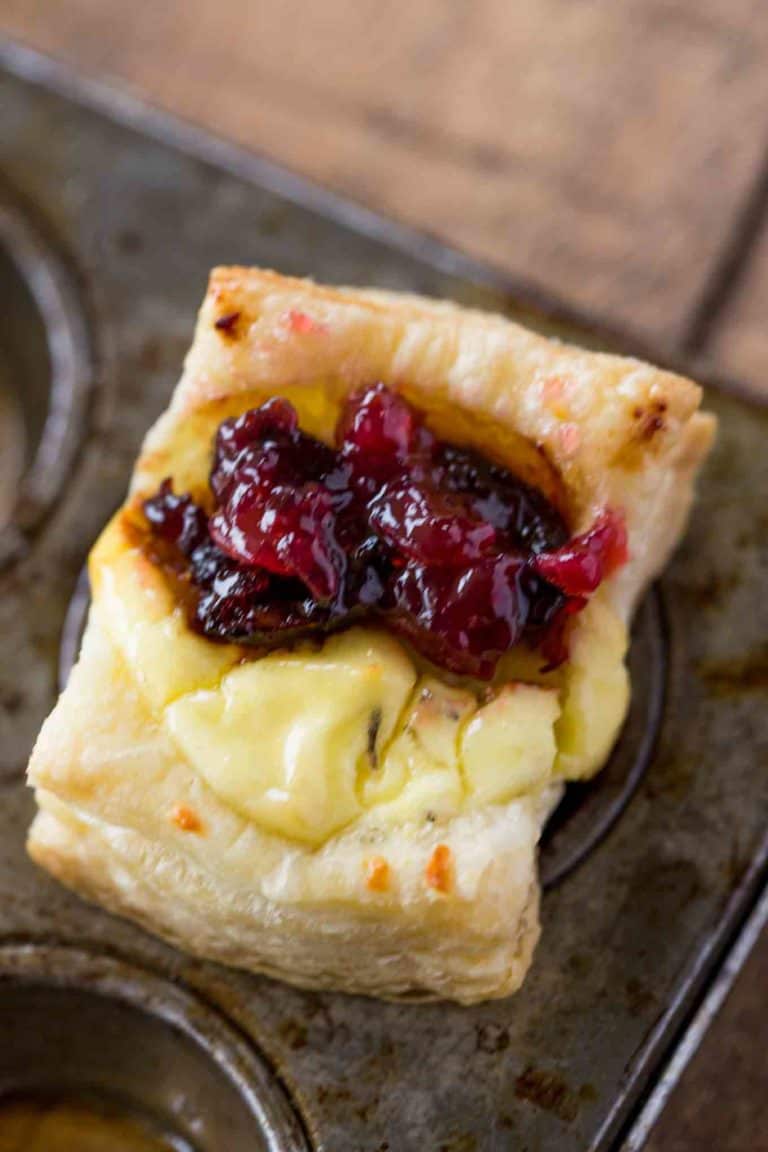 Want to freeze these Cranberry Goat Cheese Pastry Bites?
Follow the directions up to right before you would put it into the oven. Freeze the bites for 2-3 hours then store in a ziploc bag. When ready to cook, put them into the muffin tins and bake for 20-22 minutes. Do not bake them without the mini muffin tins, the puff pastry will flatten into pancakes making a mess.
Want to make this into a slab? Keep the puff pastry in three large triangles. Score a rectangle shape a half inch from the border and fill with the goat cheese mixture and top with the cranberry jelly. Bake for 20-22 minutes. Directions can be found here.
Looking for more appetizer recipes?
Tools used in the making of these Cranberry Goat Cheese Pastry Bites:
Mini Muffin Tin: Make sure you're using the right size, these are perfect for a one bite appetizer.


Instructions
Preheat the oven to 400 degrees.

In a bowl whisk together the goat cheese, salt, thyme and egg.

Unfold the puff pastry rectangles and cut each three piece sheet into 30 squares.

Spray the mini muffin tin with cooking spray and put the puff pastry squares into each well.

Spoon in a scant tablespoon of cheese mixture into each well, then cover with about a half tablespoon of cranberry jelly.
Nutrition
Calories:
60
kcal
|
Carbohydrates:
5
g
|
Protein:
1
g
|
Fat:
3
g
|
Saturated Fat:
1
g
|
Cholesterol:
8
mg
|
Sodium:
61
mg
|
Potassium:
10
mg
|
Sugar:
2
g
|
Vitamin A:
85
IU
|
Vitamin C:
0.5
mg
|
Calcium:
13
mg
|
Iron:
0.3
mg