Pineapple Meatballs are easily made with ground beef, breadcrumbs, garlic, and onion. Served with sweet pineapple, brown sugar, and soy sauce.
This recipe takes Classic Beef Meatballs and adds extra sweet and tangy flavor with a fresh pineapple sauce. It's the perfect flavor-packed Appetizer to serve at your next potluck or party!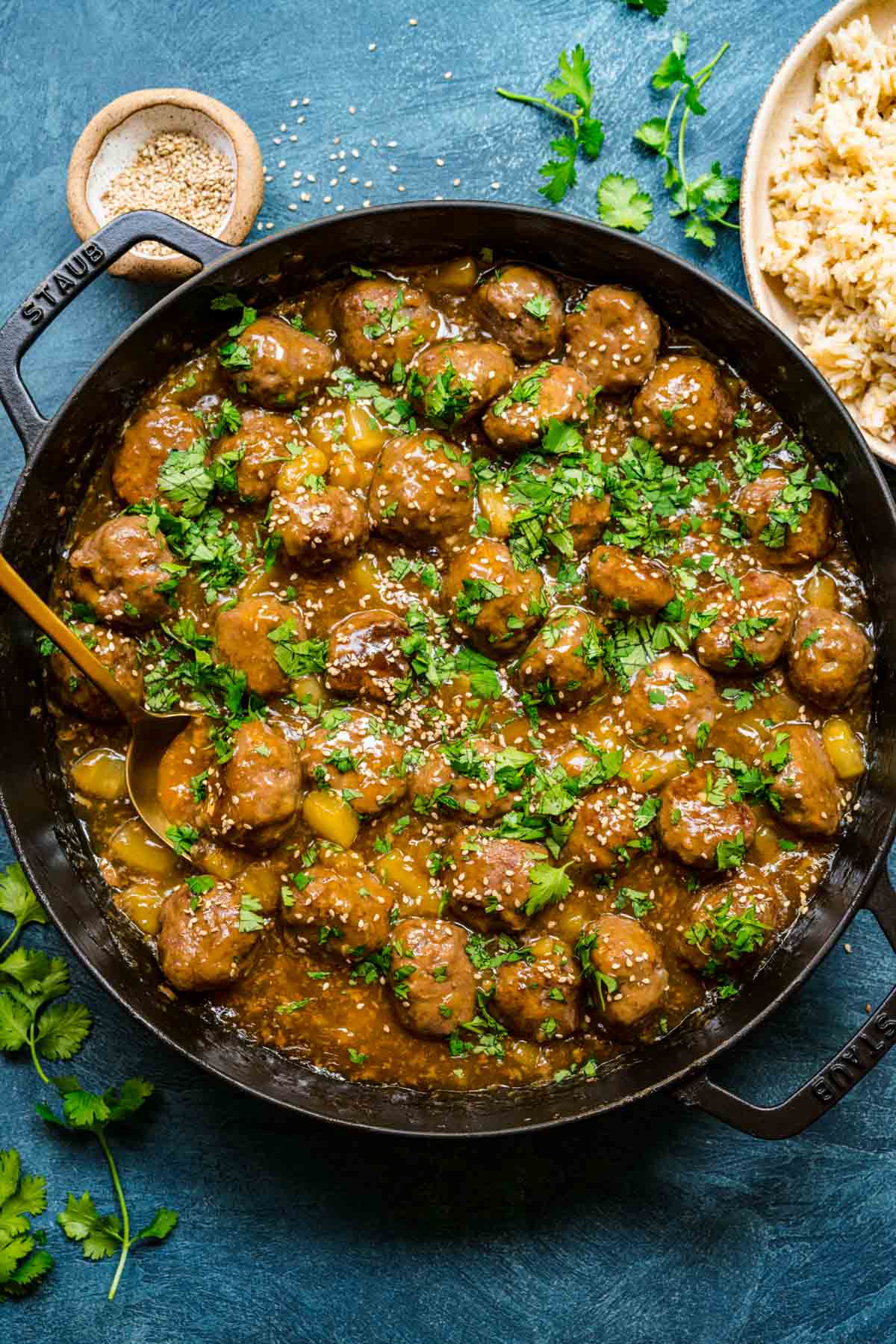 This meatball recipe is made with a smoky, and tangy pineapple sauce which gives the whole recipe a wonderful tropical taste. Pineapple Meatballs are perfect to serve as an appetizer for parties during the summer. The pineapple taste is wonderfully refreshing to enjoy on a hot day, and it's a fun way to change up traditional meatballs.
You can also make these homemade meatballs into the main course for a weeknight meal. Just plate them with filling side dishes like Brown Rice, Roasted Vegetables, and Hawaiian-Style Macaroni Salad. It makes a filling and flavorful dinner. Plus, the tangy pineapple sauce would go great with the rice and veggies. It's so good you'll want to pour it over everything!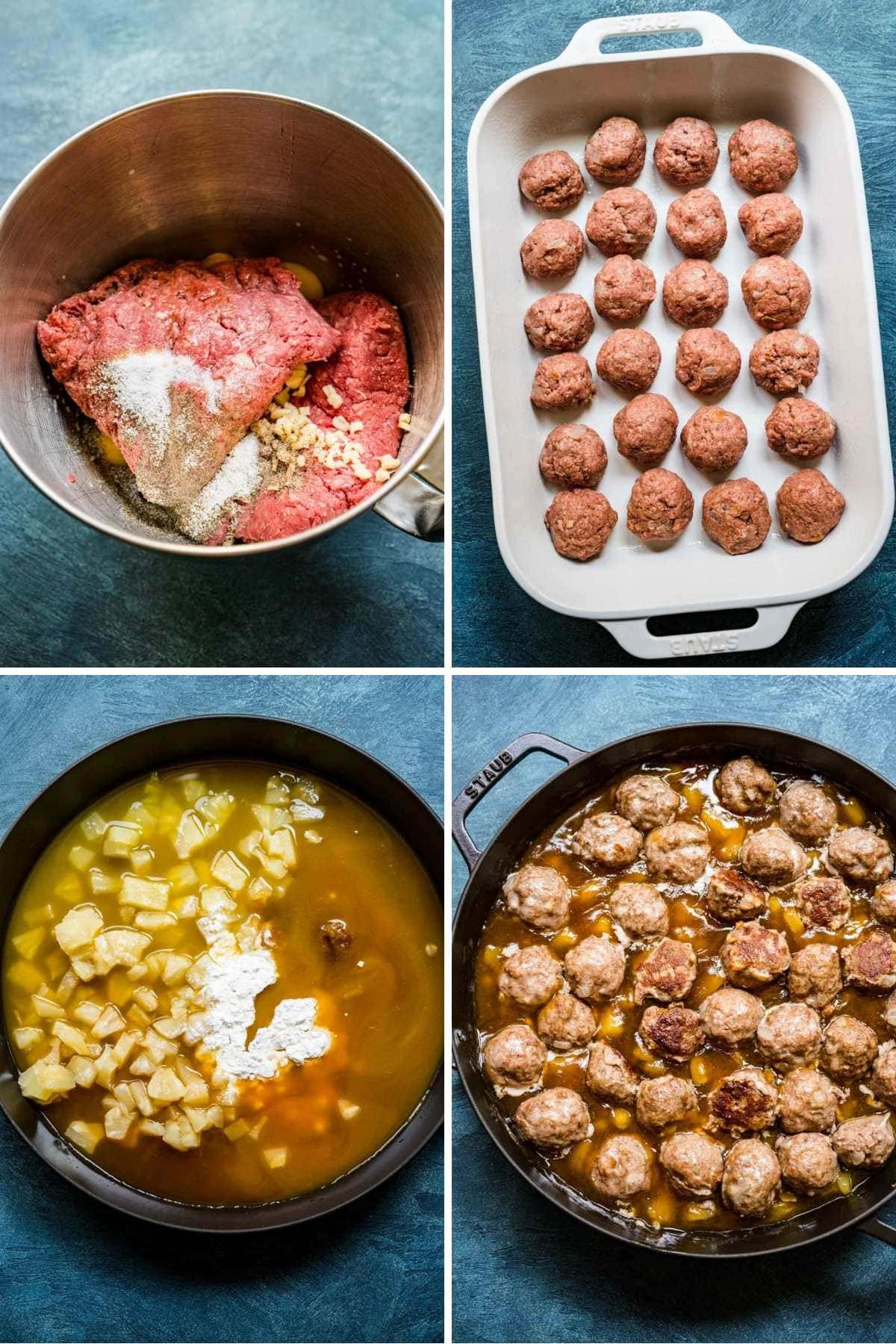 MORE MEATBALL RECIPES
COOKING TIPS
Prep time: Start by preheating the oven and spraying a 9×13 inch baking dish or rimmed cookie sheet with vegetable oil. Then add the bread slices to the mixing bowl of your stand mixer, and pour milk over the top. We use fresh bread to make the bread crumbs in this recipe instead of panko breadcrumbs for a more moist and tender texture.
Meat mixture: Add butter to a pan over medium heat. Once the butter is melted add the minced onions. Cook until they're translucent, then remove from heat to cool. Add the cooked onions, ground meat, eggs, minced garlic, salt, black pepper, and Worcestershire sauce over the top of the milk-soaked bread. Mix at low speed to break the bread apart and combine it with the meat and other ingredients. It's best to use a stand mixer since it will keep the ingredients colder and more tender than using your hands would.
Shape: Once the mixture is combined, use an ice cream scoop or your hands to form it into golf ball-sized balls. Place them on the prepared pan.
Cooking time: Pop the meatballs in the oven to bake for 20-22 minutes.
Pineapple Sauce: While the meatballs are in the oven, add brown sugar, cornstarch, pineapple juice, apple cider vinegar, soy sauce, and pineapple chunks to a large pot. Stir the mixture over medium-high heat. Cook for 8-10 minutes until it's a thick and creamy sauce. Take the meatballs from the baking sheet and add them to the sauce. Cook for 1 more minute and stir sauce over meatballs.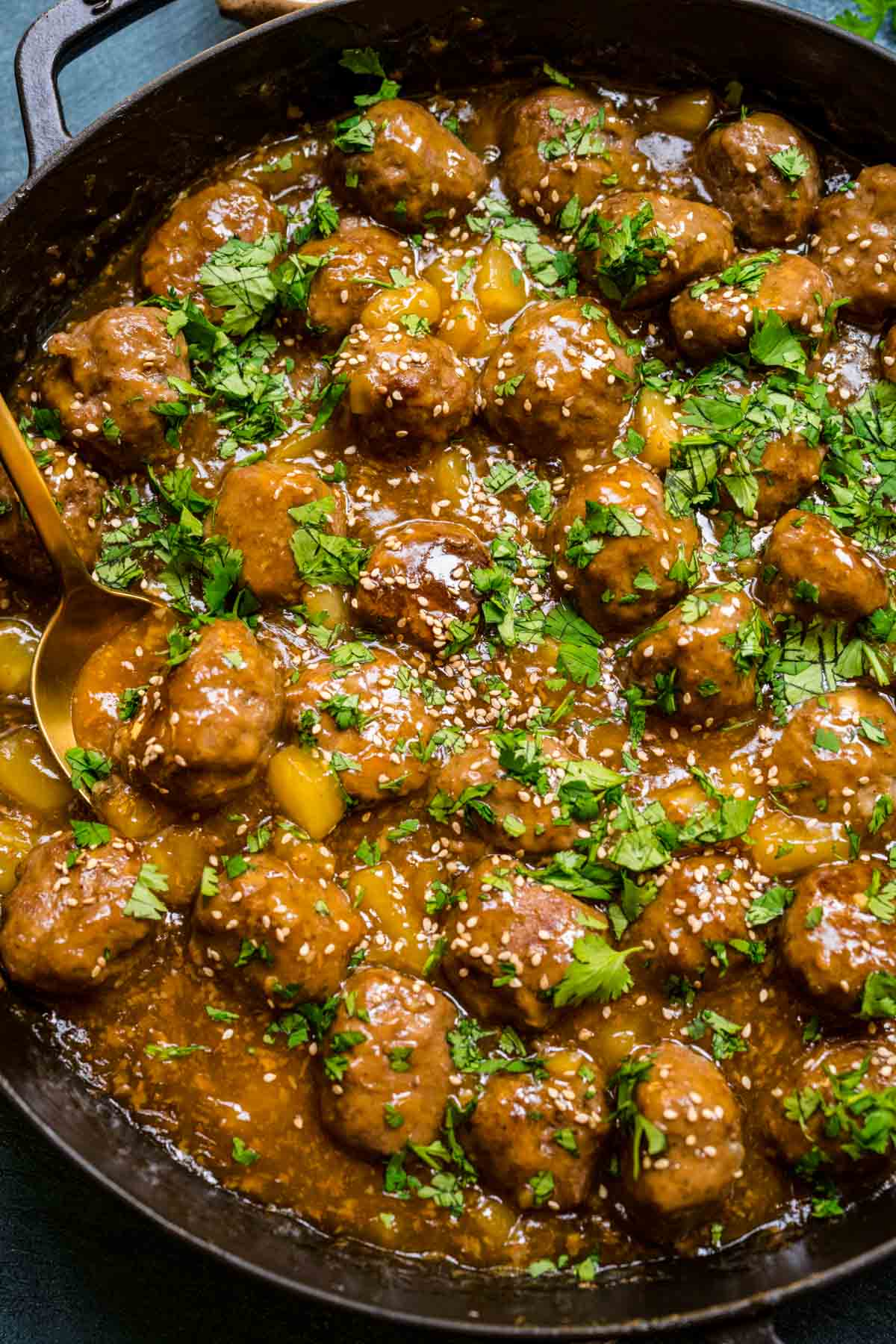 Create a free account to Save Recipes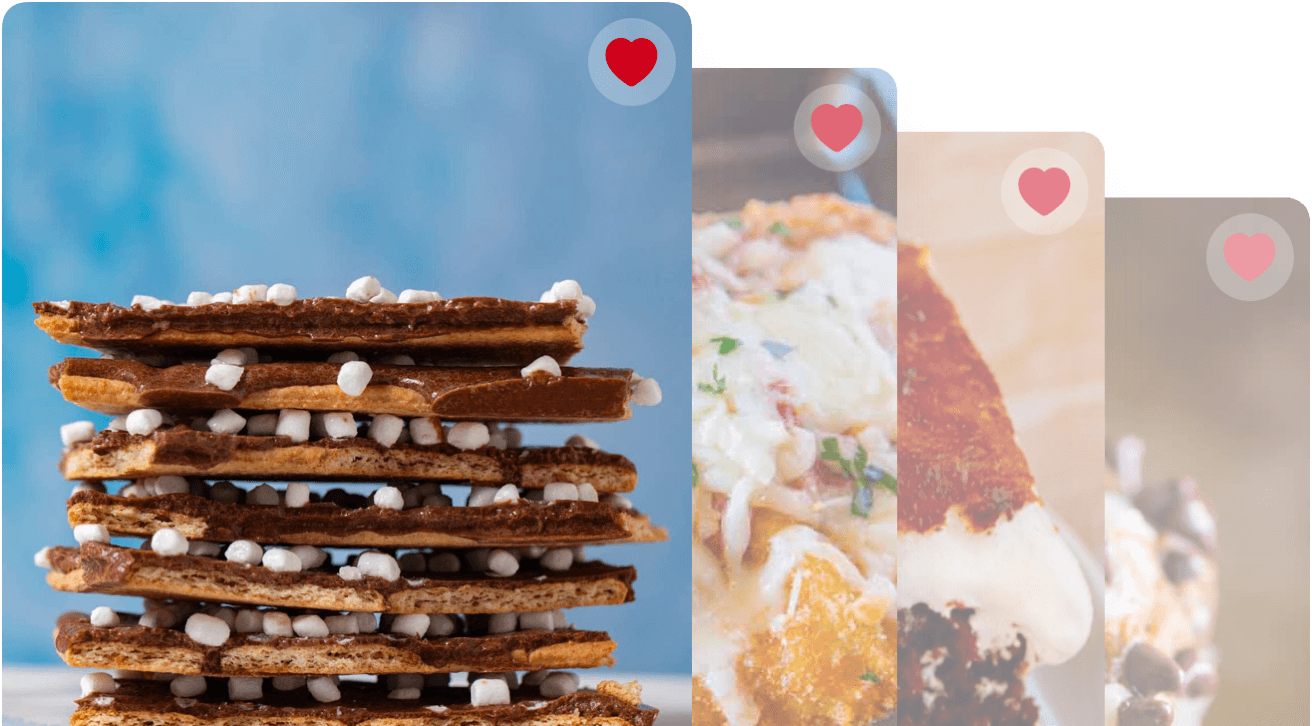 VARIATIONS
Add-ins: there are plenty of simple ingredients you can add to the recipe for some extra flavor. Try adding green onions, green peppers, shredded carrots, or shredded cheese. You could also add seasonings like fresh ginger, paprika, or red pepper flakes.
BBQ pineapple sauce: Another fun way to experiment with the flavor is by replacing the Worcestershire sauce in the pineapple mixture with Tangy Barbecue Sauce.
Lightened meatballs: If you want to make a slightly healthier meatball dish, you can use lean ground beef to replace the regular meat. You can also decrease the amount of brown sugar in the sauce. Just test the taste, and add more if necessary.
Chicken: Another way to make a leaner recipe is using chicken instead of ground beef. Just keep in mind that chicken might cook a little slower, and you want to make sure it reaches 165 degrees before serving.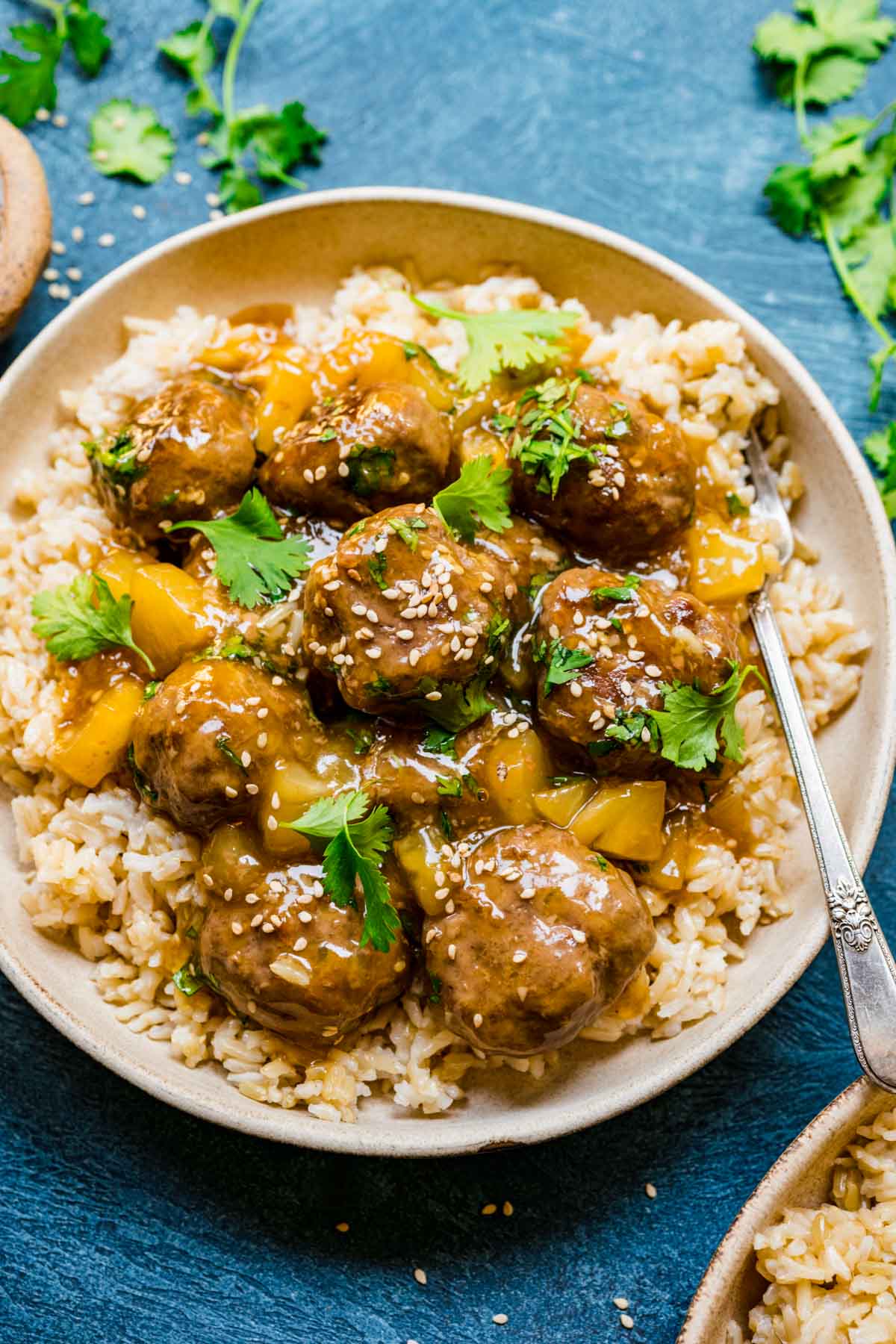 MORE APPETIZER RECIPES
HOW TO STORE
Serve: Don't leave cooked meatballs at room temperature for more than 2 hours.
Store: Once they've cooled to room temperature, transfer the Pineapple Meatballs to an airtight container to store in the fridge for 3-4 days.
Freeze: You could also store frozen meatballs for 3 months.


Ingredients
Meatball Recipe:
3

slices

bread

1/3

cup

whole milk

1/2

yellow onion

, minced

3

tablespoons

unsalted butter

, divided

2

pounds

ground beef

, (80/20)

2

large

eggs

3

cloves

garlic

, minced

1

teaspoon

kosher salt

1/2

teaspoon

coarse ground black pepper

1

teaspoon

Worcestershire Sauce
Pineapple Sauce:
1

cup

brown sugar

, packed

1/4

cup

cornstarch

2

cups

pineapple juice

1/4

cup

apple cider vinegar

2

tablespoons

soy sauce

2

cups

pineapple chunks
Instructions
Preheat oven to 400 degrees and spray a 9×13 baking pan with vegetable oil spray.

In the bowl of your stand mixer add the milk and slices of bread.

Melt the butter in a pan and add the minced yellow onions. Cook on medium-low until translucent but not browned.

Remove from heat and let cool.

In your bowl with the milk-soaked bread add the rest of the meatball ingredients including the cooked onions.

Mix on low until the bread is broken apart and the meat is combined with the ingredients (use the stand mixer instead of your hands to help keep the mixture cold and tender).

Using a meatballer/ice cream scoop or your hands scoop the meat mixture into balls about the size of a golf ball.

Cook, uncovered, for

20-22 minutes

.

While the meatballs are cooking, in a large pot add the brown sugar, cornstarch, pineapple juice, apple cider vinegar, soy sauce, and pineapple chunks.

Stir well then turn on heat to medium-high.

Cook for

8-10 minutes

until the sauce has thickened.

Remove meatballs from baking sheet and add to sauce.

Cook for

1 minute

until well coated.
Nutrition
Calories:
353
kcal
|
Carbohydrates:
37
g
|
Protein:
17
g
|
Fat:
16
g
|
Saturated Fat:
7
g
|
Polyunsaturated Fat:
1
g
|
Monounsaturated Fat:
6
g
|
Trans Fat:
1
g
|
Cholesterol:
91
mg
|
Sodium:
475
mg
|
Potassium:
406
mg
|
Fiber:
1
g
|
Sugar:
28
g
|
Vitamin A:
166
IU
|
Vitamin C:
8
mg
|
Calcium:
65
mg
|
Iron:
2
mg