Perfect Brown Rice, Every Time
This post may contain affiliate links. Read my disclosure policy here.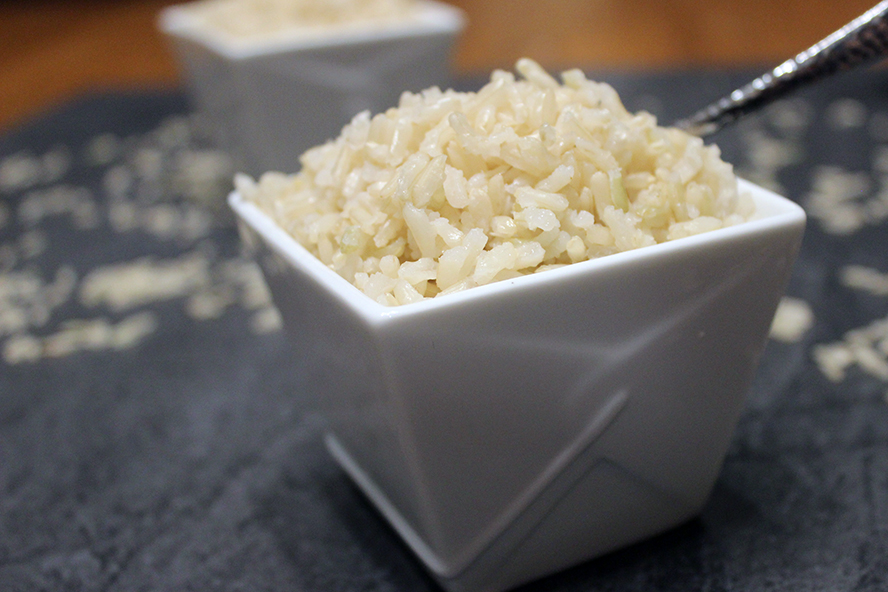 This week's Simply Sunday post is one of my absolute favorite staples to make. At least once a week, I bake off a batch of brown rice since we made the switch away from white rice in our house.  This recipe is so foolproof that I use it instead of the 200 dollar Japanese rice cooker I own. You combine 4 ingredients, put it in a 375 degree oven for an hour and you have perfectly cooked brown rice.
Sure, this dish won't win you any awards for how beautiful it is, or how exciting the flavors are but brown rice is notorious for taking too long to make, or for being underdone or overdone and mushy. You will never have that experience again if you follow these sage instructions from Alton Brown. Yes, Alton Brown. This is a recipe of his from a decade ago and I've been making it for almost that long. I have changed a few things on occasion. Sometimes I use stock instead of water, sometimes no butter or with fresh herbs from my garden. But do not change the timing, temperature and the fact that you start with a boiling hot liquid.
One of my favorite variations of this rice is to boil off skinned dark meat for 30 or so minutes. Then use that water to flavor the rice, then I put the chicken in the pan with the raw rice and stock and let it cook for an hour. Let your imagination go with this dish, but when you need a simple brown rice recipe, pull this out of your recipe file.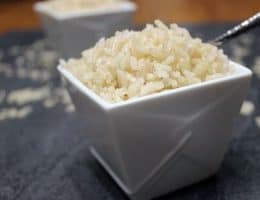 Perfect Every Time Brown Rice
A perfect every time Baked Brown Rice that you set a timer on and forget about for an hour. Then you have delicious, fluffy brown rice.
Ingredients
1 1/2 cups brown rice [I use long grain organic , but any kind can work here]
2 1/2 cups water
1 teaspoon unsalted butter
1 1/2 teaspoon kosher salt
Instructions
Preheat oven to 375 degrees.

Place the rice into an 8-inch square or circle baking dish.

Bring the water to a boil, add salt and butter to the saucepan. Add the water to the rice and just jiggle the pan a bit to make sure the rice is evenly distributed.

Cover the pan and bake for an hour.

After an hour, remove from oven and let sit a couple of minutes. Take off the cover and fluff the rice with a fork.
Recipe Notes
Recipe adapted from http://www.foodnetwork.com/recipes/alton-brown/baked-brown-rice-recipe.html
Dinner, then Dessert, Inc. owns the copyright on all images and text and does not allow for its original recipes and pictures to be reproduced anywhere other than at this site unless authorization is given. If you enjoyed the recipe and would like to publish it on your own site, please re-write it in your own words, and link back to my site and recipe page. Read my disclosure and copyright policy. This post may contain affiliate links.