Hawaiian Macaroni Salad
This post may contain affiliate links. Read my disclosure policy here.
Hawaiian Macaroni Salad is the perfect side dish to your favorite summer grilled foods or teriyaki recipes.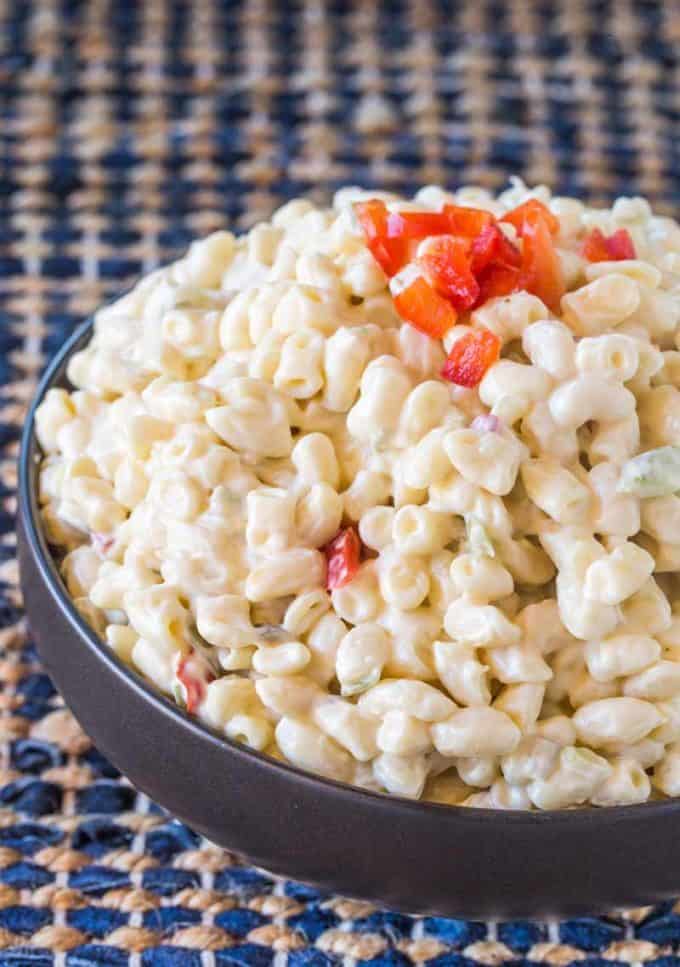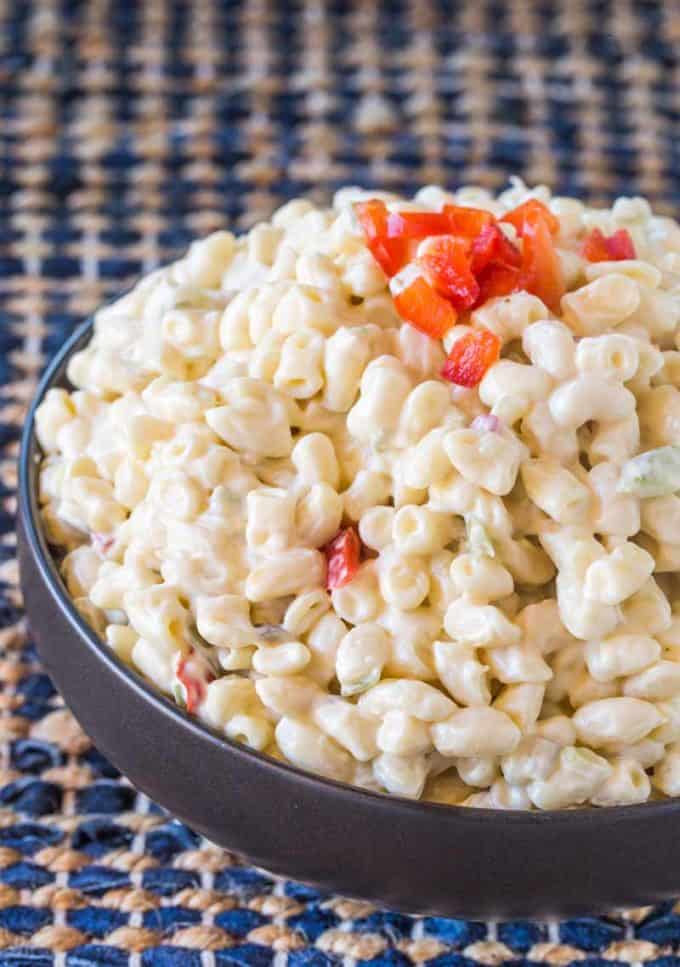 Hawaiian Macaroni Salad is one of my favorite things about getting Hawaiian food. When you're order a Hawaiian lunch plate either in Hawaii or here in the mainland you choose your grilled, fried, or teriyaki glazed meats and you get a serving of rice on the side and a scoop of amazing macaroni salad.
So how do you make Hawaiian Macaroni salad? Or how is it different than regular macaroni salad? The difference between most macaroni salads and Hawaiian macaroni salad is the extra mayonnaise, the shredded carrot and the shredded onions.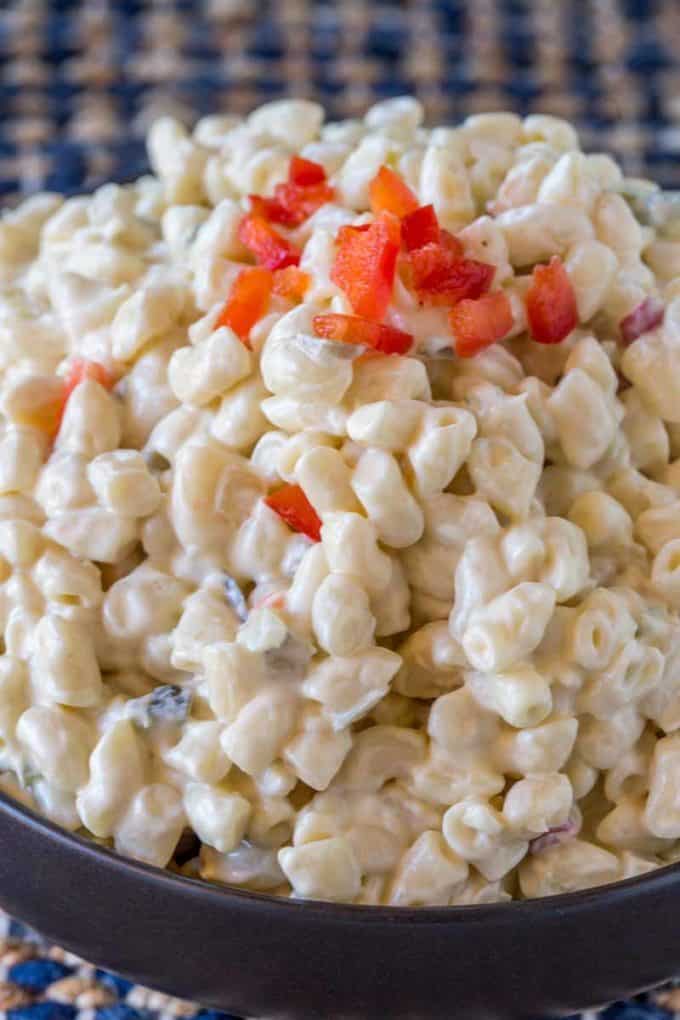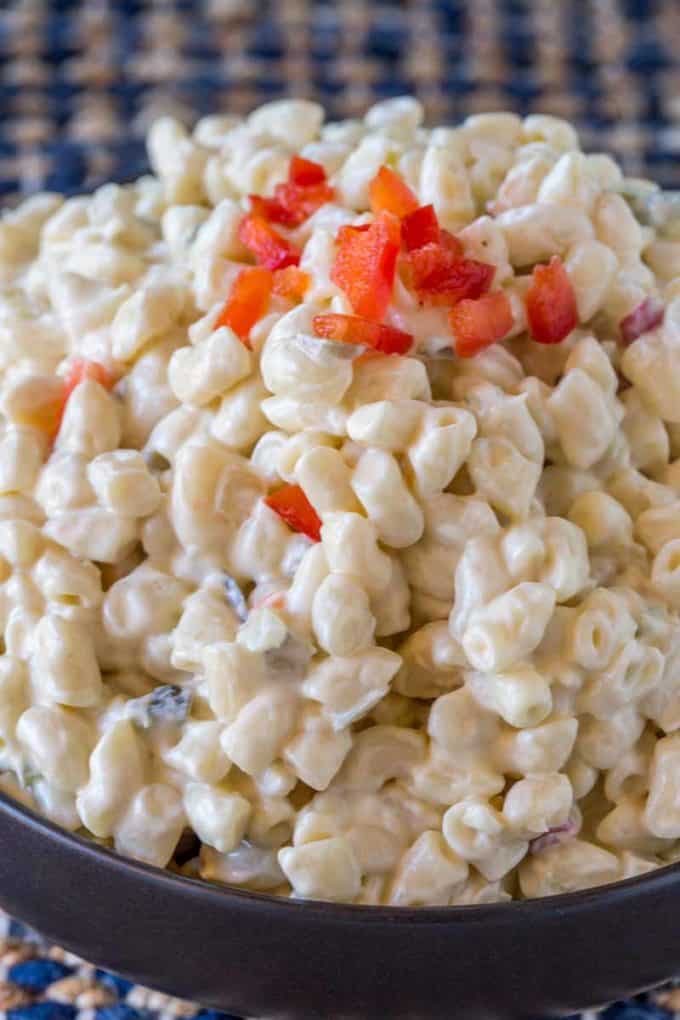 Want to add some different flavors to your Hawaiian Macaroni Salad?
Many locals will add tuna to their macaroni salad. This is totally authentic to Hawaii but not the classic lunch plate side dish I am recreating.
Make sure not to leave out the grated onion, it really does add an authentic flavor to the macaroni salad.
I add red bell pepper for color and crunch, you can certainly leave this out. Some people like celery for crunch.
Some Hawaiians like to do half potatoes and half macaroni in their salads too, its an easy way to make a salad that people who love potato salad would love too.
Looking for some great recipes to go along with this Hawaiian Macaroni Salad? I do have a Hawaiian Garlic Chicken coming to the blog soon which is the classic main protein on Hawaiian Lunch Plates, but here are some more recipes to pair this recipe with: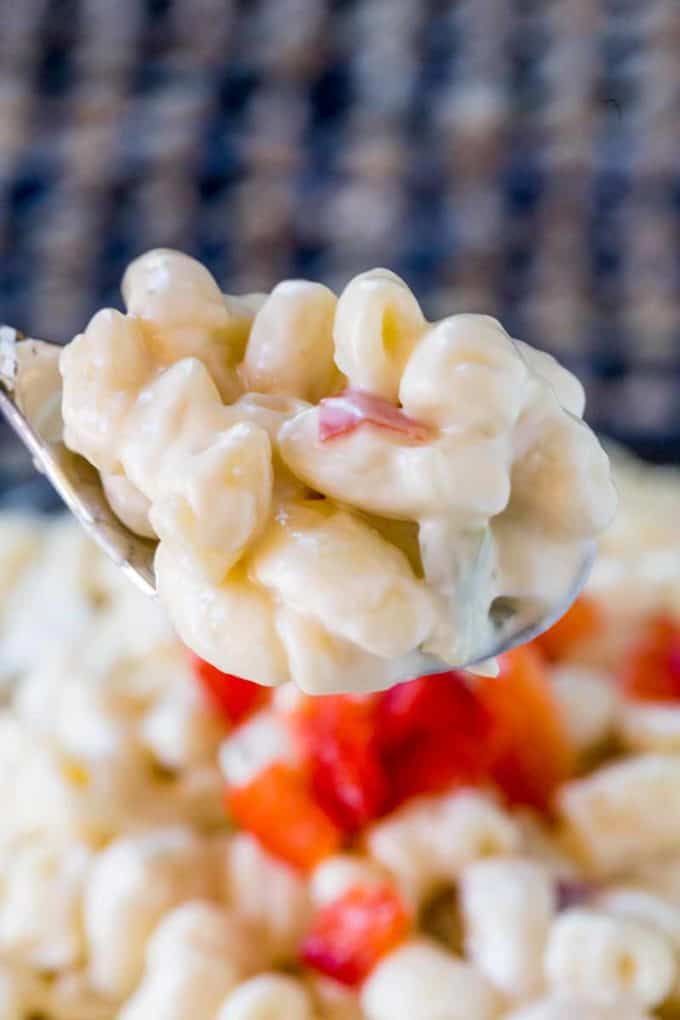 MY OTHER RECIPES
Tools used in the making of this Hawaiian Macaroni Salad:
Mayonnaise: This is the classic mayonnaise used in authentic recipes, if you can source it go for this brand!
Apple Cider Vinegar: This brand is the most even and mellow flavored and perfect for the macaroni salad.
Grater: Grating onion can be tricky, this grater is the safest I've found yet that isn't my mandoline. The thing I love about it is the guard. I HATED grating things before.
Kosher Salt: I think there is often confusion when I list Kosher salt in the ingedients, I get emails saying food came out salty. Kosher salt is different than table salt, with a bigger granule and less salty flavor.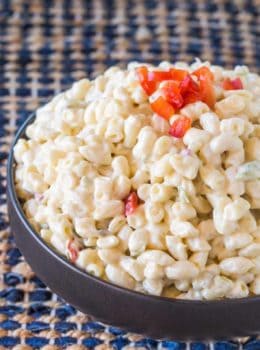 Hawaiian Macaroni Salad
Hawaiian Macaroni Salad is the perfect side dish to your favorite summer grilled foods or teriyaki recipes.
Prep Time 10 minutes
Cook Time 10 minutes
Total Time 20 minutes
Servings 10 servings
Calories 320 kcal
Ingredients
1 pound cooked macaroni
3 tablespoons apple cider vinegar
2 cups mayonnaise
1 carrot , finely grated
1/2 yellow onion , finely grated and water squeezed out
1/2 red bell pepper diced finely
1/2 green bell pepper , diced finely
1 tablespoon sugar
1/2 teaspoon Kosher salt
1/4 teaspoon black pepper
Instructions
Add the apple cider vinegar to the pasta while still hot and toss.

Let cool to room temperature.

Add in the rest of the ingredients and mix well.

Let chill in the refrigerator for as long as possible (at least two hours, but preferably overnight).
Nutrition Facts
Hawaiian Macaroni Salad
Amount Per Serving
Calories 320
* Percent Daily Values are based on a 2000 calorie diet.
Dinner, then Dessert, Inc. owns the copyright on all images and text and does not allow for its original recipes and pictures to be reproduced anywhere other than at this site unless authorization is given. If you enjoyed the recipe and would like to publish it on your own site, please re-write it in your own words, and link back to my site and recipe page. Read my disclosure and copyright policy. This post may contain affiliate links.