Meatloaf Muffins are a quick and easy kid-friendly meatloaf recipe. Mini beef meatloaves baked in a muffin tin topped with a sweet and tangy ketchup glaze.
A Classic Meatloaf is a go-to Dinner Recipe when you want easy comfort food. These family friendly mini meatloaves are even easier and quicker, and fun to eat!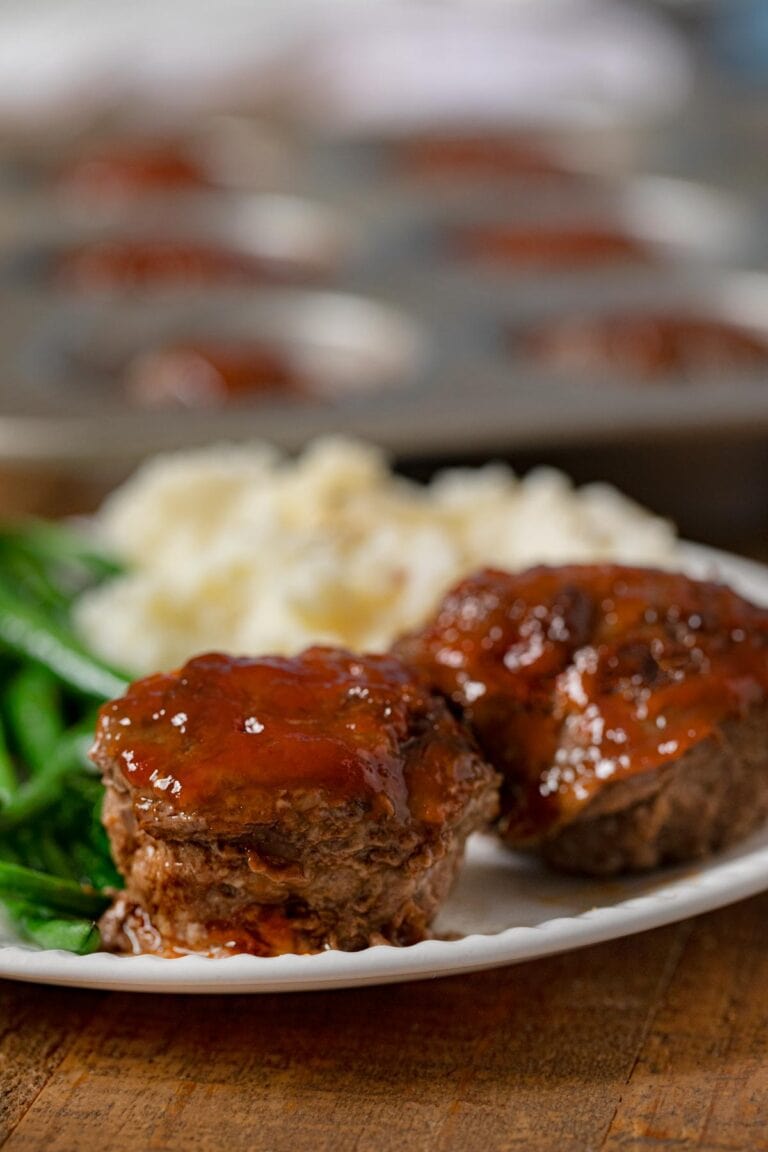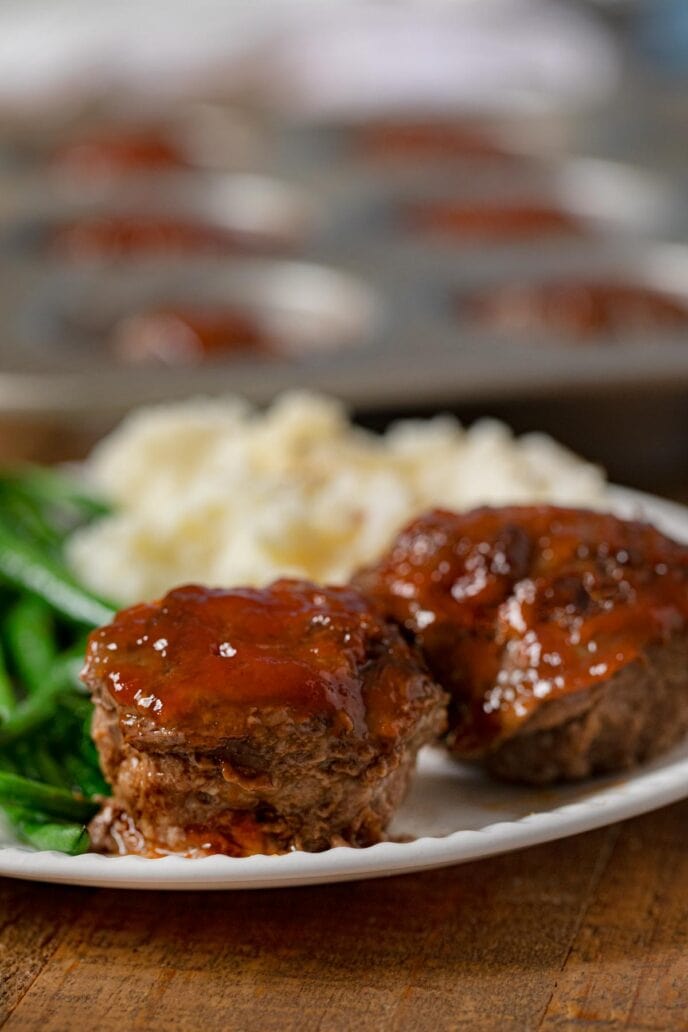 MEATLOAF MUFFINS
Whether you make these muffins as a party appetizer or main dish, these kid-friendly meatloaves are sure to be a hit! They are easy to make, and you can even have the kids mix them and press them into the muffin tin. Prep them ahead of time in the morning and keep in the refrigerator, then pop them in the oven for a tasty dinner ready in just 30 minutes.
This Meatloaf Muffin Recipe uses lean ground beef for low-calorie, low fat meatloaf that you wouldn't able to make in a traditional loaf pan. Larger meatloaves need a higher fat to keep them from drying out, so this leaner recipe is great when you want a low-calorie, healthy meatloaf. You can make it even healthier by using ground turkey breast and add a tablespoon olive oil to keep the meat moist.
These Mini Meatloaf Muffins are perfect for meal prepping a dinner for one! You can freeze them for months and pop in the fridge the night before you want to eat them. Refrigerate a muffin with sides for an easy lunch or dinner for the whole week. You can easily double this meatloaf recipe and make ahead muffins for later and a regular meatloaf for tonight.
PERFECT DINNER SIDE DISHES:
Tips for Making Meatloaf Muffins
When making a meatloaf, you don't want to over mix or handle the meat mixture too much. The colder the beef fat, the more moist and tender your Meatloaf Muffins will be.
Serve Meatloaf Muffins with comfort food favorites like Sautéed Green Beans, Mashed Potatoes, and Baked Mac and Cheese!
If you want to bake a regular sized meatloaf, cook your meatloaf in a 9×5 loaf pan. Spray the pan liberally and use a less lean ground beef like 85/15 or 80/20. Bake for 60-65 minutes, or until an internal temperature of 160 degrees F.
You can bake these as meatballs too. To make Meatloaf Meatballs, roll meat mixture into 2-inch balls and cook on a baking sheet for 18-20 minutes.
To make ahead, freeze meat mixture raw or cooked in a muffin tin until solid. Keep frozen for up to 3 months and thaw overnight in the refrigerator before heating. Reheat at 350 degrees for 20 minutes, or bake uncooked for 35-40 minutes.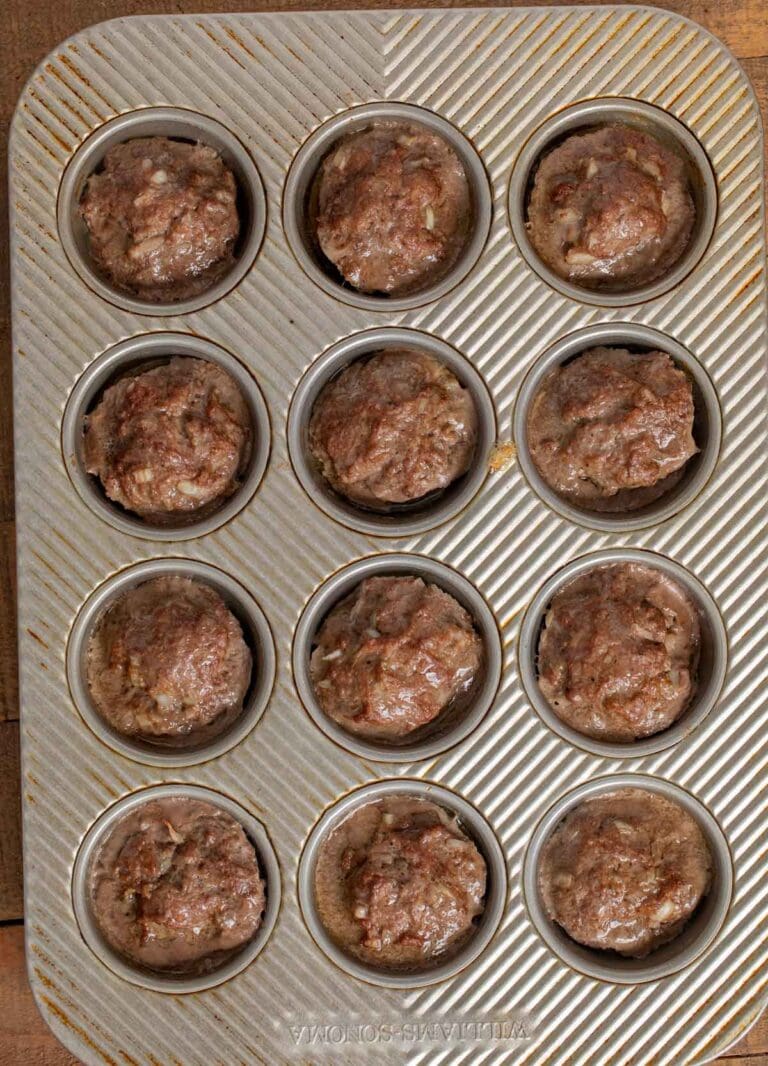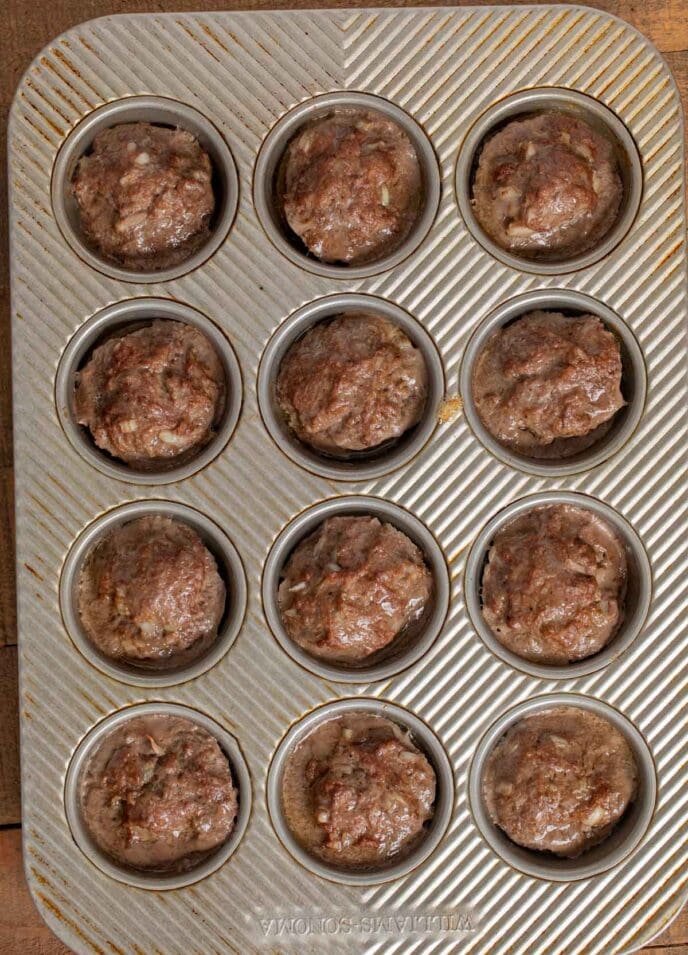 VARIATIONS ON MEATLOAF MUFFINS
Meat: Use ground turkey or ground chicken for a lighter Meatloaf Muffin, or use a classic meat mixture of ground beef, ground pork, and ground veal.
Bacon: Line each muffin cup with a slice of bacon before adding meatloaf mixture. Bake as usual. You can also add chopped bacon to the meat mixture instead of slices of bacon.
Meatloaf Sauce: Mix up the flavors of the ketchup glaze with Barbecue Sauce, chili sauce, salsa, tomato sauce, or vinegar.
Breadcrumbs: Instead of regular bread crumbs you can use panko bread crumbs, instant oats, crushed saltines or ritz crackers, or pork rinds. You can also use a few bread slices soaked in milk.
Taco Meatloaf Muffins: Add 2 tablespoons of Taco Seasoning and 1/2 cup diced green bell peppers to the meat mixture before cooking. Sprinkle with shredded cheddar cheese and green onion and heat until cheese melts.
Pizza Meatloaf Muffins: Top each muffin with Pizza Sauce and bake for 20-25 minutes. Add shredded mozzarella cheese and mini pepperoni and bake another 5-10 minutes.
Low Carb: To make Low-Carb Meatloaf Muffins use ground pork rinds instead of breadcrumbs and substitute sugar-free ketchup and Stevia brown sugar in the sauce. Pork rinds also make these meatloaves gluten-free.
Meatloaf Cupcakes
Prepare 2-3 cups Mashed Potatoes or Mashed Sweet Potatoes (or use leftovers).
Make the Meatloaf Muffins with glaze as usual and cook for 25 minutes.
Remove meatloaf from oven and pipe Mashed Potatoes on the top of each muffin.
Sprinkle cheese and bacon bits for loaded Meatloaf Muffins.
Bake muffins for 5-10 minutes long, until cheese is melted and potatoes are warmed.
MORE DELICIOUS MEATLOAF RECIPES
HOW TO STORE MEATLOAF MUFFINS
Serve: Mini Meatloaf Muffins are best served warm and can be at room temperature for up to 2 hours before they need to be chilled.
Store: Wrap individual Meatloaf Muffins in plastic wrap or store all together in an airtight container. Refrigerate for up to 3 days and reheat in the oven for 10 minutes, until warm.
Freeze: Freeze Mini Meatloaves in the muffin tin for 1 hour. Wrap each muffin in aluminum foil and store in a freezer safe bag. Thaw overnight in the refrigerator before reheating muffins in the oven at 350 degrees F.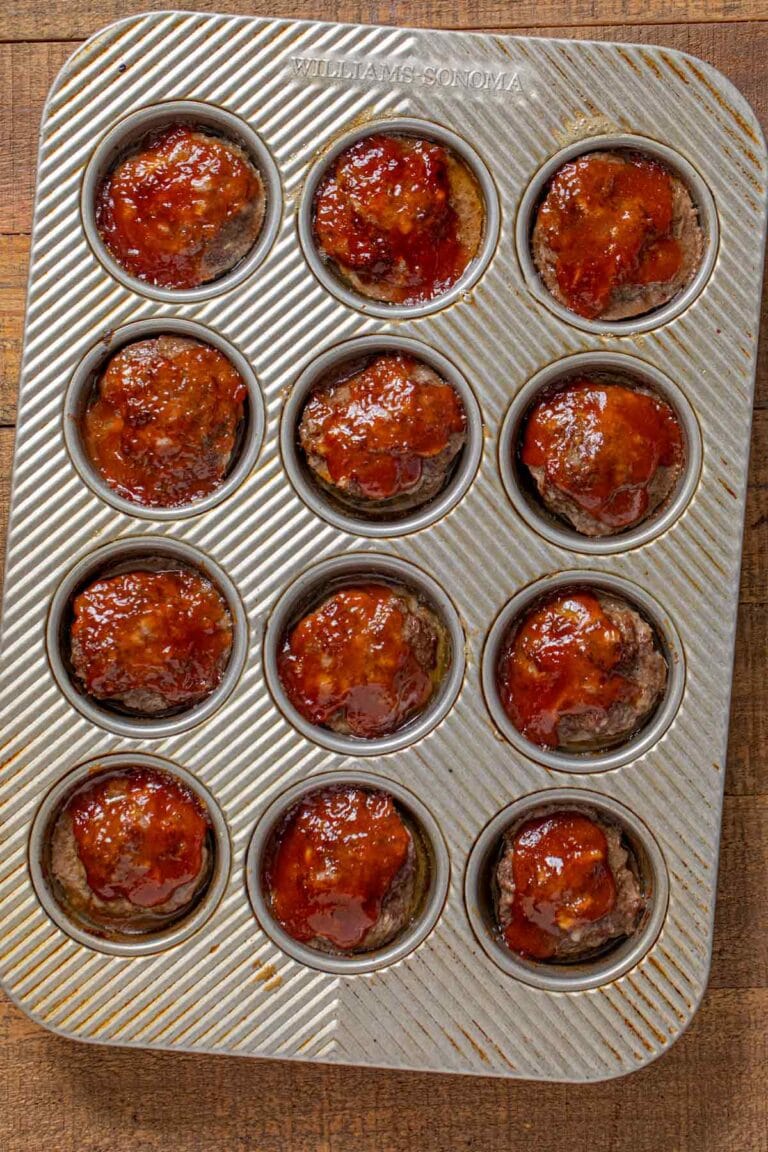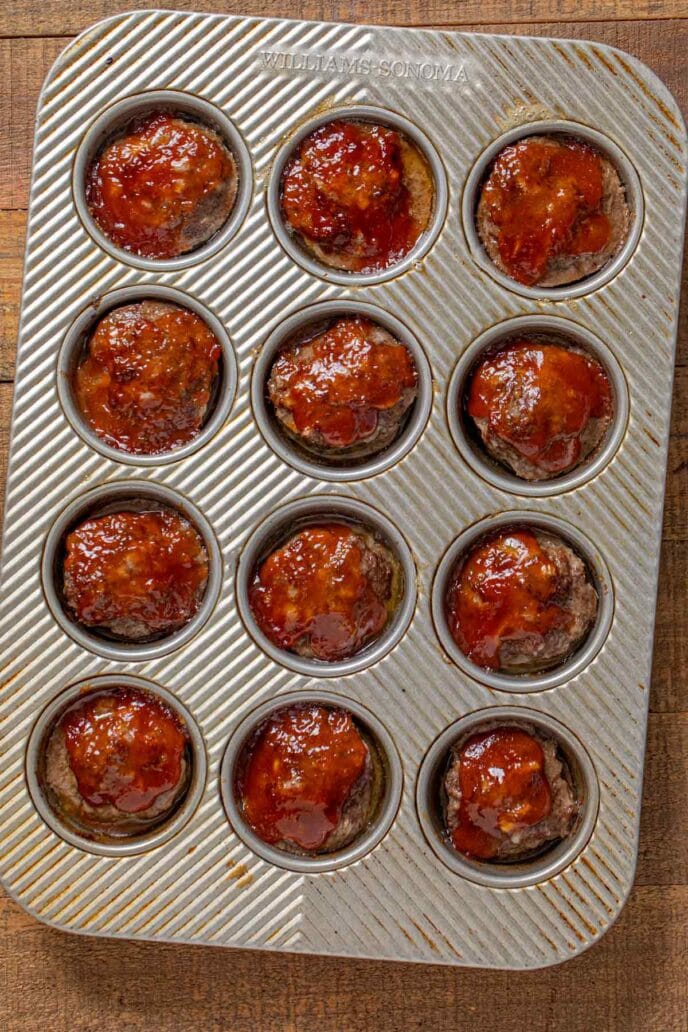 Recipe
Save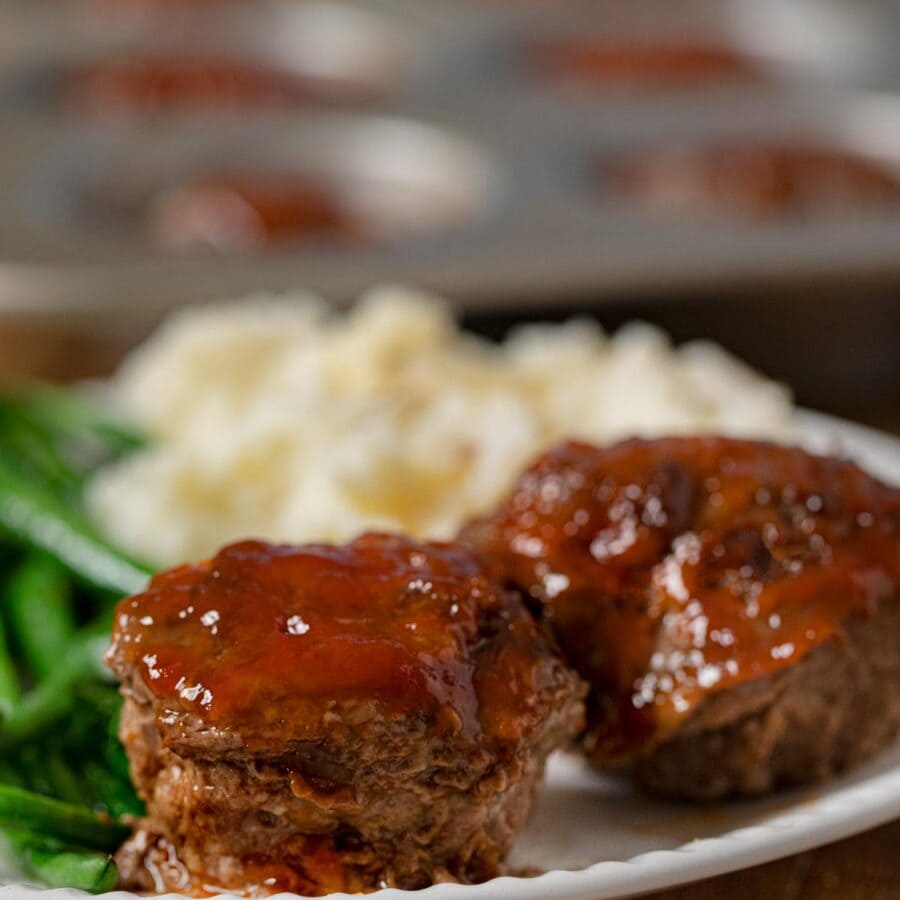 Meatloaf Muffins
Yield:

12

servings

Prep Time:

10

minutes

Cook Time:

30

minutes

Total Time:

40

minutes

Course: Dinner
Cuisine: American
Author: Sabrina Snyder
Meatloaf Muffins are a quick and easy kid-friendly meatloaf recipe. Mini beef meatloaves baked in a muffin tin topped with a sweet and tangy ketchup glaze.
Ingredients
Meatloaf
2

pounds

ground beef

, 90/10

1/4

yellow onion

, minced

2

cloves

garlic

, minced

2

tablespoon

Worcestershire sauce

2

large eggs

3/4

cup

breadcrumbs

1

teaspoon

Kosher salt

1/2

teaspoon

coarse ground black pepper
Meatloaf Glaze
1/3

cup

ketchup

3

tablespoons

brown sugar

1

tablespoon

yellow mustard

1

tablespoon

Worcestershire sauce
Instructions
Note: click on times in the instructions to start a kitchen timer while cooking.
Preheat oven to 375 degrees.

In a large bowl mix the ground beef, onion, garlic, Worcestershire sauce, eggs, breadcrumbs, salt and pepper until just combined.

Roll mixture into 12 pieces and place in greased muffin tin, flattening the tops slightly.

Glaze with sauce then broil until the sauce caramelizes, about 1 minute. (If you prefer not to broil, cook at 450 for 5 minutes)
Nutrition Information
Yield: 12 servings, Amount per serving: 225 calories, Calories: 225g, Carbohydrates: 11g, Protein: 16g, Fat: 12g, Saturated Fat: 5g, Cholesterol: 79mg, Sodium: 421mg, Potassium: 309mg, Fiber: 1g, Sugar: 5g, Vitamin A: 74g, Vitamin C: 1g, Calcium: 37g, Iron: 2g
All images and text © for Dinner, then Dessert.
Keyword:
Meatloaf Muffins
Save