Glazed Brown Sugar Meatloaf with tangy ketchup meatloaf topping and crushed saltines is the easiest and most flavorful take on a classic meatloaf you'll ever make!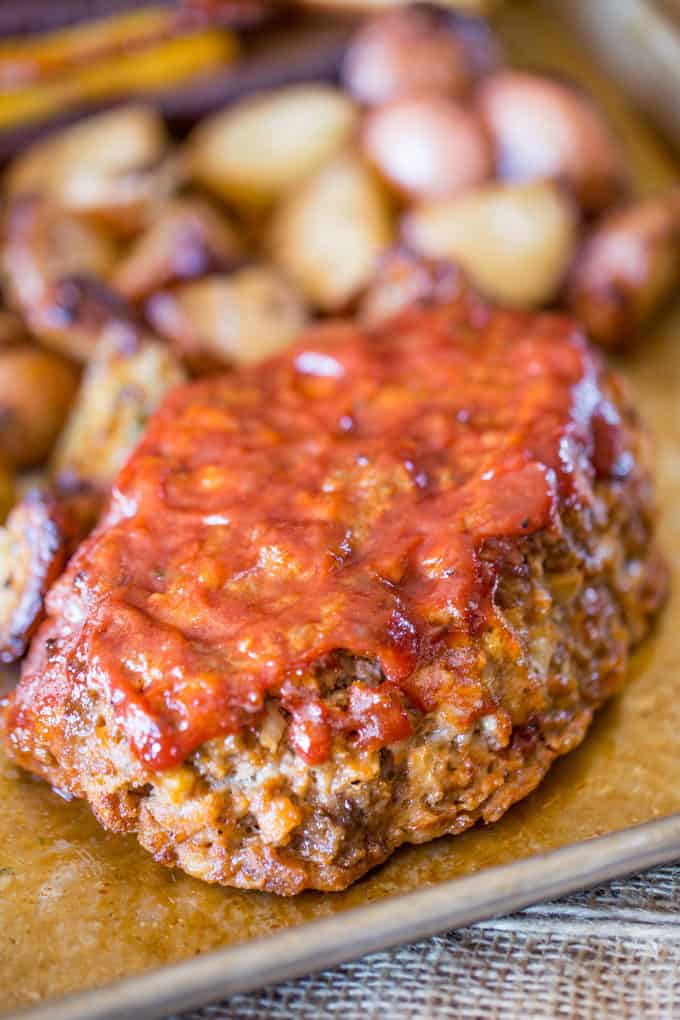 Brown Sugar Meatloaf – Hands down Favorite
Glazed Brown Sugar Meatloaf has been a staple in our meatloaf rotation for years and was one of the first recipes I made for my husband when we were dating. When you're younger and rely on more inexpensive cuts of meat, finding new ways to enjoy ground meats is something you get used to.
Brown Sugar Meatloaf is one of about three meatloaves we enjoy, but it is hands down the favorite meatloaf I make for clients.
This meatloaf recipe with brown sugar uses simple ingredients and has a unique use of saltines instead of breadcrumbs. Brown Sugar Meatloaf is guaranteed to be a huge hit with both kids and adults!

Important notes about this Brown Sugar Meatloaf recipe:
I added two slices of sandwich bread to the recipe but this bread is not consumed. Since I use ground chuck, the fat content is a bit higher than say a 90/10 mixture and there will be fat that renders.
Since I bake free form, not in a loaf pan, and with other vegetables the bread helps soak up the fat and doesn't interfere with roasting additional vegetables on the side of the sheet pan which makes this a one tray meal.
Toss the bread after the cooking, it will be full of fat and not pleasant to eat.
Add the meatloaf topping or glaze in the last fifteen minutes so it doesn't run off the meatloaf as it cooks and it won't crack or dry out.
Cooking this brown sugar meatloaf without a loaf pan allows for browning (and not steaming the meat) on three sides instead of one.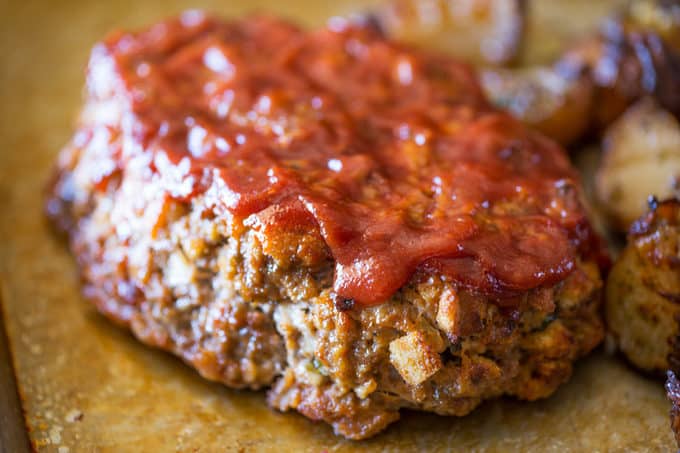 Ingredients
1/4

cup

packed brown sugar

1

teaspoon

Worcestershire Sauce

1/2

cup

ketchup

1 1/2

pounds

ground beef

(I use ground chuck, 80/20)

1/2

cup

milk

1

large eggs

1

teaspoon

Kosher salt

1/4

teaspoon

ground black pepper

1

small yellow onion

, chopped finely

1/4

teaspoon

ground ginger

3/4

cup

finely crushed saltine cracker crumbs

2

slices

sandwich bread

(any variety, this is to soak up the fat, not for consuming)
Instructions
Preheat oven to 350 degrees.

Lay the two pieces of sandwich bread onto the pan.

In a large bowl, mix the beef, milk, egg, salt, pepper, onion, ginger and saltines.

Shape the mixture into a loaf on top of the bread.

While the meatloaf is cooking add the brown sugar, ketchup and Worcestershire Sauce in a small bowl and mix.

Glaze the meatloaf and cook a final

fifteen minutes

.

Since you're adding bread under the meatloaf you can also cook potatoes or other vegetables on the side without worrying about too much fat running over.

You can also line the other half of the tray with foil to prevent any grease from coming over to the vegetables.

Rest the meat for

10 minutes

before slicing.
Nutrition
Calories:
343
kcal
|
Carbohydrates:
28
g
|
Protein:
26
g
|
Fat:
13
g
|
Saturated Fat:
5
g
|
Cholesterol:
102
mg
|
Sodium:
806
mg
|
Potassium:
537
mg
|
Fiber:
1
g
|
Sugar:
16
g
|
Vitamin A:
180
IU
|
Vitamin C:
2.1
mg
|
Calcium:
81
mg
|
Iron:
3.7
mg