Sweet and Sour Meatballs is an easy baked meatballs recipe with a takeout twist! Savory ground beef meatballs in a homemade Chinese sweet and sour sauce.
Two super popular recipes, Baked Meatballs and Sweet and Sour Pork, come together in this delicious and easy Appetizer Recipe.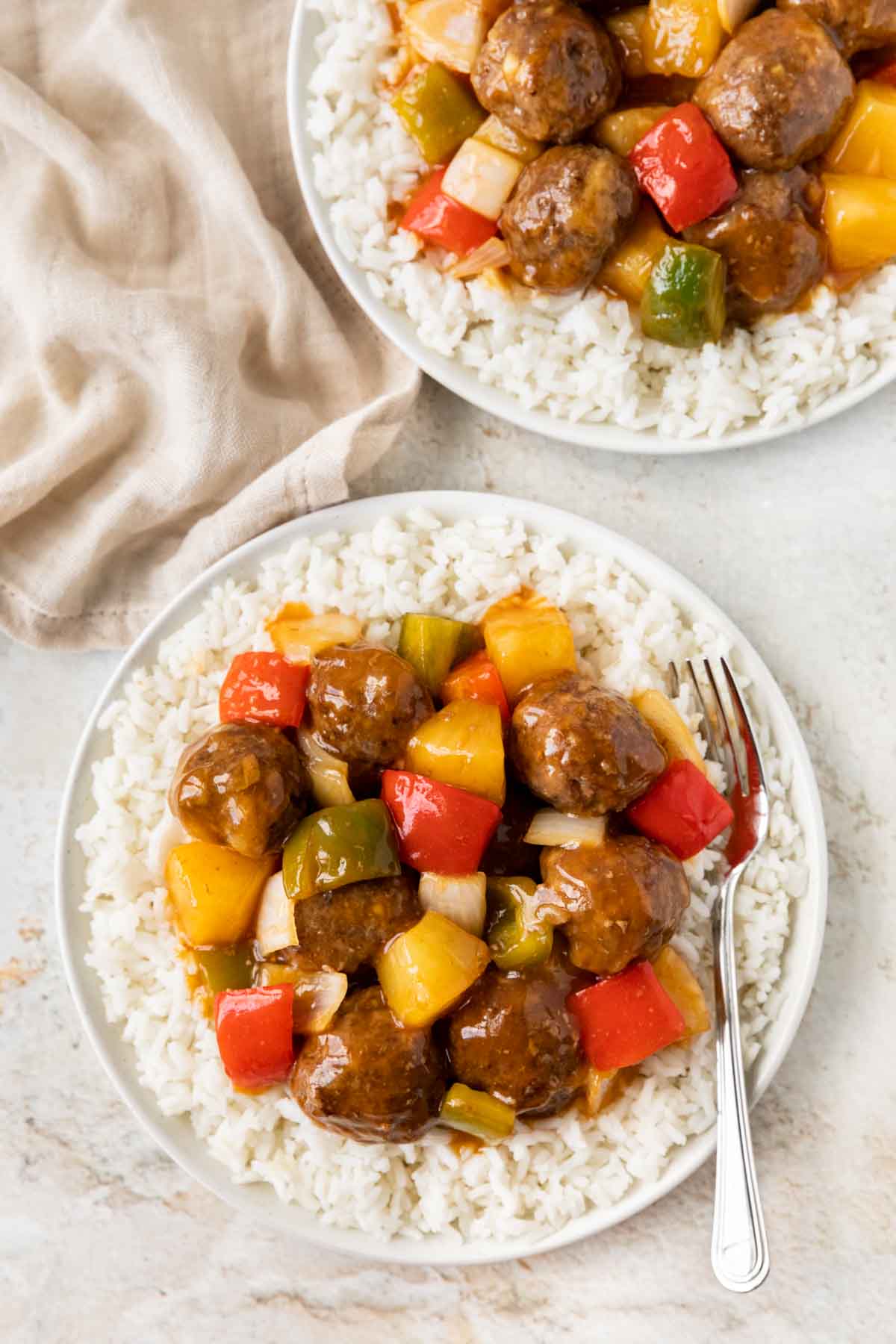 These easy Sweet and Sour Meatballs are almost completely homemade, from the ground beef meatballs to the tasty popular Chinese sauce. You can prepare the meatballs ahead of time and freeze them so they are ready to go with all your favorite sauce recipes. Serve these Asian-inspired meatballs as a main dish or as a fun, unique appetizer at your next party.
This classic homemade meatball recipe is made with ground beef, bread, milk, butter, eggs, garlic, and spices for the moistest meatballs ever. No dry or bland meatballs here! The pineapple sweet and sour sauce is just like authentic Chinese takeout, with whole pineapple chunks and fresh bell peppers. The sticky sweet sauce pairs perfectly with the savory beef in this delicious fusion recipe.
More Delicious and Easy Meatball Recipes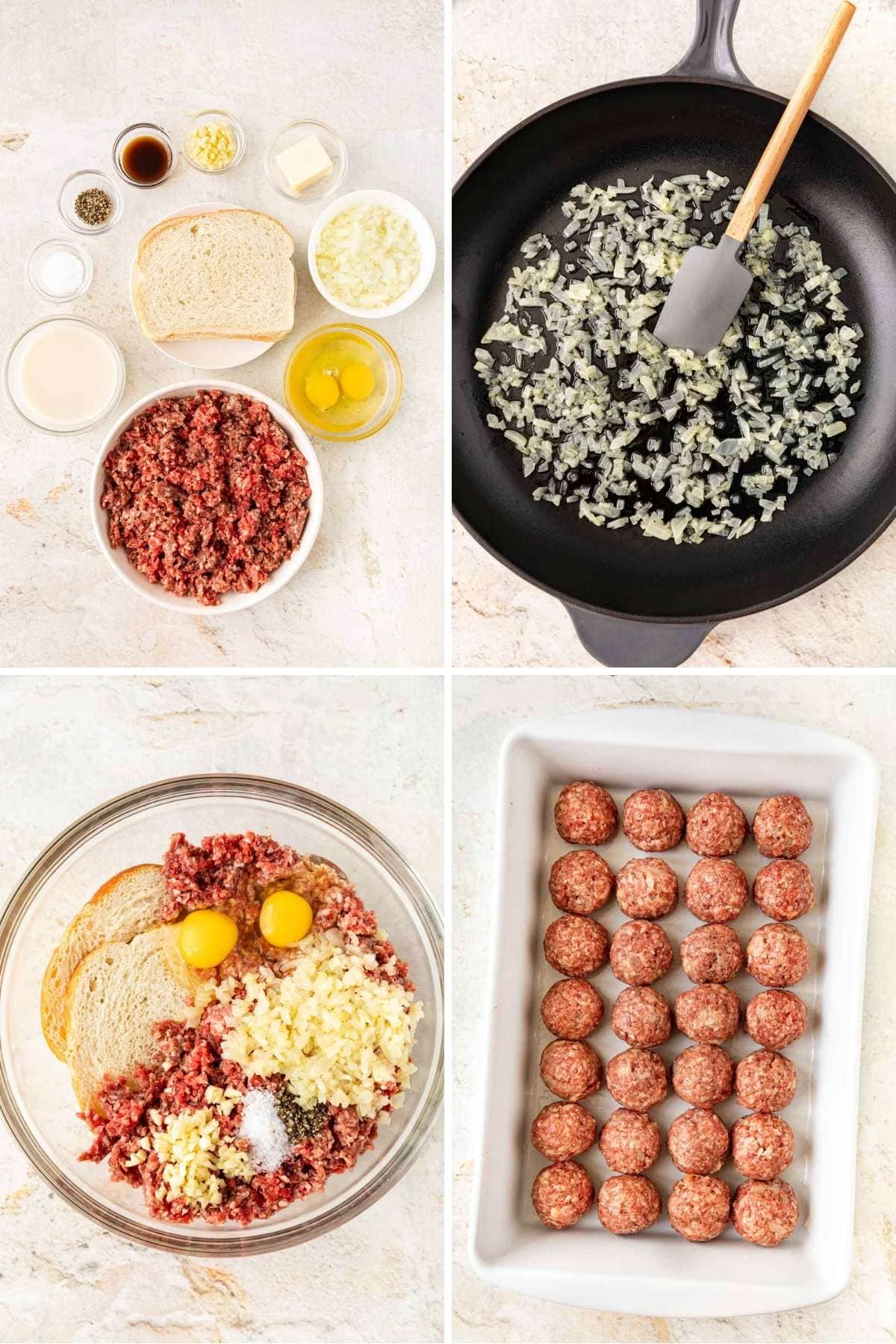 Sweet and Sour Meatballs are a great party appetizer because you can bake the meatballs days ahead of time and then make the sauce the day of your event. You can even reheat them in a crockpot in the sauce for an extra flavorful meatball that soaks up the delicious sauce.
These meatballs make a tasty and easy dinner too! You can serve Sweet and Sour Meatballs just like you would Sweet and Sour Chicken or other Chinese Main Dishes. Top a bowl of White Rice with the meatballs and lots of sweet and sticky sauce or serve them with Chow Mein. A side of Steamed Veggies makes this takeout-inspired meal complete.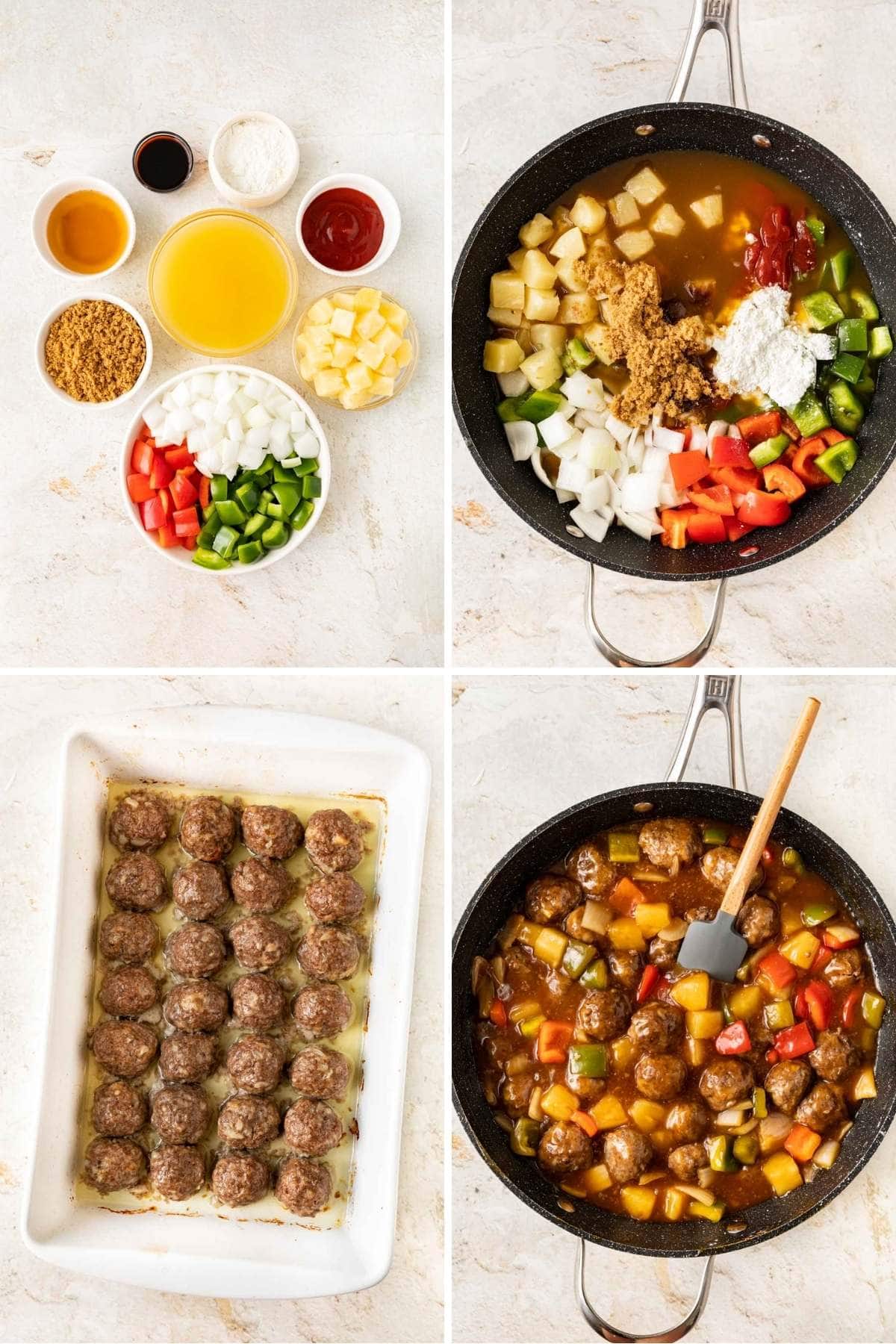 How to Make Sweet and Sour Meatballs
Prep: Preheat the oven and spray a baking pan with nonstick spray. Add bread slices into a stand mixer bowl, and pour over the milk to let them soak.
Mix Meatballs: Cook minced yellow onions in butter until translucent then set aside to cool. Once cooled, add them along with the rest of the meatball ingredients to the soaked bread. Mix on low until combined and bread is broken up.
Cook Meatballs: Scoop the meat into balls about the size of a ping pong ball. Bake for 20-22 minutes.
Sauce: Add brown sugar, cornstarch, pineapple juice, apple cider vinegar, ketchup, soy sauce, pineapple chunks, red bell pepper, green bell pepper, and white onion to a pot. Cook 8-10 minutes until thickened. Add the meatballs and cook another minute until well coated.

Create a free account to Save Recipes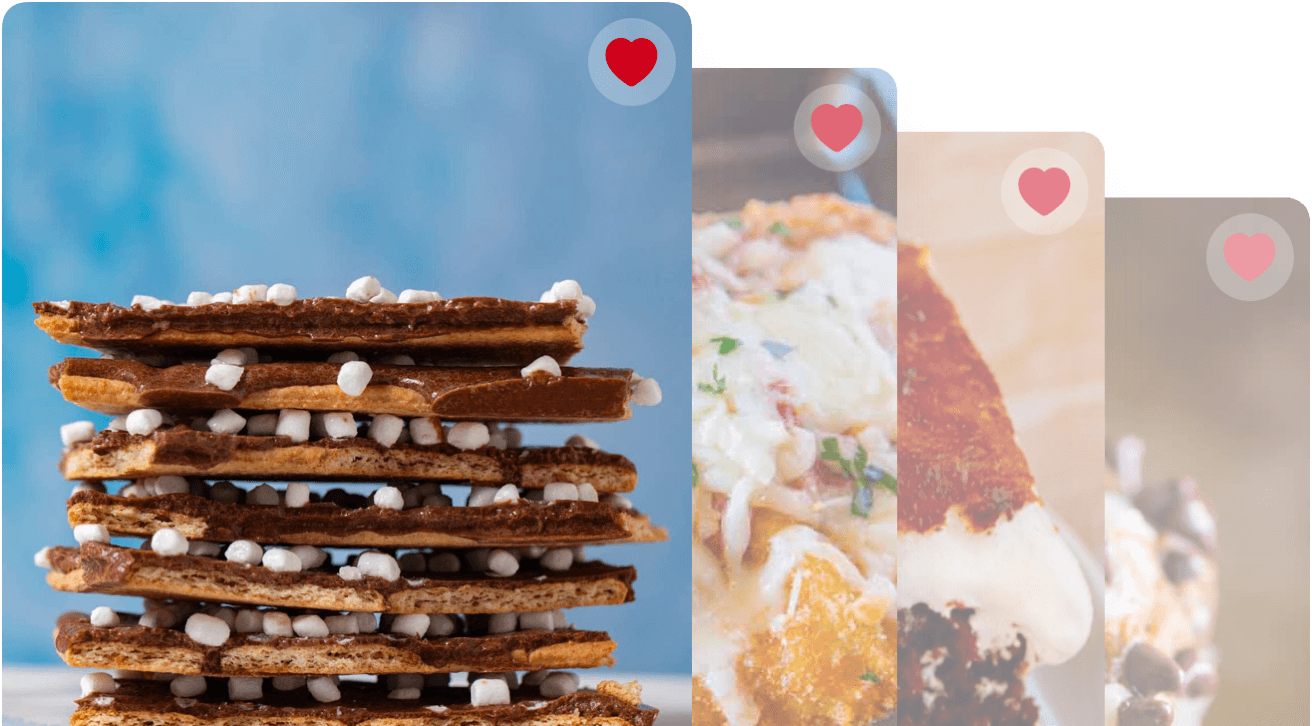 Frequently Asked Questions About Sweet and Sour Meatballs
Can different vegetables can be used in Sweet and Sour Meatballs?
You can use any vegetables. you choose. If you don't like peppers you can use sliced carrots for a healthy addition that brings a little crunch. Replace the slice onions with pearl onions for a change. Choose celery, green beans, jicama, broccoli, cauliflower, or any vegetables that you enjoy.
Why is the bread soaked in milk?
Bread adds a fluffy texture to your meatballs and the milk will add moisture. Soaking the bread will retain that moisture and only enhance the fluffy texture as these two ingredients combine before forming your meatballs.
Recipe Variations
Frozen Meatballs: You can use frozen meatballs to make this dish even easier. Bake the meatballs according to the package. While they bake prepare the sauce, then toss them in the sweet and sour sauce.
Meat: Substitute other ground meat like ground turkey, ground pork, or ground chicken for the ground beef. If you use leaner ground meat, like chicken or turkey, add a tablespoon of olive oil to keep the meat moist.
Kabobs: Serve these meatballs on kabobs by tossing ingredients in the sauce, then alternating 1 meatball, 1 pineapple slice, 1 onion, and 1 pepper on the kabob stick. Repeat each layer once, or simply finish off with one more meatball. Add extra sauce on the side, or drizzle the kabobs with a little extra once they're on the serving dish.
Bread: Instead of bread soaked in milk, you can use breadcrumbs in this homemade meatball recipe. Add ½ cup dry bread crumbs, either regular or panko, and reduce the milk to ¼ cup. You just want enough milk to make the crumbs moist but not dissolve them.
Juice: For a tangier citrus sauce, use orange juice instead of pineapple juice. You could also try tropical juice blends or use half pineapple juice and half other juices. Try not to use juices that are overly sweet with added sugar, or reduce the brown sugar to taste.
Sauce Ingredients: You can add other popular Asian flavorings like chili garlic sauce, oyster sauce, rice vinegar, green onion, sriracha, or other seasonings to your taste.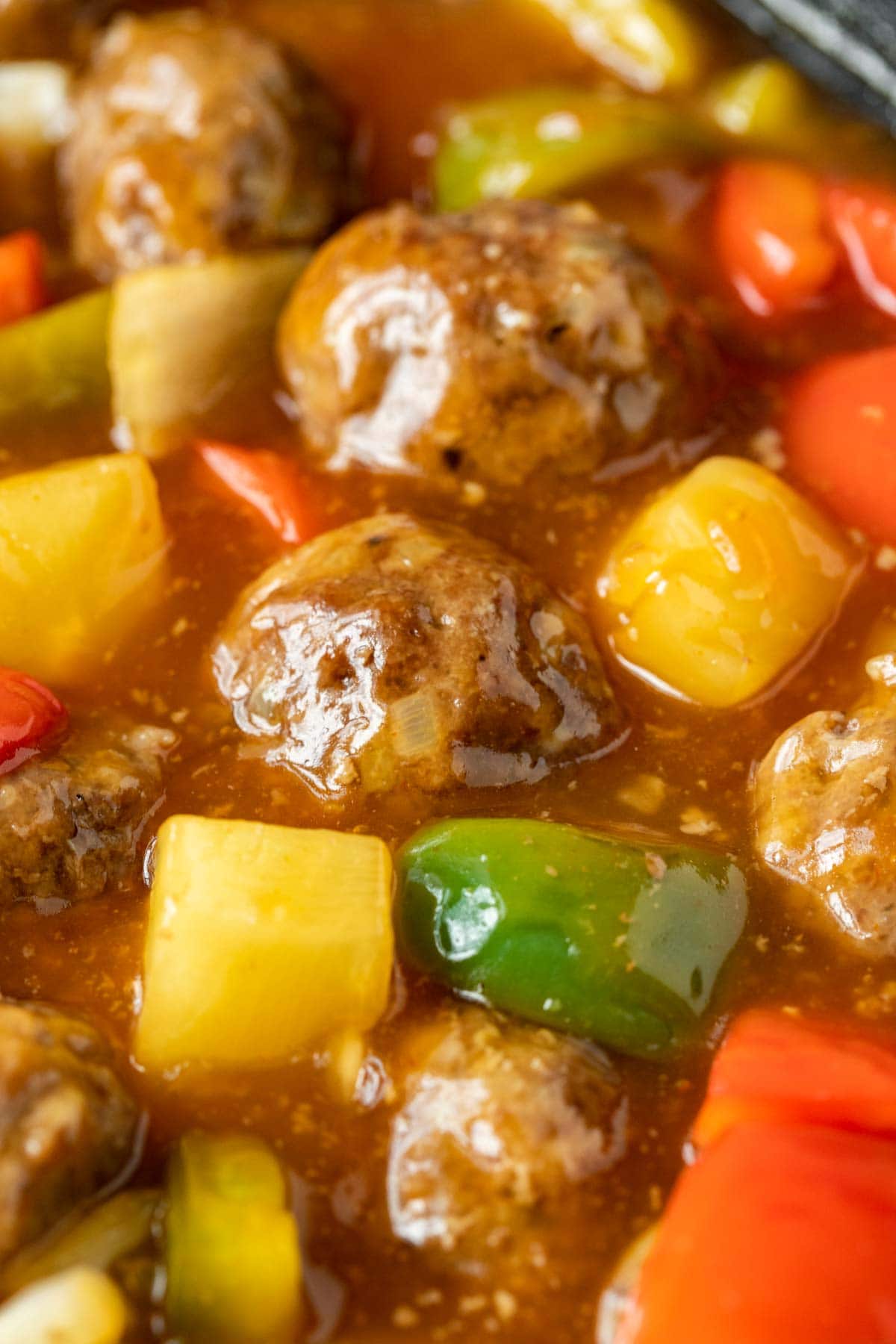 Slow Cooker Sweet and Sour Meatballs
Prep: Preheat oven on high broil. Prepare the meatball mixture as usual, forming into 1 ½ inch balls.
Brown the Meatballs: Place meatballs in a single layer on a greased baking sheet. Broil for 4-5 minutes on both sides, until slightly browned.
Add to Crockpot: Spray crockpot insert generously with cooking spray. Add the browned meatballs. Mix sauce ingredients until well combined and pour over meatballs.
Cook: Cover slow cooker with lid and cook on low for 6-8 hours, or on high for 3-4 hours, until meatballs are cooked through.
More Delicious Chinese Food Recipes You NEED to make:
How to Store
Serve: Sweet and Sour Meatballs can be kept at room temperature for up to 2 hours, or keep warm in a slow cooker for up to 4 hours.
Store: Cool Meatballs completely and store with sauce in an airtight container in the refrigerator for up to 1 week. Reheat over low heat in a saucepan or shallow baking dish in the oven.
Freeze: Once cooled, place meatballs and sauce in a freezer-safe container and freeze for up to 4 months. Thaw overnight in the refrigerator or reheat from frozen in a slow cooker or covered the oven on low until warmed through.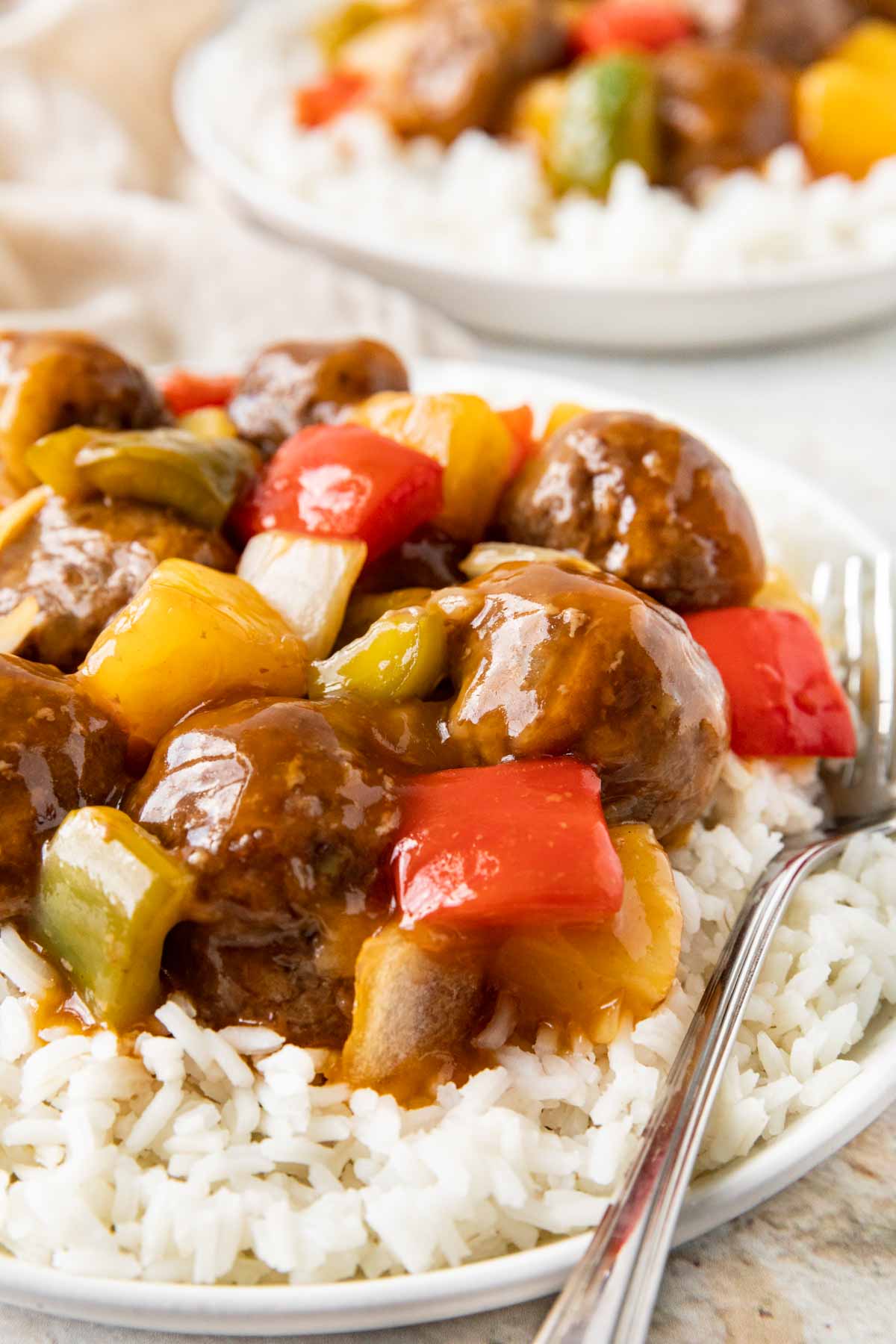 Ingredients
Meatball Recipe:
3

slices

bread

1/3

cup

whole milk

1/2

yellow onion

, minced

3

tablespoons

unsalted butter

, divided

2

pounds

ground beef

, (80/20)

2

large eggs

3

cloves

garlic

, minced

1

teaspoon

kosher salt

1/2

teaspoon

coarse ground black pepper

1

teaspoon

Worcestershire Sauce
Pineapple Sauce:
1

cup

brown sugar

, packed

1/4

cup

cornstarch

2

cups

pineapple juice

1/4

cup

apple cider vinegar

1/4

cup

ketchup

2

tablespoons

soy sauce

2

cups

pineapple chunks

1

red bell pepper

, cut into 1" chunks

1

green bell pepper

, cut into 1" chunks

1/2

white onion

, cut into 1" chunks
Instructions
Preheat oven to 400 degrees and spray a 9×13 baking pan with vegetable oil spray.

In the bowl of your stand mixer, add the milk to the slices of bread.

Melt the butter in a pan and add the minced yellow onions.

Cook them on medium low until translucent but not browned.

Remove from heat and let cool.

In your bowl with the milk soaked bread, add the rest of the meatball ingredients including the cooked onions.

Mix it on low until the bread is broken apart and the meat is combined with the ingredients (using the stand mixer and not your hands helps keep the mixture cold and tender).

Using a meatballer/ice cream scoop or your hands, scoop them into balls about the size of a ping pong ball.

Cook, uncovered, for

20-22 minutes

.

While the meatballs are cooking, in a large pot, add the brown sugar, cornstarch, pineapple juice, apple cider vinegar, ketchup, soy sauce, pineapple chunks, red bell pepper, green bell pepper, and white onion chunks.

Stir well then turn on heat to medium-high.

Cook for

8-10 minutes

until sauce has thickened.

Remove meatballs from baking sheet and add to sauce.

Cook for

1 minute

until well coated.
Nutrition
Calories:
109
kcal
|
Carbohydrates:
12
g
|
Protein:
5
g
|
Fat:
5
g
|
Saturated Fat:
2
g
|
Polyunsaturated Fat:
0.2
g
|
Monounsaturated Fat:
2
g
|
Trans Fat:
0.2
g
|
Cholesterol:
26
mg
|
Sodium:
155
mg
|
Potassium:
139
mg
|
Fiber:
0.5
g
|
Sugar:
9
g
|
Vitamin A:
160
IU
|
Vitamin C:
9
mg
|
Calcium:
20
mg
|
Iron:
1
mg