Chicken Lo Mein with yummy Chinese egg noodles, bean sprouts, chicken, bell peppers and carrots ready in under 30 minutes!
Of all the Chinese dishes to choose from, this recipe is a fantastic Chinese Food Recipe option if you're looking for something a bit thicker than the traditional Chow Mein. And with other incredibly easy recipes like Crab Rangoon and Easy Mongolian Beef, you won't run out of yummy options to feed to your family!

Chicken Lo Mein is one of the best takeout foods you can easily make at home. Authentic flavors and a savory sauce make this fragrant dish a mouthwateringly good option for any weeknight meal. It is a healthy noodle dish that is absolutely packed with tons of fresh veggies.
We've all been there as kids when someone would try and make a good Chinese noodle dish like in Chinese restaurants but despite their best efforts, they'd end up with soy sauce flavored noodles and all the veggies they thought they could hide in the pot. This is not that. This also not chow mein which utilizes thin, pan fried noodles.
The thick egg noodles are boiled, drained, and then tossed with light coat of sesame oil. This brings a strong base flavor critical to the dish. Then, the chicken is cooked until ready. Then the veggies are stir fried until just crisp, a special homemade sauce is then added, and it all gets mixed together. The result is a fabulous, and easy, authentic Chinese food dinner that your family will absolutely love. Serve with a side of Potstickers or Spring Rolls for a yummy anytime dinner!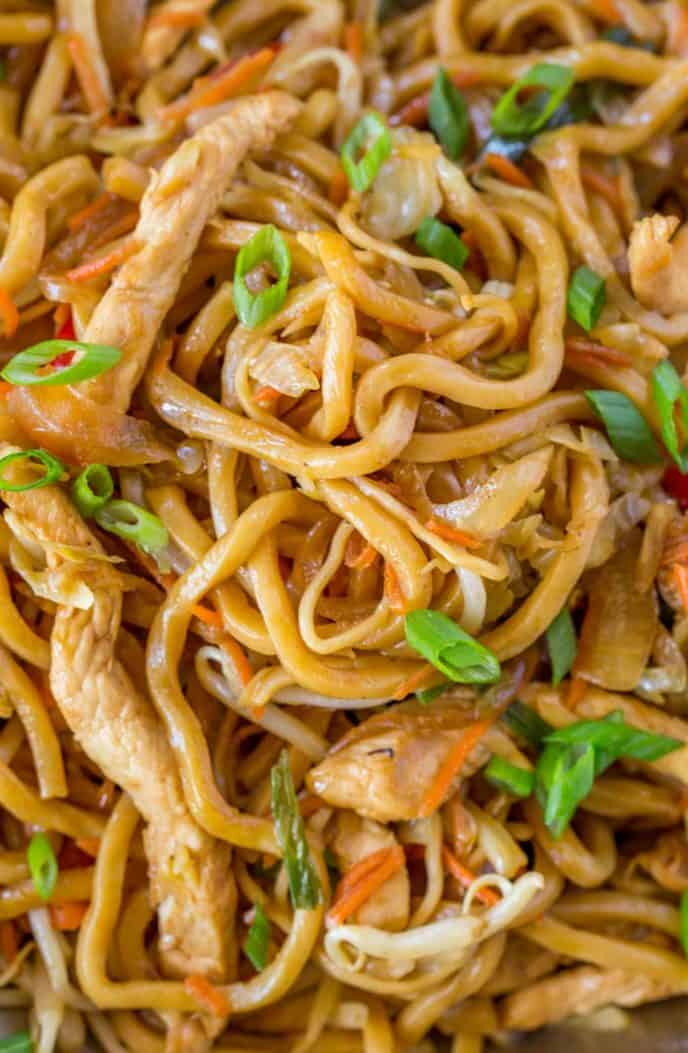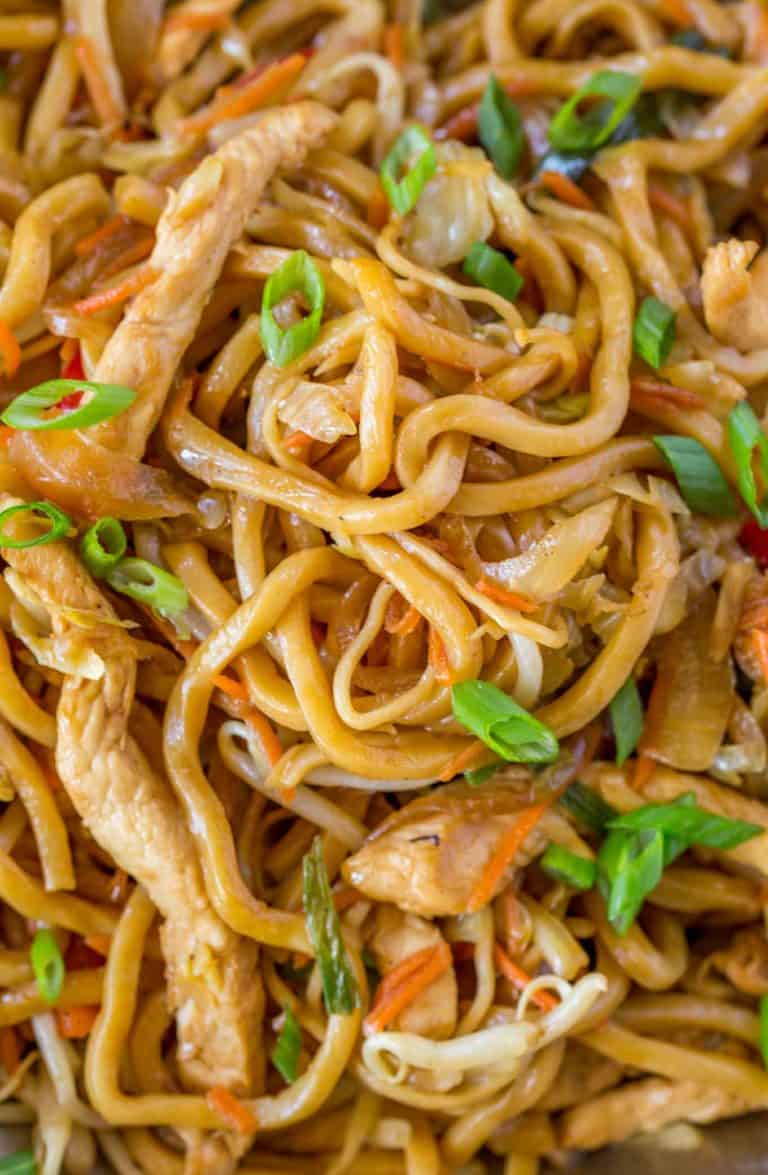 How to Make Chicken Lo Mein
Making Chicken Lo Mein is very easy! The process is simple, just follow the steps to ensure perfectly cooked vegetables that aren't soggy when served.
Step One: Prep and chop all the veggies and other ingredients before cooking.
Step Two: Cook and prep the noodles. Rinse in cold water before coating in sesame oil. Set aside in a medium bowl.
Step Three: Cook the skinless chicken breasts on both sides until ready.
Step Four: Half of the veggies will get cooked (see recipe below for more details).
Step Five: Prep and stir in the sauce base.
Step Six: Cook the other half of the veggies.
Step Seven: Mix everything together in the pan, toss well, and serve steaming hot!
Frequently Asked Questions
What is the difference between Lo Mein and Chow Mein?
A traditional Chow Mein has noodles that are boiled, then stir fried until having a slightly crisped exterior while Lo Mein is boiled then tossed in a sauce without cooking the noodles an additional amount. The noodles are roughly the same, both egg noodles, but Lo Mein noodles are normally thicker and chewier.
What kind of sauce is in Lo Mein?
Lo Mein sauce is made with a sesame oil base that the noodles are tossed in with garlic, fresh ginger, oyster sauce and soy sauce to round out the slightly sweet and slightly spicy sauce.
Is this Chicken Lo Mein recipe spicy? 
This recipe is not spicy and is friendly for all ages.

If you'd like to make it a bit spicy, you can add a teaspoon of red pepper flakes while cooking the first half of the veggies. If you'd like it more spicy, add about a tablespoon of sriracha to the sauce. If you're trying to make it flaming spicy hot, half 5 Schezuan chilis (also commonly known as chile árbol) and fry at the beginning with the garlic and ginger. 
 
Is the Wok the best pan to cook Chicken Lo Mein?
Yes! The best way to cook quickly and over high heat for Asian dishes is the Wok. It is the perfect stir fry pan and can be used for dozens of Asian Food Recipes.
What are the best vegetables for Lo Mein? 
There's a lot of options.

These veggies are used in this recipe:
– red and green bell pepper
– green onions
– julienned carrots
– thinly sliced onions 

Not used in this recipe:
– sliced baby bok choy
– sliced zucchini
– snow peas
– broccoli
– water chestnuts
– baby corn


Create a free account to Save Recipes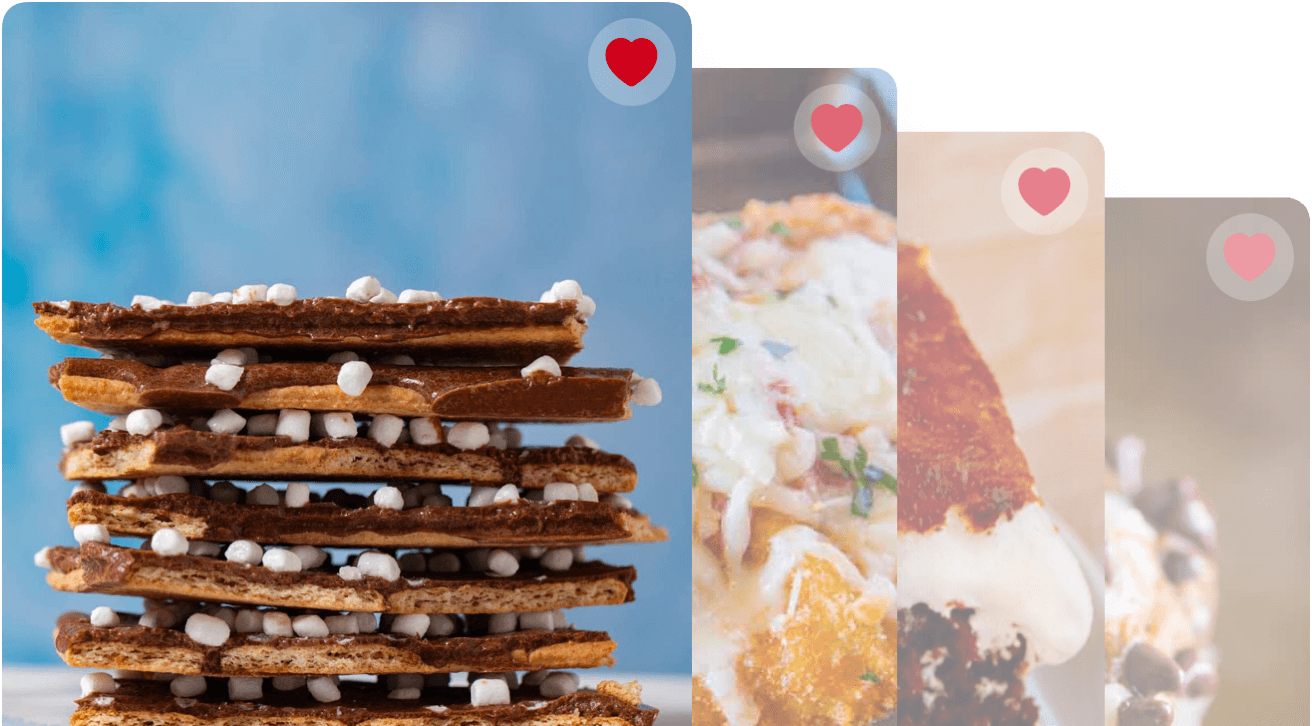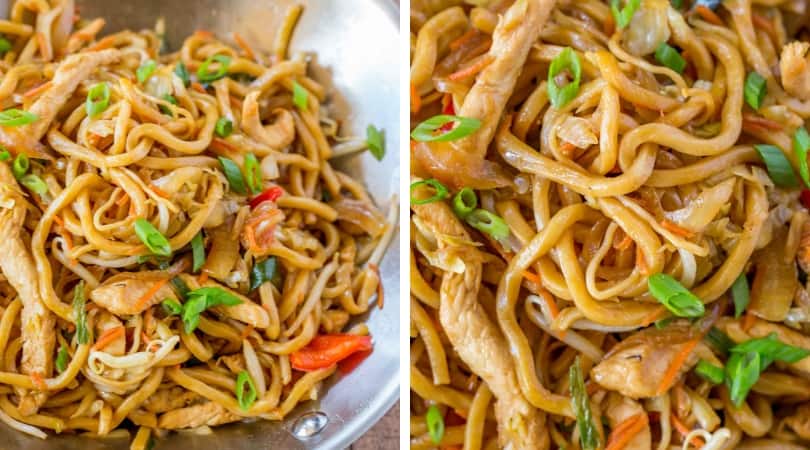 Key Ingredients in Chicken Lo Mein
The variety of ingredients in this recipe is astounding, and delicious! As always, try to buy frozen or fresh vegetables from your local farmer's market or Asian market. And don't use canned vegetables for this recipe.
Chicken: We're using skinless chicken breasts in this recipe (about one pound chicken breasts). You can also use chicken tenders or chicken thighs as well. Just make sure they are boneless when cooking.
Vegetables: There are a lot of vegetables used in this recipe. You can get each one individually and prep it yourself. Another great option is to buy the pre-mixed bag of stir fry noodles from your local grocery store. If you choose this route, cook half the veggies at the beginning, then the other half during the second round according to the recipe below. The result may not be exact, but if you're trying to save time, this is a great option.
Sesame Oil: This is a critical ingredient and must not be overlooked. The flavor of sesame oil in this dish is unmistakeable and not really able to be substituted. You can find sesame oil in the international section of your local grocery store. Or, you can easily purchase your sesame oil online. Some Asian grocery stores will try and sell less expensive options that aren't actually sesame oil, so just be sure the one you're buying is authentic sesame oil by checking the ingredient list.
Noodles: The secret to good Lo Mein is found in the thick Chinese egg noodles. Avoid angel hair noodles or other thin noodles. If you're desperate and in a pinch, spaghetti noodles will work just fine, they just won't be as thick and chewy as authentic Lo Mein noodles.
Soy Sauce: Nothing much to say here except Kikkoman Soy Sauce (regular soy sauce) has the best flavor overall and we always recommend low sodium soy sauce (light soy sauce). If you do have dark soy sauce, that is fine to use as well.
Oyster Sauce: If there was a secret ingredient, oyster sauce would probably be it. It's a special sauce literally made from oysters! It is dark brown, thick, and slightly sweet. Many Asian Food Recipes call for oyster sauce so you won't run out of ways to use it!
Lo Mein Recipe Variations
Shrimp Lo Mein: Cook the shrimp after the veggies instead of before and remove them reserving them to toss with the pasta at the end. Undercook the shrimp by about 15 seconds before cause they will keep cooking in with the pasta.
Beef Lo Mein: Flank steak is the best beef for Lo Mein. Slice the beef against the grain and cook in on a high heat for just 30 seconds on each side.
Vegetable Lo Mein: The easiest of all the varieties, add in your favorite vegetables cooked until just softened but still with a crisp bite. Try adding water chestnuts for a crispy addition.
Tofu Lo Mein: Simply substitute the chicken for a regular block of tofu. Slice it thin into thirds, pat dry with paper towel, and fry on both sides like you would chicken.
Sauce Ingredients: You can substitute the water with equal parts chicken broth. Add a tablespoon of brown sugar to give it the slightly sweet taste found in your favorite Chinese restaurant version.
How to Serve Chicken Lo Mein
Toppings: Sprinkle the top with green onions and sesame seeds for an impressive presentation.
Plate or Bowl: It's recommended to serve in a bowl, or thick rimmed plate. It looks really nice too.
Sauce: You can serve Chicken Lo Mein with side sauces of hot sauce, hoisin sauce, and dark soy sauce or light soy sauce.
More Asian Noodle Recipes
How to Store Chicken Lo Mein
Serve: Chicken Lo Mein can be kept and served at room temperature up to 2 hours before it should be refrigerated. Just be sure to keep a lid on it when not being served.
Store: If it's sealed in an airtight container, Chicken Lo Mein will last up to 4 days in the refrigerator. Be sure to reheat fully to 165º F internally.
Freeze: You can freeze Chicken Lo Mein in an airtight container or freezer safe bag for up to 2 months for best taste. Defrost overnight before reheating, adding some soy sauce if needed.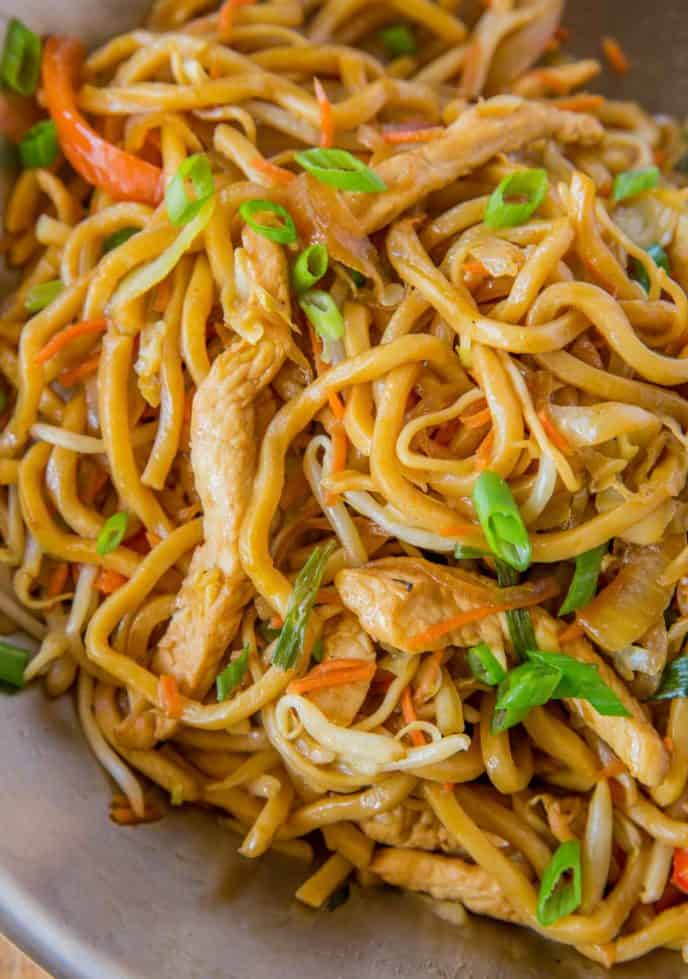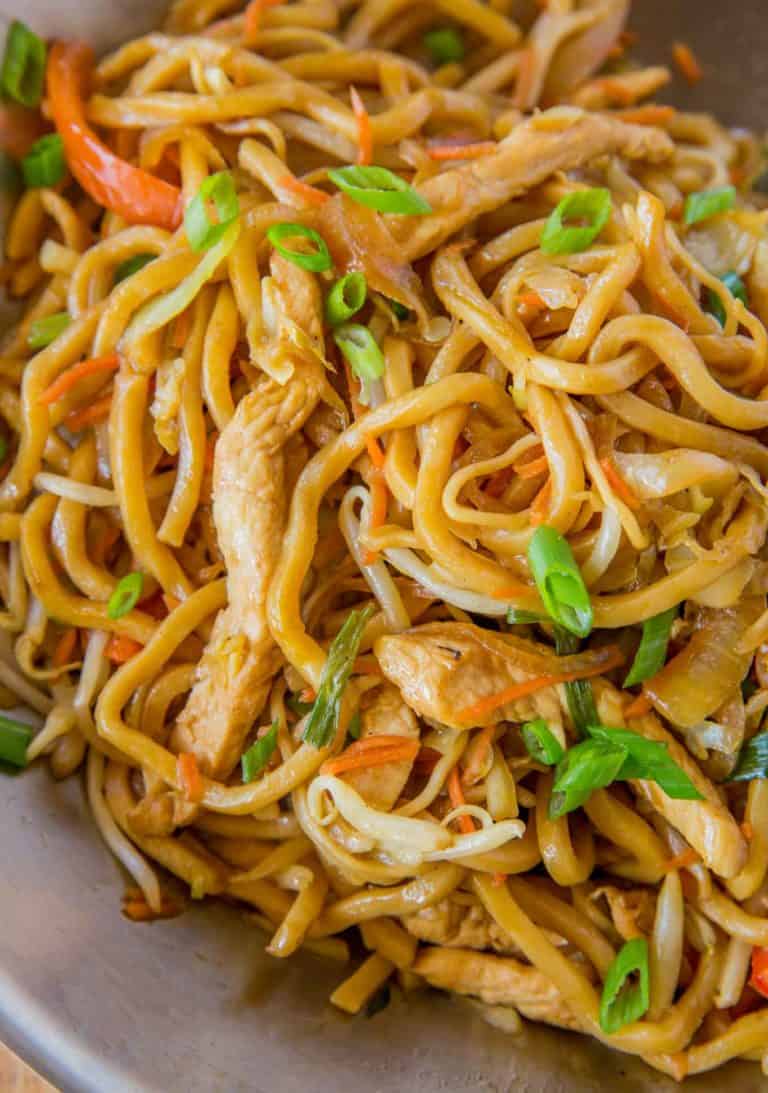 Ingredients
10

ounces

Chinese egg noodles

1

teaspoon

sesame oil

2

tablespoons

vegetable oil

2

chicken breasts

, thinly sliced

1

red bell pepper

, thinly sliced

1

teaspoon

minced ginger

2

cloves

garlic

minced

3/4

cup

water

1/4

cup

light soy sauce

2

tablespoons

cornstarch

1

tablespoon

oyster sauce

1

tablespoon

vegetable oil

1

carrot

thinly sliced

1/2

cup

onion

thinly sliced

1/2

cup

shredded cabbage

1

cup

bean sprouts
Instructions
Cook the egg noodles one minute shy of the directions.

Drain and toss with sesame oil in a bowl to coat.

Heat canola oil in a large skillet or wok over medium-high heat.

Cook the chicken

3-4 minutes

on each side until cooked through.

Remove from the pan and add in the red bell peppers, ginger and garlic and cook them for

1-2 minutes

, stirring frequently until just softened.

In a bowl, mix together the water, soy sauce, cornstarch, vegetable oil and oyster sauce then add the mixture into the skillet.

Add in the carrot, onion and cabbage and cook for

1-2 minutes

before adding back in the chicken and egg noodles.

Add in the bean sprouts, toss all the ingredients together well and serve.
Nutrition
Serving:
1
g
|
Calories:
409
kcal
|
Carbohydrates:
35
g
|
Protein:
31
g
|
Fat:
16
g
|
Saturated Fat:
3
g
|
Polyunsaturated Fat:
7
g
|
Monounsaturated Fat:
4
g
|
Trans Fat:
0.1
g
|
Cholesterol:
72
mg
|
Sodium:
1203
mg
|
Potassium:
654
mg
|
Fiber:
4
g
|
Sugar:
5
g
|
Vitamin A:
3528
IU
|
Vitamin C:
49
mg
|
Calcium:
33
mg
|
Iron:
3
mg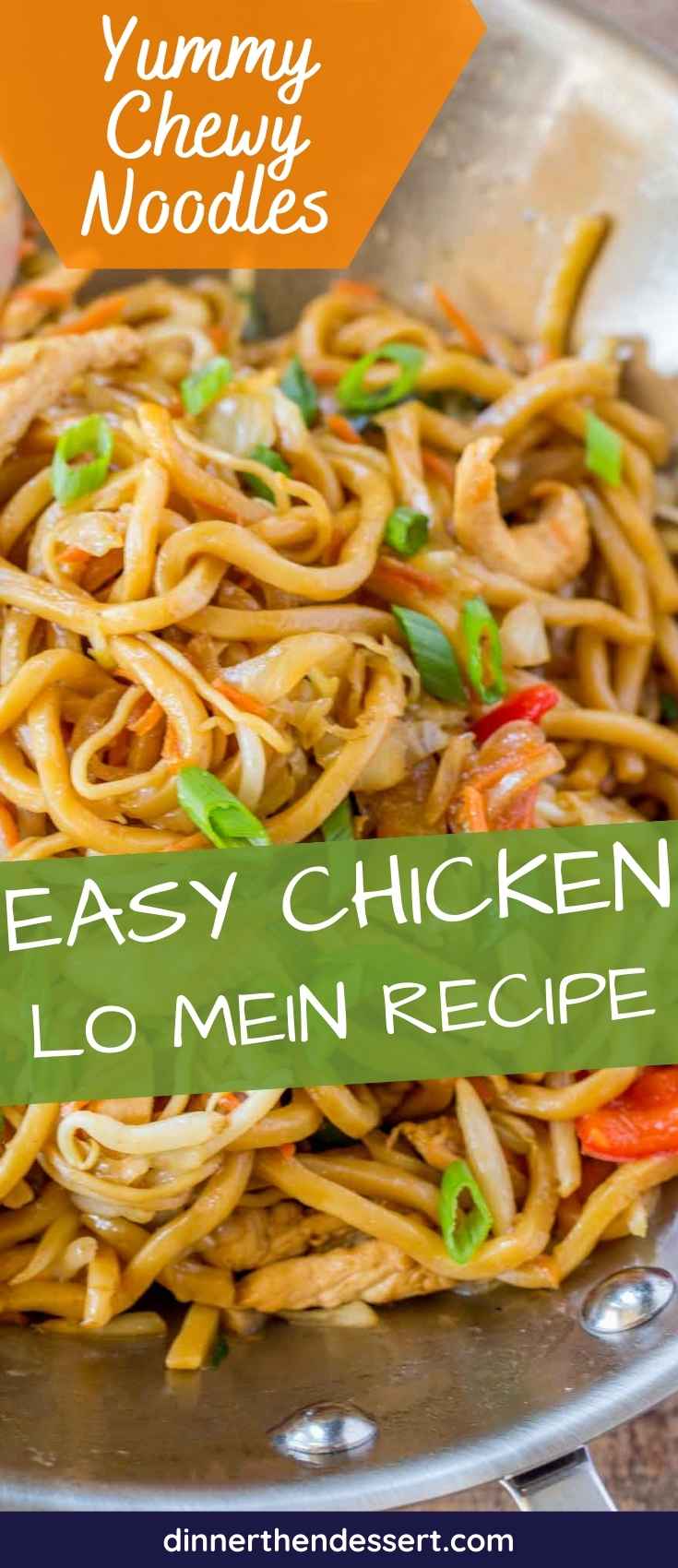 Photos used in a previous version of this post.