Beef Lo Mein is a Chinese takeout favorite. It's an easy homemade dinner with tender steak, flavorful sauce, egg noodles, and vegetables.
If you like this classic Chinese Dinner, you'll love trying the similar Chicken Lo Mein, the incredible Panda Express Orange Chicken (Copycat), as well as the savory Easy Mongolian Beef.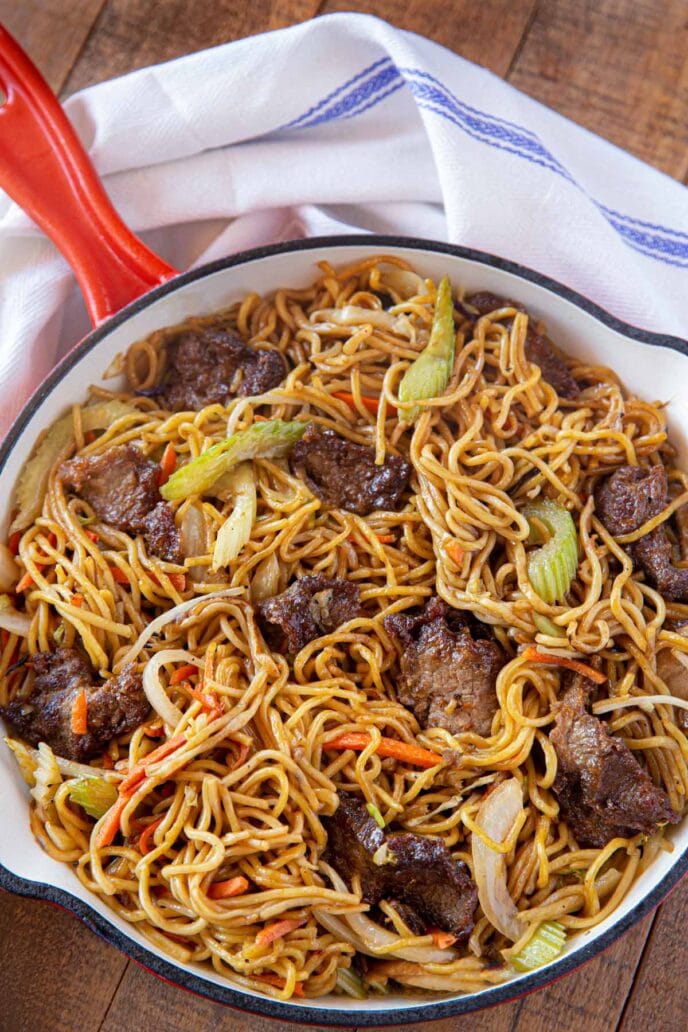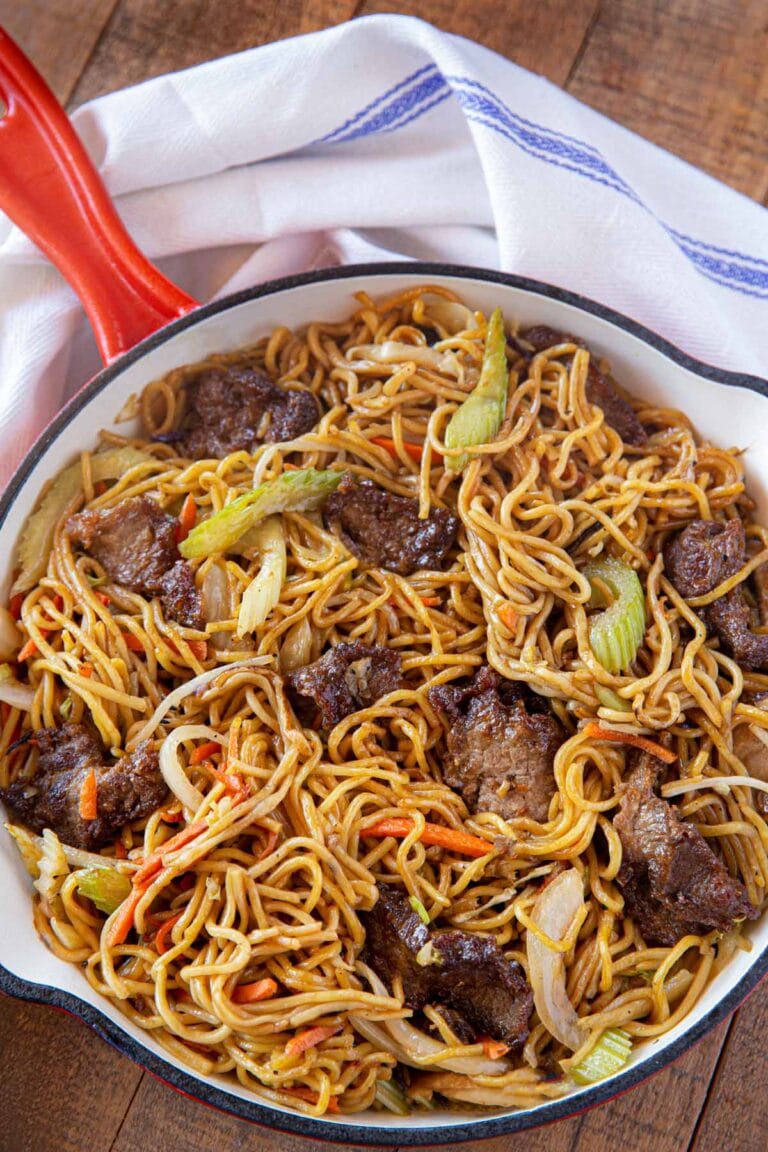 Beef Lo Mein is a stir-fried noodle dish that is essential in Asian cooking. Thick noodles are combined with your favorite veggies in a savory sauce to make a quick and easy dish. It's a great recipe for the next time you need a fast, crowd-pleasing dinner. Cook your veggies, noodles and meat in one big pan and have the whole meal ready in no time!
As with any Asian dish, this recipe calls for some authentic flavors from Oyster Sauce and Sesame Oil. These ingredients, while not super common in most American cuisine, is used in Chinese home cooking with as much gusto as ketchup is to the American pallet. There aren't really any good substitutes for the real thing so make sure you've got the best you can! 
It's an easy recipe to stir-fry and quicker than ordering take-out. You can serve your noodles and beef as the main course or on the side other go-to Chinese recipes. Make an at home Chinese buffet with more easy Chinese food recipes like Kung Pao Chicken, Orange Chicken, and Beijing Beef.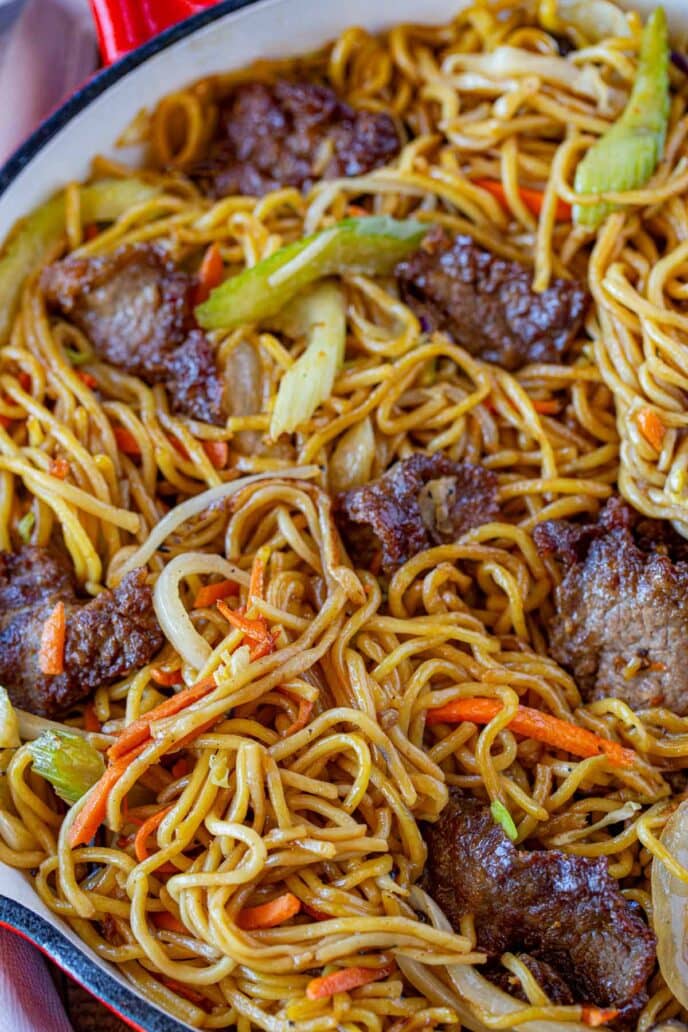 How to Make Beef Lo Mein
The batch-process for cooking Beef Lo Mein is pretty straight forward and easy to do. The ingredients get cooked separately and then combined later to ensure the perfect texture. Once you get the steps down, you'll be cooking this on the regular! 
Step One: Marinade the steak. 
Step Two: Cook the noodles. Set aside.
Step Three: Cook the steak. Set aside. 
Step Four: Cook the sauce. 
Step Five: Cook the vegetables in the sauce.
Step Six: Then add the noodles and beef, mix well, top with chopped green onion, and serve hot! 
Frequently Asked Questions
What's the difference between Lo Mein and Chow Mein?
Chow Mein noodles are stir fried with the other ingredients. Lo Mein noodles are cooked separately.

If you've tried our recipe for Chow Mein, you may be wondering what the difference is in these dishes. Both Lo Mein and Chow Mein are made with egg noodles that are stir fried with vegetables in a sauce. However, their texture is the key difference.

Once you parboil the noodles, the preparation for the two dishes changes: For Lo Mein you set the noodles aside while you prepare the veggies and beef. However, with Chow Mein, the key is stir-frying the noodles along with the other ingredients. This cooks the noodles to a nice crispy texture. In Lo Mein you only cook the noodles with the rest of the ingredients long enough for them to soak up the flavors of the sauce, but the noodles remain soft.
Can I use spaghetti noodles instead? 
Yes. Absolutely. Depending on who you ask, they are arguably the same kind of noodle. However, the traditional Chinese noodle always has egg added to it, rather than just wheat flour in many (not all) spaghetti noodles. Your family will love this dish either way!
How do I cut the steak for Beef Lo Mein?
You'll want to cut the steak into thin strips, or instead cut them into square-inch cubes. This helps them cook thoroughly and they are easier to chew. To guarantee a good cut, use a sharp and quality knife, like the official DTD Chef's Knife. 

Create a free account to

Save Recipes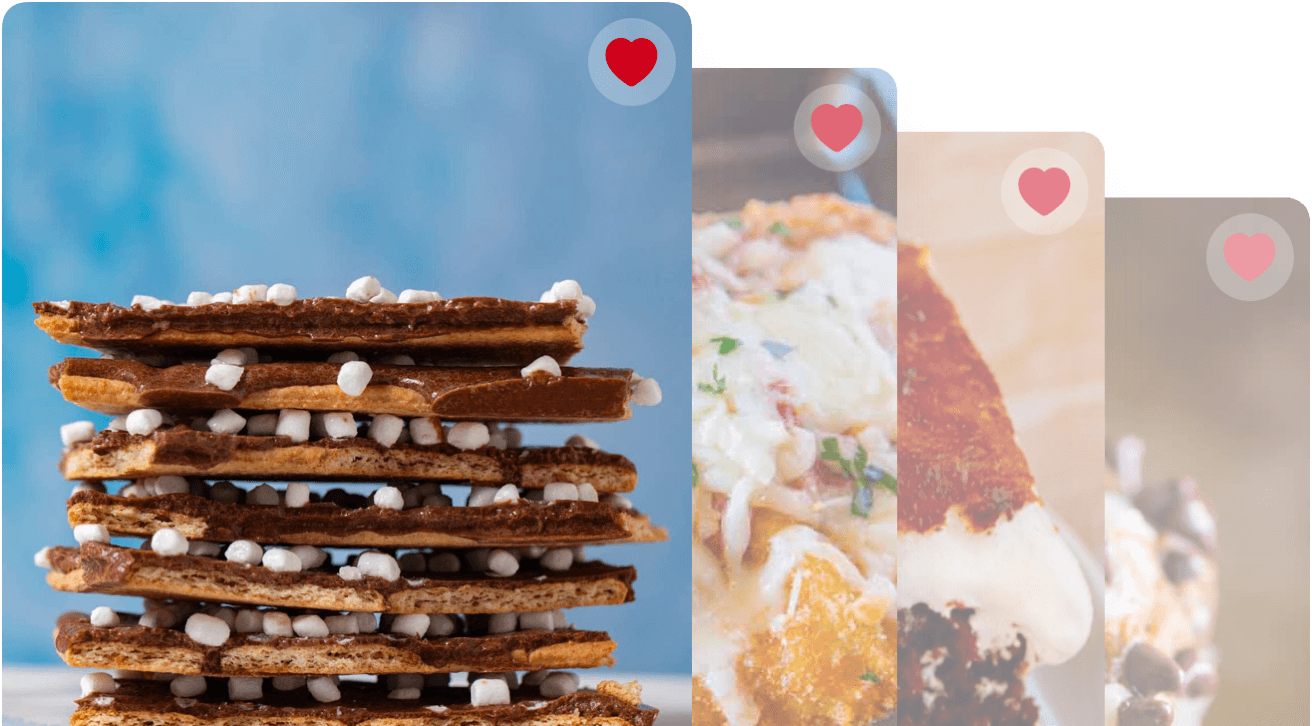 Key Ingredients for Beef Lo Mein
Most of the ingredients in this recipe can be easily found in your pantry at home, with one exception: oyster sauce. 
Oyster Sauce: As the name suggests, this sauce is actually made from oysters! It is a critical ingredient in most Asian cooking and brings an authentic depth of umami flavor to any Asian dish. You can find it in the international section of most large grocery stores, or easily get your Oyster Sauce online. It is also available in your local Asian market. Be sure to check the ingredients to ensure you're getting real quality oyster sauce, not artificially flavored sauce. 
Beef: This recipe calls for flank steak. But you can use other noodles like strip steak or skirt steak. 
Soy Sauce: Because there is a lot of sodium in regular soy sauce and the oyster sauce, we recommend using light soy sauce to help cut the saltiness. No salt is added to the dish either. If all you have is dark soy sauce, that will be fine. 
Noodles: We're using Chinese egg noodles in this recipe. 
Vegetables: There's carrot, celery, and bean sprouts in this recipe. You can use white onion, yellow onion, or red onion. This recipe is using white onion. 
Sesame Oil: The subtle depth of flavor Sesame Oil adds to Chinese dishes is legendary. It's an absolute must-have for any serious home chef.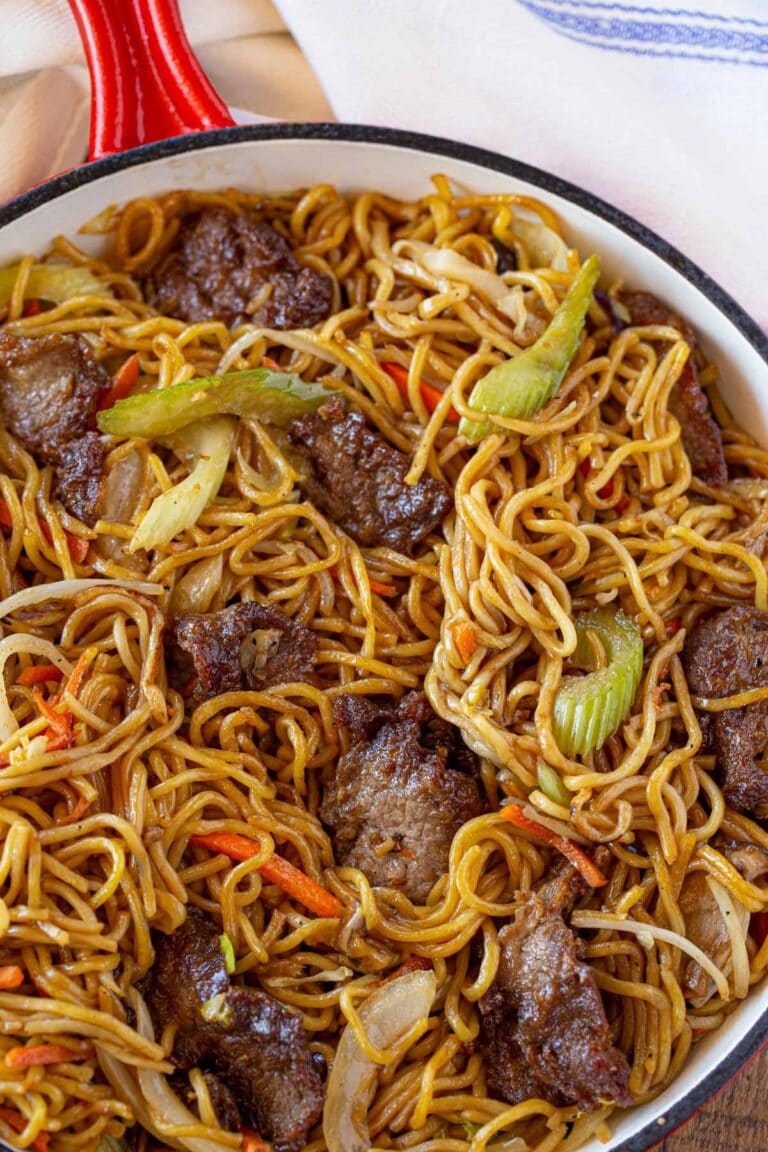 Variations on Beef Lo Mein
Broccoli Lo Mein: If you would prefer a vegetarian Lo Mein dish, prepare your Lo Mein Noodles with broccoli florets instead of meat. Cook the broccoli with your other vegetables until just softened, but still nice and crisp. The broccoli will go great with the sauce and make an easy vegetarian alternative to beef or other meats.
Sauce: For more flavors to add to the marinate try adding in hoisin sauce, red pepper flakes, black pepper, or even brown sugar to give the sauce a slightly sweet flavor.
Vegetables: There are so many different vegetables you can toss in your wok along with the beef, noodles, and other vegetables. Chopped Bell pepper, snow peas, broccoli, or scallions would all make a great additions. Adding water chestnuts would be an excellent choice as well.
Substitutions on Beef Lo Mein
Oyster Sauce: If there is an allergy to fish, or you just can't find it in the store, you can substitute Oyster Sauce with sweet and savory Hoisin sauce, sweet Teriyaki sauce, or the little known Mushroom sauce all of which shouldn't have fish ingredients. Check the label first to make sure. 
Noodles: Although stir fry dishes work best with the Chinese egg noodle, you can use any kind of noodles for this recipe in a pinch. Spaghetti noodles, rice noodles, and even garbanzo noodles will work just fine for home cooking. 
Beef: Instead of making Lo Mein Noodles with beef, try preparing your dish with shrimp, pork, or chicken.
Sesame Oil: If your in a pinch and just can't get sesame oil, you can substitute with grapeseed or olive oil. If you happen to have tahini sauce in your pantry, you can get some of the oil that settles on top of that and coat your noodles that way.  
Bean Sprouts: Bean sprouts add a crunchy texture to the Beef Lo Mein. You can substitute with equal parts fresh shredded cabbage. 
More Classic Asian Takeout Dishes
How to Store Beef Lo Mein
Serve: Once cooked, don't leave your beef and noodles at room temperature for more than 2 hours.
Store: Keep your beef and noodles in the fridge for 3 to 4 days. Let the Beef Lo Mein cool to room temperature before storing it in an airtight container and putting it in the fridge.
Freeze: To keep Beef Lo Mein longer, store it in the freezer for 2-3 months. Let the beef and noodles cool to room temperature, then store them in a freezer bag or other airtight container to keep in the freezer.


Ingredients
Stir Fry Base
2

tablespoons

vegetable oil

1

teaspoon

minced ginger

2

cloves

garlic

, minced
Beef Lo Mein Vegetables
1

carrot

, julienned

1/2

cup

onion

, sliced

2

stalks

celery

, chopped

1

cup

bean sprouts
Instructions
Add 2 tablespoons vegetable oil and ¼ cup soy sauce to steak and marinade for

15 minutes.

While the steak marinades, cook the egg noodles one minute shy of the directions on the package.

Drain and toss noodles with sesame oil in a bowl to coat. Set aside.

Heat two tablespoons vegetable oil in a large skillet or wok over high heat.

Cook the marinated steak slices in batches for

3-4 minute

s on each side until cooked through.

Remove steak from the pan and add in the ginger and garlic and cook them for

30 seconds

until fragrant.

Add in the water, two tablespoons soy sauce, cornstarch, one tablespoon vegetable oil, and oyster sauce into the skillet. Mix well.

Add in the carrot, onion, and celery and cook for

1-2 minutes

before adding back in the steak and egg noodles.

Add in the bean sprouts, toss all the ingredients together well and serve.
Nutrition
Calories:
290
kcal
|
Carbohydrates:
23
g
|
Protein:
20
g
|
Fat:
13
g
|
Saturated Fat:
4
g
|
Cholesterol:
45
mg
|
Sodium:
755
mg
|
Potassium:
399
mg
|
Fiber:
2
g
|
Sugar:
3
g
|
Vitamin A:
1758
IU
|
Vitamin C:
5
mg
|
Calcium:
34
mg
|
Iron:
3
mg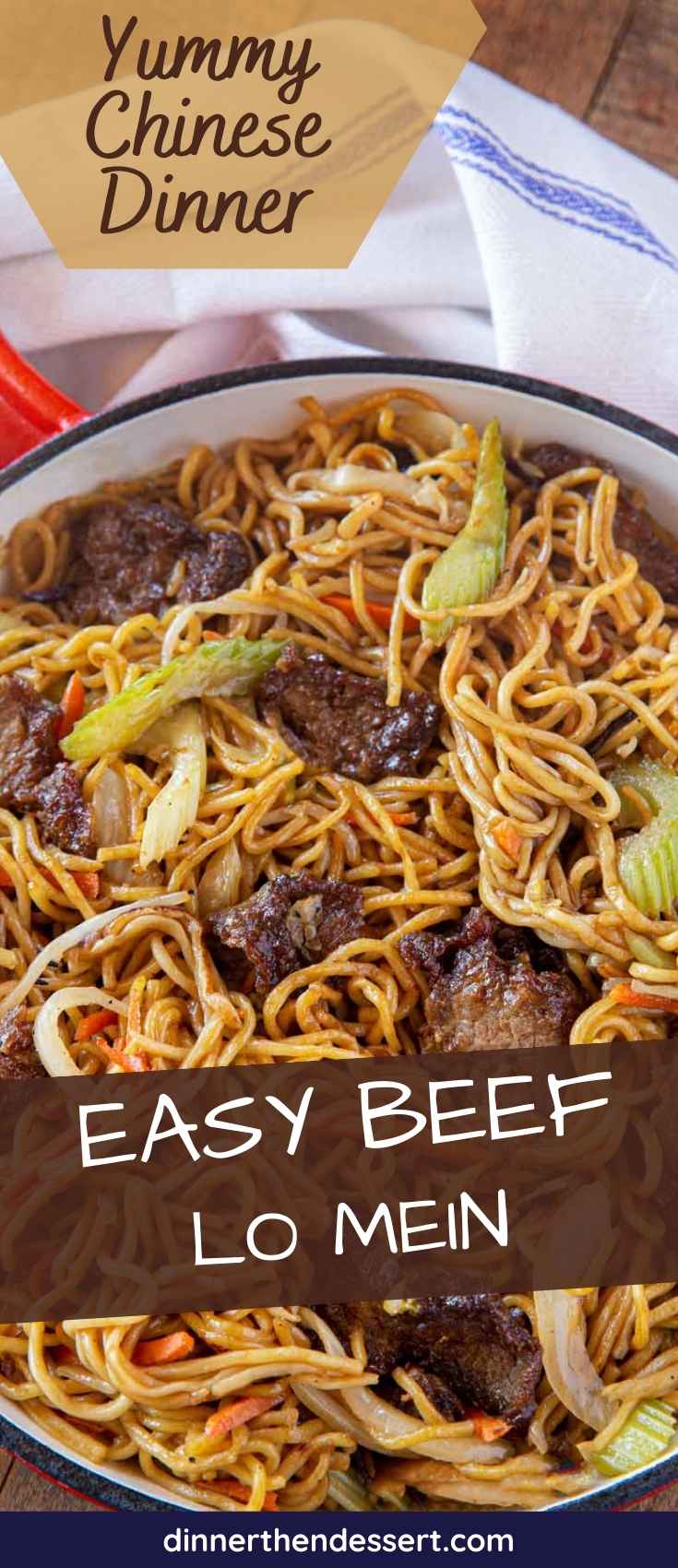 Photos used in a previous version of this post: