Easy Cashew Chicken is tasty, better than take-out Chinese food made at home! Crispy chicken pieces and crunchy cashews stir-fried in a sweet, tangy sauce.
Orange Chicken is always a top choice for takeout, but the next time you are craving Chinese Food, skip the sticky-sweet fried chicken and make this tasty stir-fry Cashew Chicken recipe instead!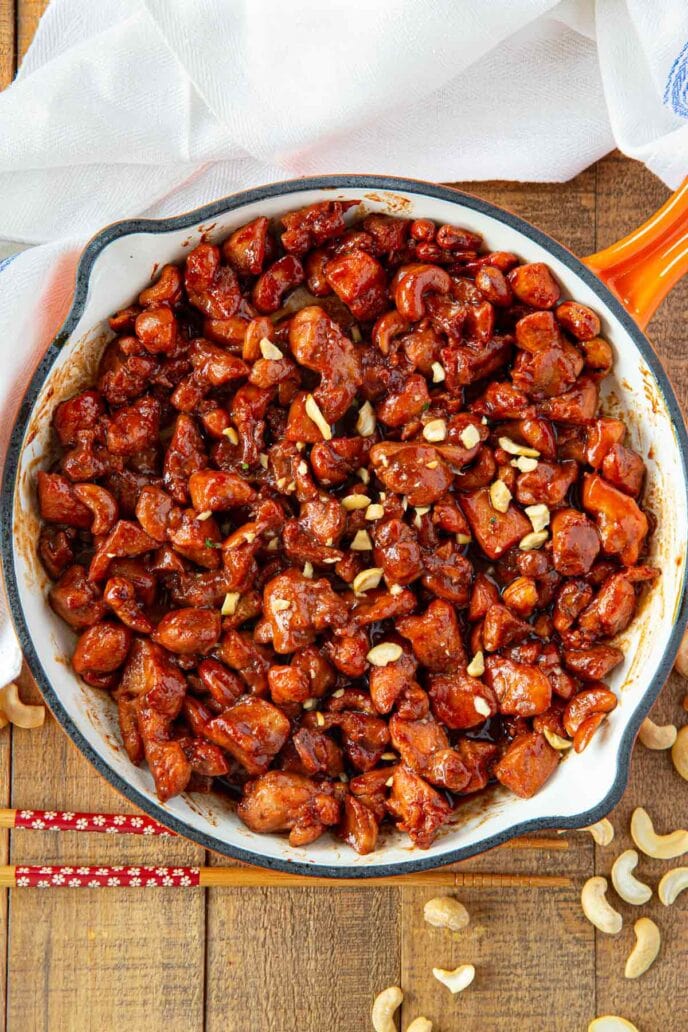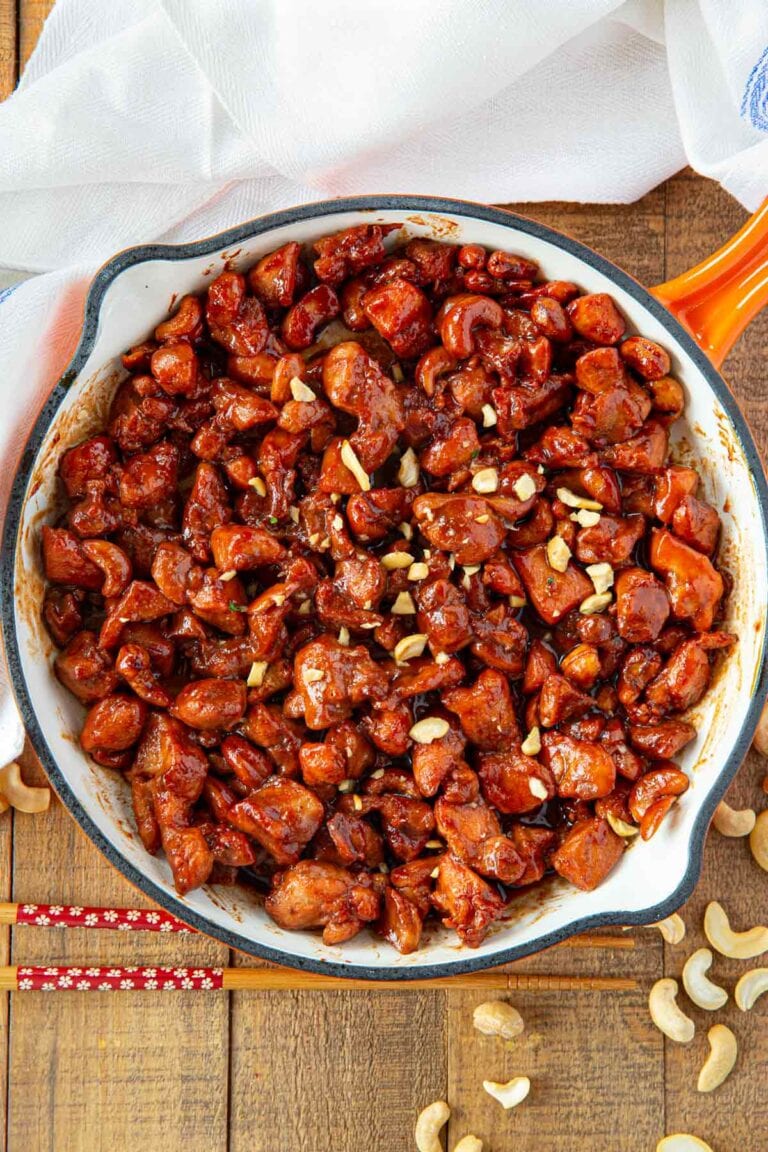 CASHEW CHICKEN
There are so many delicious chicken recipes on on a Chinese takeout menu, it's hard to pick a favorite. Some are fried and smothered in a sweet sauce, like Orange Chicken, and some are lightly seasoned and tossed with veggies like Hunan Chicken. When you make takeout at home, you can try any dish on the menu for a fraction of the cost whenever a craving hits.
Cashew Chicken is an easy recipe that uses common ingredients for the sauce you can find at any grocery store. The tender chicken is lightly coated in cornstarch for slightly crispy outside for the sweet, tangy sauce to cling to. Stir-frying chicken in bite-sized pieces cooks them faster for a fast and delicious dinner in no time.
You want to use roasted cashews without salt or unsalted raw cashews for Cashew Chicken. If you use raw cashews, toast in the oven for 5 minutes at 350 degrees to make them more crunchy and bring out the flavor. Avoid salted cashews if possible because even with low-sodium soy sauce, they could easily make your dish too salty.
The best way to cook Cashew Chicken is stir-fried in a wok for the crispiest, tender chicken pieces and crunchiest cashews. Cooking Cashew Chicken in the oven or in a slow cooker is also super delicious though! Oven Cashew Chicken is a popular, healthy way to make this tasty take-out dish and we have crockpot instructions below for hands free Chinese food!
Cashew Chicken goes great with classic takeout dies like Steamed Rice and Chow Mein. Make Cashew Chicken a low-carb dinner or appetizer by serving as the filling in Lettuce Wraps. To make it healthier, add your favorite wok friendly veggies or serve Cashew Chicken with an easy vegetable like Roasted Broccoli.
More Delicious Chinese Food Recipes You NEED to make:
VARIATIONS ON CASHEW CHICKEN
Cashews: Instead of cashews, try walnuts or peanuts for this Cashew Chicken recipe. A crunchy, non-nut alternative is water chestnuts. Water chestnuts are actually a tuber and are a good substitute if you have a nut allergy.
Meat: Use chicken thighs instead of chicken breasts, or other lean protein like pork, tofu, or shrimp. You want a lean meat that will absorb the flavors of the Cashew Sauce.
Vegetables: Popular fresh stir-fry vegetables to use are snow peas, broccoli, mushrooms, zucchini, onion, or carrots. Cook only until veggies are crisp-tender, about 2-3 minutes on high heat.
Green Onions: Garnish Cashew Chicken with green onions, or add the white parts of green onions in with the cashews at the end.
Seasonings: Add traditional Chinese seasonings to your sauce like fresh ginger, honey, oyster sauce. Sesame seeds and bean sprouts are a great way to add subtle flavor and texture in the sauce or as a garnish.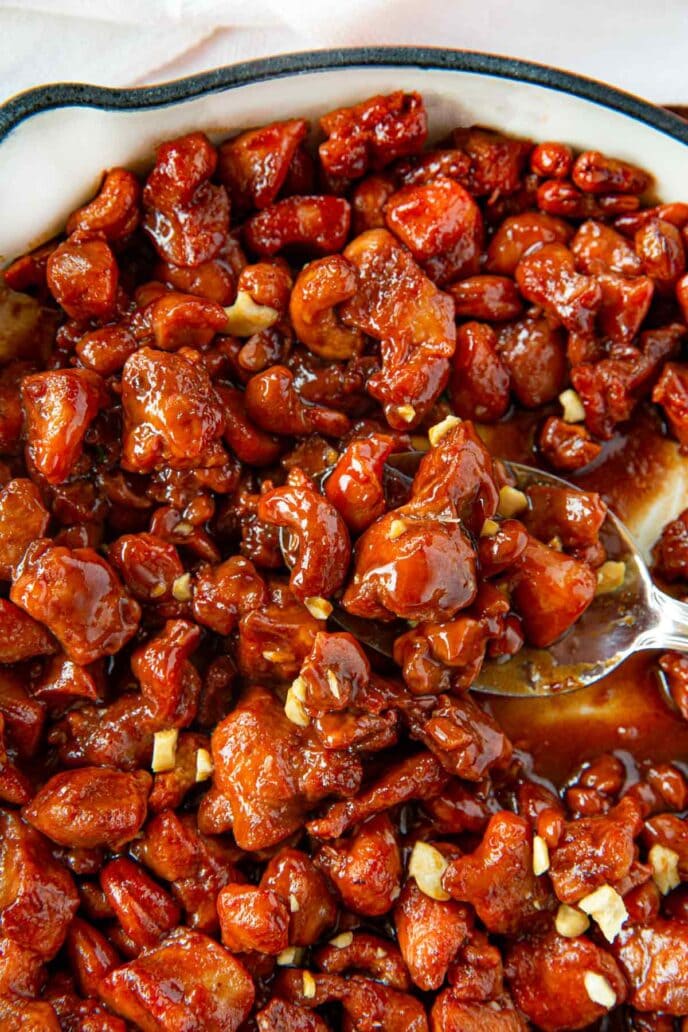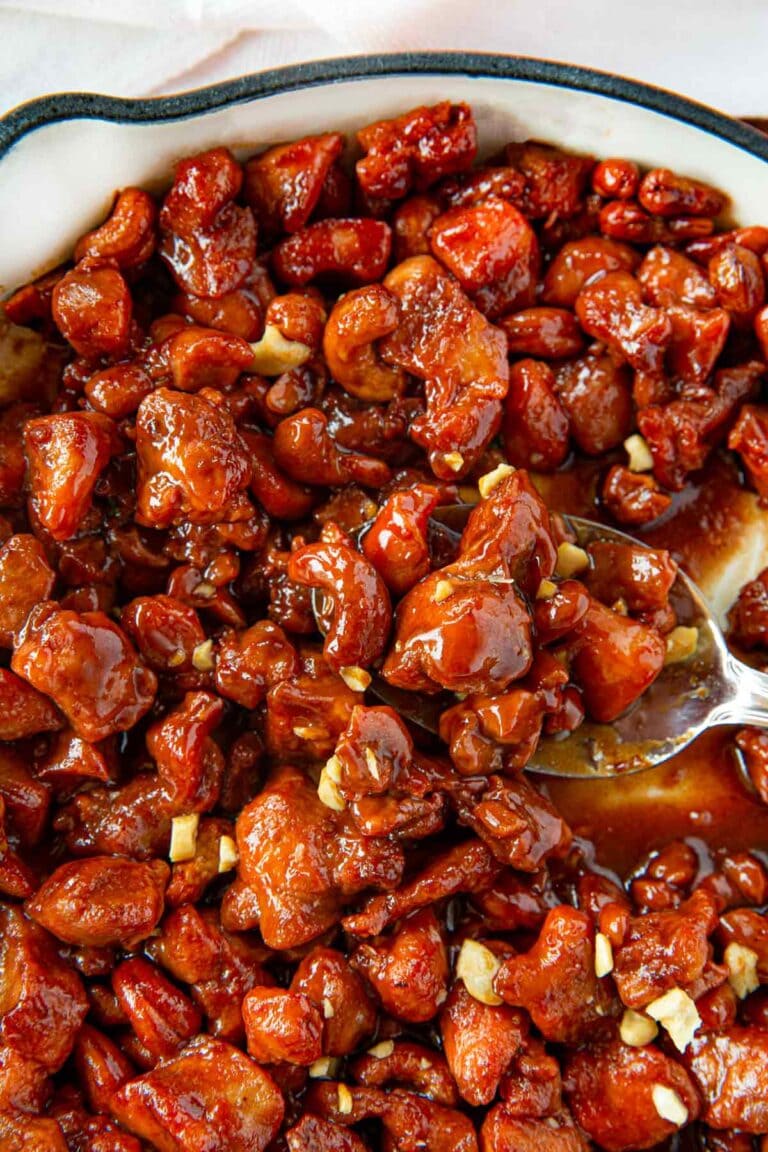 Create a free account to

Save Recipes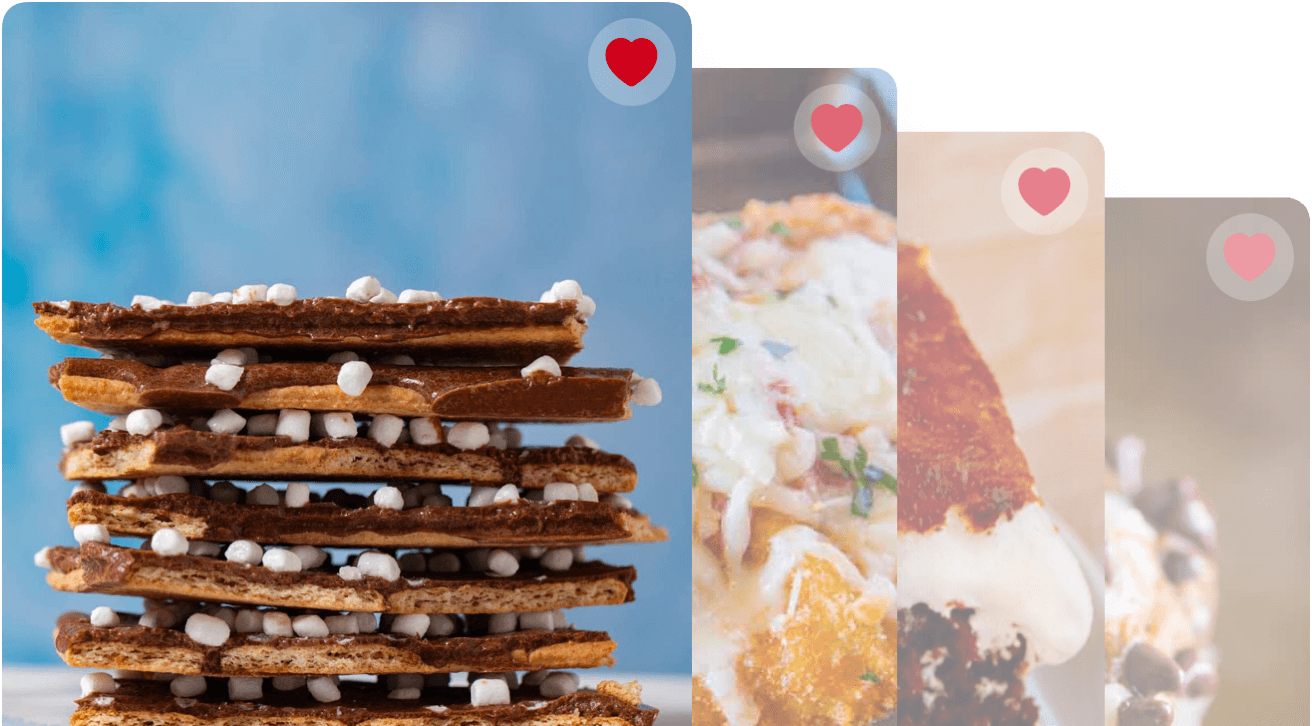 Slow Cooker Cashew Chicken
Toss the chicken in cornstarch, salt, and pepper until coated. Grease crockpot with cooking spray.
In a large skillet (or wok) on medium high heat, lightly brown chicken in 1 tablespoon oil, about 2-3 minutes.
Place chicken in slow cooker with bell pepper. (You can also add other vegetables you are using)
Prepare the sauce per the recipe and pour over chicken and red peppers. Stir to coat.
Cover with lid and cook on low for 2-3 hours, until chicken is cooked through.
For a thicker sauce, strain sauce from slow cooker into a small saucepan.
Make a cornstarch slurry with 1 tablespoon and 3 tablespoons water.
Whisk slurry into sauce and cook on high heat, stirring constantly, for 3-4 minutes or until sauce is reduced.
Return sauce to slow cooker with chicken and veggies, stir in cashews until everything coated. Serve.
Most Popular Panda Express Recipes:
HOW TO STORE CASHEW CHICKEN
Serve: Serve Cashew Chicken hot best taste and sauce consistency. Keep at room temperature no more than 2 hours before chilling.
Store: Cool Cashew Chicken and store in an airtight container in the refrigerator for up to 3 days.
Freeze: Once Cashew Chicken is cool, place in a sealed container and freeze for up to 2 months. Reheat after thawing overnight in the refrigerator for best results.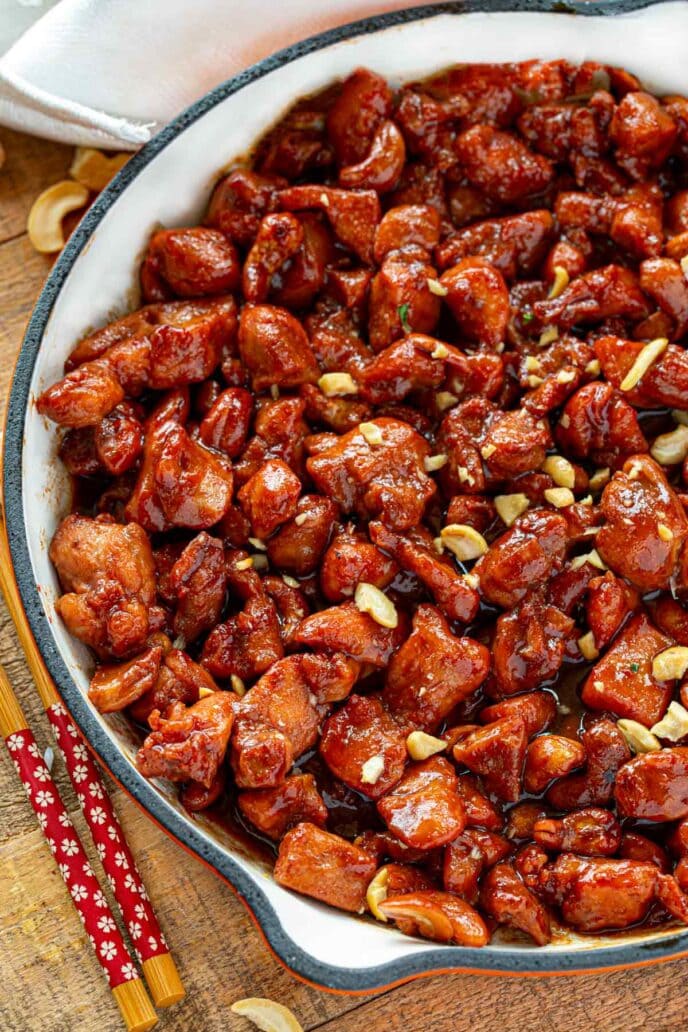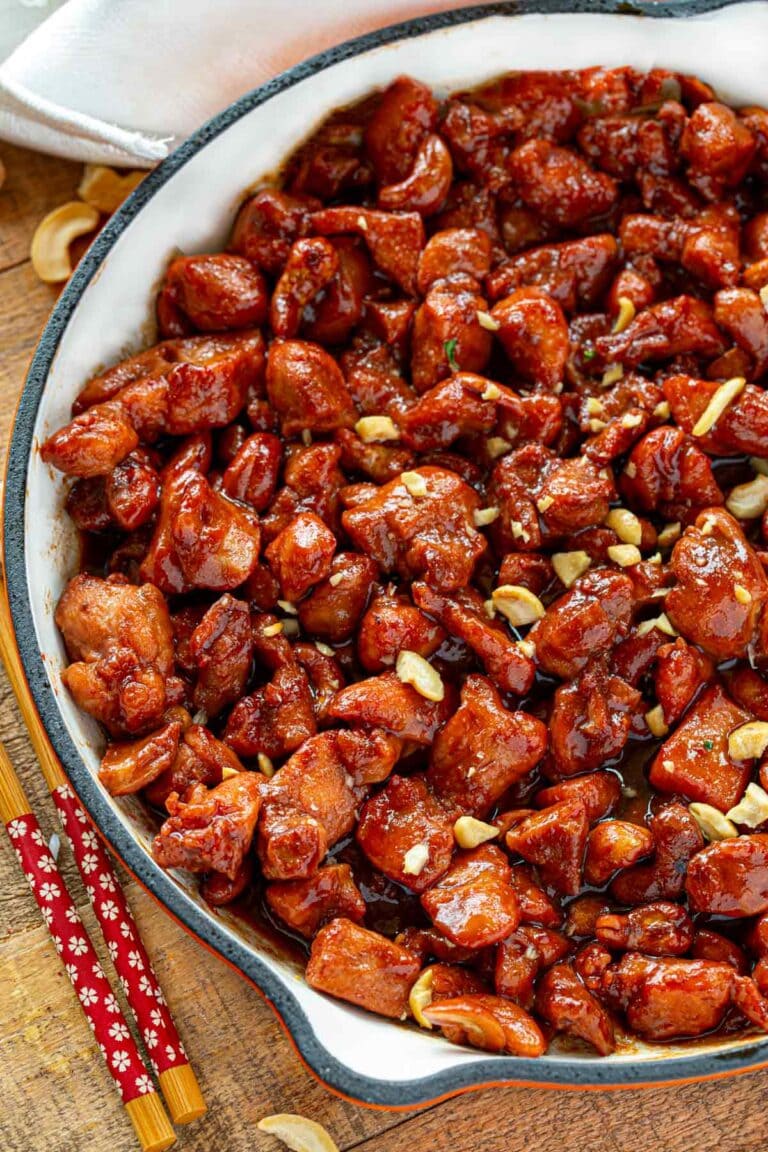 Ingredients
3

tablespoons

vegetable oil

1

tablespoon

sesame oil

1

pound

chicken breast

, boneless and skinless, cut into 1 inch pieces

1/2

teaspoon

Kosher salt

2

tablespoons

cornstarch

1/4

cup

hoisin sauce

1

tablespoon

soy sauce

1

tablespoon

rice wine

, white wine is fine too

1

tablespoon

rice wine vinegar

1

teaspoon

Sriracha

1

tablespoon

sugar

3

cloves

garlic

, minced

1/2

cup

whole cashews
Instructions
Heat a large skillet on medium-high heat and add vegetable oil and sesame oil.

Season chicken with salt, then toss with cornstarch.

Add chicken to pan and cook for

6-8 minutes

until chicken is browned on all sides then add in garlic and cook for 30 seconds, stirring well.

In a medium bowl, whisk the hoisin sauce, soy sauce, rice wine, rice wine vinegar, sriracha, and sugar and pour it into the skillet, stirring well.

Cook for

3-4 minutes

or until sauce is thickened.

Stir in cashews and serve.
Nutrition
Calories:
325
kcal
|
Carbohydrates:
20
g
|
Protein:
28
g
|
Fat:
14
g
|
Saturated Fat:
3
g
|
Cholesterol:
73
mg
|
Sodium:
691
mg
|
Potassium:
619
mg
|
Fiber:
2
g
|
Sugar:
10
g
|
Vitamin A:
965
IU
|
Vitamin C:
41
mg
|
Calcium:
21
mg
|
Iron:
2
mg