Chinese takeout favorite Hunan Chicken is an easy stir-fry with garlic, ginger, broccoli, and bamboo shoots in a garlic-ginger spicy sauce.
If you love the authentic flavors of Hunan Chicken, you'll want to pair it with Asian Side Dishes like Chicken Lo Mein or Classic Chinese Chow Mein and Crab Rangoons to make this recipe an easy Chinese takeout meal at home!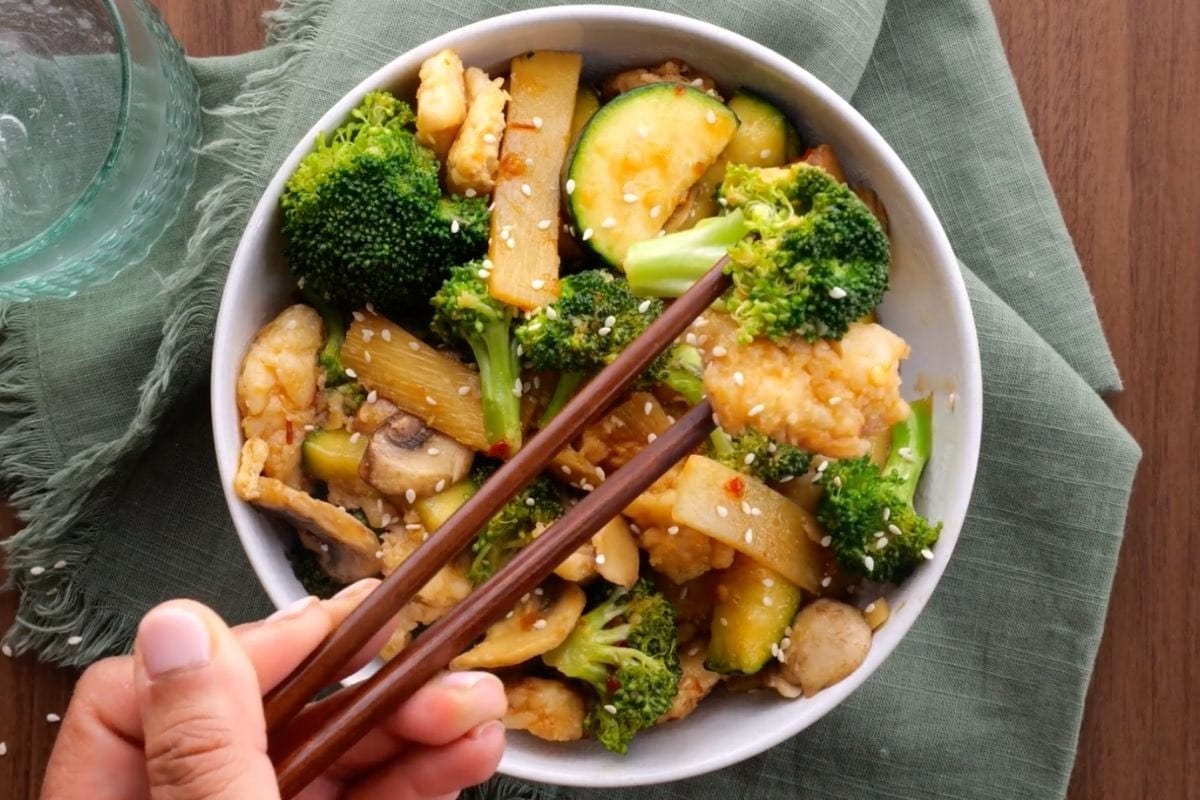 When you tell someone you are going to make Hunan Chicken you may get a confused look. Most people are not familiar with the name of the dish, but if they were to eat it they'd recognize the flavors immediately. This is your classic Chinese chicken stir-fry dish. And it's done in less than 30 minutes!
Many people think of easy stir-fries and even buy "stir fry" sauces that are pre-made. You can adjust the heat more or less to your tastes by the amount of chili paste you add to the dish, but the mixture of broth, soy sauce, garlic, ginger, rice wine vinegar and a touch of sugar are the classic ingredients in a Chinese stir fry.
The stir-fry sauce is so versatile it can be used with chicken, beef, pork, tofu, shrimp, scallops and most fish including salmon, and sea bass. You can make the sauce in larger quantities and freeze in portions as well. Ice cube trays are a great option, 6 standard cubes is plenty for a recipe and the garlic and ginger can be added to the sauce mixture to make cooking even easier when you're ready for the sauce.
We use chicken breast in this dish because it cooks so quickly that the chicken stays tender. Most people don't generally use white meat in Chinese food recipes with the exception of noodles or stir-fries. Anything battered and fried is always dark meat chicken unless you're making Sweet and Sour Chicken which has long been seen as the "healthy" version of Chinese fried chicken recipes.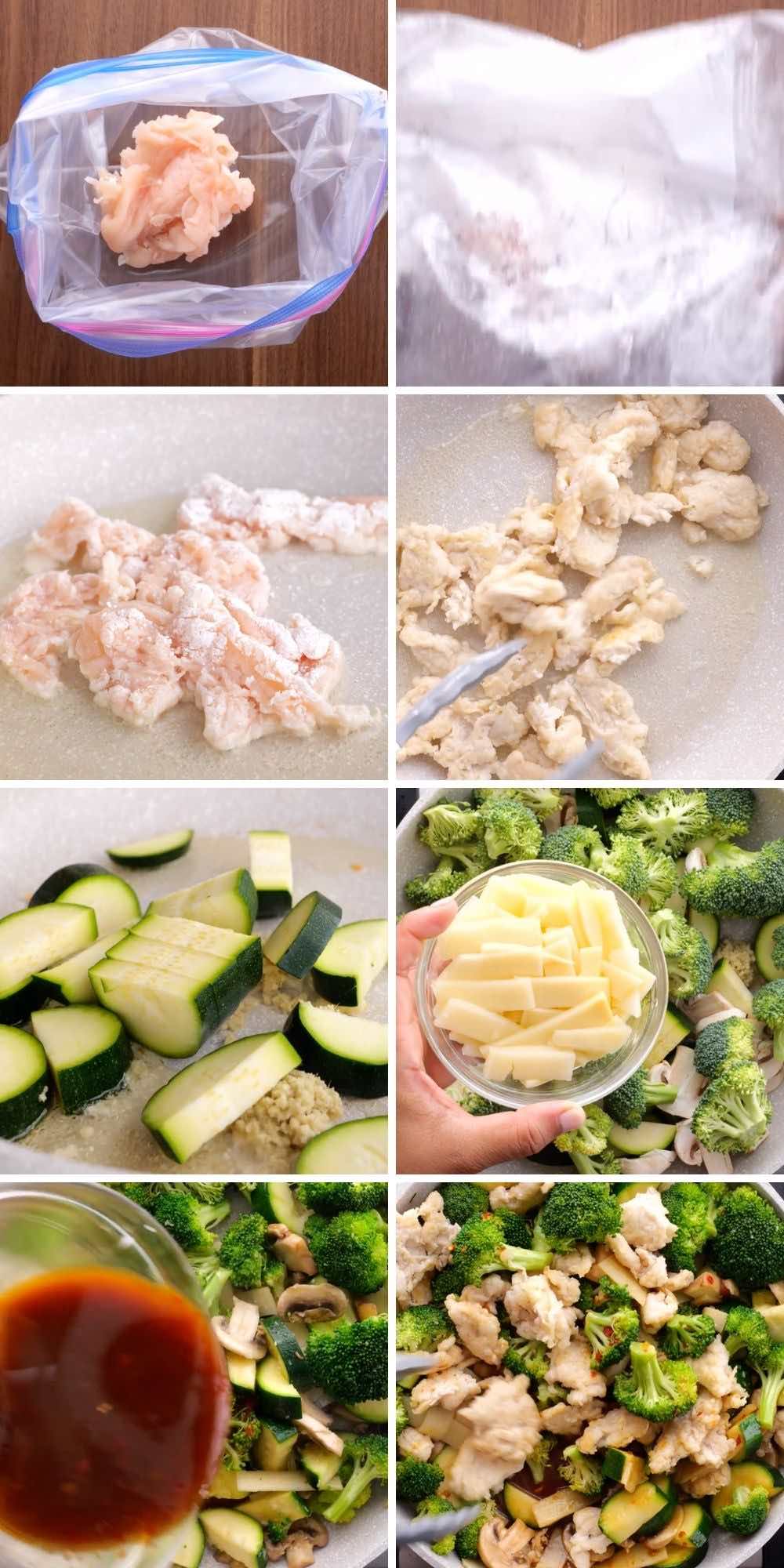 How to Make Hunan Chicken
Making this delicious dish is super easy! Because the chicken is so thin, it will cook quickly making it an easy meal! Check out how to make Hunan Chicken!
Step One: Powder the thin chicken slices with cornstarch (or substitution) in a plastic bag until it's coated evenly.
Step Two: Cook the chicken pieces then set to the side.
Step Three: Mix the sauce together.
Step Four: In the same pan you cooked the chicken in, cook the rest of the vegetables and aromatics.
Step Five: Combine everything, stir, and serve with Chinese Fried Rice or Chow Mein Noodles once the sauce is thickened. Enjoy!
Frequently Asked Questions
How do you slice chicken extremely thin?
One of the traditional takeout things about chicken stir fries is how they have chicken that looks like it was almost shaved, similar to Mongolian Beef in restaurants. The trick to this is to freeze the chicken for about one hour. Once you do you can very easily slice the chicken very thinly against the grain. Since the slices are so thin you'll find that even though it was in the freezer, it will come back to a good cooking temperature very quickly.
What is in Hunan Sauce?
Hunan sauce is made of rice wine vinegar, sugar, chili paste and an oyster and soy sauce based sauce that is made in just minutes. Chicken broth adds some bulk to the sauce and cornstarch helps to thicken the mixture quickly.

Hunan Chicken, while popular, is sometimes just categorized as a Chinese Chicken Stir Fry as the sauce is very similar to most peoples classic stir fries. Because of that it often gets overlooked for more popular items on a Chinese restaurant's menu. Let's examine the two other recipes it most often gets mistaken for:
What is the difference between Hunan Chicken and Szechuan Chicken?
Hunan Chicken is a stir-fried dish that is just coated in a dusting of cornstarch with a spicy chili paste sauce coating a mixture of vegetables. Szechuan Chicken is generally battered and fried before being added to a pan of stir fried vegetables and coated in a much sweeter sauce than Hunan chicken.
What is the difference between Hunan Chicken and General Tso's Chicken?
Hunan Chicken is a stir fried dish with vegetables and a much lighter sauce that is spicy and made with oyster sauce. General Tso's Chicken is a delicious but battered and fried dish similar to Orange Chicken with is tossed in a very sweet but slightly spicy sauce, normally with no vegetables.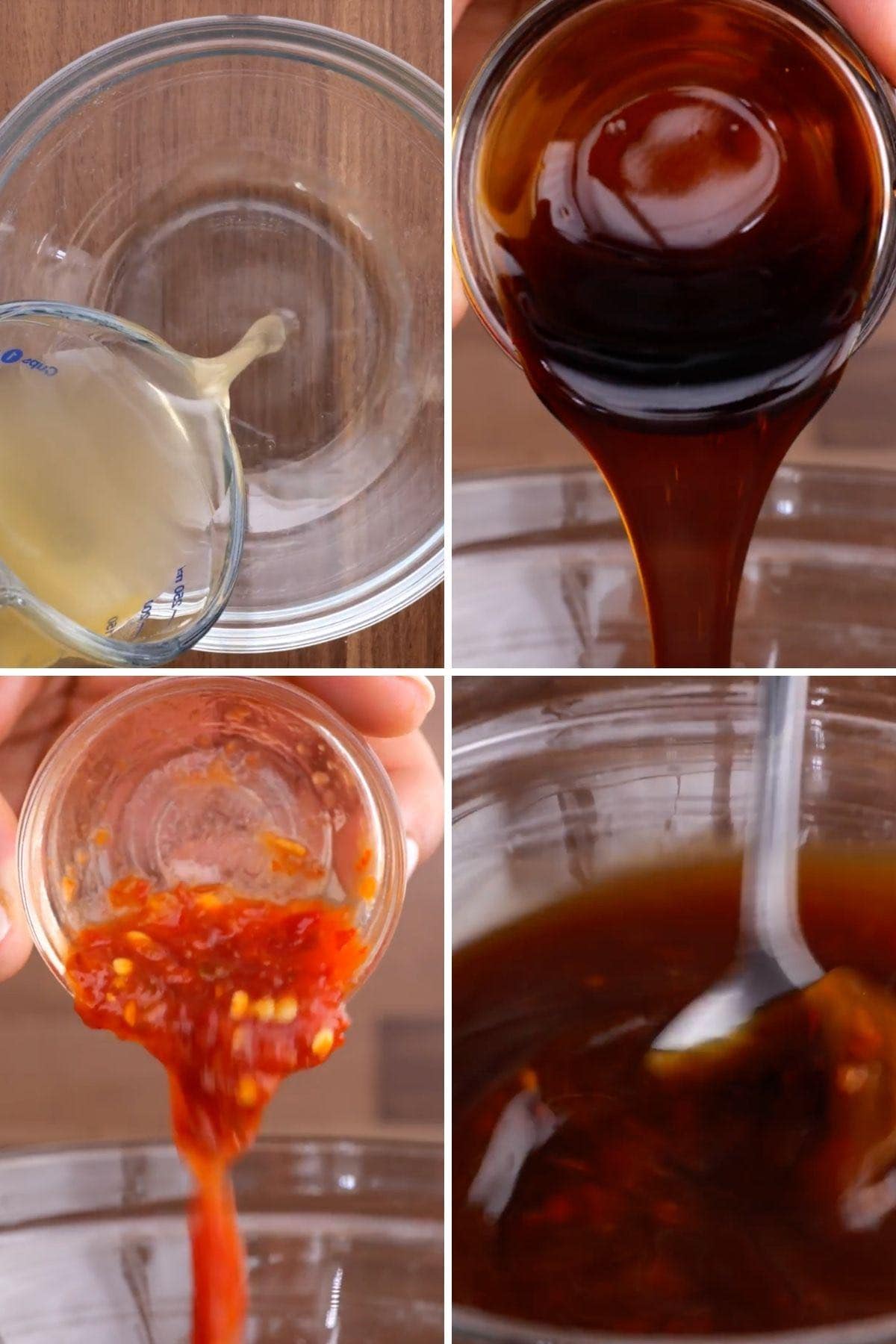 Create a free account to

Save Recipes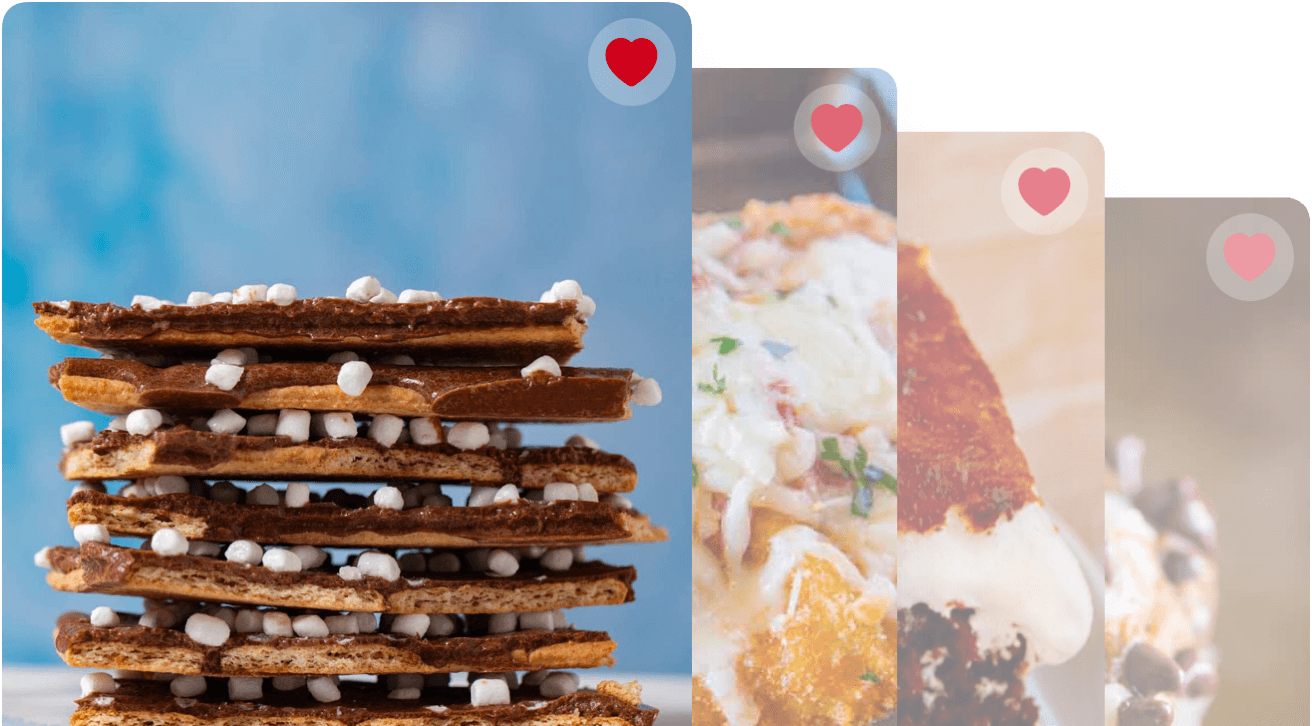 Key Ingredients in Hunan Chicken
All of these ingredients can be found in the International section of the large grocery stores. It's highly recommended to go shopping at the local Asian market if possible, but not required.
Chicken: The key to getting very thin slices of chicken is to freeze it for about an hour before cutting. Any cut of chicken will do, but we are using chicken breast here.
Oyster Sauce: This special sauce is literally made from oysters and is critical to obtain the authentic Asian flavors we are going for. There is a vegetarian based oyster flavored sauce that you can easily get online or from your local Asian market. Don't skip this one!
Cornstarch: This thickening agent helps get a nice breading on the chicken. There are corn-free options available. See the substitutions section below for more info if needed.
Chili Sauce: Almost all Asian food recipes you'll find have chili peppers added to the dish, even if it is not spicy. The chili adds a yummy pepper taste that really brings all the flavors together. Sambal Oelek is a chili sauce of Indonesian origin and has become a standard in Asian cuisine world wide.
Rice Wine Vinegar: Rice wine vinegar gives a subtle tang to the dish and is used in almost all Asian kitchens around the world. It's a good one to keep on hand for other yummy Dinner then Dessert recipes.
Bamboo Shoots: Bamboo shoots add a sweet and earthy crunch that is signatory to many Asian dishes. You can prepare them yourself, or simply get them in a can which is what we do here.
Mushrooms: Many Chinese recipes call for all types of mushrooms. You can use any mushroom, like portobello mushrooms, the smaller cremini mushrooms, shittaki mushrooms, or any regular white mushroom from the grocery store.
Sugar: A teaspoon of sugar is all you need to take the sauce over the top. Any sugar you have will work great. You can even use a tablespoon honey if preferred.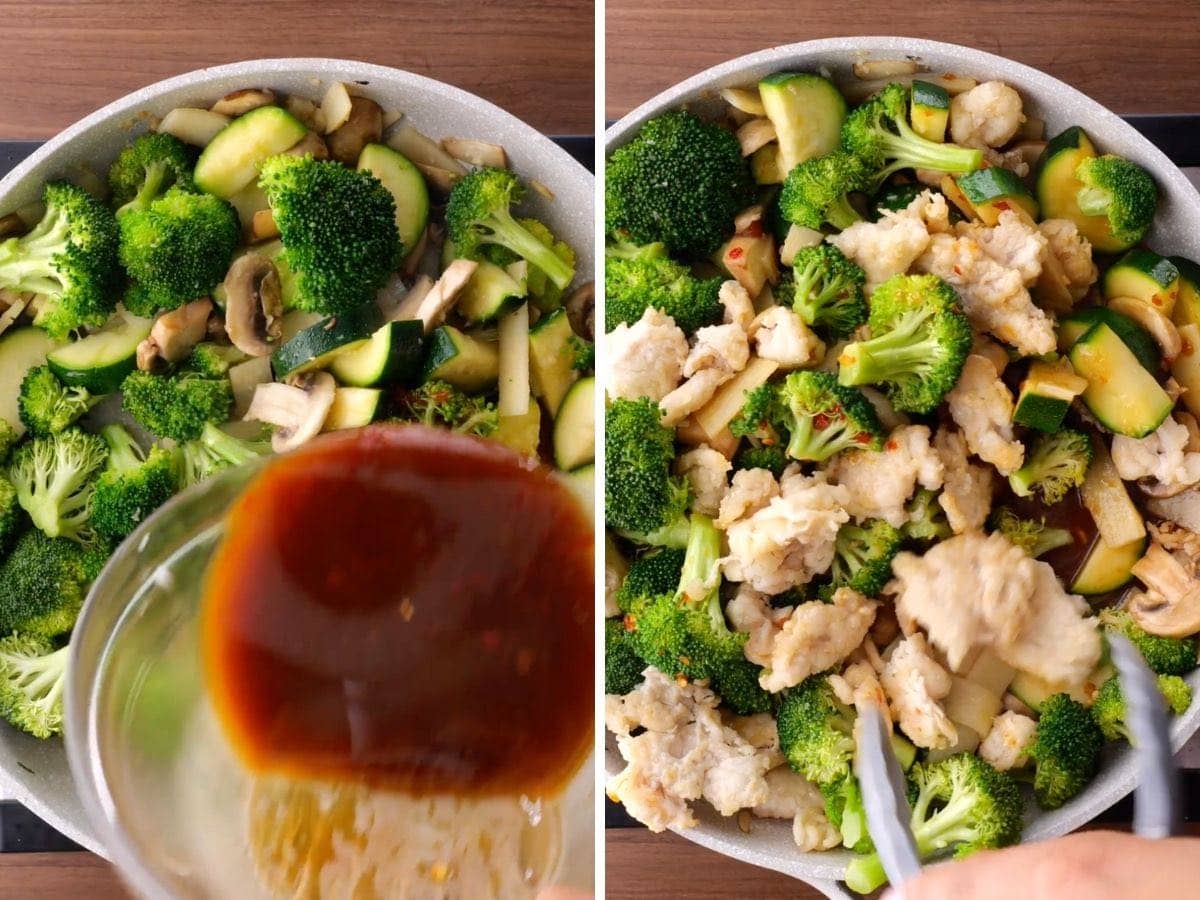 Substitutions for Hunan Chicken
Meat: You can use any kind of meat you'd like: chicken, beef, pork, fish, etc. Just make sure it's cut very thin.
Chili Sauce: If you can find Sambal Oelek, feel free to use a similar chili sauce. You can also substitute for Sriracha sauce too.
Rice Wine Vinegar: It's worth going to the Asian market to get this, but if it's just not available, you can substitute equally parts of either apple cider vinegar or regular white wine vinegar.
Bamboo Shoots: These add a wonderful crunchy addition to the recipe but we understand that they are not always available. You can substitute with water chestnuts, heart of palm, or even asparagus in a pinch.
Mushrooms: You can substitute tofu, tempeh, or artichoke hearts for mushrooms in this recipe.
Oyster Sauce: Unless you're specifically allergic to oysters, there really isn't a good substitute for oyster sauce because of the subtle flavor it gives to the dish, even if you're not particularly fond of the little sea mollusks. All Asian stores will have a vegetable based oyster flavored sauce that is the best substitute, but keep in mind that they are usually mushroom based.
Vegetables: You can bring in other fresh vegetables like chopped bell pepper and green onions into your dish. If you have a bag of frozen Asian stir fry vegetables, that works as a fantastic substitute as everything is already cut for you. Just give the colorful veggies a quick blanch in hot water and stir-fry according to the recipe.
More Yummy Chicken Recipes
How to Store Hunan Chicken
Serve: Serve Hunan Chicken hot. Keep covered when not being served. Refrigerate within 2 hours. 
Store: You can store your extra Hunan Chicken in the refrigerator for about 2 days because the mushrooms will get soggy after that. Simply reheat on the oven and serve hot.
Freeze: Hunan Chicken is great to freeze. Keep it stored in an airtight container for up to 6 months. When you're ready, thaw in the fridge overnight and reheat until nice and hot.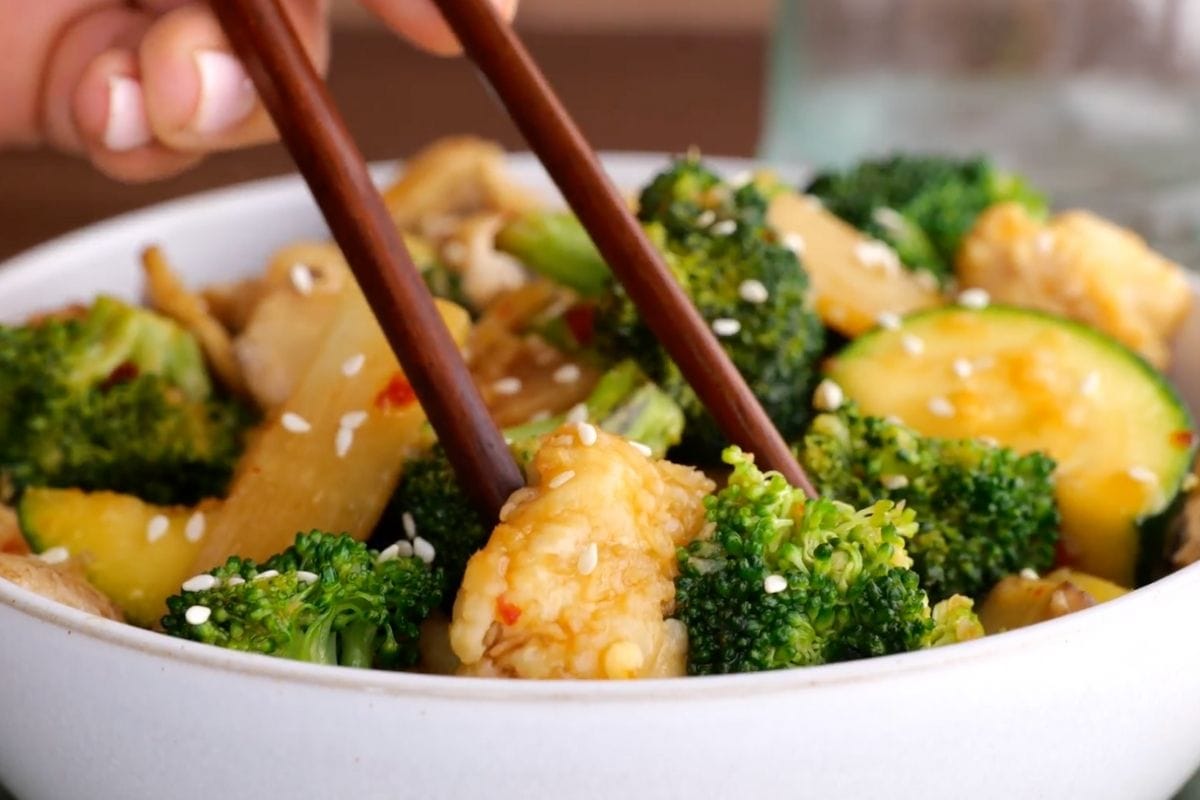 Ingredients
HUNAN CHICKEN
1

pound

chicken breasts

, shaved thinly

1

tablespoon

cornstarch

1/4

cup

vegetable oil

3

cloves

garlic

, minced

1

tablespoon

ginger

, minced

1

green zucchini

, cut into half moon shapes

4

ounces

mushrooms

, sliced thinly, equals just over a cup by volume

3

cups

broccoli florets

1

can

bamboo shoots

, drained
Instructions
Add the chicken and cornstarch in a large ziplock bag with air in the bag, close tightly.

Shake the bag until the chicken is well coated.

Add the vegetable oil to the pan on medium-high heat and cook the chicken until cooked through on both sides, about

2-3 minutes

on each side.

In a small bowl mix the sauce ingredients together.

Remove the chicken from the pan and add in the garlic, ginger, zucchini, mushrooms, broccoli, and bamboo shoots.

Stir, cooking for

2-3 minutes

.

Add in the sauce and chicken and toss to coat, cooking

1-2 more minutes

until the sauce has thickened.
Nutrition
Calories:
337
kcal
|
Carbohydrates:
16
g
|
Protein:
30
g
|
Fat:
18
g
|
Saturated Fat:
2
g
|
Cholesterol:
73
mg
|
Sodium:
786
mg
|
Potassium:
967
mg
|
Fiber:
4
g
|
Sugar:
6
g
|
Vitamin A:
555
IU
|
Vitamin C:
75.7
mg
|
Calcium:
58
mg
|
Iron:
1.7
mg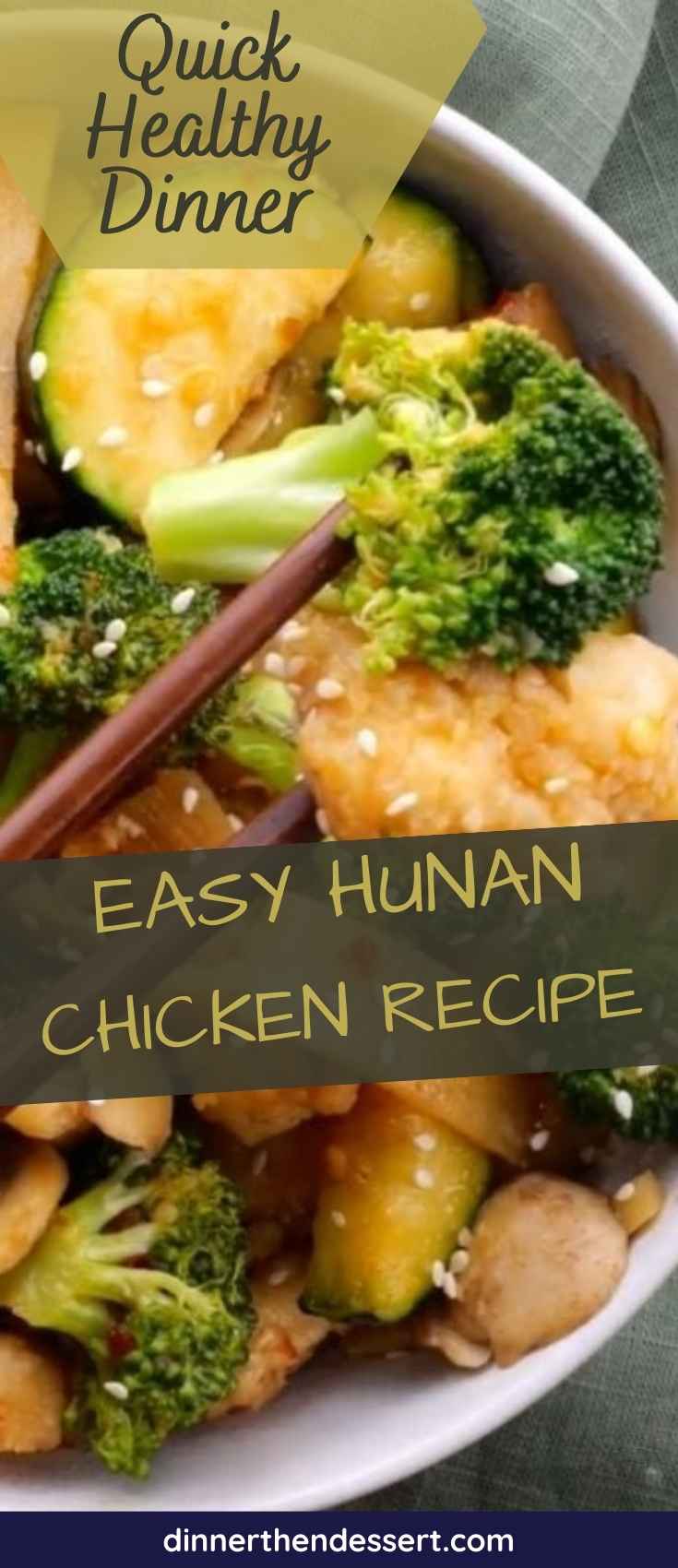 Photos used in a previous version of this post: