Szechuan Chicken is an easy stir-fry recipe with tender, flavorful chicken pieces, onion, bell peppers, garlic, and red Thai chilies.
Spicy Szechuan Chicken is a classic Chinese Dish that you can easily throw together for a weeknight dinner. For more Chinese chicken recipes be sure to try these recipes for Kung Pao Chicken, Sweet and Sour Chicken, and Baked Orange Chicken.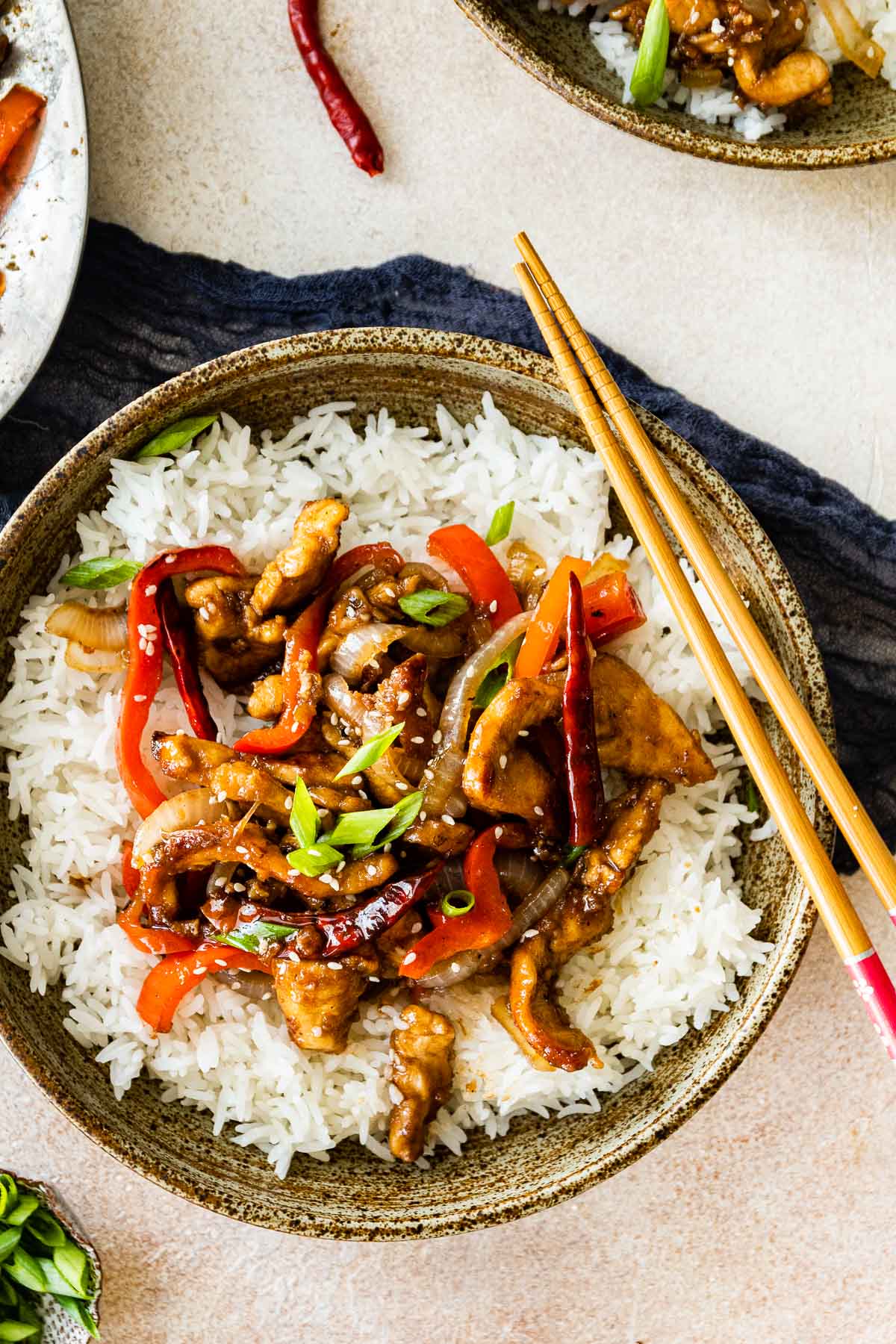 If you like spicy foods, then Szechuan Chicken is the dish for you. The tender chicken stir-fry gets authentic flavor from simple but bold recipe ingredients like soy sauce, garlic, sesame oil, and red Thai chilies. A soy sauce marinade makes the juiciest chicken with a savory flavor, and a bit of sugar adds a touch of sweetness to the sauce, then the chilies bring an explosion of flavor to the spicy dish.
When it comes to easy and quick dinners, Asian dishes like this one are the ideal weekday dinner meal. Once the fresh ingredients are combined, all you have to do is cook them up in a large pan until you have delicious and crisp chicken coated in a flavorful sticky sauce.
Serve the chicken over a bed of Brown Rice, Steamed Rice, or cauliflower rice, depending on your preference. The delicious flavor from the chicken, sauce, and veggies will go great with the simple rice base. The rice is also easy to make and filling, so it's the perfect dish for busy weeknights.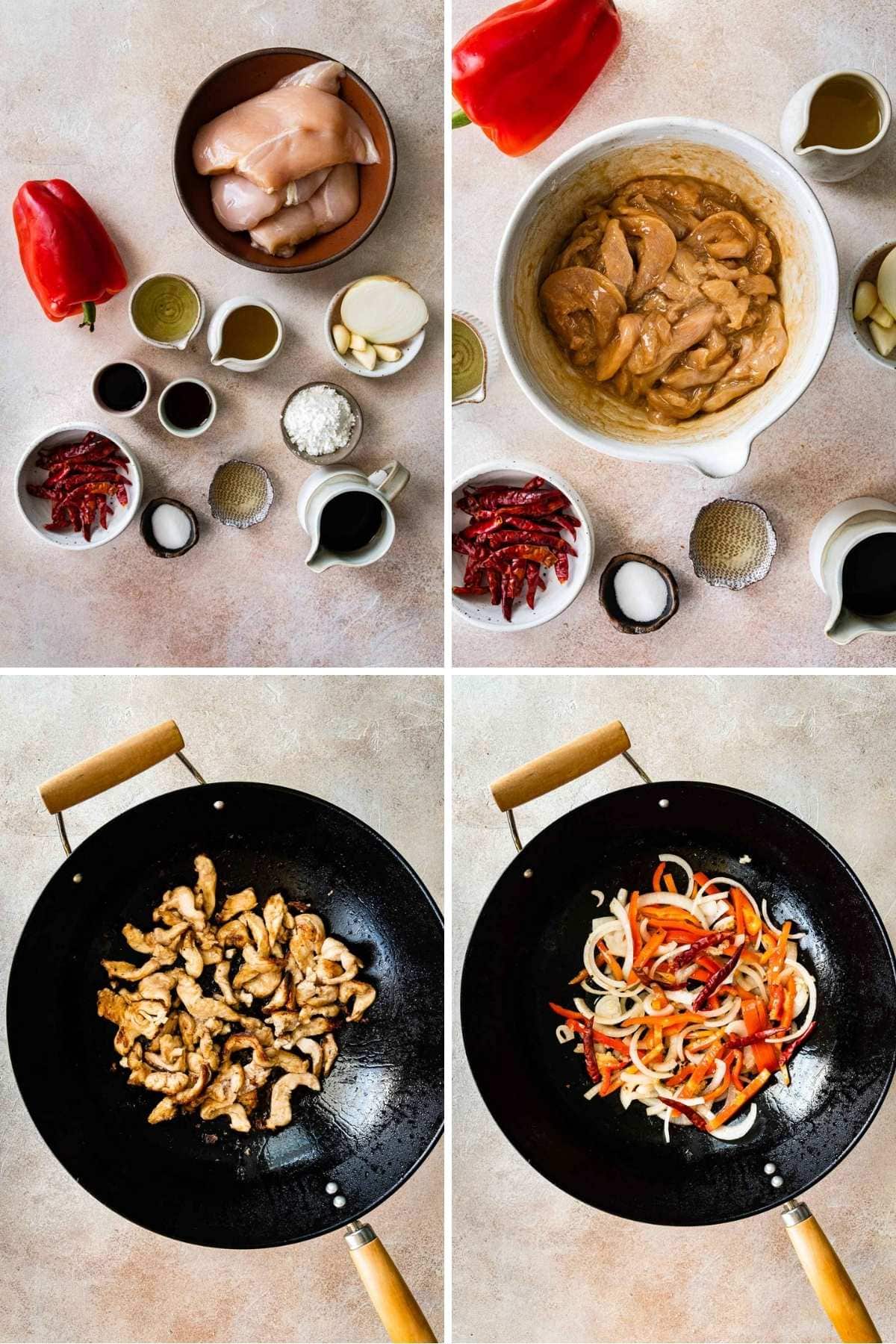 What is the Difference Between Szechuan Chicken and General Tso's Chicken?
You might notice some flavor similarities between Spicy Szechuan sauce and General Tso's Chicken. However, there are key differences between Szechuan Chicken and General Tso's Chicken.
Firstly, General's Tso's chicken has a thicker, more crispy batter that is usually deep-fried. Whereas this Szechuan Chicken recipe has a lighter coating and is pan-fried. Because this recipe is made in a spicy stir fry, it's also usually prepared with vegetables, and the chilies make it spicier than General Tso's.
How to Make Szechuan Chicken
Quick Chicken Marinade: Whisk together the cornstarch, soy sauce, sesame oil, and 1 tablespoon of vegetable oil. Then coat the bite-size pieces of chicken in the mixture. Let the chicken marinate in the ingredients for 20 minutes before beginning the recipe. You can let the chicken mixture sit longer in the fridge for juicier chicken
Sear: Raise the stovetop heat level to medium-high heat. Put a heavy nonstick skillet or large wok on, and add the marinated chicken. Stir the chicken in the hot skillet to make sure it cooks on all sides for at least 2 minutes. Then remove the chicken from the pan.
Vegetables: Add the remaining tablespoon of vegetable oil to the skillet. Then add in the sliced onion and bell pepper, and cook over medium heat while stirring the ingredients occasionally for 1 minute. Next, add the garlic and chilies for some spicy flavor. Cook for another 30 seconds.
Sauce: Pour in ⅓ cup soy sauce, rice wine vinegar, chicken stock, and granulated sugar. Make sure to stir the ingredients well then add the Szechuan Chicken back into the mixture. Keep the dish simmering over low heat for 2-3 minutes until the sauce is thickened.
Serve: Spoon the chicken over rice and garnish with sesame seeds, green onions, or chopped peanuts for a slight crunch.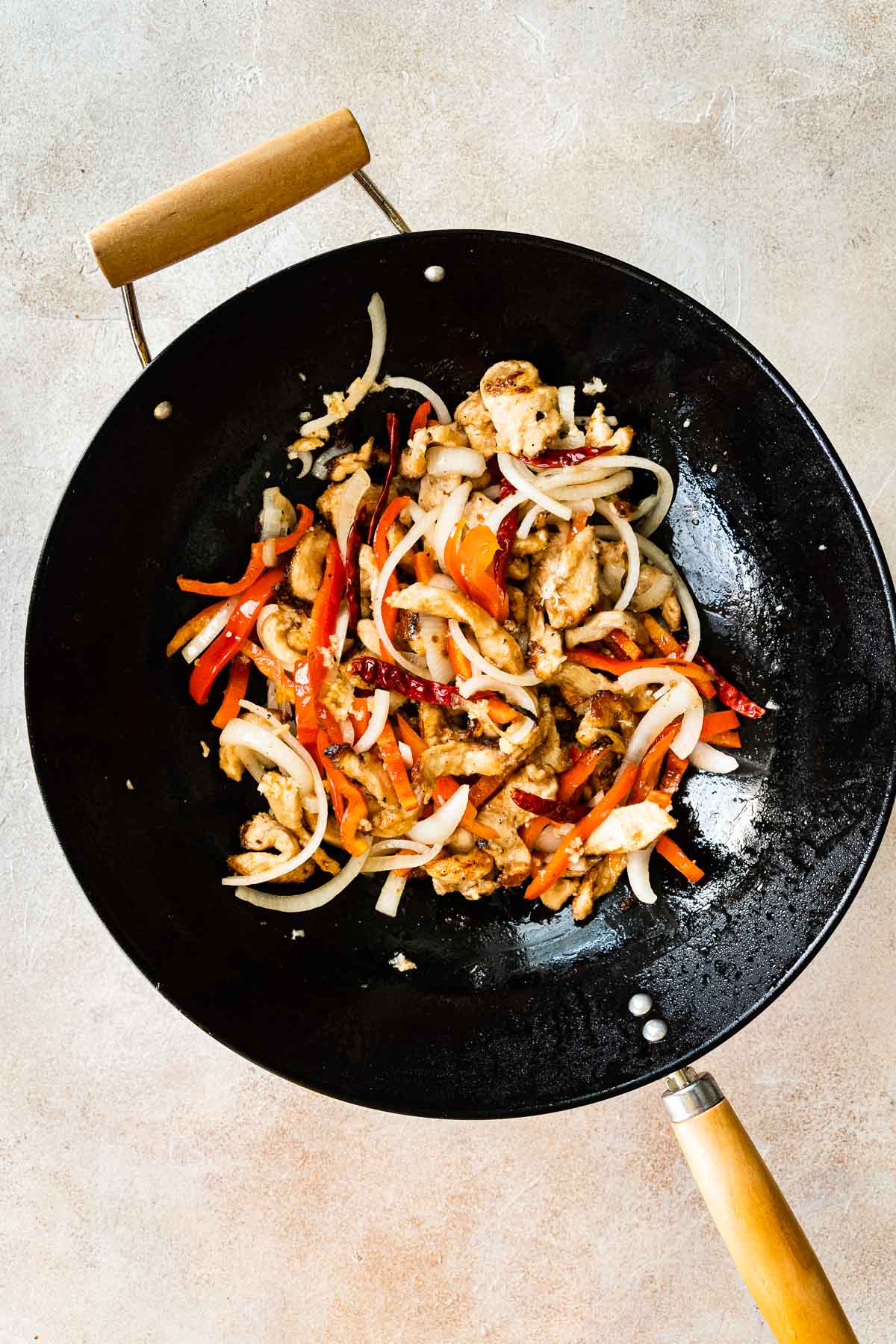 More Easy Chinese Food Recipes
Frequently Asked Questions About Szechuan Chicken
How did Szechuan Chicken get its name?
Szechuan Chicken is named after the Sichuan providence in southwestern China. The region is known for bold and spicy flavors.
Is there a way to make Szechuan Chicken less spicy?
You can decrease the spice in Szechuan Chicken if you'd like to. Just decrease or omit completely the dried red Thai chili peppers. Those peppers bring the strongest spice to the dish.

Create a free account to

Save Recipes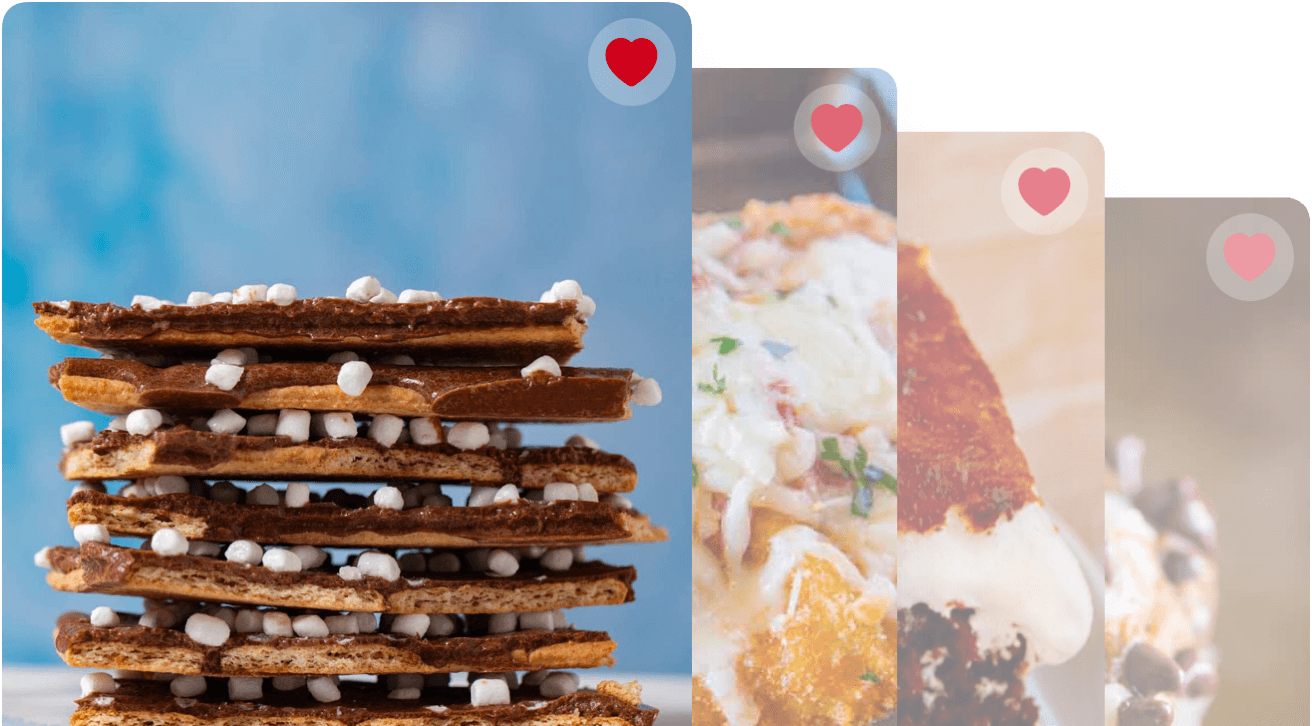 Key Ingredients
Cornstarch: In order to add some texture and thicken your sauce, you need some sort of a thickening agent. Cornstarch does the trick nicely!
Sesame Oil: Every oil has its own flavor and sesame oil is no different. It will bring a slightly nutty flavor to the dish similar to sesame seeds.
Dried Red Thai Chili Peppers: These little chilis bring a lot of heat to the dish. They rank somewhere between a jalapeño and habanero pepper in spiciness. They are small red chili peppers that are sun-dried and you can find them in most grocery stores.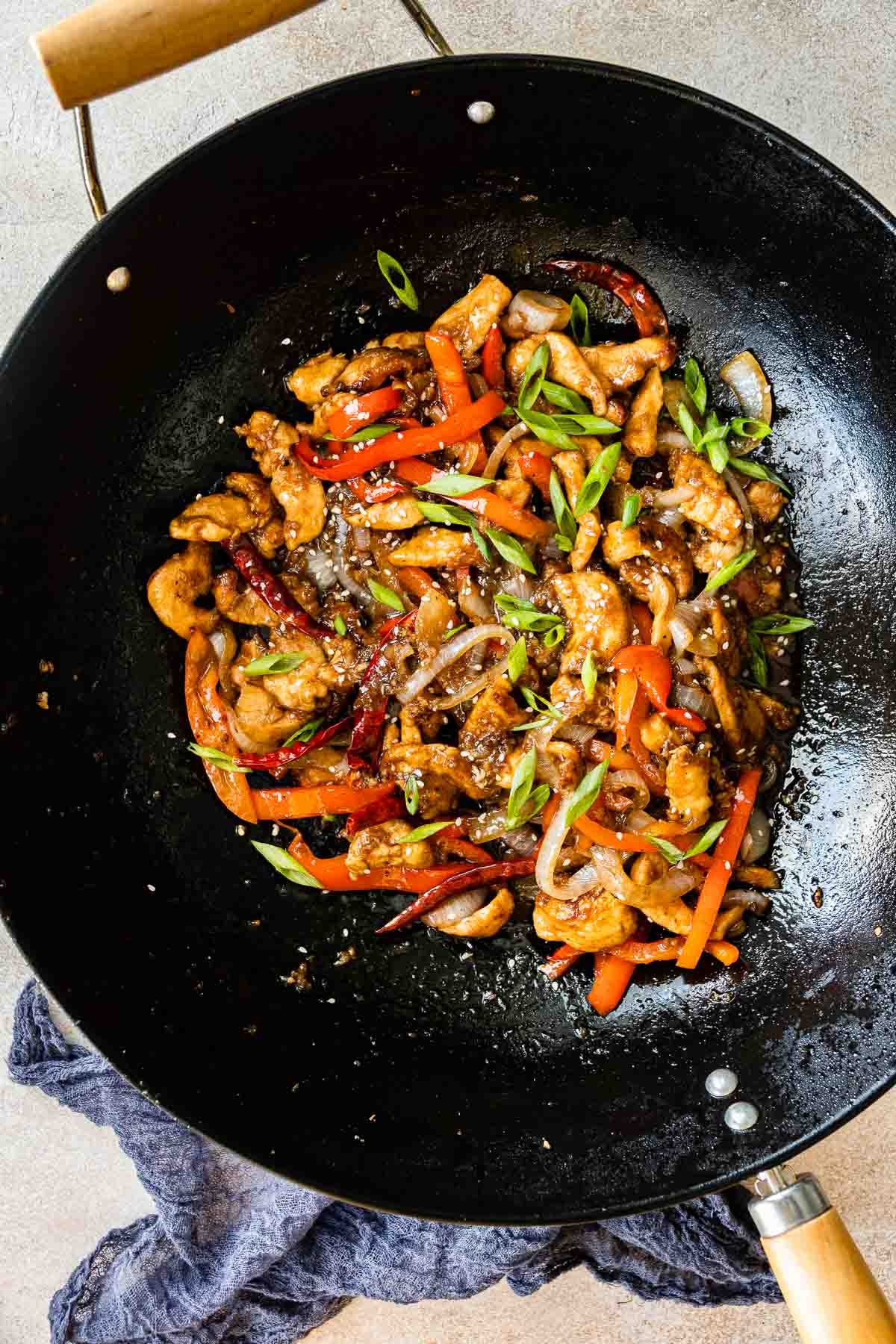 Variations on Szechuan Chicken
Garnishes: We've included peanuts, sesame seeds, and green onions as great garnish options for this recipe. There are also a few others you could try like red pepper flakes, or scallions. If you want the crunch but don't want peanuts, you can use crushed cashews or pecans instead.
Citrus: To give the recipe a more citrusy flavor, try whisking a couple of tablespoons of lemon juice in with the marinade mixture, or add orange juice to the Szechuan sauce.
Veggies: Add any of your favorite stir-fry vegetables to this recipe. It would taste great with green beans, sugar snap peas, carrots, broccoli, and baby corn.
Seasonings: To experiment with the flavors in the recipe try adding your favorite spices like black peppercorn, paprika, or fresh ginger. You could also make the recipe extra hot with spicy chili flakes or cayenne pepper.
Rice Wine Vinegar: Made from fermented rice, rice wine vinegar is subtly sweet and tart. It adds a great flavor to balance out the sweet and the spicy in this dish. Make sure you purchase rice wine vinegar at the store and not simply rice wine which is an alcoholic drink.
Chinese Side Dishes
How to Store Szechuan Chicken
Serve: After cooking, don't leave Szechuan Chicken out at room temperature for more than 2 hours.
Store: Let it cool down before you seal the recipe in an airtight container for storage. It will keep well in the fridge for 3-4 days.
Freeze: The chicken and stir-fry vegetables can also be kept frozen for up to 1 month.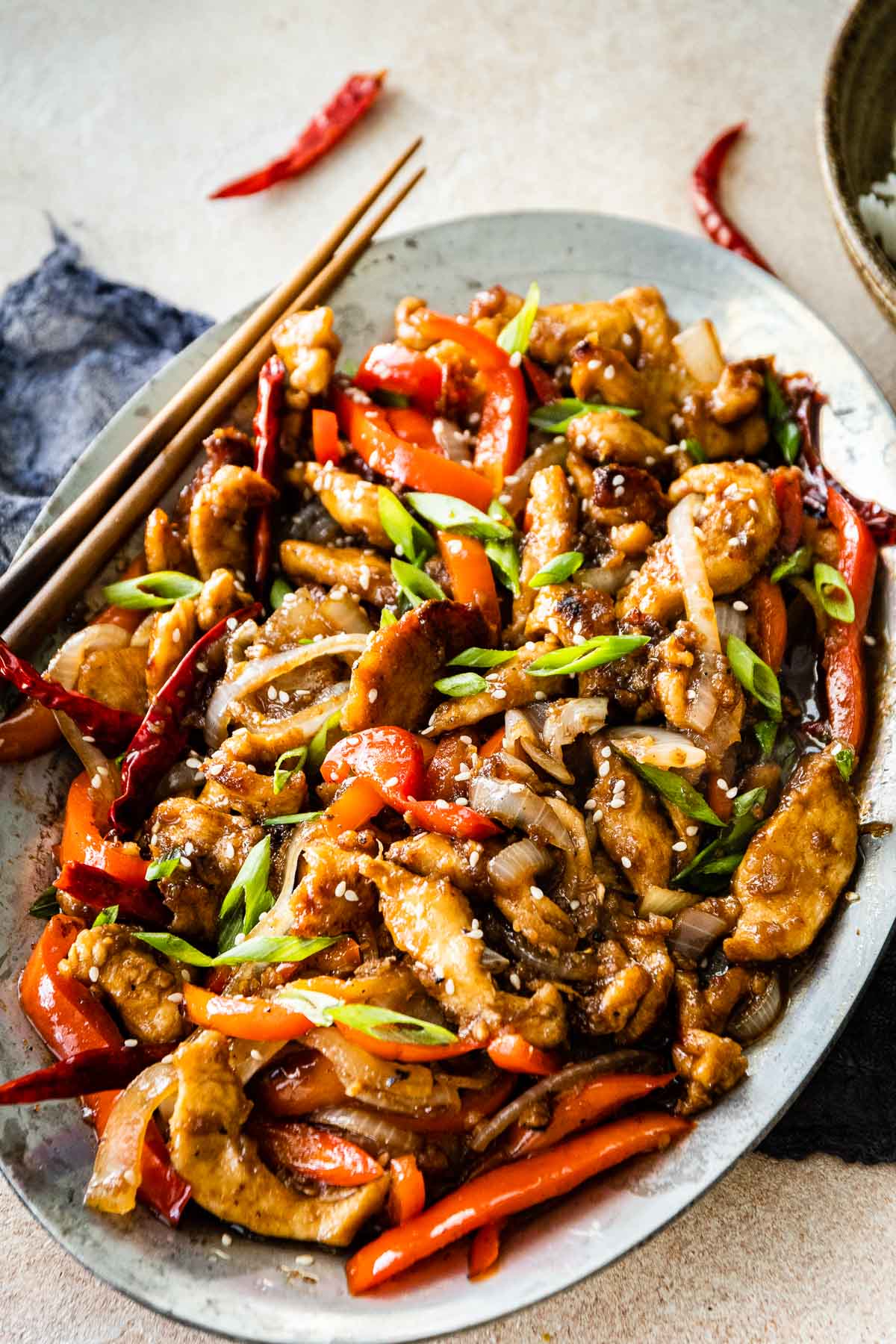 Instructions
In a large zip lock bag or bowl mix together chicken, cornstarch, 1 tablespoon soy sauce, sesame oil, and 1 tablespoon of vegetable oil.

Let marinate for

20 minutes

.

Add chicken to a large wok or heavy skillet on medium-high heat.

Sear on both sides, cooking for

2 minutes

on each side. Remove from the pan.

Add the remaining 1 tablespoon of vegetable oil to the large wok or heavy skillet on medium-high heat.

Add the onion and bell pepper and cook for

1 minute

, stirring occasionally.

Add in garlic and red chili peppers and stir, cooking for

30 seconds

.

Stir in the ⅓ cup soy sauce, rice wine vinegar, chicken broth, and white sugar, and stir well. Add chicken back into the pan and let simmer for

2-3 minutes

until sauce is thickened.

Garnish with green onions or crushed peanuts or sesame seeds.
Nutrition
Calories:
465
kcal
|
Carbohydrates:
17
g
|
Protein:
52
g
|
Fat:
20
g
|
Saturated Fat:
3
g
|
Polyunsaturated Fat:
8
g
|
Monounsaturated Fat:
6
g
|
Trans Fat:
0.1
g
|
Cholesterol:
145
mg
|
Sodium:
1576
mg
|
Potassium:
1120
mg
|
Fiber:
2
g
|
Sugar:
5
g
|
Vitamin A:
1429
IU
|
Vitamin C:
80
mg
|
Calcium:
39
mg
|
Iron:
2
mg