General Tso's Chicken is a favorite Chinese food takeout choice that is sweet and slightly spicy with a kick from garlic and ginger.
If you love the sweet and tangy flavors of General Tso's Chicken, you're going to relish the flavors of Garlic Hunan Beef, the tanginess of PF Chang's Orange Peel Chicken, and the Spicy Tangerine Beef with Carrot Ribbons.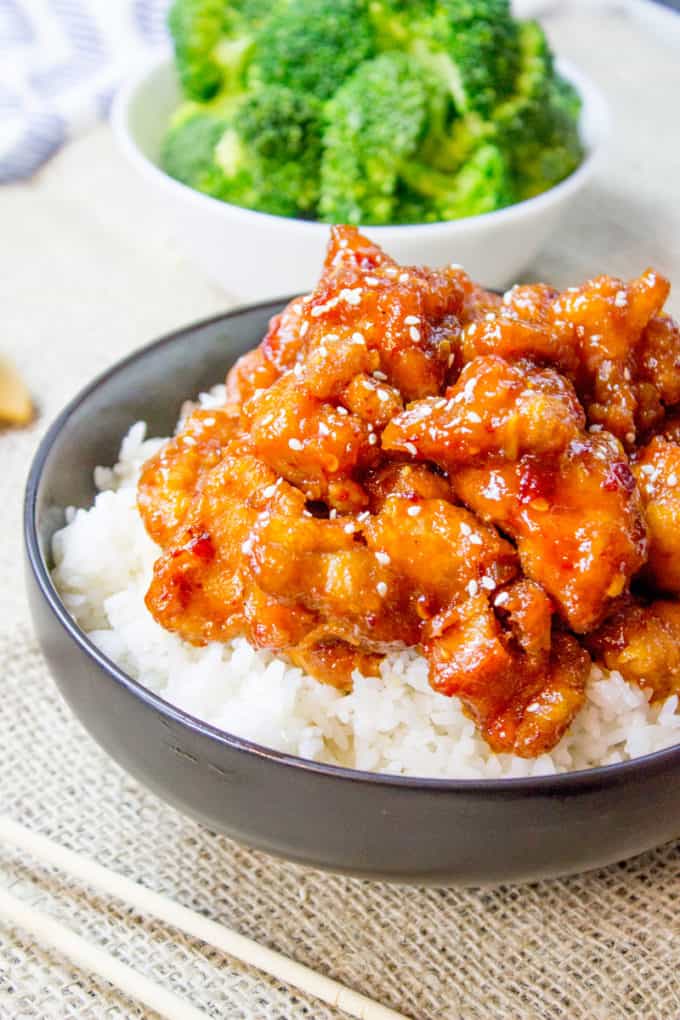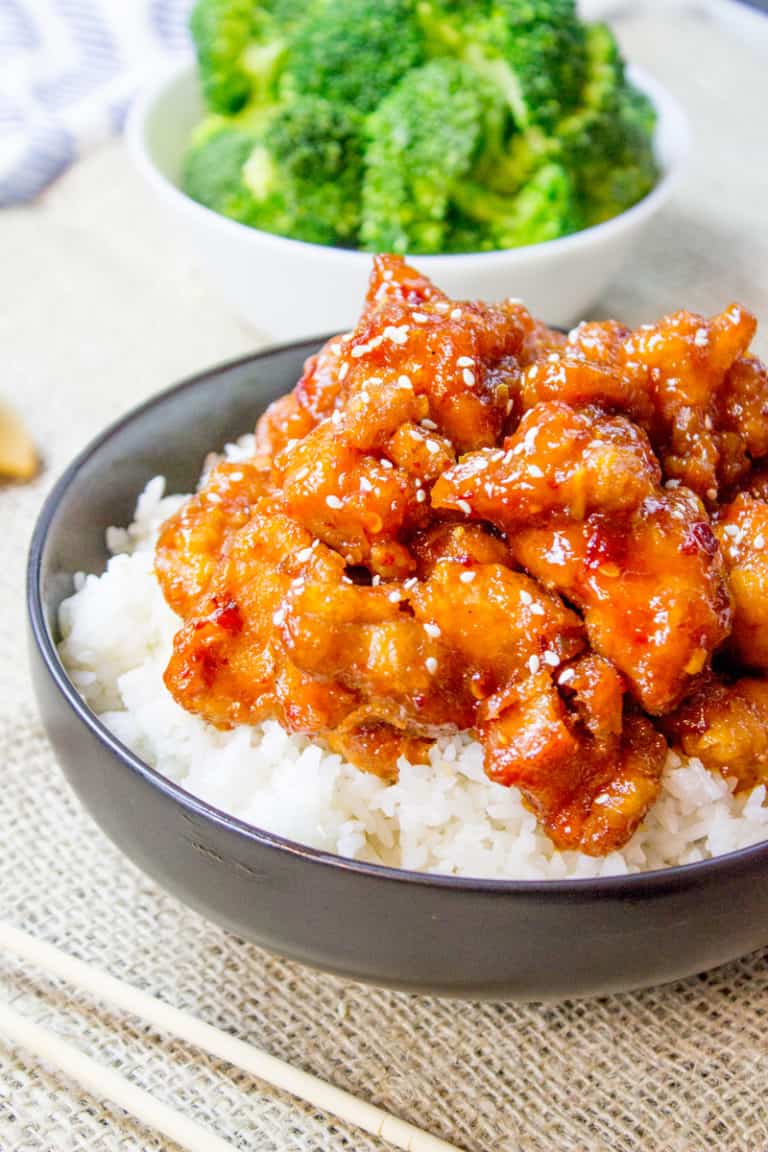 General Tso's Chicken that can be found at Chinese restaurants and is a favorite late night Chinese takeout. The spicier, zestier, less popular cousin to the ever popular Orange Chicken, General Tso's Chicken is a fantastic option when you're looking to change up your Chinese food routine.
Other General Tso's Chicken recipes can sometimes have cooking directions that are really complicated and with many different breading steps. These are all eliminated by going to a simple cornstarch coating. You can definitely do a thicker typical breading if you would like, like what is done in our Orange Chicken recipe. Also, the addition of the hoisin sauce may seem small and you may want to skip it because it isn't a normal pantry item unless you are used to doing Asian cooking, but the flavor is that specific General Tso's Chicken flavor that you'll miss without it.
When you're ready to serve your chicken, you'll want to make sure you have plenty of white rice, brown rice, or a noodle dish, like Chow Mein.
How to Make General Tso's Chicken
This is such an easy dish to make, and is so flavorful, your family will want you to make it time and time again! Check it out!
Step One: Coat chicken in the cornstarch mixture. Let each piece of chicken sit while you make the sauce.
Step Two: Mix the sauce together and set to the side to thicken while you cook the chicken and get a crispy coating.
Step Three: Fry the chicken in batches in a deep skillet on medium-high heat until they are golden brown on all sides. Set to the side in a colander or other strainer and place that on paper towel to collect the dripping oil. Don't put the crispy chicken directly on paper towel or it will get too soggy.
Step Four: With most of the oil drained from the pan, put in the fresh ginger and garlic and pepper flakes and cook on medium heat until fragrant.
Step Five: Finally, add in the chicken pieces and then the sauce mixture. Mix together until it's steaming hot. Then serve hot with steamed broccoli. Enjoy!
More Chinese Chicken Dinners
Frequently Asked Questions
Who was General Tso and why is this chicken named after him?
The legend says that there was an actual General from Hunan Province in China who was well known as a general and military leader. An immigrant from China created the dish in New York in the 1950's where it was popularized and spread across Chinese restaurants around the USA. He named the dish in honor of that famous general.
What does General Tso's Chicken taste like?
As a Chinese-American dish, General Tso's Chicken is prepared by frying chicken and coating it with a sweet and salty glaze made from brown sugar, garlic, soy sauce, and pepper flakes. The tang of ginger and Hoisin sauce in our recipe is irresistible and delicious! 
What is the difference between Orange Chicken and General Tso's Chicken?
General Tso's Chicken and Orange Chicken are both distinct Chinese stir fries that offer unique flavors. General Tso's Chicken is made with golden fried chicken pieces in a sweet, salty, and sticky sauce, which has added savory flavors from soy sauce, chili flakes, and Hoisin sauce. Orange chicken is characterized by its sweet flavor and orange zest.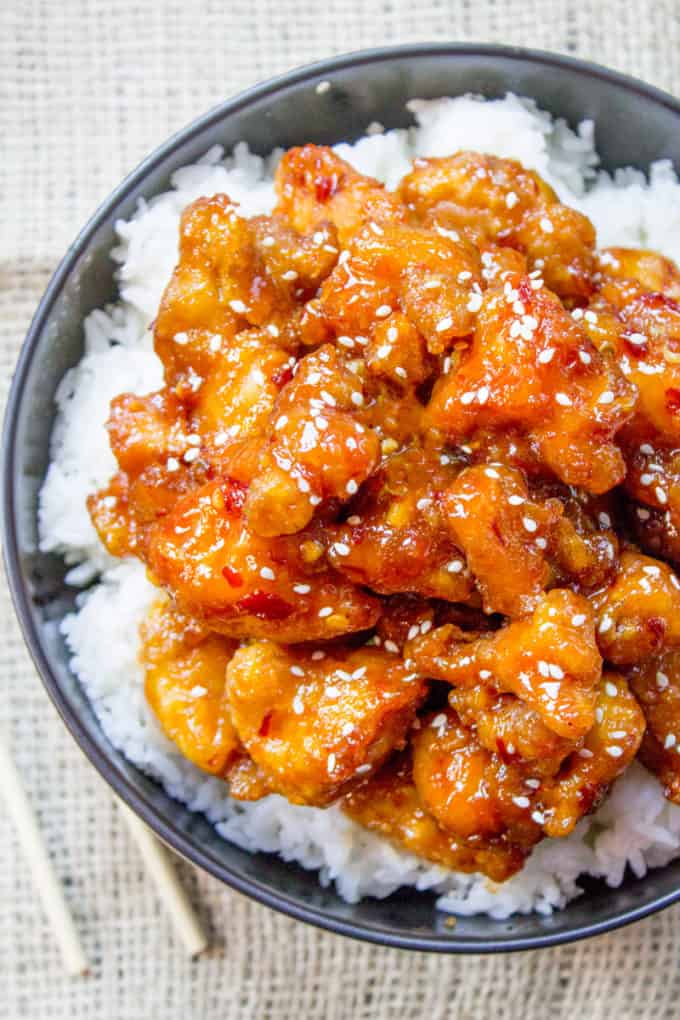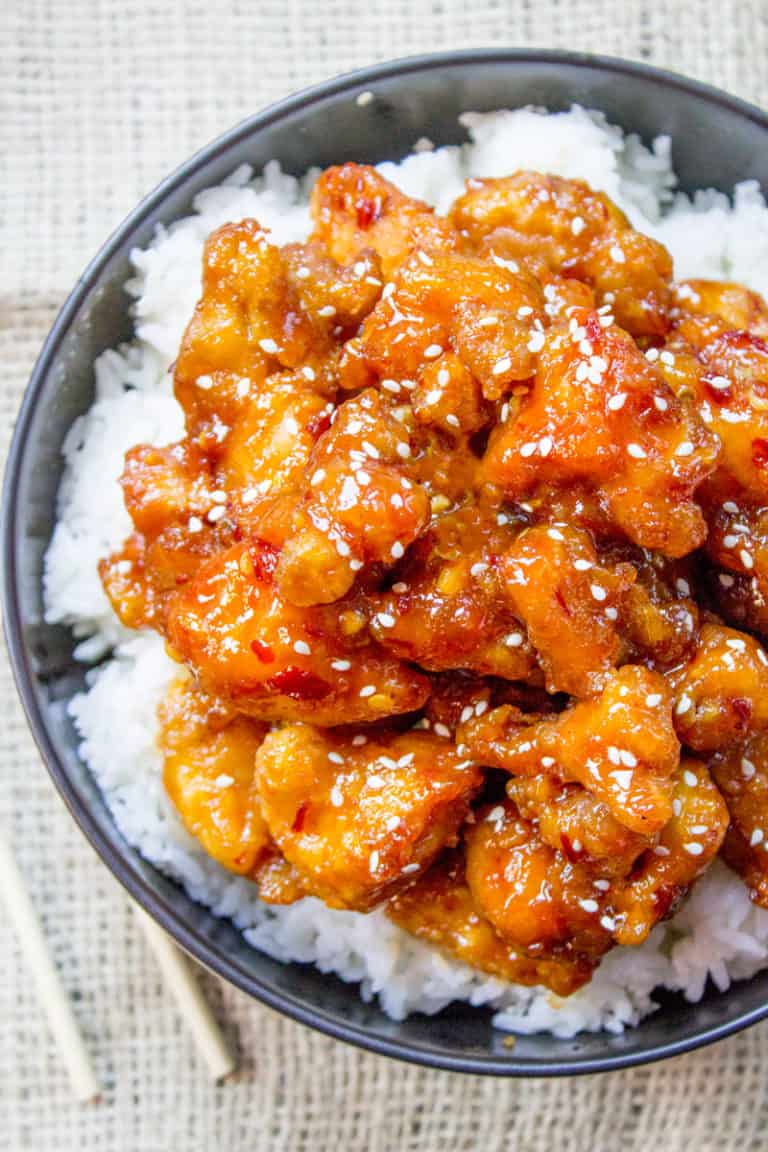 Create a free account to

Save Recipes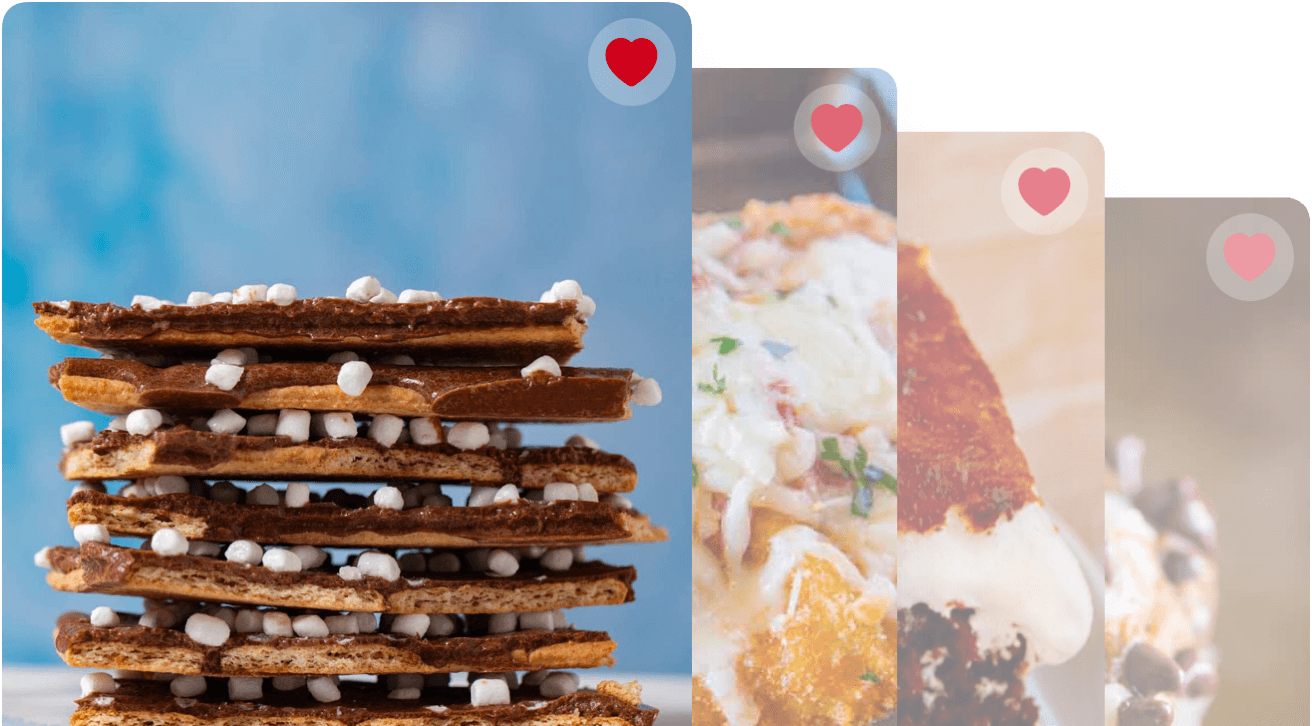 Key Ingredients in General Tso's Chicken
Everything can easily be found at your local grocery store or Asian market.
Chicken: We're using boneless, skinless chicken thighs in the recipe. But you can use skinless chicken breasts, or even chicken tenders.
Rice Vinegar: Rice vinegar is a pretty inexpensive vinegar in the grocery store and an amazing flavor boost for salads as well as many Asian recipes. You won't regret the purchase. Rice wine vinegar works too.
Hoisin Sauce: This is a staple Asian pantry item. It has an awesome depth of flavor and is sometimes referred to as Asian BBQ sauce. This fermented soybean-based sauce is traditionally made with Chinese five spice blend for a distinctive flavor beloved by many. You'll immediately recognize the flavor when you try it and the one bottle will make many delicious dishes. Don't skip it.
Sesame Seeds: Presentation counts. A little sprinkling of sesame seeds, chopped chives or even red chili pepper will instantly add flair to your meal.
Sugar: You can use any kind of sugar. We are using brown sugar in our recipe.
Oil: You can use vegetable oil, peanut oil, or canola oil for deep frying your chicken. You can also add a tablespoon of sesame oil while frying for extra flavor.
Substitutions for General Tso's Chicken
Rice Vinegar: It can be tempting to swap out items, like white vinegar or white wine vinegar for rice vinegar. Every time you make a substitution it is going to taste less like what you remember ordering out.
Hoisin Sauce: This distinctive semi-sweet sauce shouldn't be substituted, for best taste. However, if it simply cannot be found, you can get a similar flavor with plum sauce, tamari sauce, or garlic teriyaki.
Cornstarch: This thickener can be substituted with arrowroot powder, tapioca starch, or wheat flour.
Pepper Flakes: If the chili is too spicy, you can easily keep it out without compromising flavor. If you would like more spice, just add double the chili flakes, or substitute with Sriracha which is a spicy sauce.
Air Fryer General Tso's Chicken
Step One: You can easily cook the chicken in the air fryer. This is actually a great way to cook the chicken to a perfect crisp while working on another dish for the meal. Using this method, prepare the chicken by coating in the cornstarch. In a single layer in the air fryer, spray the top with a light coat of cooking oil and cook on 400ºF for 8 minutes. Set a time and flip the chicken over at the 4 minute mark to cook both sides. Cook in batches to ensure a crispy chicken.
Step Two: While the chicken cooks, modify the recipe only in frying the garlic and ginger and pepper flakes and then adding in the already made sauce. Stir it up and let it thicken and get nice and hot.
Step Three: Once the chicken is done cooking, you can add it directly to the sauce and serve hot!
More Yummy Chicken Recipes
How to Store General Tso's Chicken
Serve: Serve hot and don't keep the chicken out for more than two hours.
Store: Store in the fridge in an airtight container for up to 3 days. Reheat on the stove.
Freeze: This is a great meal to freeze. Store extras in the freezer for up to 6 months in an airtight container. Thaw overnight when ready and reheat until completely hot.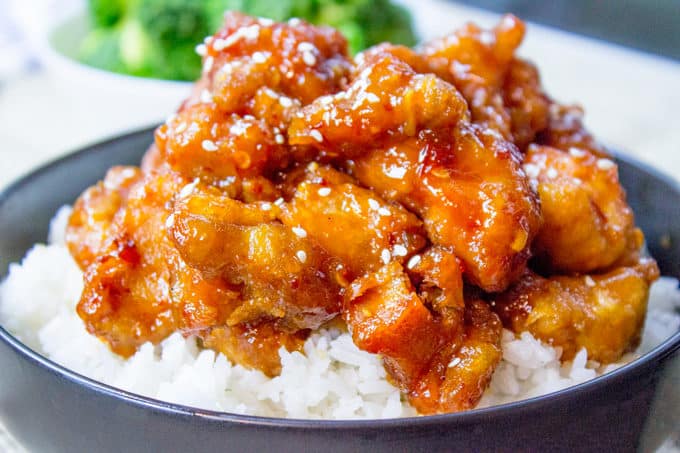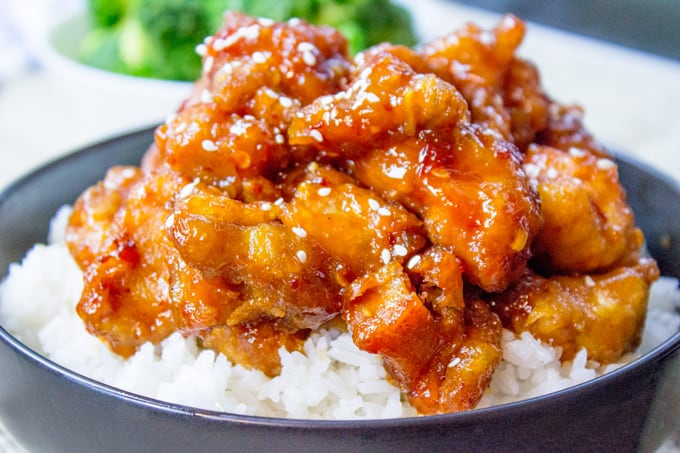 Ingredients
For the Chicken
1

pound

chicken thighs

, cut into 1 inch chunks

1/4

cup

cornstarch

vegetable oil

, for frying
To Finish
1

tablespoon

ginger

, minced

2

cloves

garlic

, minced

1/2

teaspoon

crushed red chili flakes
Instructions
Toss the chicken thighs with the quarter cup of cornstarch and let sit while you mix the sauce ingredients.

Add the rice vinegar, soy sauce, hoisin sauce, water, sugar and tablespoon of cornstarch in a small bowl and whisk together.

Add the chicken to a pan with the oil and fry until crispy.

Remove chicken from the pan and drain all but a tablespoon of the oil. Next, add in the chili flakes, ginger and garlic.

Cook the aromatics until fragrant (about

30 seconds

).

Add in the chicken and toss, then add in the sauce.

Stir for about

30 seconds

, or until thickened.

Serve immediately over rice or noodles.
Nutrition
Calories:
90
kcal
|
Carbohydrates:
20
g
|
Protein:
1
g
|
Sodium:
792
mg
|
Potassium:
28
mg
|
Sugar:
9
g
|
Vitamin A:
75
IU
|
Vitamin C:
0.5
mg
|
Calcium:
5
mg
|
Iron:
0.3
mg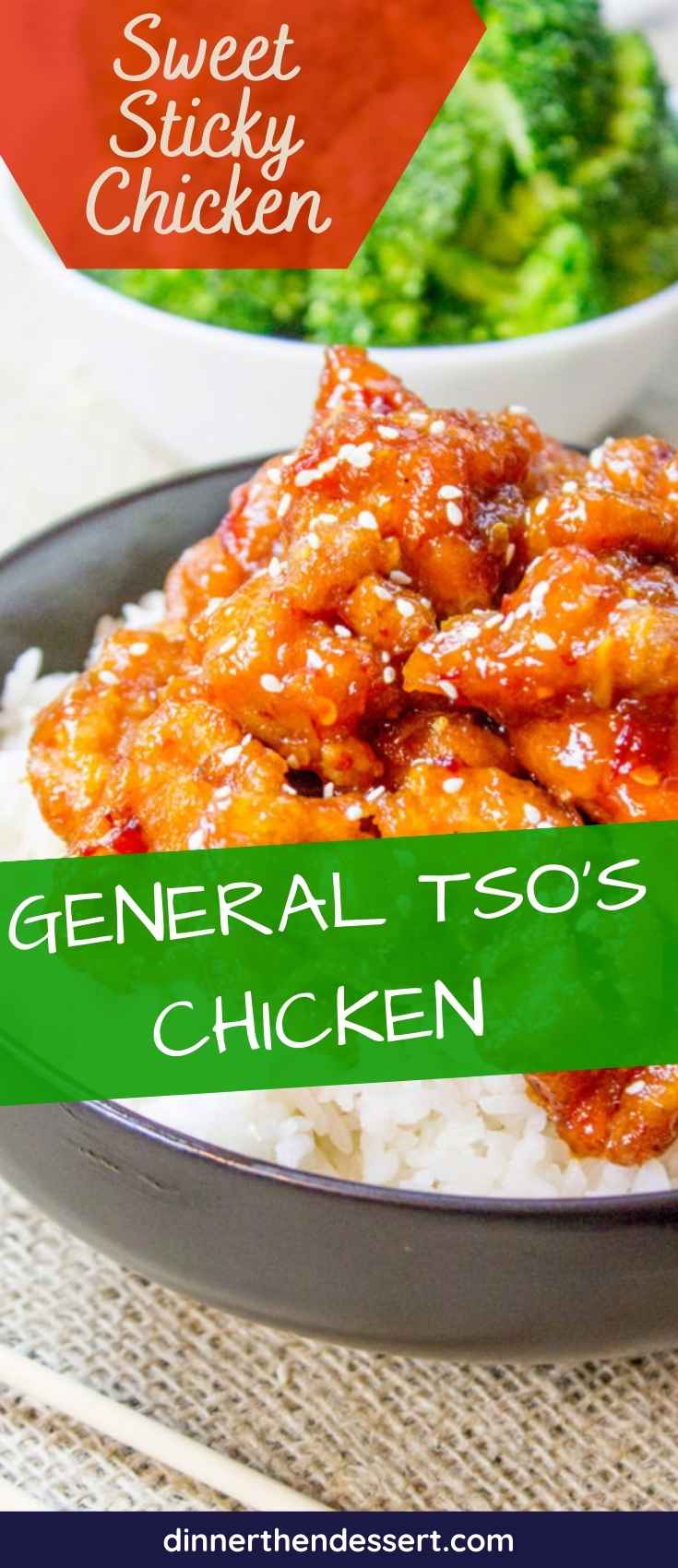 Photos used in a previous version of this post: