General Tso's Chicken is a favorite Chinese food takeout choice that is sweet and slightly spicy with a kick from garlic and ginger.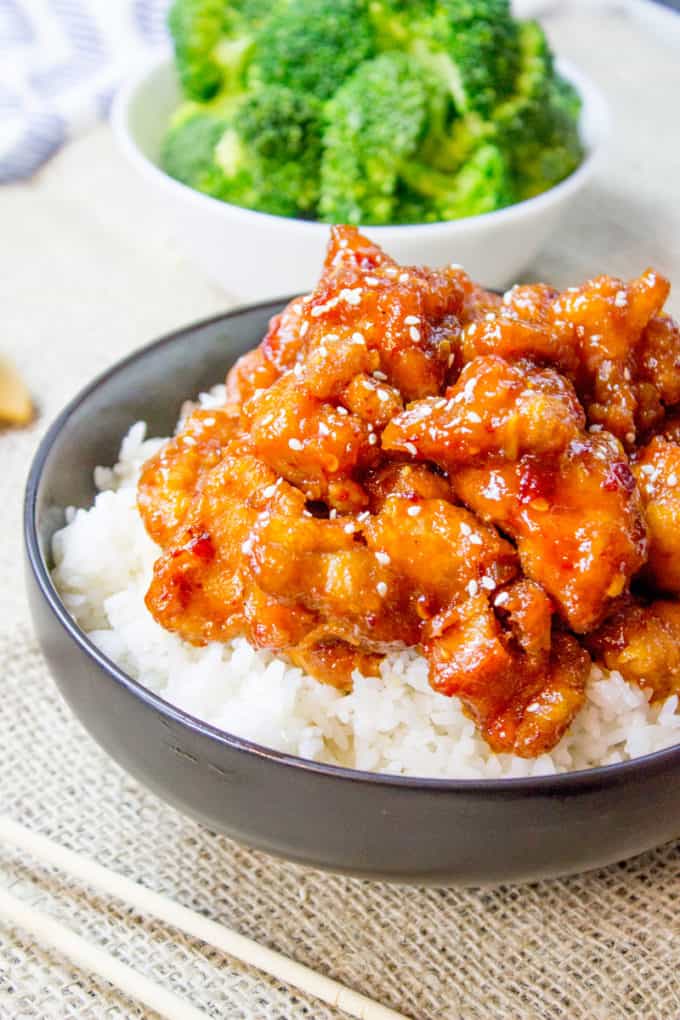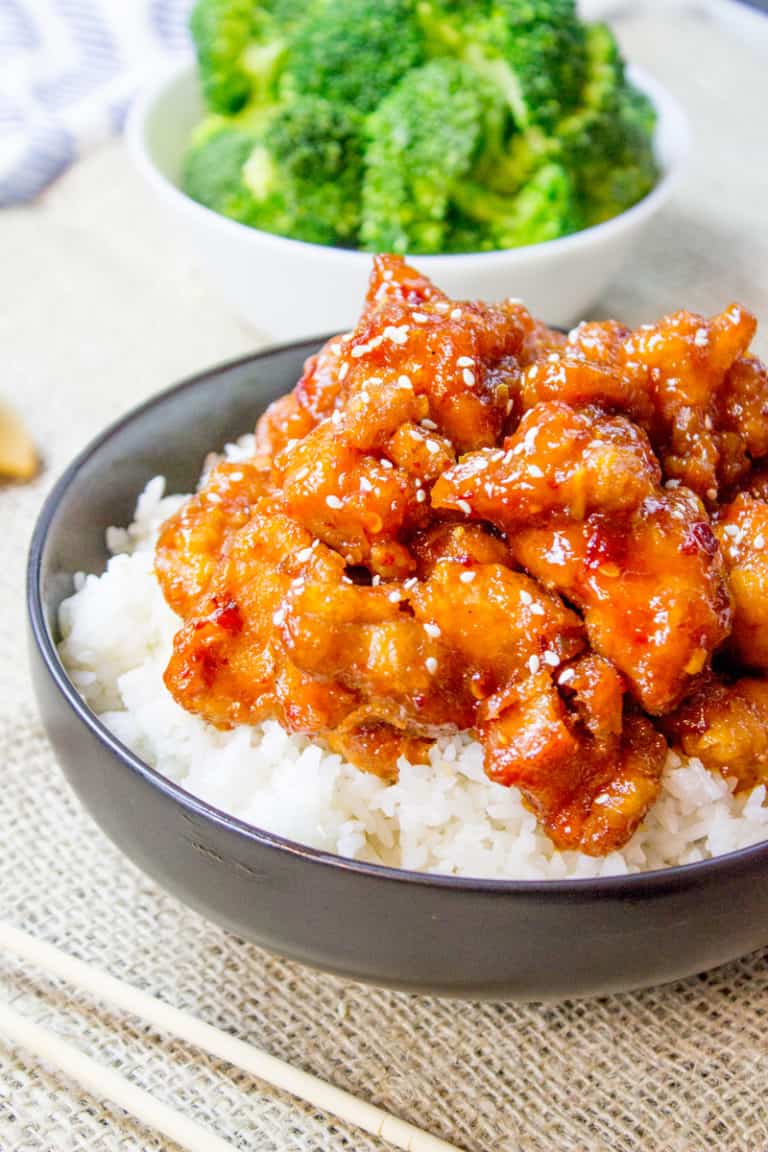 General Tso's Chicken was one of my favorite college days late night Chinese food delivery orders. The spicier, zestier less popular cousin to the ever popular Orange Chicken, General Tso's Chicken is a fantastic option when you're looking to change up your Chinese food routine.
General Tso's Chicken can sometimes have recipes that are really complicated and with many different breading steps. I eliminated them going to a simple cornstarch coating, but you can definitely do a thicker typical breading if you would like, like I did in my Orange Chicken recipe. Also, the addition of the hoisin sauce may seem small and you may want to skip it because it isn't a normal pantry item unless you are used to doing Asian cooking, but the flavor is that specific General Tso's Chicken flavor that you'll miss without it.
Looking for some other Chinese food takeout options for dinner? Well aside from the long list of Panda Express menu items on the site, here is a list of delicious meals waiting to be made!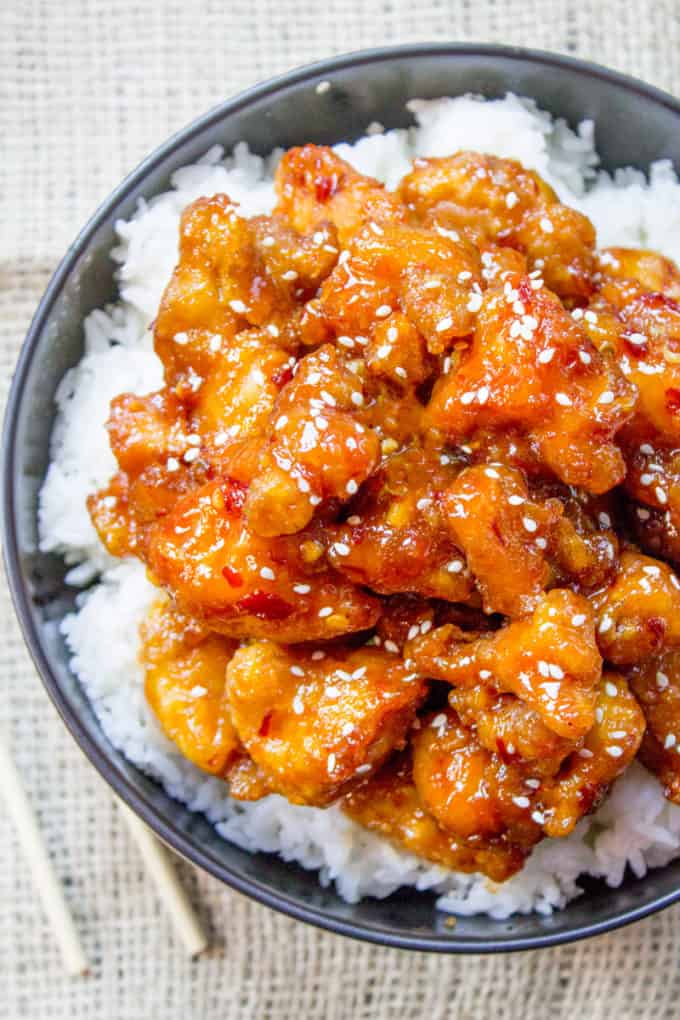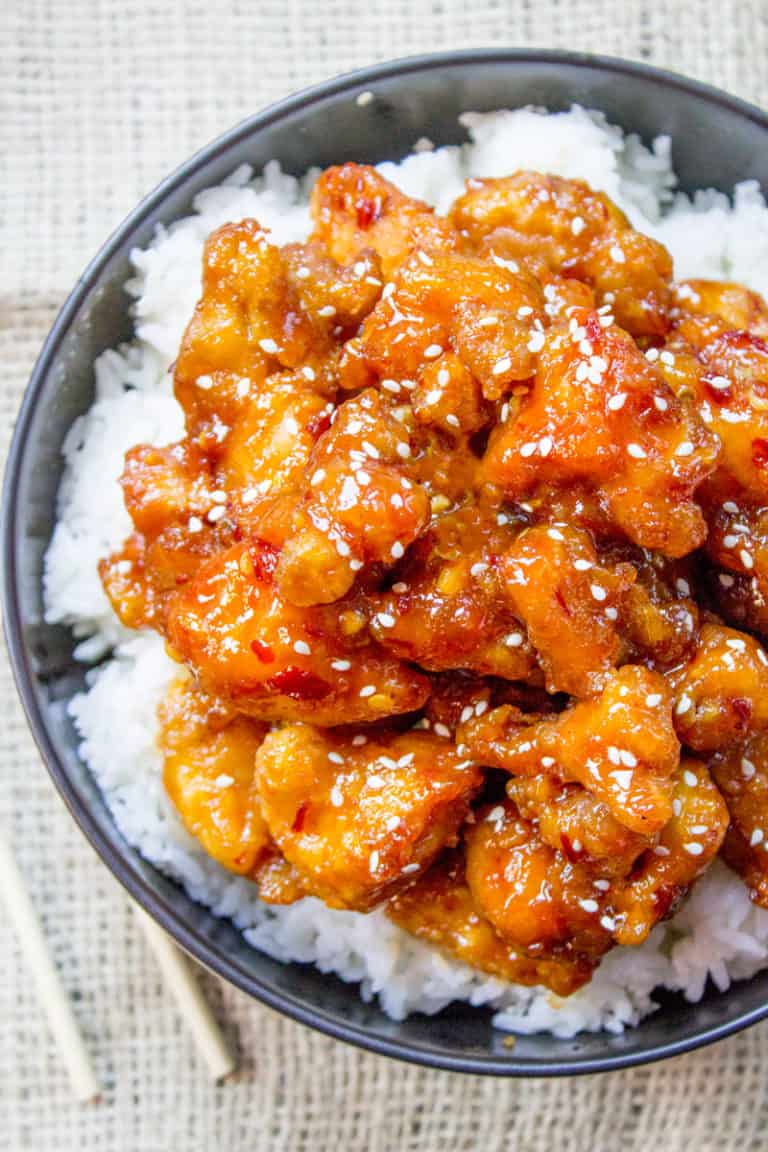 Some quick notes about the ingredients in the recipe:
It can be tempting to swap out items, like white wine vinegar for rice vinegar. Every time you make a substitution it is going to taste less like what you remember ordering out. Rice vinegar is a pretty inexpensive vinegar in the grocery store and an amazing flavor boost for salads as well as many Asian recipes. You won't regret the purchase.
Hoisin sauce is one of my favorite (and I really mean favorite) Asian pantry item. It has an awesome depth of flavor and is sometimes referred to as Asian BBQ sauce. You'll immediately recognize the flavor when you try it and the one bottle will make many delicious dishes. Don't skip it.
Sesame seeds, you may see me using them as a garnish on a lot of my Asian dishes, this is because presentation counts. I know you probably think "oh man I'm just tired and ready to eat the second I am done cooking" but believe me when I tell you that a little sprinkling of sesame seeds, chopped chives or even red chili pepper will instantly add flair to your meal.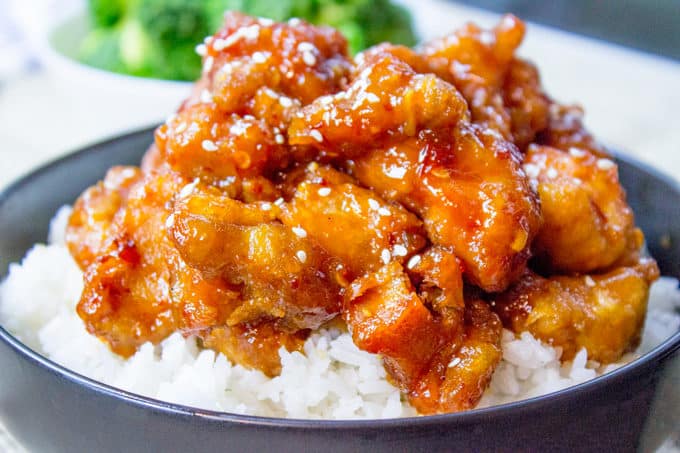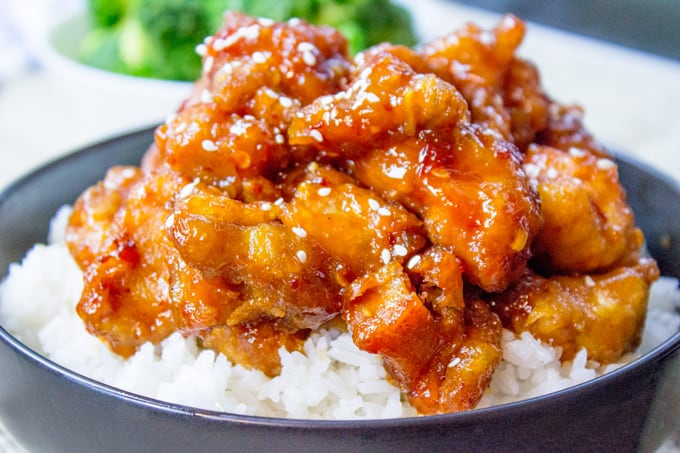 Ingredients
1

pound

chicken thighs cut into 1 inch chunks

1/4

cup

cornstarch

oil

for frying

1

tablespoon

minced ginger

1/2

teaspoon

red chili flakes

2

cloves

garlic

minced

For the Sauce:

3

tablespoons

rice vinegar

3

tablespoons

soy sauce

2

teaspoons

hoisin sauce

1/4

cup

water

3

tablespoons

sugar

1

tablespoon

cornstarch
Instructions
Toss the chicken thighs with the quarter cup of cornstarch and let sit while you mix the sauce ingredients.

Add the rice vinegar, soy sauce, hoisin sauce, water, sugar and tablespoon of cornstarch in a small bowl and whisk together.

Add the chicken to a pan with the oil and fry until crispy.

Remove chicken from the pan and drain all but a tablespoon of the oil and add the chili flakes, ginger and garlic.

Cook until you smell the garlic (about

30 seconds

).

Add in the chicken and toss, then add in the sauce.

Stir for about

30 seconds

until thickened.

Serve immediately.
Nutrition
Calories:
90
kcal
|
Carbohydrates:
20
g
|
Protein:
1
g
|
Sodium:
792
mg
|
Potassium:
28
mg
|
Sugar:
9
g
|
Vitamin A:
75
IU
|
Vitamin C:
0.5
mg
|
Calcium:
5
mg
|
Iron:
0.3
mg