Indian Chicken Vindaloo is made wonderfully spicy and tangy with ginger, cumin, cardamom, garam masala, and brown sugar in a rich sauce.
This authentic and flavorful dish makes a filling and delicious Weeknight Meal. For more amazing Indian food that you can make easily yourself, try Slow Cooker Butter Chicken or Chicken Korma.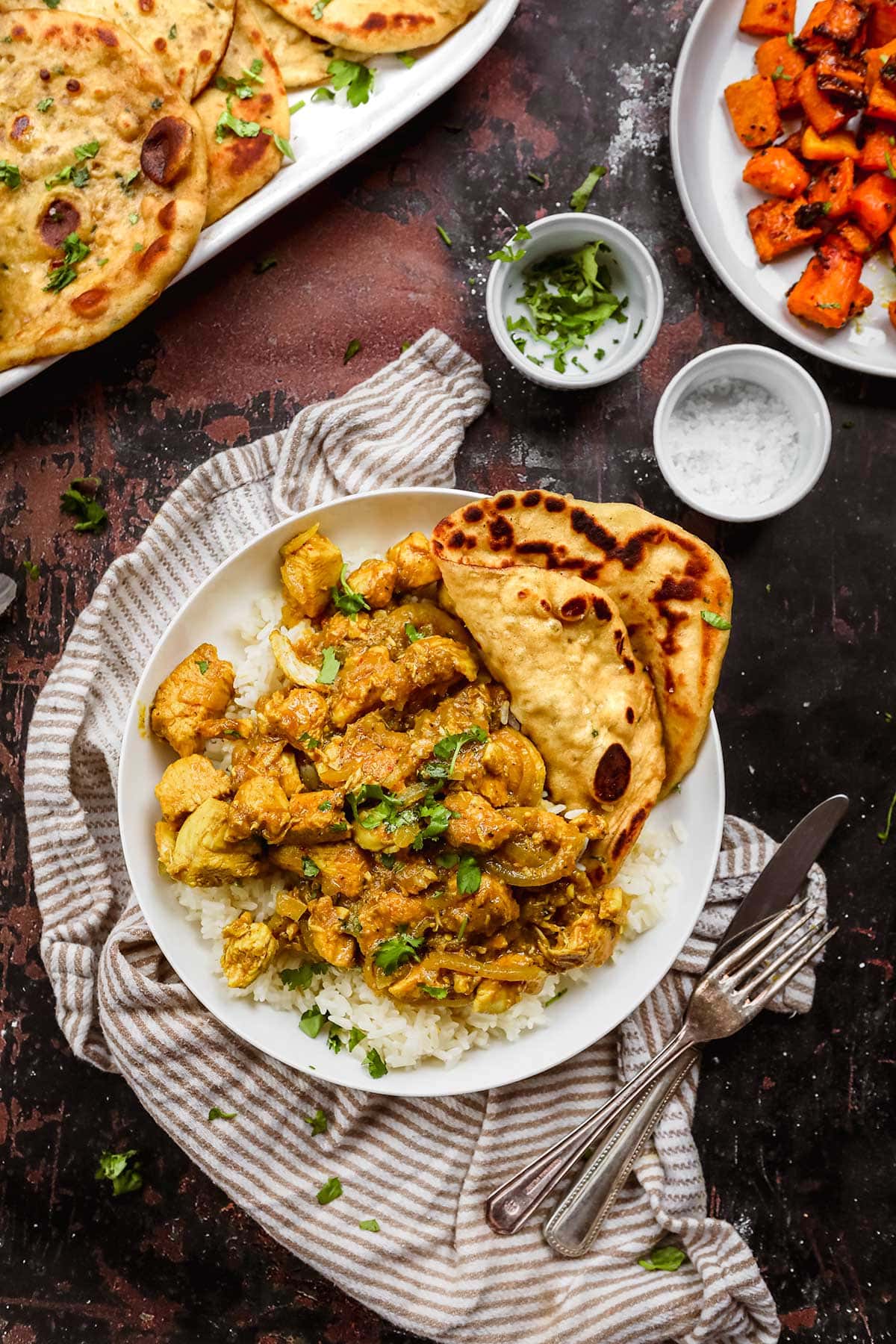 Chicken Vindaloo is an Indian dish with some Portuguese influence. You can find the amazing dish on most Indian restaurant menus. However, with this simple recipe you can get Classic Indian Chicken Vindaloo from the comfort of your home with just a few easy cooking instructions.
Chicken Vindaloo has the perfect balance of heat and tangy flavor. You can make this curry dish with common spices found in a lot of Indian cuisine like cumin, cardamom, turmeric, pepper flakes, and more. Then it gets an amazing tangy flavor from the authentic vindaloo paste made with tomato sauce and vinegar.
More Indian Recipes
Classic Vindaloo Curry tastes amazing served over a bed of plain rice. You can enjoy the Indian Chicken Vindaloo recipe with white rice, Brown Rice, or for an authentic version with lots of flavors use Basmati Rice.
Key Ingredients
Chicken: Boneless chicken breast work perfectly for this Indian Vindaloo Chicken because they do a great job soaking up the flavor around them and turn out perfectly tender.
Spice Blend: This recipe has such an amazing spice flavor. With a blend of ginger, garlic, cumin, cardamom, turmeric, garam masala, red pepper flakes, mustard seeds, peppercorn, and cloves the chicken is seasoned perfectly.
Brown Sugar: To make sure the heat isn't overpowering, brown sugar is mixed in to balance out the flavors with some rich sweetness.
Vindaloo Sauce: The spices are all blended into a smooth paste with tomato sauce and vinegar. Then you just marinate the chicken in the mixture. It absorbs a warm, spiced flavor from the spices and a tangy flavor from the vinegar and tomato sauce.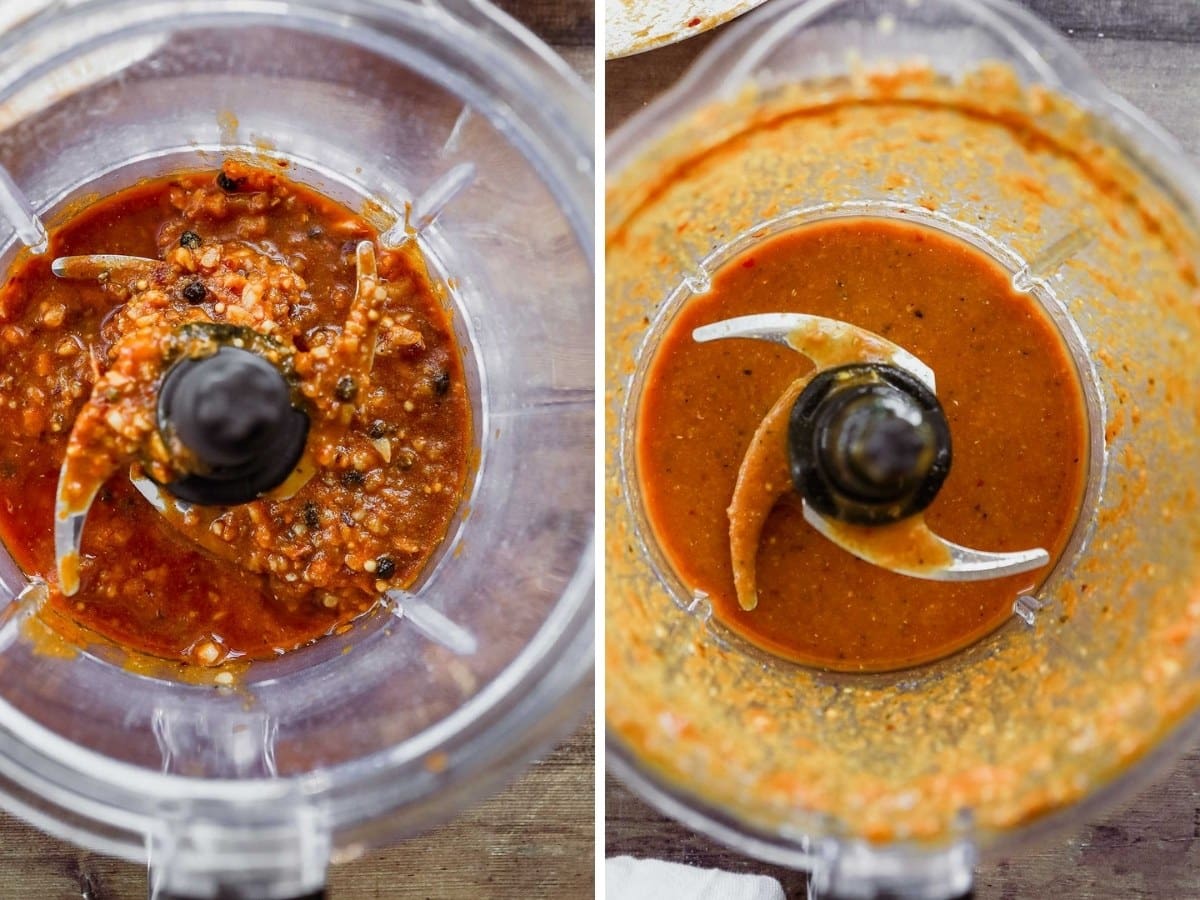 Frequently Asked Questions About Chicken Vindaloo
Where does the name "Chicken Vindaloo" come from?
The name of this dish goes back to its influence from Portugal. An old, very popular Portuguese dish with quite a similar name is called "carne de vinha d'alhos". It is meat cooked in a garlic marinade. It's likely the influence came to India with the Portuguese explorers and that is where the name came from.
How is Chicken Vindaloo different from Chicken Curry?
Chicken Vindaloo is a spicier, more complex dish than Chicken Curry. Vindaloo also has vinegar in it, which adds a punch to the spiciness.
How spicy is Chicken Vindaloo?
Typically considered one of the spiciest curries, Chicken Vindaloo has a high heat level. It is a great choice if you can tolerate lots of spicy flavor as the unique combination of flavors in this dish are truly a spicy delight.
How to Make Indian Chicken Vindaloo
Prep Time: If the boneless chicken breast is frozen, take it out of the freezer and let it defrost in the fridge. Once it's thawed, slice it into bite-size cubes.
Marinate: Add the tomato sauce, garlic, ginger, brown sugar, cumin, cardamom, turmeric, garam masala, crushed pepper flakes, mustard seeds, black peppercorns, salt, and cloves to your food processor. Then blend until the seeds and peppercorns blend into the mixture. Slowly add a stream of vinegar, until it's combined into a smooth paste. Then pour the mixture into a zip lock bag or large container with the chicken pieces. Then let the chicken marinate in the spice mixture for 1 hour.
Cooking Time: Add vegetable oil to a large skillet and set the heat to medium. Then add the onions, and stir until they're coated in the oil. Cook for 5-6 minutes until softened. After that, pour the chicken and chicken vindaloo sauce into the pan with the caramelized onions. Then pour in the chicken broth, and stir to combine. Bring the mixture to a simmer, and continue to cook the chicken for 25-30 minutes.
Serve: Once the sauce has thickened, remove the skillet from heat and garnish the Indian Chicken Vindaloo with cilantro.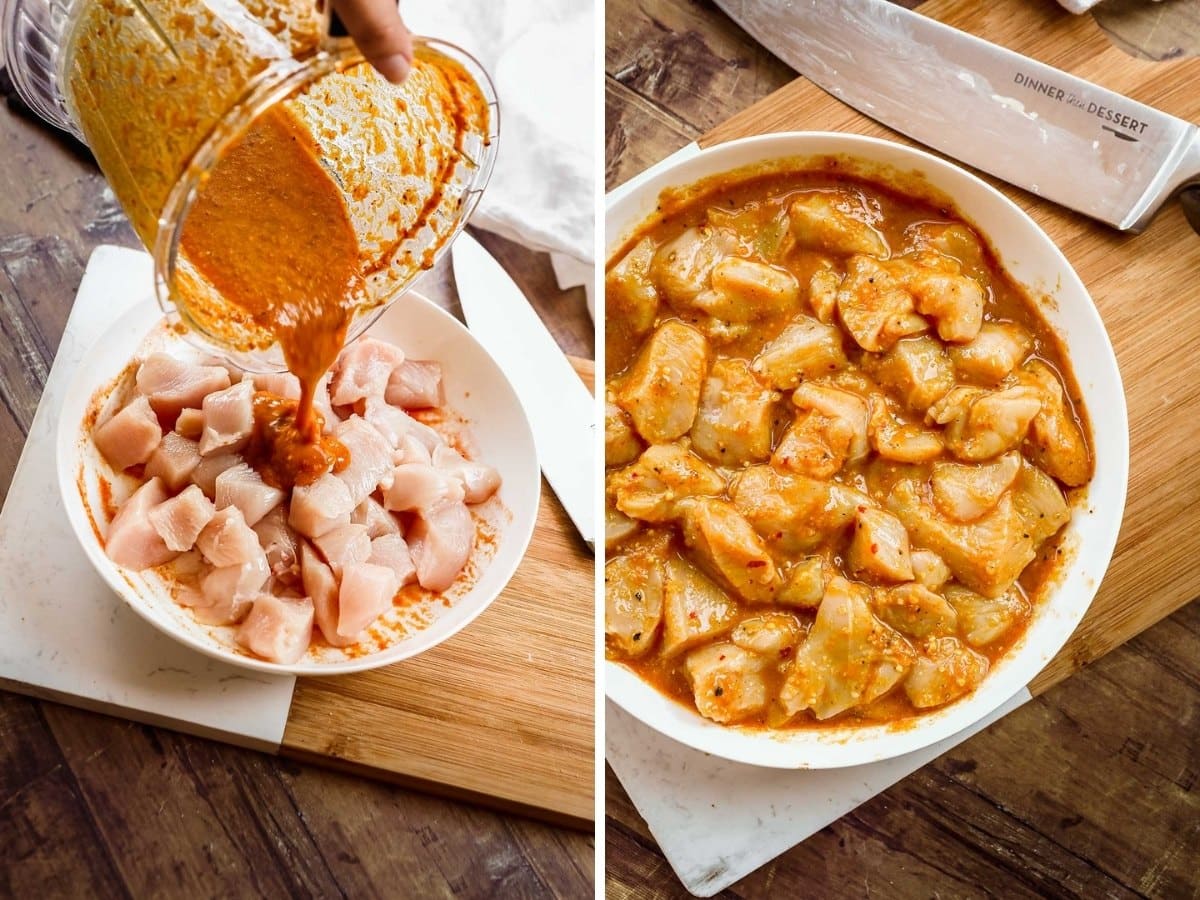 Create a free account to

Save Recipes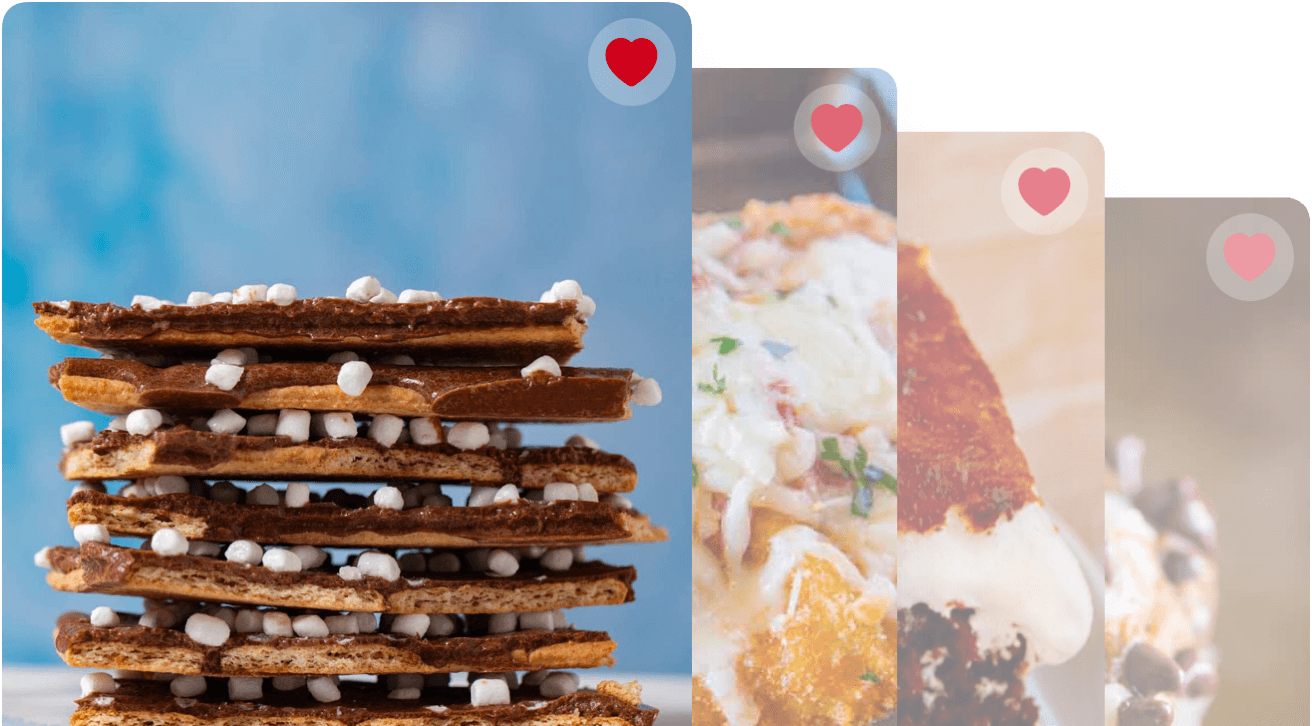 Variations on Indian Chicken Vindaloo
Meat: We've made this recipe with chicken meat, but you can always try a different choice of meat. Turkey or pork would taste quite delicious. Just make sure you check the temperature of whatever meat you choose before serving. That way, you can make sure it's at a safe temperature and adjust the cooking time accordingly.
Vegetable: Delicious onions flavor this chicken recipe. If you want to add more of a vegetable mixture, pick out some of your favorites to cook up along with the chicken. Broccoli, zucchini, or carrots would all make great additions. Make sure to chop them into fairly small pieces. Then add the vegetable mixture after cooking the onions.
Spices: You can also experiment with the spice level by adding different seasonings. Try adding coriander seeds, chili peppers, or cayenne pepper to the food processor. Then blend them into the Vindaloo paste.
Creamy Chicken Vindaloo: If you want to make Indian Chicken Vindaloo into a more creamy dish, you can add coconut milk. Simply mix coconut in with the vindaloo paste at the same time you add the chicken broth. Just remember, you'll need to cut back on the amount of chicken broth, based on how much coconut milk you add. Then let the ingredients simmer until the creamy sauce is thickened.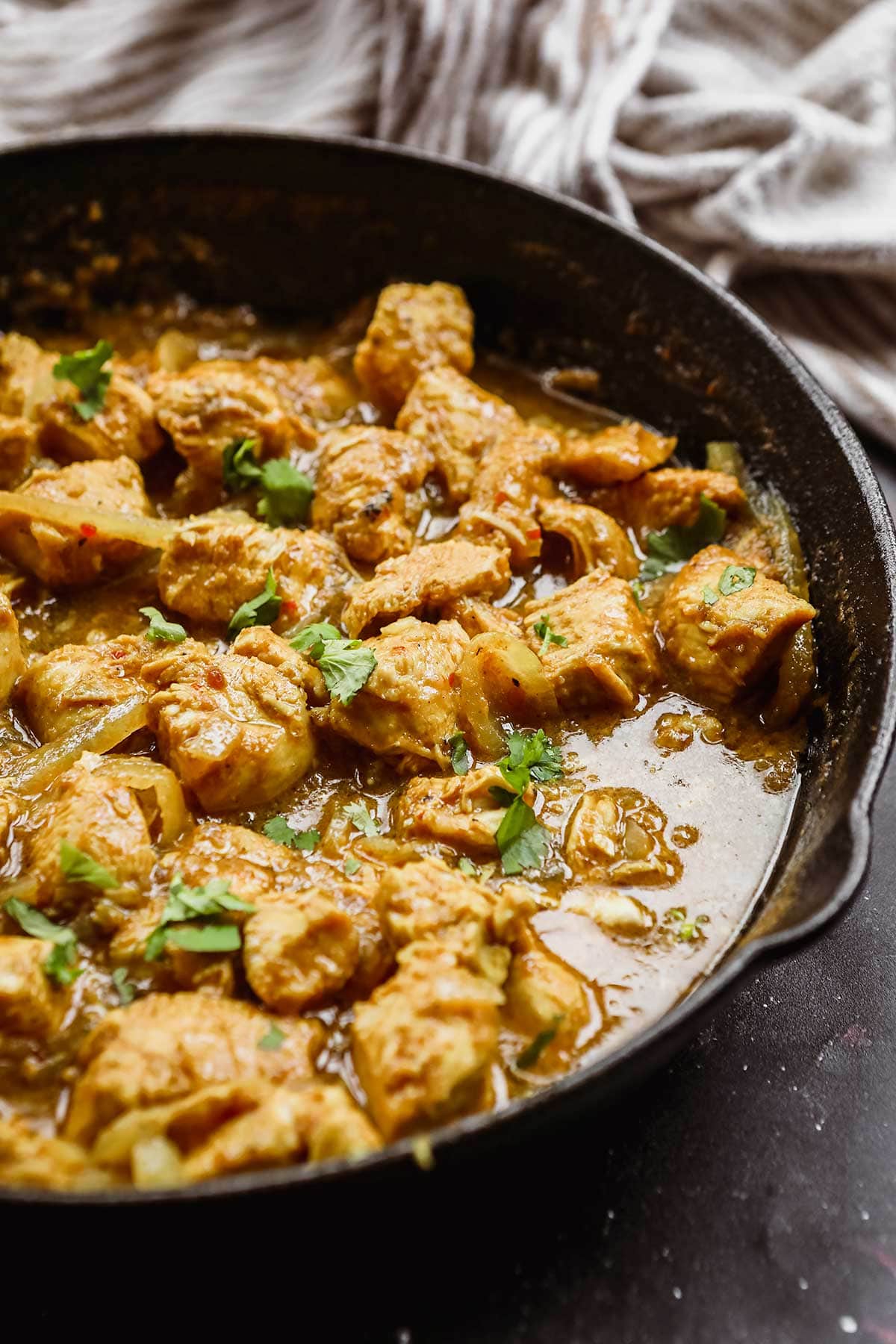 Chicken Recipes
How to Store Indian Chicken Vindaloo
Serve: Don't leave Chicken Vindaloo at room temperature for more than 2 hours. After that, you'll need to store the leftovers.
Store: Sealed in airtight containers, the chicken can stay good for 2-3 days in the fridge. Then you can reheat it on the stovetop or in the microwave to serve.
Freeze: Make sure to let the recipe completely cool before you seal it to store in the freezer. It will stay good for up to 3 months.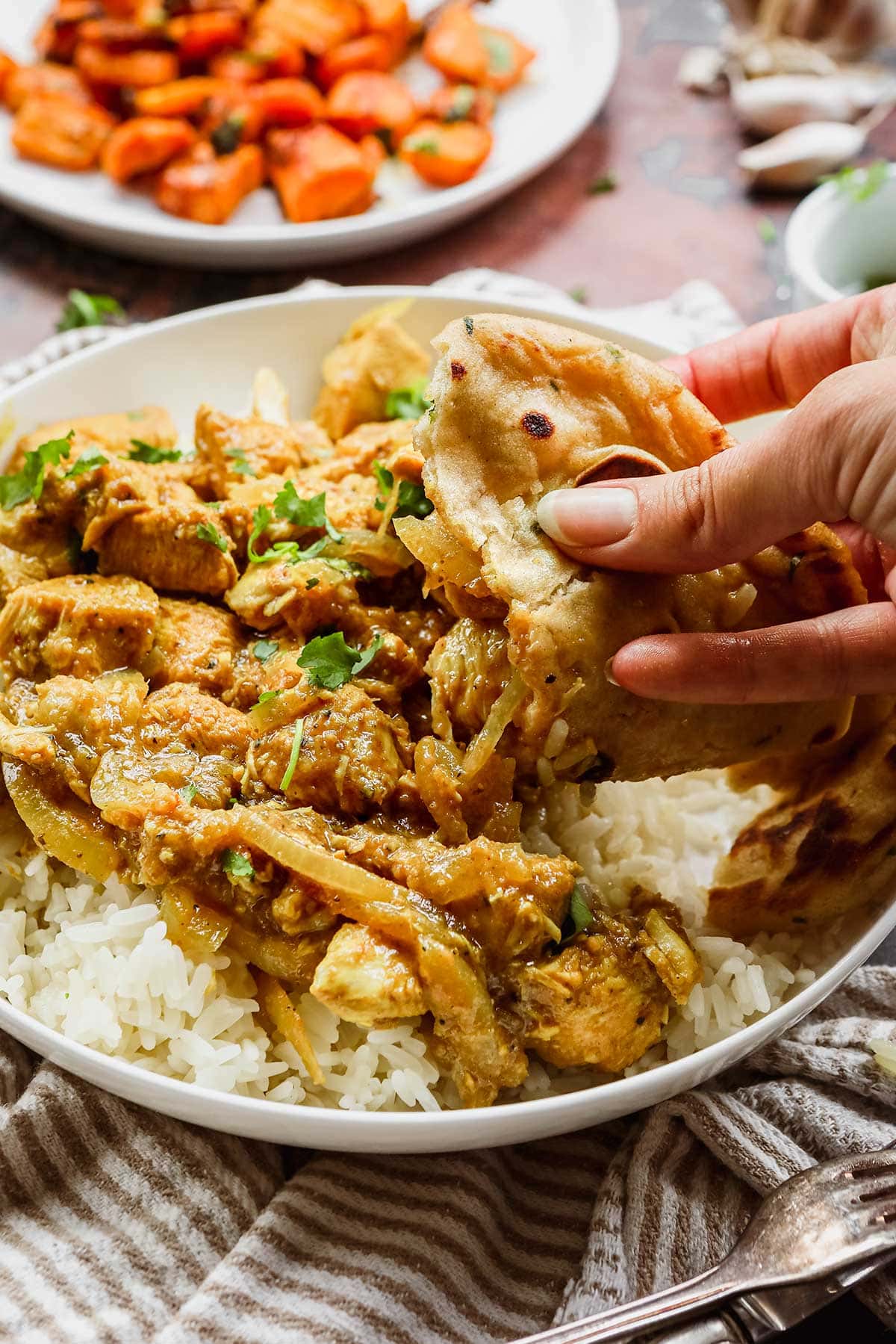 Ingredients
1/4

cup

tomato sauce

2

cups

chicken broth

6

cloves

garlic

2

tablespoons

fresh ginger

, minced

1

teaspoons

brown sugar

, packed

2

teaspoons

ground cumin

1

teaspoon

ground cardamom

1

teaspoon

turmeric

1

teaspoon

garam masala

1

teaspoon

crushed red pepper flakes

1

teaspoon

mustard seeds

1

teaspoon

black peppercorns

1

teaspoon

kosher salt

6

whole cloves

1/3

cup

apple cider vinegar

3

chicken breasts

, cut into 2" chunks

3

tablespoons

vegetable oil

1

yellow onion

, thinly sliced

cilantro

, minced for garnish
Instructions
In a food processor, add the tomato sauce, garlic, ginger, brown sugar, cumin, cardamom, turmeric, garam masala, crushed red pepper flakes, mustard seeds, black peppercorns, salt, and cloves.

Puree until the seeds and peppercorns have disappeared into the mixture, then add in the vinegar in a slow stream until smooth.

Marinate the chicken in the spice mixture for 1 hour.

Add the vegetable oil to a large heavy skillet on medium heat.

Add the onions, stir well to coat and cook for

5-6 minutes

until softened.

Add in the chicken and spice mixture, along with chicken broth.

Stir well to combine, then bring to a simmer and cook for

25-30 minutes

until sauce has thickened.

Garnish with cilantro before serving.
Nutrition
Calories:
222
kcal
|
Carbohydrates:
6
g
|
Protein:
25
g
|
Fat:
10
g
|
Saturated Fat:
2
g
|
Polyunsaturated Fat:
5
g
|
Monounsaturated Fat:
3
g
|
Trans Fat:
0.1
g
|
Cholesterol:
72
mg
|
Sodium:
577
mg
|
Potassium:
554
mg
|
Fiber:
1
g
|
Sugar:
2
g
|
Vitamin A:
191
IU
|
Vitamin C:
5
mg
|
Calcium:
34
mg
|
Iron:
1
mg