Easy Blackened Chicken is a quick flavorful chicken recipe! Chicken breasts seared with blackening seasonings like paprika, cumin, thyme, and white pepper.
From Roast Chicken to Slow Cooker Chicken Breasts to baked chicken breasts seasoned with lots spices, we have the most delicious Chicken Recipes to make dinner easy any night of the week.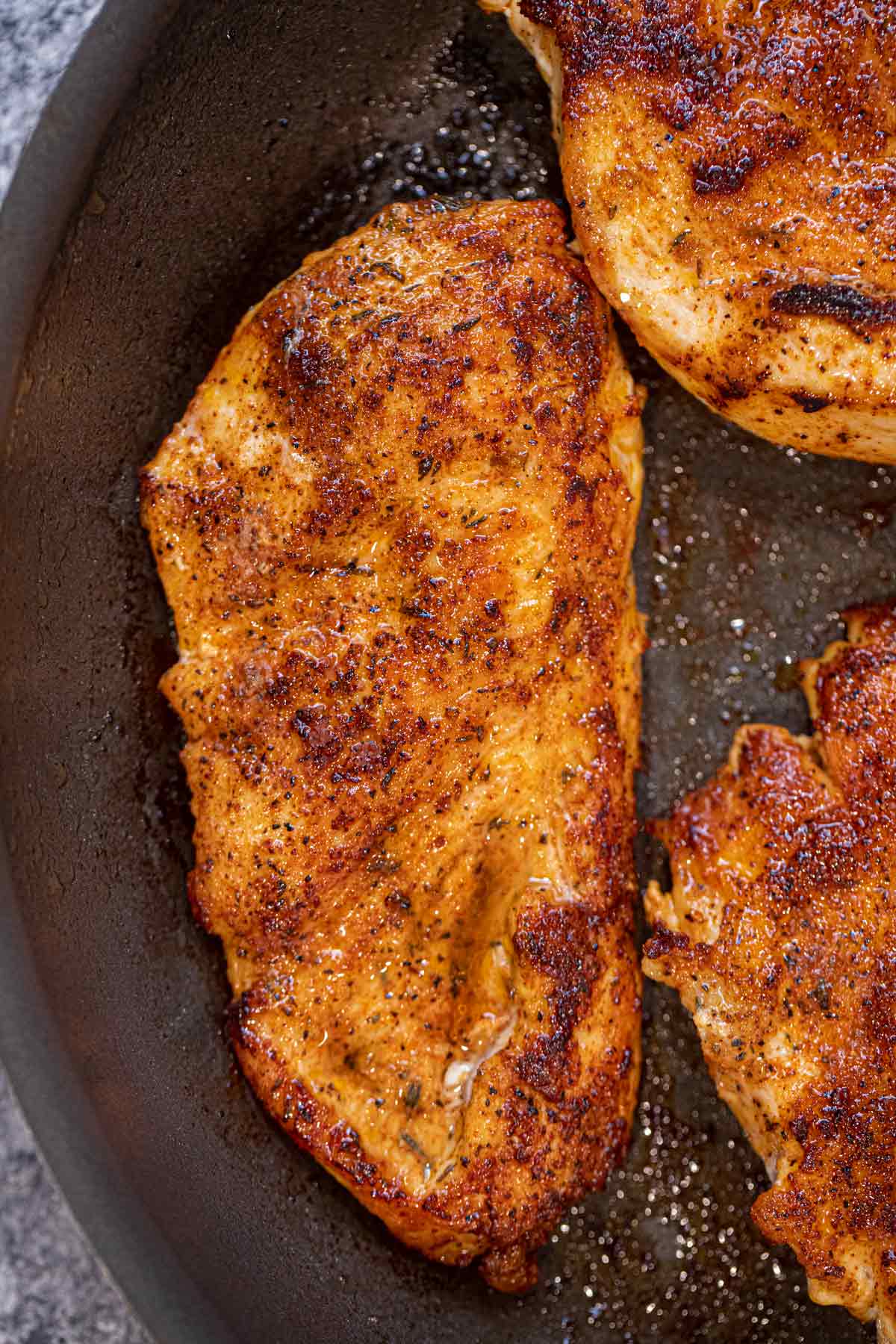 BLACKENED CHICKEN
This Blackened Chicken recipe is quick and easy, a perfect weeknight dinner when you want a flavorful main dish that you can serve with anything! Don't let the name fool you, this baked chicken comes out with a beautifully deep golden-red crust on the outside and juicy, perfectly cooked meat on the inside. Common spices from your pantry come together to make a slightly spicy, smoky Cajun seasoning blend that you'll want to use on everything!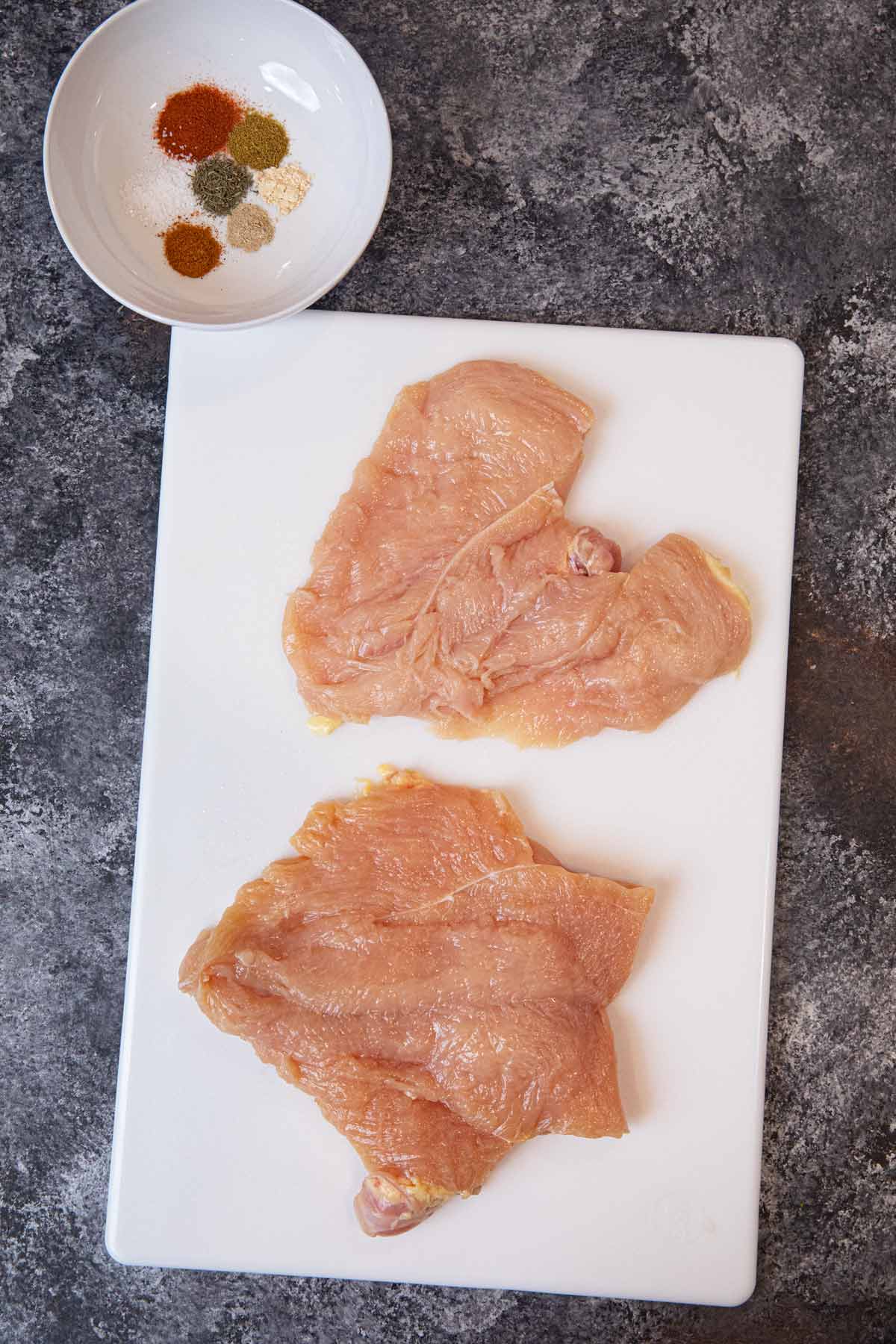 Making Blackened Chicken is a delicious way to get boneless skinless chicken breasts full of flavor. The two step cooking technique of searing first then baking to finish ensures juicy, tender chicken every time. You start by locking in the spices by browning the seasoned chicken in a hot cast iron skillet with just a little bit of oil, and the coating seals in the juices while the meat cooks in the oven.
Unlike other Southern chicken dishes, Blackened Chicken isn't loaded it up with butter or breading, instead the chicken gets all the flavors from the Cajun blackening seasonings. Blackened Chicken is also a healthier chicken recipe since you are cutting the chicken breast in half, similar to a thick chicken cutlet. You can save yourself time and buy chicken fillets, just keep in mind they are going to cook a lot faster and they are a bit more expensive cut of meat.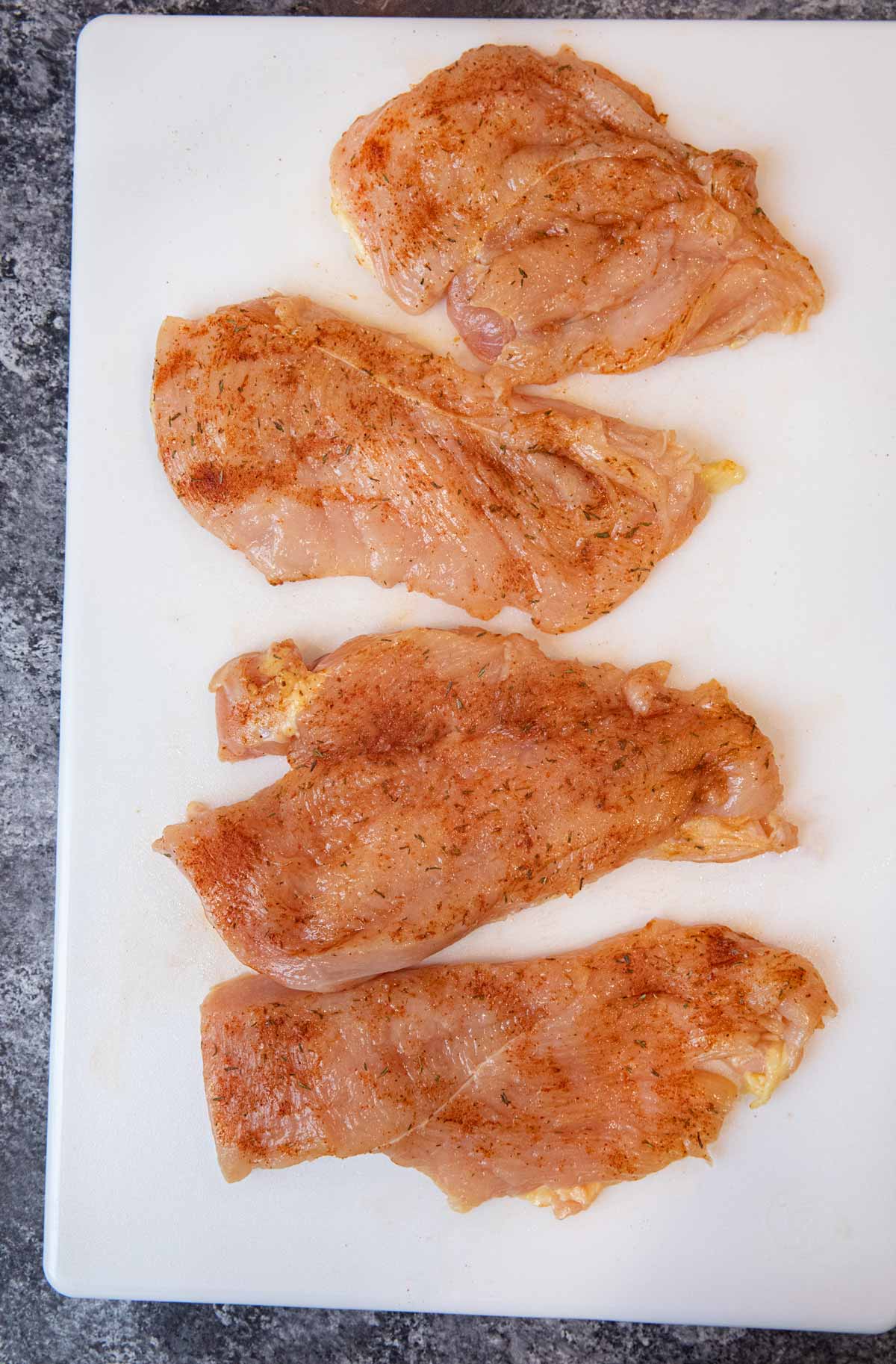 Serve Blackened Chicken with Southern favorites like Mac and Cheese and Fried Okra, or with simple but delicious sides like Mashed Potatoes and Sautéed Green Beans. This recipe for Blackened Chicken can easily be doubled or tripled for a hearty, protein-rich dish for your weekly meal prep. Top salads and sandwiches with leftover seasoned chicken, cold or reheated, for quick lunch or dinner the next day.
EASY SIDE DISH RECIPES TO SERVE WITH BLACKENED CHICKEN
Tips for Blackened Chicken
Make sure your

cast iron skillet

(or heavy bottomed pan) is

smoking hot

before you add the

chicken

. The goal is to sear the spices, so if it is not hot enough you'll have to leave your chicken in the pan too long.
Your

chicken breast halves

should be the same thickness all the way down so they cook evenly and the ends don't dry out. Use a meat mallet to flatten to the same size, but don't pound them too thin, you are looking for about ½ inch thick.
Try this hack to keep your leftover Blackened Chicken from drying it when you reheat it. Preheat the

oven

to 350 degrees, and let the

chicken rest

at room temperature while the oven is heating. Place chicken breast in a baking dish with a couple tablespoons of chicken stock and cover with foil. Bake until heated all the way through, about 5 minutes.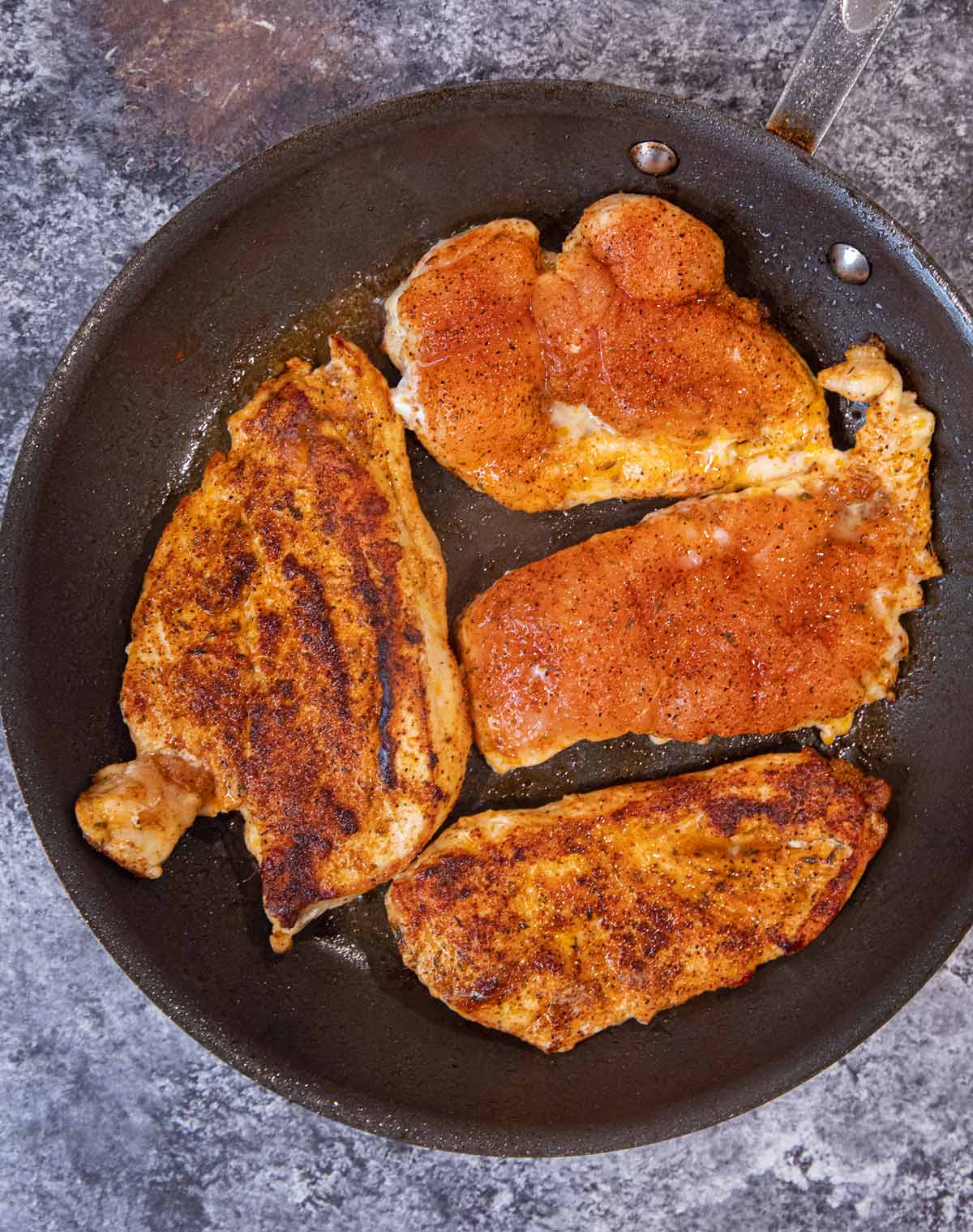 Create a free account to

Save Recipes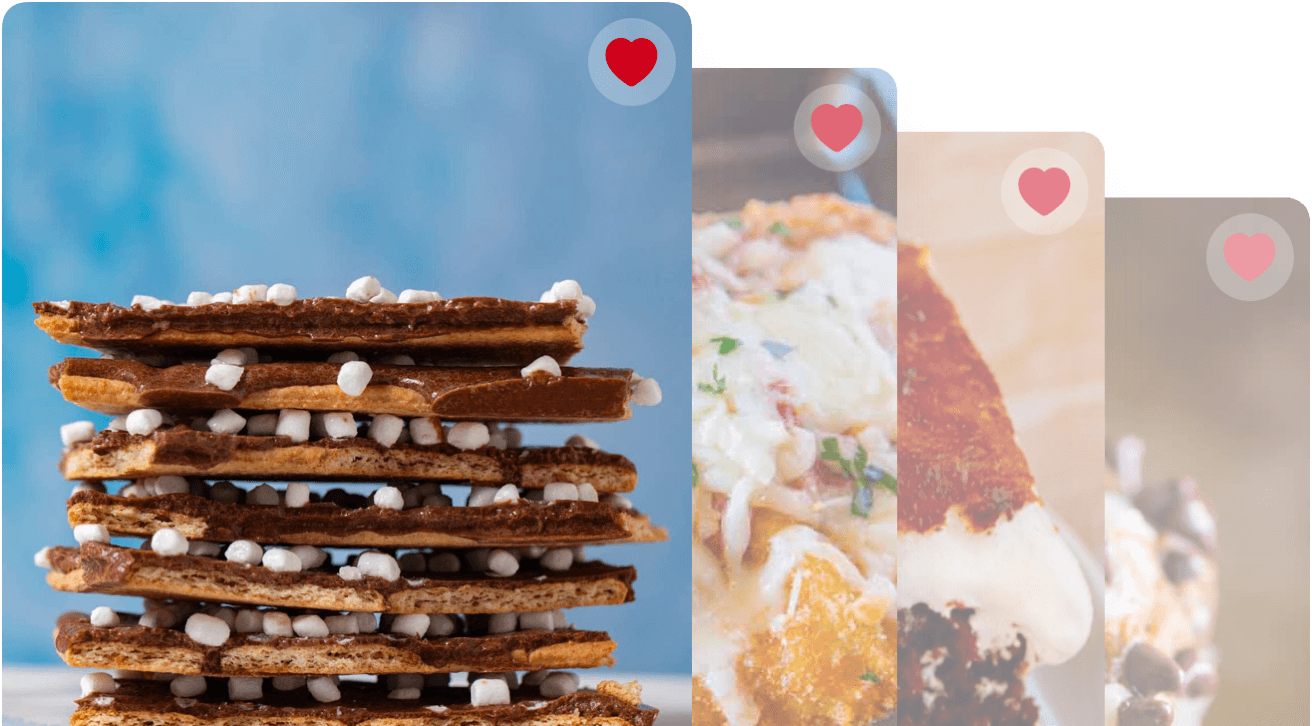 VARIATIONS ON BLACKENED CHICKEN
Spices

: You can try other spices in this

chicken rub

like smoked paprika, oregano,

black pepper

, celery seed, or

garlic powder

. If you want spicer

Cajun seasoning

, up the

cayenne pepper

to ½ teaspoon, or try other hotter spices like chipotle powder or red pepper flakes.
BBQ Sauce: The smoky flavor of Blackened Chicken goes great with your favorite barbecue sauce! Once you sear the

spice rub

on the chicken, drizzle a 1/4 cup BBQ Sauce over the

chicken breasts

before baking.
Meat: You can use the

blackening seasoning

on

fish

, shrimp, pork chops, or steak instead of chicken. For pork or beef, sear as usual in the

hot skillet

and bake until

cook

ed through. For fish and shrimp, cook it completely on the stove top so it doesn't dry out.
OUR MOST POPULAR CHICKEN RECIPES YOU NEED TO TRY!
HOW TO STORE BLACKENED CHICKEN
Serve: You can keep Blackened Chicken at room temperature for up to 2 hours before it should be stored in the refrigerator or freezer.
Store: Place cooled Blackened Chicken in an

airtight container

and refrigerate for up to 3 days. Reheat in the oven, wrapped in foil, to prevent dry chicken.
Freeze: Once cooled, wrap individual cooked Blackened

Chicken Breasts

in plastic wrap and store in a freezer safe bag. Freeze chicken breasts for up to 3 months and thaw overnight in the refrigerator or reheat from frozen in the oven.
WHEN IS BLACKENED CHICKEN FULLY COOKED
According to the USDA's website, chicken is fully cooked when the internal temperature reaches 165 degrees F. Insert a meat thermometer into the thickest part of the chicken breast to measure the internal temperature.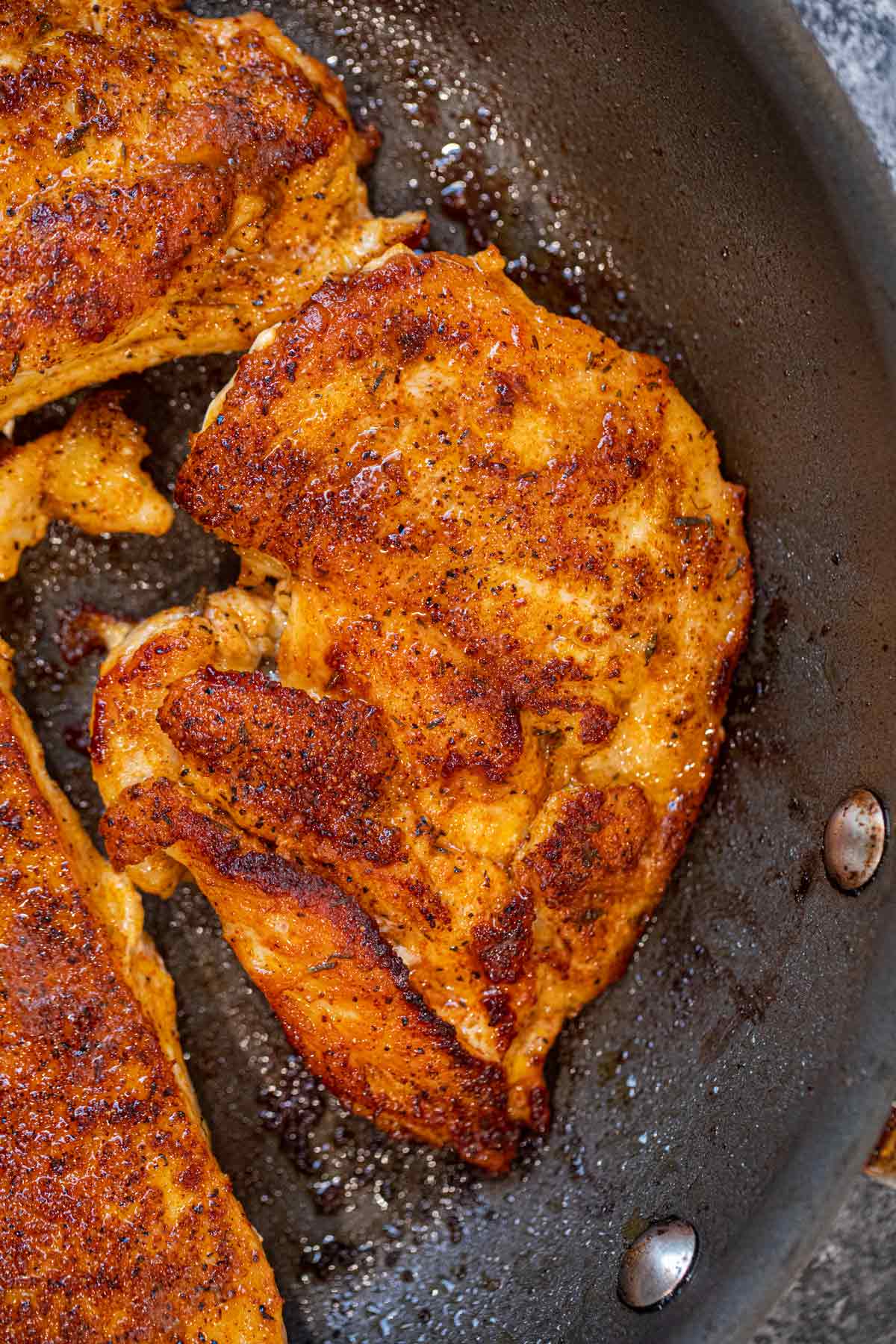 Ingredients
2

chicken breasts

, skinless, boneless, and cut in half longwise

1/2

teaspoon 

paprika

1/8

teaspoon

salt

1/4

teaspoon 

cayenne pepper

1/4

teaspoon

ground cumin

1/4

teaspoon

dried thyme

1/8

teaspoon

ground white pepper

1/8

teaspoon

onion powder

2

tablespoons

unsalted butter

2

tablespoons

vegetable oil
Instructions
Preheat oven to 350 degrees.

Heat a large cast iron skillet over high heat and add butter and vegetable oil.

Season the chicken breasts with the spice mixture.

Sear on each side for 4 minutes, then place the pan in the oven and cook for 18-20 minutes until cooked through.

Note: Oven cooking helps keep the spices from becoming too bitter.
Nutrition
Calories:
133
kcal
|
Carbohydrates:
1
g
|
Protein:
24
g
|
Fat:
3
g
|
Saturated Fat:
1
g
|
Trans Fat:
1
g
|
Cholesterol:
73
mg
|
Sodium:
205
mg
|
Potassium:
443
mg
|
Fiber:
1
g
|
Sugar:
1
g
|
Vitamin A:
470
IU
|
Vitamin C:
2
mg
|
Calcium:
10
mg
|
Iron:
1
mg