Panda Express Orange Chicken with tender chicken thighs fried crisp and tossed in a magical perfect-copycat sauce!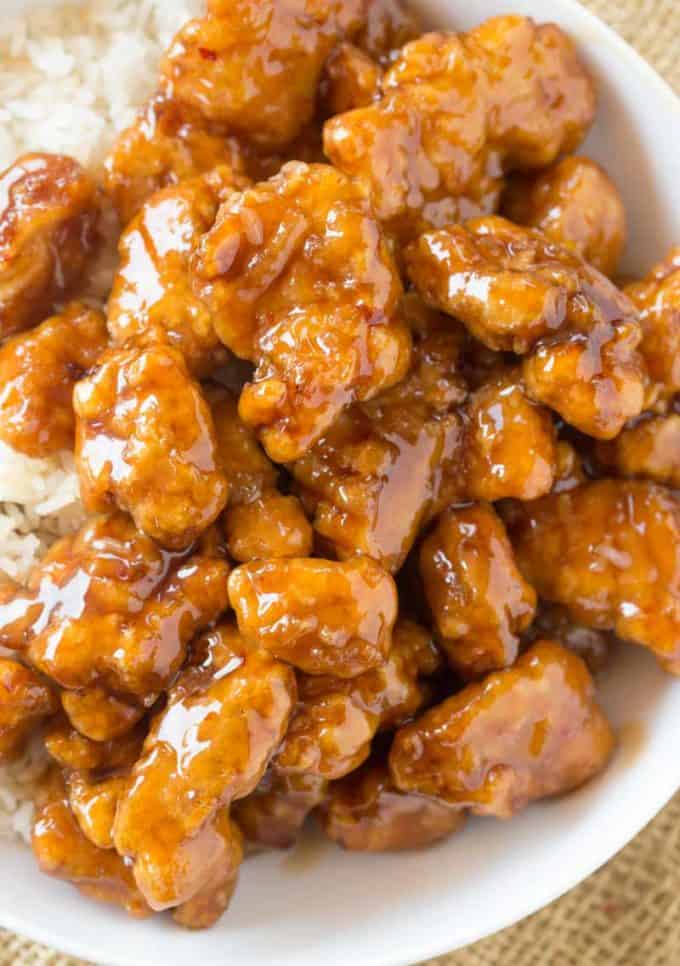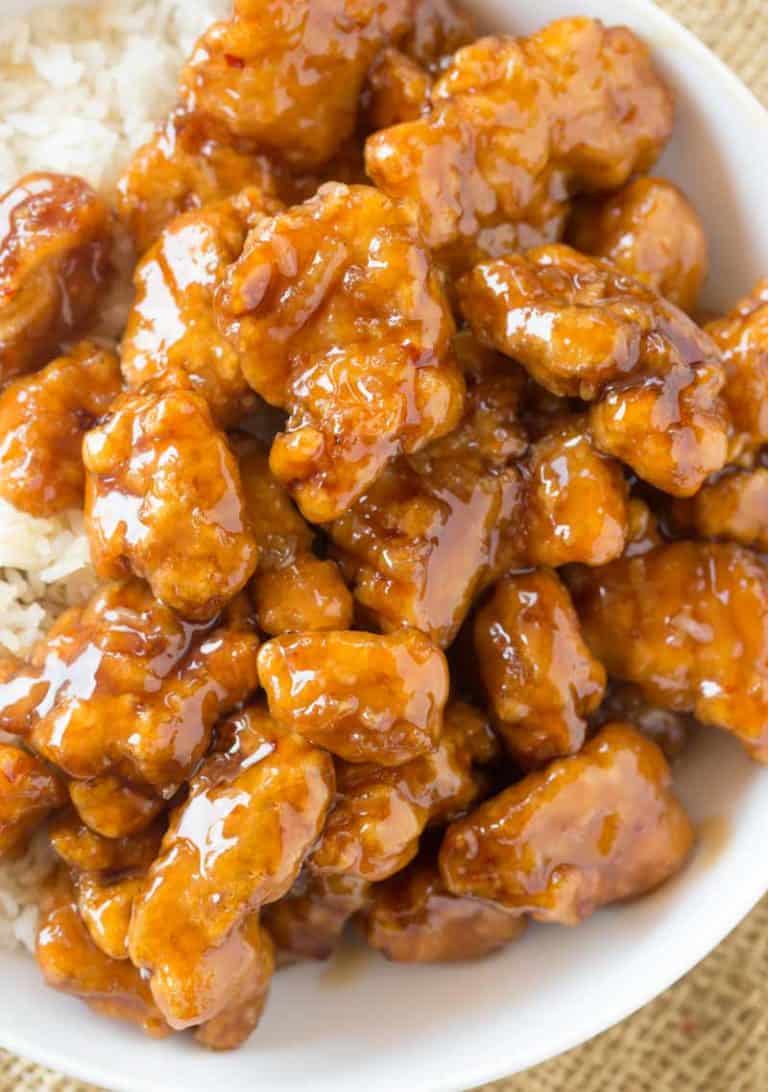 Panda Express Orange Chicken is the most popular recipe on the Panda Express menu and I'm sure you all know why! This recipe will make you dance a little in your chair as you eat it because it is just right on the money!
This recipe is different than the orange chicken recipe with orange marmalade that is SUPER popular online because the sauce in that recipe is based on a mixture of barbecue sauce and orange marmalade. While some of the pictures may look slightly similar, this Panda Express Orange Chicken is going to taste a lot different.
Looking for the ENTIRE Panda Express Recipe List? I have recreated the entire menu on the blog and have a Panda Express Recipe Index so you can easily access them! I have an entire section of the site dedicated to your favorite copycat recipes too!
Want some of the most popular Panda Express recipes?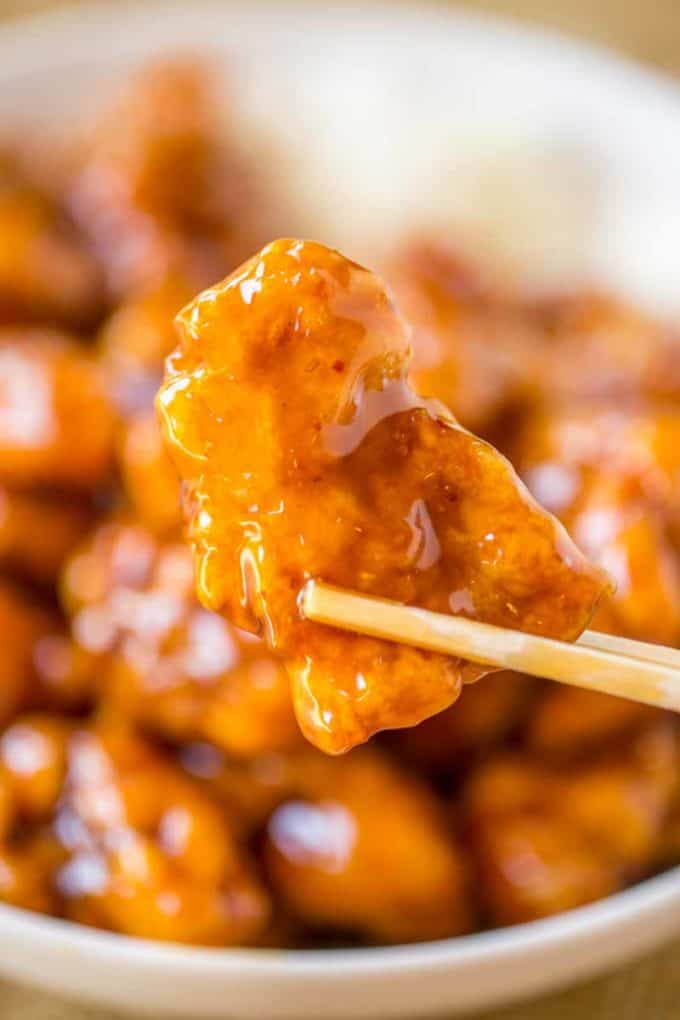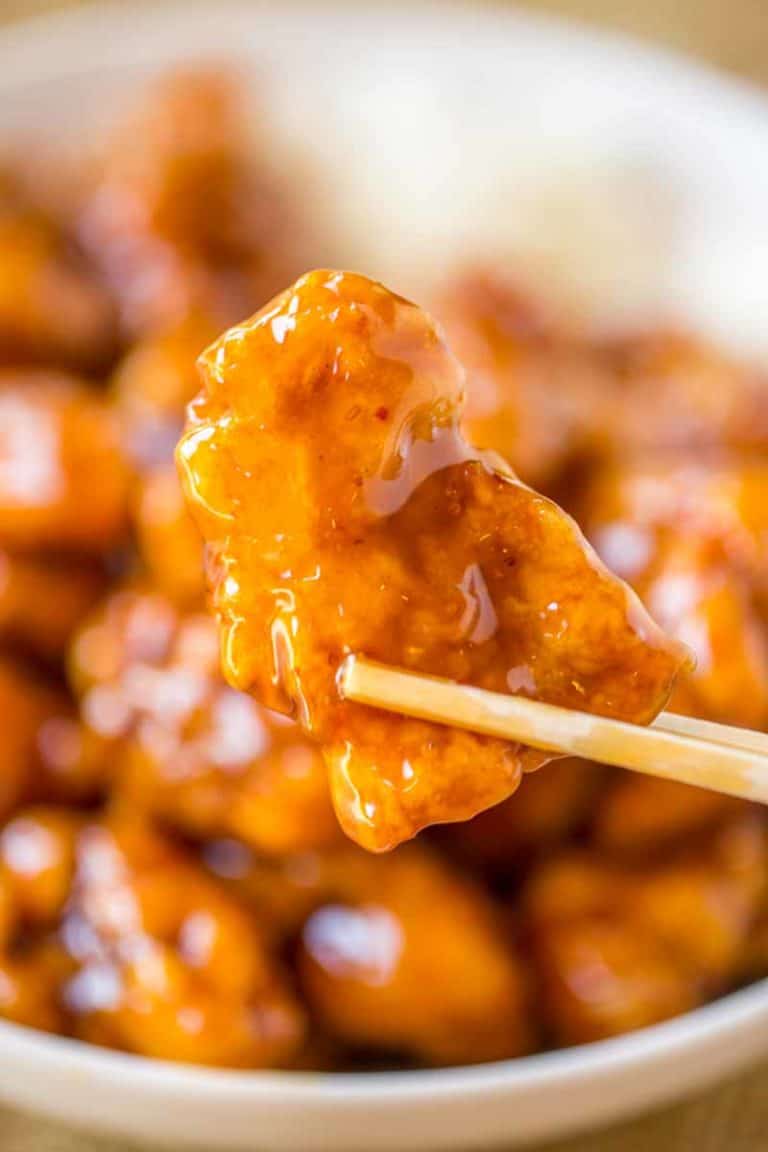 It may seem like there are a lot of ingredients at play here and a lot of dishes to dirty, but it really does come together pretty quickly and at the end of the cooking when you have a plate of this chicken waiting to be eaten you'll forget all about that pile of dishes left behind!
If you would like to kick up the heat a little bit and make this a spicy orange chicken, I suggest about ½ tablespoon of Sriracha mixed into the sauce. Any additional heat you can add with crushed red peppers.
If you're looking to make your Orange Chicken healthy I have THE EXACT SAME Panda Express Orange Chicken recipe on the blog adapted for a much healthier meal. Look at Ground Orange Chicken (1 Pan!) and I even make it into a burrito (which was AMAZING) —> Orange Chicken Burrito. Most people make a version of baked orange chicken to lighten the calories, I do it instead with ground chicken which is browned really well first to give the crispy texture without the breading.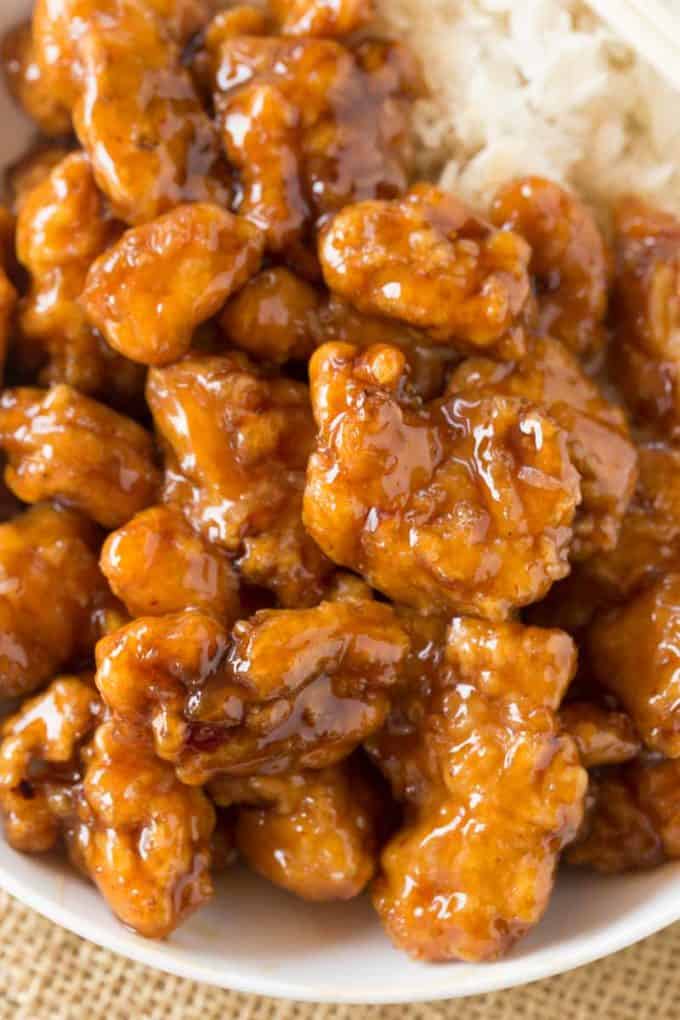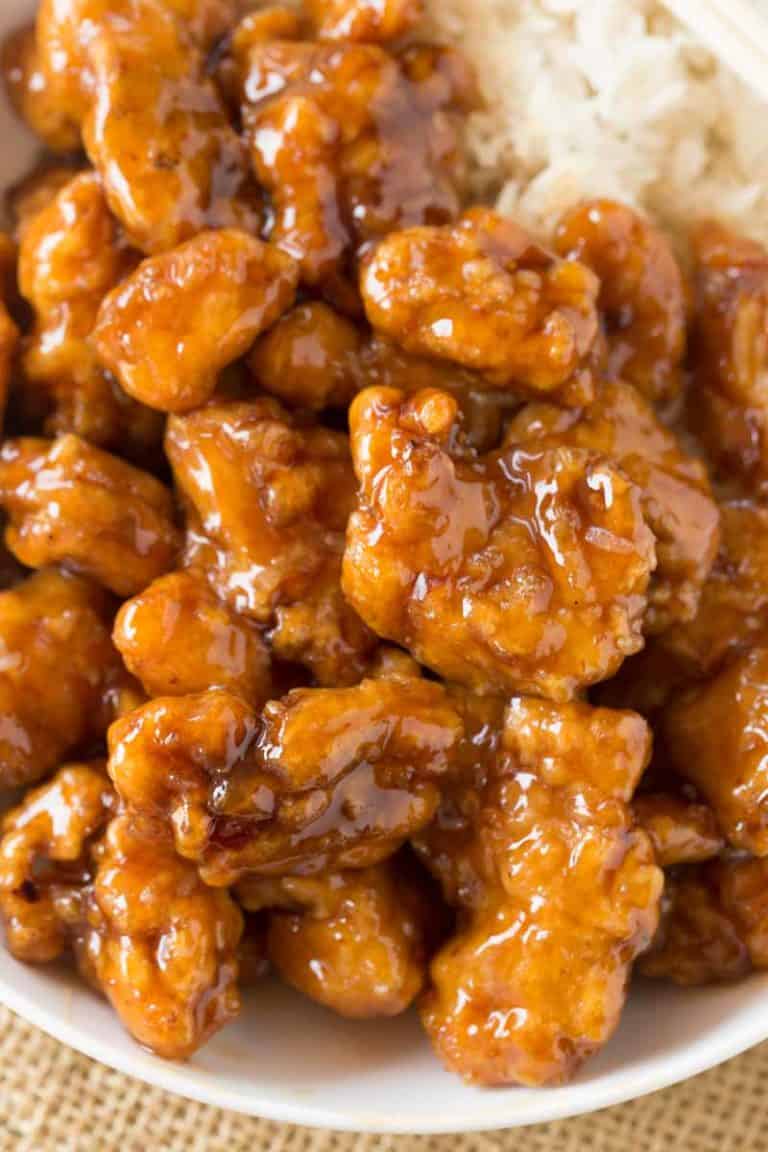 You all have loved this recipe so much since I posted it originally in 2015, I made a Q&A section of the most popular questions I was asked:
Orange Chicken Recipe for Crockpot/Slow Cooker?
I used to actually make this recipe in the slow cooker when Tyson made raw chicken tenders. I'd just put the tenders in the slow cooker with the sauce, cook on low for 3 hours, then add in a bit of cornstarch/water slurry and cook an additional hour. Now, I make small nuggets, bread them in panko then freeze them and cook them the same way. This recipe is coming soon on the blog.
What is in General Tso's chicken?
General Tso's Chicken (you can find it
here on the blog
) is probably the closest tasting dish to Orange Chicken. Though it doesn't contain any orange, it does have many similar ingredients including soy sauce, vinegar, sugar, cornstarch as well as dried red chili peppers and garlic. It is tossed with deep fried chicken pieces as well.
Tools used in the making of this Panda Express Orange Chicken:
Wok
: The best way to cook quickly and over high heat for Asian dishes, this wok is the perfect stir fry pan.
Sriracha
: Quite possibly the king of all pre-made hot sauces as far as I'm concerned. Adds heat without overwhelming you and can be used in almost every cuisine. Try mixing with mayo to make a perfect spicy mayo!
Citrus Zester
: This zests your citrus perfectly without getting any of the pith in the recipe.
Soy Sauce
: Nothing much to say here except Kikkoman has the best flavor overall and I always recommend reduced sodium.


Ingredients
FOR THE CHICKEN:
2

lb

boneless

skinless chicken thighs, cut into 1" pieces

1

egg

1 1/2

tsp

salt

1

pinch

black pepper

2

tbsp

oil

divided, plus more for frying

1/2

cup

cornstarch

1/4

cup

flour
TO FINISH:
1 1/2

tablespoons

ginger root

minced

2

teaspoons

garlic

minced

1/2

tsp

hot red chili pepper

crushed
Instructions
To make the sauce combine the 1 tablespoon cornstarch, rice wine, water, sesame oil, soy sauce, sugar, white vinegar and orange zest.

To coat the chicken add the egg, salt, pepper and 1 tablespoon oil into a bowl and whisk together in a large bowl.

In a separate bowl, add ½ cup corn starch and flour and mix well.

In a large frying pan or a wok, heat oil in a wok 375 degrees.

Dip chicken pieces in the egg mixture, then dredge in the flour mixture.

Fry the chicken for

3 to 4 minutes

or until golden and crisp.

Transfer to a cooling rack and repeat with remaining chicken.

When you are done with the chicken, drain most of the oil from the pan (leave about a tablespoon).

Add the ginger, garlic and crushed red peppers, cooking for about

10 seconds.

Add the orange sauce and bring to boil.

Turn off the heat, and add cooked chicken and stir until well mixed.
Nutrition
Calories:
419
kcal
|
Carbohydrates:
36
g
|
Protein:
36
g
|
Fat:
12
g
|
Saturated Fat:
2
g
|
Cholesterol:
122
mg
|
Sodium:
1171
mg
|
Potassium:
601
mg
|
Sugar:
20
g
|
Vitamin A:
40
IU
|
Vitamin C:
0.3
mg
|
Calcium:
15
mg
|
Iron:
1.5
mg
The pictures above are from a newly photographed, but here were the originals from 2015: