Panda Express Chow Mein that tastes exactly like you're sitting down at the restaurant eating your combo plate except half the oil and it just takes a few minutes to make!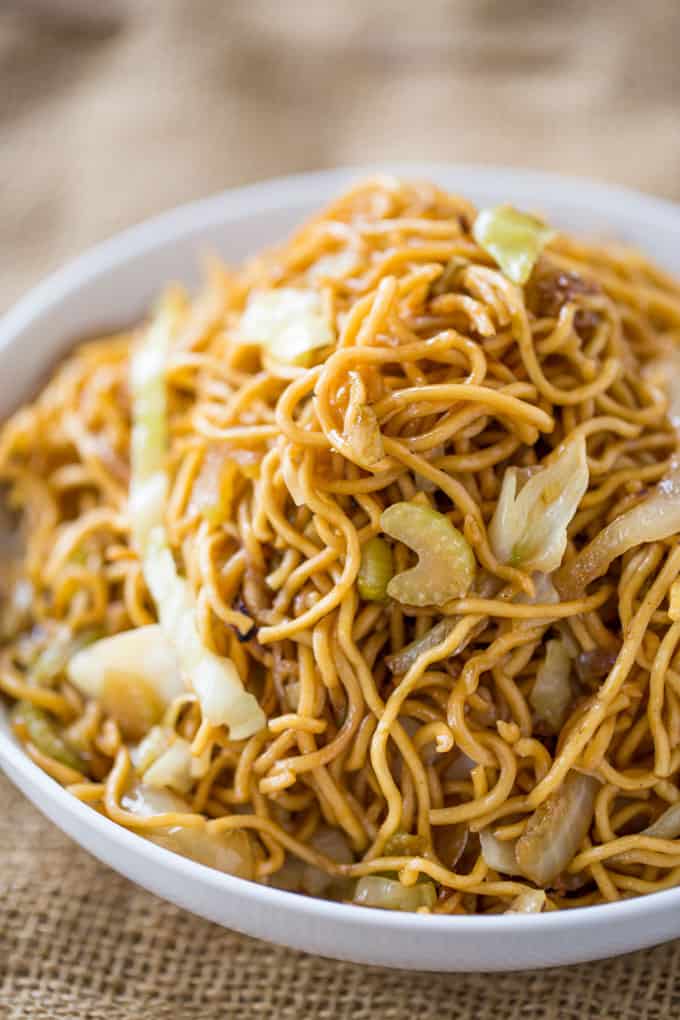 Panda Express Chow Mein has been a popular recipe on the blog since the beginning and with good reason. Cabbage, celery and onion sautéed and tossed with Yakisoba noodles in a soy and oyster sauce mixture make for a perfectly recreated food memory. You can take it a step further too and enjoy with my Panda Express Mushroom Chicken (my favorite).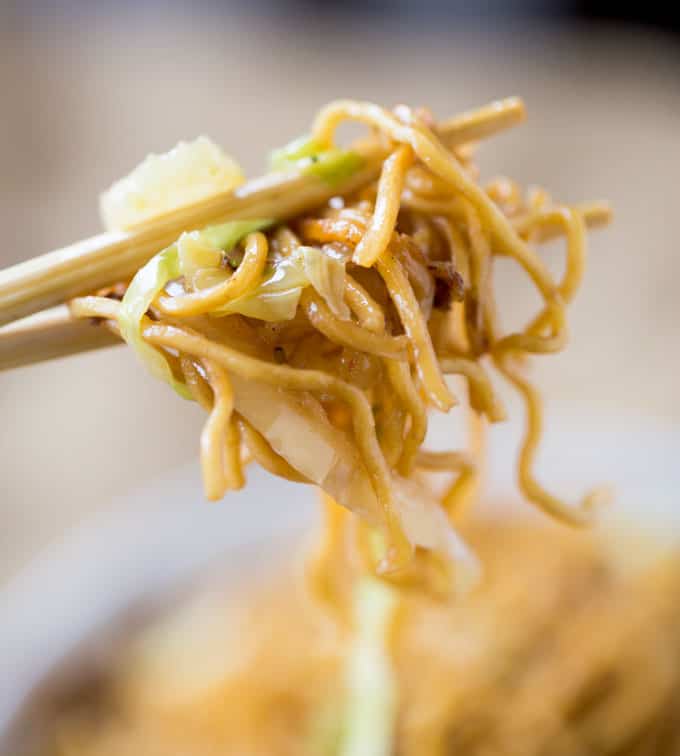 zx I think it was a rite of passage as a teenager of the 90s to enjoy a styrofoam container full of this Panda Express Chow Mein, Orange Chicken and Beef and Broccoli. The oily residue on your lips and all over your napkin meant you had just gone for it and gotten the chow mein instead of the healthier white rice or veggies (seriously, who would get the white rice there?)
My go to used to be Potato Chicken, but that got taken off the menu and for the life of me I cannot find a good copycat recipe and I haven't had it recently enough to try to recreate it from memory. If you want a fan for life, you could point me in the direction of a good copycat recipe of their Potato Chicken! I would seriously love you for it!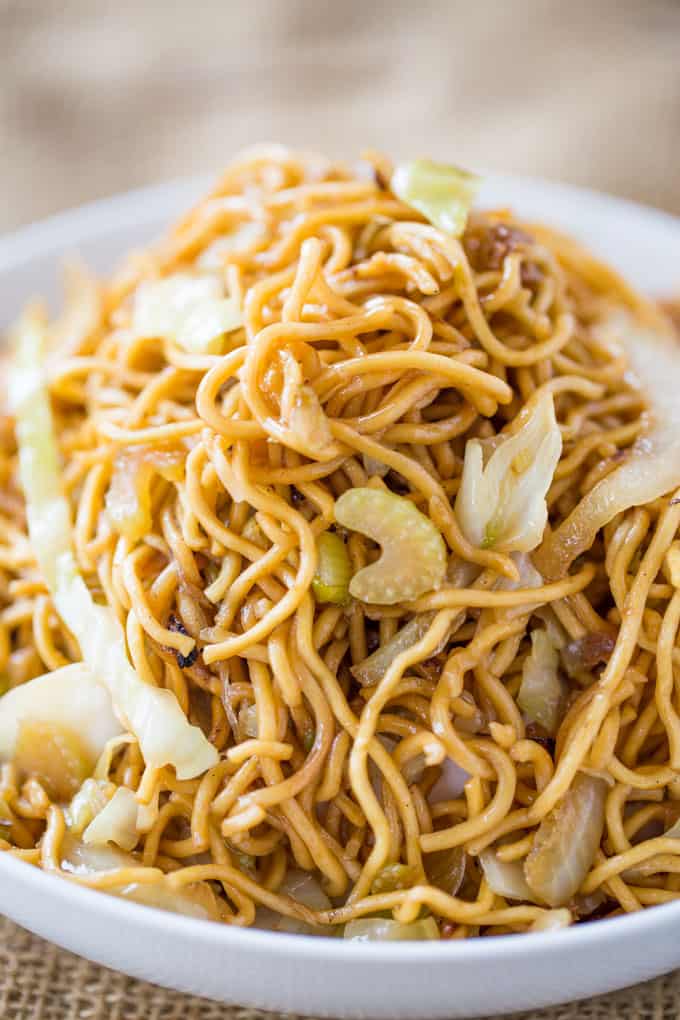 The best part of this Panda Express Chow Mein is it isn't even hard to make. There are only a few ingredients and really just a couple of steps. The one thing you want to do is be sure to use Yakisoba noodles. They are the same in texture and flavor and when looking for an exact copycat, that is pure gold!
Sautee veggies, add noodles and add in the soy sauce and oyster sauce. I mean even bottled sauce stir fries take as much work and this is a dish you'll enjoy much more than that!
About the only place this recipe could go wrong would be with the vegetables. Make sure you slice the onions, cabbage and celery thinly. Put the oil in the pan, set to high. If you have a wok, this would be a perfect time to break it out because woks are made for high heat, fast cooking. The angled sides of a wok help to increase the surface area for browning which speeds up the process significantly!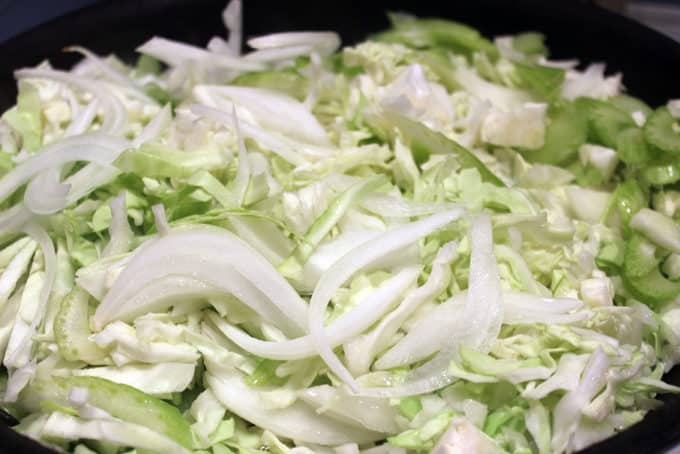 Let cook for a couple of minutes until it is caramelized a bit. Stir and let more of it caramelize. Add the noodles and toss together. Add the soy sauce and oyster sauce and toss together.
Keeping track of all the Panda Express copycat recipes here on the blog?
Panda Express Chow Mein (you're here!)
As more Panda Express dishes get added to their menu you'll find the Panda Express Recipe Index that I've made of all the recipes on one page updated to reflect new menu items.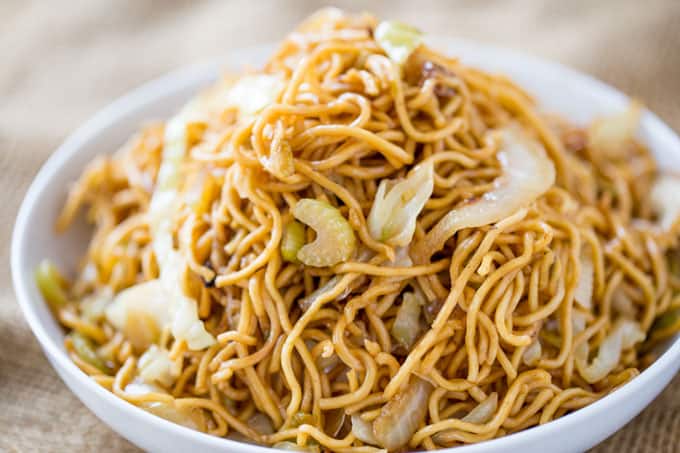 Tools used in the making of this Panda Express Chow Mein recipe:
Yakisoba Noodles: These noodles are the perfect (easy find) swap for Panda Express Chow Mein if you're looking online or in the store. There are more authentic versions, like these Chow Mein noodles, but for the money and the ease, buy the packages and ditch the spice packets.
Oyster Sauce: This is a unique flavor and ingredient. If you avoid seafood and want another option I recommend Vegetarian Oyster Sauce (made from mushrooms) but I don't recommend you swap this out for something else altogether. I know sometimes people recommend Hoisin Sauce as a replacement, it would not give you the authentic flavor here if you do that though.
Soy Sauce: Nothing much to say here except Kikkoman has the best flavor overall and I always recommend reduced sodium.
Wok: Great for high heat, quick cooking. This wok is a great addition to your kitchen if you love cooking Chinese food or stir fries in general.


Ingredients
2

packages

dry Yakisoba noodles

, (cooked without spice packets and drained)

3

tablespoons

oil

1/2

yellow onion

, sliced

8

oz

cabbage

, sliced

2

oz

celery

, cut into small pieces

1 1/2

tablespoons

soy sauce

1

tablespoons

oyster sauce
Instructions
Slice the onions and cabbage thinly.

Cut the celery on a bias thinly as well.

Put the oil in the pan, set to high and when the oil is hot add the veggies.

Let cook for a couple of minutes until it is caramelized a bit.

Stir and let more of it caramelize.

Add the noodles and toss together.

Add the soy sauce and oyster sauce and toss together.
Nutrition
Calories:
80
kcal
|
Carbohydrates:
3
g
|
Protein:
1
g
|
Fat:
7
g
|
Sodium:
348
mg
|
Potassium:
111
mg
|
Fiber:
1
g
|
Sugar:
1
g
|
Vitamin A:
80
IU
|
Vitamin C:
14.8
mg
|
Calcium:
21
mg
|
Iron:
0.3
mg

 If you are making this Panda Express Chow Mein and you want to recreate more of your favorites but want to take a bit of an easier route, you can look in the grocery store near the soy sauce for pre-packaged Panda Express sauces. I haven't tried them but I mean they come straight from Panda Express so I would imagine they would be an easy way to have an authentic Panda Chicken dish with these delicious noodles.  Just an idea. I would still make my Mushroom Chicken instead though! 😉
In case you've read down this far, here is an original shot of this dish from when it was first pictured on the blog… ah memories!