Panda Express String Bean Chicken Breast with onions cooked quickly in a wok in a light ginger soy sauce.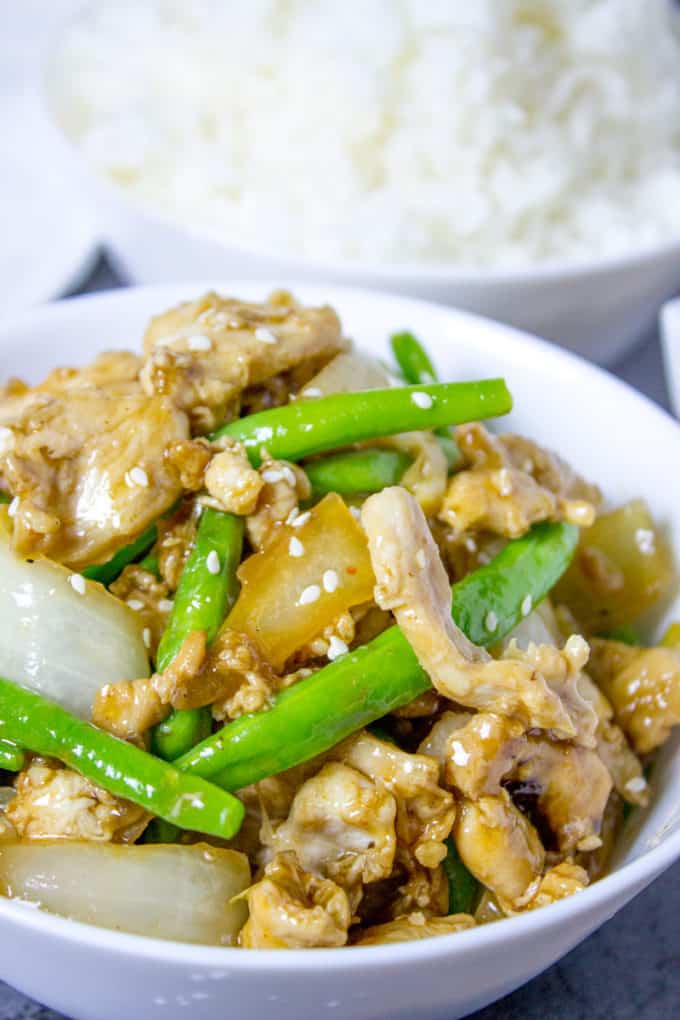 Panda Express String Bean Chicken Breast is a healthy option that took me a bit of time to come around to when I was cutting back on calories and points. For months I would just order Kung Pao Chicken, Beef and Broccoli and Mushroom Chicken without wanting to branch out.
When you have a routine, changing can be tough. Then one day I was sort of sick of those choices and I ordered this String Bean Chicken Breast and Black Pepper Chicken. Total love, the mellow, ginger soy sauce of the String Bean Chicken Breast plays amazingly against the aggressive Black Pepper Chicken. (Don't feel the need to go searching for all those recipes, I've linked to them below for you 🙂 ).
You don't need a ton of ingredients for the recipe and I know that it calls for a tiny amount of black bean sauce. It may not be an ingredient you're familiar with, but it is a staple in a lot of Chinese restaurant recipes. It has a great deep flavor, the kind you find in most "brown" sauces in Chinese food. Rice wine is another ingredient you may be less familiar with. In a pinch I sometimes use white wine, or if I need more than just a bit and I am out? I sometimes use sherry wine. That being said, keep a bottle on hand if you like Chinese food, you'll find yourself using it more than you would expect.
Keeping track of all the Panda Express copycat recipes here on the blog?
Panda Express String Bean Chicken Breast (you're here!)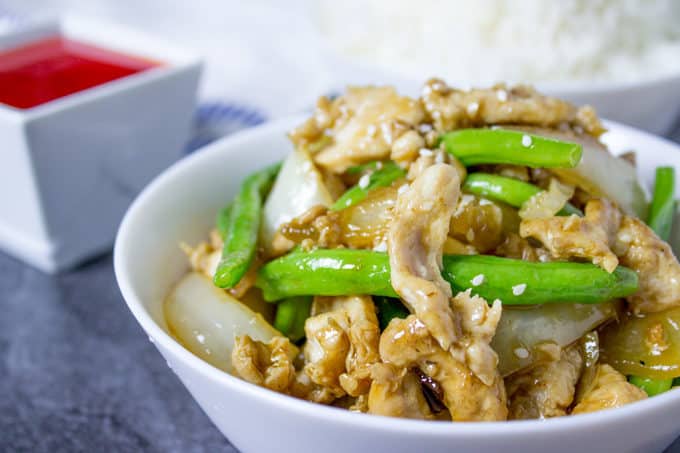 Ingredients
1

pound

chicken breast

, sliced into thin pieces

2

tablespoons

soy sauce

1

tablespoon

black bean sauce

1

tablespoon

rice wine

1

teaspoon

sesame oil

2

teaspoons

cornstarch

1

teaspoon

sugar

2

tablespoons

canola oil

4

cloves

garlic

, minced

2

teaspoons

ginger

, minced

1

pound

green beans

, fresh, trimmed

1

cup

onion

, peeled, cut into ½ inch wedges
Instructions
Add the chicken, soy sauce, black bean sauce, rice wine, sesame oil, cornstarch and sugar in a bowl.

Toss to coat and let sit for

15 minutes

while you prep your vegetables.

In a large skillet or wok, heat the canola oil on high heat.

Add chicken and cook quickly, searing the chicken, cooking through and removing it as quickly as you can.

Add the green beans and onion to the wok and cook for

2-3 minutes

, or until slightly softened but still crisp.

Add the garlic and ginger, stir quickly for

15-20 seconds

(you don't want it to burn) and add the chicken back into the skillet.

Toss to coat and serve immediately.
Nutrition
Calories:
279
kcal
|
Carbohydrates:
16
g
|
Protein:
28
g
|
Fat:
11
g
|
Saturated Fat:
1
g
|
Cholesterol:
72
mg
|
Sodium:
779
mg
|
Potassium:
748
mg
|
Fiber:
4
g
|
Sugar:
7
g
|
Vitamin A:
815
IU
|
Vitamin C:
19.1
mg
|
Calcium:
62
mg
|
Iron:
2
mg